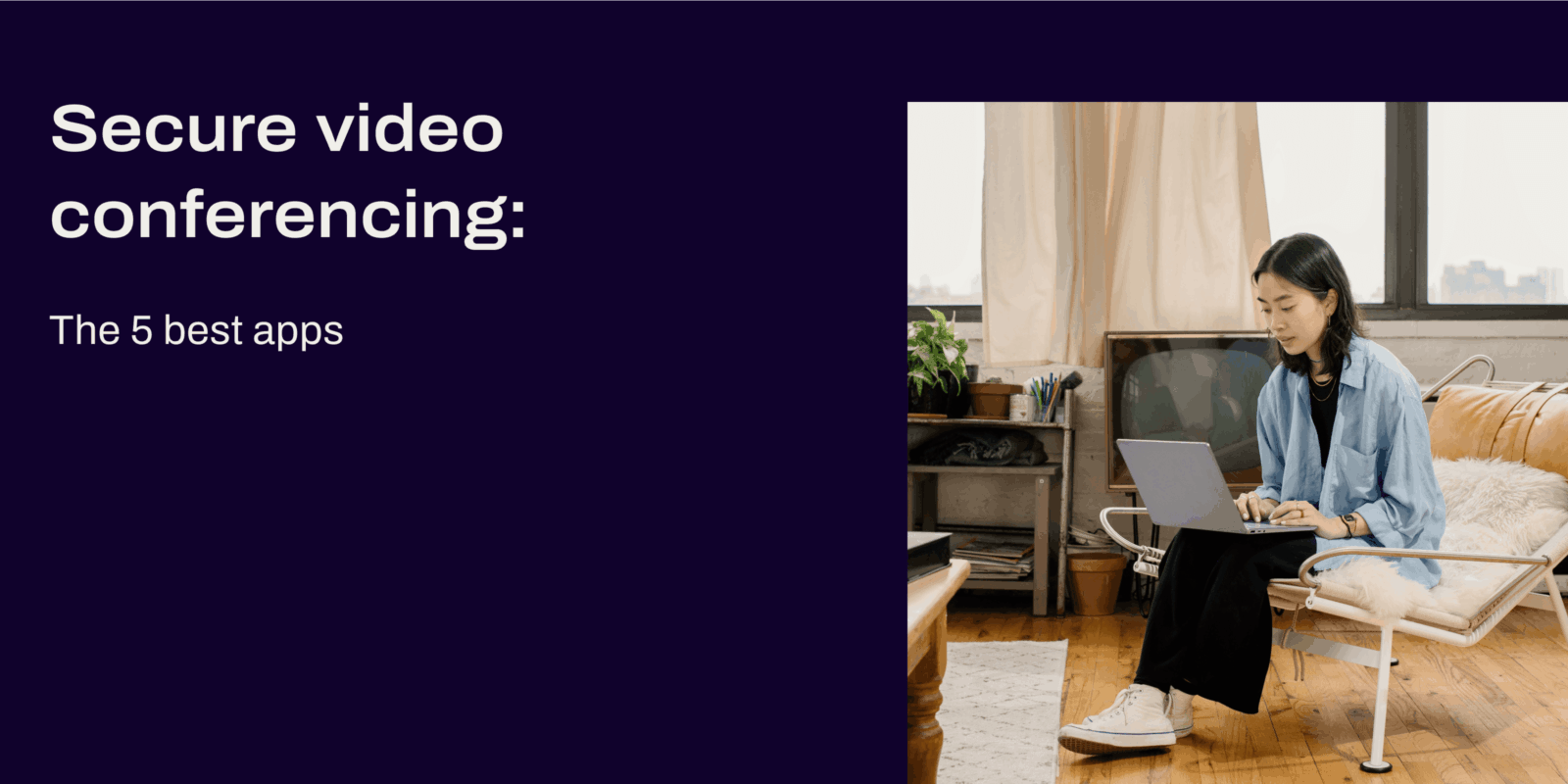 If you have video meetings, then security is one of the biggest features to be aware of whether you're looking at different video conferencing services or possibly upgrading your existing software.
Cybersecurity has only become more challenging as more companies are moving toward a distributed or hybrid work model—but not to fret.
In this post, we'll look at what you should pay attention to when considering a video conferencing solution (beyond the high-quality video and fancy meeting recording features) and other security considerations when it comes to online meetings.
2 things other than your video conferencing solution that'll help with security
Yes, having robust security features in your video calling tool is important, but before we get to that, there are some other non-techy security standards to be aware of.
1. Employee vigilance
Sometimes, the best security feature isn't in your video conferencing solution—it's in your employees habits and security training.
If your team can make sure their own systems are secure and know not to take undue risks, it can go a long way to protecting your company's and customers' data. It may be tempting to slack on the security training if you're a small business, but this is one of your best first defences when it comes to cybersecurity.
2. Working in public places
Thanks to mobile devices, working in public places has become a lot more accessible (who doesn't like working at a coffee shop from time to time), but it still carries its own risks.
If you're using a public internet connection or open Wi-Fi network in public, that's already a no-no. These may seem convenient since you can log on without having to enter a password, but they're inherently less secure than private networks.
🔒 Dialpad tip:
It's worth including a Wi-Fi policy in your staff handbook. If your employees are logging onto your network or joining video conferences from public places, it's far safer for them to use their own encrypted cellular data or combine this with a VPN (virtual pinnacle network).
There's also the potential for eavesdroppers in public places. It may seem like a harmless threat—it's unlikely anything that someone at the table next to you can zoom in on your screen over your shoulder or hear what's happening in your video call.
But it just isn't worth the risk. It takes only one piece of sensitive information from one video call to threaten your company or SaaS security. Don't risk it.
Other features to look for
Meeting rooms
To keep your meetings secure, you can have participants wait in a virtual meeting room, and let them in as you go: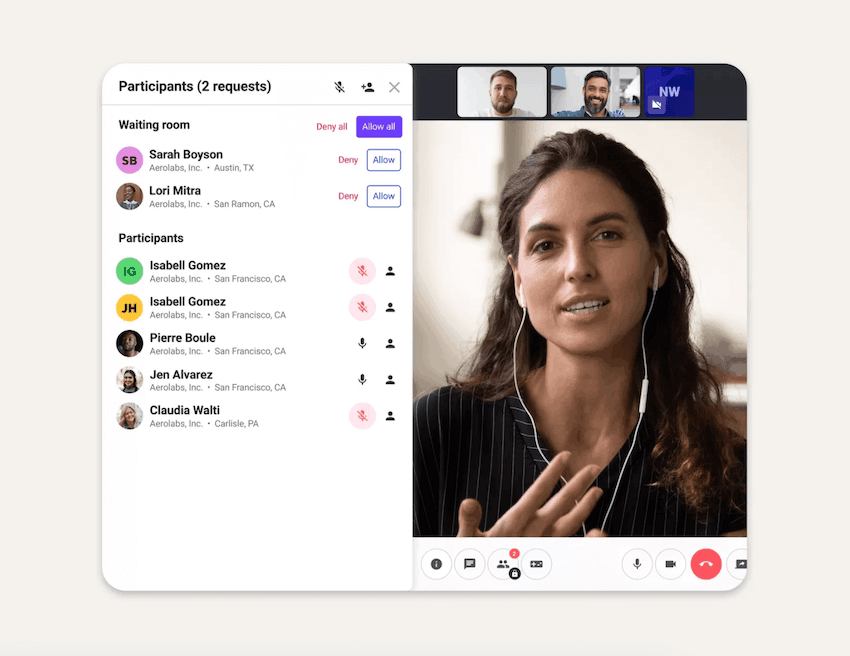 Meeting lock
Once everyone's joined the web conference, the host can lock the meeting so that other uninvited guests can't randomly join.
Muting participants
The host can also meet all participants, either for security or as a courtesy to whoever is presenting or speaking.
Ability to boot out participants
If you don't recognize someone who's somehow joined the conference line, you can swiftly remove them—and any other participant—with a single click.
Password or PIN
With Dialpad, you have the option of sharing a meeting link with your attendees so they can join easily, or you can require a PIN to give your HD conference call a security boost:
The potential dangers of having video calls on insecure software
The biggest risk is, of course, exposing all your company's sensitive information and customer data.
Companies that compromise their employee and customer data are potentially breaking confidentiality laws. And depending on the industry you're in, the consequences can be fatal for a business. (Think healthcare, schools, and governments.)
🔒 Sidenote:
One of the biggest examples of a cybersecurity breach can be found in the Atlanta ransomware attack of 2018. It's unknown whether this was because of a video call, a downloaded dodgy email, or another source entirely, but the scale was huge. The cost of the security breach was estimated to be about $2.7 million, but was likely as high as $17 million. Public transport, healthcare, and many other areas were impacted.
5 secure video conferencing options to consider
So, what's the best and most secure video conferencing software out there?
Not only do these tools allow businesses to work from anywhere—a growing trend following the pandemic—but they're far more secure and reliable than ever before.
Let's take a look at five of the best software platforms below.

Dialpad is a complete communications platform that includes not only video calls but also messaging, phone calls, and conference calling.
As I mentioned earlier, in addition to encryption, Dialpad has many other security features for online meetings like allowing you to lock meetings, mute participants, and more.
In addition to security features, Dialpad is just a robust and versatile video conferencing platform overall. It integrates with existing software and tools like Salesforce and HubSpot— and you also have the option to create something more custom with APIs (open-source application programming interfaces).
There's also a very thorough Help Center in case you want to find answers or troubleshoot on your own: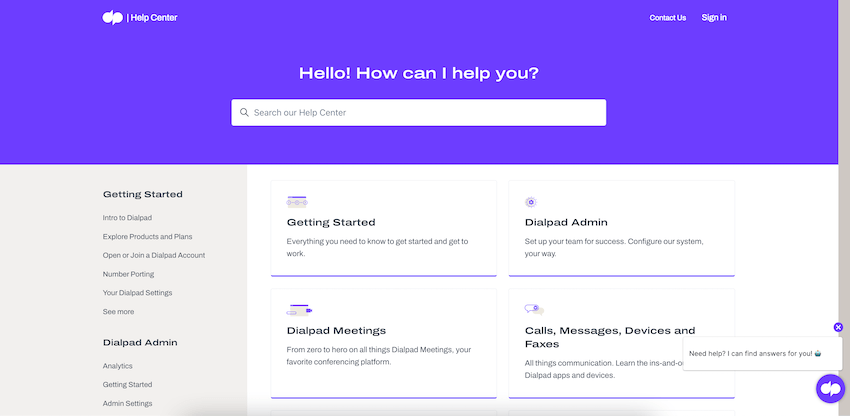 Security features:
Encrypted using WebRTC technology

Can be used compliantly by healthcare industry organizations once a Business Associate Agreement has been signed

Member of the Cloud Security Alliance (CSA) and SOC2® Type II compliant

Adheres to GDPR for data protection of EU citizens and the California Consumer Privacy Act (CCPA)

PIN / password protection

Option to mute all participants

Meeting lock option
Other key features:
Integrations with popular tools like Salesforce, Zendesk, and Slack—even on the free plan

Real-time transcription (on paid plans)

HD-quality video

Screen sharing:
Easy to set up and scale up (or down) users

In-app messaging / chat

Browser-based meetings—no need to download the app to join or host calls
Looking for a secure video conferencing platform?
Try Dialpad Ai Meetings' free plan! Signup takes just a few minutes, and if you need phone call and messaging functionality, you can check out the unified communications platform!
2. ClickMeeting
ClickMeeting has a pretty simple setup for video conferencing and what sets it apart is that it's a product more geared toward webinars.
You can also screen share, connect to a whiteboard app, and like Dialpad, it is GDPR-compliant and has a PIN code option for joining meetings. It was a tough choice between putting this and Bluejeans on the list, but ClickMeeting eventually won out because it at least has a free trial plan for you to try it out, whereas Bluejeans doesn't.
Security features:
Standard encryption

Remove unwanted attendees in a single click

Virus and malware file-sharing scans
Other key features:
Up to 25 attendees in free trial plan

30 minutes of recording storage on the free plan

Screen sharing
Pricing: $25 to $40 per user per month, plus custom packages

👀 Interested in remote or hybrid work tips?
Grab the Hybrid Work Playbook, which includes real-life case studies and breaks down all things hybrid + remote, from building and sustaining a hybrid workforce to equipping your team for success.
3. Signal
Signal is growing in popularity as a messaging app, given its free pricing, ad-free approach, and security measures.
You can see a list of every connected participant, and the app asks permission to use both your microphone and video camera. However, group calls are extremely limited, allowing no more than five users at once.
As a free app, Signal is maybe best used as a messaging solution, but given its size capabilities, it's designed more for peer-to-peer calls (much like Facetime) rather than business or work-related video calls.
Security features:
End-to-end encryption for calls and account info

Camera & microphone permissions

Optional registration lock pin
Other key features:
Messaging

Audio and video calls
Pricing: Free
4. Jitsi Meet
Jitsi is another free app that lets you do video conferencing. As well as being open-source and account-free (you don't need to sign up for anything), you can also integrate the app into your own website, which is pretty unique.
The big downside to Jitsi is that it has no customer support or file-sharing, so it's not the best for collaboration.
Security features:
"Fully encrypted"

No account required

Moderation control options
Key features:
Completely open source and developer-friendly

You can embed a Jitsi Meet call into a website
Pricing: Free
5. FreeConferenceCall
FreeConferenceCalls offers an online meeting service for free (unsurprisingly)—but the free plan has audio-only conferencing, no video.
Like Dialpad, it integrates with Google Calendar and also has a call recording option. The free option does include 1GB of storage (whereas Dialpad has unlimited call recordings).
Note that FreeConferenceCall isn't HIPAA-compliant and there are no options to share call recordings or transcriptions with other participants though. This can be a dealbreaker if you have lots of conference calls where participants would benefit from being able to review those meetings.
In general, the free plan isn't as robust as Dialpad's free plan, and even the paid plans don't quite stack up to other video conferencing software's similarly priced plans. It's comparable to (maybe a tiny step up from) using Skype or Google Hangouts.
Security features:
Encryption—though they don't specify whether this is standard encryption or not

PIN entry-code option
Other key features:
Breakout meeting rooms

Easy set-up and functionality

Meeting recordings
Pricing: Free, up to "Custom Conferencing" plan for additional services
5 tips for more secure video conferencing
Beyond choosing the right tools, here are a few more ways to secure your video conferencing calls.
1. Examine your industry's video conferencing needs
Sure, there's no "perfect" video conferencing tool for every single company, but looking at the needs of your industry is a great place to start when you're shopping around for software.
Certain professions have their own data protection acts that you need to be aware of. For example, Dialpad is compliant with the Health Insurance Portability and Accountability Act (HIPAA), which is the standard for sensitive patient data protection within healthcare and human-related services.
Other regulated industries like finance or insurance likely have their own regulations. Be aware of the ones in your industry!
2. Be the keymaster
We mentioned encryption earlier on in this piece, but it's worth repeating: when it comes to video conferencing, both your software and hardware should feature 128-bit Advanced Encryption Standard (AES) protection.
Logically unbreakable, 128-bit encryption is a security measure that enables video conferencing systems to use a 128-bit key to encrypt and decrypt all video calls between systems.
The keys are automatically generated at the beginning of each video session, and according to research, are so strong it would take a supercomputer one "billion-billion" years to breach a 128-bit AES key.
3. Have SSO set up
Most security-minded video conferencing systems use single sign-on (SSO) for user authentication because it greatly reduces the risk of user credentials being lost, stolen, or compromised.
A convenient win-win for both IT and users, SSO requires you to keep track of only one set of credentials, while IT can easily track and control access to all video conferencing accounts in their system.
Because SSO credentials are tied to a user's authorization and profile, IT can track where, when, and how credentials are used.
Better still, on the off-chance that someone's credentials are compromised, IT can quickly determine which accounts were breached, what occurred during the breach, and lock the account for faster damage control.
4. Have a video conferencing policy in place
Much like a Bring Your Own Device (BYOD) policy, a video conferencing policy enables you to set clear boundaries and expectations for everyone.
In addition to outlining user permissions for conducting video conferences in-house, rules should take into account teammates who will be connecting remotely.
If you work at a company or organization that's entrusted with especially sensitive information, like hospitals and financial institutions, you'll want to be especially specific about who people can connect with via video conference software for small business (such as pre-approved vendors and clients).
A few guidelines that a good video conferencing policy should include or consider:
Users must get permission to record a video conference from everyone on the call.

Personal mobile devices, whether Android or iOS, shouldn't be used to record video conferences.

Sensitive information should be discussed in designated video conference rooms and not in public places or open office spaces.

Video conferences conducted at a user's desk should train the camera to focus on the users' face, and any visible confidential data should be removed from camera view.
How will you keep your video conferencing secure?
If you're looking for a more secure way to connect with teammates around the world, Dialpad's HD video conferencing platform lets you connect quickly, easily, and most importantly, through secure video conferencing.
Featuring encryption, single sign-on access, and more, Dialpad makes sure your video conferences are equipped with best-in-class security.
Have more secure video conferences
Dialpad has a free plan that comes with security and compliance features included. Take it for a test drive!