Back to Blog
The best conference room technologies: How they make collaboration equity possible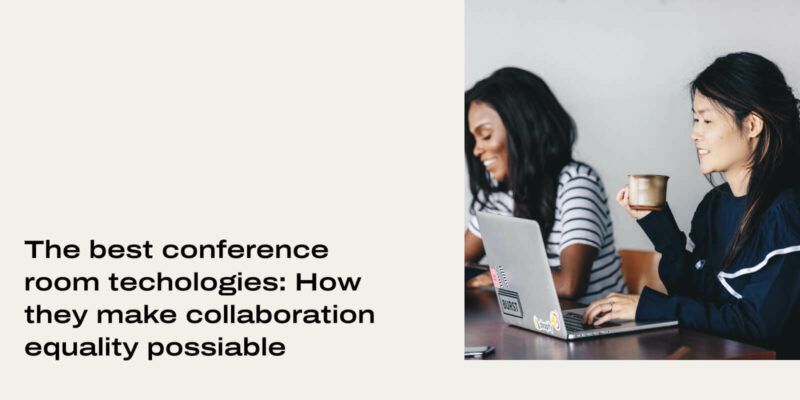 Since the outbreak of COVID-19, there's been a surge in the number of employees working from remote locations.
The technological infrastructures required to support this hybridized workforce have inevitably had to change too.
For businesses to continue communicating and collaborating with clients and employees in such an environment, conference room tech has taken center stage.
Communications solutions like Dialpad are now offering businesses the opportunity to unite physical and virtual meeting spaces with integrated technologies.
In this blog post, I'll be showing you some of the most exciting modern conference room technologies to support your hybrid workforce for more productive meetings.
Pitfalls of conference rooms with outdated technology
Loss of productivity
Unintuitive meeting room technology can be a real workflow blockade—and even though this is something most people are aware of, it's hard to overstate the importance of this.
If you can't communicate (especially if you're part of a distributed team), that pretty much robs your team of its productivity directly (cable mishaps, difficulty joining calls, loss of connectivity, just to name a few issues).
This is often directly related to technology, because legacy systems are typically vendor-locked and not always able to support meetings hosted by third parties natively. (They also are usually difficult to scale, which isn't great if you have a fast-growing, flexible workspace.)
Video conferencing software like Dialpad is designed to remove these barriers to productivity. It's easy to set up, integrate with your existing third-party software, and more importantly, can grow with you—while preventing overprovisioning of services.
Reduced collaboration equity
"Collaboration equity" is a relatively new term that's used to describe the extent to which a team can communicate and contribute equally—no matter where they are.
To achieve true collaboration equity, remote workers have to be able to access all the technology necessary to do their jobs from home, whether that's video meeting, screen sharing, or conference calling technology. This just isn't possible with clunky legacy systems.

For example, what if you have team members who are in different time zones and can't attend every meeting? In these cases, it would be helpful to have a meeting recording feature and/or transcripts so that those teammates can catch up on what they missed on their own time.
That's part of the reason why we designed a meeting recording feature in Dialpad (and did you know that our built-in AI can transcribe calls and meetings—in real time?):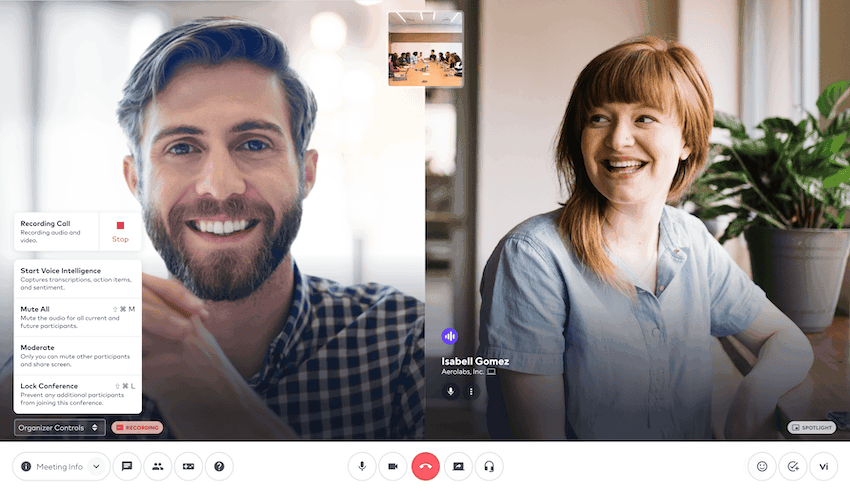 👉 Dialpad tip:
To provide your conversations with context so that employees can see shared events, emails, professional information, sales logs, or outstanding tickets from one window, Dialpad integrates with popular business software like Google Workspace, Microsoft Teams, Salesforce, Zendesk, and more.
Incompatibility with new technologies
Many legacy conference room systems are incompatible with contemporary tech like smartphones and tablets and also require the use of specific operating systems for full functionality.
That means when you're trying to make a call; there's a high probability that your device won't be compatible with the one you're trying to reach.
With Dialpad, you can make and take calls from any device and browser instantly. No need to download anything at all: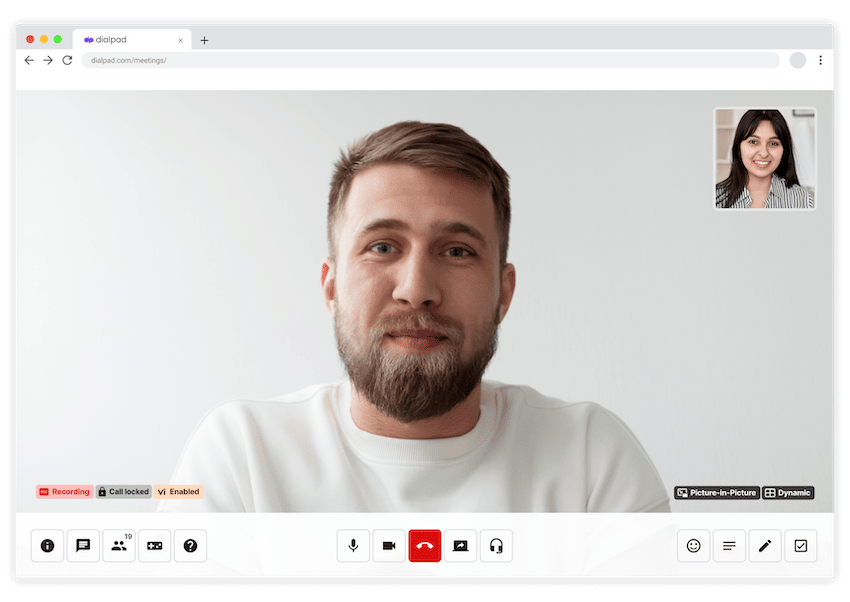 Bring your own device (BYOD) is a highly in-demand policy right now, and truly unified communications solutions like Dialpad are a big reason why this is possible, allowing employees to call, conference, text, and share files all from their own devices.
(This kind of interoperability drastically reduces the amount of money businesses need to spend on hardware, infrastructure, and maintenance!)

Unhappy clients and prospects
Legacy systems can also be bad if you're regularly talking to customers and clients over the phone or on video meetings. Not many legacy providers can guarantee uptime—but cloud providers by contract can. Many offer 99.999% uptime, and Dialpad even guarantees 100% platform uptime for Enterprise customers.
(And if you do experience any issues, you'll have access to 24/7 support from our team every step of the way.)
And there are other benefits to platforms like Dialpad too, like HD video and other features that are designed for the convenience of your clients.
For example, Dialpad's screen sharing feature is pretty unique in that your clients don't have to download the app to see your screen share. In fact, you can just send them an SMS with a link, and they'll be able to open that in their web browser—which again, goes back to the idea of collaboration equity: How can we make it possible for folks to collaborate and communicate with each other effectively, no matter what devices or technology they're using?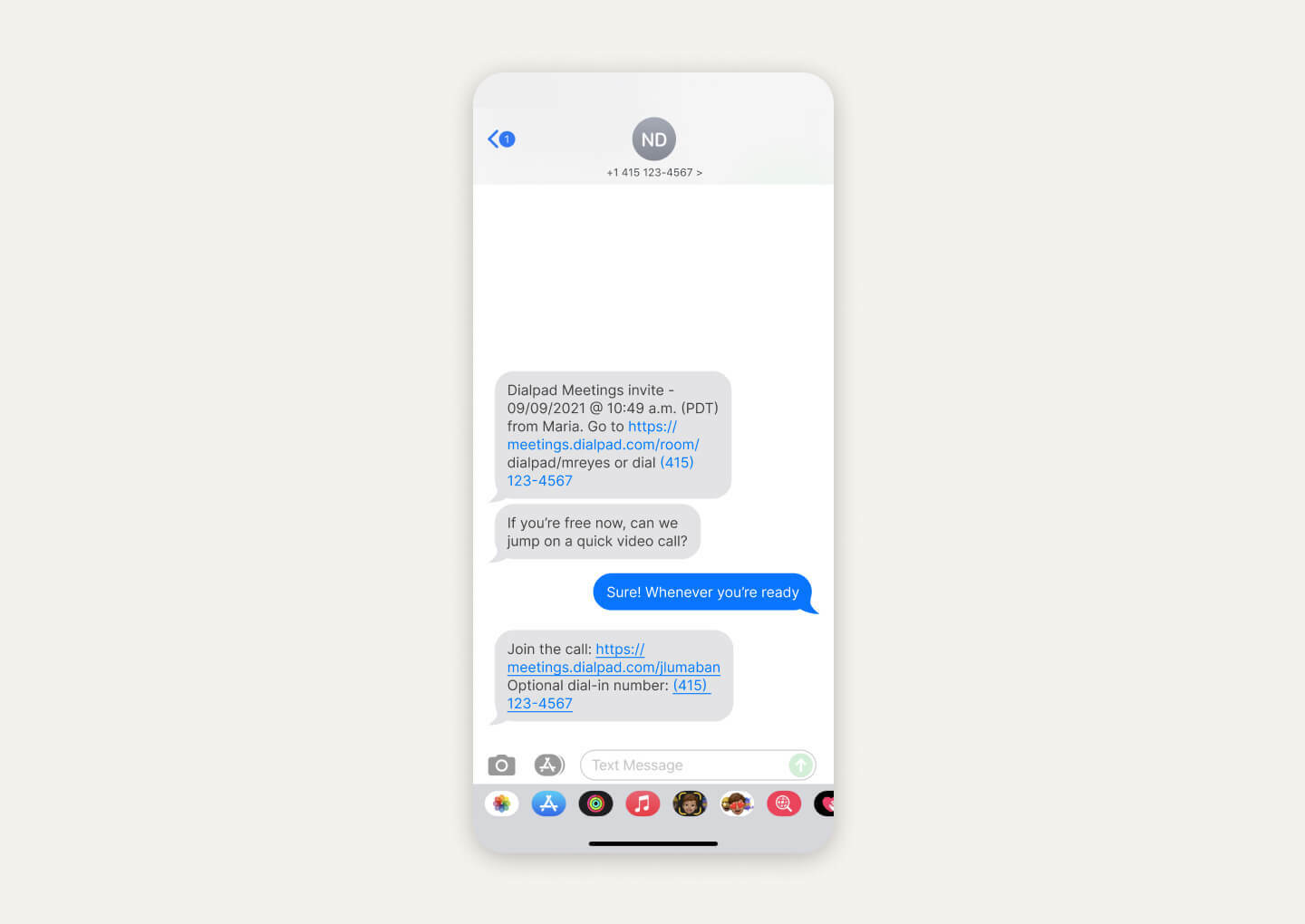 Conference room technology trends for 2022
Today's conference rooms must be sanctuaries that nurture a hybrid-friendly working environment to allow teams to work seamlessly no matter their location.
From VR to video walls, let's take a look at some of the hot new conferencing gadgets circulating right now.
Digital whiteboards
When it comes to emulating an in-person conference or meeting in the digital realm, there's one issue that comes up time and again:
How can teams collaborate creatively, share, and bounce around ideas?
Well, digital whiteboards are helping remote teams do just that. Interactive whiteboards allow meeting participants to deliver presentations, share annotations, documents, photos, and interact with others across devices.
In fact, Dialpad integrates with Miro to provide exactly that: a virtual whiteboard along with video meetings, so it feels like you're brainstorming with your team in the same conference room—even when everyone is remote: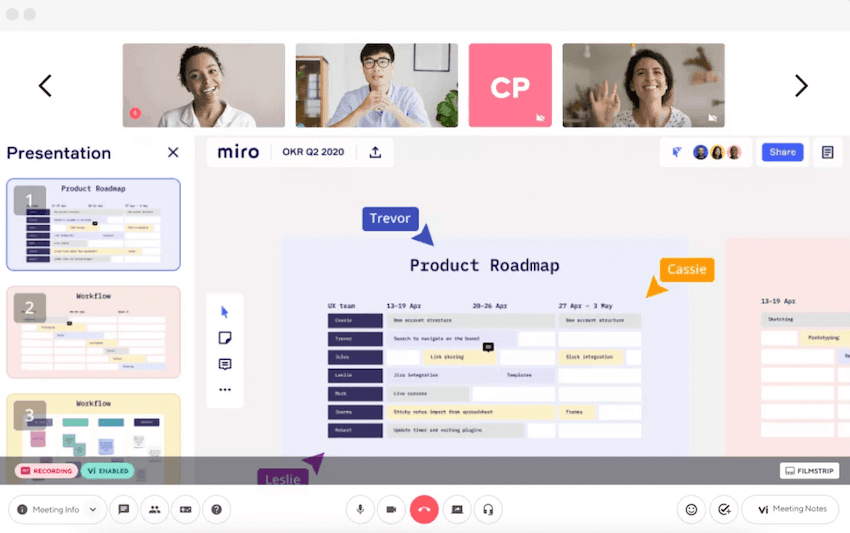 Wireless presentation
Presentations are a conference room staple, but who wants the hassle of messing around with wires and cables every time somebody wants to share some slides from their personal laptop, tablet, or phone?
That's where your conference room display comes in.
Now, sure, you can use an HDMI cable, but even that can cause problems:
Only one person can share their screen at a time

More time spent setting up between presentations

HDMIs only connect natively to laptops (not phones or tablets)
While HDMIs make a great backup, it's even better if you can mobilize a wireless presentation system in your conference room. A wireless system should allow every conference participant to connect their own device via native screen sharing or a screen sharing app.
With Dialpad, sharing your screen is easy. All you have to do is click a button from your meeting screen and choose between sharing your entire screen or a particular window with your audience. Then, all of your participants will be able to follow along with you in real-time: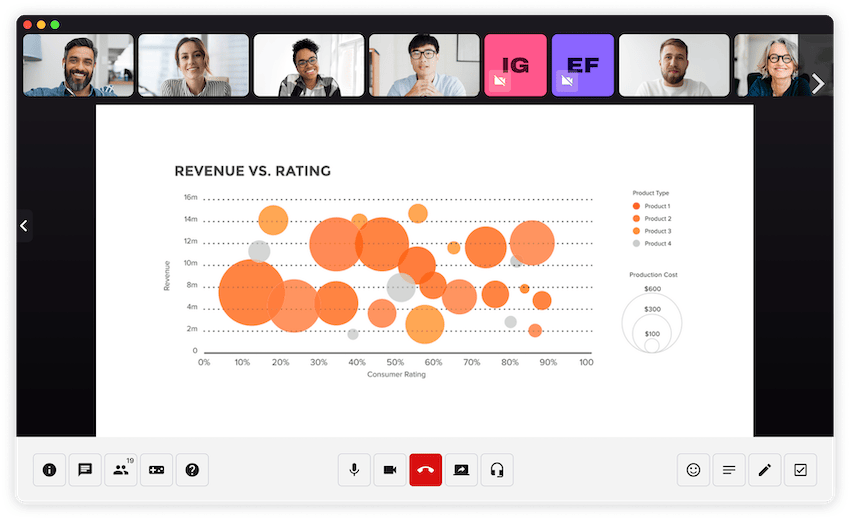 Virtual reality
Virtual reality conference room, anybody?
It may sound like something from Back to The Future, but the truth is, we're living in that future right now. They're not commonly used yet, but virtual reality conferences have some interesting potential for industries where remote teams may need to collaborate in three-dimensional virtual meeting spaces. (Maybe flight simulations or surgery simulations?)
In these cases, participants wouldn't just meet on a laptop, phone, or display screen. Instead, they'd wear VR headsets that simulate an interactive display or real-life meeting space where participants can interact and network with each other.

Conference room equipment and technology for hybrid meetings
Device-integrated video conferencing software
The first thing you'll need is video conferencing technology that combines multiple features and technologies in one solution across multiple devices.
This is especially important for organizations like WeWork, which have many offices and buildings. WeWork struggled with an expensive, resource-draining legacy phone system that required them to provide licenses to each of their 1,500 employees and a conference phone for every conference room. Dialpad allowed WeWork employees to significantly streamline their conference room technology and move toward an easy-to-use softphone-based system, while supporting hundreds of locations worldwide.
The switch improved employee productivity, reduced operational costs, and increased uptime.
Web conferencing camera
Next, the perfect video conferencing setup requires a quality web conferencing camera.
The webcams of the last decade are long gone. Today, businesses have a ton of great options, many of which come with advanced features like 4k HD cameras capable of high-quality, wide-angle, adjustable viewpoints for heightened interactions and real-life meeting experiences. Like the Poly X family, for instance: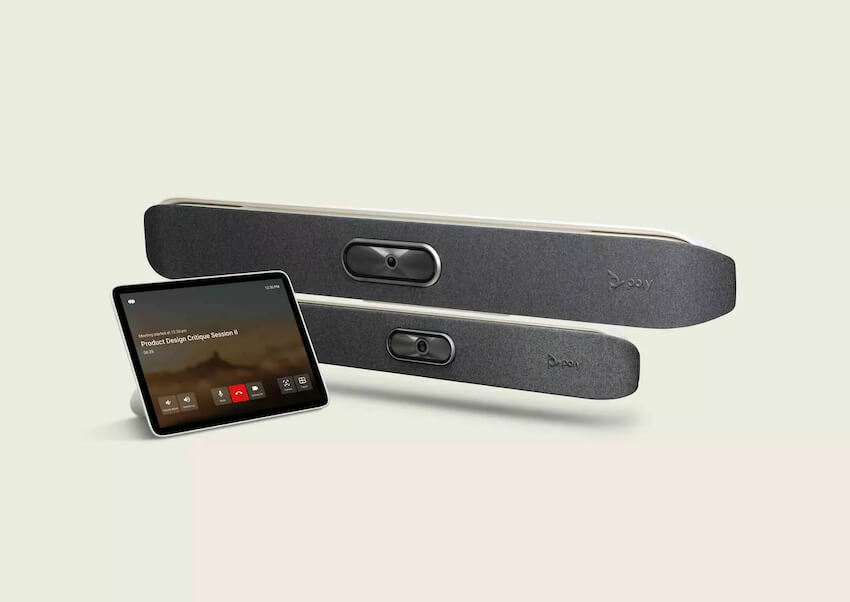 👀 Interested in remote or hybrid work tips?
Grab the Hybrid Work Playbook, which includes real-life case studies and breaks down all things hybrid + remote, from building and sustaining a hybrid workforce to equipping your team for success.
Television or computer screens

A good screen is a must for any conference room setup. An HD TV screen will provide meeting participants with clear visuals, ideal for longer meetings, seminars, or presentations.
Look for a monitor that connects to the internet via wireless technology so that participants can connect and make calls just as they would from their computer or laptop.
Dialpad, for example, lets you move a meeting from your cell phone to your conference room's TV with just a tap: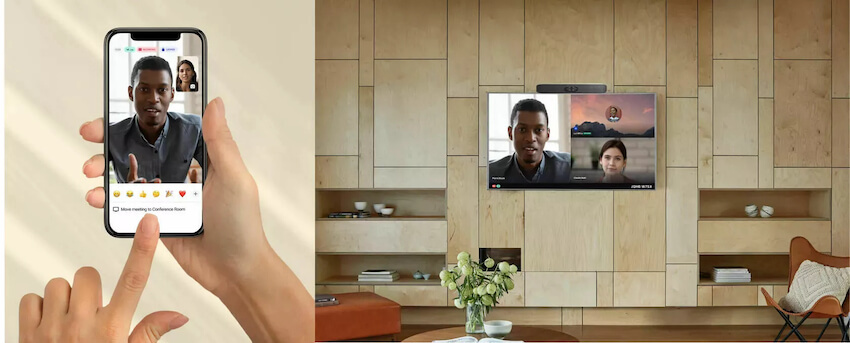 Projectors
Sometimes a TV screen won't cut it. For a large conference room, you'll want to choose a projector that provides all of your meeting participants with a clear view of what's going on.
Projectors have a bad rap when it comes to quality, but there are some seriously good ones on the market today, equipped with 4k image quality.
Speakers and microphones
Sound quality is critical for productivity and effective communication. For that reason, you'll want to choose your speakers and microphones wisely.
Customize your setup based on your conference room design. This is not a one-size-fits-all solution. You'll need to consider factors like soundproofing, your room's decor, ceiling height, and more.
Some conference rooms benefit from ceiling-mounted microphones and speakers that create a more immersive audiovisual experience. Others may want to prioritize noise-canceling technologies.
Wireless Internet
Last but not least, make sure you've got a seriously good Wi-Fi connection! Both your conference room and your entire company network needs to be tip-top.
This is what's going to fuel that hybrid flexibility. Whether your employees are tuning in from the conference room, the 8th floor, or their home office, a secure and reliable network is crucial.
👉 Fun fact:
Dialpad has teamed up with T-Mobile to give teams a lightning-fast 5G Internet connection—along with a unified communications platform—in one convenient work-from-anywhere package.
How to step up your conference room setup for the hybrid workplace: 7 tips
Once you've got all your component parts together, it's time to set up your very own hybrid-friendly huddle room.
Here are some tips to get you started:
1. Use software that is device-agnostic and browser-based
Contrary to popular belief, lots of software does not run with full functionality alongside every operating system.
For ultimate flexibility, choose conferencing software that works with all major operating systems.
Dialpad's app is available across all major operating systems. You can use Dialpad's native desktop app, Chrome web app, mobile app for iOS and Android, and basically any computer running Microsoft Windows, Apple macOS, or Google ChromeOS. And yes, it works on web browsers too, no downloads needed.

2. Place your microphone and speakers strategically
Next, think about sound quality. Centralized microphones and speakers make for maximum equity. If you're decking out a larger conference room, you may require multiple microphones and speakers in various locations throughout the room.
3. Conduct presentations with wireless systems
To help your conferences and presentations go like clockwork, make sure that you're using a wireless presentation system in your conference room.
This will allow you to sync your participants' devices with the room's main projector, TV, or screen without any need for troublesome cables and adaptors. With a wireless system in place, you'll have a fully BYOD office and cut down on time wasted transitioning between presentations.
4. Use interactive digital whiteboards or smartboards
Looking to make content sharing even more interactive? Why not switch out the TV screen for a digital whiteboard or smartboard?
As I mentioned earlier, the Dialpad + Miro integration is designed for real-time hybrid working experiences, bringing together Dialpad's best-of-breed collaboration tools with Miro's advanced whiteboard solutions.

5. Have a wide-angle camera, so everyone is visible in the call
Fed up with video conferences where you can't see everyone's faces? Use a wide angle camera, which allows meeting participants to see everyone involved.
Some cameras, like the Poly cameras I mentioned above, have a 120-degree (that's very wide) camera that even has a built-in focusing feature that tracks the speaker in a conference call and makes sure they're always in focus!
6. Use a conference room booking system

To make the most out of your in-house meeting room spaces, it might be helpful to have some kind of conference room solutions and scheduling system.
Many businesses don't use their conference rooms efficiently (hybrid workplace or not). Either they're underused or chronically overused (making booking a space a feat and a half).
Instead of booking your meeting rooms out on a Google Doc (logistical nightmare guaranteed), try implementing a booking system to manage your meeting rooms more effectively.
7. Provide sufficient ports and outlets for everyone's tech
Finally, make sure that your meeting rooms have sufficient ports and outlets for all of your conferencing equipment and your participants' own personal devices.
Maximize your collaboration equity with conference room technology
The future of work is hybrid. And with more employees working from a wider variety of places than ever before, collaboration equity is going to be a challenge that many international businesses and organizations will need to solve.
One key piece of this puzzle is the conferencing platform you use.
Dialpad is helping organizations all around the world work remotely while prioritizing collaboration equity, with robust, flexible, and scalable video conferencing solutions that support all major operating systems and devices. See how it can work for your team!
Need conference room technology or software?
Sign up for Dialpad Meetings' free plan to try it out yourself!