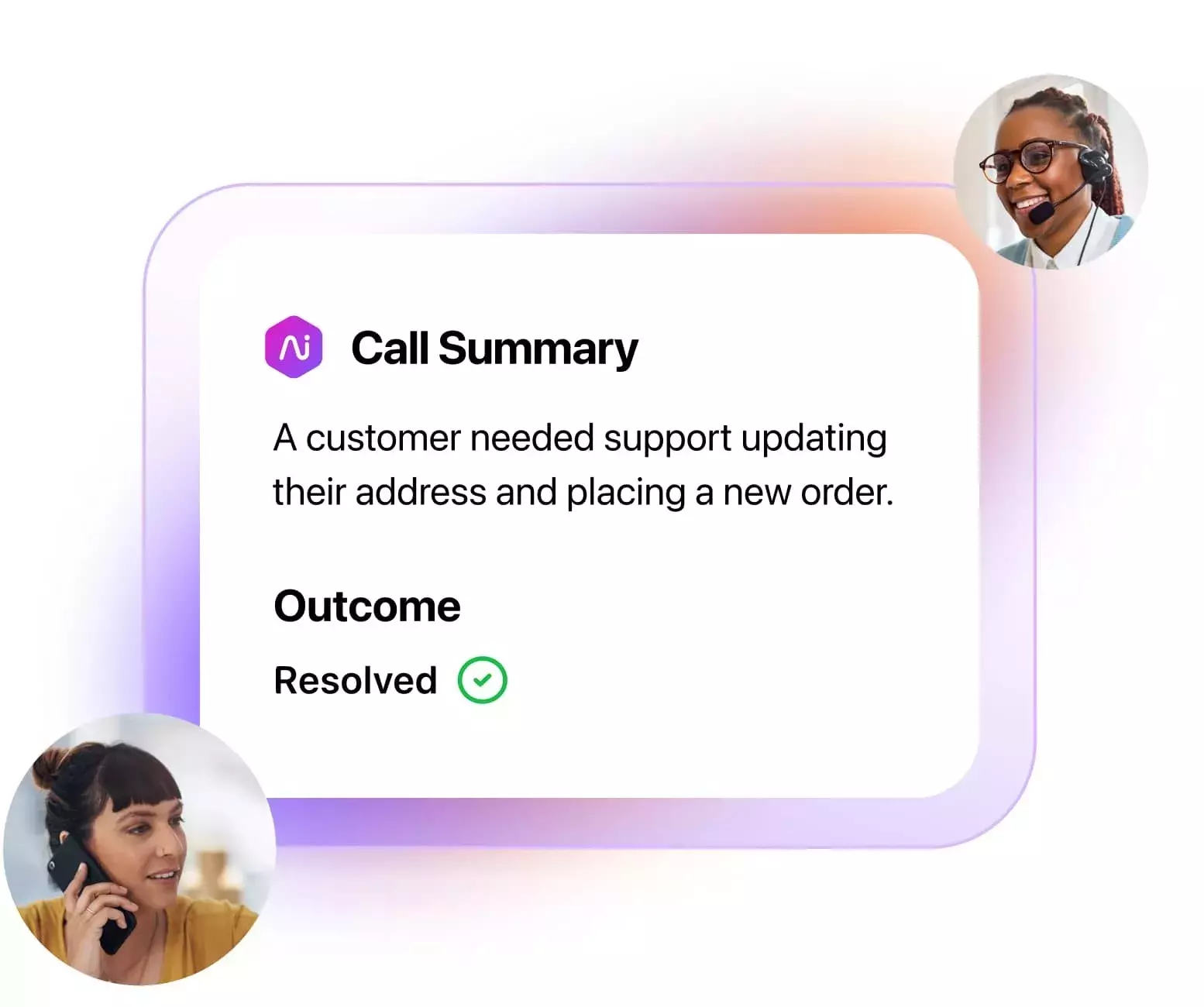 meeting recaps, right in your inbox
Call summary
Whether it's after a regular call or a conference meeting, it's easy to find important points from your business discussion with Dialpad's AI-powered call summary feature, which compiles a searchable transcript, action items, and notes into an easily digestible overview email. Sign up with your Microsoft 365 or Google account to start making unlimited online video calls for free. It takes just a minute to get started!
Whether you have teammates in other time zones who can't make it to every single meeting or just want to have a record of what was discussed and follow-up items, Dialpad's post-call summary email has you covered.
More than just an AI-powered call summary feature
Like having a secretary
Dialpad automatically sends all the attendees in your conference call or video meeting a recap email that contains the recording and searchable transcript, action items, and more. All without you having to lift a finger.

All your communications in one place
With Dialpad's AI-powered collaboration platform, you can make phone calls, have video meetings, and send instant message and SMS/MMS messages—all from one beautiful app. Or, just use your web browser—no downloads needed.

Full meeting control
In the Dialpad app, all the call controls you need are easily in reach. Adjust your volume, start a screen share, mute and unmute yourself, or start and pause recording. It's all in a clean, easy-to-use interface that lays out all these options for you right on the screen.

Screen sharing
Need to zoom in on a design mockup or run through a webinar with your remote team? Dialpad's simple screen sharing feature lets you choose between sharing a specific window or tab—or your whole screen. You can even do mobile screen sharing by texting someone a link. Again, no downloads needed.

Integrations with your favorite tools
Dialpad integrates with popular software like Microsoft, Google, and Miro to let you schedule video calls and be more productive during meetings. For example, the Miro integration lets you whiteboard virtually with your teammates!
Robust security settings
Keep your meetings secure. Dialpad's settings allow the host to mute participants, remove unwanted guests, lock the meeting, limit screen sharing, and more. There's even an API that knows to automatically pause call recording when sensitive information is being shared.
👉 Dialpad tip:
Even if your video call software has HD (high-definition) quality, that 4k or 1080p won't help if your Internet connection is bad. If your software isn't as HD as advertised, check your Internet first!
What exactly is Dialpad's post-call summary feature?
Dialpad's call summary feature is powered by its built-in artificial intelligence, Dialpad Ai, which can not only transcribe conversations in real time, but also capture the most important aspects from your conference call or phone call in an easily digestible format (and can reduce after-call work by a lot). In the automated post-call summary email, you'll find:
Basic call information: A high level overview of the basic call information such as contacts' names, phone numbers, call dates and times, and call durations.
A searchable transcript: A complete AI transcription of the call where the call is broken down by speakers. You can also search for phrases and keywords in the transcript, as well as skip directly to different parts of the call audio to quickly see who said what on the call.
A "key moments" list: This include actions items, snippets, sentiment analysis, and other important insights extracted from the call. These moments are great as a reminder of what attendees need to follow up on afterward.
Action items: Any follow-up tasks for attendees

See how Dialpad's AI-powered conference call summary feature works
Need to keep track of the time you spend on a conference call? Dialpad's unified communications platform will show you a quick conference summary after every call and deliver a detailed report straight to your inbox. Try it now!
Get AI call summaries delivered right to you
Get started with Dialpad's free plan now to start having video meetings for free. If you like it, upgrade to the paid plan to get the AI-powered call summary feature. Or, book a demo with our team to see how it works!