Call Analytics
Accessing your data is one thing, but it's what you do with it that really matters.

Business decisions are driven by rich, insightful information — solve challenges big and small that arise by using call analytics in Dialpad, optimizing a call center's performance to meet KPIs and get ahead of the competition.
Impactful Real-Time Metrics
Real-time metrics, real-time decisions. See what's going on in a call center at any time by accessing metrics that highlight ongoing calls, average speed to answer, agent availability, and much more. Dialpad organizes this information using a clean, easy-to-understand analytics dashboard monitoring the entire call center.
Discover in a single glance if a pivotal metric such as service level dips, and a decision can be made on the spot before it's too late.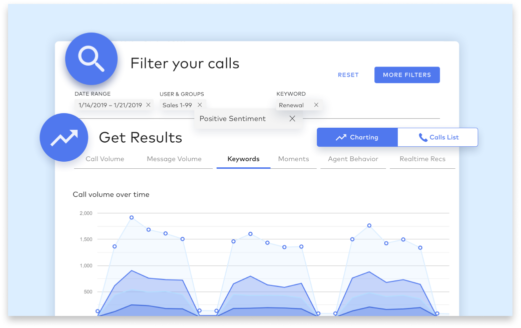 Track Trends Leading to Results
Uncover what's trending through Voice Intelligence-based keyword triggers. During a call, real-time assist cards surface automatically for agents to answer questions not only faster but also with a full range of knowledge. Dialpad gathers specific moments after a call, too; use these to know where sentiment stands, or search specific words that came up in your call center. Customers say a lot during a call, but focus on the words that matter most.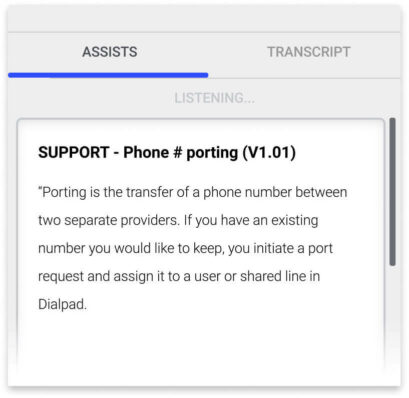 Coach Smarter
With a leaderboard that tracks call volume, moments, and sentiment, managers can easily pinpoint where assistance is needed throughout a call center. Coach agents to build their skillset and sustain a call center that prides itself on industry-leading customer satisfaction.
If your agents don't know where to improve, they'll never actually improve. Look at data that tells you what's missing and implement solutions to train knowledgeable, customer-first agents.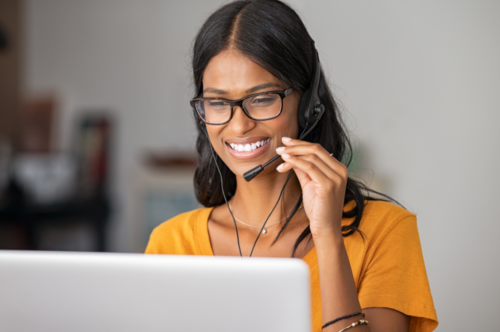 When our Technical Support workforce transitioned to working 100% remotely we had 
to act fast to ensure all mission critical systems were accessible and usable from agents' homes. With barely any effort at all, we were able to set up our agents to service calls remotely and without any disruption to our customers thanks to Dialpad.
Marko Milakovic | Sr. Manager, Technical Support at Domo
Dive Into Details
Every conversation is useful, right? Call history displays a record of all outbound and inbound calls from your call center in Dialpad, and from there you can take a deep dive into the details of these conversations. Listen to call recordings, read transcripts, or review key moments. Just don't scroll aimlessly through a long list of calls. Save time while still finding exactly what you need by applying user or group filters.
Better IT Insights
Call rating scores, device usage breakdowns, and team leaderboards enable IT teams to leave the guesswork behind when it comes to call quality and user adoption. Know where a call center's infrastructure is lacking, and offer agents the tools and technology necessary to succeed. Since our platform is available across all major devices, Dialpad rolls out and scales seamlessly for businesses of any size.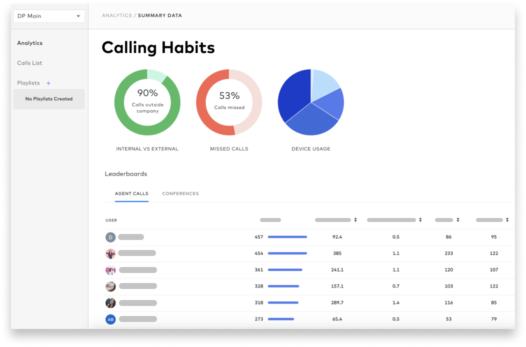 Hear What Real Dialpad Customers Say