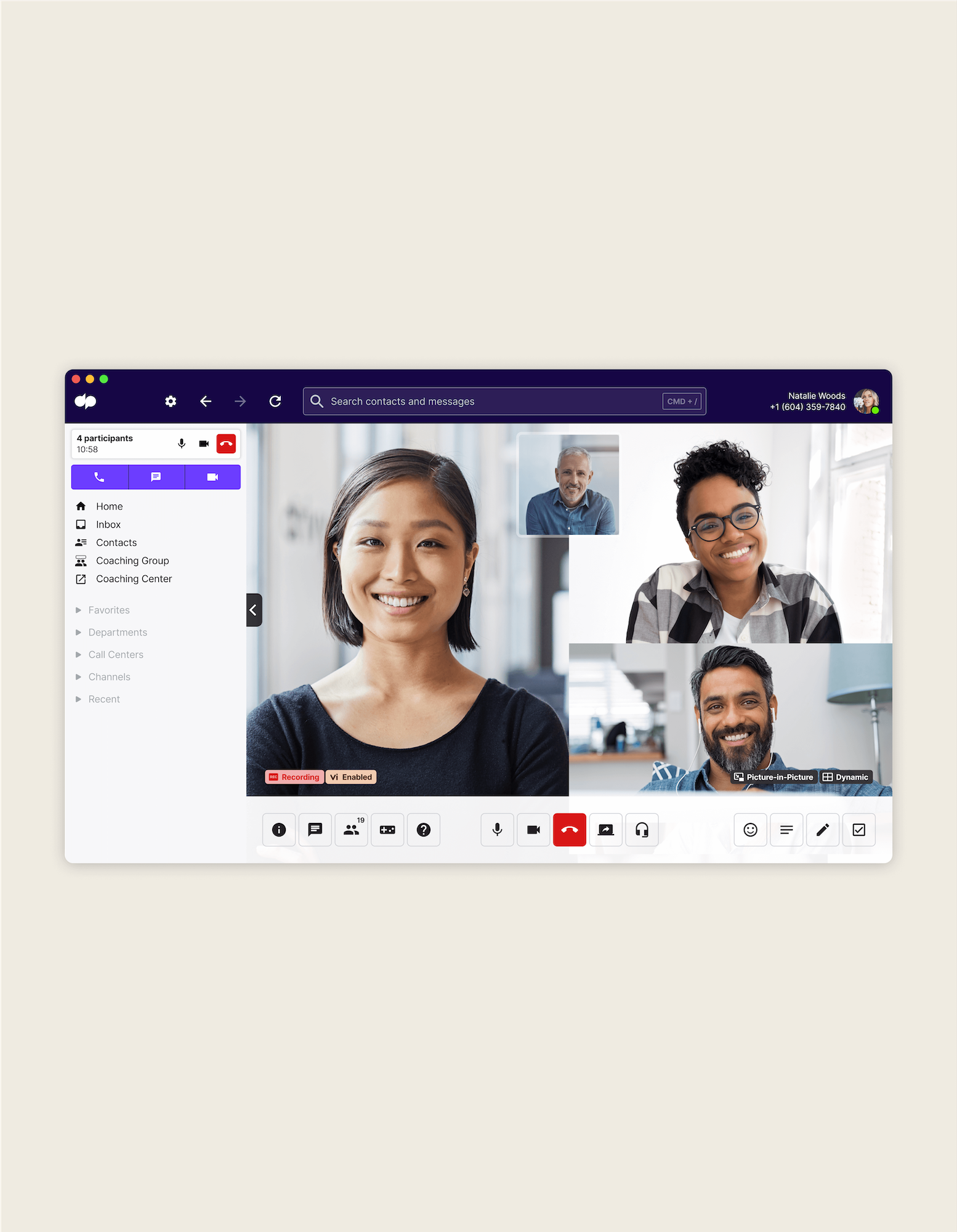 Web conferencing
Need to meet virtually with prospects, clients, and other people? Get started with business web conferencing by signing up for Dialpad's free plan. It takes just a few minutes!
If you're working remotely, you're probably no stranger to web-based conferencing. And with the way things are going, it's safe to say virtual meetings are here to stay for the long term.
If you're not familiar with the nuances of web conferencing tools, then good news, we'll walk you through the different features to look for. You don't need all of them for secure video conferencing with clients and colleagues, but we'll talk about which ones are more important (and why).
First, let's do a quick refresher on what web conferencing is, before moving on to the top features you should look out for when choosing a web conferencing solution.
What is web conferencing?
Web conferencing might seem self-explanatory, but it's not your average conference call. The main difference is that web conferencing tools (you might also hear them referred to as web conferencing platforms or online meeting software) allow you to have face-to-face remote meetings or video calls over the Internet.
Both large and small businesses alike have widely adopted these in their day-to-day work.

👉 Fun fact:
Web-based conferencing tools are pretty wide-ranging. You can find this feature in anything from VoIP providers to unified communications platforms (that also come with useful built-in business functionality like file sharing, screen sharing, desktop sharing, and content sharing).
What you get with Dialpad's plans
With Dialpad Meetings' free web conferencing plan, you get:
Unlimited video meetings
Up to 10 participants per conferencing meeting
Virtual backgrounds
Unlimited audio recordings
Instant joining via desktop or mobile browser, no downloads needed
And more...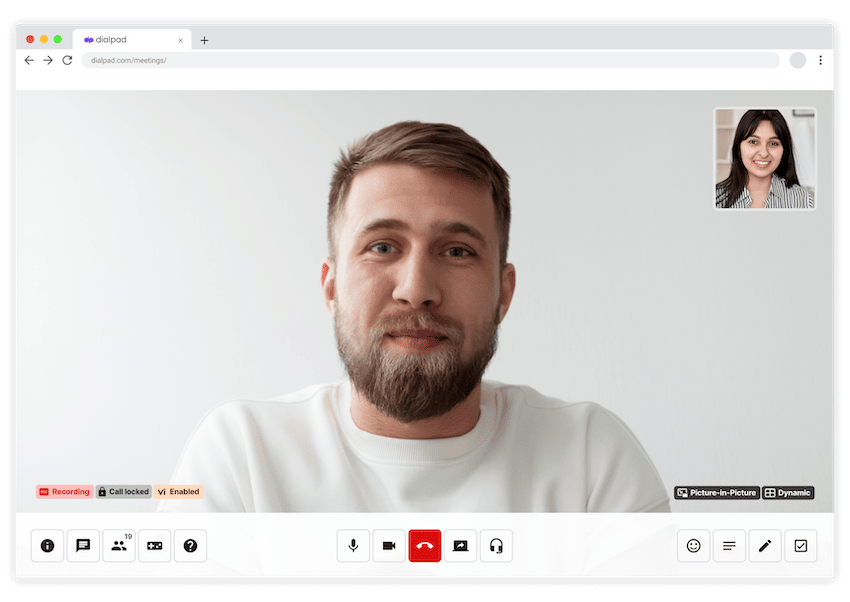 What are the benefits of web conferencing?
There are so many benefits to online conferencing. It opens up a world of possibilities and empowers teams that are scattered around the world to collaborate more closely. Many tools make it easy to set up video meetings and talk face to face with colleagues and clients. No more commuting or expensive business travel.
From joining meetings via an online video link to using your favorite web conferencing tool or app for things like file sharing and screen sharing, web-based conferences are definitely not just a phone call with video.
What can you use web conferences for?
They're actually a great team collaboration tool, and the uses are pretty diverse. You can have voice-only conference calls (just turn video off), video meetings, training sessions, webinars and online events, customer support, product demos, and more.
Dialpad: More than just web conferencing software
Instant calling, easy invites
You never know when you might need to jump on a conference call or hangout. Customers and clients often come through with urgent, last-minute requests. With Dialpad, meeting participants can join a web conference just by clicking a link in the invite or dialling a number.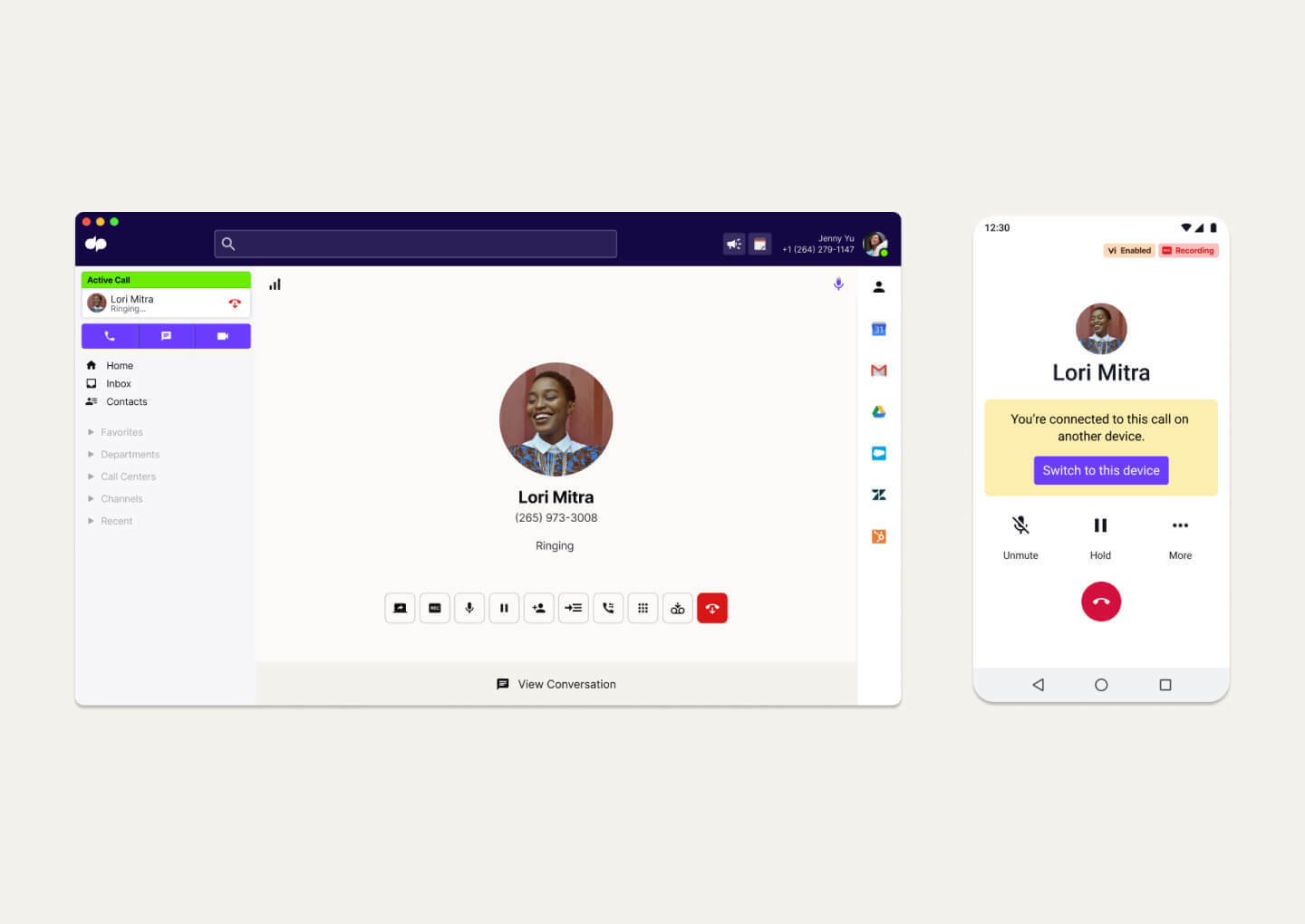 Any device, any time
Get full functionality across your desktop and mobile devices. Dialpad's desktop and mobile apps work across iOS, Android, Mac, and PC. Or, just use your web browser. (Most online conferencing platforms give you the option of using your browser too, but with significantly fewer features… because they want you in their app.)
👉 Dialpad tip:
More and more web-based conference platforms are saying that you can "join meetings from your browser," which is great! But Dialpad's web conferencing software is one of the very few truly browser-based online conferencing tools that let you start / host a meeting from your browser too—not just join from a browser.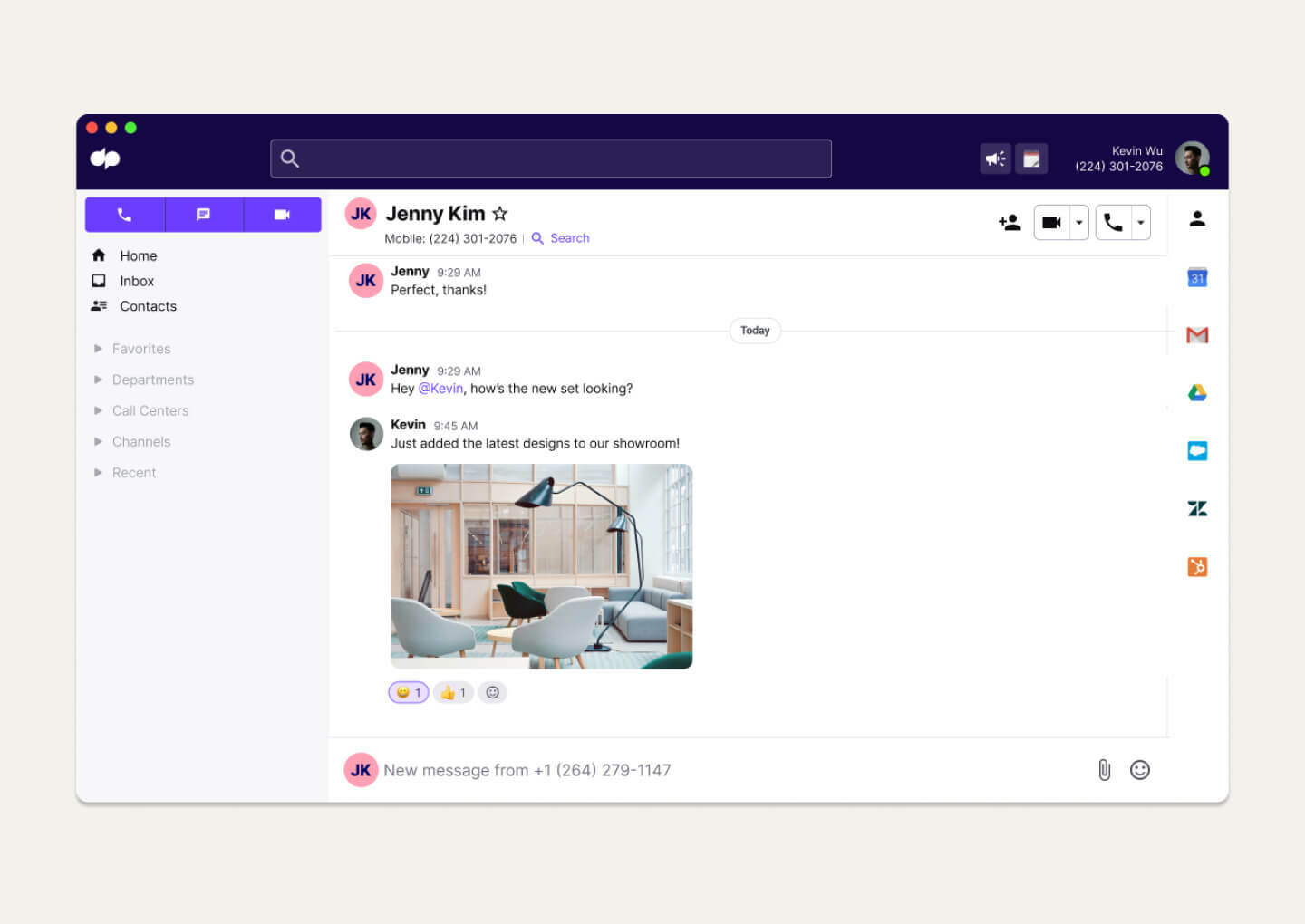 Truly unified communications
If you need phone calls or SMS and instant messaging in addition to having online meetings, then it's usually best to have a unified platform that has all those communication channels in one place. It's less expensive—and you won't have to manage or learn as many different tools. Dialpad's platform is designed to give you exactly that.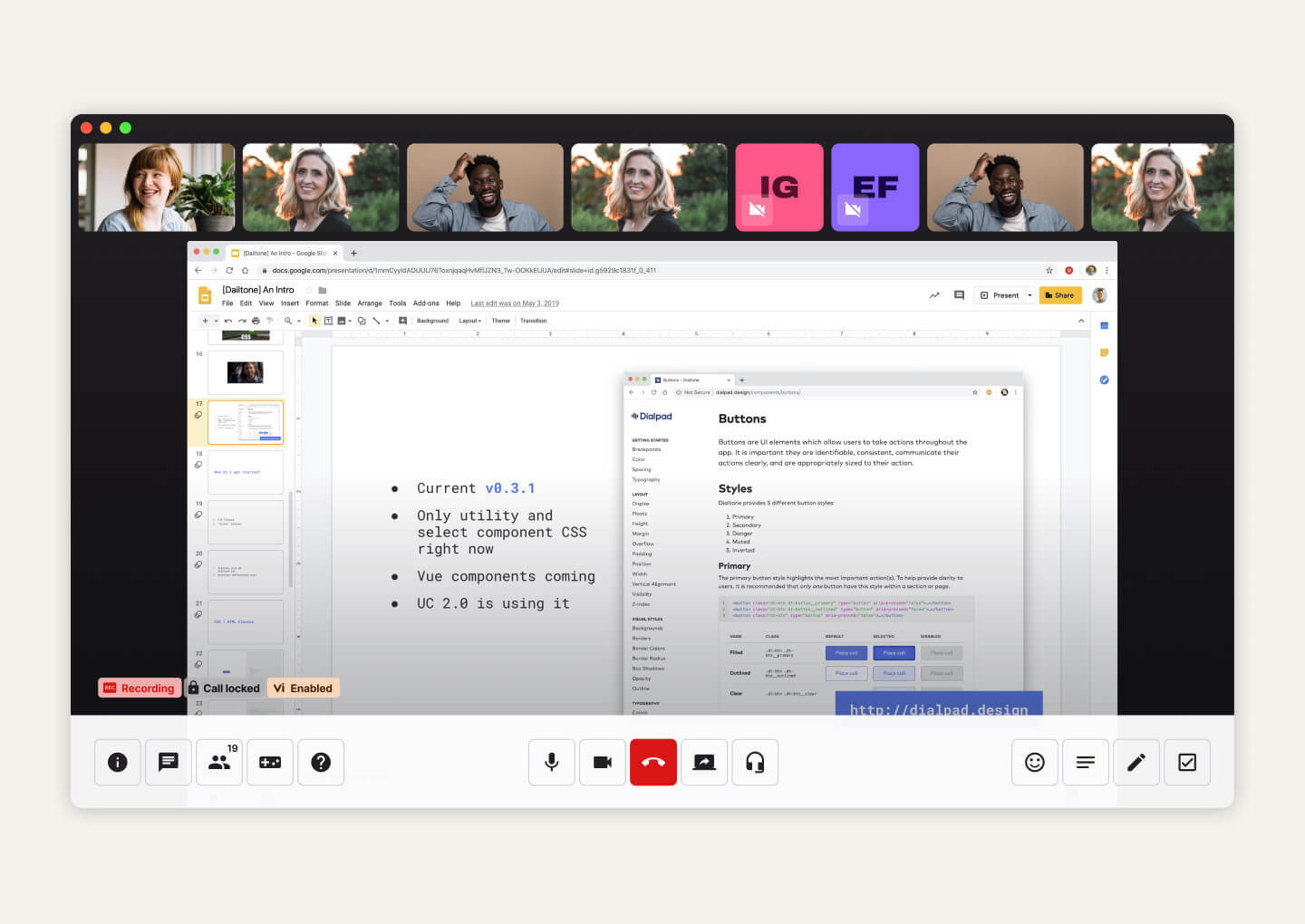 Screen sharing
If you need to review designs in online meetings regularly, then screen sharing is a must. With Dialpad, the screen share option is unique in that you can share the link via SMS with say, a client—and they'd be able to join your screen share without downloading anything. Dialpad also integrates with Miro to allow for virtual whiteboarding. Make annotations, zoom in on a website mockup, and brainstorm together, virtually!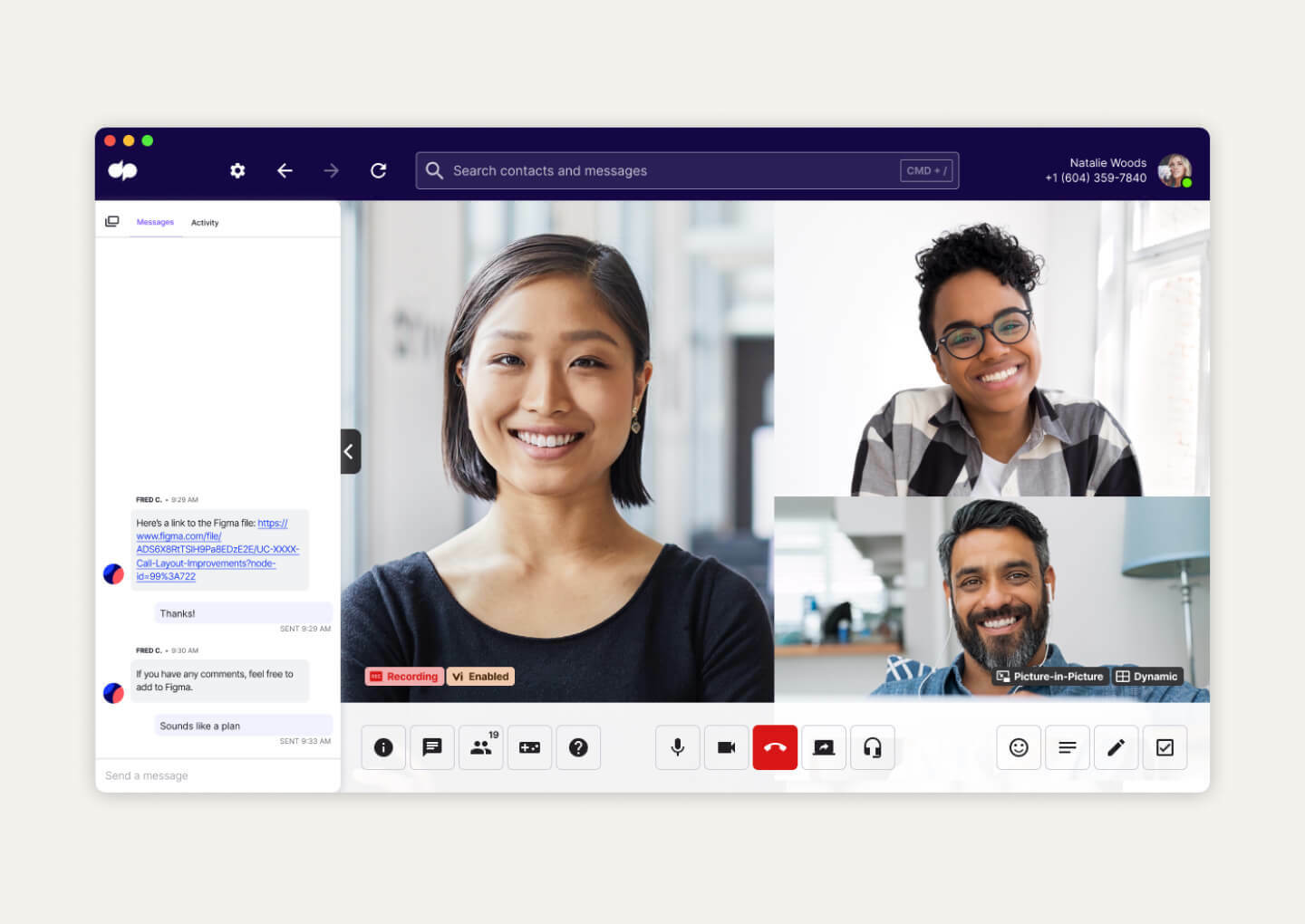 In-meeting chat
Let your attendees interact with each other during a conferencing meeting—without interrupting the speaker—with the in-meeting chat box and emoji reactions.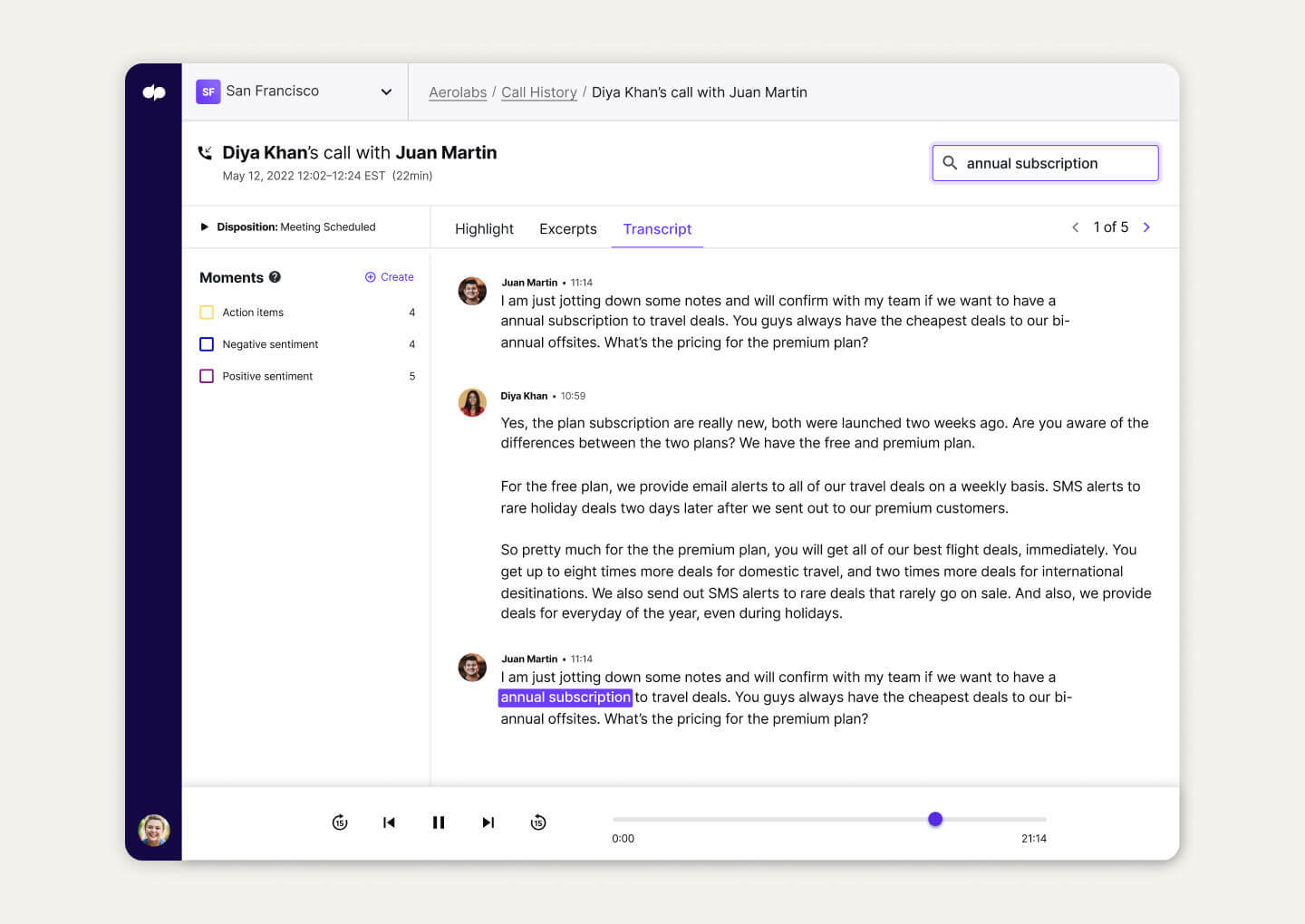 Flexible pricing options
Dialpad has different pricing plans depending on what you need. With the Business plan, you get more advanced features like custom dial-in numbers, meeting transcriptions, and automated post-meeting summary emails.
Meeting recording
While it's now much easier to arrange client meetings thanks to internet conferencing, there will still be times when not everyone can attend. That's why, Dialpad has a meeting recording feature that lets you record and share recordings with people who couldn't attend the call—or just as a way for people to review what you talked about in the meeting.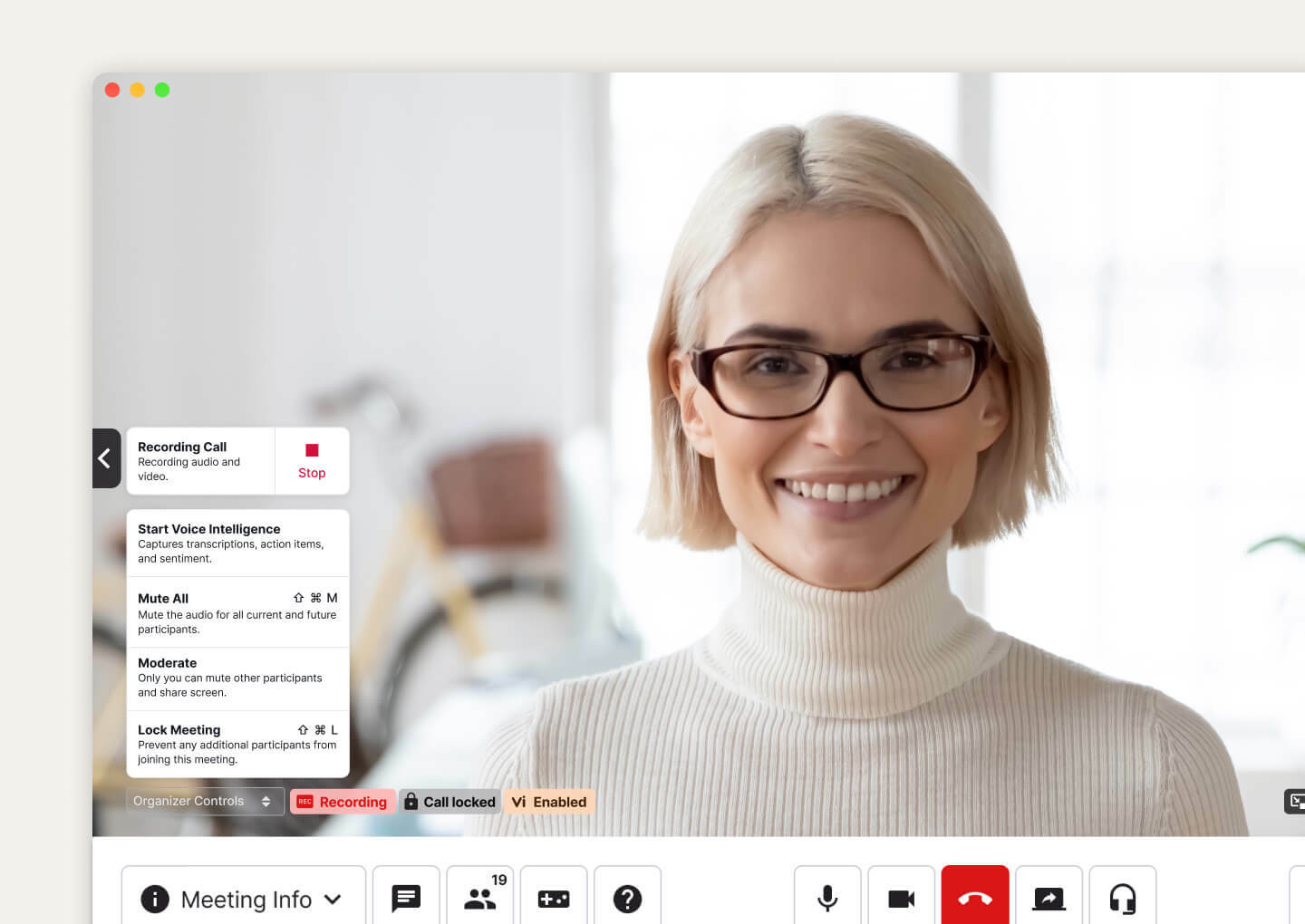 Robust security features
Dialpad has different ways of keeping your web-based conference safe. Lock your meeting, require a password, limit screen sharing, boot out unwanted guests, and more. Say goodbye to meeting crashers.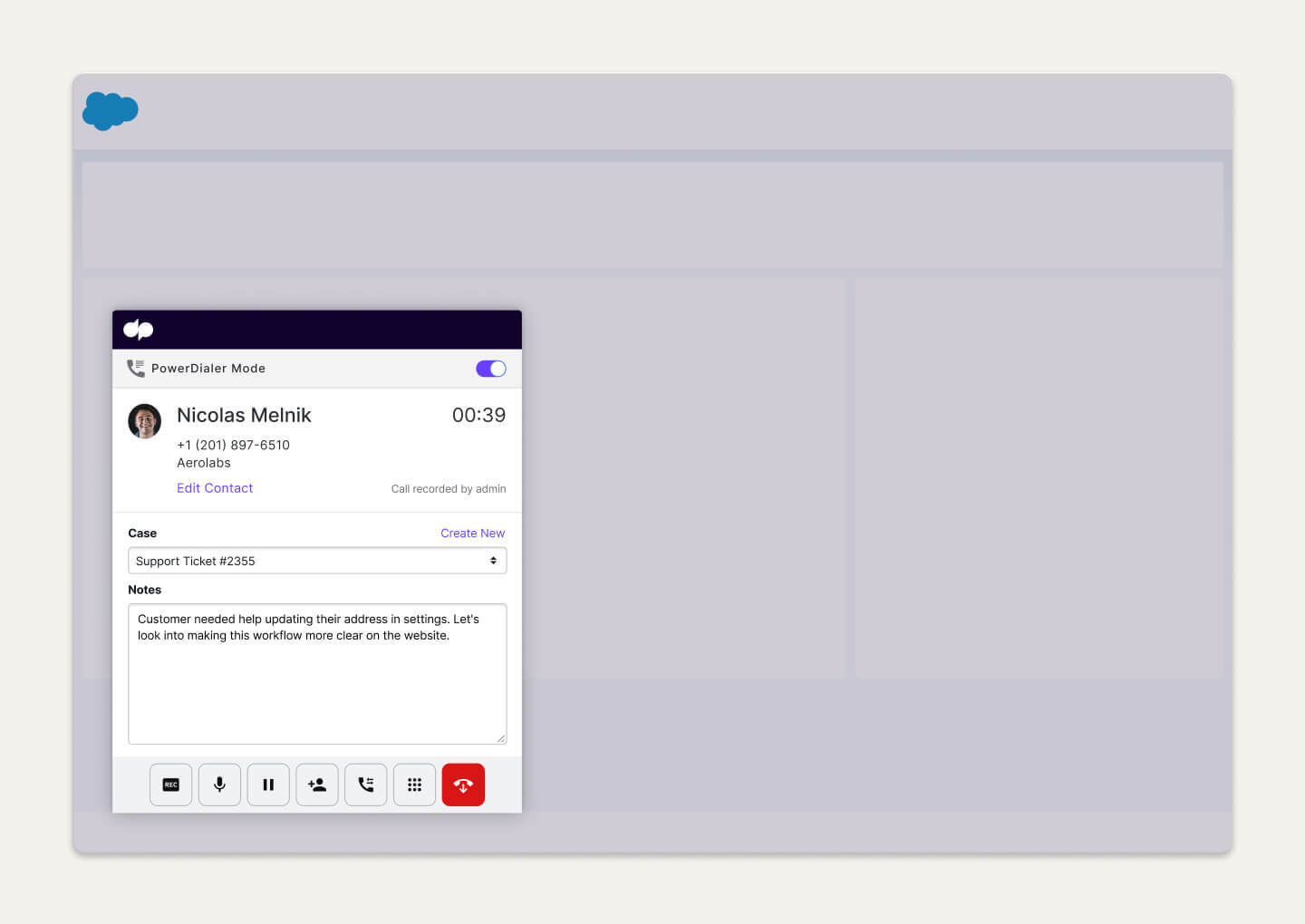 Integrations with your favorite tools
Dialpad integrates with a wide range of popular business software, including Google Workspace, Microsoft 365, Salesforce, and more to make scheduling video meetings and conference calls faster and easier. You can also create custom automations with its open API!
HD video quality
Dialpad is designed with crystal-clear video and audio quality in mind. That being said, if your team is working from home for good, make sure you have a good network! Dialpad's collaboration with T-Mobile gives you lightning-fast 5G connectivity for the very best call quality… and it comes with our unified communications platform too, so you can call, video chat, and message to your heart's content.
bonus
Integrated contact center platform
Did you know that Dialpad also has a contact center product? If you have a Customer Support or contact center team, you have the option of implementing Dialpad Contact Center as well, which is completely integrated with the unified communications app. One login, one account, one beautiful user experience.
Get started with web conferencing for free
Sign up for Dialpad Meetings' free plan with your Google or Microsoft 365 account in just a few minutes!
Your own web conferencing platform in 3 easy steps
To have an actual web-based conference, you'll need a webcam (or a built-in camera if your laptop has it) and a web browser or app at the very least.
Most web conferencing tools make you download a desktop or mobile app to run web meetings, but some, like Dialpad, let you have "browser-based" video conferences, which means you can just use your web browser as a virtual meeting room—instead of an app.
No matter which platform you choose though, conferencing meetings should be pretty intuitive. Let's quickly walk through how to have a conferencing meeting using Dialpad as an example. (The general steps should be the same—provided you didn't go with a ridiculously user-unfriendly tool…)
1. In your Dialpad app (or just log in on your web browser), select "Send conference invite":
2. That will pop up a screen that lets you either put in someone's number or choose their name from your list of contacts.
3. Once you've chosen the person (or people) you want to invite, hit Send. That'll take you to your messaging conversation with them, with a new message that contains the conference invite for them.
Alternatively, you can also start a conference call straight away from a chat conversation (using the phone or video icon in the top right).
By the way… Did you know that with Dialpad, you can easily start a web call with prospects and clients too? Again, they don't even need the app—they can join your meeting from a web browser.
But wait! You ask. How are they messaging me in Dialpad if they don't have the app? Great question. Because Dialpad has SMS built right in, the messaging conversation that you see in the Dialpad app actually shows up as a text/SMS for them. So the invite that you see above will get sent to their phone via text—all they need to do is click the link included in the text message to join the video meeting.

👉 Dialpad tip:
Oh, and don't worry about taking meeting notes. Dialpad's AI-powered Voice Intelligence (Vi) technology automatically transcribes your call in real time (more accurately than Google). After the call, Dialpad will email you a call summary with the call recording (if you chose to record it), important excerpts, and action items. It's like magic.
Take your business communication to the next level with innovative web conferencing tools
We're truly in the world of conferencing meetings now. As far as technological revolutions go, this is probably one of the biggest changes at work in recent years.
With online video calls, you can not only make your business more efficient in its day-to-day operations, but also give your clients a better and more convenient experience.

Interested in web conferencing?
Start meeting with your teammates, clients, and prospects using Dialpad for free!
FAQs about web conferencing
Who can benefit from web conferencing tools?
Pretty much anyone who needs to have conversations for work. We might be a bit biased, but most businesses and customers alike can benefit from web conferencing services. Freelancers, nonprofits, academic institutions, government organizations, small and medium-sized enterprises, and large, multinational businesses—any business or worker can benefit from having video calls instead of travelling to be in-person for a meeting.
For businesses especially, web-based conferencing is a cost-effective way to grow and facilitate expansion into new markets. These businesses can use conference calls and webinars to reach out to new clients and demo their products, services, or just general expertise.
Are online video calls secure?
What features should I look for if I have a conference room or whiteboard use in mind?
What's the etiquette for video conferencing?
Is a free web conferencing solution good enough for my business?