DIALPAD FOR SMALL BUSINESSES
Set up your
business phone
for $15/month
And it's not just a phone system. Talk, message, meet, and support customers—all in one easy workspace.
Loved by small businesses around the world
EASY SETUP
Get going in minutes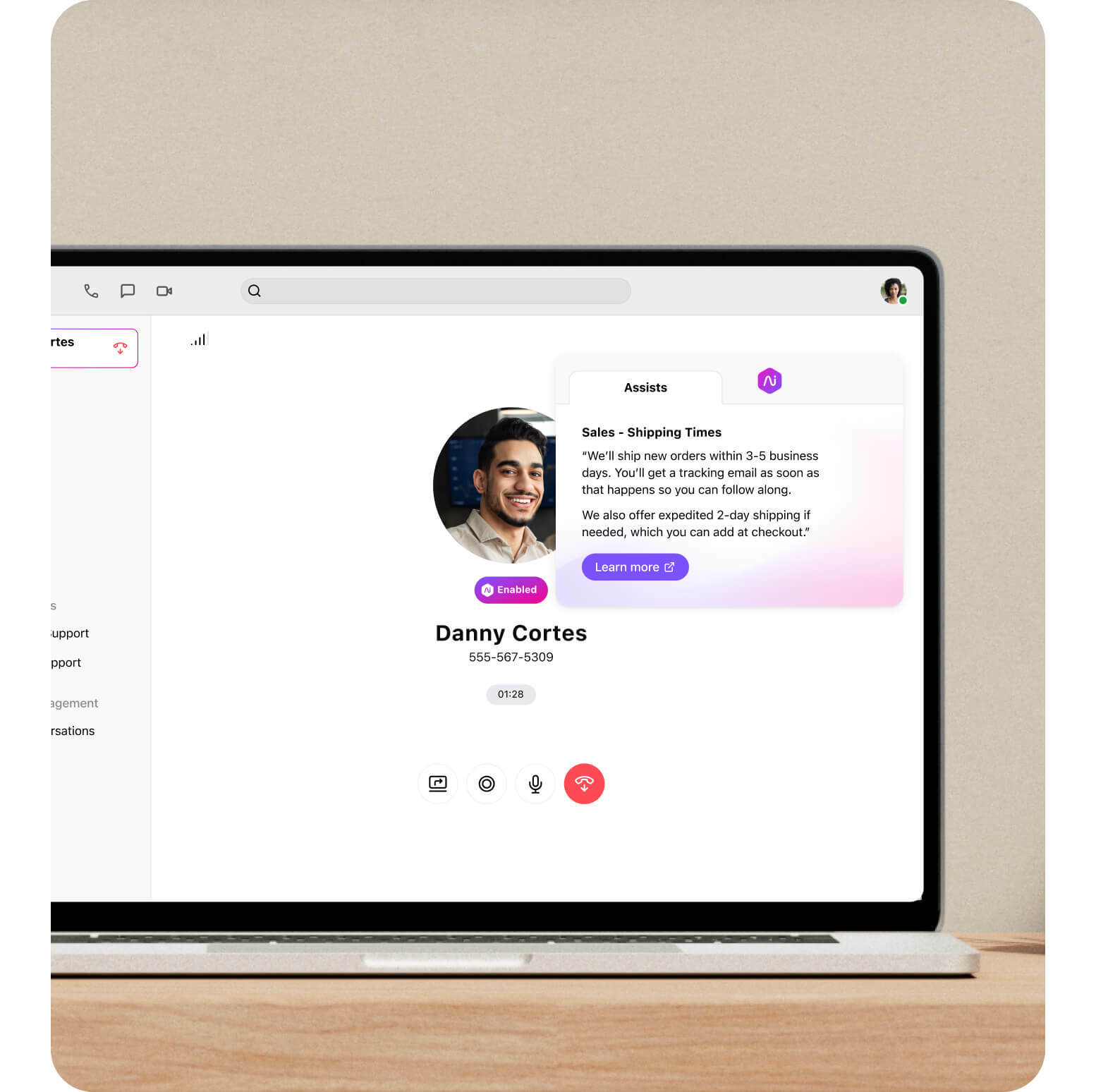 Pick your number
Or keep your current one. It's easy to port over any existing business numbers to Dialpad.
Download the apps
And link Dialpad to your desktop and mobile devices, so you can start working from anywhere.
Start collaborating
Easily move between calls, messages, and video meetings while staying connected in a single workspace.
Do it all in one beautiful workspace

Ai Contact Center
Dialpad Ai helps you provide the best support across every channel with live coaching, sentiment analysis, and more.

Ai Sales
Keep your outbound teams a step ahead with tools like sentiment analysis, live Ai coaching, and real-time assists.

Ai Voice
Built-in Ai transcribes calls, takes notes, and tracks action items—so you can stay focused on the conversation.

Ai Meetings
Get more done during and after meetings with Ai tools like live transcription and automatic call summaries.
Enterprise-grade for every business

No extra hardware
Dialpad lives on all your favorite devices so you can take your business on the go (plus, we work with deskphones if you need them).

No admin overload
We keep it simple—set up new users in just a few clicks with easy deployment and management in our web portal.

No more app switching
Dialpad lets you call, fax, message, text, and meet virtually—all from your work number and all in one app.
Loved by small (but mighty) teams

"From adding licenses to provisioning users, Dialpad is just easy."
Francisco Veloz
IT Manager

"With Dialpad, our teams aren't tied to offices—they operate from anywhere."
Peter Hogg
Systems Engineer

"Dialpad Ai gave me the ability to manage our contact center more effectively than ever before."
Marc O'Leary
BAKERY OWNER
FAQs
Questions? We've got you covered.
How quickly can I get set up?
Most small businesses can get up and running within a day. Special circumstances like porting existing numbers into Dialpad and configuring other custom capabilities may take a few days.
How is onboarding managed?
What does ongoing support look like?
TIPS & TRICKS
Top resources
for small businesses
BLOG
Picking the right small business phonesystem
BLOG
Best video conferencing software for small businesses
BLOG
Tips for selecting a small business contact center
Start your free
14-day Dialpad trial
Connect your small business with Dialpad's all-in-one workspace.