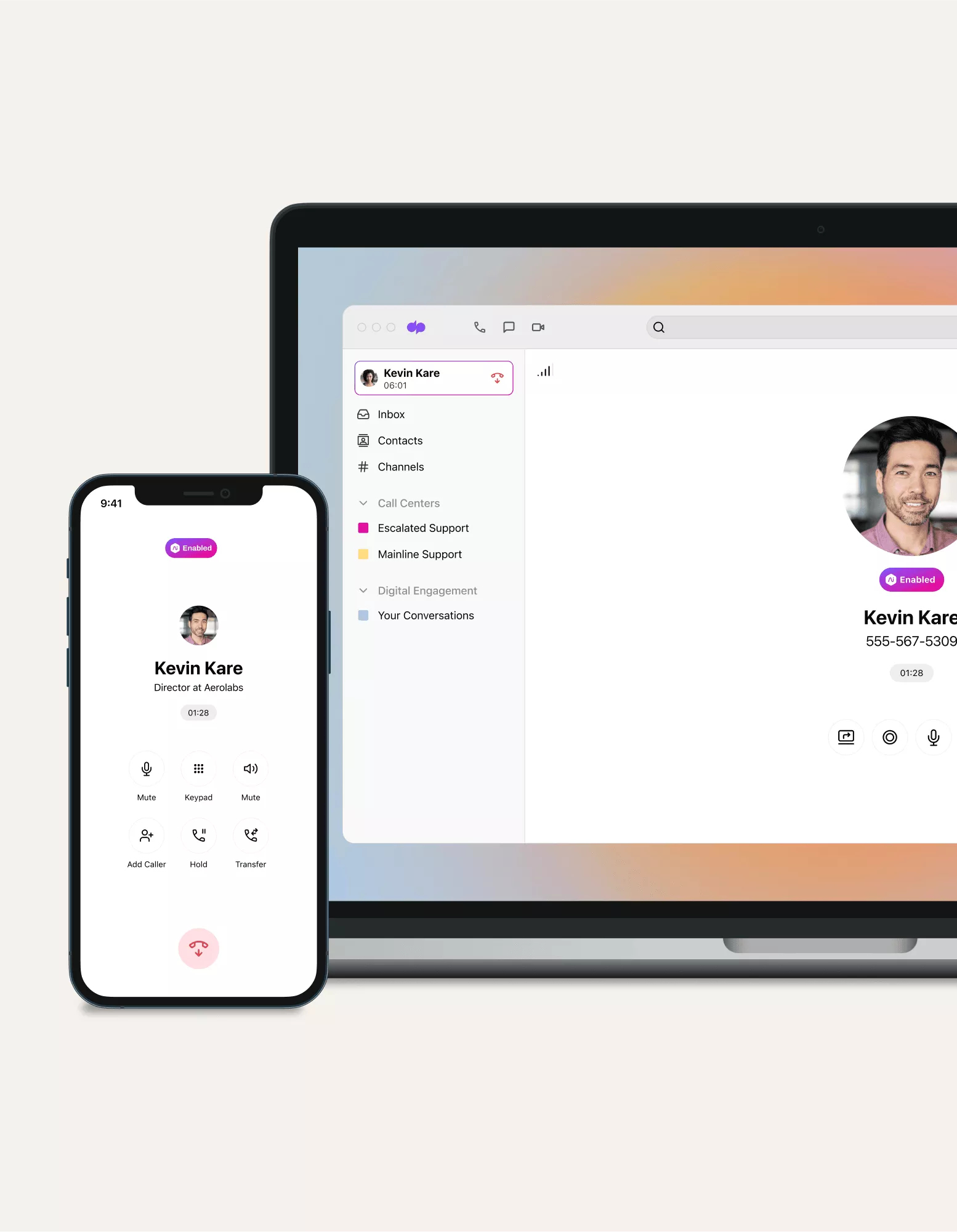 a primer
Direct Inward Dialing (DID)
Need DID numbers for your business? Sign up for a free 14-day trial to see how it works, and get set up with a virtual number in just minutes too!
Have you ever called a business and had to go through a long series of automated menu options or human receptionists? Did you enjoy it?
Most people don't. And yet, this is the experience that many businesses have created for their callers. Busy signals, unanswered calls… If these are common problems for your customers, you probably haven't configured a Direct Inward Dialing service (or DID) yet.
Let's look at what Direct Inward Dialing is, why you might need one, and how to set one up.
What is Direct Inward Dialing?
Direct Inward Dialing (DID) is a telecommunications feature that you'll find in your business phone system or communications platform, and essentially lets your organization assign personal virtual phone numbers to each employee—without needing a separate physical phone line for each.
Most decent phone systems or telephone companies should provide this feature, including both modern VoIP phone systems and older Private Branch Exchange (PBX) systems.
For your callers, what this means is they can bypass your company's main reception line and go straight to a desk extension or extension group. And for your business, it helps you manage your telephony traffic more easily—and can be used with local, premium-rate, or toll-free numbers.

👉 Dialpad tip:
You'll also sometimes hear people talk about DID in terms "Direct Dial-In" (DDI) and "direct-dial numbers." There's also Direct Outward Dialing (DOD), which is a similar service that's used for outbound calls from your business phone system. This is used so you don't need to press a number before dialing out or to connect with an operator.
What is a DID number?
A DID number looks like a regular telephone number, but it's associated with a specific phone at a business, rather than the business's overall phone system. Think of a DID number as a shortcut that allows inbound calls to be routed directly to an individual user at a business.
How does Direct Inward Dialing work?
DID works in one of three ways:
Direct dialing on PSTN
Old fashioned DID uses the public switched telephone network (PSTN). The telephone service provider connects a set of trunk lines to a company's Private Branch Exchange (PBX).
These numbers are then allocated to the customer as direct-dial numbers.
Inbound calls to direct-dial numbers are forwarded to the PBX via the trunk line. When it arrives at the PBX, the number being dialed and the calling party are provided. Then, the incoming call is routed to the desired phone extension without having to be processed by an operator or auto-attendant.
Traditional phone services provide DID services using Primary Rate Interface (PRI) circuits that require a business to lease a bunch of trunk lines from their communications or telecom provider. As you can imagine, this wasn't cheap.

👀 Moving your business to remote or hybrid work?
Grab the Hybrid Work Playbook, which includes real-life case studies and breaks down all things hybrid + remote, from building and sustaining a hybrid workforce to equipping your team for success.
Direct Inward Dialing on VoIP
Most modern businesses are using VoIP (Voice over IP) these days. VoIP phone systems allow businesses to make and receive calls over the Internet, without needing physical phone lines or in-office hardware.
Using VoIP technology, businesses can employ direct-dial numbers with Session Initiation Protocol or SIP trunking. With SIP trunking, "trunk" line connections are virtual links that are available when a business requires them.
Compared to an old-school or analog phone system, DID is highly scalable and flexible when you're using a VoIP provider.
If, for instance, you need to scale up and add lots of new hires or seasonal staff to your phone system for a new campaign or during a particularly busy period, you can usually do that directly from the software interface. This means there's no need to call the telephone service provider and have them install extra physical trunk lines to your PBX.
For example, with Dialpad, you can add users and manage their phone numbers, right in your online dashboard:

Direct Inward Dialing for faxing
You can also use DID for faxing by assigning a block of direct-dial phone numbers to a computer with a fax server. This way, different fax numbers are linked to a specific fax machine or multiple devices.
Today, the best VoIP phone systems usually come with a virtual fax feature. For example, with Dialpad, you can send and receive faxes over the Internet on your computer—no clunky fax machine needed:


5 benefits of Direct Inward Dialing
1. It's cheaper
DID can reduce costs for your business by reducing how many trunk lines you need to connect.
With a VoIP phone system, companies can just use their direct-dial numbers to connect business phones in remote locations, reducing the need to have—and pay for—installing and maintaining traditional PBX systems. And since calls are made over the Internet, companies can save a lot on long-distance calls too.
Dialpad's pricing starts at only $15 per user per month, and even the least expensive plan comes with a local virtual number, unlimited calling in the US and Canada—along with a whole range of advanced features.

Try Direct Inward Dialing now!
Sign up for a 14-day free trial to try Dialpad out. It takes just a few minutes, and you'll get set up with a virtual phone number too. Or, take a self-guided interactive tour of the app!
2. A better customer experience
With DID, customers can reach your business quickly without having to waste time on phone menus or in queues. They don't have to sit through a long prerecorded menu, and can quickly get right to the specific person they want to reach.
3. A better agent or employee experience
Yep, DIDs are good for customer-facing employees too, since they can be reasonably confident that customers are reaching the right person and that they didn't just randomly route themselves to that individual accidentally.
And if you run a customer support or sales team, Dialpad's cloud contact center solution empowers your agents with features like:
In-depth call analytics to provide a real-time overview of the customer they're speaking to for more personalized communication. (See how Hometap uses analytics.)

Real-time alerts keep managers in the loop when it comes to key metrics like call abandonment and wait times.

Live coaching tools so supervisors can listen in on calls and provide guidance for handling escalated situations.
4. Easier internal team communication
This is something that many people don't even think about, but if you needed to talk to a coworker who's in a different building or even a different country, imagine if you didn't have their direct phone number and had to call your main company line and then go through the directory.
Annoying, right?
That's where it's really useful to have a good communications platform or multi-line phone system. For example, with Dialpad, you can call anyone in your company on the desktop or mobile app by searching for their number or name in the top bar:

You can also just send them an instant or SMS message, and even have video meetings with them—all from the same place.
5. More flexibility
If you're using a VoIP phone system, direct dialing occurs virtually over the Internet. That means you don't need to install or maintain a physical PBX or invest in hardware, since you can make calls with a softphone app on any Internet-connected device.
The other benefit of this is you can work on the go more easily. For example, with the Dialpad app, you can flip a call or video chats seamlessly between devices. Talking to someone on your computer, but need to go pick up your kid from soccer practice? You can flip the call to your cell phone without interrupting the conversation with Dialpad:

👉 Did you know?
Dialpad works across Windows, Mac, iOS, and Android devices. It's also browser-based, which means you can make or take calls via your virtual phone number right in a web browser—no need to download the app.

How to know if your business needs DIDs: 2 simple questions

1. Do you get a lot of incoming phone calls? It doesn't just have to be from customers—if you get phone calls from potential partners, prospects, or any other group of people that you do business with, even if you're not selling directly to them, you could probably use DIDs!
The main reason to use DIDs is to streamline your phone experience and make it easier for people to route themselves to the right departments or individuals. So, if you don't get a lot of phone calls (maybe just one or two) on a daily basis, you probably don't need direct inward dialing.
2. Do you have specific telephone lines for a few different departments right now? If you're a small business that only has one "department" or one person answering the phones, then you probably don't need direct inward dialing. After all, if you just have that one person, they can just answer calls on the main line—they don't need their own DID number.
What you get with Dialpad beyond just DID
Visual voicemail
You probably won't always be available to take every call.
Dialpad's PIN-less voicemail feature lets you set up and listen to voicemails easily. When you miss a call on your direct-dial number, your callers will be greeted by a custom voicemail message (that you can record or upload) and you can retrieve those messages along with information like caller ID and when the call was made right in your Dialpad app under the Voicemail tab.
Oh, and Dialpad also comes with a visual voicemail feature, which transcribes your voicemails for you to read—just in case you don't have time to listen to the message because you're in meetings all day:


Call recording
Another benefit of VoIP phone systems is that you typically get to save more call recordings (since it's in the cloud).
This feature is especially valuable if you run a busy contact center that handles hundreds of customer calls every day.
Dialpad's call recording feature is easy to use. To record a call, just hit the record button in the app and let Dialpad do its thing:

Call forwarding
With Dialpad, you can also set your direct-dial line to automatically forward calls to your cell phone, a colleague, another team—pretty much whoever you want—if you're not available. You get up to five call forwarding numbers, and it helps you and your team basically never miss a call, because it'll also get forwarded to someone who can answer.

👉 Dialpad tip:
When you're adding numbers, try to add local numbers—your clients or prospects may not see the area code for the phone number if their call is automatically forwarded, but you don't want them to get a surprise long-distance charge later because you set up an international call forwarding number.
Custom caller ID
This is a neat feature in Dialpad that protects your personal number when you're making work calls on your personal cell phone. This way, customers won't see your private number, just your direct-dial number—or whichever business phone number you want to display:


Just use the dropdown in the Dialpad app when you're making a call to choose which caller ID you want to show.
How to use Direct Inward Dialing on Dialpad
With Dialpad, it's easy to start using DID. Just sign up for any paid Dialpad plan, and you'll get set up with a virtual phone number. You can also port over your existing business phone numbers (we can help) if you want to upgrade your phone system but keep your phone numbers.
Once you've got your team set up with virtual numbers on Dialpad, you can start making HD voice calls, sending SMS and MMS messages, and having video calls using your direct-dial numbers—no desk phones needed.
Want to try Direct Inward Dialing?
If you have different internal departments that take different types of inquiries over the phone, or if you get lots of phone calls every day, then you should have a Direct Inward Dialing feature.
With Dialpad, you can get set up with virtual phone numbers quickly online, and every plan comes with not only phone numbers, but also a full-fledged communications platform that lets you make phone calls, have video meetings, and send instant / SMS messages, all from the same desktop or mobile app.
Try it with a 14-day free trial!
Take Dialpad for a test drive
It takes just a few minutes to sign up for a 14-day free trial (even faster if you sign up with your Google or Microsoft 365 account) and get set up with a virtual phone number!