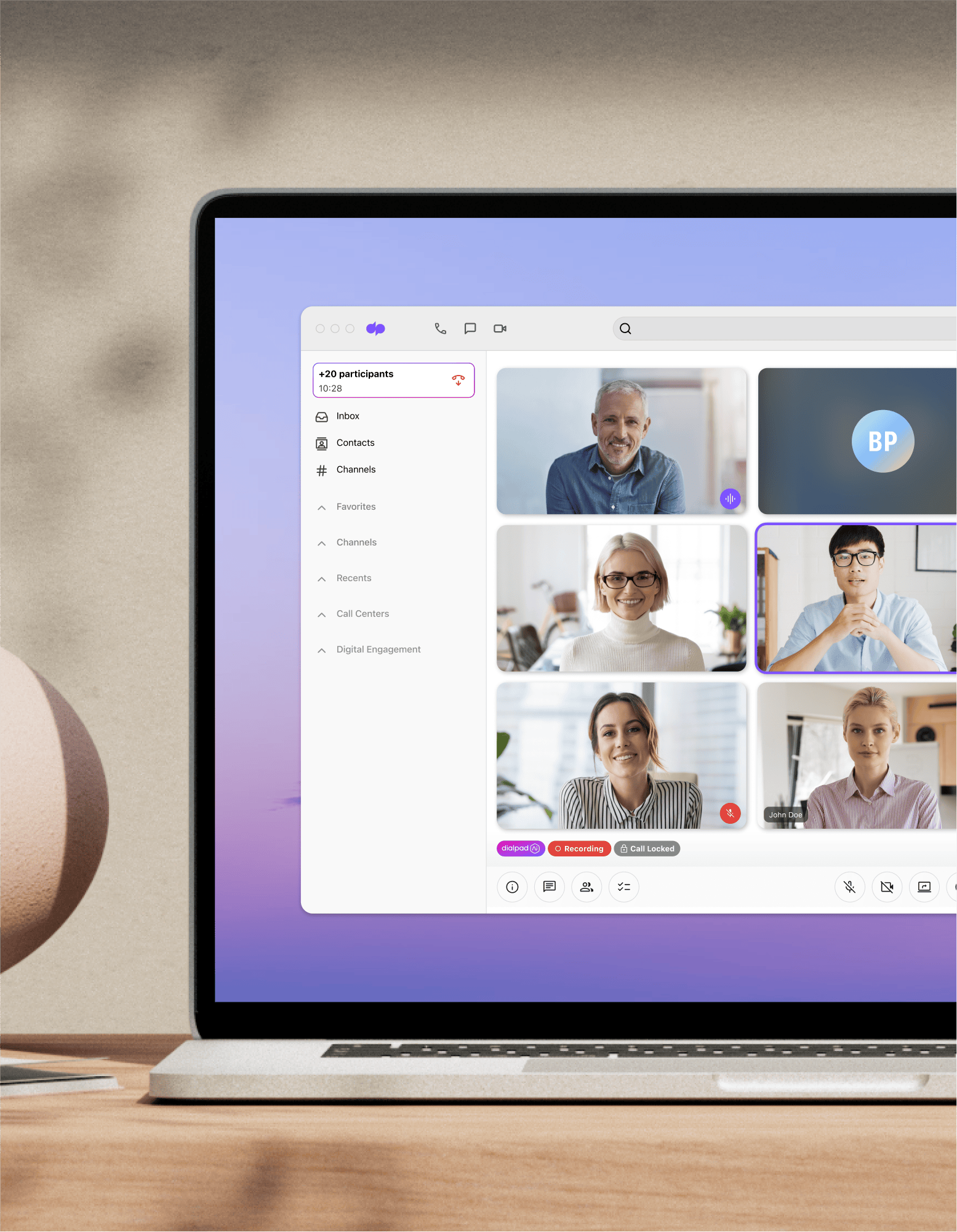 Conference call
With Dialpad's AI-powered collaboration platform, you can launch conference calls from any device, and even host a conference call internationally, thanks to a vast library of international access numbers. Try it free. It takes just a few minutes to get set up with a virtual number!
Sign up for a free 14-day trial!
How many times have you been frustrated by a lack of progress during a lengthy, text-based conversation in SMS, instant messaging, or email?
Stop spinning your wheels, and get everyone on the same page quickly with a conference call that's easy to join with one click on any device.
Why businesses conference call with Dialpad
Dialpad gives businesses a wider range of functionalities than a typical VoIP phone system. It's an AI-powered collaboration platform that comes with free video conferencing, SMS/MMS messaging, and more. But beyond just HD video and high-quality audio in web conferences, there are many other reasons why Dialpad is a great alternative to a traditional conference call service. Here are just a few...

Join from any device
Dialpad has a beautifully designed mobile and desktop app. Whether you and your attendees are using a Mac, PC, Android, or iPhone, everyone can join a conference call on any device. You don't even have to download anything—click the meeting link to host or join the call from your mobile phone or computer. (Dialpad is compatible with desk phones too, if you're using those.)

Industry-leading AI
Dialpad Ai can transcribe your calls in real time, pick out keywords and terms so that you can track how frequently they come up (like competitor names!), and much, much more.
Ai Recaps for every meeting
Not only that, Dialpad Ai also automatically generates a call summary, powered by ChatGPT, with a short recap in natural language after your meetings—no note-taker needed.
Robust call and admin controls
When you host conference calls with Dialpad, you can add participants in real-time on a reservationless basis. You can also get call recordings, get real-time transcriptions, and more, all from your conference call screen.

Truly unified communications
You can do a lot more than just make phone calls with Dialpad's app. Have video meetings, send instant + SMS messages, and more—all from one easy place without having to toggle back and forth between different apps and windows.

SMS invite reminders
Your attendees are busy. Dialpad gets it. That's why callers can easily dial in or just click the link in the meeting invite—and Dialpad can even send a text reminder with a link to join the conference call, just in case.

A full-fledged collaboration tool
Not only does Dialpad transcribe meetings as they're happening in real-time, it also integrates with tools like Miro to let you collaborate and brainstorm together as if everyone were in the same room.
Integrations with your favorite tools
Speaking of integrations, Dialpad integrates with many popular business apps. It's not just an online meetings platform—with Dialpad, you get a business phone system, video conference and audio conferencing functionality, and integrations with CRMs, ticketing software, and much more.

Security and reliability
Dialpad is GDPR and SOC2 Type II compliant, as well as being suitable for use by healthcare professionals under HIPAA. Not only that, all communications that happen through Dialpad are encrypted in accordance with modern encryption safety standards and regulations.
Try cloud-based conference calling for free
Sign up for a free 14-day trial to take Dialpad for a test drive! It takes just a few minutes to get started, and you'll even get set up with a virtual business number. Or, take a self-guided interactive tour of Dialpad's app!
How to start making conference calls in Dialpad
With Dialpad, you can easily start and join meetings from anywhere, and launch a conference call straight from the Dialpad desktop or mobile app.

Let's take a look at how to launch a conference using Dialpad in just a few simple steps:
Just open the app or log into Dialpad on your web browser click on Start Meeting or the Phone icon to start a call with someone
To add more people to your conference call, just click the Add Participants icon along your menu bar (the little "i" icon next to it will open your Meeting info tab, which contains a dial-in number and the option to copy the meeting link if you want to invite more participants in those ways):
FAQs about conference calls
How do I start a conference call?
With Dialpad, you can launch a conference call straight from the app or your web browser by clicking the Start Meeting icon or Phone icon.

How do I join a conference as the organizer?
How do I join a conference as a participant?
How do I join a conference from outside Dialpad?
How do I join a conference call from my phone?
Who has administrative control over Dialpad conference calls?
How do I leave a conference call?
Do you need a Dialpad Ai Meetings account to use conference calling in Dialpad?
When should businesses opt for paid conferencing solutions?
Do my conference call participants need to download software to join a call?