Back to Blog
Whiteboard app: Features to look for, tips, and more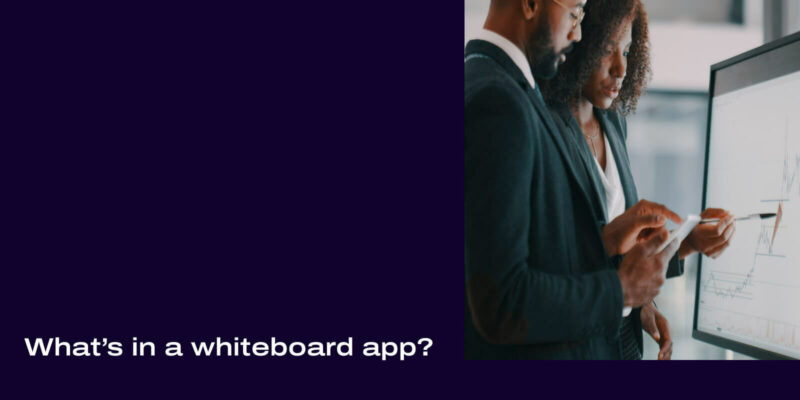 You've probably heard a lot about collaboration tools by now. (Screen sharing and video conferencing tools especially.) And whether you're part of the remote work or hybrid work movement, you probably do brainstorms with your team from time to time.

But when you can't be in the same room as your teammates, what's the best way to come up with ideas together?
A digital whiteboard, of course. If you haven't really used whiteboard apps before, they're actually incredibly useful, especially for remote teams to bounce ideas off one another.
Even for teams that are in the office, digital whiteboards can be a really useful part of the collaboration and brainstorming process. After all, you can't have five or six people drawing on the same whiteboard at once—but they can do that on a digital whiteboard.
In this guide, we'll walk through some of the best whiteboard apps around and what they can do.
We'll also look at how your unified communications or video conferencing platform can integrate with digital whiteboard tools to make your online meetings more productive.
First though, we'll start by defining exactly what whiteboard apps are.
What is a whiteboard app?
Basically, a whiteboard app, or digital whiteboard, is a shared visual workspace that allows teams to collaborate in real time from anywhere.
It's really just a virtual whiteboard that team members can jot down observations, ideas, and suggestions on. The point of using one is to have a remote-work-friendly way to help everyone visualize their thoughts as part of the creative and collaborative process.
As collaboration tools, whiteboard apps are playing an increasingly important role as working environments evolve.
Most whiteboard apps can take the form of either apps or browser-based tools. You'd use them in pretty much the same way as a normal whiteboard (though they're capable of doing much more than a physical whiteboard can).
👉 Dialpad tip:
Physical whiteboards only have a limited amount of space—and that can run out, meaning you'll then have to wipe some things off it in order to make room for more brilliant ideas. Virtual whiteboards give you an infinite canvas.
Oh, and good luck putting a video on a normal whiteboard. Oh wait, you can't... But you can do exactly that with a virtual whiteboard if you need to share video content with other meeting participants.
How whiteboard apps work
Using a whiteboard app is pretty simple.
Meeting participants typically just need to log in to a shared whiteboard space, and from there they can add their own contributions to the virtual whiteboard. They can also see what others are adding in real time, and offer their own annotations where necessary.
As well as offering way more space than physical whiteboards, virtual collaborative whiteboards also come with many other useful features.
We've already mentioned video, but another useful feature is the ability to add digital sticky notes, which participants can write and add. For example, here's how it looks in Miro: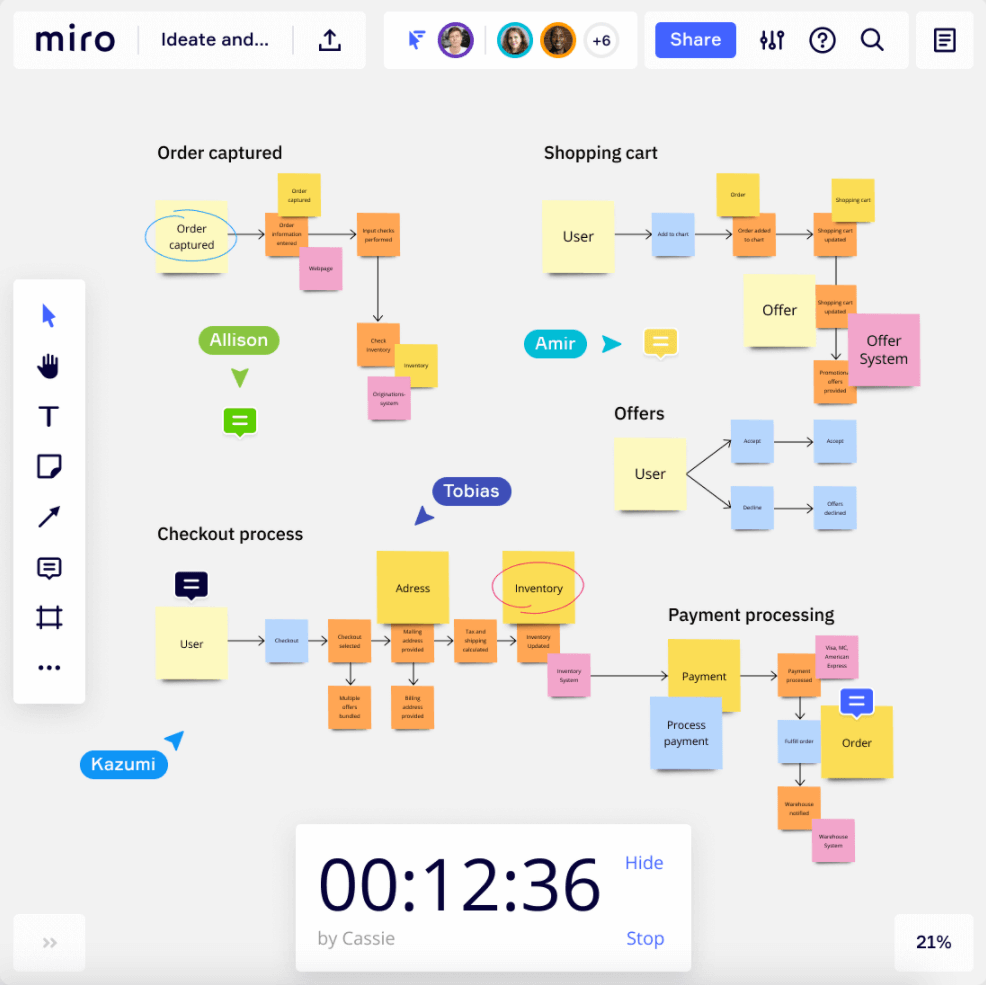 Depending on which tool you use, you might also be able to use the digital whiteboard space to share files, edit documents, and invite feedback.
Let's look at some of these features in more detail.

👀 Interested in remote or hybrid work tips?
Grab the Hybrid Work Playbook, which includes real-life case studies and breaks down all things hybrid + remote, from building and sustaining a hybrid workforce to equipping your team for success.
What features should good whiteboard apps have?
Whiteboard apps all offer slightly different features which can encourage closer and smoother collaboration, and depending on what your team needs, you might not need the most expensive or fancy tool.
Here are just some of the helpful features to think about as you're shopping for virtual whiteboard apps:
Video conferencing integrations
As you're probably going to use virtual whiteboards in virtual meetings, it makes sense to use whiteboard apps that can be integrated with video chat apps.
This way, you can see your teammates on screen while collaborating on a whiteboard together. It's as close to an in-person whiteboarding brainstorm session as you can get in an online video meeting. This enhances the latter significantly by providing an important visual aid.
To use whiteboard apps as a group, you'd ideally have a video conferencing tool that has a screen sharing feature. This way, everyone can be logged in and working in the same digital whiteboards, but one person could share their screen as the "main" screen that everyone can reference.
For example, Dialpad lets you share either an individual tab or window—or your entire screen—in a video meeting: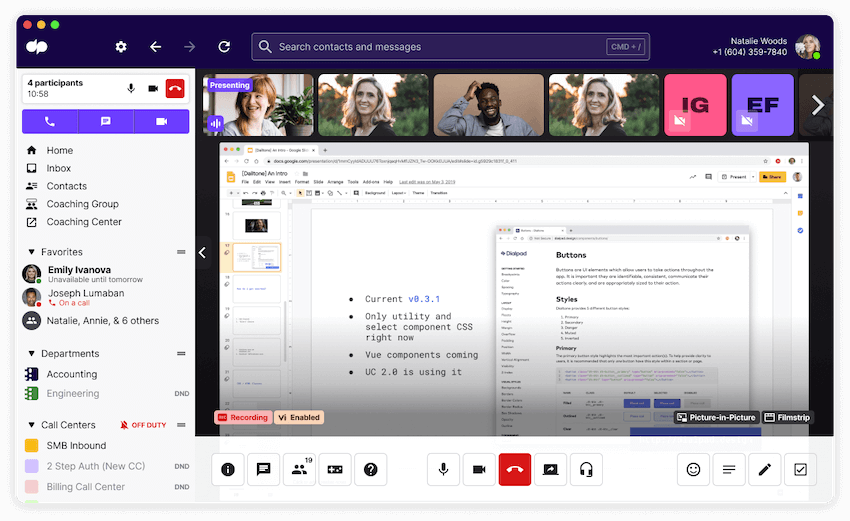 And with Dialpad's Miro integration, you can literally get on a whiteboarding session with your remote teammates—just as if you were all in a conference room together. Here's how it looks: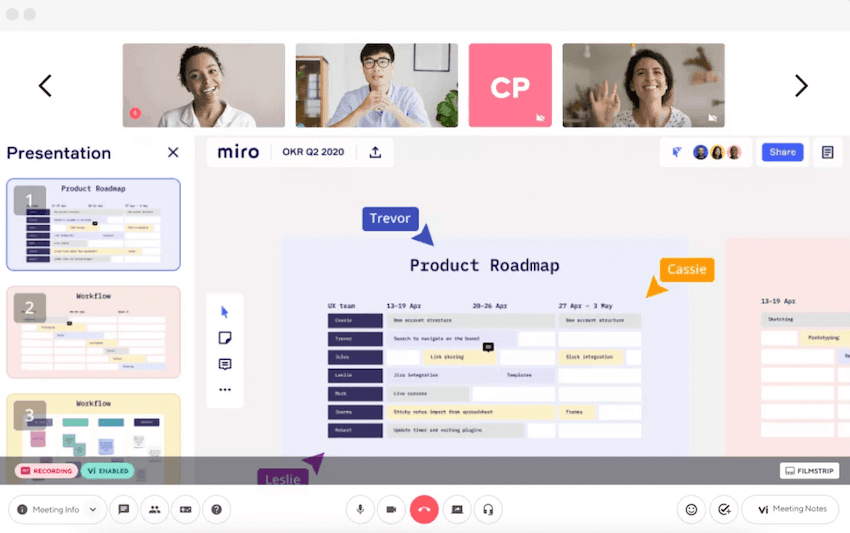 A large canvas for brainstorming
One of the biggest weaknesses of physical whiteboards is that they're constrained by the size of the whiteboard and the amount of space you have.
If your team is on a roll and coming up with lots of brilliant ideas, you don't want to have to erase important points just to be able to squeeze others onto the board.
Because of this, physical whiteboards are actually pretty limited as collaboration tools.
Virtual whiteboards, by contrast, can offer much bigger—potentially even infinite—canvasses, so that you can get as many ideas as you want on the board.
Dynamic and collaborative note-taking
With most whiteboard apps, you and your teammates can use sticky notes to annotate as and when you need to (as opposed to just literally drawing on a whiteboard).
For some teams, this is an important feature to have because it allows for more dynamic collaboration and is an easy way to allow everyone to get involved, drag-and-drop ideas into a shared whiteboard space, or to propose entirely new ones.
Digital pen or stylus support
This is more of a nice-to-have, but some interactive whiteboard apps do offer digital pen or stylus support. In other words, they give you the option of using a digital pen or stylus to annotate the virtual whiteboard with your own notes and points.
This helps to make collaboration more fluid, making it easier for users to contribute in their own distinctive ways.
How to choose the best whiteboard app for you in 3 steps
Now that we've talked through some of the features you might want to look out for when choosing a whiteboard application, let's look at how to choose a whiteboard app in three simple steps.
1. List the features you need—and what you can sacrifice—in a whiteboard app
First things first, think about which features you most need from your whiteboard software.
For example, which devices will your team be using? If they want the option of using it on mobile devices, you'll need an app that works equally well on both Android and iOS (as well as tablets such as iPad).
Also, can it be integrated with other tools, like Slack or Doodle? Does it provide templates or eraser tools?
👉 Dialpad tip:
It's always a good sign if your online whiteboard app (or any software, really) has detailed tutorials or a good Help Center. This way, you can easily find answers to questions and learn how to use the tool on your own.
Many folks swap these steps because they're more limited in terms of budget, but we'd recommend looking at price after this step. We'll talk about why in the next step.
2. Decide on a price point
So, why look at features before budget? Because there are so many whiteboard tools out there today at different price points that you'll generally have options no matter how big or small your budget is.
If you start with budget first—let's say you have a generous budget—it can be tempting to go with a more expensive tool when you don't actually need all the bells and whistles.
If you start with the features first, on the other hand, it's easier to be more disciplined because you know exactly what you do and don't need. Just our two cents.
3. Consider how much training your team would need
When choosing a whiteboard tool, one big consideration is how easy it is to use. Which will directly impact how much time and training your team would need to start using it.
A good digital whiteboard should help you focus on the brainstorm, not the technology.
7 best whiteboard apps for team collaboration
As we mentioned, there are more and more whiteboard apps on the market. Which one will be best for your team?
Here, we'll take a look at six of the very best whiteboard apps. These apps are all practical and easy-to-use collaboration tools that'll help make teamwork easier, without minimal disruption to your existing workflows. (And you can find them in your favorite app store!)
1. Miro
Miro is probably our favorite whiteboard tool that—bonus!—gives you a diverse selection of templates—including customer mapping, retrospective, and UX design—as well as an ordinary blank canvas, if you prefer: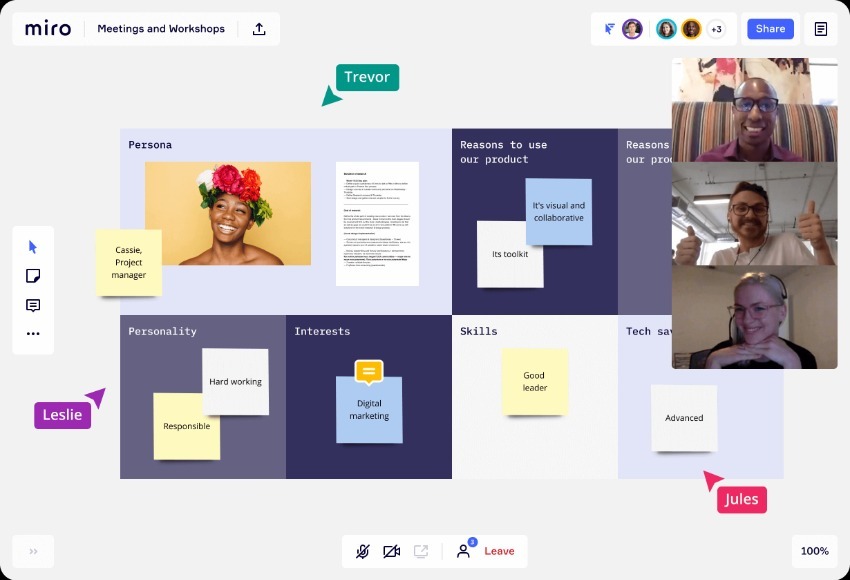 Miro's marketplace, meanwhile, offers many integrations with other apps. As well as being a great brainstorming tool, it allows you to view changes, assign tasks, and send messages to colleagues.
What's great about Miro is it can be integrated with video conferencing tools. This means you can collaborate with teammates on a Miro board right in your video meeting—without actually having to open the Miro app.
Oh, and depending on what video conferencing tools you use, there might useful features that can make your whiteboarding sessions more productive. For example, you can also use Dialpad's nifty meeting countdown timer in case your brainstorms have a tendency to run long: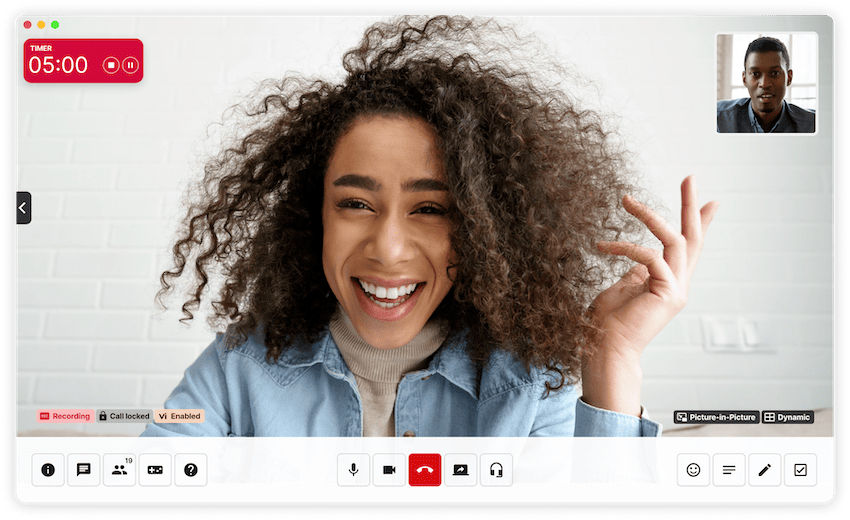 (We also created a Miroverse template for stand-up meetings—feel free to use it with your team.)
Holding stand-up meetings with Dialpad
It's easy to organize stand-up meetings using Dialpad! You don't need access codes or passwords. Invite participants to join your whiteboard session by simply clicking a link in the Dialpad app or an email invite. Dialpad integrates with both Google Workspace and Microsoft 365, so you'll see the option when you create an event in, say, Google Calendar:
2. Weje
Weje is a free online whiteboard tool to collaborate with each other and share ideas on an unlimited number of digital whiteboards. You can draw, add text, insert links, create sticky notes, and attach your documents or files on a board. You can make your own mind maps, cards, lists, kanban boards, and much more.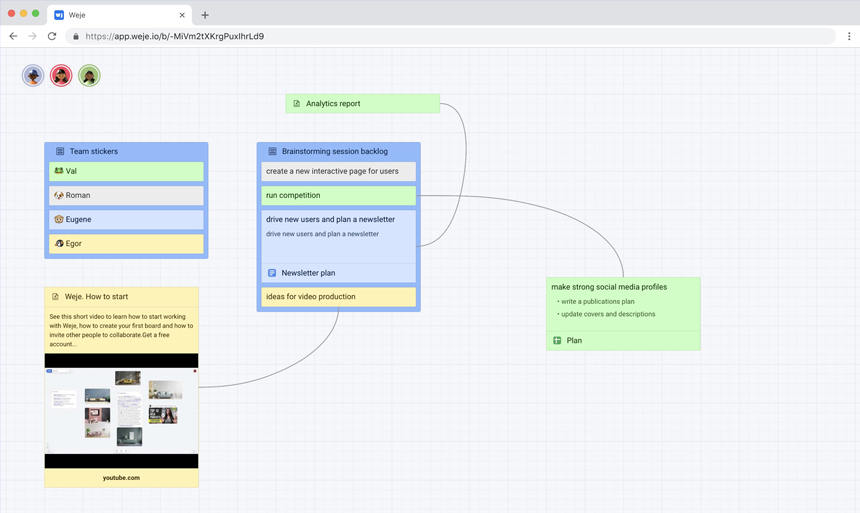 Weje is ideal for students and startups. By removing the barrier to entry (everything is accessible through a browser), students can access a live whiteboard anytime & discuss notes inside the virtual or physical classroom. They'll be able to share and provide information to each other with just an internet connection and can cooperate even when using separate devices.
The same is possible for startups, where Weje creates a place for everyone to work on their ideas and update their progress.
Whiteboard changes are also synced automatically across all devices and participants, so you don't have to worry about missing information or lost files. With this free tool, there are plenty of intuitive features that drive student and team collaboration.
3. Explain Everything
As well as allowing you to add text, upload files, and draw, Explain Everything also has video recording capabilities, meaning that you can record your whiteboard and your voice as you go: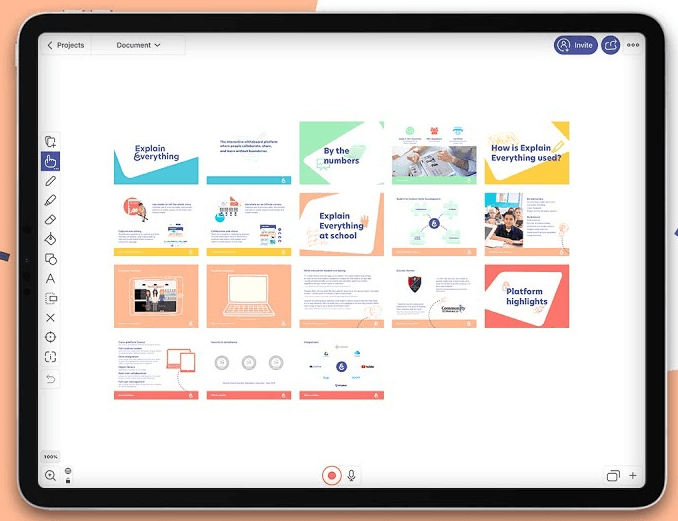 Once you're done, you can tidy things up by editing or splitting elements of your video, then share it online as a link or a downloadable MP4 file. This is ideal for people who couldn't make the original meeting.
4. Stormboard
As a brainstorming tool, Stormboard is pretty easy to use. Just create a new board (known as a Storm) and get started. Every sticky note on Stormboard can be turned into a shared whiteboard that everyone can view and edit, which is a pretty interesting way of organizing projects: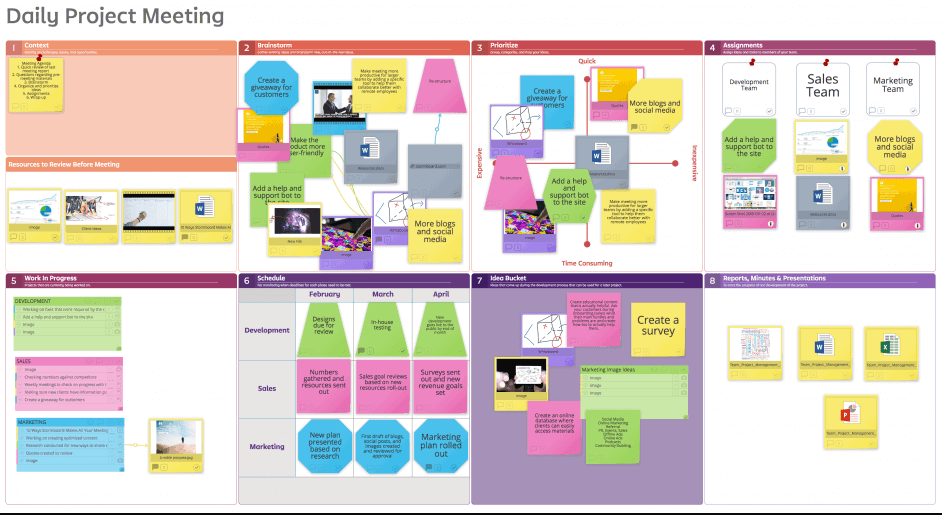 This opens up a wealth of possibilities for close collaboration and sharing new ideas.
It's relatively easy to keep things organized, too. Just drag your notes around the board to gather related ideas or topics. You and your team can even vote on every board, assign tasks, and message each other.
Aesthetically though, it's not quite as nice as Miro and could do with a UI refresh.
5. Google Jamboard
Google Jamboard is an actual 55-inch digital whiteboard for office spaces, which can be used with Google's Workspace (formerly G Suite) range of tools and services: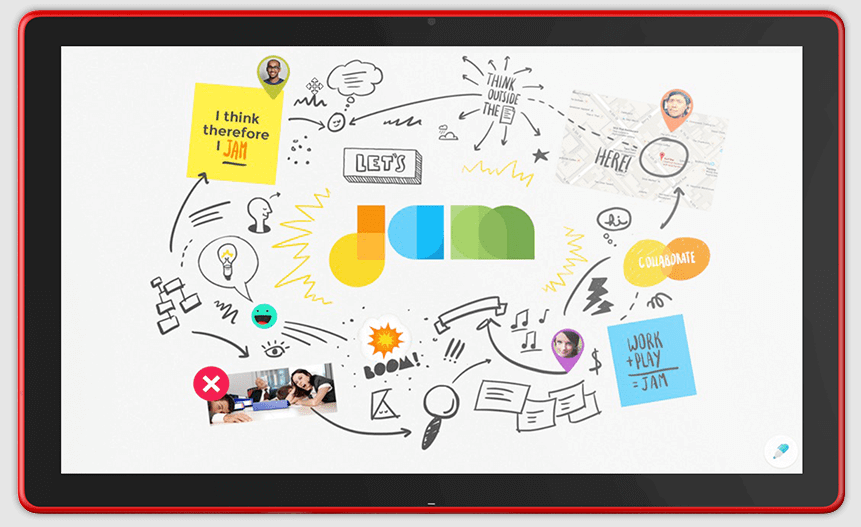 They've marketed it for both businesses and educators, which makes sense given that Google has become a bigger and bigger part of classrooms today.
Like the other digital whiteboards on the list, the Jamboard allows you to sketch ideas as you would with a normal whiteboard, except it has access to a world of images and other assets. You can also add their own notes in collaboration with colleagues elsewhere.
6. Limnu
If you're looking for a digital whiteboard that mirrors the look of a real, physical whiteboard as closely as possible, then Limnu might be an option to look at. It provides very realistic marker drawings, so it looks very much like the real thing. It works across devices, and it's pretty easy to share boards with other people too.
Just click the share icon, then copy and paste the link to share with your teammates (you can limit their permissions to view-only, just to be on the safe side).
7. ShowMe Interactive Whiteboard
An intuitive and powerful whiteboard tool, ShowMe is a great learning aid and another educator-friendly option on this list: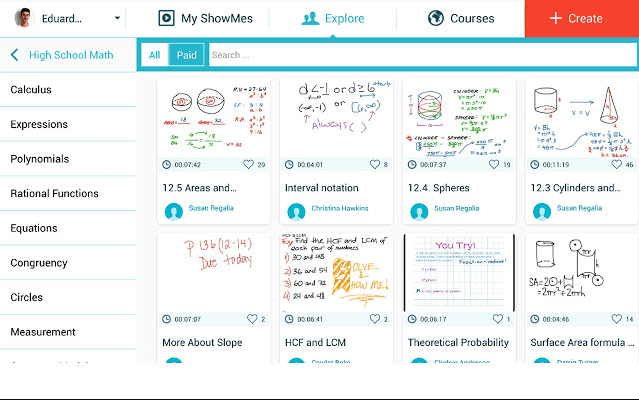 If you're a teacher, you can record your tutorial in the tool, and even explore other tutorials created by other members of ShowMe's online learning community.
4 best practices for using a whiteboard app
Once you've chosen a whiteboard tool, here are a few best practices to help you get the most out of it.
1. Run your brainstorming sessions through whiteboard apps
Whiteboard apps make for great brainstorming tools.
In fact, some people might argue that's the biggest reason to use them. They allow you and your team members to throw ideas around in the same shared virtual space while saving everything so you don't lose any ideas or run out of space.
We can't imagine running brainstorming sessions with remote or hybrid teams without whiteboard apps.
2. Use your whiteboard app to encourage design collaboration
Whiteboard apps can make designers' lives easier too.
If your team members have ideas or mockups they want to review as a group, a collaborative virtual whiteboard is probably the best way to do it.
3. Use it for mind maps
Whiteboard apps are also great for mind mapping. If you're not already familiar with mind mapping, it's actually a very helpful exercise with benefits like better information retention, improved engagement, and a more engaging learning experience.
4. Digitize some—or all—of your workshops with whiteboard apps
You can also use whiteboard apps to hold workshops and seminars.
They're particularly well-suited to this because they're such effective visual tools. No more flipping pages back and forth on a giant paper pad in a conference room.
Still not convinced? A few more ways that a whiteboard app can improve productivity
When teams go remote, one of the most overlooked things that we lose is the ability to collaborate closely on projects.
Yes, we have virtual meetings and still talk face to face, but how often do we have group brainstorm sessions with our remote teammates? This is why whiteboard apps are so important, especially for teams that used to have whiteboard sessions in the office.
Here are a few other benefits of using whiteboard apps if you're a distributed team.
It adds flavor to video conferences and helps fight Zoom fatigue
If you're in video meetings all day, you know what we mean.
It's easy for Zoom fatigue to set in, and people are looking for ways to combat it, whether it's having No-Meeting Thursday or setting rules around what "should" be a meeting. (Learn more about the best Zoom alternatives.)
Because they give everyone the chance to be involved and contribute ideas, whiteboard tools are great for bringing some life back to video meetings.
It's helpful for communicating complicated concepts or projects
Got a new project that has a particularly complex workflow? Mapping out a new phone tree for your contact center?
Sometimes, it's just more efficient to show things visually to get your point across. Whiteboard apps are perfect for this purpose.
It makes the process of creativity as frictionless as possible
To some people, creativity is a skill or some innate ability that people are just "born with."
But we like to think of creativity as a process. It requires work, and often trial and error, to arrive at an amazing design or idea. It's really rare that a brilliant, fully formed idea just arrives out of the blue. Usually you have to throw out a bunch of bad ideas first before you get to that nugget of gold.
Whiteboard tools facilitate this process by providing a virtual space where everyone can throw out ideas (and build on each others' ideas) together.
It's completely unpredictable, and you never know what ideas will come out of it, but this is what makes whiteboard apps such wonderful tools.
Upgrade your team collaboration with the whiteboard app best suited to you
With the right whiteboard app, you can give your team collaboration and brainstorming experience a serious boost.
Whether you're office-based or have remote colleagues, having a whiteboard app that works for everyone, no matter where they are, is in our opinion, the next big must-have tool for teams.
Happy whiteboarding!
See how Dialpad + Miro's integration gives you a full virtual collaboration workspace!
Try Dialpad's video conferencing platform now with the free plan (which gives you unlimited video meetings)!