Back to Blog
What is a huddle room? How to set one up for a hybrid team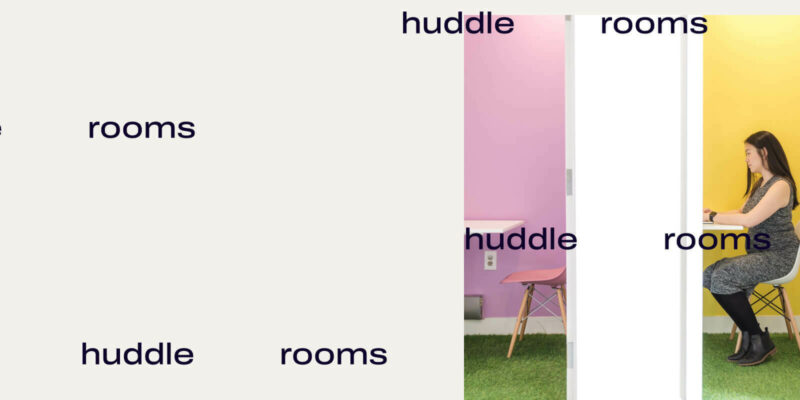 When someone says, "conference room.," what do you think of?
Many people might think of a giant room with a long table and oversized leather chairs. But the meeting rooms of Don Draper and 1980's Wall Street are a thing of the past.
The "conference rooms" of today are adapting to meet the needs of a changing business landscape. Out are the big tables, and giant rooms—and in are the huddle rooms.
But why exactly are huddle rooms becoming so popular, and what kinds of businesses should look at incorporating this more flexible type of conference room?
What is a huddle room?
A huddle room is basically a small space in an office that's designed for impromptu chats and connecting with remote co-workers. Typically, there's room for a small table and a few chairs.
Or, let Bill tell you all about it in less than seven minutes:
Benefits of using huddle rooms
Huddle rooms let you make use of underused spaces in the office
Repurpose an old meeting room to make a huddle space, or build new ones into an open floor plan. The only requirement is that it has a bit of privacy and hookups to remote collaboration tools and monitors.
It doesn't cost a lot to build or set up
This is a big one. It's much cheaper to set up a huddle room than it is to set up a traditional meeting room or large conference space.
Not only that, traditional conference rooms are also expensive (and often underused). Often, large meeting rooms are being used by small groups of people who would be better served by small meeting rooms and cost-effective technology.
Huddle rooms are a much more cost-effective way to optimize that real estate footprint. Let's face it. You're wasting space and money if large meeting rooms aren't being used as intended—and yes, that includes huge meeting rooms that are being regularly reserved by an individual person or 2-to-4 person groups.
Generally, for most large companies, it's good to have a balanced mix of large or medium meeting rooms (for larger groups) and huddle rooms (for small groups)—with a decent proportion of the latter.
It's easy to set up for video conferencing
On a related note, huddle rooms don't require extensive wiring or advanced audio and video hardware investments to be able to get set up and running!
You've got pretty flexible options thanks to appliance-based hardware like the Poly Studio X family of devices (a plug-and-play solution in a sleek all-in-one bar), which are purpose-built for meeting rooms of all sizes. We love these especially because they're easy to set up and use—and don't require additional third-party peripherals. Just install one on top or below your TV, plug in a few cables, and you're set.

With Dialpad Meetings, for instance, you can move a meeting from your phone to a huddle room's TV in just a tap: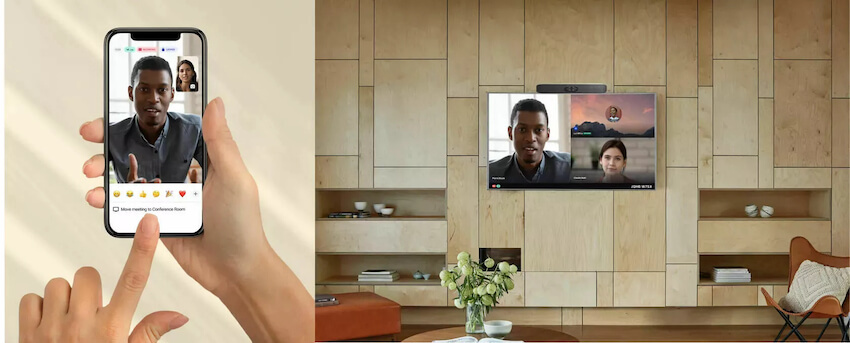 You don't have to formally book rooms
When you need a space to gather a few team members, join a video conference, or collaborate face-to-face, you just go to the huddle room and do what you need to do.
It's much easier than having to reserve a traditional conference room two weeks in advance.
It makes conferencing more accessible and encourages collaboration
For better or worse, the pandemic has shifted work away from traditional office spaces. And huddle rooms that are equipped with video conferencing technology can bring in-office employees and remote workers together, combat isolation, and encourage teamwork from any distance.
For example, Dialpad Meetings' platform is designed for exactly this. It lets you set up a video conference, and if your team wants to whiteboard ideas or walk through a webinar, you can do that with its screen sharing feature: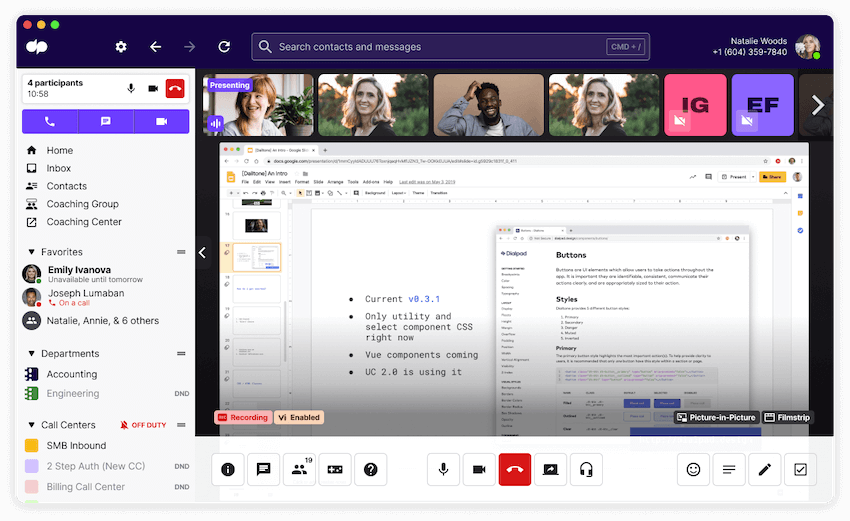 And when you don't need a formal meeting—but still want to ask a teammate a quick question? Dialpad Sidebar, a Clubhouse-inspired conversational feature, lets you jump into an ad hoc virtual huddle: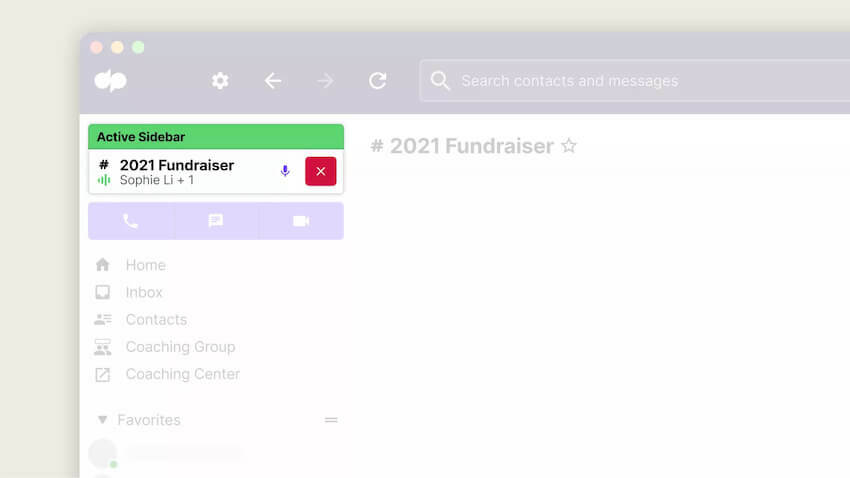 It's just one example of how new concepts like huddle rooms and more advanced technology can bring organic workflows to remote and hybrid work.
Huddle room must-haves: Technology for hybrid teams
A large monitor or TV
For an optimal field of view, consider a monitor or TV that's between 40" and 55". If you work in an industry that's very visual and needs to zoom in on details (like design or architecture), go for the best resolution and the biggest display system your budget will allow.
Remote controller for the TV!
This will let you switch between views while screen sharing, skip to the next slide in a presentation, adjust the volume, and basically run successful virtual meetings.
A camera to capture the whole room
A video conferencing camera is a must-have collaboration tool for your huddle room. And contrary to popular belief, you don't need to invest in a huge system to get a camera that has HD video quality, supports responsive screen resolutions, and looks good on screens of any size—like the Poly Studio X30 (which has an incredible 120-degree field of view and even automatic framing to make sure the speaker is always centered and in focus):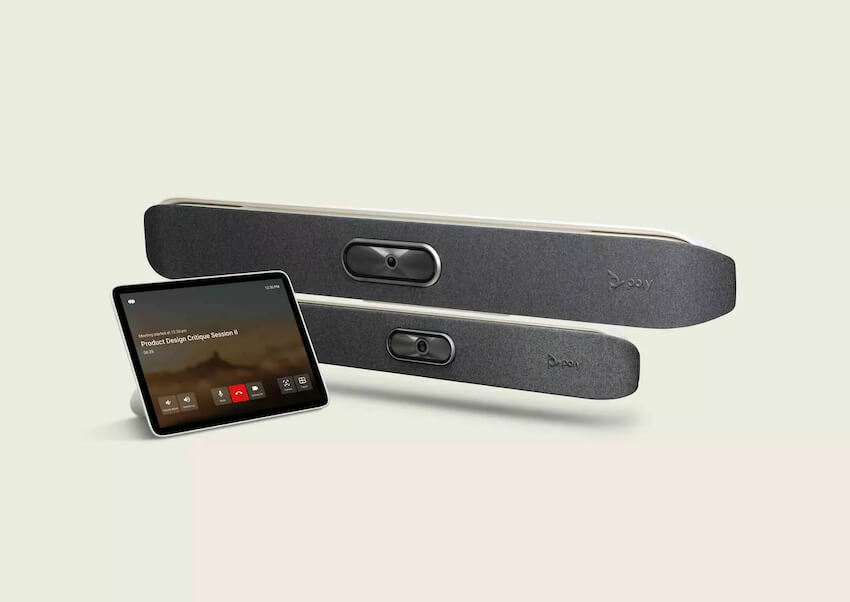 An audio system that captures everyone's voice
Sound is super important—even if you don't have video, you can still have a meeting with just audio. So, it's important to have good mics and speakers that allow everyone in the room to both speak and hear clearly during meetings. There are some very cool audio systems out there, like Poly's, which can block out unwanted background noise and even create an "acoustic fence" that captures only voices within a specified geographical area!
A video bar: Bundle up everything you need in one device
Simplify your conferencing setup by opting for a video bar that bundles everything in one device. Here are some examples:
Poly Studio X30
Connects you to your meeting automatically (thanks to cloud video services), no laptop needed, and allows attendees to share content wirelessly.
Poly Studio X50
The X50 gives you all of the above and a little more. Designed for mid-size meeting areas that seat up to 10 people, the X50 lets you set up a dual monitor display—essentially a real boardroom feel, minus the boardroom.

👀 Thinking of moving to hybrid work?
Grab the Hybrid Work Playbook, which includes real-life case studies and breaks down all things hybrid + remote, from building and sustaining a hybrid workforce to equipping your team for success.
Core video conferencing features for 100% virtual huddle rooms
HD video and voice
High-definition (HD) video and voice communications are a must, especially if you have teams that are customer-facing (like sales and customer support teams).
And yes, Dialpad Meetings' video conferencing software comes with HD audio and video.
👉 Dialpad tip:
With Dialpad, if you're on a phone call but heading out of Wi-Fi range, just tap the carrier icon on your active call screen to switch to your carrier network. It's completely seamless, which means the other person on your call won't notice the switch!
Screen sharing
Screen sharing lets you share projects and documents with other team members. I mentioned earlier that Dialpad has this feature, but did you know that you can do screen sharing with someone even if they don't have the Dialpad app? Yep, you can just send them an SMS with the link, and they'll be able to see your screen in their web browser by tapping it.
Virtual whiteboard
If you want a 100% virtual huddle room, then you can't forget about a whiteboarding feature. Whereas traditional meeting spaces or large conference rooms would have a giant notepad, we don't need that anymore to brainstorm together.
For example, Dialpad's integration with Miro gives you a virtual whiteboarding solution—that has video meetings integrated right in, which means you can have a brainstorming session with your team as if everyone were in the same room: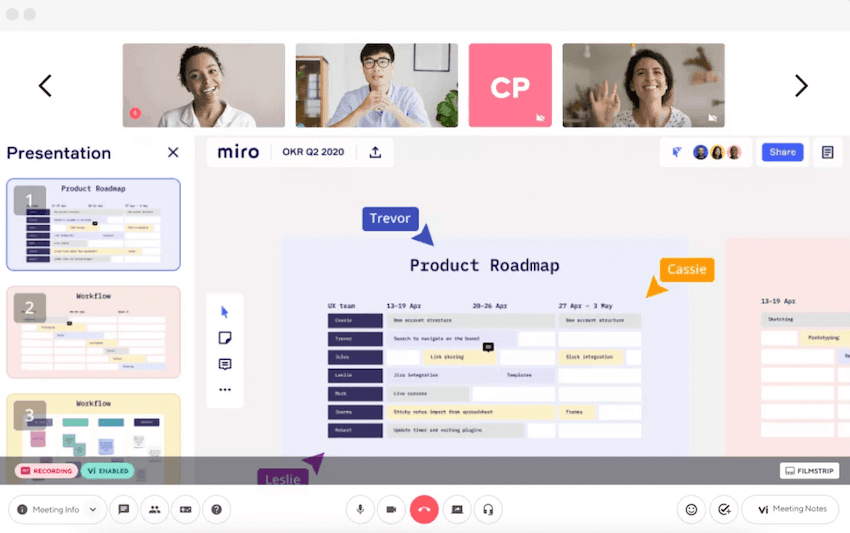 Multi-device and browser accessibility
A Bring Your Own Device (BYOD) policy at work makes it easy for remote teams to work on flexible schedules and on their own terms. It also means they can join collaboration spaces from anywhere.
With Dialpad, you can join meetings from any device or any browser, which frees your meetings from relying on laptops or mobile devices. Join and host(!) meetings from your browser with full-functionality—with no apps to download. This is especially useful if you have meetings with clients or prospects, who may not want to download an app.
Live call transcriptions
Imagine getting a transcript of every conference call you're ever on—no note-taking, just interacting with your team.
Well, good news—Dialpad's artificial intelligence technology means no more note-taking (unless you want to.)
Dialpad Ai transcribes your video meetings—in real time—so you don't have to worry about taking notes or writing down action items while people are talking: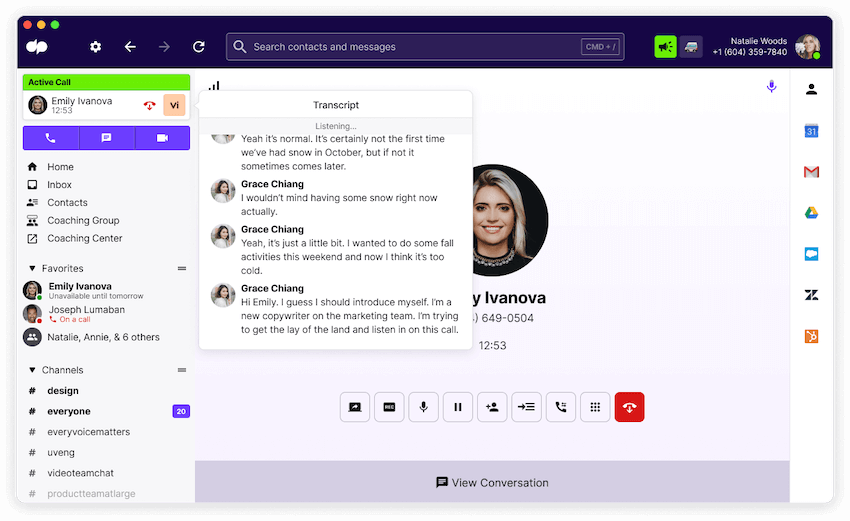 And after the call, you'll even be emailed a post-call summary pop-up that includes action items, the recording, and the full transcript:
Security and encryption
Don't forget to make sure your video conferencing software has robust security features like password-protected meetings, advanced host controls, and waiting room: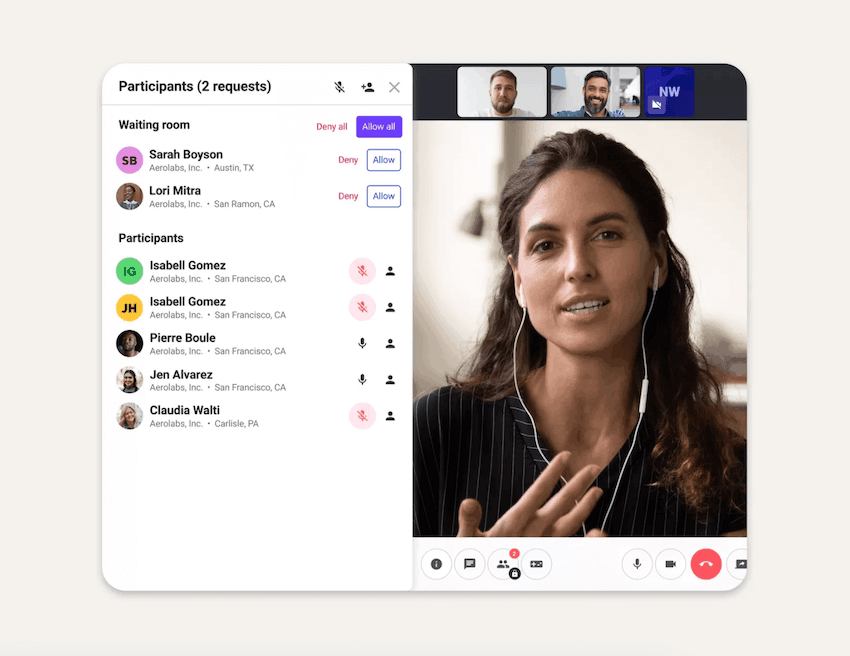 For example, Dialpad has robust security and compliance features—and is used by organizations in regulated industries like healthcare, law, and finance!
5 ways to use huddle rooms and how they supercharge productivity in hybrid and remote set-ups
1. Team project meetings
A small conference space will make everyone feel like they're in the same room, fostering communication and collaboration. Completing team projects, receiving updates on goals, and sharing documents will be as easy as it is IRL.
2. Brainstorm sessions
Huddle rooms were made for brainstorming sessions. Consider putting in a whiteboard so ideas can be added quickly where everyone can see them. Make sure you have lots of sticky notes, and dry erase markers on hand.
3. Client meetings
To save on travel costs, have clients join you on a huddle room video conference. This has the added benefit of letting you connect with clients whenever you (and, more importantly, they) need to.
4. One-on-one meetings
Huddle rooms give you a private, comfortable space to have planned or ad hoc one-on-one meetings. You can connect with remote employees more easily and with less notice.
5. Stand-up meetings
A huddle room is a great place for small teams to have daily or weekly stand-up meetings. Huddle room technology and connectivity allow your stand-up meeting to move quickly and cover the important stuff so you can get back to your day.
Is your workplace equipped with a huddle room?
If you've been considering a move away from a traditional conference room, a huddle room is one of your best options. But you need the right conferencing room solution to give your team the functionality and flexibility of a hybrid workspace.
Dialpad Meetings supports a new model of working; unified collaboration on one communication platform. Try it and see how it can transform any huddle room or stuffy conference room into a smart meeting room experience!
See how Dialpad can support not only huddle rooms but your remote team too!
Try Dialpad Meetings with the free plan! Sign up in just a few minutes with your Google or Microsoft 365 account.