Back to Blog
7 mobile apps for business that'll cover most of your daily work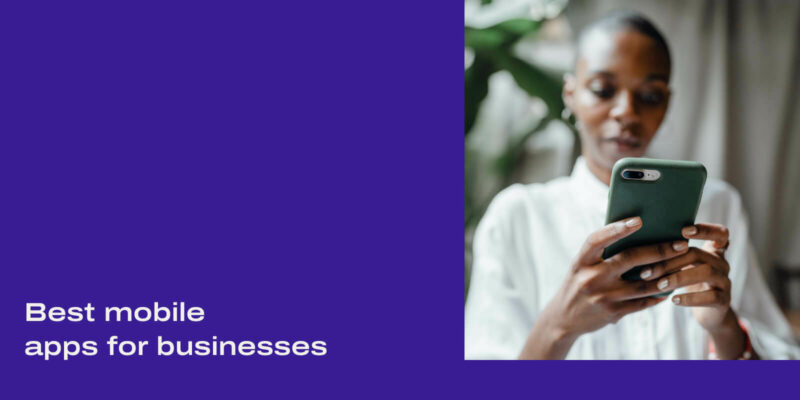 It seems like everyone owns a mobile device today, and for good reason. It lets you work from anywhere without being stuck at your desk all day, and there are many mobile apps that are designed to help you do everything from have video meetings with clients to manage your weekly schedule—all from your phone (or tablet, if that's your mobile device of choice).
It's harder to do things like project management on mobile app (which is why Asana isn't on this list even though we love it), so if you're interested in seeing specifically how mobile apps can help with your business, keep reading.
How can mobile apps be used for business? The 3 biggest use cases

Apple's 2009 slogan "There's an app for that" became the subject of a thousand memes (and an inevitable Sesame Street parody), but it's never been more accurate, especially in business.
Here are just a few of the many things you can do with an app:
Work (and communicate) from anywhere
Business mobile apps are perfect for remote teams. If your essential tools are app-based, you'll get things done on the go and be more productive—but you can also fit around other commitments. (And time-tracking apps are especially helpful for freelancers and businesses that charge clients on a billable hours model.)
👉 Further reading:
See how CF Real Estate was able to transition their team—including contact center agents—to a work-from-anywhere environment where the agents could take calls from customers from their phones using a cloud contact center solution with a mobile app.
Improve your customer service
Mobile apps can also help you provide better customer service. Not all contact center products have this, but some do have very robust mobile apps that let agents and supervisors handle customer communications right from their mobile phones. (Like Dialpad!)
One unique thing about Dialpad is that Dialpad Ai not only transcribes calls—in real time—but also does live sentiment analysis and can even automatically pop up Real-Time Assist cards on agents' screens when certain keywords are spoken, to help them talk about those topics:
Improve task admin and management
Using mobile apps is one easy way to make it easier to manage tasks and administrative duties, since all the information you need should be at your fingertips. The possibilities for this one are pretty vast, since task admin could technically cover everything from invoicing to calendar management and more.
Let's say you're a small business owner for example. If you have a mobile payment app like Square, that would make it relatively simple for your staff to track payments and send invoices, and your customers will love being able to pay you instantly without you needing a bulky cashier machine.
Using mobile apps for business: 6 steps to get started
1. See if you need an easier way to communicate with your customers
Convenience is one of the most important things to customers. Whether they're making a purchase or a complaint, they want things to happen quickly and easily. Mobile applications are ideal for two-way communication—customers can get in touch quickly, and you can tell them why your business rocks.
If your clients or prospects expect to be able to text you, it's generally better to not use your personal number to text them—use a business phone system or communications platform instead to text them. This way, you can customize your caller ID so that your business number shows up in their messages or notifications—not your personal number, even if you're using your own cell phone: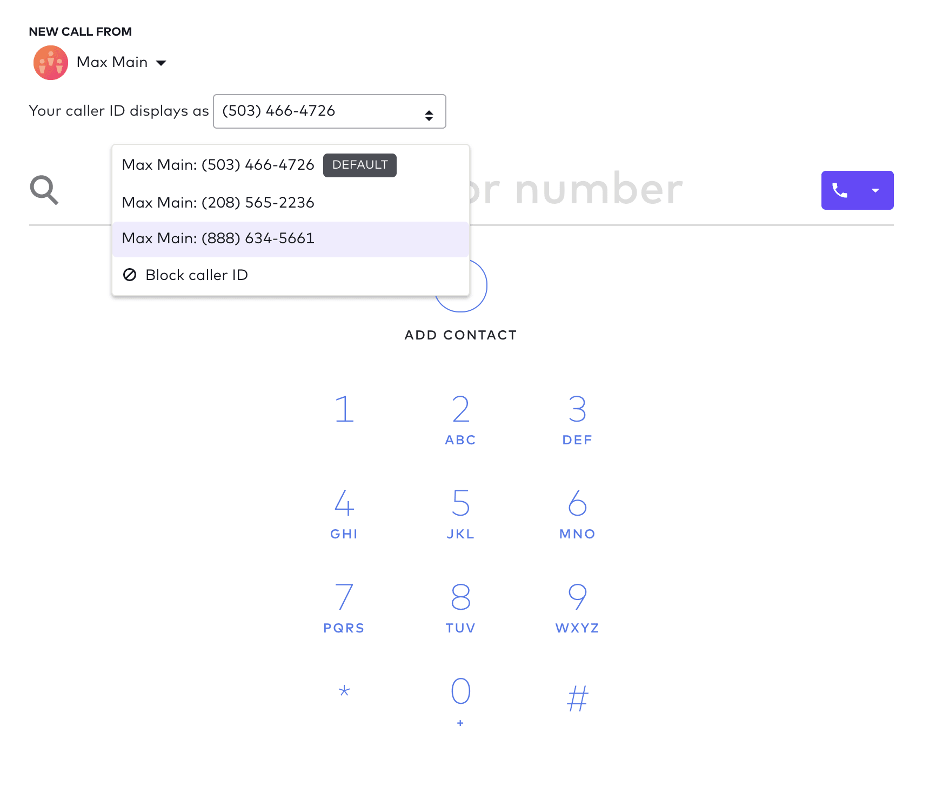 2. Integrate your social media channels

Of all the mobile app users out there, the vast majority of them are on social media almost all day.
That means you should have a social media presence! The challenge is managing all those different channels. What if your customers are heavy users of Facebook and Instagram and Twitter and LinkedIn? It would be much easier if you could manage all those social media profiles from one app instead of having to toggle between a bunch of different apps.

If you don't pay enough attention, social media can easily be a huge time-suck in your day-to-day operations. If your business is going to be using social media a decent amount, you'll want to look into using a mobile app to manage it.
3. Have a plan to scale in mind
This is one of the least talked-about things, but it's an important one. Whatever mobile apps you decide to implement in your company should be able to grow and scale with you—and the key is it should be able to do that easily.
What does that mean? Well, say you have a communications app that lets you make phone calls and send SMS messages to your customers, but you're growing and hiring at a decent pace. Traditionally, if you wanted to add more phone numbers for your new employees to a business phone system, it could take days or weeks for you to get through to your provider and for them to make that change for you.
With a good desktop or mobile app though, you'd be able to do that all on your own, in your online account. For example, here's how that looks in Dialpad: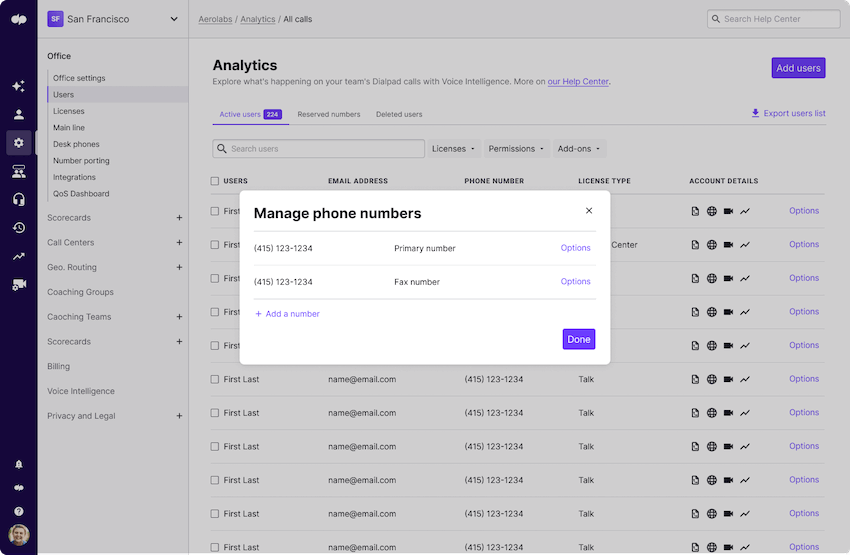 That's the value of having a good desktop or mobile app: it can help you not only significantly improve your administrative efficiency, but also in many cases, provide a better experience for your customer base because you have more time to devote to them instead of low-value or repetitive tasks.
4. Choose apps that let you work from anywhere

If you're thinking about hybrid or remote working, then you'll definitely need mobile apps that let you work from anywhere. The most important factors to think about are things like, "How will you communicate with your team?" and "How will you communicate with your customers or prospects?"
You'll notice that both of these have to do with communication. That's because when you work from home, you lose that in-person aspect of the office, which means that communication is generally the first thing that you'll lose.
Make sure you have a mobile app that lets you handle all the communication channels, whether it's phone calls or video meetings or SMS messages—or all three. This way, you'll streamline workflows and save on software subscription fees and time and effort, since your team won't have to manage as many disparate tools.
For example, Dialpad's UCaaS (Unified Communications as a Service) platform does exactly this:

7 essential mobile apps for businesses
So now you know why using mobile apps could benefit your business. Now, let's take a look at some examples of apps designed for businesses to look into:
1. Dialpad: For all your communications needs in one app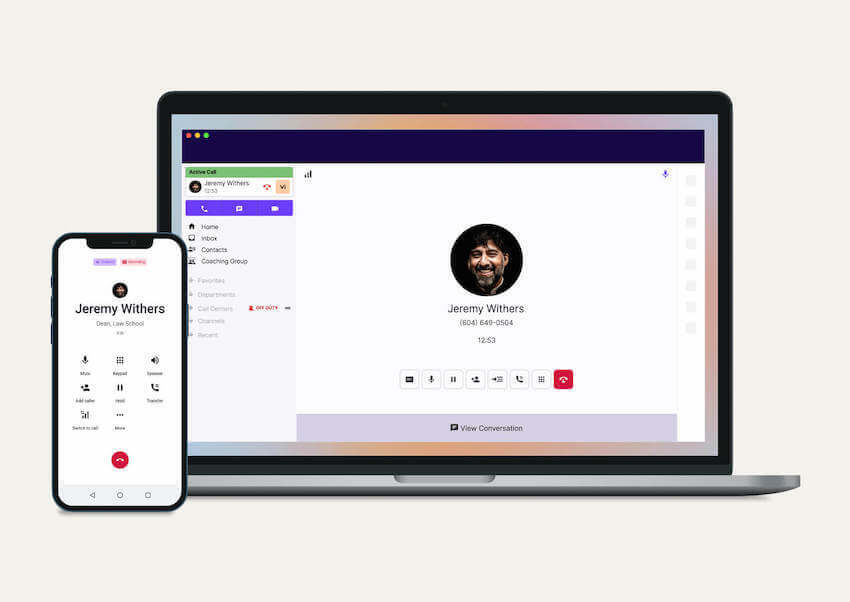 Effective communication is the backbone of almost every business, no matter which sector or industry you're in.
And there's one mobile app that can let you talk, message, and meet with your clients, prospects, teammates, and more, all in one place.
Dialpad is a cloud-based platform with both a desktop and mobile app (PC, Mac, Android, and iOS) that has the ability to make VoIP phone calls, send instant and SMS messaging, do video conferencing, and more.
If you're wondering what the "and more" includes, Dialpad also has a contact center platform that's fully integrated into its app, meaning agents and supervisors can handle customer communications on their phones. Generally speaking, most people prefer using their computers for this, but if they need to, they can do that with Dialpad.
The unique thing about Dialpad is how robust its mobile app experience is. Many UCaaS and CCaaS providers say they have mobile apps, and they do, but often, functionality on those platforms is more limited. For example, Dialpad's Salesforce integration is fully functional, even on its mobile app—which is something that you won't find with most other communications platforms:

Essentially, Dialpad has everything you need to communicate with people both inside and outside your organization, in addition to handling customer engagement as well.
The other unique thing about Dialpad is its AI technology, Dialpad Ai. It's proprietary and built into all of Dialpad's products, including its desktop and mobile app. Here's what it does: It can transcribe calls in real-time (more accurately than almost all leading competitors)...
... Pick out keywords and phrases that you want to track, and as we mentioned earlier, even pop up Real-time Assist (RTA) cards for contact center agents who might need help explaining tricky topics to customers.

Dialpad's plans start at just $15 per user per month, and comes with all these features on top of unlimited calling in the US and Canada.
Best features
👀 Thinking of moving to hybrid work?
Grab the Hybrid Work Playbook, which includes real-life case studies and breaks down all things hybrid + remote, from building and sustaining a hybrid workforce to equipping your team for success.
2. LinkedIn: For all your business networking needs
Social media is an essential mobile marketing tool. But beyond just marketing, it's also very useful for connecting with people and brands who can be good partners for you—or become customers. This is generally more useful for B2B brands than ecommerce or B2C brands, but from an operations perspective, both types of businesses will generally find it useful to be on LinkedIn.
LinkedIn also syncs up with other social networks like Twitter to help you deliver consistent branding and social media posts across platforms. There's a basic free plan (no credit card required) and paid plans if you want to be able to do more outreach and unlock other more advanced features.
Best features
See your connections and network (in terms of 1st degree and 2nd degree connections)

Ability to interact with posts from people not immediately in your network, but whom you might want to connect with regardless (like potential clients)

The analytics dashboard displays weekly or monthly profile growth, user engagement metrics, and top performing posts.
3. Google Calendar: For staying organized with meetings

This one is a must-have for almost anyone who works. (Or if you're using Microsoft Outlook, it has a calendar too.)
Having the Google Calendar mobile app will help you keep track of all your meetings, events, and even task deadlines—basically, anything that's date-related or timebound can be logged here to keep you on schedule.
There are many useful integrations for Google Calendar, and one of the most commonly used ones is probably its integrations with communications platforms or video conferencing tools. With these integrations, you can create meeting invites that'll automatically populate the virtual meeting link. For example, Dialpad integrates with Google Calendar to do exactly this and allow participants to join your video meeting right from their web browser—no downloads needed:

4. Wave: For managing your finances from any location
The ability to manage your finances from anywhere is essential, and Wave gives you a range of invoicing and accounting software for doing business mobile-style. It's designed to help entrepreneurs connect their bank accounts, sync expenses, balance the books, and get ready for tax time.
There's a dashboard for viewing customer transaction history, and you can run multiple businesses in one account and perform bulk transaction updates (everything's backed up automatically in the cloud).
If you enable Payments by Wave, you can get paid in as little as two business days, with customers clicking a "pay now" button on invoices (the payment feature is pay-per-use, whereas the other functions are free).
Best features
Create and send personalized invoices from wherever you want, in any currency. You'll get notifications when an invoice is viewed, becomes due, or gets paid.

Set up recurring billing for repeat customers—payment information is synced automatically with the accounting function.

The receipt scanning feature means you don't have to keep hold of the paperwork. Scan it with the app, and Wave syncs it with your account.

Create exportable accounting reports showing profit/loss, sales tax, and cash flow.
5. Buffer: For managing your company social media accounts in one place

Social media is one of the best ways to stay engaged with a loyal customer base, and Buffer provides social media scheduling and analytics, but it's less Insta-centric. It's aimed at small business owners who want to track the growth of their engagement and following.
You can visualize planned content for major social networks on a simple dashboard, and set reminders for Stories. You can also publish content on an automated schedule or choose a custom time for each post.
Buffer offers a free plan (publishing only) and a paid plan with analytics and engagement tools ($5/month per social channel). An add-on pack offers extra tools for team collaboration.
Best features
View unanswered comments and skip to the most important ones with the help of hotkeys and labels. Smart alerts tell you if a post has questions or negative sentiment.

The Analyze feature shows you the optimum time to post, how often, and what sort of content.

The analytics dashboard shows performance across multiple accounts, and insights into specific channels. Compare paid vs organic results, measure posts and hashtags, and create reports.

Buffer has integrations with tools like Canva, Feedly, and PicMonkey.
6. Evernote: For staying up-to-date on tasks and notes
If you're still scrawling notes and losing them from time to time, then it might be time to look at using a mobile note-taking app like Evernote to digitize all your information in one safe place.
It also lets you take notes while you're out and about, or during a call. They're synced automatically to all your devices so you can see them even when you're offline. Evernote even has task management capabilities, so you can create to-do lists and share them with your team.
The app is compatible with iPhone and Android, and integrates with Google Drive, Slack, Outlook, and Gmail. There's a free plan and two paid tiers (Professional is for business use, $7.99/month), plus Evernote Teams for extra collaboration.
Best features
If you do have handwritten ideas, Evernote's built-in camera can record and decipher them (it can identify handwriting in 11 languages, plus 28 typewritten ones). You can also create audio recordings.

Add images, audio, and documents to your notes, with multiple colors for highlights and text. You can also save and mark up helpful web pages.

Evernote's flexible search capabilities make it easy to find the notes you need.

Add due dates and reminders to your own tasks, and (in the Professional tier) assign them to others and track progress.
7. MailChimp: For automated, personalized email marketing

In a competitive world, you can help your business stand out by personalizing communications. Mailchimp enables you to customize emails with personal touches and company branding—with automation to ensure they reach the right people at the right time.
Create campaigns directly from the iOS and Android app, with templates and content blocks. You can insert product images that are automatically pulled in from your connected stores (the 250+ app integrations include ecommerce platforms like Shopify and WooCommerce).
Mailchimp's free plan has basic features for small businesses, and there are three paid tiers (from $9.99/month).
Best features
Mailchimp tells you when it's best to resend emails to people who didn't open them first-time, and lets you send abandoned cart emails with incentives.

Marketing CRM tools such as the business card scanner help you keep track of contact data.

Create a one-click landing page to drive traffic to your social accounts and connect payment platforms.

The mailchimp dashboard displays audience growth, campaign engagement, and ecommerce performance when you open the app.
Using a mobile app for business: The key to improving workflows (and increasing profits)
Whether you're a SaaS startup with a team of mobile app developers or a real estate firm that has different offices of real estate agents and brokers on the go, having good mobile apps can help engage with prospects and customers, be more productive, and grow your business.
Look for versatile solutions that can do multiple things well. For example, instead of using one app for video conferencing and another for messaging, choose a unified communications platform that can give you all (or most) of the functionality you need in one simple pricing plan.
It'll save you money in the long run—and time as well, since you won't have to manage and maintain so many disparate tools.
Looking for a mobile app that covers all your business communications?
Communicate with prospects and clients through phone calls, video conferencing, and instant + SMS messaging with Dialpad. Sign up for a free trial to get started with a virtual business number. It takes just a few minutes. Or, take a self-guided interactive tour of the app!