Back to Blog
Dialpad direct routing for Microsoft Teams: Everything you need to know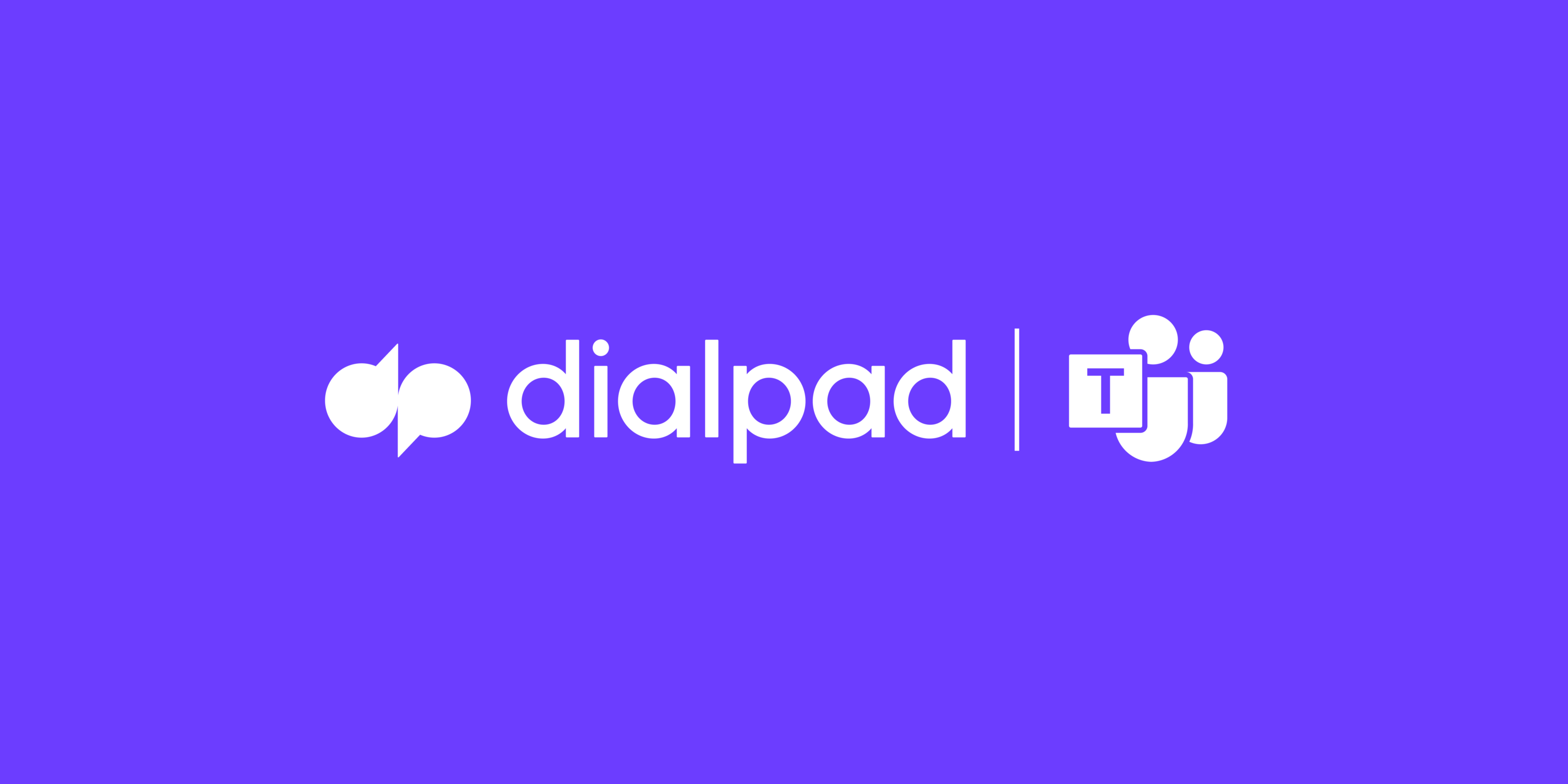 Question: What if you could get an enterprise-grade, fully integrated calling experience right inside Microsoft Teams?

That's right, if your business or team is using Microsoft Teams, then we've got an integration that'll make your team's lives even easier—no extra hardware or software needed. If you have a Pro or Enterprise plan for Dialpad Ai Voice or Dialpad Ai Contact Center, you can integrate right into Microsoft Teams:
Now, if this is the first time you've looked at adding, well, essentially a phone to Microsoft Teams, we've got everything you need to know about how it works down below.
👉 Fun fact:
Even if you don't have Microsoft Teams, Dialpad's unified communication platform lets you make phone calls and video calls, send SMS messages, and even instant-message—all in one app.
Dialpad and Microsoft Teams for enterprise collaboration: Giving your teams a voice
The integration between Dialpad and Microsoft Teams lets you and your team use all of Dialpad's sophisticated UCaaS and dialer functions—right inside the Microsoft Teams interface. (Thanks, direct routing!)
Because this works fully in the cloud, that means there's no need to invest in any new hardware whatsoever. You, your sales team, and customer support agents are all able to work from anywhere in the world, on any device.
Get the single pane experience
One of the biggest perks of Dialpad for Microsoft Teams? It gives you a completely seamless user experience since there's no need to switch between different tabs or screens. That lets you work more efficiently, with less complicated workflows (and a much better customer experience).
You're getting all of Dialpad Ai insights and real-time transcription features as a handy non-obstructive overlay right in your Teams screen—and you can move it around too:


But don't take our word for it:
Our Team's adoption rate across the organization has increased to almost 100% in the past year. What I am most excited about testing is the possibility for all communication to be simplified by consolidating all communication into one app.
Chris Millien
VP, IT Director at Business First Bank
5 benefits of Dialpad's direct routing integration
Maybe you're currently running Teams and Dialpad separately, and everything seems to be going swimmingly.
Or, perhaps your business is running one or the other—or neither, and you're wondering what all the fuss is about.
Well, if you need to talk to customers (or partners or vendors or investors, you get the idea…) on the phone on a daily basis, then Dialpad's direct routing integration can open up a better way to make phone calls, even when you're in your Microsoft Teams app.
Here are just a few of the perks.
1. A seamless integration
Most businesses just don't have the time or energy to spend on something as basic as making sure their tools are working together in sync.
And your customers certainly don't have the patience to wait for an answer while your systems are being upgraded or your developers are working overtime to make sure they've fixed all those bugs.
That won't be a problem since Dialpad's direct routing for Microsoft Teams is 100% cloud-based.

There's no need to deal with additional apps, and if any problems do come up, our support team is available 24/7 to help you solve them.
2. A single interface for UCaaS
If you're already familiar with Microsoft Teams and don't want to have to get caught up on yet another platform, you'll be happy to know that Dialpad's direct routing solution basically just soups up the Teams interface.
A robust UCaaS (unified communications as a service) platform in its own right. Dialpad's integration gives your communication and collaboration platform (whether you stick with Teams or not) superpowers.
From phone calls to call forwarding to video chat, to even a contact center—everything you need is in a single screen.
And did we mention the super clean analytics dashboards?

3. Essential customer support features like call routing
Now, if your team is working in a contact center, this gets even better.
Now, not only can you keep working in the Microsoft Teams interface, you can also get access to contact center features like call recordings, advanced IVR routing, coaching, and more:
Call routing is especially key for a contact center, or any business really, because it gets rid of the need to manually route every caller to the right person or department.)
👉 Dialpad tip:
With Dialpad's call routing feature, you can distribute calls however you want, like according to skill set, department, or whoever's been idle the longest.
4. Extended (and more economical) calling reach for Microsoft Teams
Microsoft's calling plans—which most Microsoft Teams' customers rely on—can really add up if your business has to make a lot of calls. Add international calls to this, and your phone bill may cause a sweaty forehead and minor palpitations.
Integrate Teams with Dialpad and your calls within the United States and Canada are covered by your subscription fee. (And international calling is also provided at competitive rates!)
5. Cost efficiencies
We touched on calling fees above, but subscribing to a single, integrated package is a massive time and money-saver, too.
Many companies have their different communication channels spread out across a handful (or more!) of software providers—with no capacity for integration.
This doesn't just result in paying multiple subscription fees. It also means that your team is subject to app overload from having to constantly switch between tabs and platforms.
Dialpad for Microsoft Teams means one integrated platform and no additional hardware.
Because, hey, why make life more difficult than it needs to be?
Make your Teams happier with Dialpad with direct routing on Microsoft Teams

If your business is already using Microsoft Teams and needs a better way to make phone calls, this new collaboration will let you do that—while keeping a streamlined tech stack and minimalist workflow.
Because Dialpad basically adds on these phone features to Teams, that means you and your teammates won't have to spend as much time learning how to use a whole new interface—and it'll reduce your cost of ownership overall if you're using (or planning to use) the Microsoft calling plan.
Want to know more about how Dialpad Direct Routing for Microsoft Teams works?
Get a demo and we can walk you through it!
FAQs about direct routing for Microsoft Teams
FAQs about direct routing for Microsoft Teams
They sure do, and it could work for your team! But if you need things like international phone support, simpler licensing, and more advanced telephony features… then you're better off going with a more full-featured business phone system like Dialpad.
By the way—what's direct routing, exactly?
What are the licensing requirements for Teams?