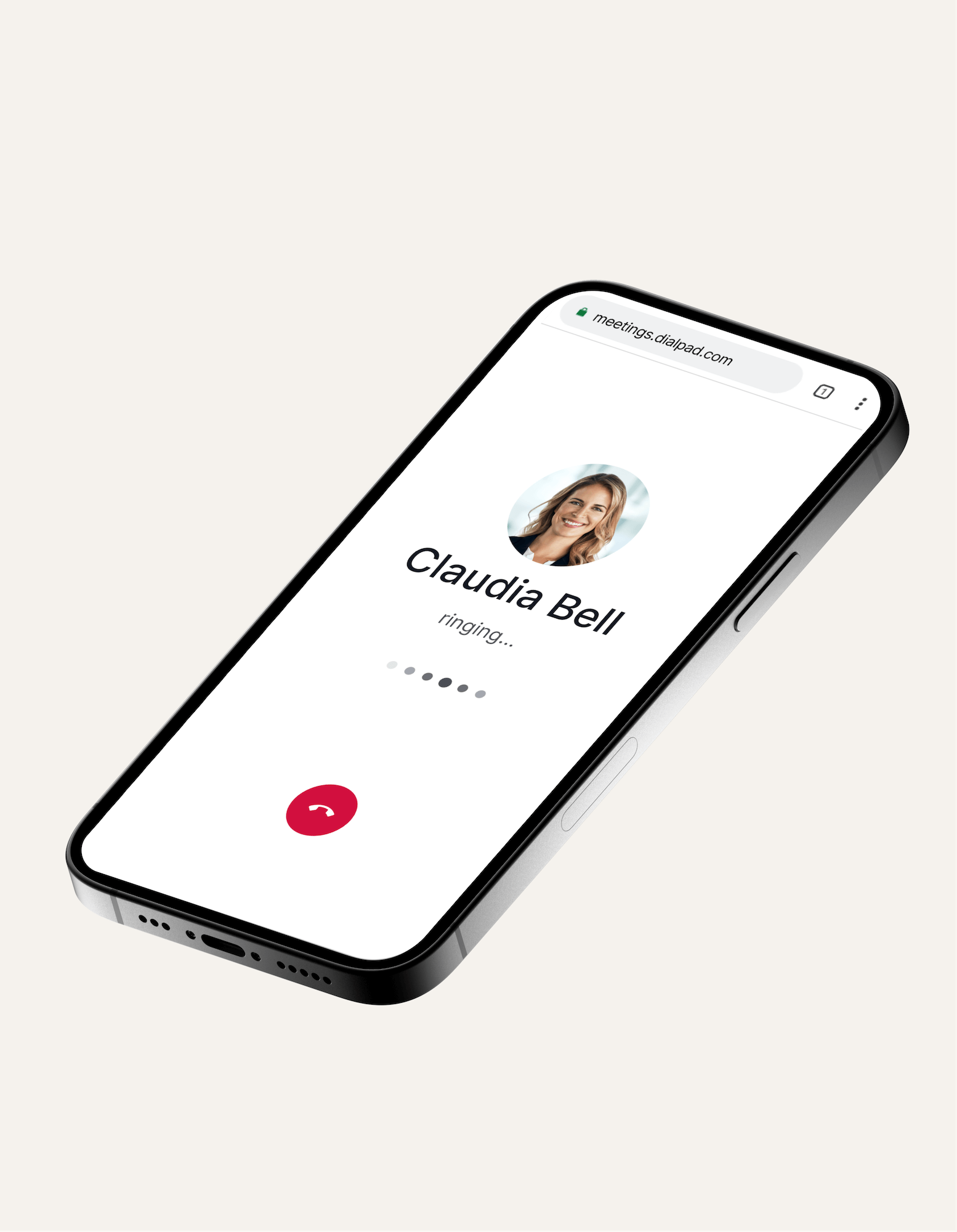 A detailed guide
Cloud communications
Looking for a cloud communications provider? See how Dialpad's AI-powered collaboration platform lets you talk, message, and meet—from anywhere, in one app. Book a product tour to see it in action.
Businesses all around the world, across a range of industries, are embracing the cloud. It's estimated that by 2025, the global public cloud computing market will be worth a whopping $832 billion.

The cloud has changed the way businesses communicate, collaborate, and perform many other vital business processes. Specifically, cloud communications platforms are an increasingly popular choice for businesses that want to streamline their operations and empower their remote workforces to stay connected (and productive).
The Gartner: 2021 CIO Agenda: Global Perspectives on 'Seize This Opportunity for Digital Business Acceleration states that 50% of U.S. CIO's report an increase in funding for innovation in 2020, and even more of them—64%—say it will increase in 2021. This is a critical area because increases in innovation funding make an enterprise 2.7 times more likely to be a top-performing organization.
Additionally, Gartner states that 100% of HR leaders think an optimal balance between remote and colocated work is when employees work remotely at least one day per week.

So what exactly is cloud communications—and why should businesses at least know about it if they aren't using it already?
What is "cloud communications?"
Cloud communications refers to voice and data communications that are delivered over the Internet rather than a standard Public Switched Telephone Network (PSTN). Basically, your phone system comes in over the Internet instead of being physically wired to your desk. It's evolved dramatically over the years, with technologies like Voice over Internet Protocol (VoIP), hosted PBX, and UCaaS being commonly mentioned alongside cloud communications.
Typically, a cloud communications provider will host everything in the cloud, which means businesses can outsource systems management responsibilities like provisioning, data storage, and security to their provider.
This both reduces the costs to the business and provides easy access to advanced features and regularly updated functionality.
Cloud communications represent a completely new way to build, deploy, and scale business communications solutions, and in today's world of remote and hybrid work, it plays an integral role in helping businesses succeed, no matter where employees are located.

👉 Dialpad tip:
There are lots of different interpretations of "cloud" and it's important to fully understand what this means for you. Kind of like how you can build a car—yes, it's a car, and has all the features you want, like navigation, air conditioning, central locking, navigation, etc. However, if you sit a premium car next to a more budget one, although they have the same features and specs, there are many differences in how they feel, handle, and perform over a lifetime of use.
How do cloud communication platforms work?
Cloud communications providers are responsible for hosting and maintaining communications services through their own data centers and servers. Customers access these systems through the cloud, paying for only the services they need.
Cloud communications includes cloud telephony, which allows businesses to make and receive calls over the Internet using VoIP technology. This is the basis for many modern telecommunications and UCaaS solutions.
In this way, the cloud delivers a hosting environment for enterprise business communications that is easy to deploy while offering flexibility, scalability, and security to help businesses meet their communication needs.
Types of cloud communication systems: A quick breakdown
Public
While the name may be a little deceiving, a public cloud communications system doesn't mean that anyone and everyone can access your business data. Deploying a public cloud communications system means that your business has access to the same cloud resources as a number of other businesses.
Public cloud communications systems are simple, scalable, and cost-effective, making them a popular choice for small and medium-sized businesses. They're typically available on a per-user, per-month basis which can be upgraded depending on the business's needs.
Each provider is different, but typically your "space" in the cloud should be encrypted and secure, so that you don't lose any of your important data.
Private
Private cloud communications solutions operate in a similar way to public ones, but they provide a higher degree of security, as services are offered within a private, internal network. This makes them popular among large enterprises and industries that rely on strict privacy policies, such as healthcare.
This type of cloud communications model is managed by a service provider and often available "as a service", like Unified Communications as a Service (UCaaS) or Communications Platform as a Service (CPaaS). If security is your top priority, then private cloud is the way to go.
Hybrid
Hybrid cloud communications systems offer businesses the ability to leverage on-premises investments while benefiting from the flexibility, mobility, and scalability offered by a cloud communications infrastructure. For example, a business can use SIP trunking to connect its on-premises PBX to the internet to enjoy the benefits of the cloud.
Hybrid cloud solutions are popular among businesses that operate with a large remote workforce. These are often large scale, costly, and seem to "live forever." The on-site hardware and software give you absolute control over your communications infrastructure while retaining the same level of security you'd find in the office.

👀 Thinking of moving your organization to hybrid work?
Grab the Hybrid Work Playbook, which includes real-life case studies and breaks down all things hybrid + remote, from building and sustaining a hybrid workforce to equipping your team for success.
The most common communication channels that you can "put in the cloud"
Voice calling
For many businesses, this is the most important one. People still use the phone—and will likely continue to use it for the foreseeable future. Cloud communications allows businesses to make HD voice calls both internally among teammates and externally with customers. It negates the need for a conventional in-office PBX system, making it a cost-effective alternative to legacy business phone systems.
Video conferencing
Cloud communications solutions can also facilitate real-time one-on-one meetings via video meetings.
With Dialpad's AI-powered collaboration platform, for example, you can start a video meeting in the same app that you'd use to make a phone call (and as we'll see later, to send an instant or SMS message too).
You can also share your screen to collaborate on projects (and it'll even adjust your video quality based on your available bandwidth, so you don't have to worry about freezing due to a bad connection!).
SMS and instant messaging
Texting is often a more effective way of getting a response from clients and prospects. If you need to send a short update or ask a quick question, your cloud communications platform should let you do that as well.
For instance, with Dialpad, you can send messages internally and externally with business SMS (texting), MMS (multimedia image, sound, and video), and group messaging. Dialpad goes one step further and has this same option for contact center phone numbers, including toll-free numbers and even your office main line:

The biggest business benefits of cloud communications
It empowers a remote workforce
It's apparent now that hybrid and remote work is the future. And one of the most important benefits of cloud communications systems is that they are essential to remote work. You can effectively work from anywhere, as long as you have access to an Internet-connected device and a cloud communications platform
With these two things, you can connect in real time over different communication channels, share files, and collaborate on projects from a distance.
From a business perspective, having a good cloud communications provider helps you ensure that remote workers all have access to the same communication tools, files, and data as their in-office teammates. This effectively streamlines communications and empowers the remote workforce to be just as productive as they would be in the office.
👉 Dialpad tip:
See how Qubit, a digital experience platform with a distributed workforce of over 300 employees, moved on from a restrictive desk phone infrastructure that didn't meet their scalability needs—and what happened after they adopted cloud technology.
Greater flexibility
Cloud communications platforms also offer businesses enhanced flexibility, and empower them to scale as required. This means organizations pay for the services they need, as they use them. With month-to-month service agreements, businesses can choose the model that best suits their needs and provides them with the features they require.
For example, in Dialpad, you can manage user accounts and add (or remove) phone numbers easily in your online account. Scale up—or down—however you like:

Access to advanced features (that you don't have to build yourself)
By migrating your business communications to the cloud, you're essentially taking a large chunk of the software maintenance and upgrade work off your IT team's plates.
Cloud communications solution providers are constantly integrating the latest innovative features and capabilities into their systems, and when features are added, you can usually start using them immediately without having to perform upgrades yourself or pay for new features.
Another huge benefit of cloud business communications platforms is that they can integrate with other apps. If your business already has a tech stack, then app integrations can help your team minimize data entry and copying and pasting information back and forth between apps.
Dialpad, for example, has not only a large app integration library, but also an open API so that businesses can build custom integrations. Its simple licensing also has a huge amount of features included—at even the most basic level:
Industry-leading AI: ✅

Call recording: ✅

Real-time transcription: ✅

Analytics: ✅

Departments and ring groups: ✅

Unlimited call recording and transcription storage: ✅

Out of the box integrations & SSO with Google Workspace and Microsoft 365: ✅
As advancements in artificial intelligence, machine learning, and the Internet of Things (IoT) continue to grow, cloud communications solutions provide businesses with an edge in innovation and speed of delivery—without overburdening their in-house IT teams.
A reliable global voice network
Reliability is another of the major pros of cloud communications, since cloud telephony isn't reliant on a physical connection to provide your business phone service.
Along with delivering high quality calls and a range of calling features, cloud communications solutions tend to be very reliable as their servers and data centers are hosted in multiple locations. This means even if one server goes down, there's another that'll keep your business communications running smoothly.
For example, Dialpad boasts 100% uptime for Enterprise plan customers to guarantee business continuity (alongside excellent features).
Increased competitiveness
It goes without saying that in today's world of digital transformation, staying up-to-date with technology is vital if you want to succeed in the business world. As consumer expectations continue to grow, the demand on communications and phone systems also become greater.
When customers expect to call in and not have to repeat themselves to different agents, your contact center or communications platform needs to be able to support your team in doing that. A phone system can't just be a phone system anymore—it needs to be your centralized communications hub, a customer experience tool, and more.
👉 Dialpad tip:
See how Westward360, a property management company, uses a cloud communications platform to keep all all of its offices and contact centers around the world connected.
Looking for a cloud communications solution?
Book a product tour of Dialpad's AI-powered collaboration to see how your organization can talk, message, meet, and more—all in one platform. Or, take a self-guided interactive tour of the app on your own!
What to compare with cloud communications providers
Customer reviews
One of the first things you'll find on Google's homepage when searching for a cloud communications provider are plenty of customer reviews.
Do your research, and remember, just because one provider is the most popular or has been around the longest doesn't mean it's the best! Technology in the cloud evolves quickly, and not all cloud communications providers are built on the same infrastructure. Take your time to consolidate customer reviews to get a holistic picture of the market and the best options.
Security and certifications—which customers in which industries are already using them?
Security is one of the most important factors to consider when choosing a cloud communications service provider. Be sure to consider provider encryption technologies, data center policies, and any other cybersecurity measures in place.
When the cloud first came about, there was concern about how secure it was. However, it's now widely argued that cloud communications are safer and more secure than on-premises systems.
The infrastructure of the cloud and the large-scale data centers that house cloud communications systems provide powerful resilience and high security—and in regions that experience natural disasters like flooding and fires, this is almost always a safer option.
Pricing plans
Generally, businesses of all shapes and sizes should at the very least consider a UCaaS solution (Unified Communications as a Service) for its affordability and flexibility and pricing.
Every cloud communications platform has its own pricing, and even though the overall monthly pricing tier structures are quite similar, the features included are never the same.
(Also take into consideration other potential service costs like installation, customization, and training.)
For example, Dialpad is available on a range of pricing plans that provide small businesses and large enterprises with the features they need, and the ability to easily scale operations when you need to by simply adding new users from the admin portal:

👉 Dialpad tip:
What's unique about Dialpad is that it doesn't just give you a cloud communications—it has industry-leading AI built into the platform. This lets Dialpad not only transcribe calls—in real time—but also analyze customer sentiment and even track keywords or phrases (like competitor names and new features) mentioned on calls.
Ease of use
The cloud communications platform you choose should be easy to deploy and use. There's no easier way to waste time than choosing a complicated system that takes your employees weeks to get their head around!
Dialpad's cloud communications software is easy to install and easy to use. To get started, simply download the Dialpad app on your Microsoft, MacOS, iOS, or Android device. Next, sign in with your login details and get started on the intuitive dashboard.
If you ever need support or have a question, you can use Dialpad's 24/7 live chat support to get quick and friendly solutions to any problems you're having.
Integrations with other apps you already use
This one is quite important, especially for larger businesses. A good enterprise communications provider should be able to integrate with a wide range of business software and have an open API to help organizations streamline their workflows and reduce the amount of data entry (and toggling back and forth between apps).
From calendar tools to CRMs and ticketing software, whatever your team is using should integrate with your cloud communications platform.
For example, Dialpad has a range of native integrations, including Zendesk, Outreach, HubSpot, Google Workspace, Microsoft 365, Zoho CRM, MS Teams, Kustomer, Front, Salesforce, and many, many more:

How to successfully migrate communications to the cloud
Have a cloud migration team
First of all, you'll need to get the right people involved.
You should have at least one director responsible for the migration project if you operate a small business, whereas larger businesses might require a team formed of people from different departments to ensure consistency.
For example, this might include someone from IT, someone from operations, someone from marketing, and so on. You'll need to ensure you've attained senior management sponsorship, along with the right permission to start implementing the project.
Have clear goals
Your key goal will be to ensure that the cloud migration goes as smoothly as possible. It's important to avoid disruptions and think about other systems that need to be integrated with your telephony systems and employee mobile contracts.
It's a good idea to keep in mind that you're aiming for a unified communication system that combines multiple channels, and to avoid asking for other integrations during the migration process.
Choose the model and service that fits your business
Consider which cloud communications model and service best suits your business. Will the public cloud provide the flexibility and cloud security you need, or do you need a more secure solution that operates in the private cloud? Perhaps a combination of both means the hybrid cloud is the best option for you?
Check out service providers and analyze their offerings as well as the price tag they have attached. There are plenty of options out there, so why not start with Dialpad?
Assess your company's IT infrastructure
Before beginning the migration, assess your IT infrastructure to ensure everything runs smoothly. You don't want any big data breaches to occur during the process!
Test the platform before migration
Before migrating, test the platform. You don't want to spend all that time and energy migrating to a platform that just doesn't meet your business needs. Typically, service providers offer a free trial that allows you to see whether it's the right solution for your business.
Make sure to consider how the platform will affect customers, as well as your teams across departments. If you work with remote teams, consider how they'll be affected as well.
Keep everyone up to date on progress and new uses for the cloud
To stay competitive, make sure you stay up to date with any progress and new uses for the cloud. Cloud technology is constantly developing, and with the increasing availability of AI and machine learning technologies, it's only going to get more exciting as we head into the future.
Be sure to keep all the end users at your company up to date, too, so they can always be using your new cloud communications platform to its full potential!
Have an adoption and rollout strategy
Don't send everyone in blind. You'll need to know how you're going to roll out the new cloud communications platform to all your teams and departments.
Cloud communications solutions are usually relatively easy to get used to, as most people already have some experience using the cloud in their personal lives. Ensure your employees are fully trained about how to use the platform and all its features to ensure their user experience is seamless.
Find the right cloud communications solution for you
Finding the right cloud communications solution for your business requires careful thought and consideration. This decision is going to impact how your team communicates, collaborates, and succeeds.
If you're looking for a cloud communications and collaboration solution that ticks all the boxes (and then some), check out Dialpad. Take it for a spin with a free trial (it takes just a few minutes to get all set up with a virtual business number), or book a product tour to see it in action!
Want to see Dialpad's AI-powered collaboration platform in action?
Book a personal walkthrough to see how it can work for your business or organization!