Back to Blog
The 7 best affordable video conferencing software for small businesses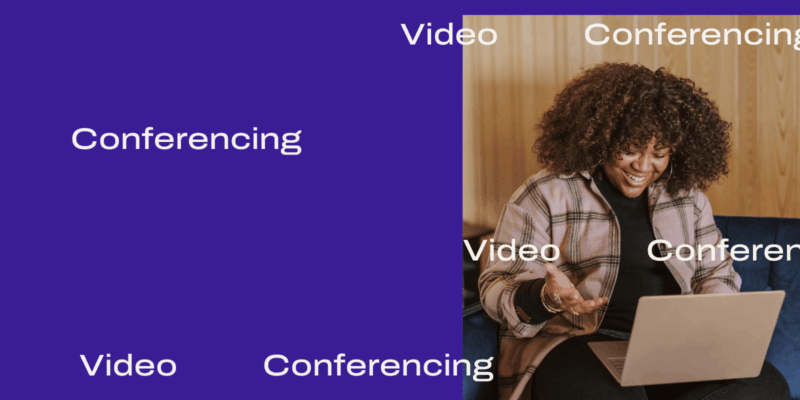 Fun fact: There was a 500% increase in the use of video conferencing tools in 2020—and pandemic or not, the trend is likely to continue as more people get used to online meetings and working remotely.

And if you work at or run a small business, choosing the right video conferencing app is an important task. With a tighter budget and not as many IT resources, you're probably going to be the one trying out the free demos, making a wishlist, setting up the video conferencing software—and doing maintenance and troubleshooting too.
Of course, there isn't a one-size-fits-all solution. You have to look at your particular business needs—and oh, price isn't everything either. (At least, not the up-front price tag. But more on that later.)
First, let's look at video conferencing for small businesses specifically.
What is video conferencing? Why do small businesses need it?
Video conferencing is basically when you have a face-to-face meeting or conference online in real time, instead of in person.
This is slightly different from an audio conference call, which doesn't have video. A traditional phone call would be a good example of this.
Back in the day, video conferences were hosted from specially designed meeting rooms in an office, with expensive and sometimes bulky equipment required to connect one location with another.
But now, of course, it's easy to download an app or join a meeting from your browser, on any mobile device, in any location.
If you have a small team that's dispersed across different cities or countries, video conferencing is especially useful for keeping everyone connected. But that's not the only use for them.
Many businesses also use video calls to handle customer support questions live, talk to clients, sync up with contractors, and more.
It's a great way for small businesses to save money (fewer travel expenses), and can give them a national or even global reach at the touch of a button.
2 key benefits of video conferencing for any small business
Video conferencing is a great solution for any type or size of business, but its biggest benefits are probably most obvious for small businesses.
1. It's a cost-effective alternative to face-to-face meetings
Money isn't everything, but small business owners face the particular challenge of balancing the budget while trying to grow the company.
Any opportunity to reduce costs is probably more than welcome, and implementing video conferencing can help you do just that.
Attending a meeting used to mean traveling, whether it was hopping in the car for a conference across town, or taking an airplane trip to visit colleagues or customers in other countries.
But by meeting online, everybody can join in from wherever they are. This saves small businesses a ton of money in travel expenses—and you're helping to save the planet too!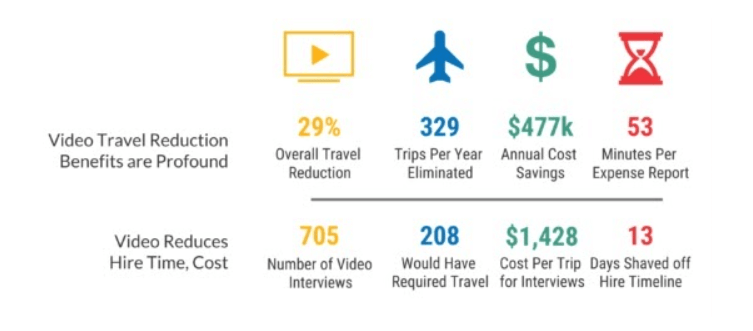 Video conferencing technology is also great news for workers who find commuting and traveling stressful, especially as a recent study found workers now attend 13% more meetings than before. (The good news is that those meetings are 20% shorter, so it makes even less sense to travel to them.)
Video conferencing technology can also help your small businesses move to a remote or hybrid model of working, which is another way to cut costs because you could get rid of a physical workplace altogether—or just rent a small office where colleagues can hot-desk.
When you're choosing a video conferencing solution, try to choose a versatile solution that does more than just connect you over a video call with someone else.
For example, some software today offers automatic transcription and video meeting recordings, which used to be time-consuming and required either extra equipment or outsourcing.
2. Good video conferencing software makes communication easier
Yes, phone conversations are fine—but being able to see someone as well as hear them makes things so much easier.
Video calls are pretty much the next best thing to meeting in person, and they're much more personal and engaging than a phone call.
Participants can take cues from things like eye contact, facial expressions, and body language. And sometimes, a phone call or email just won't cut it. If you're having a meeting about a sensitive topic like a performance review, face-to-face meetings are best. (If you are looking for a small business phone system, though... Dialpad has you covered there too.)
You can also use online meetings for things like remote interviews, onboarding sessions, and employee training. Plus, video calls are a great way to hold team-building or social events when it's hard for the workforce to get together physically.
But what if you want the flexibility of video meetings and also phone calls and other communication channels? Some video conferencing solutions have all those channels built in! That means you can make VoIP calls, send faxes, and do instant messaging—all in the same handy app: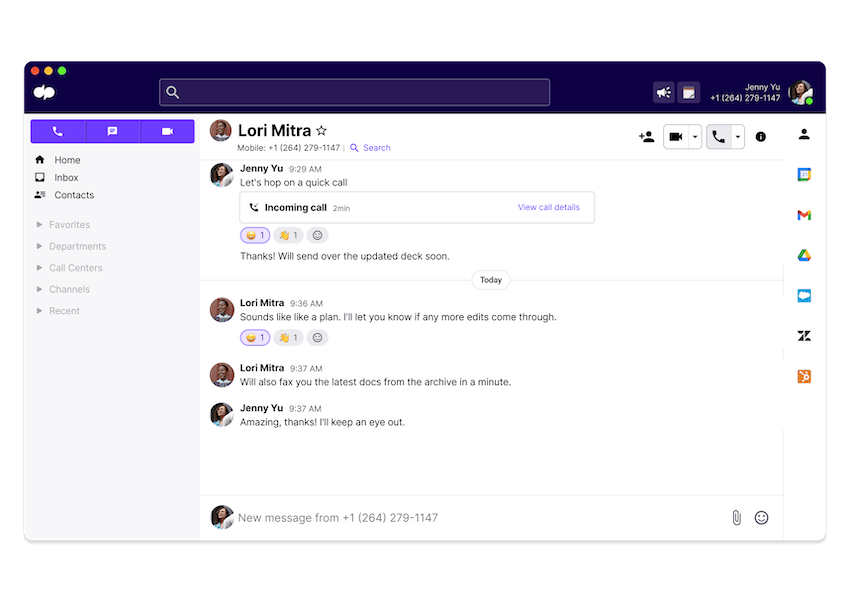 10 essential (and nice-to-have) video conferencing features for small businesses
Every video conferencing solution has slightly different functions, and every business will be looking for different things.
As a rule of thumb, expect fewer features and restrictions like time limits from "freemium" packages. Of course, this isn't a dealbreaker, because depending on what your business needs, that might be good enough.
Here are some must-have and also nice-to-have features to consider when you're looking for a video conferencing solution.
1. Ease of use
This is a no-brainer.
Your chosen solution must have a simple, easy-to-use interface, so that your team and your clients and prospects can quickly adapt to the software.
No one has the time to learn a whole new complicated interface or figure out how to do basic things like start a meeting or mute their mics.
If you're going to be the admin for the software, make sure to check out what the administrative portal looks like. Is it easy to manage licenses and adjust user settings? Or would you need to hire an IT person to help you?
Don't forget to look for a video conferencing solution that can be used with any device, from Mac and PC to Android and iOS. Your clients and prospects don't all use the same iPhone or computer you do, so make sure you choose a platform that's device-agnostic.
2. Cloud-based conferencing
With video conferencing solutions based in the cloud, there's no need to set up expensive conference rooms in the office. Instead of a PC or dedicated meeting room with separate webcams, you can just use your own device. That being said, if you do have a hybrid or in-office team, your solution should be compatible with that too. For example, even though Dialpad can work perfectly fine on just the desktop and mobile app, it also lets you move video conferences from your cell phone to your meeting room TV with just a tap: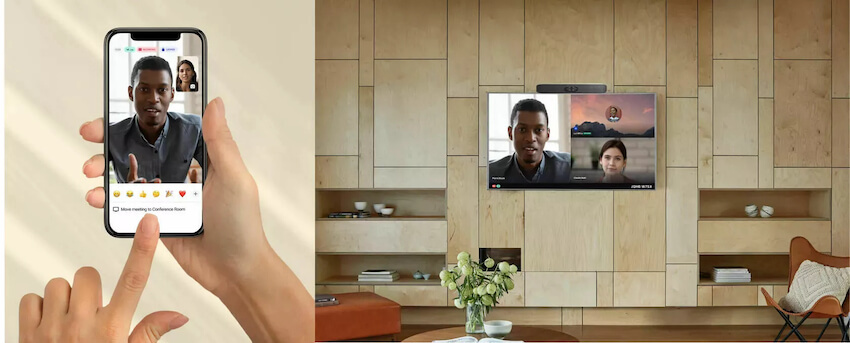 One benefit of going with a cloud-based solution is that you generally pay on a subscription basis, unlike with meeting room or network hardware that requires you to pay a high cost upfront (and don't forget about maintenance and other costs).
You and your invitees don't even always have to download an app, since many video conferencing platforms are at least partially web browser-based—meaning you can quickly join meetings from an internet browser.
Dialpad goes one step further and allows you to host video meetings from a browser too, with all the functionality you'd find in the app:
3. Screen sharing
This is a hugely useful tool, especially for remote work, and it's now becoming standard across most platforms. We've already mentioned the benefits of seeing people's faces instead of talking on the phone—well, features like file sharing and screen sharing let everyone see the designs and presentations, in real time too:
👉 Dialpad tip:
Look for video meeting tools that let you choose whether to share your whole screen or a specific window or tab (but just in case, it's best to make sure there's nothing embarrassing on your desktop).
4. Meeting transcripts
Depending on what kind of video meetings you have, a transcription feature is either a nice-to-have or a must-have feature.
If you do virtual customer interviews or have team meetings, for instance, these would be good to have transcripts for so that other people on the team can review what was discussed if they missed it.
For example, Dialpad not only transcribes meetings in real time (more accurately than almost all competitors out there) thanks to Dialpad Ai, but also picks up on action items for you:

5. Security and encryption
When you're holding an important meeting, the last thing you need is for some random person to crash it—and you don't want to worry about potential data breaches either.
Choosing a video conferencing solution that has high security standards is a must. Look for platforms with end-to-end encryption.
Some platforms also offer meeting security controls, where the host can set a PIN for entry, lock meetings, and remove unwanted guests. With Dialpad, moderators have full control over the meeting and can mute participants, boot out unwanted guests, and use a virtual meeting rooms to make sure only invited guests can join a meeting: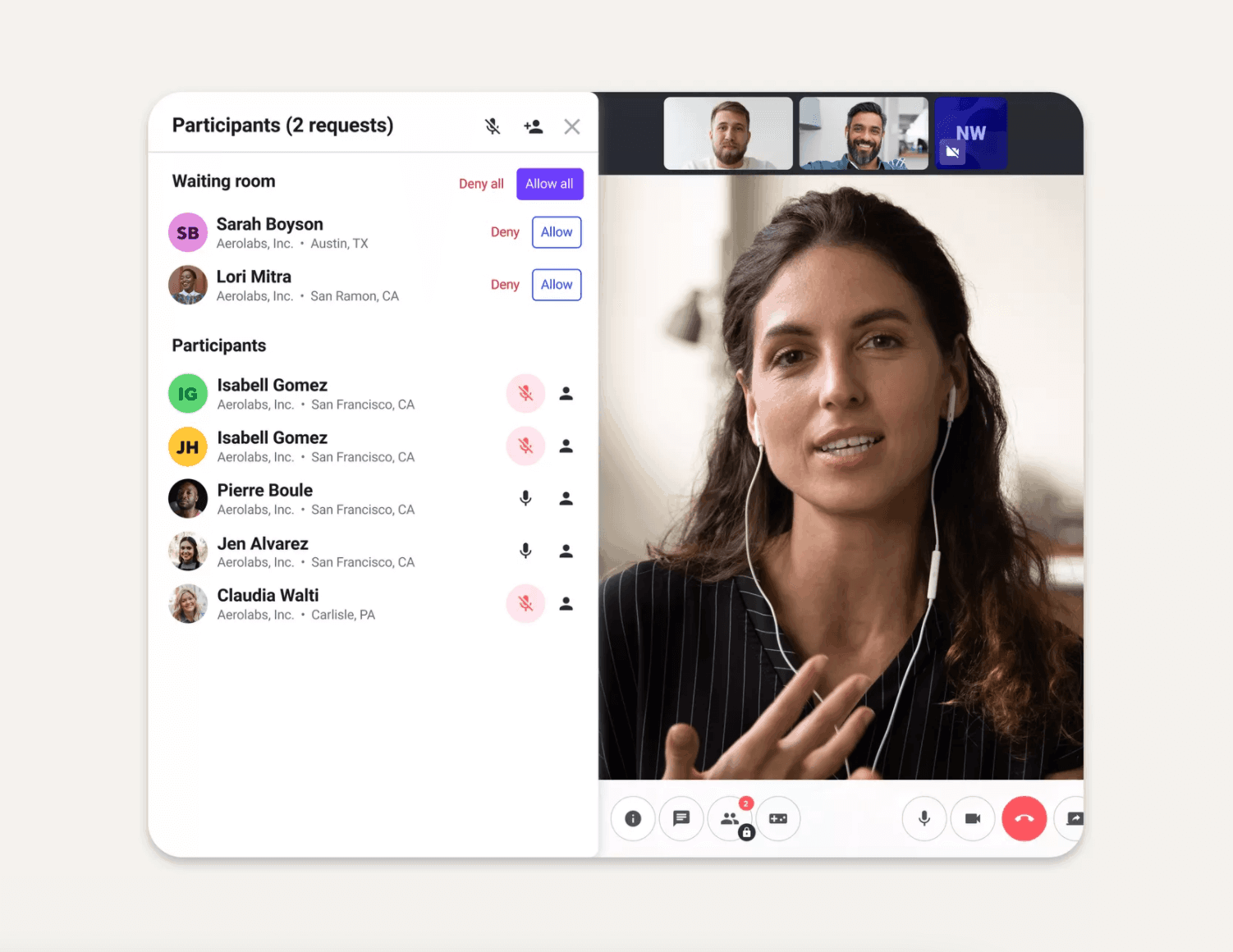 6. Browser-based access
As we mentioned earlier, when you're dealing with multiple clients and stakeholders, you'll likely find that all of them are using different video chat or communications tools.
And most people don't want to have to download yet another app on their phones.
While most video conferencing platforms do offer desktop and mobile apps (which do have their advantages), it's generally best to use one that has a browser-based option with no downloads required.
You just send out an invitation with a link to the meeting, and participants can join with one click. Easy peasy.
7. High-quality video and voice
This one is another borderline must-have (though we'd argue it's essential if you meet with clients and prospects online, because it looks bad for your business if your calls keep cutting in and out).
Even for the smallest business, giving off a professional impression is crucial. Plus, people are going to miss crucial parts of the conversation—if participants have to keep asking each other to repeat things, it's just frustrating.
👉 Dialpad tip:
Dialpad does have HD video calls and voice calls—but even so, try to choose a workspace with minimum background noise and good lighting, and make sure you're not going to be interrupted by kids or pets (although it is kind of cute).
8. Multiple communication channels
Chances are, you and your team use other communication channels too, not just video.
With Dialpad's app, for instance, you can send a text to someone, message a group, make a phone or video call—and even manage your contact center from the same window:


9. PINless calling
Like we said before, the ability to quickly start or join a meeting is pretty important for efficiency and productivity. As well as browser-based capability, there are other things you can do to speed up the process, like being able to join meetings without having to enter a PIN.
Even though there's no PIN, PINless calling is still secure because the meeting should only be accessible through a clickable link that the host sends to participants.
For example, Dialpad is integrated with Google Calendar, so you just set up an invite and it will send out the link. (It can even automatically detect which guests don't have the native app, and send the invite as an SMS or email instead.) Here's how it looks: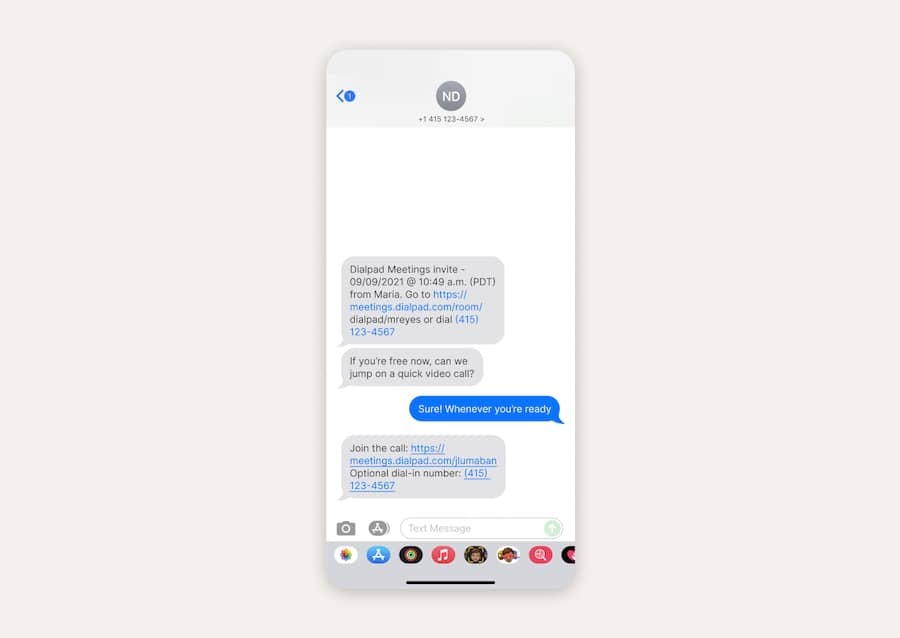 10. 24/7 support
Even if your software provider is amazing, you still might experience the odd problem from time to time. So, it's important to have access to great customer support, whenever you need it.
The best video conferencing services offer phone, email, and chat support in addition to extensive online documentation. Dialpad has an extremely thorough Help Center online that lets you easily find answers to questions on your own: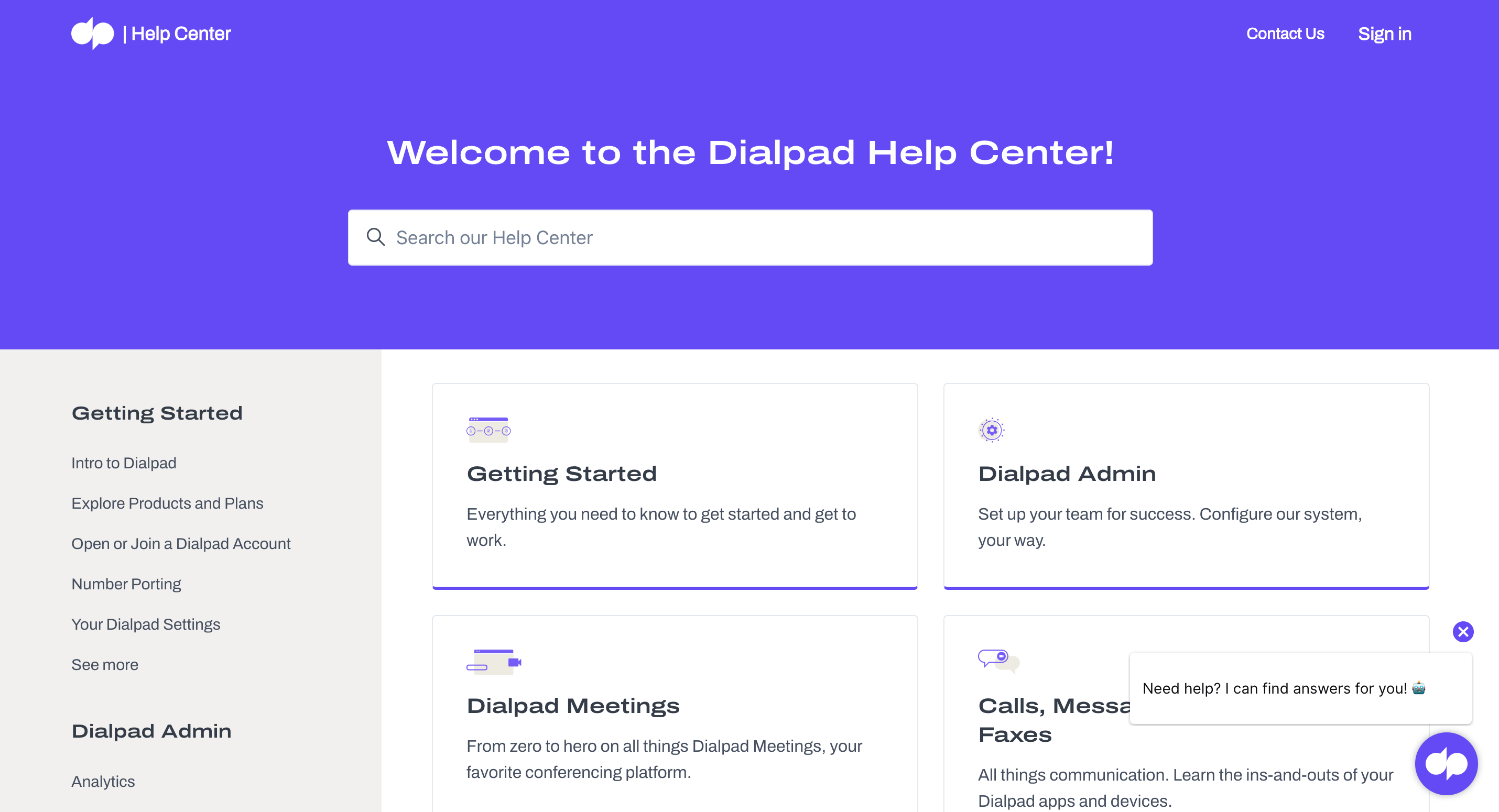 Bottom line: Check the fine print. Some providers only have support for US-based customers, while others only have live chat or don't offer phone support at all.
The best of the best: 7 video conferencing software solutions for small businesses
Bearing all those must-have features in mind, here are the seven best video conferencing solutions for small businesses, taking into consideration ease of use, feature-richness, suitability for small businesses, and price (which is partially why you won't see names like RingCentral, Zoho Meeting, Bluejeans, and Cisco Webex here—they got just eked out by the other options).
We also didn't include "webinars" as a functionality here—some folks may try to have both webinar and video conferencing functionality in the same app, but in our opinion that's a whole separate topic.
1. Dialpad Ai Meetings (Try it for free!)
If you've been paying attention so far, you'll have noticed us pointing out a few of Dialpad's cool features—but there's more.
The ability to join—and host—video meetings from any browser with no downloads is a big selling point, but in case you do like apps, there's a mobile and desktop app too.
Besides the Outlook and Google Calendar integrations, there's also a useful automatic dial-out to participants. What this does is make sure that everyone arrives at your video meeting on time because it "calls" your attendees when it's time for the meeting to start—no more "pinging people to see if they can make it."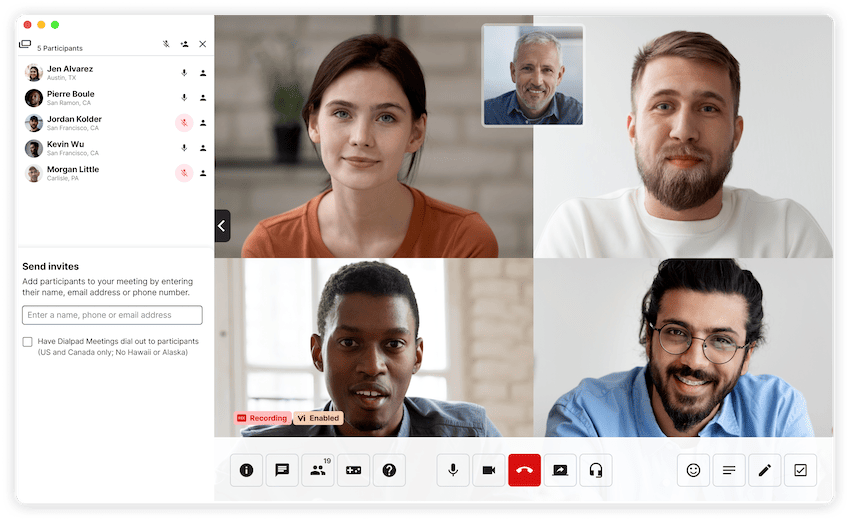 We mentioned the screen sharing and HD video and voice quality, but there's also a voice enhancement function that reduces background noise (both for those who join through the app or dial in using a phone).
Dialpad's also designed a thoughtful post-meeting experience, with a call summary that automatically gets emailed to participants. (It's also where you'll find the meeting recording, transcript, and follow-up action items.)
Not that you had to take all those notes yourself! Dialpad Ai not only acts as your personal AI meeting assistant for note-taking and to-dos, but can also do other things like detect customer sentiment on phone calls by using Natural Language Processing (NLP) to pick up on keywords and phrases (if you're using the cloud contact center product).
Dialpad's pricing is simple and very affordable for businesses. The free version gives small businesses plenty of features, including unlimited 45-minute meetings (up to 10 participants), HD quality, screen sharing, an integration with Salesforce (which is the CRM of choice for most businesses), and unlimited call recordings.
The Standard tier costs $15 per host per month, has up to 100 participants, and gives you call transcriptions and automated post-call notes.
2. FreeConferenceCall
If you're looking for a completely free video conferencing service, FreeConferenceCall gives you most basic features—including call recording, screen sharing, and calendar integrations. It's easy enough to use, with sign-up only taking a few seconds.
The free video conferencing plan lets you host audio or video meetings with up to 1,000 participants, and you can choose to add a virtual phone plan for toll-free and international calling, plus add-ons like customization and extra cloud storage space.
Although the main features are offered for free, FreeConferenceCall operates on a "pay what you can" scheme where the company asks for donations for the service—but the choice of whether to be a freeloader or a philanthropist is entirely up to you.
If you use the free plan, you and your participants do have to put up with ads on calls and invitations.
FreeConferenceCall does have a paid plan called StartMeeting (which seems like a totally different company, but isn't). This costs $9.95 per month (up to 10 users), or you can contact them for customized enterprise-level packages.
3. Lifesize
Lifesize is a video conferencing platform whose flagship feature is 4K video conferencing, making it an option for businesses who hold a lot of virtual meetings with high-value clients.
Standard features like call recording, screen sharing, and one-click meetings are included in the free plan. The Lifesize app can be used on mobile and desktop devices with a simple download, and the layout is easy to navigate. You also get useful integrations with third-party programs such as Microsoft Teams and Slack.
The downsides are that it doesn't have end-to-end encryption, and doesn't manage its own data centers, which could be a concern for some businesses. And the 99.9% uptime SLA is only provided to customers who buy the Extreme Support package.
The free plan offers meetings of 40 minutes for up to 10 team members, plus online support and access to the desktop and mobile apps.
If you need to upgrade, the Standard plan costs $12.50 per host per month, which increases capacity to 100 participants and meeting length to unlimited duration. Single sign-on (SSO) support and a centralized management console are included.
The Plus plan costs $14.95 per host per month (minimum 10 hosts), and covers meetings of up to 300 participants, as well as Microsoft 365 integration, real-time insights, and cloud storage for meeting recordings. A customized Enterprise package is also available.
4. Google Meet
Previously known as Google Hangouts Meet, this is an easy-to-use service that's free for up to 100 participants and unlimited meetings (with a Google account). It's designed to work in the Google Chrome browser, and has mobile apps available for iOS and Android.
Google Meet comes with unlimited Google Drive storage if you have five or more users, and can be coupled with Google Voice to give you a basic cloud phone option. As well as integrations with other apps, tech-savvy types can also build their own custom app using Apps Script.
However, the service doesn't provide cloud recording or storage unless you pay, and it doesn't feature business SMS or secure online fax options. The features you'll get depend on which version of Workspace or G Suite you have. If you want up to 150 meeting participants, you can pay $8 per month for Workspace Essentials, or contact Google to customize an Enterprise plan.
5. AnyMeeting
AnyMeeting offers an easy-to-use interface and a handful of features, including screen annotations in the whiteboard function, an AI-powered smart assistant for meeting transcriptions, and unlimited recording, storage, and sharing capabilities.
The free tier limits you to only four meeting participants, though it does support a phone conference bridge, desktop and mobile apps, and custom meeting URLs. You also get a choice of video layouts and virtual backgrounds, plus guaranteed 99.999% uptime SLA.
Unlike Dialpad, AnyMeeting doesn't have end-to-end encryption of ongoing calls, which could raise privacy and security concerns, but they have other security settings like automatic or manual locking of meetings, the option to set a password for the meeting, and the removal of participants if necessary.
The paid tiers will get you integrations with popular office tools including Outlook, Workspace, and Slack. These start at $9.99 per user per month for the Lite version, which enables up to 10 participants but not many more features than the free version.
It's $12.99 per user per month for the Pro version, which gives you up to 100 participants, the full suite of meeting and collaboration tools, and 24/7 support. You can also add custom branding to meetings with a company logo and personalized background.
Finally, the Enterprise tier offers you all the bells and whistles for $17.99 per user per month, including up to 200 web participants, meeting transcripts, and international dial-in.
6. Whereby
The first thing to note about Whereby is that it's a Norwegian company, so it operates under the notoriously strict Norwegian privacy laws. This is good for businesses with particular concerns about security, and means you can reassure your customers that their data is safe.
There's a free version with screen sharing, chat, emojis, and moderator controls. You can host meetings with up to 100 participants for up to 45 minutes, and unlimited one-on-one meetings. The Pro tier costs $6.99 per license per month, or it's $9.99 for the Business version which includes priority support. Both paid tiers accommodate up to 100 participants.
Whereby allows you to lock your rooms, but new guests can "knock" and have their entry approved by the meeting administrator. In the paid tiers, you can choose your own personalized URL and use the same one for every meeting, while meetings can be recorded and saved.
Since the entire platform is web-based, you only need a URL to access a meeting—no need to download anything or even create an account. It's suitable for small team meetings and for inviting people who are not especially tech-savvy.
7. Zoom
You've probably heard of Zoom. It became popular as a free video chat service that gives small companies the basic conferencing tools they need and for the most part that hasn't changed.
Free Zoom meetings can accommodate up to 100 participants for 40 minutes, and include functions like background noise suppression, screen sharing, and recording—and like with Dialpad, you can schedule meetings from Outlook, Gmail, or iCal.
You'll also get access to reactions, polls, hand raising, and filters (though it might be best to leave the filters alone during formal meetings—we've all seen the guy who turned himself into a cat and got stuck that way).
Zoom doesn't let you send team messages, share files, or track tasks, so you'll need to use other apps alongside it—and you can't add a meeting agenda to the invite from the app itself. (Learn more about the best Zoom alternatives.)
Larger organizations will probably want to upgrade to a paid tier, but it's quite a big leap to $149.90 per year for the Pro version, $199.90 for Business, or $240 for Enterprise.
What's the best video conferencing for your small business?
For small businesses that have to communicate with anyone beyond their immediate vicinity, video conferencing is a must.
Not only can video conferencing save you money by reducing the need for travel and enabling the transition to remote working (which improves everyone's work-life balance), it also helps you reduce back-and-forths over email and broaden your client base much more easily.
In order to take full advantage of video conferencing, you need to pick the right solution. Beyond just allowing you to meet face-to-face on video calls, you'll want a platform that's robust and versatile—so that you can streamline your tools and not buy so many separate apps.
If you have an IT person or team, ask for their input, especially around security—and if you don't, then it's time to take as many free trials for a test drive as you can.

Looking for the best video conferencing software for your small business?
Dialpad Ai Meetings is affordable, robust, and fully integrated with its broader unified communications platform (in case you need phone calls and messaging too). Try the free plan now, or take a self-guided interactive tour of the app first!