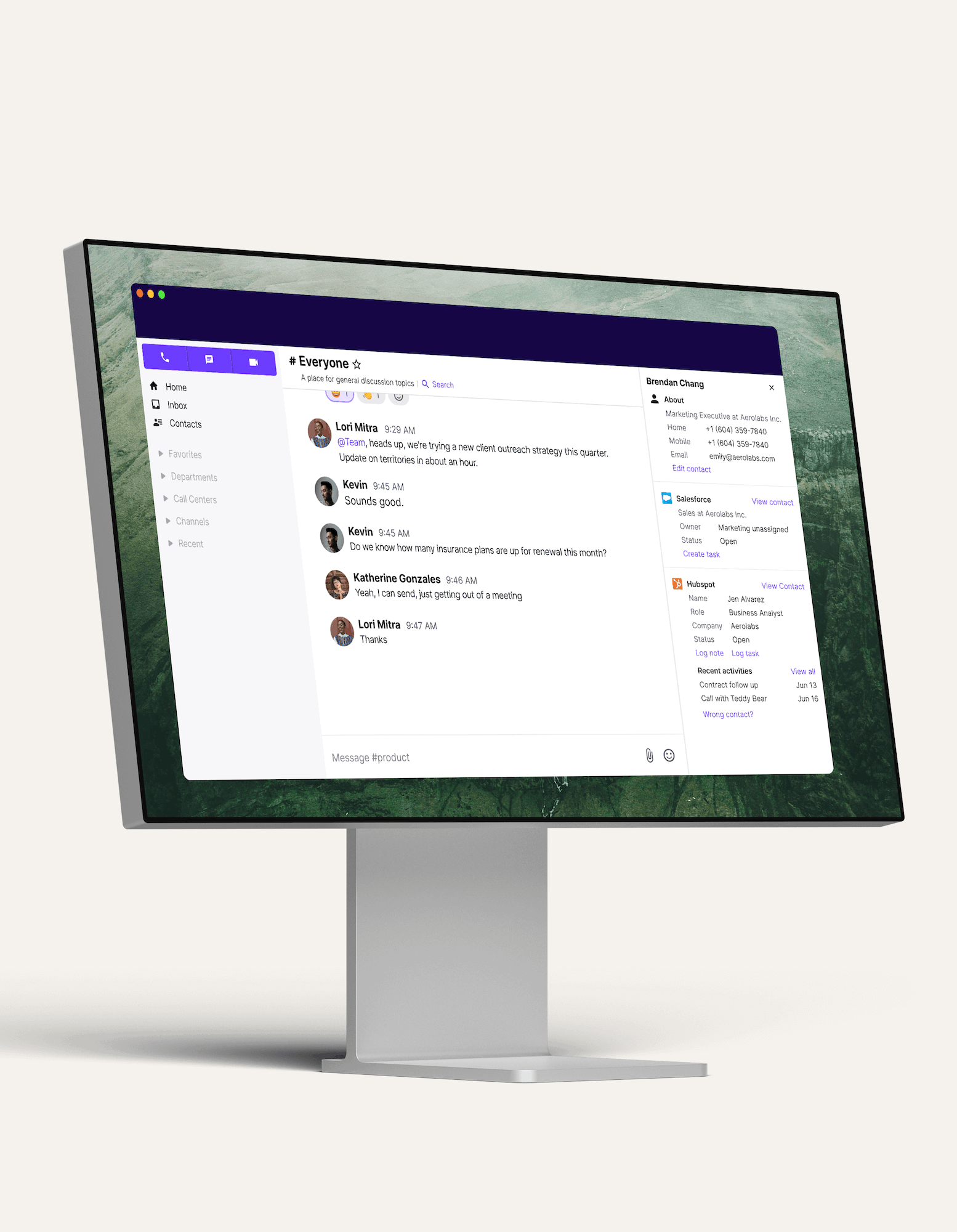 Dialpad Talk vs. Skype
A quick snapshot of what you get with Dialpad:
Business phone, video meetings, and messaging on a single pane of glass
Real-time voice transcription, action item capture, and post-call summaries
Easy to understand, all-inclusive packages with unlimited global calling
See for yourself how it stacks up against Skype!
Try out Dialpad with a 14-day free trial!
Choosing the right UCaaS (unified communications as a service) platform for your business is a big decision. And Dialpad Talk and Skype each come with their strengths and weaknesses. So we've put together this detailed comparison of both these platforms to help you decide which one is the better fit.
(By the way, we're comparing Dialpad with Skype calls and meetings here—not Skype for Business, which has now been replaced by Microsoft Teams. You can get a more detailed breakdown of Microsoft Teams vs Dialpad here.)
Dialpad Talk vs. Skype at a glance
| FEATURES | | |
| --- | --- | --- |
| Pricing | Easy to understand, all-inclusive packages with unlimited global calling | Regional calling packages with add-ons for global calling |
| International numbers | Available in 70+ countries | Available in 20 countries |
| Call recording | | |
| Global SMS and MMS | | |
| Instant messaging | | |
| Integrations | | |
| Call routing | | |
| Voice transcription | | |
| Audio and video conferencing | | |
| Meeting participant limit | Host up to 150 participants | Host up to 100 participants |
| One-click meetings on desktop and mobile browser | | Desktop only |
| Detailed analytics | | |
| Fax | | |
| Supported browsers | Edge, Chrome, Safari | Edge, Chrome |
| Customer support | Live agent support, help centre | Help centre |

Pricing
Easy to understand, all-inclusive packages with unlimited global calling
Regional calling packages with add-ons for global calling
International numbers
Available in 70+ countries
Available in 20 countries
Audio and video conferencing
Meeting participant limit
Host up to 150 participants
Host up to 100 participants
One-click meetings on desktop and mobile browser
Supported browsers
Edge, Chrome, Safari
Edge, Chrome
Customer support
Live agent support, help centre
Help centre
The true business phone is…
We'll cut straight to the chase. If you're looking for a platform with strong telephony capabilities and/or a video conferencing software built for business, Dialpad's the one.
Dialpad isn't just an ordinary business phone system. It gives you video meetings, SMS/MMS + team messages, and of course, phone calls—all from one beautiful app. It's super easy to use too, letting you do things like set up call forwarding, update your voicemail greeting, choose hold music, and more—in just a few clicks on your online dashboard, without having to bug your IT team.
Skype is more focused on being a video communications platform between small groups of people, whether for personal or professional use. Some examples of use cases they list on their website are event planning with family and friends, virtual personal training sessions, online tutorial classes, virtual happy hours, and team meetings.
What Skype isn't? A replacement for your complete business phone system—or any telephone, in fact. It says so right on their website:¹



Video meetings experience
When it comes to video meetings, Dialpad and Skype are both strong contenders. Both let you start or join meetings with one click whether you're using the browser, desktop, or mobile app.
The browser apps mean meeting attendees (including clients and prospects) don't even need to download anything and can simply open the meeting link right from the web. There's no email registration required either—guests can just enter their name and be ready to roll.
Skype, however, only works on Microsoft Edge or Google Chrome. Dialpad on the other hand works on Microsoft Edge, Google Chrome, Safari… you name it, and is one of the most accessible platforms out there. Dialpad even gives you full meeting functionality on any mobile browser—meanwhile, Skype requires guests to download the mobile app to be able to join meetings from their phone.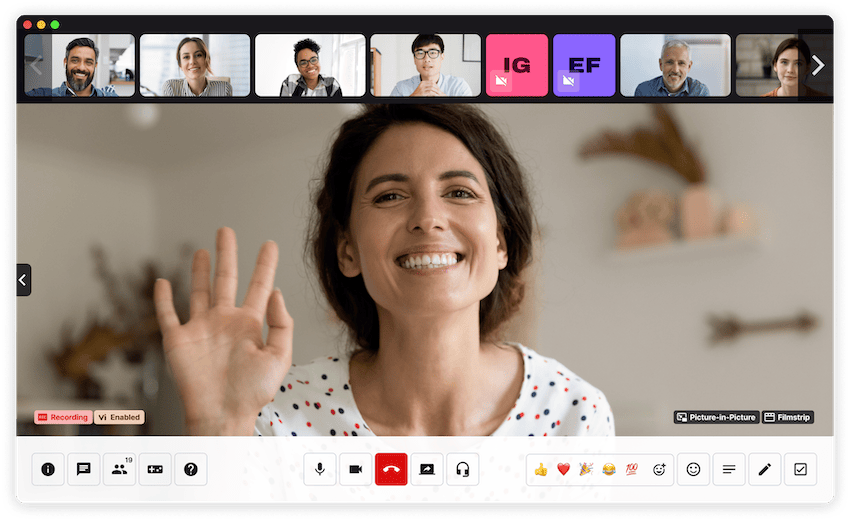 Dialpad also boasts intuitive features for better meeting facilitation including a meeting countdown timer, end-of-meeting reminders, automatic post-call summaries (that include audio and video recordings, transcript, and action items), and more.

Dialpad Talk vs. Skype: Get a closer look
Don't take our word for it. Take Dialpad for a spin and see for yourself, free for 14 days. Or, take a self-guided product tour!
Call recording and voice transcription
Dialpad and Skype both offer call recording, meaning you can focus on your meeting and rest assured that you can always review it later if needed. Skype stores your recordings for up to 30 days. Dialpad lets you store call recordings forever, unless you decide to delete them manually.

👉 DIALPAD TIP:
When it's your word against your customer's, having the call recording can save the day. Many industries are also subject to compliance laws and strict rules. Healthcare, insurance, finance, travel… Having call recordings isn't just helpful for these types of companies—it's often essential and can protect all parties involved.

And Dialpad takes it a step (a few steps, actually) further.
With Dialpad, you get Ai-powered real-time voice transcription during every meeting. We're talking full transcriptions, so if you miss something, you can just scroll up without interrupting the speaker. These transcripts can also be accessed immediately after a meeting is over, and will be sent to your email inbox as part of a post-call summary that also includes action items and key moments that were captured automatically.

"
We love the transcription service with Dialpad. We transcribe calls, find opportunities for improvement, and have been effectively doubling the demos-to-calls ratio with better analytics and more sophisticated analytics.
"
Scott Hansen
Founder and CEO, LeadSigma
In other words, Dialpad eliminates the need to take notes and lets you search a meeting transcript for context rather than having to go through and listen to an entire recording, like with Skype.
Oh, and did we mention Dialpad's transcription service is even more accurate than almost all competitors out there? 😎
A single app for everything
All of Dialpad's communication functions (voice, meeting, messaging, contact center) exist on one platform with a shared, common understanding of data, all infused with our built-in AI. All on a single pane of glass—no tab switching required.
With Skype, you'll have to toggle between windows for the messaging, phone, and video features. And there's no contact center. This may not be a huge deal if your business is still small, but as it grows, all those interactions in different places can get real overwhelming, real fast.

🖥️ DIALPAD TIP:
Thinking of setting up a contact center in the future, or combining your existing contact center with your unified communications platform? Dialpad has you covered and seamlessly integrates into the same pane of glass you use to house the rest of your business interactions.

Administration
Skype requires admins to use a different tool / app (Skype Manager²) to manage their teams. This tool is very limited, only really allowing you to manage team members and calling credits.
Meanwhile, Dialpad allows you to manage all company and team settings (and offers more advanced options) from the same Dialpad app. This is also where you can go into detail about things admins can do, like manage offices, business hours, locations, call routing, integrations, and more.
Integrations
Dialpad integrates with most of the business tools you're likely using already. For starters, it integrates with Google Calendar and Microsoft 365 to make scheduling video meetings really easy.
Using other tools like a CRM to track customer interactions? Dialpad's Salesforce integration lets you receive and make calls and texts straight from Salesforce.
Rely on a whiteboard for brainstorming sessions? Dialpad's Miro integration lets team members brainstorm together while seeing each other—just as if you were all in a meeting room whiteboarding together: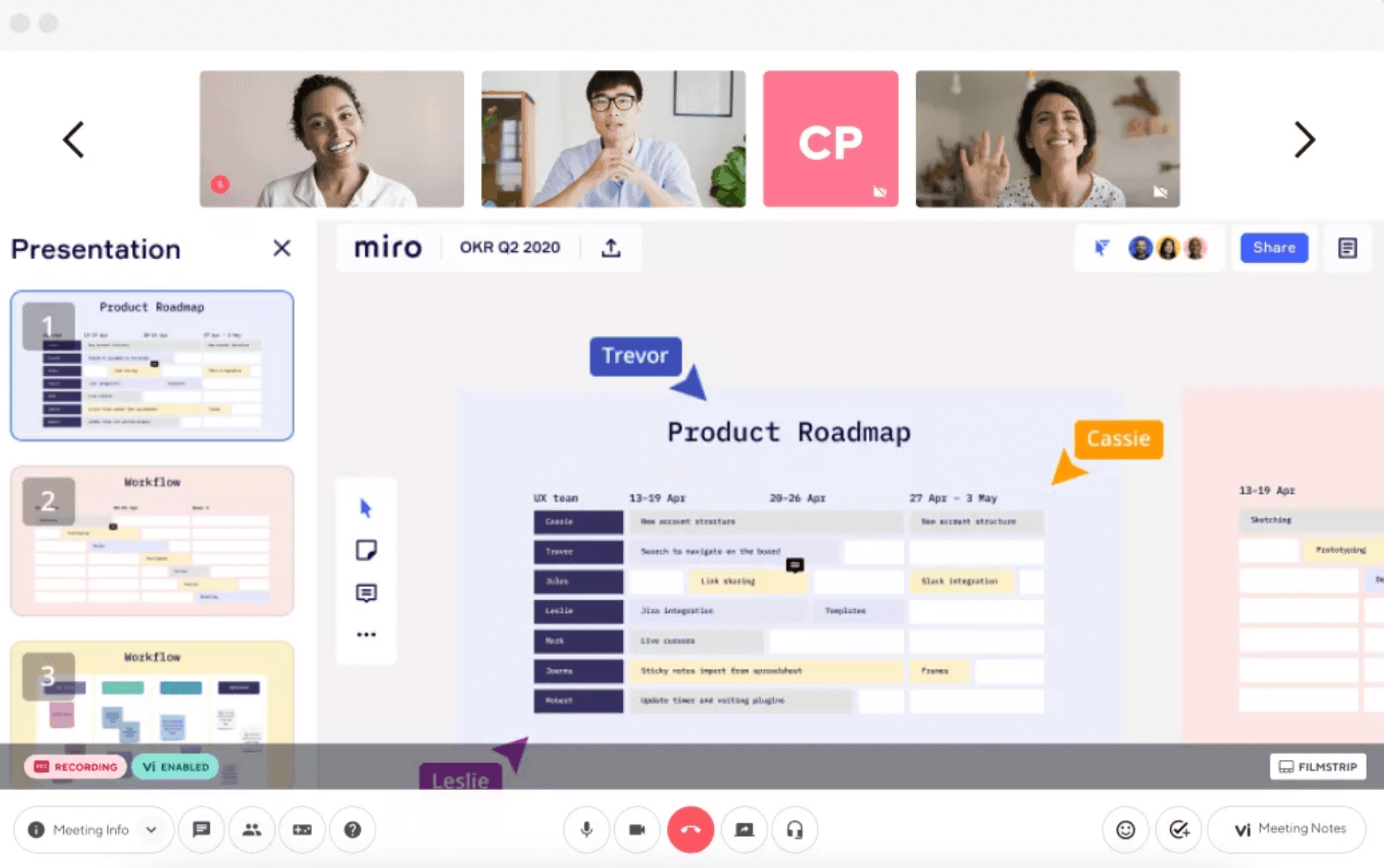 Skype is owned by Microsoft, so if you're already using a lot of Microsoft products, adding Skype to your tech stack should be a breeze. But besides that, it'll be totally separate from the rest of the tools you and your time use daily, which could threaten productivity rather than improve it.³
Savings that go beyond the price
Let's address the elephant in the room, shall we? Dialpad has voice plans starting from $15/user per month. Skype's pricing, on the other hand, varies depending on the country, but ballparks around $6/user per month. That's a pretty big difference, we get it.
But here's the thing companies don't talk about much… The advertised price of software isn't always the best indicator of how much you'll actually need to pay. And a lower price doesn't necessarily mean it'll cost your company less in the long run.
Allow us to explain. Dialpad includes vital business tools like call analytics and reporting, call routing, group calling, multi-level auto attendant, real-time call transcription, and more—in even the lowest plan. We said it before and we'll say it again: If you're looking for a business communications platform, Dialpad's it.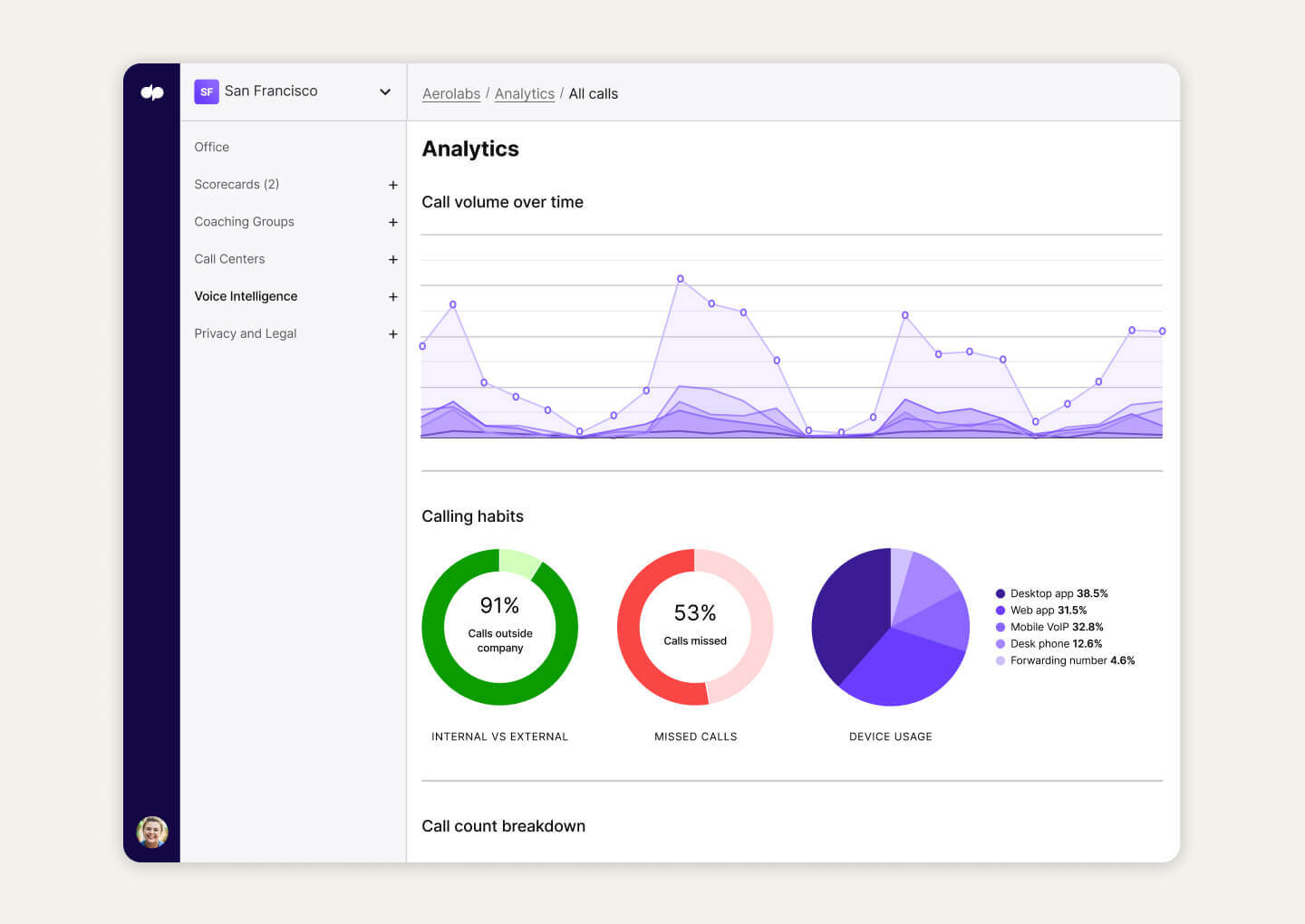 If your company does a lot of calling outside of US/North America, Skype doesn't make sense financially. That's because you'd need to add on global calling plans⁴ (that have limited minutes). This can be a nightmare for administration and billing. Dialpad also offers international number coverage for over 70 countries, where Skype is limited to 25.
And if you have a customer support, sales, or contact center team—let's just talk long-term for a moment. By combining a contact center platform with your team messaging, telephony, and sales coaching tool into a unified communications platform, Dialpad offers a much lower TCO (total cost of ownership) versus paying for all these programs separately. Not to mention the benefit of having all your conversations in one place.
So which of these options is really going to cost you more? We'll let you be the judge.
Award-winning customer support
There's a reason why Dialpad won the Stevie® Award for sales and customer service. First off, we've made Dialpad super easy to use, without IT help. It should just work. And in the rare cases where something does come up, our team is available Monday to Friday from 8 am–5 pm EST (or 24/7 for our Business plans) to offer live support. Not to mention our super detailed online help center if you'd prefer to find the answer yourself.
Skype, on the other hand, has a help center⁵ for its users but that's about it. Definitely something to think about.
See how Dialpad vs. Skype stack up
Connect your team with a platform that powers voice, video, messages, and meetings across all your devices. Free for 14 days.
¹ skype.com/en/free-conference-call/
² support.skype.com/en/faq/FA10519/what-is-skype-manager-and-how-does-it-work
³ thehrdirector.com/business-news/technology/digital-tool-overload-a-rising-threat-to-productivity-warns-personio/
⁴ skype.com/en/international-calls/
⁵ support.skype.com/en/contact-us/