Back to Blog
The 5 best free video chat apps: Stay connected with your team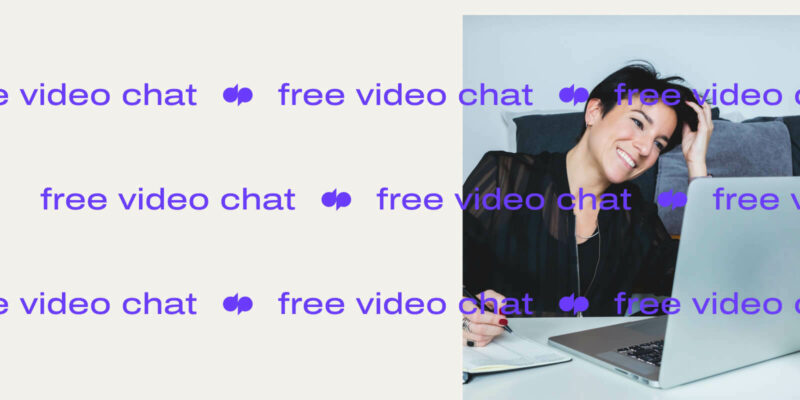 Video chat has become a central pillar of office communications—sometimes, you just need to meet face to face.
Of course, there are options for both paid and free video chat apps. So, if you need one for work, how should you go about choosing the right one?
Which features do businesses usually need, and which ones would you be able to get away with?
Having used video chat apps extensively (since I work remotely)—and working with our own team to expand our own video meetings platform now—I've got a few ideas on how you can go about vetting your options.
So, without further ado, let's get started.
5 must-have features of any free video chat app
When you're comparing video chat and collaboration apps, it's best to have a good idea of some core features that are non-negotiable for you. These are those "all-important" functionalities that are critical to maintaining your workflows and everyday communications with teammates and clients.
Here are a few must-have features that I'd recommend.
Group video chat
Group video calls are, surprisingly, not always guaranteed!
Some platforms do limit you to just one-on-one chats, so make sure that your chosen video chat app has a group video chat function.
This is especially true for free video chat apps, since they can "unlock" group video chats when you get onto a paid plan.
With Dialpad's free plan, you get free video conferencing with up to 10 participants. Check out the pricing plans here.
Text chat
Another handy feature to look out for is text chat or in-app messaging. This is a pretty essential feature today, since it's the best way for participants in a video call to interact with each other without interrupting the speaker.
Here's how it looks in Dialpad, for example (and yes, we have emoji reactions too!):


Screen sharing
Next up, you're going to want to be able to share your screen with other meeting participants. When you're not in the same room together, screen sharing is essential because it lets you do things like review a new design mockup with a client, or go over a presentation together with your teammates.
Dialpad's screen sharing feature lets you choose between sharing a specific window or tab, or your whole screen—all in just a few clicks:
Plus, Dialpad takes screen sharing one step further with virtual whiteboarding. (A whiteboarding app or digital whiteboard is essentially a shared virtual workspace where meeting participants can collaborate in real-time from anywhere.)
Participants can add their own contributions to the virtual whiteboard, see what their teammates are adding, and provide annotations in real-time.
With Dialpad's Miro integration, you'll be able to whiteboard with your remote teammates—just as if you were actually in the same conference room together: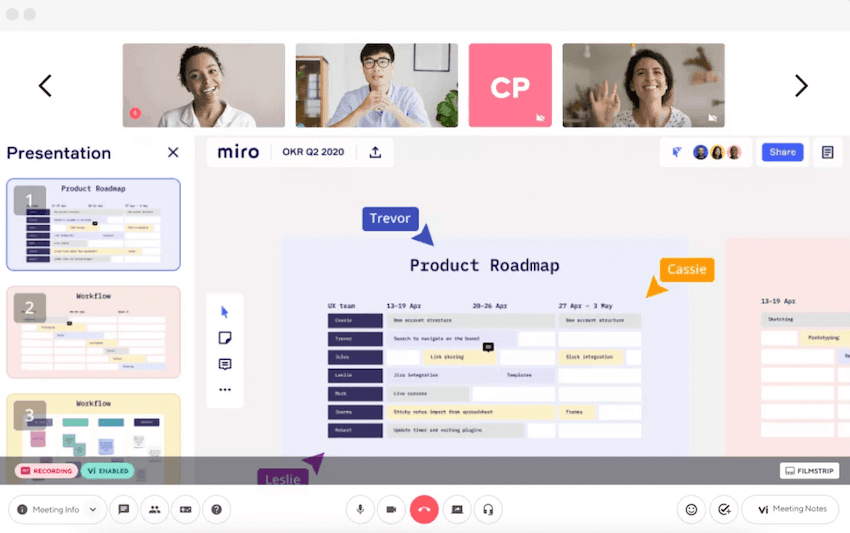 Calendar integration
If, like most people, you use Google Calendar or Outlook, then your video chat tool should integrate with it. This will help with scheduling and let you have easy click-to-join meetings—and this is an easy way to tell if the free video chat app you're considering is a good one or not. (Many free consumer apps won't have calendar integrations.)
Dialpad does integrate with both Google Calendar and Outlook, so that when you create a new meeting invite, it'll automatically populate the link for attendees to click-to-join:

Security
Finally, make sure that your video chat tool is secure! This should be one of the most important factors on your list, but it's usually one of the first features to get locked away in free video chat apps.
With Dialpad, you can be sure that you're getting top-notch security and encryption, along with in-meeting security controls. The host can lock a meeting once everyone has joined, mute participants, remove guests, and prevent unwanted screen sharing:
For even more security, Dialpad also has a waiting room feature, where participants in a meeting can wait (virtually) before being let into the meeting by the host:

The 5 best free video chat apps, ranked
Live video chat is set to become a perennial fixture in our working lives. Because of this, picking the right app is a vital decision for teams that want to start working more flexibly.
Luckily, there are many affordable options out there. Plus, depending on your usage requirements, you'll be able to find a range of great video chat apps for free. Let's take a look at some of the best free video chat apps on the market right now.
1. Dialpad: Video chatting for your all-important work huddles
With Dialpad Ai Meetings, it's easy to do video calling online.
You don't even have to download the desktop or mobile app to start hosting and taking video calls. With Dialpad, you can join a video chat, host video calls, record, mute, and more directly from your web browser:

With Dialpad, you get robust call controls, screen sharing, high-quality HD calls, and a fully cross-platform app that works across iOS, Android, PC, Mac, iPad, iPhone, other Apple devices, you name it.
What's great about Dialpad is that it's also a unified communications platform. Beyond video chats, you can also make phone calls, send SMS and instant messages, and even get a cloud contact center platform that's fully integrated if you need it. These come with the higher pricing plan tiers, but they're all truly built into the same platform as Dialpad's video chat app.
One login, one account, one user interface.
That means you can start a video call, send an instant message—or just make a phone call—in the same place. That means fewer software tools to pay for and manage (and less time wasted on constantly toggling back and forth between windows and tabs).
Plus, Dialpad supports a wide range of integrations with popular business apps, so you can keep your workflows running smoothly from one unified platform.
As your business scales, you'll be able to take Dialpad with you by upgrading to Dialpad's paid Business Meetings plan, which comes with even more supported features and integrations for larger teams.
Dialpad Ai Meetings' free features:
Unlimited video calls

Easy sign-up with your Google or Microsoft 365 account

Max call duration: 45 minutes

HD video + audio

Audio conferencing

Unlimited call recording

Screen sharing

In-meeting chat with emoji reactions

End-of-meeting reminders

Help Center support, web and chat support Monday to Friday 8am - 5pm EST

Works on desktop and mobile devices (and also accessible on on web browsers without downloads)

Integrations with Google Calendar, Outlook Calendar, Salesforce, HubSpot, and more
Try it now
Start getting unlimited free video chats with Dialpad Ai Meetings. Or, take a self-guided interactive tour of the app first!
👉 DIALPAD TIP:
Need a unified communications platform? Dialpad's Ai Voice plan gives you unlimited phone calls within the US and Canada—in addition to video chats. Get set up with a phone number in minutes with a free trial!
2. Google Meet
Google Meet (formerly Google Hangouts) allows teams to host video chats and do screen sharing, and it's actually a pretty popular free video chat solution for businesses.
Being a Google product, Google Meet of course lets you schedule, join, or start a meeting through email. But it does lack some basic features like meeting recording, hand-raising, and robust support.

🗒️ See what IT leaders look for in a communications platform
Grab the CIO Buyer's Guide, (written by our own CIO, who's done a lot of phone system shopping in her time!), which will walk you through what features to look for, nuances to pay attention to when comparing providers, and more!
3. Cisco Webex
Cisco Webex is another big name in video conferencing solutions that also comes with a free basic plan. As part of the free plan, users can access 50-minute meetings with up to 100 participants, screen sharing, personal meetings, and breakout rooms.
However… You can have only up to three people per chat and you don't get cloud storage for recording meetings.
4. Zoom
Zoom is, of course, a very well-known video chat and conferencing platform that grew to prominence during the pandemic. Like Dialpad, Zoom offers both a free version and paid plans. With its mainstream popularity though, Zoom has also become a popular target for hackers and "Zoombombings," and there have been no shortage of security concerns. In fact, Google, NASA, and other businesses and government organizations have even banned the use of Zoom.
As part of the free plan, you do get 40-minute max meetings, but there's no cloud storage for recordings and it's very limited in terms of support (you get none—only the Help Center).
5. Skype
Skype is probably one of the most well-known video chat apps and goes way back to the chat room era, having made its name as a consumer video chat service that helped people keep in touch with their social network online.
That being said, even though it's free, Skype is not really designed for business use—though many businesses surprisingly still use it—so if you want the ability to lock meetings or integrations with other business tools (such as Google and Outlook Calendar), you might want to go with a work-focused solution like Dialpad instead.

The business case for using a video chat tool that's designed for work
Let's face it. Just having a webcam and mic on your laptop isn't enough for work-focused video chats—especially for teams that are customer-facing.
(For most businesses, you'll need more than just the average consumer or messenger app that's designed for random video chats like WhatsApp, Facetime, Omegle, or Houseparty.)
It allows for HD visual communication
One reason video chat is so effective is its ability to communicate body language and facial expressions clearly. Voice calls and voice messages are all well and good, but without the visual element, it can be hard to collaborate on more complex projects or discuss sensitive issues.

For teams to continue collaborating remotely into the longer term, visual communication is essential. With video chat, you can see and hear how other participants are reacting and interact in a more natural, organic, and empathetic way. After all, body language does have the greatest impact in conveying thoughts and feelings in conversation.
You can use it for many kinds of meetings
Video chat has also proven to be an incredibly versatile business tool that can be used for many different types of meetings, including formal professional communications, standup meetings, and more informal "watercooler"-style conversations.
So whether it's a one-on-one performance review, a small-group presentation, or a fully-fledged virtual conference, you'll still be able to conduct all of your regular business activities.
Available any time, anywhere
With video chat, you have the freedom to do your work from anywhere, at any time of day, across time zones. Instead of being bound to the office desk from 9 to 5, teams can now work far more flexibly.
No wonder more and more businesses are embracing online video conference tools! As teams become increasingly scattered across regions, video chat is enabling team connectivity to continue uninterrupted.
With a unified communications solution like Dialpad Ai Meetings, distance no longer matters. You can free your teams to work from wherever they like. No PINs, no downloads. Just one click from your browser or Dialpad app, and you can start chatting, sharing, and getting work done.
It's more cost-friendly
Video chat saves businesses money by reducing the amount of expenditure that goes towards travel.
Instead of driving or flying to an important meeting (which, let's face it, usually involves an expensive flight ticket, other forms of transportation, and the price of a local hotel), employees can simply clock in online, saving both on time and costs.
With the high quality of online communications, there really is no need for unnecessary long-distance travel if a meeting can be conducted just as effectively via video chat.
Workers are increasingly expecting—even demanding—it
Employees are beginning to demand flexible working arrangements from their employers. In fact, 47% of staff say that they'd leave their jobs if their employer didn't offer some sort of hybrid work model. These days work/life balance isn't just a pipe-dream anymore. It's an essential part of building a healthy office culture.
Video conferencing tools support organizational flexibility and provide employees with more options to fit work around their other commitments and execute their tasks away from their office desks.

Remote work is here to stay
The shift towards remote and hybrid working shows no signs of letting up any time soon. Remote working offers employees a better work-life balance and has been shown to increase productivity and focus while reducing stress and business expenditure.
Take the National Juneteenth Observance Foundation, for example. From meeting with dignitaries and politicians on Capitol Hill via video chat, to interviewing historical figures (like Frank Sinatra's barber!) and keeping oral histories alive through call recordings, the organization was able to work from anywhere—and ultimately, get the Juneteenth legislation passed. "This is how we organized—and stayed organized," says Steve Williams, the President of the National Juneteenth Observance Foundation.
Which video chat app will your business use?
With remote and hybrid working undoubtedly here to stay, it's time to start mobilizing flexible communications for your workforce.
Video chat is now a business mainstay. But that doesn't mean you have to spend a ton to access robust video conferencing tools. Try Dialpad Ai Meetings for free to see how it can work for your remote or hybrid teams!
Need a free video meetings solution?
Dialpad's all-in-one communications platform gives you much more than just video chat. Sign up for free now!