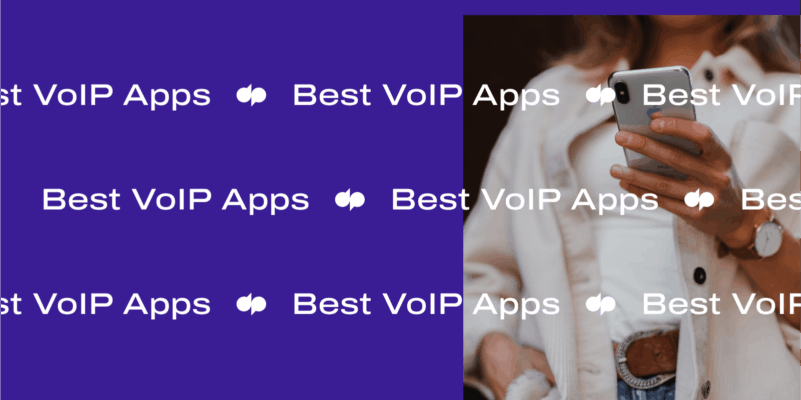 Need to stay connected to clients and fellow team members on the go? With today's increasingly mobile workforce, it's almost a necessity to have a mobile phone app for your business communications.
But why not just have employees use their cell phones to make those calls? Wouldn't that be easier?
Well, in some cases, yes. But if your business has interactions with customers, clients, prospects, and teammates every day—or are heavy phone users—then you'll probably need an enterprise VoIP (sometimes also called a softphone) app.
Not only do these apps let you make business phone calls on your mobile device, some of them also give you a full business communications system, right on your computer or phone. We're talking phone calls, instant messaging, video conferencing—even faxing and contact center features, all in one place.
Can't really do all that with just a cell phone. In this guide, I'll walk you through what to look for in a good business communications app.
What is a VoIP app?
Essentially, VoIP, or Voice over Internet Protocol, technology allows you to make phone calls over the Internet.
And VoIP apps let you do that—and also do texting and SMS, and video conferencing too. (Well, some of them do.) You just need to download the mobile or desktop app. For example, here's what a video meeting on Dialpad's desktop app looks like:

The thing to remember with VoIP apps is that even though the app itself is free to download, you'll almost always need to have an actual voice plan in order to make phone calls on the app.
In most cases, you'll need to subscribe to a voice plan with a business phone system provider first (we've got a bunch of options below along with pricing information) before you can use the VoIP app to make calls or send SMS messages.
Otherwise, you can have the app on your computer or phone, but it won't be able to really do anything.
3 reasons businesses are using VoIP apps
Mobility
VoIP apps are perfect for communicating on the go—this is one of the biggest reasons why they're so popular. All you need is a mobile device and an Internet connection over Wi-Fi or a 5G network (no more landlines)—and you'll be able to access your business line from wherever you are.
And with some VoIP apps, you can even flip a call between devices seamlessly. For example, you can be on a call on your desktop app, and then switch that call to your cell phone without the call dropping or being interrupted.

Accessibility
Another big advantage of using VoIP apps to make phone calls is that most apps work across different operating systems and devices. That means you can take your business phone numbers to your computer, desk phone, and cell phone.
Not everyone in your company will be using the same devices, but with VoIP apps (watch out for apps that aren't universal, meaning they don't have desktop or Android versions), they can be on Android or iOS, PC or Mac, and still be able to use the phone app.
Cost-effectiveness
VoIP apps are free to download, and for the most part, a VoIP phone system is cheaper (especially for annual subscribers compared to month-to-month subscribers)—both up front, and over the long term—compared to traditional PBX phone systems which require large purchases of hardware plus maintenance. You won't technically get free calls, but some providers do give you unlimited calling on their plans.
For example, Dialpad starts at just $15 per user per month for the most basic phone plan, and that basic plan comes with SMS and MMS and unlimited calling (along with other features like an auto-attendant, custom voicemail greetings, and more).
The 14 best VoIP apps for businesses in 2023
1. Dialpad
With Dialpad, you can talk, message, and meet with clients, teammates, and more—all from the desktop or softphone / mobile app. (There's even a fully-integrated cloud contact center platform.) You can make calls from any caller ID you want (could be your personal business number or extension, or your main company line) and transfer calls from the app...


You can open up screen sharing on the mobile app while you're on a phone call, and as we mentioned earlier, you can even flip your call from your cell phone to your computer (or vice-versa) without interrupting your conversation.
But what really sets Dialpad apart is its artificial intelligence, Dialpad Ai. With built-in speech recognition and natural language processing, here's just some of what it can do:
For starters, there's the real-time transcription. Dialpad Ai transcribes all your calls, meetings, and voicemails with industry-leading accuracy. You can see the running transcription for your call or meeting, right in your active call window:

Dialpad Ai also sends your call's attendees a convenient recap email after the meeting is over, with the searchable voice-to-text transcript, call center transcripts, action terms, and recording, all compiled into an easily-digestible overview. Say goodbye to note-taking:

And if you have a customer support or outbound sales team, Dialpad has fully integrated contact center functionality too, like Real-Time Assist (RTA) cards and Ai Agent Assist, designed to help agents through difficult conversations and significantly reduce training constraints.
With RTA cards, Dialpad's advanced Ai is always standing by, ready to help. Whenever a customer mentions a certain keyword (like the name of a competitor, or whatever else you want to set up), it triggers the Ai to pop up helpful notes for the agent:

Ai Agent Assist takes this a step further. Even if a supervisor hasn't created an RTA card for a certain topic, Dialpad Ai can automatically scrape every connected knowledge base in real time to pop up useful resources for agents:

Want to know how your customers are feeling, even the ones who don't fill out your CSAT survey—or even if you don't have a CSAT survey? Ai CSAT automatically infers CSAT scores from every call, making it easy for every company to access meaningful customer insights:

So if you're looking for a VoIP app that has every functionality a business would need, even on the most basic pricing plans, then take Dialpad for a spin.
But don't take our word for it...

Don't call it a VoIP app
With Dialpad, you get not only VoIP calls, but an entire Ai-powered customer intelligence platform. In other words, voice, meetings, messaging, sales capability, and a contact center all in one, beautiful workspace. Try it free for 14 days—signup takes just a few minutes, and you'll be set up with a virtual phone number too. Or, book a personal walkthrough with our team!

2. CloudTalk
CloudTalk is a cloud-based phone software for sales and support teams. This VoIP phone system is targeted mainly at organizations that want to improve their customer experience or close more deals. CloudTalk can be integrated with multiple tools including your CRM or ecommerce platforms.
Features:
Record calls

Generate location

Daily summaries

Session routing & queuing

Concurrent calling
Price: Plans start at $25 per user per month when billed annually.1

🗒️ See what IT leaders look for in a phone system
Grab the CIO Buyer's Guide, (written by our own CIO, who's done a lot of phone system shopping in her time!), which will walk you through what features to look for, nuances to pay attention to when comparing providers, and more!
3. Ooma Office
Ooma Office offers VoIP solutions that are targeted at both small businesses and enterprises. The VoIP provider offers hardware options as well as a mobile and desktop app. They do charge for voicemail transcriptions, and they don't have call recordings on their most basic plan. (Dialpad's most basic plan comes with unlimited call recording.)
Also, Ooma's VoIP app for mobile doesn't support video conferencing, which should be a pretty basic feature.
If you're looking for a business phone system, you could literally pay less and get more with Dialpad.
Features:
Conference calling

Desk-to-desk calls

Automated attendant
Price: Plans start at $19.95 per user per month.2
4. Grasshopper
Grasshopper is a cloud-based VoIP phone system and app that is heavily targeted toward small businesses, and for good reason. Like most of the other VoIP app options on this list, it has both a mobile and desktop app that lets you make voice calls and send SMS messages.
Grasshopper does have three tiers of pricing plans, but it looks like the only difference between the three is how many phone numbers and extensions you get. They do all come with the basics, like call forwarding, Wi-Fi calling, and call transfers—but if you want more advanced features like real-time call transcriptions or unified communications, you'll want to look at other VoIP services (which cost less and come with more features). Learn more about the best Grasshopper alternatives.
Features:
Voicemail

Text messages

Voicemail transcription
Price: Plans start at $28 per month when billed annually.3
5. Line2
Line2 is a business phone solution that allows you to have a second phone number on your mobile devices or computer. It works across Windows, Apple iOS, iPhone, and Android devices. And actually, if all you want is a VoIP app and basic calling, it's not bad.
It has unlimited VoIP calling within the US and Canada in the most basic plan—but that plan does not come with features like call recording (it's an add-on), voicemail transcriptions (also an add-on), or an auto-attendant.
If you need unified communications (video conferencing and instant messaging) or advanced analytics, then Line2 will only take you so far.
Features:
Price: Plans start at $13.75 per month when billed annually.4

6. NetFortris
NetFortris is a unified communications platform and business phone system that has desktop and mobile apps for VoIP calling.
There's no SMS/MMS or HD video conferencing on the most basic plan (which again, is more expensive than Dialpad's), though it does have voicemail transcription and call recording, which is nice.
The VoIP app itself lets you do all the basics, like make calls from different caller IDs and put calls on hold, so this one might come down to price and actual features you get for what you pay.
Features:
Phone calls

Conference calls

Desk-to-desk calls
Price: You'll need to contact NetFortris' sales team for a quote.5

7. Mitel
Mitel is a cloud-based business communications provider with different desktop apps for video meetings and calling. That's quite different from other options on this list, like Dialpad, which let you make phone calls and have video meetings from the same app.
Price-wise, the most basic plan is comparable in price to most other VoIP providers here, but is missing features like call recording and voicemail transcription, so overall, there's probably a better choice of VoIP app on this list.
Features:
Hold calls

Conference call
Price: You'll need to contact Mitel's sales team for a quote.6

8. Aircall
Aircall is a newer player that offers cloud-based communication solutions in the form of a mobile and desktop app.
It has one of the better-looking VoIP apps on this list, and lets you record calls and do other contact center tasks like assign calls to teammates from the app. Get a closer look at how Aircall compares to Dialpad.
Features:
Call conferencing

Voicemail

IVR
Price: Plans start at $30 per user per month.7
9. Zoom Phone
You've probably heard of Zoom, and they've recently come out with a Zoom Phone product. It has a VoIP desktop and mobile app that lets you make calls and do all your basic phone-related tasks, but the one thing is that their outbound calling is metered.
If your team needs to make outgoing calls regularly, then this might not be the most cost-effective solution. (Dialpad has unlimited calling even on the most basic plan.) Learn more about the best Zoom Phone alternatives.
Features:
Call recording

Video conferencing

Voicemail transcription
Price: Plans start at $120 per year.8
10. Zoiper
Zoiper offers both paid and free VoIP apps for PC, Linux, Mac, Android, and iOS. With Zoiper, you can make calls via a PBX or SIP provider. The app's UI is a little dated, but the main challenge is that the pricing is a bit hard to figure out.
Unlike most SaaS options on this list, Zoiper charges you a one-time fee for the license—not a monthly subscription fee. Other than pricing, of course, that also means that the way they charge you for regular updates and other add-ons will probably be different. (Learn more about the best Zoiper alternatives.)
Features:
Compatible across platforms

Contact list management

Bring your own device
Price: At the time this was written, the most recent version of Zoiper—Zoiper 5 PRO—is priced at a one-time fee of $49.95 EUD per license, which converts to about $53. If you need more than 99 licenses, you'll need to contact them for a custom quote.9
Other free (or free-ish) VoIP apps
If you're really on a budget, here are some more options that are free or nearly free—though they won't have the full functionality and flexibility your business might need.
11. Skype
Skype is probably the most well-known VoIP platform that most of us are familiar with, mainly from using it to catch up with friends and family. (The unlimited calling feature can come in handy.)
If you need other business communication channels like SMS messaging, call recording, or transcripts though, you'll probably need a more sophisticated tool.
Features:
Contact search

Mute or remove attendees
Price: Free basic client.
12. WhatsApp
WhatsApp is another popular web-based messaging platform—typically used among friends and family—that also offers web-based VoIP calling.
For one-to-one conversations, WhatsApp offers a convenient and low-cost way to communicate with colleagues online, but for larger teams and contact centers, WhatsApp is like Skype in that it doesn't have quite enough business-focused features.
Features:
User-to-user calls and video chats

End-to-end encryption
Price: Free
13. Viber
Viber is another free VoIP app (with pay-to-play options). With Viber, you can access group chats, video calls, and more.
Like Whatsapp, you get unlimited free local and international calls with Viber, but again, the overall functionality can be limited if your business spends a lot of time on the phones and needs things like analytics and reporting.
Features:
Live chat

Group management

Messaging
Price: Free plus per-feature charges.
14. Facebook Messenger
Facebook Messenger has been a popular way to chat online over text, voice, and video. If you have a Facebook account, you can access Messenger from your web browser or downloaded as a desktop or mobile app.
For basic text, voice, and video communications, Facebook Messenger can do the job. But for businesses that have complex operational needs, Messenger isn't going to cut it. (Noticing a trend, here.)
Features:
Instant messaging

Group chats

Voice recording

Video calling
Price: Free
Upgrade your business with the best VoIP app
If you have good connectivity at your home office or with your cell data plan, then you should look into taking your work on the go using a VoIP app.
All of these VoIP apps are free to download, and most also have free trials so you can try out the actual phone provider's service for yourself.

Looking for the best VoIP app for your business?
Sign up for Dialpad's free 14-day trial and download the app to take it for a test drive. Or, take an interactive tour of the app where you can click around to see how it works first!
1 cloudtalk.io/pricing/
2 support.ooma.com/office/ooma-office-pricing-chart/
3 signup.grasshopper.com/plans
4 line2.com/pricing/
5 netfortris.com/request-a-quote/
6 mitel.com/en-ca/voip/pricing