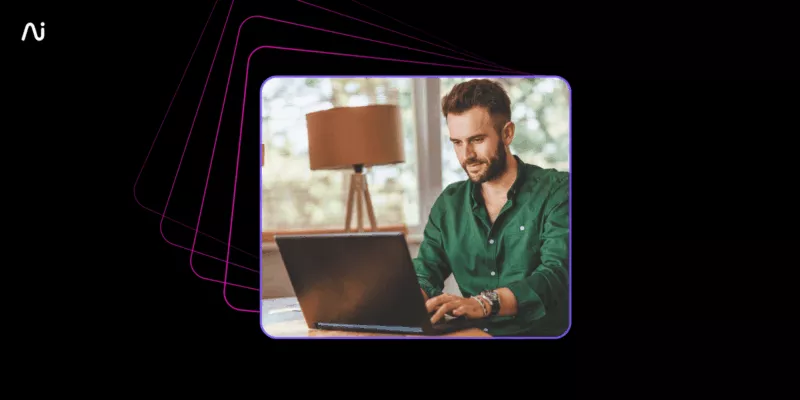 Whether you're not sure about Zoiper yet, or just want to know what alternatives are out there, there are many solid communication solutions that are comparable in price while offering a ton more features. (Especially if your business is interested in more advanced features, like unified communications or sales AI.)
Below, we'll compare the top 10 Zoiper competitors and alternatives, and look at how the pricing plans stack up.
What is Zoiper?
Zoiper is a softphone provider that markets itself as being compatible with many VoIP services and PBX systems. The app comes with features like conference calling, call center software functionality, and even CRM integrations.
Why you might want to consider alternatives for Zoiper
That being said, there are quite a few reasons why businesses might want to use an alternative to Zoiper instead.
Most communications providers come with softphones
If you want a desktop or mobile business phone app, the thing is that almost every decent UCaaS provider (Unified Communications as a Service) or CCaaS (Contact Center as a Service) provider already has a softphone app.
For example, Dialpad's app comes with all the calling functionality that you'd need, including call forwarding, call transfers, and more:


And the app comes included for free with any of the pricing plans you choose. (This should always be the case—if a provider tries to charge you extra for the app, run.)
You want one cost-effective solution that covers all your internal and external communication
On a related note, it's almost always more convenient (and cost-effective) for businesses to have a streamlined tech stack. Instead of paying for and making your team manage a video conferencing app, a business SMS app, a VoIP calling app, and contact center software separately, why not have one robust solution that gives you (and your team members) all of those things in one convenient screen?
With Zoiper, you're paying extra for this, on top of the calling plans and any other features you're paying for:


You want a solution that's powered by industry-leading AI
Beyond just your basic calling and video conferencing features, most forward-thinking businesses today are starting to look at AI features like conversation intelligence and other call center AI features for coaching and quality assurance.
If your team is interested in using AI, this is an important consideration as there are Zoiper alternatives that will include all those AI features along with the softphone, so your team won't have to constantly toggle between different apps or tools.
7 Zoiper alternatives and competitors to check out
1. Dialpad Ai Voice
What makes Dialpad a good alternative to Zoiper?
Dialpad Ai Contact Center gives you everything you need in a single communications platform. This is one big difference between Dialpad and Zoiper—beyond voice calls, you also get video calling and team messaging along with essential contact center features like IVR routing and a sales dialer.
There's a desktop and mobile app that works across PC, Mac, iPhones, Android, and even tablets—and you can set up a new user or phone number in just a few minutes online:



Ultimately, Dialpad has a range of features for both outbound and inbound contact centers, in addition to letting teams handle internal conversations across different channels all in the same app. It has a global voice network and a unique dual cloud architecture that's designed for excellent call quality.
Now, let's look at what sets Dialpad apart from Zoiper.
What you get with Dialpad that you don't get with Zoiper
Truly unified communications
Dialpad combines UCaaS, and CCaaS on a single platform—powered by AI—to provide a seamless and cohesive agent experience in a single app.
For example, a customer support agent talking to a customer on live chat or a phone call might need help with something. Using Dialpad, they can send a message to their supervisor or an expert in any other part of the business without having to open a different app.
Industry-leading AI
What's unique about Dialpad Ai is that it's analyzed over five billion minutes of business conversation data, meaning its state-of-the-art AI is purpose-built for business use cases.
This technology powers its AI features, like Ai Agent Assist, which automatically pulls relevant information for agents without them having to manually search a knowledge base:


Another feature powered by Dialpad Ai is the Ai Scorecards feature. It's not always possible for supervisors to listen to every single call, but they still need to provide meaningful feedback to our agents as much as possible. That's one way Dialpad's AI-powered QA Scorecards helps customer service teams scale operations.
With Ai Scorecards, supervisors and admins can create an objective scoring criteria across all customer calls. As the agent behavior is observed by Dialpad Ai, it's automatically checked off—so when the supervisor reviews the call later, they can easily see whether the agent is doing what they are supposed to:


Pricing
If you just want a unified communications solution, Dialpad's Ai Voice plan starts at just $15 per user per month, which comes with unlimited calling in Canada and the US, call recordings, SMS/MMS + team messaging, unlimited video meetings, real-time AI transcription, and of course, the desktop and mobile softphone app. Reach out for a quote if you're interested in the Dialpad Ai Contact Center or Ai Sales Center plans.
Try the best JustCall alternative for free
Get a hands-on look at how easy to use Dialpad is with a free trial, or book a demo with our team to check out more the contact center and AI features!
What makes AirCall a good alternative to Zoiper?
Aircall brands itself as a phone system and call center software for customer-centric teams. It's a pretty solid option, but it's quite limited in terms of communication channels.
Aircall doesn't provide unified communications capabilities like video calls and internal chat functionality like some of the other options on this list, but it does have the usual expected features for call centers.
What you get with AirCall that you don't get with Zoiper
Aircall also has its own softphone apps, so you really wouldn't need Zoiper.
Pricing
Aircall's Essentials plan starts at $30 per user per month, with a 3-user minimum. One level up is the Professionals plan at $50, which gives you access to the Salesforce integration and "advanced analytics."1
3. RingCentral
What makes RingCentral a good alternative to Zoiper?
In terms of functionality, RingCentral also has a softphone app that lets businesses handle communication channels like video calls and instant messaging.
If you want a Zoiper alternative that doesn't make you purchase or manage a separate softphone solution, RingCentral could give you something that's closer to an all-in-one solution.
Note that we say "closer," because even though RingCentral does market a contact center product, it's actually reselling a third-party provider's contact center software.2
What you get with RingCentral that you don't get with Zoiper
With RingCentral, you'll have more options when it comes to channels for communicating, with a more cost-effective pricing model since the app is included.
Pricing
For RingCentral's Business Communications plans, the least expensive Core plan starts at $30, up to $45 for the Ultra plan (regular pricing). There are four contact center plans, and you'll have to reach out for a quote.3

✒️ Vetting contact center solutions?
This RFP (Request for Proposal) checklist covers the essentials to be aware of as you're shopping for a contact center platform.
4. Vonage
What makes Vonage a good alternative to Zoiper?
Vonage offers most of the unified communications and call center functionalities that you'd get with Zoiper, along with its own softphone app. (As we mentioned earlier, all good communications tools today should have their own apps—every Zoiper alternative on this list does.)
The features you get in the contact center plans are pretty comparable to Zoiper, including call transfers and call recording.
What you get with Vonage that you don't get with Zoiper
A unified solution that gives you calling, video meetings, and messaging in an included desktop and mobile app.
Pricing
Vonage's least expensive plan starts at $19.99 monthly per user, and if you're interested in contact center pricing, you'll just have to reach out for a quote.4
5. Nextiva
What makes Nextiva a good alternative to Zoiper?
Like some of the other unified communications solutions on this list of Zoiper alternatives, Nextiva will give you video conferencing and messaging options on a desktop/mobile phone app if those are channels that your team needs. Along with that, there's also a call center plan if you need to support a sales and/or customer service team.
The thing is, it has the same disadvantage as RingCentral in terms of whitelabeling products and using third-party vendors in order to market a "unified" product.5 (Learn more about the best alternatives to Nextiva.)
What you get with Nextiva that you don't get with Zoiper
Again, the main advantage here is your team will be able to talk to each other through more communication channels.
Pricing
Nextiva's most basic plan starts at $25.95 per user per month at regular price and comes with a local phone number. The Professional plan is $30.95, and then Enterprise is $40.95.6
6. OpenPhone
What makes OpenPhone a good alternative to Zoiper?
If you don't need call center functionality or video calling or instant messaging, OpenPhone is a good Zoiper alternative because it's pretty easy to set up, with a modern user interface in its app.
That being said, OpenPhone is quite basic in terms of business communications functionality, and doesn't have AI features like real-time transcription.
What you get with OpenPhone that you don't get with Zoiper
When it comes down to it, OpenPhone's advantage over Zoiper is its affordability, with pricing starting at $13 per user per month (and that includes the softphone app too).
Pricing
OpenPhone's Standard plan starts at $13 per user per month, and goes up to Enterprise pricing, which requires you to reach out to their Sales team for a custom quote.7
7. Grasshopper
What makes Grasshopper a good alternative to Zoiper?
If your business' needs are simple enough that you don't need all the bells and whistles, Grasshopper is a decent option. It lets you have two numbers on a single phone so that customers can call your cell phone without needing your personal number.
A desktop and mobile app are included in all plans—as are voicemail, call forwarding and Wi-Fi calling.
What you get with Grasshopper that you don't get with Zoiper
Ultimately, Grasshopper is a pretty basic solution. If you just don't want to use Zoiper, then it's worth checking out the free trial, but Grasshopper's missing a lot of innovative features like AI, video conferencing, and more advanced contact center functionality.
Pricing
As the features are the same in every plan, pricing is simple—it's based on how many numbers and extensions you have. The Solo plan gives you one phone number and three extensions, but will set you back $26 per user per month. That's a little pricey compared to something like Dialpad, which gives you much more functionality (at a lower price too).8
What's the best Zoiper alternative for your business?
If your team needs a communications solution that lets you handle both your internal team calls and meetings on a beautiful softphone app, and also external customer conversations across different channels, Dialpad Ai Contact Center is one of the best options you can check out.
Not only does it offer AI self-service options and all the channels you need in a single app, it's also incredibly easy to use and set up.
Get a hands-on look at how it works with a demo!

Time to switch to a better Zoiper alternative
Try Dialpad for free to see how you can make calls, have video meetings, and send SMS + team messages with the app. Or, take a self-guided interactive tour of the app first!
1aircall.io/pricing/
2channelfutures.com/telephony-uc-collaboration/ringcentral-nice-extend-partnership-to-offer-ringcentral-contact-center
3ringcentral.com/office/plansandpricing.html#mvp
4vonage.com/unified-communications/pricing/
5businesswire.com/news/home/20210609005705/en/Nextiva-and-Five9-Team-Up-to-Help-Businesses-Deliver-Seamless-Customer-Communications
6nextiva.com/nextiva-pricing.html
7openphone.com/pricing
8signup.grasshopper.com/plans#