Back to Blog
6 best-in-class Line2 alternatives: What's the best communications platform for you?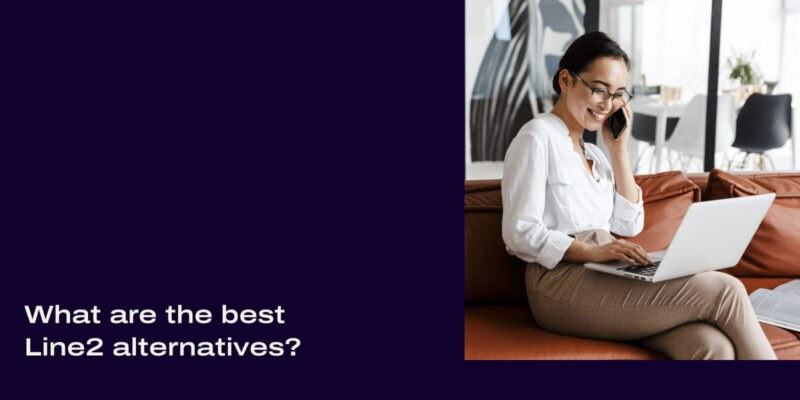 If you're looking for a Line2 alternative, you might be in search of a communications platform that's more than just a business phone service. Maybe you want something that has video conferencing and messaging included too. Or a solution that has a desktop and mobile app, so you and your team can work from anywhere.

Whatever the reason, the good news is there are actually lots of really good alternatives to Line2—that not only are budget-friendly, but also let you do a lot more than just make phone calls from an app.
In just a bit, I'll walk you through what Line2 can do, what it can't do, and some of the other best communications platforms and cloud phone systems out there.
What is Line2?
Line2 is essentially a super basic business phone system that's focused specifically on serving small businesses. The plans start at $15.99 per month per user, and you get a local or toll-free number along with unlimited calling.1
You also get some basic phone features on that plan, like VoIP or Wi-Fi calling, international calling, and a mobile app that works on Android and iOS so you can use it on your cell phone. But that's pretty much it. You don't get call recording, for instance, until you get the most expensive $25-per-month pricing plan. What is surprisingly nice about Line2 is they have decent customer support options—you can get customer support over phone, email, and chat, but only from Monday to Friday.1
Why would you want to look at a Line2 alternative?
Well, there are a few reasons. Here are the three big ones.
Your team uses other communication channels beyond phone calls
First, if you and your team use a variety of communication channels like conference calls, video calls and instant messaging, then it's probably a good idea to use a unified communications solution that lets you consolidate all those channels into one platform or app.
Why? Because you usually end up paying for just one tool instead of four or five different ones, which tends to be more cost-effective—not to mention you don't have to spend as much time managing all those tools and getting the team to learn and adopt them.
For example, Line2's cheapest plan is $15.99 per month—Dialpad's is $15 per month, but it comes with VoIP calls, video conferencing, team messaging, internal/external SMS/MMS, and way more advanced business phone system features. (It includes call recording, for instance, which you have to pay more for with Line2.)

There also aren't any integrations. So, if you have a sales or support team that's using something like Salesforce, you won't be able to integrate Line2 with it. The benefit of having these integrations is that it streamlines workflows for your team and you don't have to toggle between windows all the time or do as much data entry.
Here's how it looks with Dialpad's Salesforce integration, which lets you make phone calls from right inside Salesforce through a CTI dialer, and even automatically logs your calls and activities:

(And if you want to build your own integrations, Dialpad also has an open API.)
For the price, you can easily get something better
This is partially related to the point above, but one of the biggest knocks against Line2 as a VoIP service provider is that the pricing really isn't that competitive. At $15.99 per month, it's comparable to almost all the alternatives below, and is actually slightly more expensive than Dialpad's lowest pricing tier.
And you don't even get the auto-attendant or voicemail transcription features until you get to the more expensive tiers. (You'd get both included at the $15 per month plan with Dialpad.)
At the end of the day, it's a pretty bare-bones telephony solution.
You want to be able to scale up your business
If you're planning to grow your business in the near future and hire in different regions, then ditching your landline was the first step—but you still need a business phone system that can grow with you.
Even if you can get by with a pretty basic telephony solution now, that might not work once you have new employees in different cities or countries, or when you have more customers that you need to be accessible to. You may not have a CRM now, but once you do start using something like HubSpot or Salesforce, your phone service should have CRM integrations.
You can't really get any of that with Line2, unfortunately.
The top 6 Line2 alternatives to scale your business
To make things easier, we broke down the best Line2 alternatives into two categories:
Category A, which are the best unified communications solutions (that include video conferencing, messaging, and even a cloud contact center platform if you need it)

Category B, which are phone-only platforms with very basic business phone functionality like call routing and call forwarding
What's interesting to note: The Category A options are actually very comparable in price to the more basic options in Category B and all include free calling locally—meaning you could get a lot more bang for your buck. Let's look at Category A first.
Category A: The best unified communications platforms (with built-in VoIP phone service)
1. Dialpad: A truly unified communications platform
First up is Dialpad, a unified communications platform that lets you make phone calls, do video conferencing, and send instant messages + SMS/MMS messages—all from a beautiful desktop and mobile app that works across iPhone, iOS, Android, PC, Mac, you name it.
Or, you could just join conference calls or video calls from a web browser, no downloads needed. (Clients and prospects tend to love this because they don't have to download anything to join your meeting.)

What makes Dialpad a good alternative to Line2?
There are a few reasons why Dialpad is at #1, and yes, we may be a bit biased, but hear me out.
Firstly, I mentioned this earlier, but price-wise, at $15 per user per month, it's slightly cheaper than Line2's basic plan. At that plan, you get SMS/MMS text messaging in the US and Canada and unlimited calling in the US, Canada and your home country.
It's also incredibly easy to set up and use. You can add or remove users, manage your phone numbers and voicemail, and more, right from your online dashboard:
Don't want to miss any important calls? You can also easily set your business hours to pause notifications when the workday is over, and add call forwarding numbers (up to a maximum of five) to send calls to a colleague, another team, or even your cell phone:


What you get with Dialpad that you don't get with Line2
If we're comparing the most basic pricing plans with each other, then you're getting functionality like call recording, voicemail transcriptions, and auto-attendant with Dialpad, which you don't get with Line2. But beyond that, there are also other key features that you don't get with Line2 at all, even on the most expensive tiers.
Unified communications
I mentioned this one earlier, but you only get phone calls and text messaging with Line2. No video conferencing or instant messaging.
Integrations with your favorite tools
If you're using a CRM like Salesforce, HubSpot, or Zoho CRM, that should integrate with your communications platform or business phone system! Dialpad integrates with all of those along with other important day-to-day tools like Google Workspace and support team favorites like Zendesk:

For many of the CRM integrations, one of the big benefits is they embed Dialpad's dialer inside those platforms so that you can take phone calls from right inside those platforms without toggling back and forth between windows or tabs.
Industry-leading AI
One of the most unique things about Dialpad is its artificial intelligence, Dialpad Ai. It's built in-house by our own team, and is included in all our products, including the phone system and virtual contact center platform. What does it do? Well, it can transcribe your conference calls and video calls—in real time:
And it even automatically logs action items and create a post-call summary that gets sent out to everyone after the call!

Built-in call analytics
Dialpad also comes with call analytics to show you how many calls you're getting, how many calls you're missing, and so on. There's a dashboard for IVR analytics, so you can see which IVR menu options your callers are using the most (and the least):

This way, you can continuously refine that IVR experience and make sure your customers can reach the right person or department as quickly as possible.

A fully integrated contact center platform
Say you have a sales or support team, or other call center team that handles a high volume of communications. With Dialpad, you can also get a contact center platform to help manage that.
And this is where the Ai really shines. Beyond just transcribing conversations in real time, it can also pick up on keywords (like how often is a certain competitor coming up on calls, or how often customers are complaining about a particular feature)—just create a Custom Moment, and Dialpad can track that for you:

On top of that, managers can also create Real-time Assist (RTA) cards with tailored notes that automatically pop up on agents' screens when those keywords are spoken. For example, if we get a lot of questions on how porting a phone number works, we can create an RTA card with notes on that, like a cheat sheet, that automatically triggers when a customer says "port" or "porting" on a call:

2. Nextiva
Nextiva is another VoIP "unified communications" solution that has calling, video calling, and call routing functionality. They've been around for quite some time and are generally well regarded, but one thing to note about Nextiva is that it doesn't own its own software—it's whitelabelling, or reselling other companies' software. That goes for both its unified communications product2 and its call center product.3 It's not a deal-breaker for everyone, but it does mean that for more complex customer support issues, they may have to route you to the original software provider.
The other thing is that if you're looking for both a UCaaS and CCaaS solution, then you're likely going to have to deal with a different user interface and different logins for those two solutions. (Unlike with a provider like Dialpad, for instance, which is fully built in-house and has one consistent user experience.)
What makes Nextiva a good alternative to Line2?
That being said, Nextiva can also give you more communication channels than Line2 and has more robust functionality there if you need video conferencing or video calling as well on a desktop app or mobile app, though its pricing is more expensive.
It also comes as an app, so you can contact colleagues and clients from wherever you are in the world. While Line2 does have an app, you are still only limited to calling and texting. Nextiva can go that step further with face-to-face connection.
Pricing:
Nextiva's most basic plan starts at $25.95 (if you have 100+ users, otherwise it's more) for per user per month and like Dialpad, comes with a local phone number.4 The next plans go up from there and give you progressively more features. Learn more about the best Nextiva alternatives.
3. RingCentral
RingCentral is another business communication solution, and it's actually been around for decades since the PBX landline days. Today, it calls itself a VoIP phone system provider and like Nextiva, has messaging and video conferencing functionality.
What makes RingCentral a good alternative to Line2?
Again, like Dialpad and Nextiva, RingCentral gives you more communication channels than Line2 at a comparable price. If you need to be able to talk to customers and prospects in different ways, RingCentral can give you that, though because it's built on legacy infrastructure, that makes it less flexible than true born-in-the-cloud solutions like Dialpad.
What this means is that it's not as flexible—it tends to be harder to scale up (and down) easily and harder to admin. (This is what both TownCenter Partners and PlanGrid have mentioned.)
Pricing:
RingCentral MVP starts at $30 (regular price) per user per month for its most basic Core plan, and the pricing goes up from there.5
Category B: The best phone-only platforms with basic functionality
4. OpenPhone
OpenPhone is a newer player in the small business phone system space, and like with Dialpad, you don't need any hardware to get set up on OpenPhone. (More on OpenPhone vs. Dialpad.)
What makes OpenPhone a good alternative to Line2?
OpenPhone is our top pick for more basic Line2 alternatives because its user interface is quite modern and it looks like it's pretty easy to use.
While OpenPhone is still lacking when it comes to video calling, it does feel like a more sophisticated communication tool than Line2 and includes more phone system functionality.
Pricing:
OpenPhone starts at $13 per user per month for the basic plan and goes up to $20 in the next pricing tier.6 The basic plan includes a toll-free number or a local phone number, calling and SMS messaging to the US and Canada, voicemail transcription, and basic IVR (auto attendant)—pretty standard.
5. Google Voice
Google Voice is probably well known to most freelancers and startups—it comes with basic features like free calling and even voicemail transcription. (And fun fact: Dialpad was actually started by the team that built Google Voice, which is probably why it's so easy to use!)
What makes Google Voice a good alternative to Line2?
Beyond calling features, Google Voice has a few advantages compared to Line2. The biggest one is probably the fact that Google Voice is a great fit if you're a Google shop. If you're already using Gmail, Google Calendar, and the Google Workspace suite, then it makes a lot of sense to go with Google Voice over something like Line2.
Pricing:
Like OpenPhone, Google Voice starts at $10 per user, per month. You don't get an auto attendant at this level, and you'll have to go up to $20 or $30-per-month pricing for that.7
6. Grasshopper
Finally, we've got Grasshopper, which is another small business phone system. You can get a phone number along with basic calling features like Wi-Fi calling, call forwarding, and so on.
What makes Grasshopper a good alternative to Line2?
If you just need business calls, Grasshopper is a slightly more robust alternative to Line2 in terms of functionality—though it's not as sophisticated as a Dialpad or an OpenPhone.
It does not have call recording, but other than that, line by line it's pretty close to what Line2 offers. (Learn more about the best Grasshopper alternatives.)
Pricing:
Grasshopper starts at $28 a month per user for the basic package and goes all the way up to $80 per month for the "Small Business" package.8 And that's a big reason why they're at the bottom of this list. (You can get a lot more for a lower price with every other Line2 alternative on this list.)
Ready to try the best Line2 alternative?
When it comes down to it, if you're looking for more than just a basic phone service, there are some great Line2 alternatives out there that do more while costing the same—or even less.
If you're ready to try one of these, why not Dialpad? Its unique dual cloud architecture and global voice network are designed to give you excellent call quality around the world, and our team can help you port over your existing numbers too.
Looking for a good Line2 alternative?
Sign up for a 14-day free trial to take Dialpad for a test drive, or take a self-guided interactive tour of the app first!
1line2.com/pricing/
2talkingpointz.com/nextiva-competing-around-the-customer-experience/
3businesswire.com/news/home/20210609005705/en/Nextiva-and-Five9-Team-Up-to-Help-Businesses-Deliver-Seamless-Customer-Communications
4nextiva.com/nextiva-pricing.html
5ringcentral.com/office/plansandpricing.html#office
6openphone.co/pricing
7workspace.google.com/products/voice/
8signup.grasshopper.com/plans