Call logs
Dialpad's call logs help you organize useful information from your phone calls into an easily accessible format so that anyone on your team can stay on top of your calls.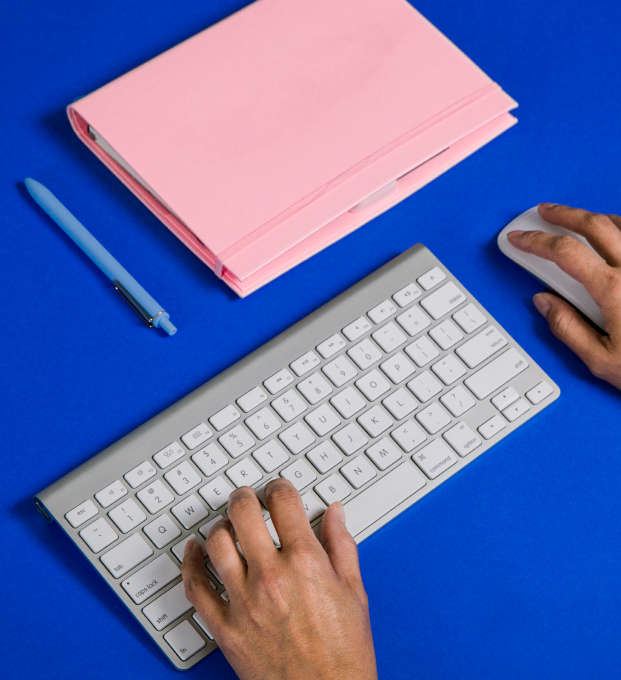 Whether you're a small business owner or run a big corporation, you might've experienced this moment of panic: you received a call, didn't have time to take a complete message, and forgot the person's name and phone number.
We know why we needed to do something about that phone call, but we don't have all the information to follow up on it.
And if you work in customer support and are taking hundreds of these calls every day, well, you can imagine how chaotic this can get.
That's why many business phone solutions today have call logs that keep a complete record of incoming and outgoing business calls. On a basic level, these logs usually include the name of the caller, the extension dialed, and the date, time, and duration of the call.
Below, we'll go over what a call log is, its benefits, and how to manage your call logs through a business phone system or communications platform.
What are call logs?
It used to be that call logging involved just noting down when a call was made—you logged it, that was it. Now though, you can get a little more sophisticated. To have more useful call logs, you might also collect, analyze, and record information from telephone calls and put this data into an easily accessible format. The information you can record for each call includes:
Call origin

Call destination

Call time

Call duration

Network used

Transmission details
The list of calls is collected and stored by your business phone system automatically (if you've got a good one), so that you and your team can review everything later.
You can great creative with your call logs too, by hooking up your phone system with other apps through integrations. For example, you can connect Dialpad to tools like Salesforce or Hubspot, and set it to automatically log call activity like incoming and outgoing calls, voicemails, and more: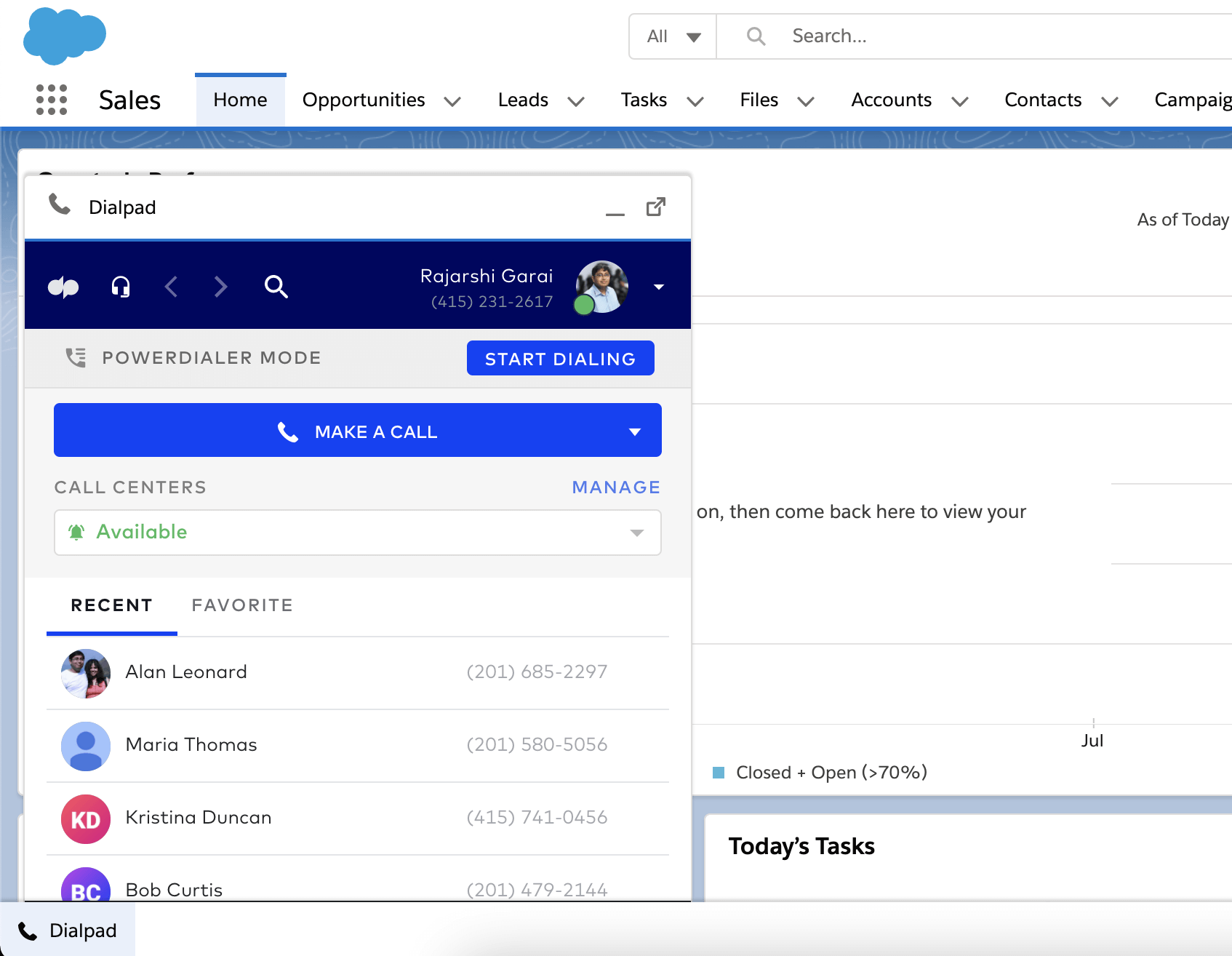 What are the benefits? Why log calls in the first place?
Call logs give your business really valuable information, even though they don't record the content of the call itself.
Think of phone call logs as a supercharged version of caller ID. Imagine all of the sudden, your iPhone or business phone app stopped logging your incoming and outgoing calls. You'd never answer your phone or call anyone back. Ever. Again.
Once you embrace the full power of call logs, you'll wonder how you got by without them in the first place. Here are just a few benefits of using call logging technology:
1. Call logs help keep your contact list up to date
If you have a well-designed phone system, one of the best benefits of call logging is being able to sort calls by date, date range, call type, and even whether it was an inbound or outbound call. For example, here's how it looks in Dialpad: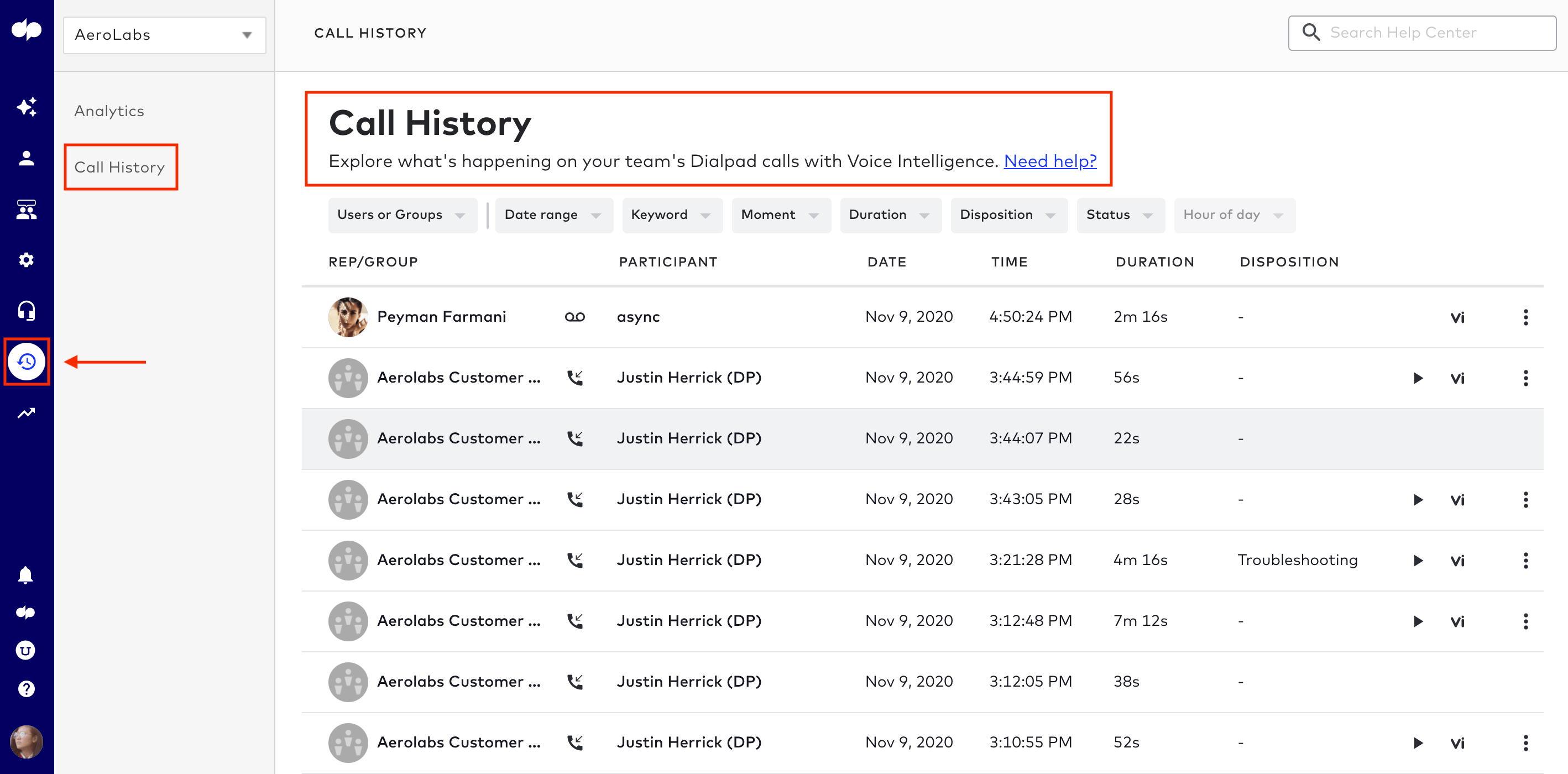 And for busy teams who take calls from new prospects or customers often, this is useful for retroactively adding a new contact to your CRM system or database.
2. It makes it easier to filter your search
With a basic call log, you'd probably have to scroll all the way down the call history list to find one call. With a good business phone system, you don't have to do that. (Sorting, filtering, and searching should be built in!)
For example, you can filter by outgoing or incoming calls, call duration, call type, and more. And this ability to organize calls gives you the power to get some useful analytics on your call activity, which we'll get into next...
3. It helps you analyze critical data
Because you can easily filter and organize your call logs, it allows you to then analyze critical data. Important KPIs you can track using your call logs include:
Percentage of calls blocked

Calls handled

Cost per call

Call arrival rate

Peak hour traffic

Average call length

Channel mix
This is definitely not a comprehensive list, but these KPIs can help you make important decisions about how your business manages its telecommunications. For example, for contact center teams specifically, being able to see not only call logs but also when all those calls are coming in would be handy for staffing: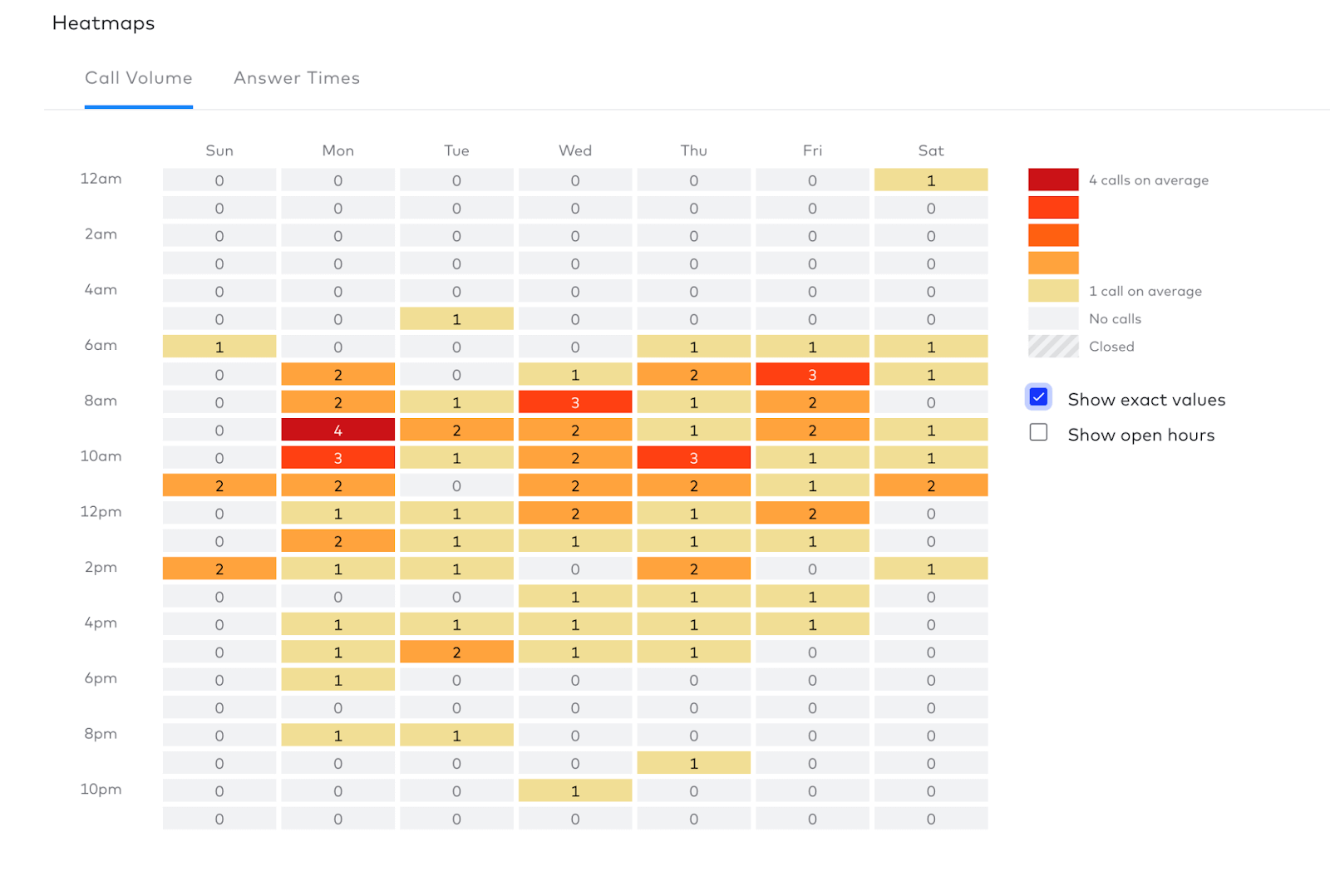 This is the kind of critical data provided by call logs that'll allow you to staff more efficiently—and more importantly, provide a better customer experience.
4. Call logs can reveal patterns around productivity and cost-efficiency
Because call logs provide you with data for important KPIs like the ones we touched on above, that leads to another benefit: you can easily track the productivity and cost-efficiency of your call center or contact center—or just business communication in general.
(For example, you might track "cost per call" in your log data as a KPI to determine if your business phone service is a good bargain for your business.)
👉 Dialpad tip: If you work at a business that uses the phones heavily, the ability to see log data in real-time and store this call data is essential because it helps you track productivity and efficiency in the short and long term.
5. It lets you make important information easily accessible
If you're at the manager or supervisor level, then you probably won't want to keep call logs to yourself. You'll likely need to share this call data with other people (like the executive team).
Trying to convert documents into other file types can be frustrating if you're doing it manually. But a good phone system or service provider should let you easily convert this data into CSV files for stuff like analysis and accounting.
Bottom line: Whether you're sharing these spreadsheets through email, using Microsoft Excel, or using other spreadsheet software or file sharing methods, you need an easy way to share the data to your team.
👉 Dialpad tip: Want to provide the best customer service? In your Dialpad dashboard, you'll find natively embedded transcripts and play bars so you can read or listen to call recordings directly in your call logs. This gives you the ability to go back and review any previous conversations or customer interactions:


How to manage your call logs with Dialpad
Now that you know what call logs are and why they're useful, let's look at how you can manage your call logs with Dialpad. (The overall process should be similar across phone systems though.)
You can access call logs in Dialpad on any of the products: Dialpad Talk, Sell, and Contact Center. To see all the information recorded from your call history, just check out your Analytics dashboard:



If you're a manager and want to be able to access your agents' incoming and outgoing calls (and calls through your IVR), just click on the Voice Intelligence (Vi) option.
👉 Dialpad tip: Voice Intelligence, or Vi, is Dialpad's proprietary artificial intelligence technology. This is the magic behind our hyper-accurate real-time call transcriptions and coaching tools like Real-time Assist (RTA) cards. (Which pop up automatically with tips when certain keywords are spoken on a call!)
You can even set custom preferences on this screen using the Save Pin icon in the top-right corner to have instant access to the information you use the most.
Depending on who you are, you will have different permissions to access call data:
Admins: You can access all calls within your company and also automatic recordings from Vi Call Summaries. A Company admin will have no limitations on data access. But, Office, Department, and Contact Center admins may be able to only access call logs relevant to them. (One Call Center admin wouldn't be able to access call logs for another contact center that's under a different admin.)
Team coaches: Your training team can access all calls for their trainees and access automatic recordings and Vi Summaries from these calls.
Users: Individuals can access call logs from their own line only, including the call recordings and Vi Summaries for these calls.
Essentially, there are two main use cases for managing your call logs:
Access your team's log
If you have different departments and teams, you can use the filter feature to access a team's log from anywhere.
In Dialpad, you can do this right in your dashboard. If you use departments, filter the specific department and control the time frame you want to view.
Want to keep an eye on how your team is managing calls? You can have your team's call logs emailed to you automatically too on a daily, weekly, or monthly basis.
Access your own log (on multiple devices!)
Let's say you're a new contact center rep, you're super busy, and you're handling dozens of calls a day. Having call logs allows you to access your call data from anywhere. For example, you can look at your recent calls, or calls from a specific time frame, from either your computer or your mobile device.
(On Dialpad, you can do this either through the app or on a web browser. Easy peasy.)
Another handy thing you can do in Dialpad is you can view a past call directly on your computer or phone, and call that number back—without having to type anything into your phone. All you have to do is click or tap, and the call will dial.
Call log FAQs
How can I see my full call history?
On most phone systems, this should be easily accessible on your calling dashboard. In Dialpad, for instance, you'd just navigate to Call History in the left sidebar when you're in your Analytics Dashboard.
From there, click My Calls to view your entire call history from your line.
If you want to see the call history for your entire team, you can also click on All Calls:

How should I manage my call logs?
You can easily manage your call logs by using the multi-target feature in Dialpad. This gives you filtering options like filtering by:
Users and Groups

Date Range

Call Participant

Call Content (If you have Vi (Voice Intelligence) enabled)

Duration

Status

Disposition
You can save these searches for filters by selecting Save this Search. Dialpad will even allow you to set predefined templates so that managing your call logs is fast and easy (for anyone on your team):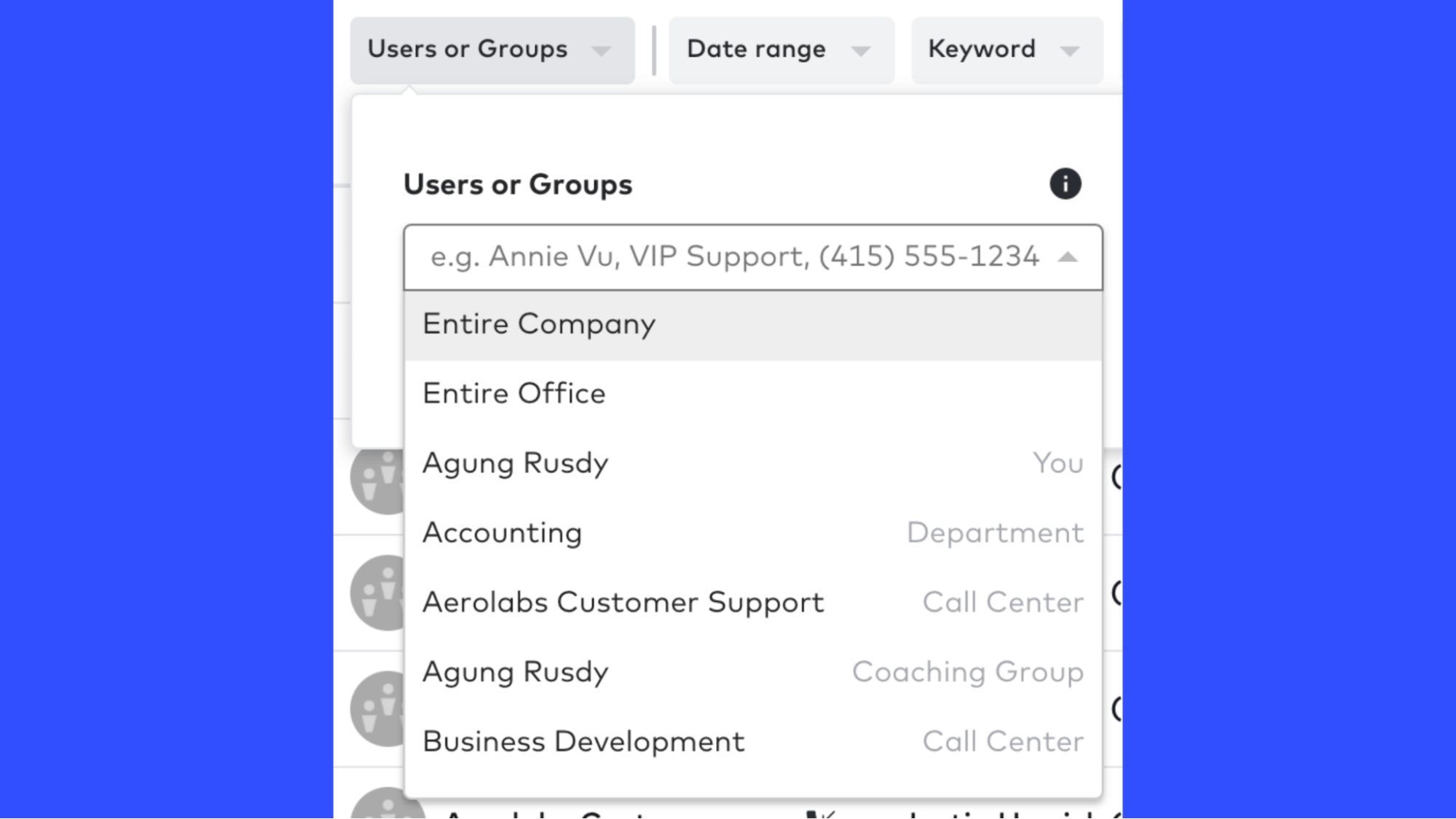 Is it possible to export call logs?
Yes! (Good phone systems or contact center software should have this option. If not, run.)
You can easily export analytics data with Dialpad. While you can't do this from the Call History menu, you can easily do it from your Analytics menu in your Dialpad dashboard.
In your Analytics menu, select Export (.CSV). Then you can choose call logs as the type of report.
The report is then shared via email, so you can download the CSV file and send call details directly to, well, whoever needs it: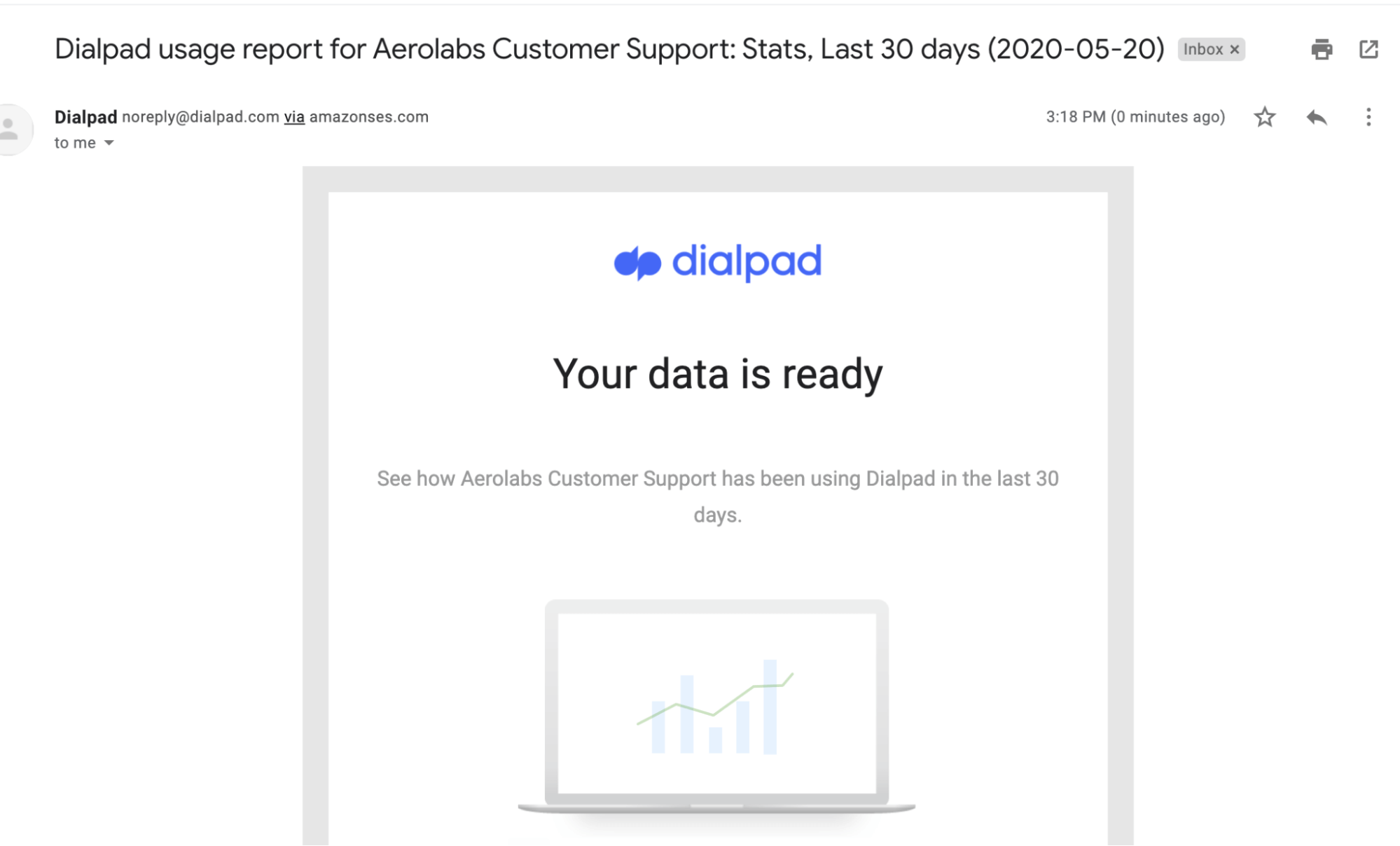 Can I see statistics about my calls from a call log?
You should be able to!
In Dialpad, for example, all the stats you need are available to you in your analytics dashboard. In that dashboard, you can create easy-to-read graphs and charts that help you analyze complex data.
Here, you can track KPIs including things like calling habits, performance, and productivity: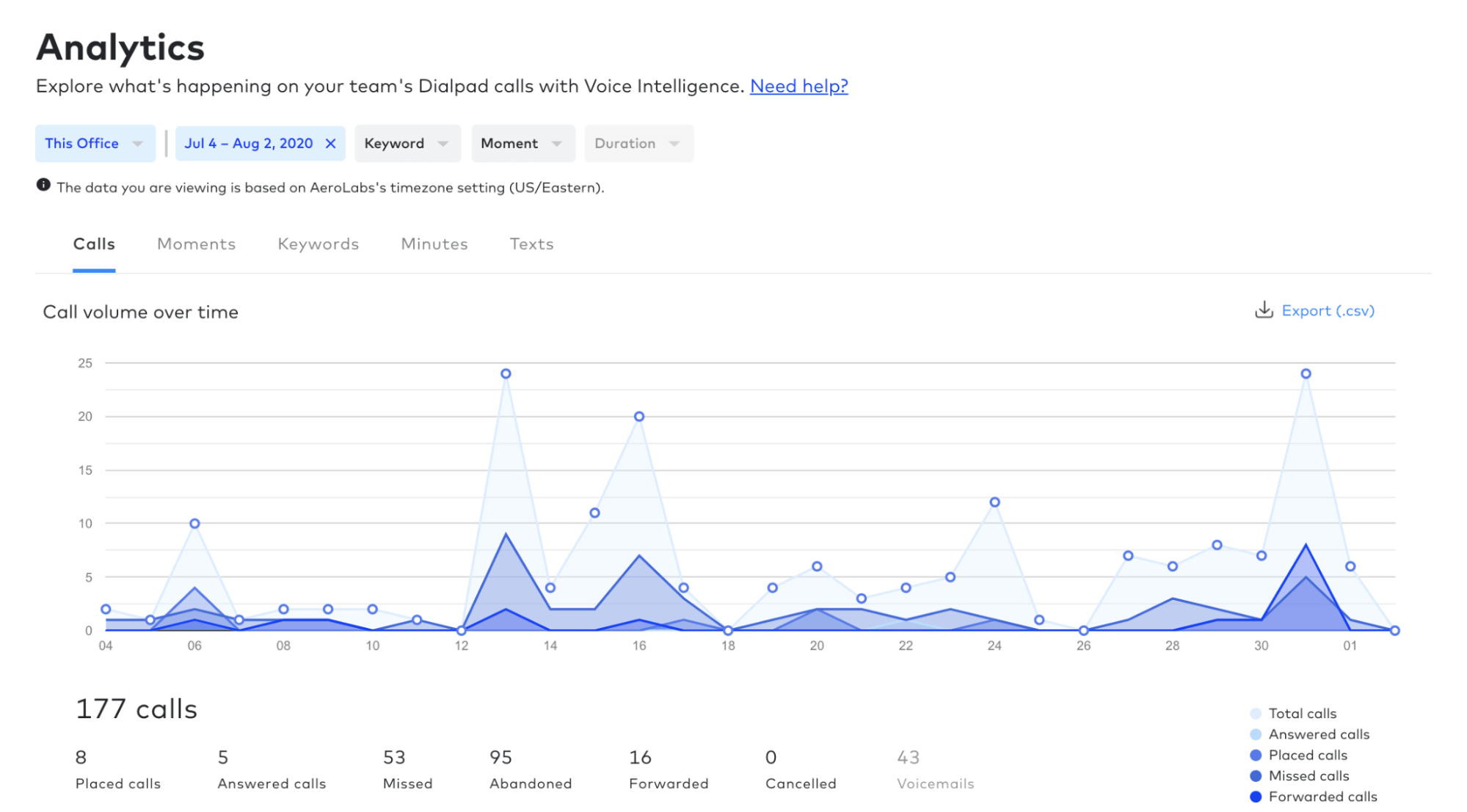 How long will my call records be stored in my online account?
That would depend on your provider, but generally, it's not like your call records will disappear in a day.
On Dialpad Talk's Standard plan, you can access your call records data for up to three months. If you have the Pro or Enterprise plans for Dialpad Talk, Sell, or Contact Center, you can access call data for up to three years. (And if you need it for longer than that, you can always save that data.)
This gives you plenty of time to track and analyze data for long-term performance reviews of your company.
Call logs: The unsung hero of communications?
Call logs come in handy for both day-to-day operations and long-term success. With their data, you get a bird's eye view of how you and your team are performing.
Using Dialpad, you even have access to call recordings and other analytics that'll instantly up your team's telecommunication game.