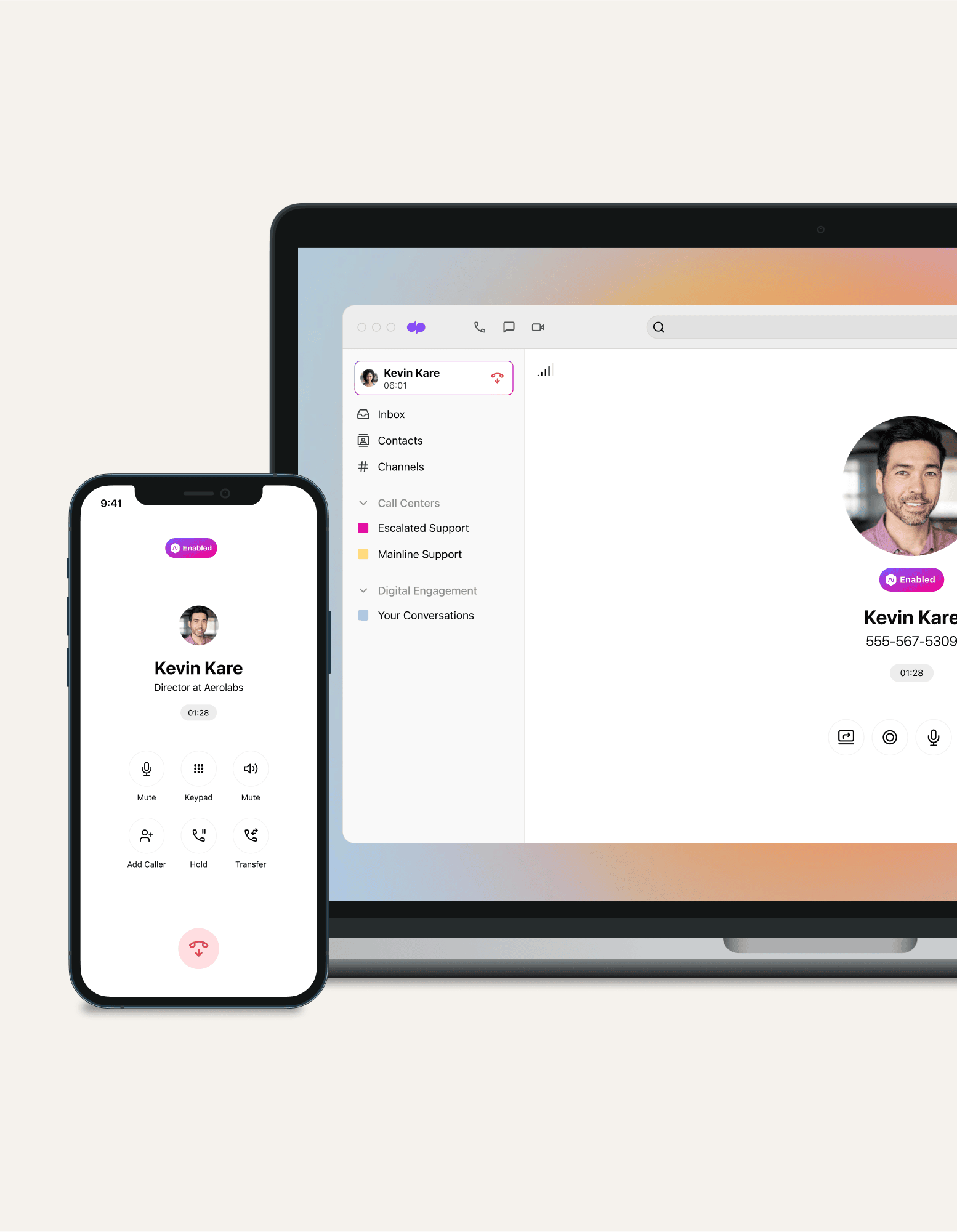 Dialpad Ai Voice vs. Mitel MiCloud Connect
A quick snapshot of what you get with Dialpad:
Works great on iOS, Android, Mac, and PC devices
Ridiculously easy to set up + add/remove users
Smooth integrations with popular apps like Salesforce, Zendesk, and Microsoft 365
Try out Dialpad with a 14-day free trial and see for yourself how it stacks up against Mitel MiCloud Connect!
Sign up for a 14-day free trial!
We're going to take a wild guess and guess you're here for one of two reasons:
You're a current Mitel user who's thinking of switching to Dialpad.
You're just starting your search for a communications platform or business phone system and comparing your options.
Well, you've come to the right place to find answers. Here's a detailed comparison of Dialpad and Mitel.
Dialpad vs. Mitel MiCloud Connect at a glance
| FEATURES | | |
| --- | --- | --- |
| Pricing | Starts at $15/user/month on an annual plan | No pricing listed — have to reach out for a quote |
| Device compatibility | Compatible with iOS and Android | Compatible with iOS and Android |
| Customer support | | |
| Product innovation | New features and enhancements are regularly released | Will not be developing new features for Mitel MiCloud Connect¹ |


Pricing
Starts at $15/user/month on an annual plan
No pricing listed — have to reach out for a quote
Device compatibility
Compatible with iOS and Android
Compatible with iOS and Android
Product innovation
New features and enhancements are regularly released
Will not be developing new features for Mitel MiCloud Connect¹
What's the difference between Dialpad Ai Voice and Mitel MiCloud Connect?
Dialpad and Mitel are both popular business communications platforms, each offering a wealth of features to improve inbound and outbound communications.
Mitel's been around since way back—like since before the cloud was even a thing, back. This means their MiCloud app—technically cloud-based now—was built on top of old architecture, inherently making it more complicated than cloud-first platforms.
Dialpad, on the other hand, was born and raised in the cloud. This allows it to do neat things like minimize downtime and release new features every week—not quarterly like most other platforms.

"
I've worked with Avaya, Cisco, Mitel—nothing compares to Dialpad.
"
Kyle Eve
Head of IT, Qubit
Here we'll cover more of the key differences that set the two apart.
Truly unified communications that make life easier
How much time do your employees spend switching between your different apps? Using multiple systems to handle calls, messaging, video conferences, and so forth can get… confusing.
With Dialpad's single app for calling, chat, cloud contact center functionality, and video conferencing, onboarding and setup are a lot easier. The business messaging platform automatically syncs across all devices, providing a single source of truth for all your business conversations.
Imagine: You had a quick call with a client on the desktop app and sent them a business text on your mobile app. Both conversations with that client will show up when you access Dialpad. This makes it easy to find where the conversation left off, regardless of what device you're using.

🙌 Fun fact:
Even the least expensive Dialpad plan comes with unlimited video meetings, and Dialpad works on the desktop app, mobile app, and web browsers. This means you can start a conference call whenever you need to—no PIN or downloads required.

Let us show you how Dialpad compares against Mitel
Looking for something that's easy to set up and use? We've got you. Book a demo to get a feel for how Dialpad could work for your business. Or, take a self-guided product tour of the app on your own first!
Be up and running in no time
Whether you're replacing an existing business phone system or implementing a new solution, interruptions to business communications are likely. And the longer it takes to have a working business phone, the more a company risks losing money.
Dialpad makes deployment quick and simple. In fact, this business phone solution can be implemented and set up in a matter of days for most companies—or even a matter of minutes for some (like LeadSigma and EF). Need a virtual phone number? You can get one in minutes.
Plus, Dialpad's deployments include several self-service options, empowering customers to speed up the setup process without waiting for support.
AI-powered transcriptions, insights, and more—all in real time
Dialpad Ai is built right into all its products and helps organizations drive sales, gain competitive insights, improve customer service, and get more out of the conversations they're having every day.
Real-time transcriptions
Both Dialpad and Mitel have call recording, but only Dialpad has searchable call transcriptions.
When you can't remember what a customer said and want to refer back, you shouldn't have to listen to a 30-minute call or waste time trying to find the exact part of the call. With Dialpad, you can pull up the call transcript and search for keywords to locate the moment you're looking for.
Dialpad Ai can also detect customer sentiment on calls based on the words they use, and pick out keywords and phrases so you can track them.
Ai Recaps, after every meeting
Having analyzed over five billion minutes of proprietary voice and messaging data, Dialpad Ai is purpose-built for business conversations. And not only can it transcribe your voice and video calls in real time, Dialpad Ai also integrates with ChatGPT to automatically generate a call summary with a short recap in friendly, natural language after every meeting:
😎 Dialpad tip:
If you ever see other UCaaS and CCaaS products talk about AI... Our automatic speech recognition (ASR) and natural language processing (NLP) engine is proprietary. Meaning we built it ourselves, and it's even more accurate than almost all competitors out there.
Although AI features are available with Mitel as well, they're typically add-ons through strategic partnerships. These partnerships often come at an additional price and might mean a separate contract altogether.
Plays nice with all your favorite apps
Dialpad integrates with Google Workspace and CRMs (like Salesforce and HubSpot), collaboration software (like Microsoft 365), customer service tools (like Zendesk), and more. So if your organization uses or is planning on using these tools, Dialpad can easily integrate with them to improve productivity across your team.
Best-in-class support
There's a reason why Dialpad won the Stevie® Award for sales and customer service (ahem, among a few other awards).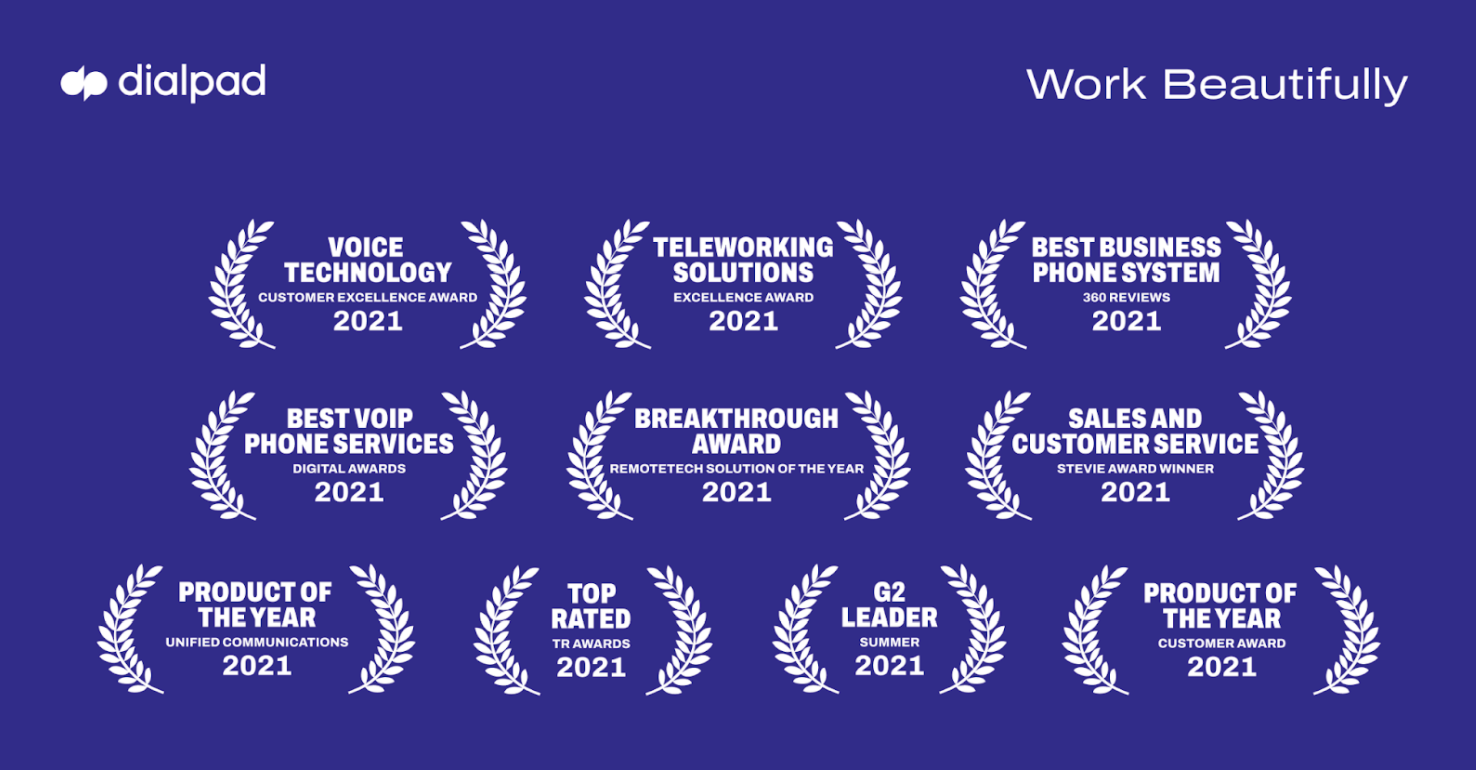 First off, we've made Dialpad super easy to use, without IT help. It should just work. And in the rare cases where something does come up (because, well, technology), our team is here at all hours of the day or night to help you out through the following channels:

Live chat (with a real human!)

Phone

A detailed Help Center
But you don't have to take our word for it
According to G2, folks comparing Dialpad and Mitel found that Mitel is solid, but Dialpad is easier to use, set up, and administer. Reviewers also felt that Dialpad better met the needs of their business and provided more quality product support, giving it an average rating of 4.4 out of 5:

Want to see how Dialpad vs Mitel stack up?
Try it out with a free 14-day trial. Connect your team with a platform that powers voice, video, messages, and meetings across all your devices! Or, take a self-guided interactive tour of the app first!
1 mitel.com/articles/what-happened-micloud-connect