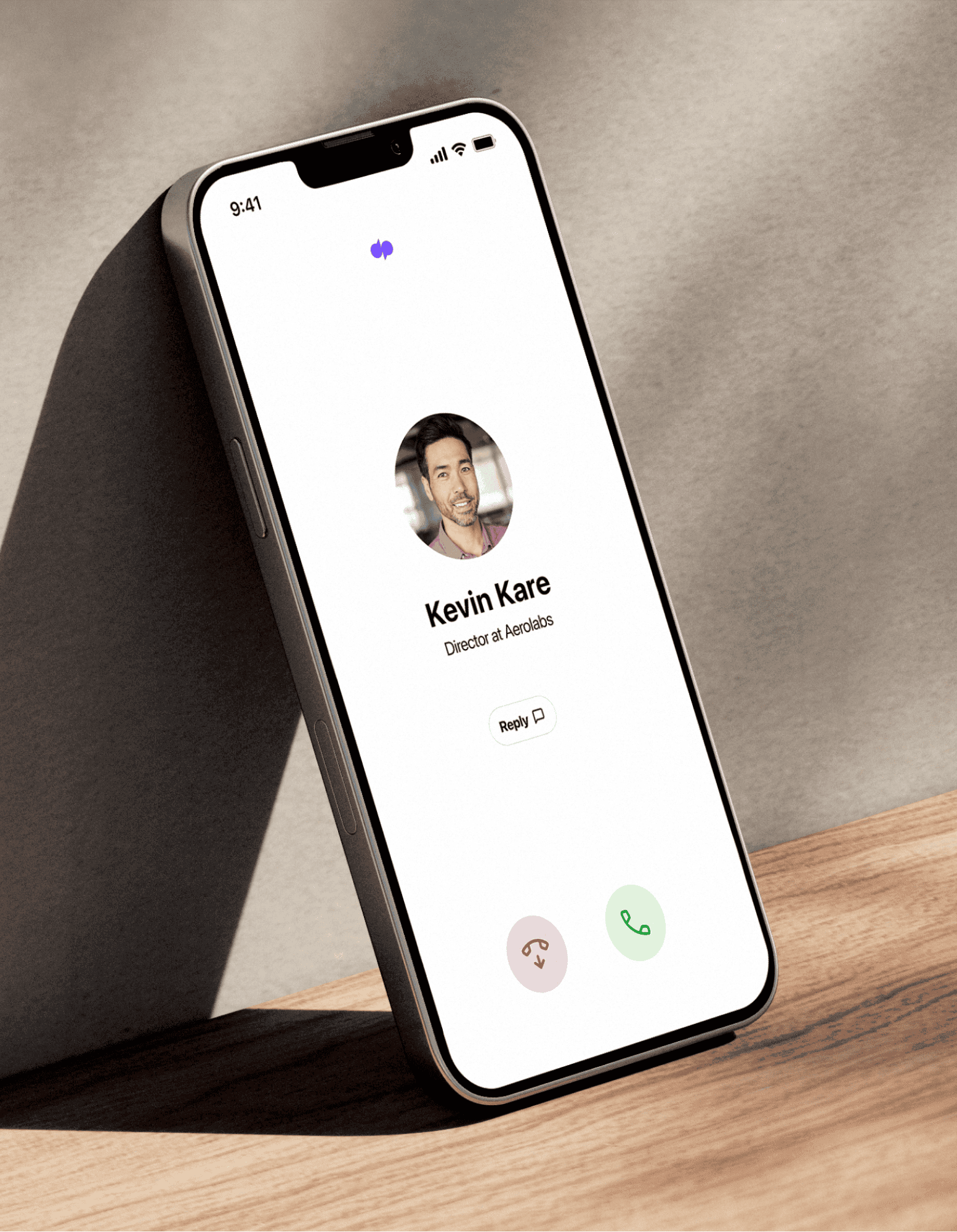 Call screening
Is your business receiving lots of unwanted spam calls? Stop them in their tracks with Dialpad's call screening system. The call screening feature lets you see exactly who's calling you, blocks unwanted calls, and most importantly, keep your lines clear for customers. Try Dialpad's AI-powered collaboration platform for free. It takes just a few minutes to sign up, plus you'll get a virtual phone number too.
Sign up for a 14-day free trial!
What is call screening?
Call screening is a telephone feature that you'll find in most business phone systems. It identifies incoming voice calls and automatically takes action depending on your choices. You can opt to answer, reject, or send calls straight to voicemail.
That's basically how call screening works.
If you have call routing, this makes call screening function according to specific rules that you've set for incoming calls. This could include how you'd like call routing to handle spam calls, calls from numbers that aren't in your business's contact list, and anonymous calls.
Declining robocalls is an option with some call screening apps. This feature lets your call center agents focus on handling customer calls or calls from prospects. The added bonus of this is that it helps keep waiting times low.
How the call screening feature works
Learning how to screen calls with Dialpad is easy. Set up is simple and takes just a few clicks.
Essentially, Dialpad uses spam scores to filter out potential nuisance calls. With the help of reliable third-party sources, we tie this spam score to your inbound calls. A caller with a spam score of 100 or more will just be blocked from ringing the Dialpad app:


Using custom spam-blocking rules, you can also choose what Dialpad's system does with anonymous callers, callers who aren't in your contact list, and callers with high spam scores.
How to customize your call screening settings
Here's your options for customizing your call screening settings with Dialpad.
You can:
1. Send calls straight to voicemail or directly to your spam folder with no notification. This automatic call screening option is where you'll most likely send callers with a high spam score.
2. Send calls straight to voicemail but with a voicemail-transcript notification. This option helps identify unknown callers and assess the importance of a call while weeding out any spam.
3. Have the caller's name play when you pick up. This allows you to identify exactly who's calling. Before your phone rings, Dialpad's IVR will address the incoming caller with a message that says "Hello, please state your name after the tone and Dialpad will try to connect your call." Once they've done this, your phone will ring, and when you answer, you'll hear "Hello, [name] is trying to reach you via Dialpad; press 1 to accept this call."
All calls that are identified as spam will be sent directly to your spam inbox where they can be viewed at your convenience. You can also see a call summary of accepted calls to identify any hidden spam callers.
Dialpad: More than just call screening software
One of the best things about Dialpad is that it doesn't just give you phone calls, video meetings, and team + SMS/MMS messaging features in one app. It also has all the call screening functionality you need built-in—no hidden charges or add-on pricing. Not only that, you get a ton of other features, too.


All your communication channels in one place
Make VoIP calls, have video meetings, send SMS messages, and more—all from the same beautiful desktop or mobile app. It works across iOS, Android, PC, and Mac, and even works on web browsers—no downloads needed. Regardless of where you want to work, Dialpad will work with you.

Call routing
Dialpad can also route calls to the right department or person for you thanks to its easy-to-use automatic call distributor (ACD) system and multi-level auto attendant. Depending on your preset routing rules, it'll send callers to agents round-robin style, by idle time, by skill level—or send them straight to voicemail. You can do all that, and easily update your IVR system, right from the online dashboard. (Which call screening software can do that?)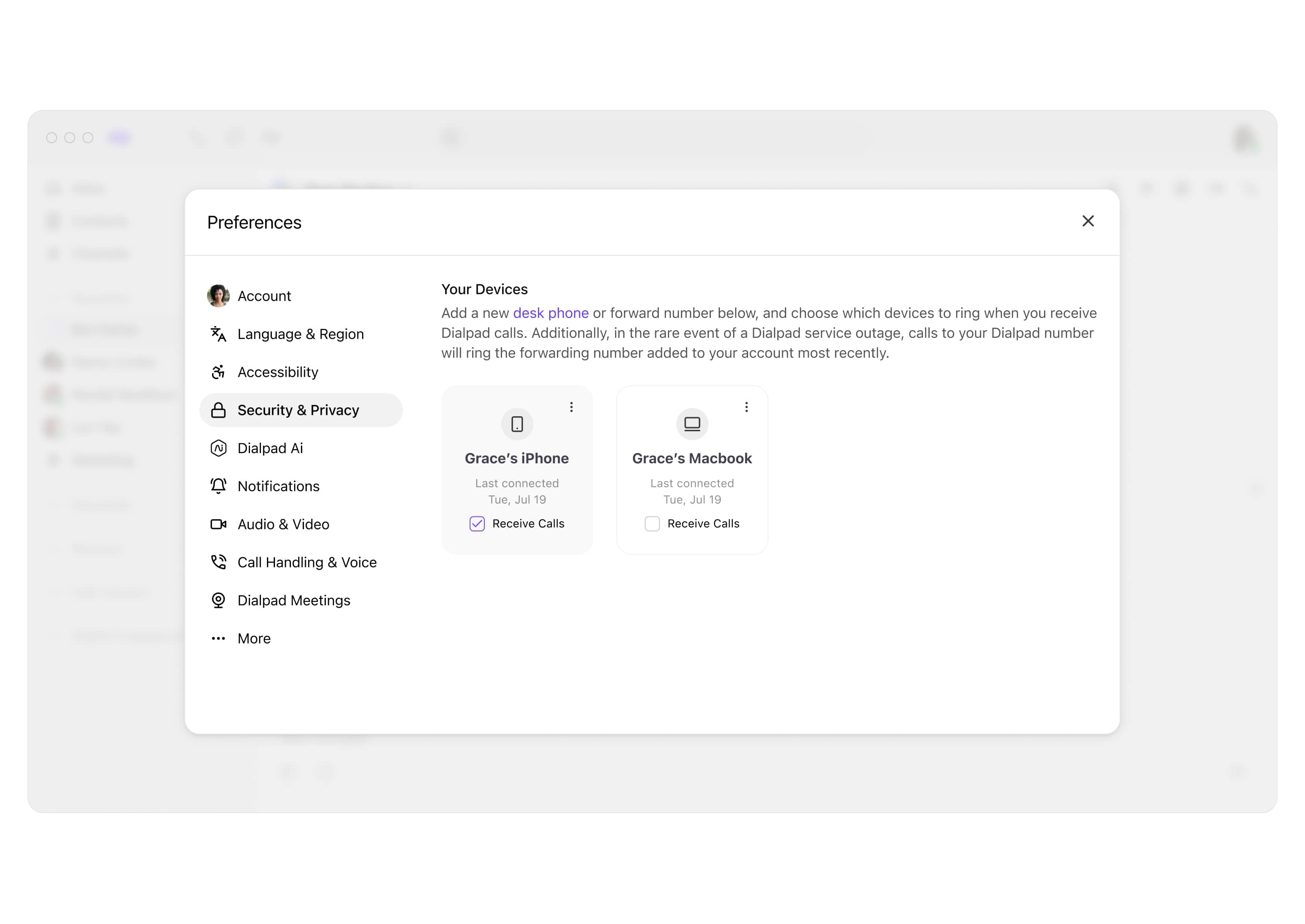 Easy call forwarding
Dialpad's call forwarding feature automatically redirects incoming phone calls to a maximum of five alternative phone numbers. You can forward incoming calls to your cell phone, a colleague, or just your voicemail. Never miss an important customer call again!

Do-not-disturb mode
For times when you're in a business meeting, concentrating on an important task, or just off the clock and want to relax without distractions, do-not-disturb mode is your go-to call setting. Dialpad's DND mode sends calls to voicemail and pauses incoming message notifications across your devices—and you can even set a DND timer, just in case you forget to turn do-not-disturb mode off when you're back in action.
Integrations with your other tools
What if your business phone system automatically synced with your other software? That's what Dialpad does. It integrates with a wide range of popular tools, like Salesforce, Google Workspace, and more, to automate activity logging and essentially embed a phone app inside your CRM. Want to build a custom integration? You can do that too with Dialpad's open API.
👉 How WeWork handles call blocking
The bigger your company, the more daily spam calls you probably get. See why WeWork's Head of Building Technology says, "I receive a lot of spam on my desk phone line, and Dialpad's spam shield does a great job of stopping it. I never see it until I log in, which has been great in my day-to-day efficiency."

Get more than just a call screening app with Dialpad
Being able to redirect and block unwanted calls is just the beginning. With Dialpad, you don't have to pay for a separate call screening service to manage incoming calls—you get that functionality included, even in the least expensive pricing plan at $15 per user per month.
Even better is that Dialpad works on Android phones, Apple iOS, Windows operating systems, and pretty much any device you and your team are using. It's just like having the best call screening app ready-installed wherever and whenever you want to use it.

Need a phone system with built-in call blocking?
See how Dialpad's unified communications platform makes it easier to screen calls—and check out all the other functionality that's designed to help teams work from anywhere. Book a product demo or take a self-guided interactive tour of the app!
FAQs about call screening
How can call screening reduce time wasted?
If your phone lines are jammed with calls from telemarketers, scammers, or nuisance callers, then your loyal customers and clients with high-priority issues won't receive the service they deserve. Because of this, your phone system or communications platform should have (ideally) both automatic and custom spam blocking.
With automatic spam blocking, Dialpad, for example, can automatically check the "spam score" tied to a number and prevent those with a high spam score from making it through to your team.
With custom blocking, you can choose whether to avoid anonymous calls and those from numbers that aren't in your contacts, as well as those with a high spam score. This means your time is spent on genuine callers—not time wasters.

What other features can help with call screening?
Does my business really need call screening services?