Back to Blog
10 best VoIP routers for your business phone or WFH setup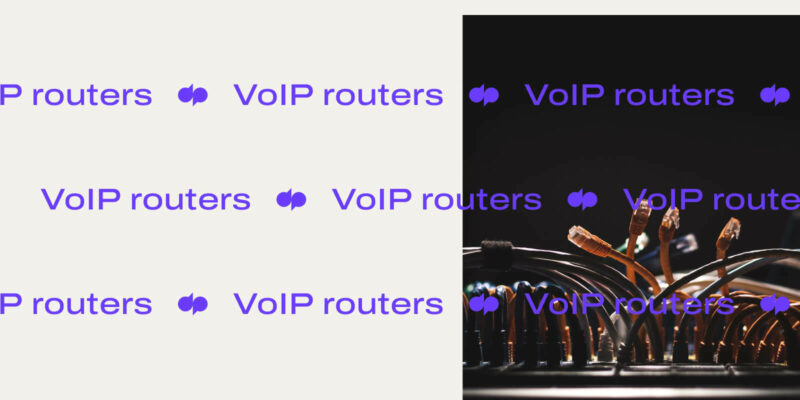 No matter if you're a small business or a global enterprise, you probably need the internet to work.
Especially if you're working from home, and especially if you have to take phone calls, or video calls—or message or SMS—with teammates.
And if you need to talk to prospects, customers, or clients? Your internet connection better be good.
For most businesses, you're probably communicating through most, if not all, of these channels over the internet.
Thanks to VoIP technology, we can even make phone calls—yes, over the internet. You know what that means: No more long-distance charges!
But even if you have a great network or a great unified communications or business phone app that lets you message your teammates, you still need one important thing. Most people overlook this thing, and instead blame their software or other tools for laggy calls, jitter, or bad internet...
When this thing is the real culprit.
Let's talk about VoIP routers.
But first… What are VoIP routers?
VoIP routers are what let you make those phone calls over an internet connection from your internet service provider, rather than traditional telephony methods. There are both dual-band (two signals) and tri-band (three signals) routers, depending on what speeds you need.
Most routers have something called high Quality of Service (QoS). This means that even if the network is experiencing high volumes of traffic, any VoIP call you make will not be interrupted.
👉 Dialpad tip:
If your business has multiple locations, installing VoIP routers in each location means you don't have to pay to make phone calls at those locations, since all calls will be made through your internet connection.
What VoIP router features should I look for?
If you're considering a VoIP router, then you've probably seen a ton of technical terms and jargon in your research so far.
The sea of acronyms (VoIP, LAN, MBPS—WTH?!) is enough to drown in, and aren't exactly the most helpful when it comes to VoIP troubleshooting and knowing how to solve issues.
To put you on the right footing at the outset, here are five of the best VoIP router features to look for... And—thankfully—a brief rundown of what they mean.
1. Quality of Service (QoS)
This one is more self-explanatory than other terms. As the name suggests, it refers to the overall performance of your router and the service it provides.
This feature means your router will prioritize traffic if you don't have quite enough bandwidth. QoS is a good feature for VoIP phones or if your network has high traffic volumes.
2. VLAN
VLANs (virtual LANs) can help with different issues like network security, network management, and scalability challenges.
A VLAN can help with segmenting your network, reduce the effects of network congestion, and keep your data safer.
3. Dual/tri-band frequency
A dual-band frequency operates at two different bands and means that speed can go up to 450Mbps at the lower band and 1300Mbps at the higher band.
A tri-band operates at three bands and can reduce any interference with signals significantly more than a dual-band device. It also offers high bandwidth so can provide clear calls and a better VoIP service.
TL;DR - The more bands, the better.
4. 802.11ac and Mu-MIMO
Oh man, here come those acronyms and codes again. But bear with us.
If your chosen router has 802.11ac, then that means it has LAN tech that improves performance and can provide very fast wireless connectivity.
Mu-MIMO is something relatively new and stands for "multiuser-multiple input, multiple output." This feature is good for networks where multiple users are accessing a network at the same time, and prevents a slowdown in speed.
5. H.323 and SIP Support
Look for H.323 if you do a lot of video calls.
It's a standard that supports video communications over an IP network and also enhances audio calls. So if your business has lots of video meetings with 10 or more people and folks are encouraged to have their video on, you'll need this.
SIP (Session Initiation Protocol) helps set up sessions between two points. It can help with other communications apps including messaging and file sharing.

The 10 best routers on the market
So, you have a rough idea of what you need or want your router to do, and how you want it to perform.
But how will different routers affect those essential features you regularly use on your software and apps? For example, if you're joining video meetings every day, how will your router impact the quality of those calls? (How much pixellation can you really stand?)
Ready to walk through how to choose the router that fits best with your day-to-day business needs? (Don't worry, we're not going to start throwing around terms like "fxs ports" and "SIP ALG.")
Let's look at some routers.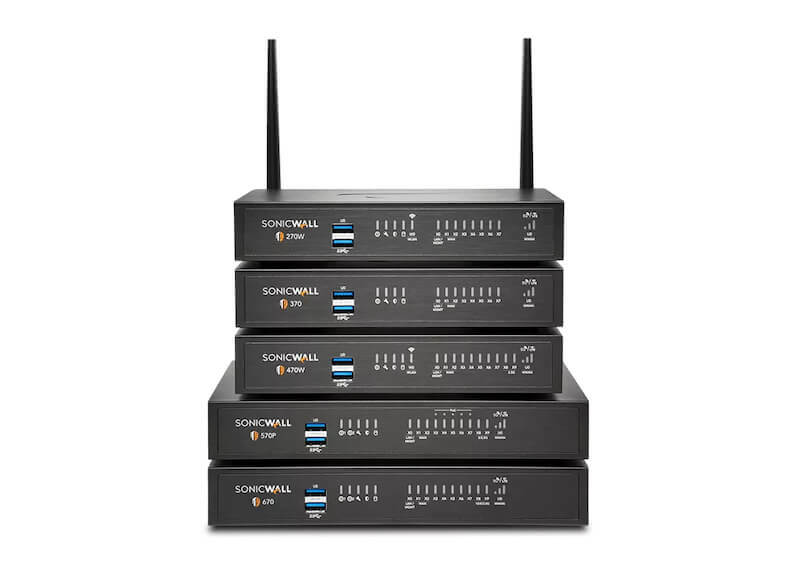 Cybersecurity is a bigger issue than ever before, especially with so many people now working remotely. Protecting your networks (and your data) is crucial, particularly for if you work at a smaller business that may not be able to afford a phone system with enterprise level protection.
The TZ series is designed with those businesses in mind (as well as for a business's branch locations).
The series avoids the complexity of some firewall systems and is not only easy to install and operate, but also so easy to manage that even the least tech-savvy person can use.
Bonus: It can detect even the most sophisticated of threats and attacks, and gives you advanced security and networking features, including cloud-based sandboxing.
By the way, if you need to take customer calls and have video meetings from home, Dialpad is a unified communications (phone, messaging, video—even a contact center) platform that has enterprise level security. And did we mention it comes with T-Mobile's work-from-anywhere package? Blazing fast internet—and a full-on business communications platform—that lets you have lag-free calls, even when you're working remotely.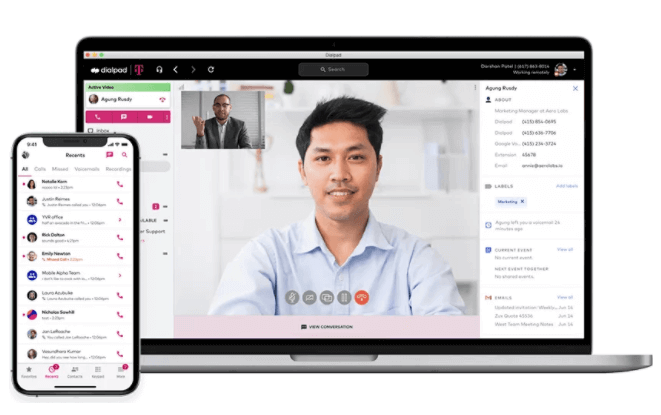 If you're working remotely from home, the EA9500 is a great choice.
It was specifically designed as a dual purpose unit for both home office and entertainment Wi-Fi use. So if you're doing a lot of streaming and working from home, it's perfect for it.
Another perk is the router uses Mu-MIMO so that multiple people can access the network simultaneously without compromising on speeds.
If you're using multiple devices, the EA9500 treats them all (laptops, phones, Smart TVs, and so on) as if each had its own dedicated router. This means you could be taking part in a lag-free video call (on Dialpad!) while your family is online, watching a streaming TV show, and gaming.

👀 Interested in remote or hybrid work tips?
Grab the Hybrid Work Playbook, which includes real-life case studies and breaks down all things hybrid + remote, from building and sustaining a hybrid workforce to equipping your team for success.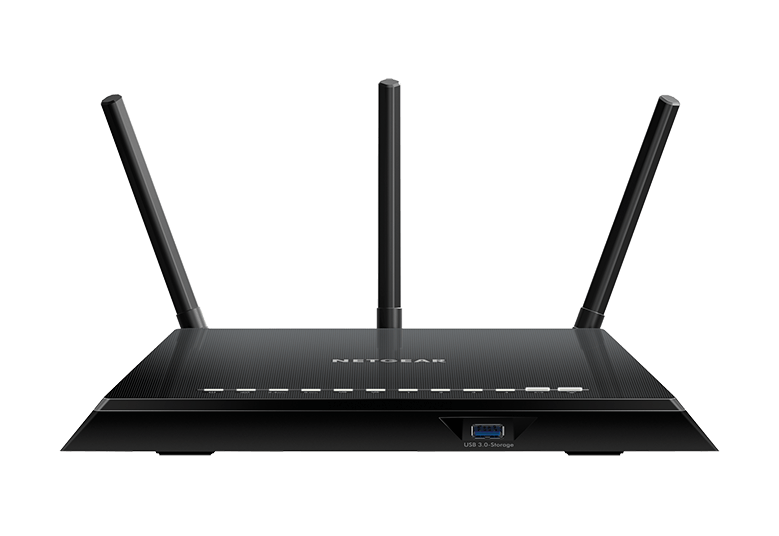 The AC1750 is another router that would suit home office and entertainment use, though it could also work well in an office environment.
It can provide Wi-Fi speeds of up to 450+1300Mbps and will give optimum performance for everything from online gaming and video calls, through to controlling your smart home.
For families, one bonus of the AC1750 is the Circle® Smart Parental Controls that allow you to manage both the time your kids spend online and the content they access. That could have some handy business uses, too. Not that you should treat staff like kids, of course (whether they act like it or not).
One of the standout things about this router is the area it can cover—up to 1,750 square feet from just one unit. That's enough to cover most average-sized apartments without any boosters. It also offers high-end QoS, making it perfect for HD streaming during work hours (and gaming or streaming outside them).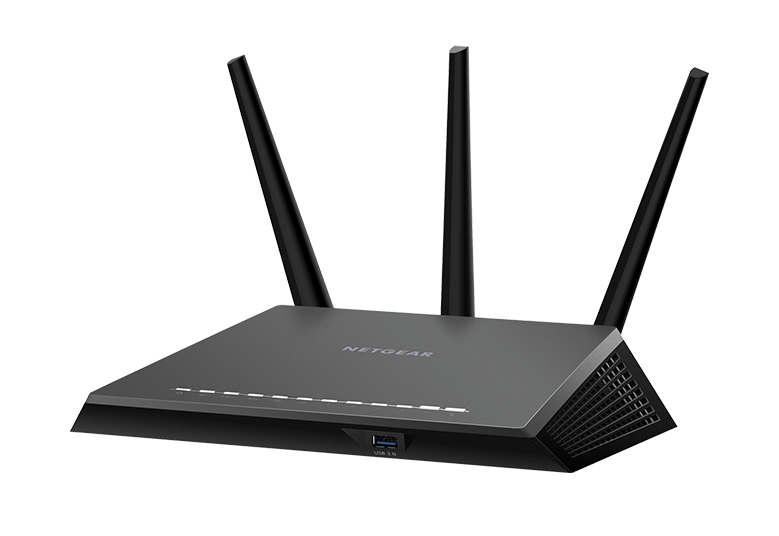 If security is a major concern, then the AC1900 may be for you. As well as super fast Wi-Fi speeds of up to 1.9Gbps, this unit also comes with NETGEAR Armor™, which provides advanced cyber security protection.
👉 Dialpad tip:
Speaking of security, Dialpad offers strict levels of security for businesses (including those in healthcare) and can help with GDPR compliance and other regulatory requirements.
Like the AC1750, the AC1900 has smart parental control options. And one subscription allows you to connect an unlimited number of devices, from your phones and computers or laptops, to any smart devices such as cameras and thermostats.
The powerful dual-core 1GHz processor that powers the unit boosts any type of performance from wireless to WAN to LAN.
Another good choice for home-based networks, the VR2800 claims to be the fastest VDSL modem router around, and can run at 2167Mbps on 5GHz or 600Mbps on 2.4GHz.
It also offers ports for VDSL (Very high-speed Digital Subscriber Line) with broadband speeds of up to 100Mbps.
One of the big advantages of the VR2800 is that its four antennas give you better and clearer coverage throughout your home. And the unit is powered by a 1GHz dual-core CPU with two co-processors, which means it'll constantly deliver a high level of performance.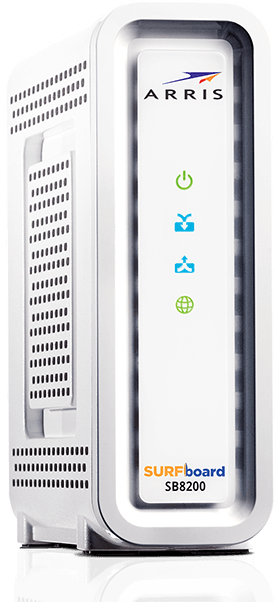 Another choice primarily aimed at home networks, this cable modem is ideal for any internet plan with speeds up to 2Gbps.
It's also compatible with most of the U.S.'s cable internet providers. As well as home office use, it offers optimum performance for things like VR gaming or 4K Ultra-HD video streaming, which means your video calls for work should be a piece of cake.
It's easy to set up and offers some of the highest speeds available, and also provides some of the best stability on the market so that whatever you're doing online, your experience won't be interrupted.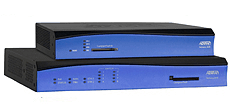 NetVanta offers high-end Multiservice Access Routers that are perfect for businesses.
Their 3400 series routers in particular are compact platforms that provide an IP router and high levels of firewall protection to keep your use secure. (It can also support VPN networking if you need it.)
If you're looking for good VoIP phone service and always-on connectivity (if you're in customer support and working from home, for instance), then this series is worth considering. It has all the business-level features you'd need in a router like QoS, NAT, and firewalls.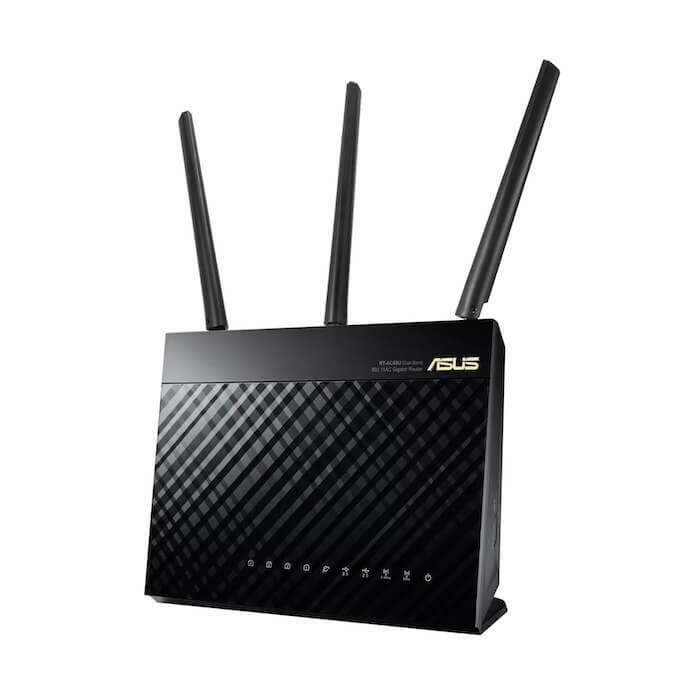 One of the pricier options on the market, the RT-AC68U justifies its price tag with equally high performance, so we'll give it that.
It offers dual-band lightning-fast Wi-Fi speeds of up to 1900Mbps, which makes it an ideal choice for office spaces, home use, or hybrid use. (Or maybe you've got multiple people in the same household working from home.)
Its ASUS AiRadar and high performance antennae means that your home or office space won't experience any dead spots. Go ahead, work in the corner of the basement!
And that high performance comes with high security, too. AiProtection (powered by Trend Micro™) identifies and blocks or neutralizes any threat to any device or smart device connected to your network. The RT-AC68U can be a great option for any office-based setup or can provide coverage for your entire home.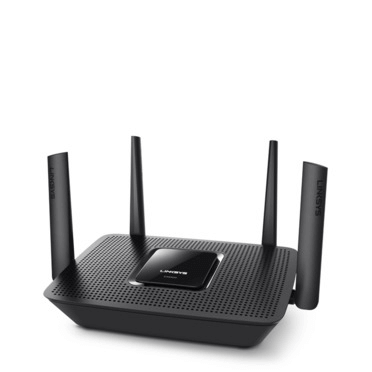 The EA8300 is a tri-band router that offers double the performance of most dual-band systems. The router has a Quad-Core CPU and 2.2Gbps of speed which makes it ideal for a business that has to do a lot of file sharing or data transfers.
It supports multiple devices with no effects on bandwidth so suits both small or medium-sized businesses and large households.
Because this router uses MU-MIMO, it can send a Wi-Fi signal to multiple devices simultaneously with no loss of speed. This means you can use multiple laptops or desktops in an office environment or a whole range of devices at home. It works as if each device has its own separate router.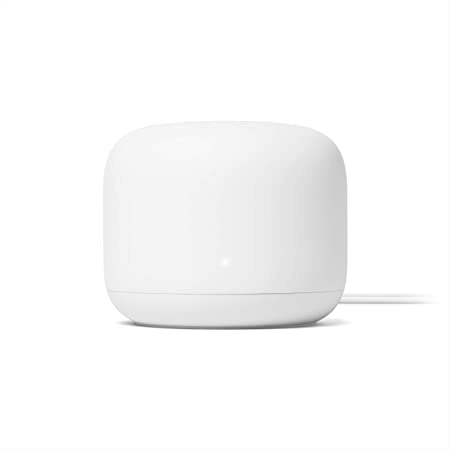 Google's Nest Wi-Fi system is both flexible and scalable, so can grow as your needs do, whether it's for an office network or a home-based system.
It offers coverage for an area of up to 4,400 feet, so it should cover most office spaces with a single unit. Because it covers such a large area, you can have an uninterrupted signal even when you're moving around the office on a call (audio or video).
Plus, the router can handle up to 200 devices at any one time, so you can have a pretty large team using it.
Oh, and if you have Google Assistant or Alexa, Nest can integrate pretty easily with these systems too.
Like most Google devices, it's designed to be easy to use. You can set up and configure your Wi-Fi network right in the app with just a few clicks. And that's it, you're ready to go!
Ready to pick a VoIP router?
There is little doubt that switching to VoIP brings a lot of benefits to your organization. But that initial decision to switch leads to a whole raft of other decisions. For example, Dialpad is a softphone option that works across all devices. So do you save money by allowing employees to use their own device? Or spend more of your budget to provide them with desk phones?
Choosing your communication system is one part of the puzzle. But choosing the right VoIP router is just as important. Knowing what issues you may face and what security protection both your router and communication systems will use can help you make the right decision.
Pair your VoIP router with the best communications platform
Take phone and video calls, send SMS and instant messages—and communicate however you need to, with anyone, from anywhere. Test drive Dialpad with a 14-day free trial! Signup takes just a few minutes, and you'll be set up with a virtual phone number too. Or, take a self-guided interactive tour of the app first!
How do I solve VoIP problems and troubleshoot my router?
Wouldn't it be great if all the tech you used was guaranteed to be problem-free? Sadly, that's not the case. (We wish.) But the majority of issues are solvable or avoidable. Wired routers have slightly different issues than wireless routers:
Wired: One thing to consider is that wired connections, even though they're old fashioned, generally give you the best quality connection-wise. Always check that the cables you use match the specifications listed for your network speed. Keep an eye on the error counters on your router for notifications of problems with cables or ethernet ports.
Wireless: If you experience any issues with your VoIP phone system, then there may be a number of common router problems that may be the cause. In some cases, your router may need updated firmware. It might also be an external issue:
Physical. Your Wi-Fi signal is a form of radio signal and, because of that, it may be affected by physical obstructions such as metal, concrete, stone, hardwoods, and even glass. (The same reason why reception is terrible on the subway.)

Congestion. Like many other things, Wi-FI channels can get congested. A good router should scan local channels and choose the one with the least amount of networks, but this doesn't always happen. Use the scanner software in your router to check, or use a third-party app to check all local channels.

Protocols. This dives into jargon a bit, so grab your favorite IT person if you need to. Wi-Fi protocols might sometimes be the cause of your issue. Most wireless antennas can only use one protocol at any time. If all your devices are using the same protocol, then you shouldn't have any issues.
What are the main types of routers?