Back to Blog
Inbound calling: 6 inbound call handling tips to provide great agent and customer experience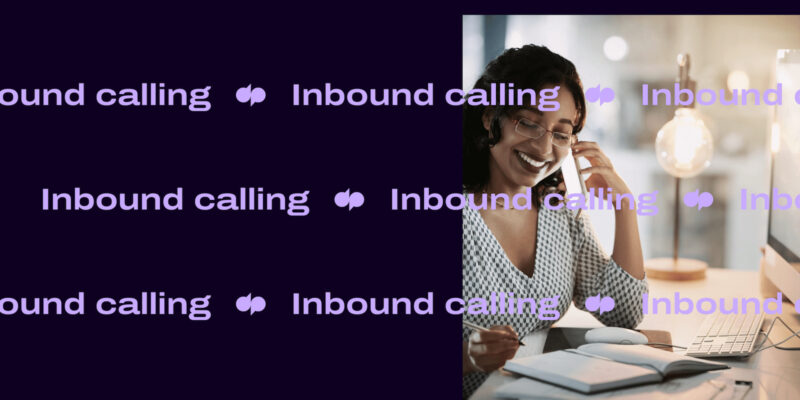 If you work at a business that receives a lot of phone calls on a daily basis, you need an inbound calling strategy.

It can have a huge impact (positive or negative) on your customer experience, and depending on your incoming call volumes, can also affect your employee experience.
To add to the complexity, the reasons for these calls can vary widely. Some calls are about customer support questions, while others might be inquiries from prospects who are interested in your products or services.
In this post, I'll walk you through some strategies for better managing incoming calls.
First, let's have a quick refresher on what "inbound calling" encompasses.
What are inbound calls?
Essentially, "inbound calling" is when someone initiates contact with your business by phone—these calls are coming in to your team.
You can receive inbound calls for any number of reasons. Unless that phone call goes to a phone number dedicated to a specific purpose, such as your help desk or technical support, you usually have no idea what the reason might be. You just have to be ready to react to the call.
Depending on the size and nature of your business, inbound phone calls may be handled by any of your staff (if you're a smaller business) or a contact center (in-house or outsourced) for larger enterprises.
👉 Sidenote:
Outbound calling is, of course, when you initiate contact with the customer (or potential customer). Where inbound is reactive (you might have no idea of the reason for the call), outgoing calls are proactive, as you know why you're calling the customer or prospect and can prepare in advance. Many outbound call centers are staffed by sales teams who cold call leads.
Key differences between outbound and inbound call handling
With inbound call handling, you need an excellent call routing system set up so that agents get the right calls routed to them. Any efficient inbound contact center team should be broken out into specialties—this is why, when you call an airline, you'll typically hear options to press 1 to speak to a bookings and reservations agent, press 2 to speak to an agent about flight rewards questions, and so on.
Outbound call center teams are often broken out like this too, but this is especially important for inbound teams because they get so many inquiries (about so many different topics) on a daily basis. It would be very hard to train every single one of your inbound agents to be experts on every single topic so that they can answer any call that comes in. It's much more efficient if you train groups of agents to specialize on different topics so that they can answer those questions more quickly and accurately.
With inbound call handling, you'll also have to think about languages, regions, and other ways of segmenting inbound calls to help those calls get routed automatically to the right inbound teams. For example, if you serve customers who speak English, Spanish, French, Japanese, and Cantonese, you'll want to have separate inbound teams who can speak those languages.
6 inbound call management strategies to help create a better customer (and employee) experience
1. Use your voice channel as one part of a multichannel or omnichannel approach
Today, many call centers are becoming contact centers. Why? Because phone calls are just one of a few communication channels that customers are using to reach out to businesses.
There's also live chat, social media messaging, SMS, emails, and more.
With Dialpad's cloud contact center solution, our team can handle not only phone calls, but also other digital communication channels like live chat messaging and social media as well, which is great because it lets us view all of those customer interactions in one place (Dialpad also has integrations with other tools like Salesforce and Zendesk):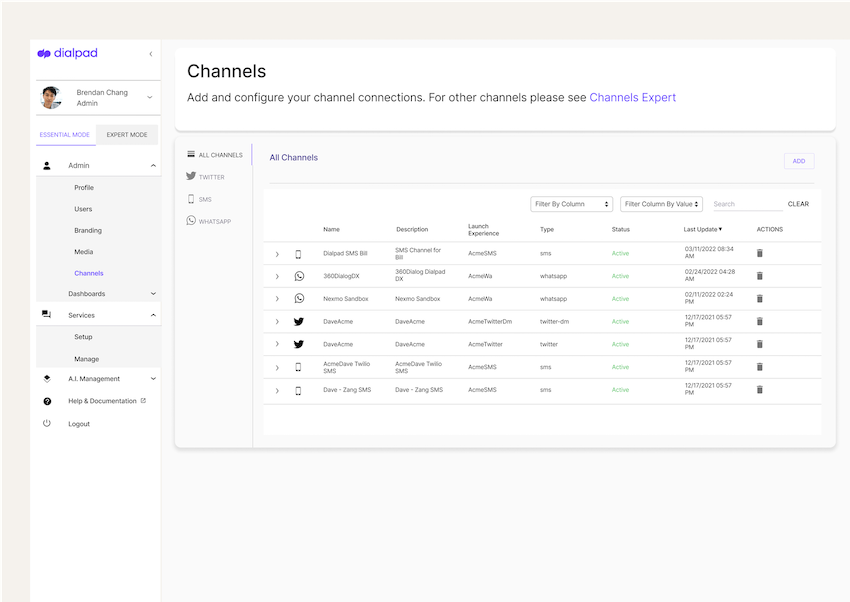 It makes life easier for your inbound call center agents, and not only can they interact with your customers and callers more easily, the Dialpad app's messaging feature also lets them chat with their supervisors or managers in case more challenging issues come up.
👉Further reading:
See how PadSplit, a US-based startup, grew their customer support team and easily trained remote agents in the Philippines to support a more efficient—and cost-effective inbound call strategy.
2. Make data easily accessible
Customer data is one of your most important tools if you want to improve your inbound calling strategy.
This information helps you (and your agents) understand customer behavior—specifically, the why, when, and what of their wants.
Dialpad Ai Contact Center makes it easy to track all your key metrics and make better decisions across different areas of your contact center. There are heat maps that show call volume patterns and also your average speed of answer:
You can get pretty much all the data you need to manage your inbound call center strategy including received and unanswered call trends, how frequently keywords are coming up in conversations, and more (and all of this comes included with Dialpad Ai Contact Center—you don't need to pay extra or ask the Support team every time you need certain information):
Beyond that, Dialpad lets you integrate the most popular CRM tools such as HubSpot and Salesforce so that your agents can access any relevant information with the click of a mouse. It also has an open API to allow you to integrate any of your existing software.
This enables our agents to see not only what a customer has previously bought from us, but also a record of their past communications. This can help resolve any current queries and also makes it easier for our Customer Success reps to identify opportunities to cross-sell or upsell.
👉Dialpad tip:
Learn more about what kinds of KPIs and metrics a contact center should keep track of.
3. Have a call deflection strategy
You can't control how many calls your contact center gets. It's just not possible.
What you can control, however, is the way in which these calls get routed—or deflected—so that you're making the best use of your agents' time and abilities.
Dialpad's IVR (interactive voice response) and ACD features can take a lot of manual and repetitive work, like routing callers to the right departments or people, off your agents' hands. Plus, these automated self-service options allow them to find information at their own leisure—even after hours, which can make for a better customer experience.
And if you're ever worried about whether you're being too hands-off and relying too much on automation, Dialpad lets you see how your IVR menu is being used (or not used) so that you can test and refine the menu options as you go.
For example, if you find that people aren't hitting the pound key on the phone to hear your business hours, you can remove that from your IVR so that callers don't have to listen to the automated voice read through that option:

Human resources are finite. It's generally best to be as efficient as you can with your agents' time and let them focus on the high-value work that only they can provide: solving more complicated or nuanced problems for your callers.
👉 Dialpad tip:
Of course, it's not possible to deflect every single call. Make sure that whatever contact center software your team uses has call handling functionality that can help them manage inbound calls more effectively (like call routing, forwarding, and parking options).
4. Make continuous training a priority
Working in a contact center demands professionalism, empathy, patience—and a comprehensive knowledge of the products and services you offer.
Don't just throw your agents into the deep end of the pool and expect them to solve every problem on the first call. If you don't already have a plan in place, now's the time to start thinking about training and coaching.
Your products and services are probably evolving over time. Your customers may also ask about different things when they reach out to you. Empower your agents! It helps you provide not only better customer service, but also a better agent experience.
One way we do this in our own contact center teams is by giving our agents real-time assistance via RTA (Real-time Assist) cards:
These are fully customizable mini cheat sheets—you can create RTA cards for different topics and set them to pop up automatically when those topics or keywords are spoken on a phone call.
The screenshot example above is about porting a phone number, but let's say someone calls your auto insurance company to ask if theft is covered. You could create an RTA card that has notes about what's covered for car theft—and make it trigger automatically when a caller says "theft" (yes, you can even choose whether you want it to trigger only when your agent or customer speaks—or when either party says that keyword).
If your business receives a large variety of inbound calls, or regularly hires new agents, this is great to have because it allows you to coach your agents on how to respond to tricky questions—without personally being on every call.
5. Use something that integrates with your customer service software (if you're using one)
One of the most useful things to have, in any type of call center or contact center, is a phone system or call center software that integrates with the customer service software you're using.
For example, Dialpad integrates with popular tools like HappyFox and Zendesk so that when agents receive inbound calls from customers, they can see their whole relationship history with the company right away without leaving the customer service software—which saves them from having to search for information in different windows and tabs. It also embeds a CTI dialer right inside those tools: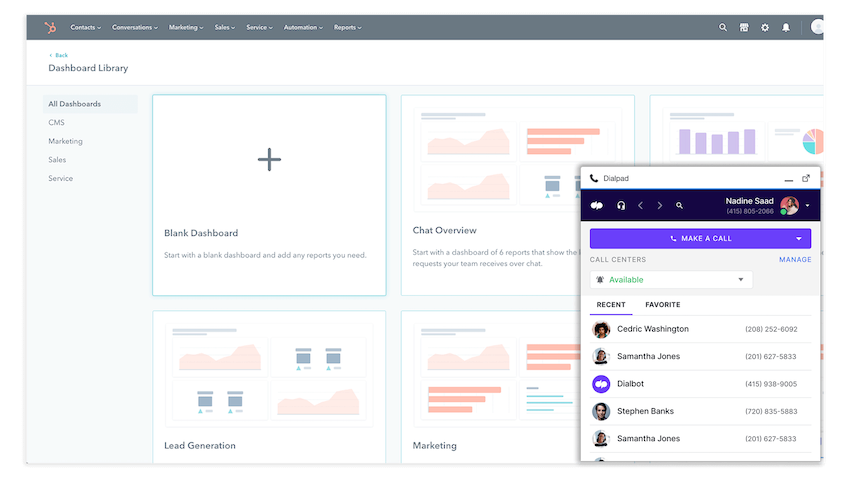 6. Use outsourcing strategically
Making the decision to outsource your inbound contact center can depend on a few factors—often, it's a way of controlling costs or managing resources more effectively. Here are two big reasons that companies will consider outsourcing their inbound call centers:
It's cheaper - Costs are a big consideration for any business, and outsourcing your contact center can help you save on things like salaries, training, and equipment.

Better coverage across different time zones - If your business has an international customer base, then people will likely want to get in touch throughout the day and night. An outsourced contact center means you can extend your customer support hours to 24/7 (or close to it) without hiring in different regions if you're not ready to do that yet.
Long story short, outsourcing this part of your business can allow you to focus on other revenue-driving activities that are better kept in-house and improve customer satisfaction efficiently.
What inbound call solutions or software will you need?
If your business is growing—along with your call volumes—and you find that your team isn't able to field customer inquiries as comfortably as before, then it's time to consider a new (or better) piece of inbound call center software or contact center solution.
It doesn't necessarily need to be fancy, but having a well-designed virtual contact center can go a long way in streamlining processes for your agents, improving efficiency, and most importantly, keeping your customers happy. Look for AI features like real-time transcriptions, call summaries, and agent assists, which can help both your agents and supervisors provide a better customer experience in real time.
Handle inbound calling more effectively
If you run a contact center that receives hundreds or thousands of inbound calls a day, and need a way to better route those calls and empower agents to answer questions more effectively, why not take a look at Dialpad's AI-powered customer engagement platform? From call analytics to omnichannel customer service features to AI-powered QA scoring, it comes with a plethora of advanced functionality that's already helping global organizations like Randstad provide better service. See how it works now!
A better way to manage inbound calls
See how Dialpad can make life easier for not only your inbound agents, but also your supervisors! Book a demo, or take a self-guided interactive tour of the app on your own first!
FAQs about inbound calling
When should you not outsource your inbound call center?
If you're receiving calls infrequently (basically if you can manage your incoming calls comfortably with the people you already have) to warrant it, then it's probably not time to consider outsourcing yet.
The other consideration is control—no matter how well you train an outsourced team or how good they are, the reality is that outsourcing will reduce how much control you have over the services provided.
Business process outsourcing (BPO) will always carry a degree of risk in this respect. Most providers also want to minimize costs while maximizing revenue, so it's crucial that you not only choose a transparent and established provider but also that you negotiate good levels of oversight in any SLA (service level agreement).
Can I use the same software for inbound and outbound contact centers?
How many inbound calls should an agent handle?