Back to Blog
The 10 best UCaaS providers of 2022 for businesses, ranked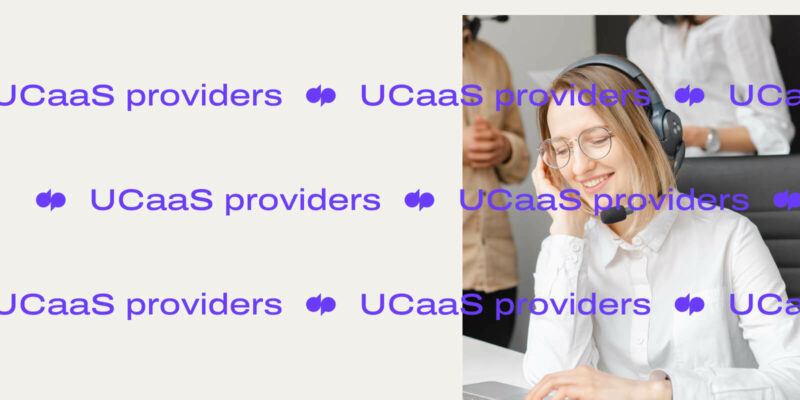 If you're in the market for a unified communications solution for your business, you've probably noticed two trends. The UCaaS market is booming, and every competitor agrees on one thing: their solution is the best.
Choosing the right UCaaS provider for your business can be, well, let's say challenging. With so many seemingly similar solutions out there, how do you know which one is going to meet the demands of your business? Where do you even start?
Well, we took nine of the top contenders and broke down each one to give you a better idea of the range of options there are, and what the most common things to look out for are.
What is unified communications?
A unified communications platform (sometimes also called UC) refers to a software that integrates multiple communication channels in a software or app. These channels include voice, video, and messaging mainly—but can also include other things like voicemail and file sharing.
The first generation of unified communications solutions required on-premises hardware to deliver those communications functions.
What is UCaaS?
According to Gartner, Unified Communications as a Service (UCaaS) is "a cloud-delivered unified communications model that supports six communications functions."
These functions include enterprise telephony, meetings (audio, video, and web conferencing), unified messaging, instant messaging, mobility, and communications-enabled business processes.
The other difference between UCaaS platforms and traditional unified communications providers is that UCaaS solutions are deployed in a virtual cloud environment. This means that businesses no longer need to pay for and rely on a colocated physical infrastructure. Instead, the UCaaS service provider manages all the data and processing through data centers and servers.
In addition to all the same functions as on-premises UC solutions (like telephony, audio and video conferencing, and instant messaging), UCaaS service providers also come with a whole range of additional features.
These include screen sharing, real-time transcriptions, and contact center software (either as a separate solution or an integrated part of the UCaaS platform).
A major benefit of UCaaS systems for the growing remote workforce is that they can be accessed from anywhere on any Internet-connected device, from computers to mobile devices like smartphones.
For example, Dialpad is a UCaaS platform that has a desktop and mobile app (sometimes called a softphone app) that lets you make calls, text, and start video meetings in one place: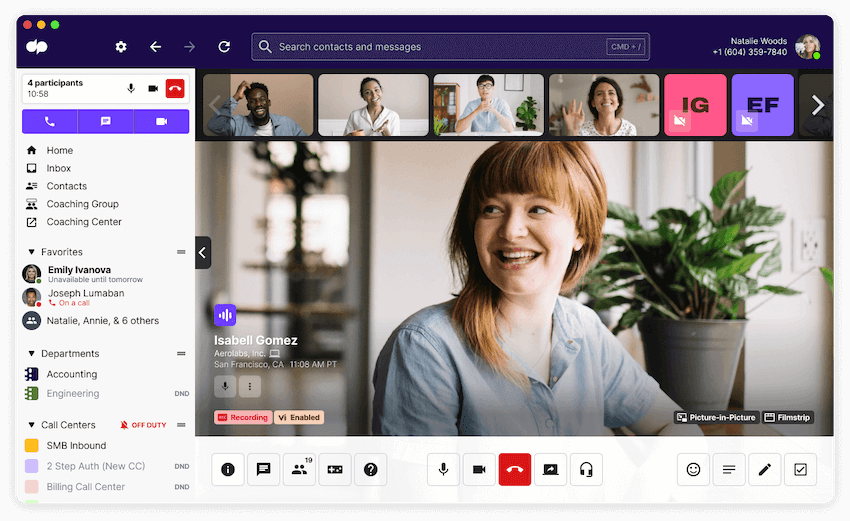 The "as a Service" element of the name refers to what the pricing models of UCaaS platforms are like. Typically, UCaaS providers would charge you monthly or annually on a subscription basis. This makes UCaaS a more affordable option for startups or small businesses that want to avoid paying huge upfront costs for their business communications solution.
👉 Fun fact:
There are a lot of providers that used to offer only telephony or used to be on-premises services but have tried to evolve into UCaaS platforms. Often, their technology hasn't quite caught up with their reputation. Make sure to do your research before selecting a UCaaS provider.
The differences between "UCaaS" and "VoIP"
Voice over Internet Protocol (VoIP) and UCaaS are often mentioned together, and there are some key differences between the two.
Think of VoIP as a telephony technology or function within a UCaaS solution that facilitates voice communications over the Internet.
In most cases, if you're using a UCaaS solution that lets you make phone calls over the Internet, it contains VoIP technology. That includes features beyond just making phone calls—like call routing, voicemail, and so on).
Here's a closer look at some of the key differences and similarities between VoIP and UCaaS in various different areas.
What to look for in a UCaaS platform
Fully integrated communication channels
This is the biggest thing: you should be able to communicate through different channels in your UCaaS platform—in one place, without toggling back and forth between separate apps or windows. For most organizations, these are the three main channels to consider:
Voice calling
A UCaaS system should enable you to make high call quality voice calls from any IP phone, desktop, or mobile device.
The thing to look for here is pricing. Some UCaaS providers will charge you by the minute for outgoing calls, while others will give you unlimited inbound and outbound calling. What makes it tricky, of course, is that the ones that charge you by the minute will probably have a seemingly cheaper plan—always check the fine print.
Instant and SMS messaging

If you want to be able to message your teammates internally and also clients or prospects externally, then look for a UCaaS solution that gives you both of those options. (Not all of them do!)
There are also some phone services that only provide SMS messaging at a relatively low price, but that's pretty limiting and doesn't let you do other things like video conferencing.
Video meetings
Speaking of which... Video meetings are the third "essential" UCaaS functionality to look out for. Whether you want to do one-to-one web conferencing with clients or get your remote team together for a conference, video capability is a must for most businesses.
The key feature to look for with video conferencing is the ability for someone to join your meeting without downloading the app. This is especially important if you have regular video meetings with clients or prospects, because they may not always be comfortable downloading an app.
For example, with Dialpad, anyone can join a video meeting on their web browser by clicking a link—no downloads needed: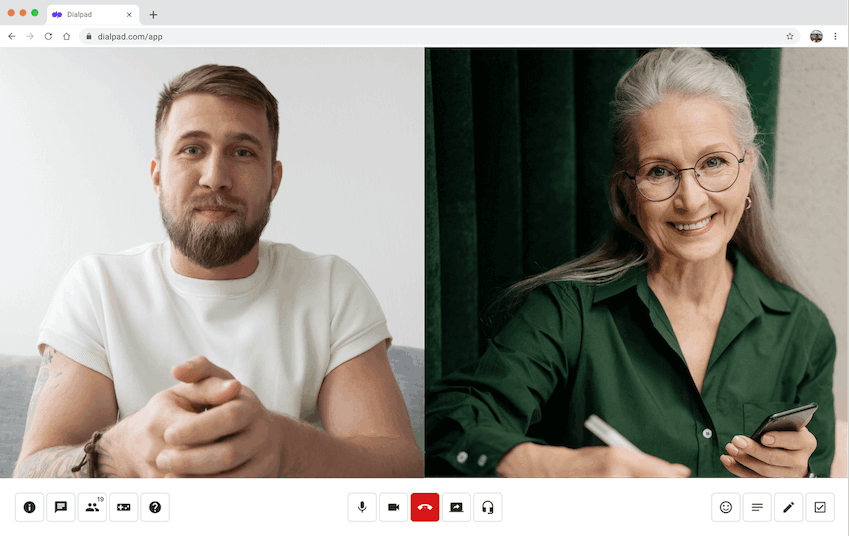 On a related note, screen sharing is also important, especially if you need to review designs or visuals with your team or with clients. With Dialpad, you can do screen sharing with just a click—and you even start a screen share with clients by sending them an SMS with a link. Again, no need to download anything. (Our sales team loves this feature.)
Voicemail
Voicemail is a commonly overlooked feature, but it's important because it allows your callers to leave a message when their call isn't answered. Some UCaaS providers may charge for voicemail or voicemail storage, so look out for that one in the pricing.
Dialpad comes with voicemail and custom voicemail greetings even on the most basic plan, and also has visual voicemail. This feature transcribes your voicemails so that you can read them and get caught up instead of having to listen to each one—which comes in handy if you're in lots of meetings and don't always have time to listen to voicemails:
Call routing
If you or your business gets lots of calls, then call routing is useful to have. This feature places calls in a queue before routing them to the appropriate agent or department. Dialpad has easily customizable call routing options to help you make sure every call goes to the right person: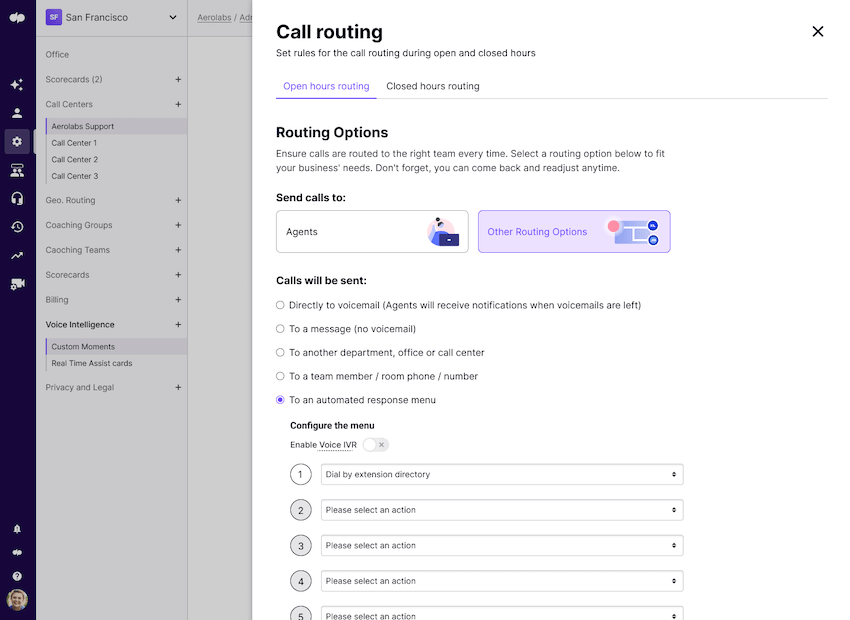 Time to implement
This isn't a feature, but any UCaaS solution (or VoIP business phone system) should be able to be easily implemented, without taking too much time.
Of course, every case is different, and getting a 50-person company set up is going to take a different amount of time as a 10,000-person company, but for most businesses, getting started should be as simple as signing up for a monthly or annual plan, downloading the softphone app onto your computer or mobile device, and starting to make calls.
Cost
This is a big consideration for most businesses. My best tip here is to always, always check the fine print. Most UCaaS systems follow a very similar pricing model: you can pay month-to-month or annually. The annual option will almost always be anywhere from 5 to 15% cheaper—because of course, companies would like the security of having an annual subscriber as opposed to someone who can just leave after a month or two.
In addition to the price tag for each plan, look closely at what comes included in each tier. Many UCaaS providers will nickel and dime you on every little feature—anything from real-time transcriptions to voicemail to three-way calling, and more. (Dialpad's lowest tier comes with all three included at no extra charge.)
If you're interested in learning more about VoIP costs, I wrote a detailed article about it here.
Maintenance and troubleshooting
With both VoIP and UCaaS solutions, maintenance and patching should be the responsibility of the service provider, and updates should be free and carried out automatically.
Here, you'll want to look at what kind of customer support you'll get at each pricing tier. Typically, the lowest tier will come with a more limited level of support (like 24/5 instead of 24/7 support), whereas the upper tiers should come with 24/7 support over every channel including phone and live chat.
👉 Dialpad tip:
It's pretty rare that UCaaS providers will have basic tiers with no support at all—and if a provider that you're considering does have that, it's probably best to look at other options because there are many UCaaS solutions that will come with some level of support, even on the cheapest plan.
The 11 best UCaaS providers of 2022
1. Dialpad: A truly unified communications solution designed for hybrid and remote work
We might be biased, but hear us out.
Dialpad is a leading cloud communications platform that includes a built-in VoIP phone system, SMS and instant messaging, video meetings, and a lot more.
And because it's built on the Google Cloud Platform, Dialpad provides unparalleled flexibility, reliability, and scalability. Need to add a user or another VoIP phone number? You can do that in minutes, right in your online account: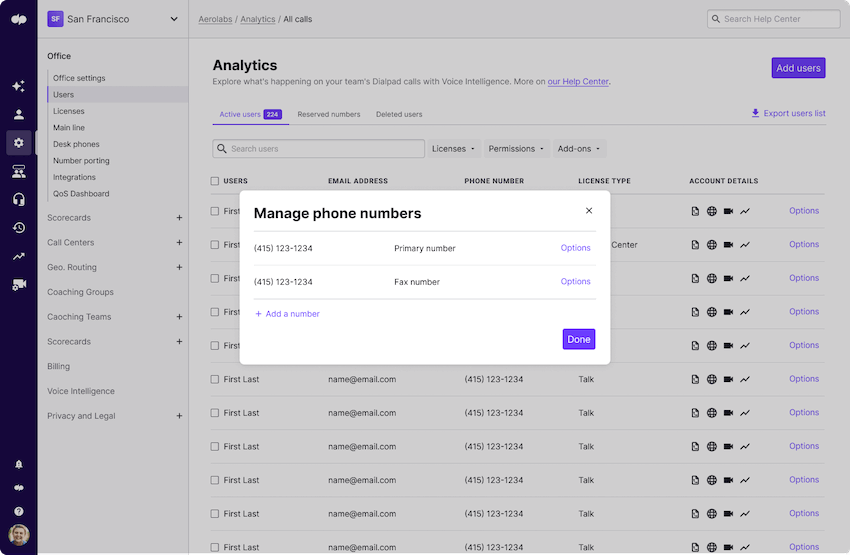 It's easy to use, easy to scale—and perfect for both small businesses and large enterprises.
Oh, and it also has fully integrated contact center (or CCaaS) functionality. If you have a customer support or sales team, or just need to handle a high volume of communications with a certain group of people, that's built right into Dialpad's app. Unlike many other UCaaS and CCaaS providers, this is all unified into one app and one user interface. You don't have to log into different accounts in different windows, or have to get used to two different user experiences.
Basically, it covers pretty much all of your business communications and customer experience needs.
The other unique thing about Dialpad as a UCaaS provider is its proprietary AI technology. We call it Voice Intelligence (Vi), and it's built into all of our products. What it does: transcribe calls—in real time—but not only that, it can also track keywords and topics that come up in customer conversations.
(Want to see how often your competitors are being brought up in calls? Or maybe how many customers are calling about refunds this month? You can track all of that in Dialpad.)
Best features
I can't include all of Dialpad's extensive list of features, so here are a few favorites in a quick rundown:
Fully unified communications in one place, with a desktop and mobile application that lets you check notifications, handle all your communications, and work from anywhere

A global voice network and data centers that ensure high quality calls, all around the world

Robust call management features including call recording, call forwarding, and more

Integrations with a range of business apps, CRMs, and more to enhance your team's productivity and collaboration (like Salesforce, Zendesk, and Microsoft 365)

An open API so that you can build your own custom integrations if you want to

A number porting service so that you can keep your existing phone numbers and just transfer them to Dialpad

100% uptime SLA for Enterprise customers
8x8 is a UCaaS platform that's been around for a long time—before cloud communications was really around. It has the usual suspects: audio conferencing, video, SMS messaging, and an auto attendant.
It's not as modern a platform as some of the other options on this list, like Dialpad, but overall it's a popular and relatively reliable UCaaS provider with businesses (safe to say, since it's a public company), so it's second on the list.
Vonage is another VoIP business phone system that offers a range of basic unified communications features—and actually is also heavily focused on the residential phone service side of the business.
It's one of the more expensive UCaaS solutions on the market, and it doesn't offer a free trial version. And if you want access to basic UCaaS features like video calls, conference calling, and text messaging, you'll need to pay extra.1

🛒 Looking for a communications solution?
Our CIO put together a Buyer's Checklist for Business Communications Solutions! Get her tips and insights from years of buying software.
4. Zoom
Initially just a video conferencing platform, Zoom is expanding its product to include voice calling and SMS text messaging.
That being said, it's much harder to build a telephony product than a video conferencing product, and compared to some of the other UCaaS providers on this list which started out with robust phone systems, Zoom is still catching up in some of these features (like call routing.)
Then there's the fact that it's prone to security issues and is a popular target for hackers and other unwanted guests (perhaps because of how popular it's been with a consumer audience). Even though pricing has always been a big reason why Zoom is popular, its UCaaS pricing is actually quite comparable to many of the options on this list. (Learn more about the best alternatives to Zoom.)
5. Microsoft Teams
Microsoft Teams is a UCaaS solution that facilitates business communications through voice, video, and other collaboration tools.
Microsoft Teams is a popular option for businesses because of its name recognition, but it does have its limits. Like some of the UCaaS providers on the list that didn't start out in telephony, this is a challenging part of the product to build out and takes time.
If phone calls are a big part of your business communications, then this might be a limiting factor. (There's a reason why direct routing integrations—with many telephony-focused UCaaS solutions on this list!—are so heavily used with Microsoft Teams.)
Webex (aka, Cisco Webex) is a UCaaS platform that offers collaboration features like video conferencing, chat, screen share, and meeting recordings.
It started out as a video conferencing platform that was then bought by Cisco—and this is reflected in its pricing plans. While it has a few tiers to choose from and at first glance looks like it comes with the usual functionality like video conferencing and messaging, phone calls come at an added cost.2
If you need to make phone calls regularly for work, this isn't the best option.
7. HubSpot
HubSpot is a VoIP and communications provider that unifies all your internal and external communication channels within their all-in-one CRM solution. Along with calls, HubSpot logs all your emails, live chat, chatbot, and all other outgoing communications with your customers and sales leads.
With HubSpot, your customer interactions are saved within your company's account. Each customer ticket is shared and available to your marketing, sales, and customer service teams. This feature empowers your teams, who can actively work together to provide the best customer experience possible.
While HubSpot is a pricer UCaaS solution, it provides the ability for small companies to scale and grow with their pricing packages. This provides an all-in-one tool that companies can use to organize and manage their entire businesses.

RingCentral MVP (previously known as RingCentral Office) is another unified communications platform that's been around since the PBX days.
RingCentral is also public, like 8x8, but as a Goliath in the space, its telephony and technology reflect it. (I won't go into too much detail—in the interest of not being too biased, try out a few free trials from the options here and read the customer reviews.)
Like Dialpad Ai Contact Center, RingCentral has a call center product—however, it's not RingCentral's own software and it's not fully integrated with its UCaaS product. (RingCentral is reselling another company's call center software.3) That means that if you need customer support, you'd likely be directed to a third party—and the user interface between UCaaS and CCaas will be quite different.
Fuze is another UCaaS solution that offers cloud communications for businesses. Like some of the other providers on this list, Fuze doesn't come with unlimited calling.4
If you need phone calls for, say your sales or customer support teams, then this option might end up costing you quite a bit.
10. GoToConnect
GoToConnect is a popular UCaaS solution that isn't quite as big as RingCentral and 8x8. It does have cloud telephony, SMS texting, video calling, a mobile app, and a few other features.
However, GoToConnect's pricing is on the high side. The lowest plan is almost double the cost of Dialpad's lowest plan, and not because it comes with more features either.5
Nextiva is another name you'll likely come across when you're looking for a UCaaS solution. However, like RingCentral, it also whitelabels other companies' software. In this case, it's reselling both its UCaaS product6, and also its CCaaS product.7
That means two very different accounts, and two very different user experiences.
What does UCaaS look like in the future?
Modern UCaaS isn't limited to just traditional functions like phone calls, chat, voicemail to email, and presence.
Some UCaaS systems are starting to expand to include contact center functionality, which means that not only office workers can stay connected internally as well as externally with customers from a single unified platform—this includes contact center agents and supervisors too.
Good UCaaS platforms also integrate with an extensive range of business software and apps. This is a trend that's already quite obvious, but it should continue to grow even more in the future. With so many tools out there, integrations are essential for streamlining workflows.
(Just look at consumers, who are reaching out to businesses over not just phone calls now, but also email, live chat, social media, and more.)
Enable business communications with the top UCaaS providers in the industry
If you're looking for a communications system for your business, the good news is you're spoiled for choice. But even though there are plenty of great options to choose from, choosing a solution that offers a range of advanced features and provides the flexibility, mobility, and scalability you need to grow your business is a little tougher.
Be sure to select a UCaaS system that'll continue to serve you well in the future, too. This means looking into how service providers are using technologies like artificial intelligence and machine learning to further enhance business communications and collaboration.
After all, your business phone system should be able to scale up (or down!) with your business.
Looking for a UCaaS provider that is easy to use and scalable?
And that can handle all your internal and external communications? Take Dialpad for a test drive with a 14-day free trial!
1vonage.com/unified-communications/pricing/?bypassgeoloc=true
2webex.com/pricing/index.html
3contact-centres.com/ringcentral-and-nice-expand-and-extend-contact-centre-partnership/
4fuze.com/fuze-rates
5goto.com/pricing/connect
6talkingpointz.com/nextiva-competing-around-the-customer-experience/
7businesswire.com/news/home/20210609005705/en/Nextiva-and-Five9-Team-Up-to-Help-Businesses-Deliver-Seamless-Customer-Communications