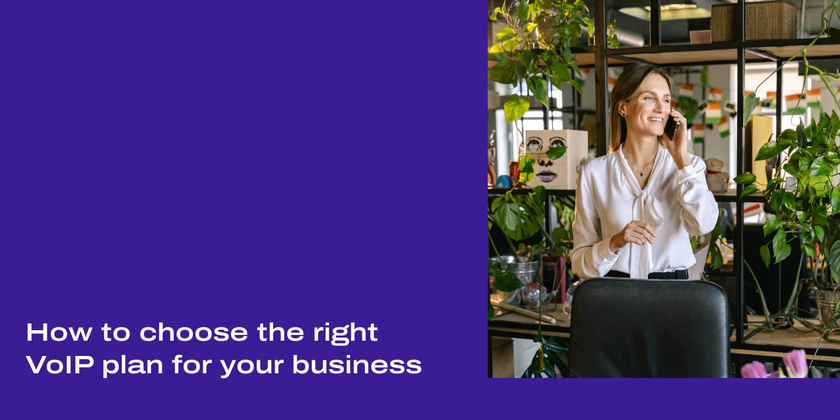 September 23, 2021
Before the Covid-19 pandemic hit and changed our world forever, Voice over Internet Protocol (VoIP) was growing quickly and steadily due to features like lower costs and easier maintenance compared to traditional landlines.
That all changed in 2020, when the VoIP industry exploded as a majority of industries switched to remote working protocols. For example, many schools adopted virtual learning and the healthcare industry began conducting "telehealth" visits due to the pandemic. The VoIP industry was valued at $30 billion in 2020—and is expected to grow to $95 billion by 2027.
As demand for Voice over IP​​ skyrocketed, many VoIP providers expanded their VoIP plan offerings, improved products, and worked out challenges in order to help as many organizations as possible make a fast and smooth transition to the virtual world.
The result? Now, when it comes to choosing a VoIP phone service provider, there is an overwhelming number of options. There are countless VoIP phone systems, hundreds of VoIP features, and multiple packages offered by each provider. So how should a business go about choosing an enterprise VoIP plan?
In this post, I'll be answering all of your FAQs about different VoIP plans and pricing. Having worked in the cloud communication and telecom space for nearly 15 years, I've seen firsthand how providers evolved their pricing and offer to better suit each customer's needs:
Although there are seemingly endless options when it comes to VoIP, there is a perfect plan for every business. VoIP plans are not "one-size-fits-all" and finding the right plan will take some thoughtful planning and research, but it is worth it to find the perfect communication solution for your unique business.
Start with your needs
It's best to evaluate your business communication needs before starting your research on providers. If you know exactly what you need for your office to run smoothly, you will be able to eliminate many options right away. The first question to ask yourself is whether you need residential or business VoIP.
Basic vs advanced VoIP phone plans
Basic VoIP service, as one might expect, caters to the needs of individuals and really small companies. This means that a basic VoIP phone plan generally includes one, or possibly two, phone lines, one or two voicemails, limited features, and cheap, straightforward pricing.
A small business may be able to get by with free VoIP calls as long as it operates under certain guidelines. Advanced VoIP, on the other hand, offers much more customization and flexibility when it comes to adding on phone lines, extensions, features, and more. Pricing for a fully-featured business VoIP plan is more flexible as well with most providers offering multiple tiered pricing structures.
How many lines will you need?
If you decide to go with a business VoIP plan, having a general idea of how many lines you will need will help your search go much faster. Because many providers charge per line, if you know how many your business requires, you can price things out much faster. Knowing how many lines you need will also help you eliminate some providers that focus on only one particular business size that is either smaller or larger than you need.
When determining the number of lines, keep scaling in mind. Even if you only need a small number of lines now, it might make sense to go with a provider that can provide more bandwidth as your business grows. Quick and seamless scalability is one of the biggest benefits of switching to VoIP.
What features does your business need and want?
There are hundreds of VoIP features out there and while you don't need to learn about every single one of them before researching VoIP providers, it would be helpful to consider what types of features your business needs the most. (For example, most distributed teams will want a VoIP app.) Here are some features and categories of features to consider.
Features to boost productivity
Features to take customer service to the next level
👉 Dialpad tip: When you're looking at VoIP providers, make sure to differentiate between residential and business VoIP. For example, providers like Ooma and Vonage have products that are quite residential-focused as well, and residential VoIP tends to come with much fewer and more basic features.
How to compare different phone services and VoIP plans
Once you know what features you are looking for, it's time to start comparing providers. The VoIP market is huge and growing rapidly so there is an overwhelming number of providers. A good place to start is with an overview of several different providers. Sites such as GetVoIP and G2 offer in-depth comparison charts that display the top VoIP providers side-by-side so that you can compare highlighted features, pricing, and more at a glance.
Once you spot some providers that you think might work well for your business, you can get more detailed information by reading "head-to-head" articles, which feature just two providers but go more in-depth into the pros and cons of each.
Free VoIP plans
If one of your main reasons for switching to VoIP was to save on costs, you may be tempted to choose a free VoIP plan in order to eliminate communications costs completely or similarly, opt for the cheapest plan available. Although it seems like a viable option at first, beware that when it comes to free plans, you generally get what you pay for.
Many free VoIP plans will end up costing more due to hidden fees, limited functionality, and the requirement of additional software or hardware. Although caller ID and other basic calling features may be provided for free, it may cost extra to add standard features like call forwarding, auto-attendant, and text messaging—yet they're essentials for most business phones. Getting your own toll-free number may also cost a pretty penny.
Additionally, free VoIP plans will likely have inferior call quality, such as frequent call drops, and no (or very limited) customer support. This means that communication with customers could be interrupted resulting in lost sales and a damaged reputation.
VoIP plans with phones
The beauty of business VoIP is that you can call and chat from any device including mobile phones, tablets, desktop computers—and also physical VoIP phones (like desk phones and IP phones) as part of their business VoIP plans.
🚨 Keep in mind: There may be costs to maintain physical VoIP phones and as your business grows, scaling up can be a nightmare. If your team does not absolutely need desk phones, Dialpad allows you to take calls on any mobile device. Learn more about why WeWork switched from its legacy phone system to Dialpad.
While softphone apps (basically desktop and mobile apps that you can download onto your own devices and use to make calls instead of using a separate office phone) aren't necessary to use business VoIP, they may be desirable for some businesses.
If you like the feel of a physical landline phone, or if your business requires multiple lines with dedicated handsets for each line, finding a plan that includes a desk phone may be the way to go. If you have existing Obihai desk phones, you can continue using those with Dialpad as long as you purchase an adapter (or refer to this complete list of supported Polycom and Obihai phones).
Cost
Once you have started to narrow down your search, it's time to take a look at your budget and compare prices. The main cost for a business phone system is the price per user. Most VoIP phone services charge between $20-$30 per month per user for their service.
There may also be a one-time installation fee, but because VoIP only uses a broadband internet connection, this should be a negligible amount, if there is an installation fee at all. There may be other costs for toll-free phone numbers, hardware, and upgrades.
Customer support
When comparing providers, it is important to look at customer support. When it comes to communication, you want to be sure that you can reach someone right away if there are issues. Communication is mission-critical to most businesses so you need to be confident that if an issue does arise it will be resolved quickly.
Along these same lines, you may find it necessary to obtain a VoIP service provider that includes a Service Level Agreement. For example, Dialpad's enterprise plan comes with a 100% uptime Service Level Agreement (SLA) so you don't need to worry about outages.
Security and privacy
Security is vital when it comes to your company's data. Since your call is made through an Internet connection, you'll want to make sure that the VoIP provider you select takes security seriously and is in compliance with national and international standards. A data breach can be costly, stressful, and permanently damaging to a company.
Similarly, privacy control allows you to keep certain sensitive data only available to the most trustworthy employees. If your business has any sensitive data that you wouldn't want a new hire to have access to, you will need to make sure your VoIP plan includes privacy control.
What are the different tiers of VoIP plans?
Once you finally narrow down your search to a single VoIP provider, you will probably notice that the provider offers several different plans. Most VoIP service providers structure their pricing into tiers.
There will usually be a cheap VoIP option that offers a low per-user price but has limited features, little if any, customization and limited customer service options. These plans are best for startups.
After that, there will generally be a "middle of the road" tier that offers more features, more flexibility, and more customer service options, but at a slightly higher price and with a higher minimum of users. These plans are usually perfect for small businesses and mid-size companies.
Finally, there will be a top-tier plan that offers the most advanced features, the most VIP customer service, and the highest level of customization to build an intricate VoIP solution. Due to the high customizability of these plans, the pricing often varies depending on the needs of the business. These plans are best for enterprises.
How to figure out what plan best suits your needs
When you've chosen a specific VoIP provider, you then need to choose the plan that works best for you. As an example, let's take a look at Dialpad's pricing plans.
The Standard plan
The Standard plan is Dialpad's most affordable business VoIP plan. It is only $15 per month (paid on a yearly basis) with unlimited calling in your country, the US, and Canada. You are allowed one phone number with the Standard plan, so it's not suitable for call centers or large offices (though Dialpad also offers a cloud contact center solution, which I'll touch on later). In most cases, the most basic plan is best for solopreneurs and startups.
Although it is the most limited plan, Dialpad's Standard plan comes with a surprising amount of useful business VoIP features including HD voice calling, conference calling, call routing…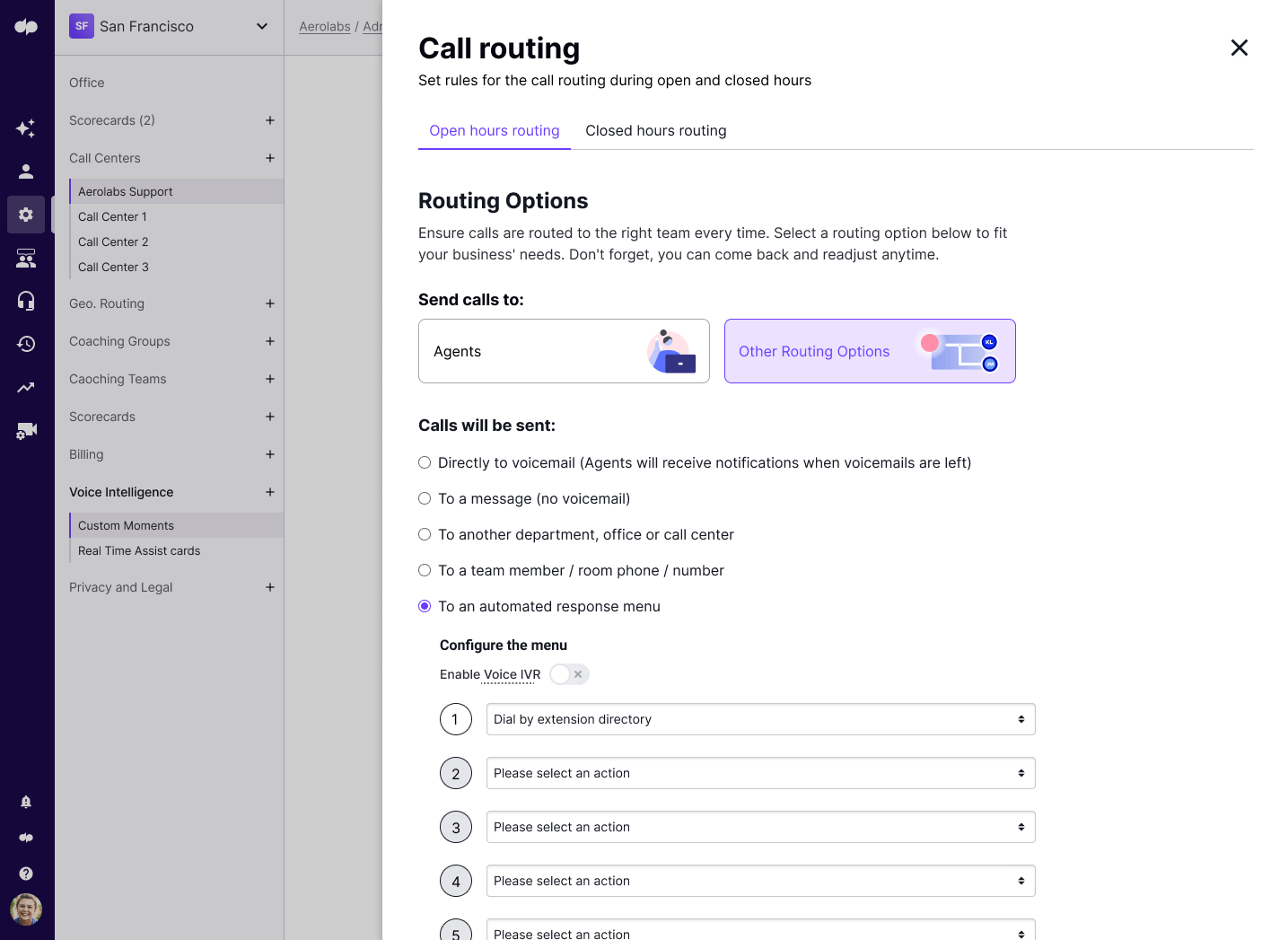 … Auto-attendant, automatic post-call notes, international calling, voicemail transcription…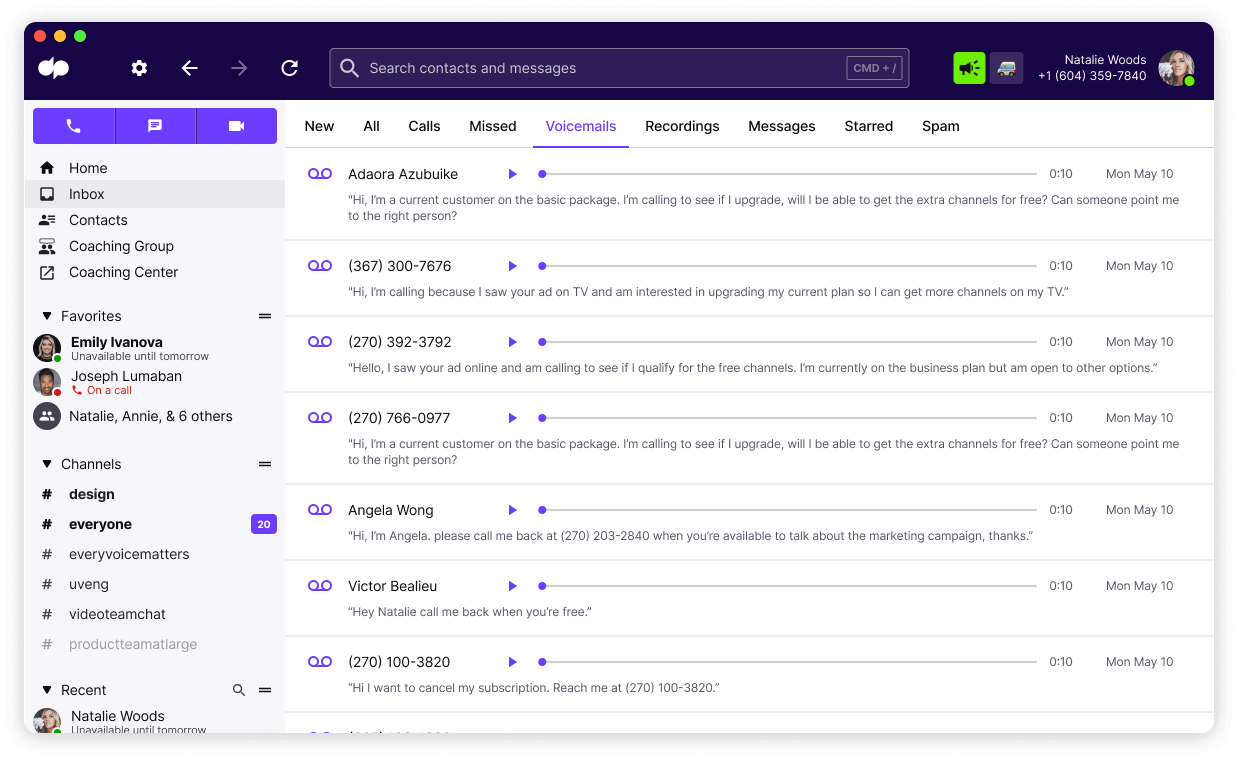 … And more.
You can take inbound and outbound phone calls over Wi-Fi in its mobile app, which is available on any iOS or Android device.
There's also a neat call flip feature, which lets you switch calls seamlessly from your cell phone to the desktop app (or vice versa), to take advantage of features like real-time transcription and call analytics. And if your business expands in the future, you can quickly and easily scale up into the next tiered plan.
The Pro plan
The Pro plan is $25 per user, per month (paid annually). Although it's only $10 more than the Standard plan, it comes with some important upgrades. First of all, you can have up to 10 users and 10 separate VoIP numbers with the Pro plan. You must have at least three users, so this plan is not good for solopreneurs.
Unlike the Standard plan, the Pro plan includes more advanced features like call queues, international SMS, and integrations with Salesforce, Zendesk, Slack, Microsoft 365, and more: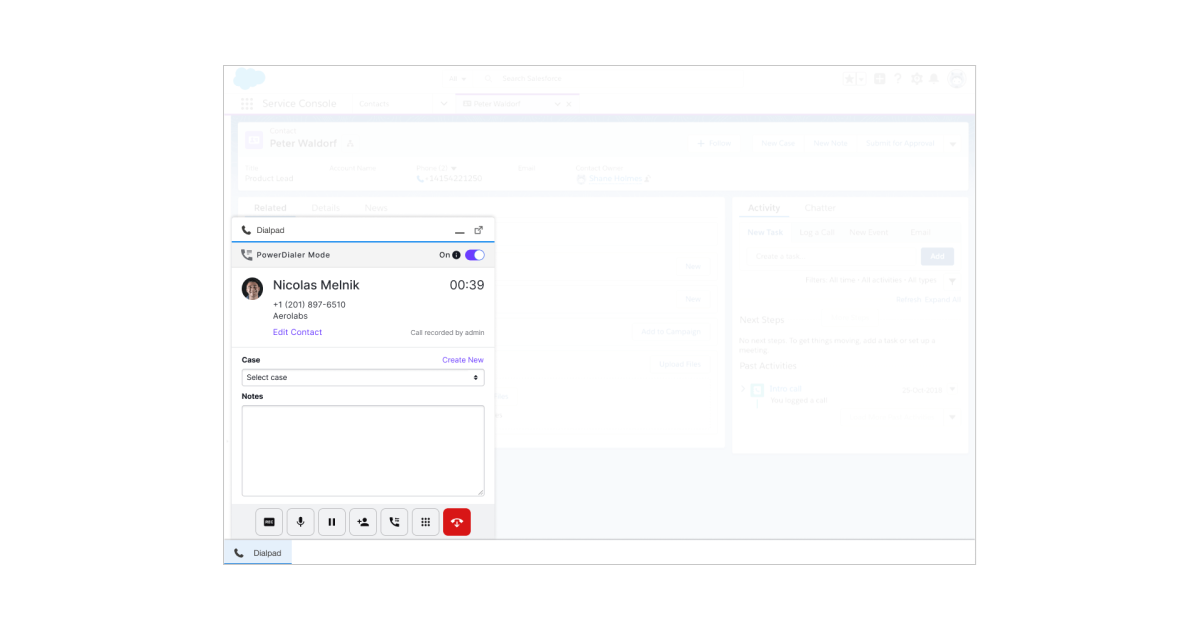 With the Pro plan, you also have access to 24/7 customer support via phone whereas with the standard plan you are limited to the knowledge base, community forums, and 24/5 chat.
Typically, a middle tier pricing plan like this Pro plan is perfect for small businesses looking to replace their analog PBX and traditional phones.
The Enterprise plan
As the name suggests, Dialpad's Enterprise plan is best for enterprises and contact center teams. There is a minimum of 100 seats, so it's not suitable for small offices. Dialpad's Enterprise plan is completely customizable, and so the monthly per-user price will vary based on the needs of the business.
Some key things that you get with the Enterprise plan that aren't available with the Standard or Pro plans are extensions, even more integrations, custom retention policies, and an SLA with a 100% uptime guarantee. If you have a large business or contact center and you require a top-notch communication service, the Enterprise plan is the way to go.
Finding the best VoIP service
No matter what size or type of business you have, there is a VoIP plan that can save you money, help operations run more smoothly, and increase the happiness of both your customers and employees.
Dialpad offers plans that cater to businesses of all sizes from startups to enterprises. When it comes to competitive pricing, innovative features, security, privacy, and customer support, Dialpad exceeds expectations. Additionally, Dialpad offers free trials for both their standard and pro plans.
If you already have a business phone number, porting it over is quick and easy so that you can get started with business VoIP right away and see how your business benefits firsthand.
Try it out yourself and see why thousands of businesses use Dialpad for their VoIP needs. Get your business phone system up and running in minutes!
Start your free trial now