Back to Blog
Dialpad + HubSpot: Use them together to optimize sales operations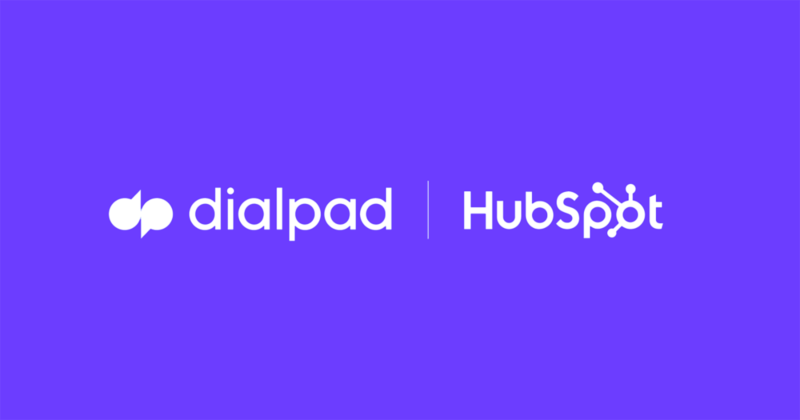 Imagine: Accessing your business phone system and CRM in the same platform with the ability to synchronize your sales data with your call activities.
Well, it's possible. And the Dialpad integration for HubSpot is how.
You've probably heard of HubSpot—it's an inbound CRM and marketing software that helps companies attract leads online and convert them into customers. By integrating HubSpot with Dialpad, you can log your business phone calls in conjunction with specific deals to keep track of your activities easily and efficiently.

[The Dialpad and HubSpot integration] improved operational costs with the admin functionalities and drastically increased efficiencies for our sales team!
Wendy Meli
Information Systems Manager, Stax
The benefits of using Dialpad with HubSpot
Using Dialpad's sales automation tools with HubSpot's CRM provides additional data points to make the sales process smarter, letting teams do things like:

Unify communications. With integrated tools, sales teams don't have to worry about customers receiving unexpected messages from marketing or customer service teams since there'll be visibility throughout.

Set up sales automation. Automate sales outreach, call logs, reminders, and actions that let your agents know when it's time to engage a prospect.

Access customer profiles in one place. Pull in prospect data, social information, and company data to guide sales conversations.

Improve data accuracy. Ensure calls are logged accurately and associated with the correct contact record and remove duplicate records automatically using HubSpot.
When tools talk to each other, you can get a more accurate forecast of how deals are developing. Using Dialpad and HubSpot, sales teams get a clear idea of prospects and empower agents to create a more personalized experience and drive revenue.
Kelsie Rusnak
Partner Marketing Manager, Dialpad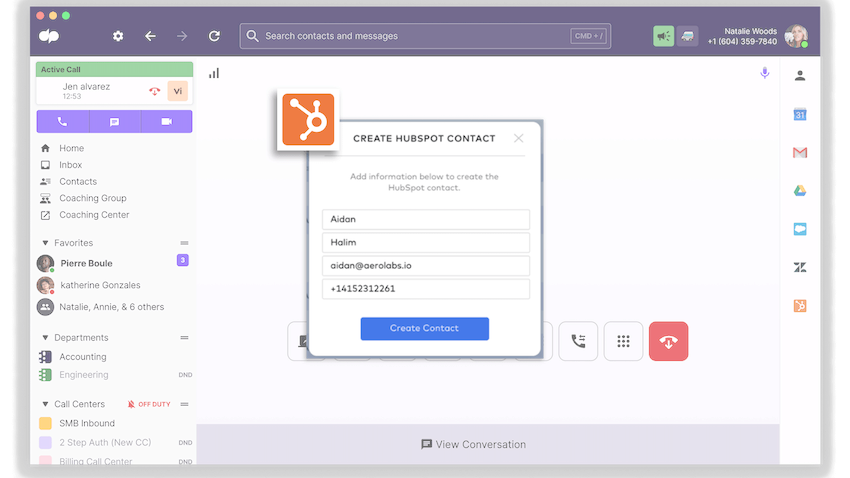 Dialpad + HubSpot: 3 ways to optimize customer communications
It's amazing when your integrated tools talk to each other. Here are three ways introducing Dialpad and HubSpot can do great things for your sales.
1. Sync sales data with call activities
By integrating your cloud business phone system with your CRM, your sales data and call activities will automatically be synced across both systems. This is great for sales leaders, who'll be able to get a holistic view of how deals are developing and more accurately forecast future deals.
Syncing your data also saves reps time since they won't need to switch between sales apps or worry about manual data entry, letting them focus on what they do best: selling.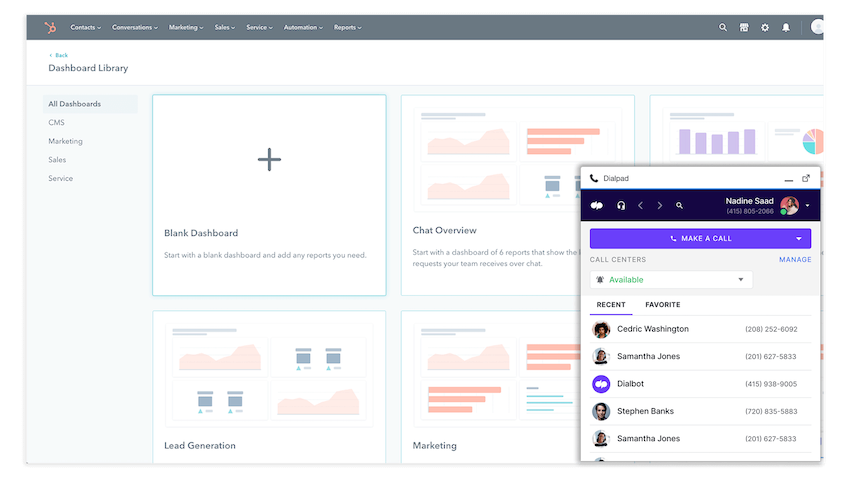 2. Automate call logging and transcription
Dialpad provides automated call logging for inbound and outbound calls, real-time transcription of calls and voicemails, and captures call notes. Automating these things will empower your team to be more productive by freeing up more time that can be spent speaking with prospects.
3. Access real-time data to guide sales conversations
Dialpad displays your contact's profile and history, including past and open activities, directly in the app. Get a clear idea of your prospects' interactions with sales and marketing, as well as review any call notes and transcriptions. Empower agents in real-time with customer data, a unified contact timeline, and social and company data, creating a more personalized experience (and driving conversions).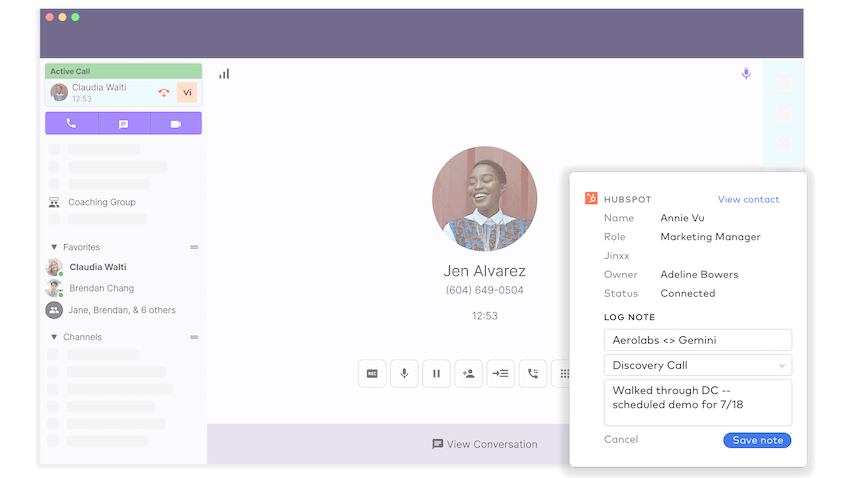 Real-life examples of the Dialpad and HubSpot integration in action
Here are how two companies—Stax and Guidesly—used the Dialpad integration for HubSpot to improve their sales operations. (And how you can too!)
Stax
Stax, an all-in-one payment API with over 20,000 clients, uses Dialpad and HubSpot to improve sales team efficiency. With the Dialpad integration for HubSpot, Stax's team automatically logs inbound and outbound sales calls, recording notes and action items to the right contacts and improving overall organization and productivity.
Another feature the Stax team finds especially helpful is Dialpad's skill-based routing, allowing them to prioritize how agents receive calls based on their ranked proficiency for that type of call.

With the skills-based routing, we can have our reps available for their specialties while still being available to assist when we have those high call volume times, which we can easily see from our dashboard and on the screen around the office.
Wendy Meli
Information Systems Manager, Stax
Guidesly
Guidesly is an e-commerce booking platform built to connect fishing guides and anglers. The team at Guidesly uses the Dialpad integration for HubSpot to connect with customers, calling directly from a prospect's HubSpot record and cutting out manual data entry completely.
"We use Dialpad daily," says Taylor Lord, Head of Marketing and Product at Guidesly. "It takes away the need for physical mobile company devices and I can make calls from anywhere."
Dialpad and HubSpot have given Guidesly sales reps the ability to connect with prospects/customers from anywhere and streamlined the sales process. The reps especially appreciate features like:

Automated contact logging and customer activities

Simple setup and user interface

Instant data capture

Access to an app that eliminates the need for a separate work phone
With the Dialpad integration, sales reps can call directly from Dialpad in HubSpot, where the call is instantly logged and transcribed in the contact record.
The Dialpad integration for HubSpot is an all-in-one solution for sales teams to scale operations, improve selling ability, and get time back to dedicate to having meaningful conversations with prospects and customers.
Want to learn more about the Dialpad and HubSpot integration?
Take a product tour and we'll walk you through it!