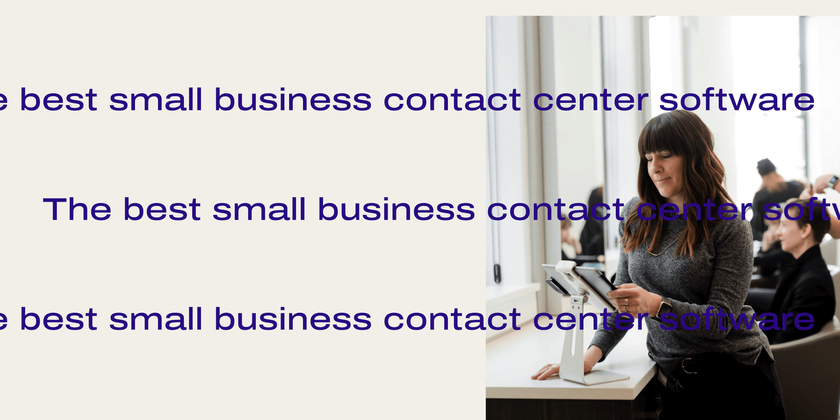 May 21, 2021
Call centers are often a distant dream for small business owners. The cost of buying equipment, renting space, and hiring employees to answer the phones can eat up a lot of an already small budget. And if you're like most small businesses, you probably don't have an IT team that can do all of this for you.

👉 Dialpad tip: Today, most businesses don't refer to these as "call centers" anymore, but rather, "contact centers." (This is also what "CCaaS" (Contact Center as a Service) refers to. Why? Because "call center" refers to, as the name suggests, a voice-only support center. A contact center, on the other hand, allows for other channels too, like SMS, live chat, and so on.
However, having one in place can make a huge difference to your survival as a company. Customers need a platform for their account questions, support queries and complaints. Providing consumers with the services they need is a vital step towards maintaining their loyalty. And, from a sales perspective, call centers offer opportunities to nurture new shoppers for your business.
Luckily, technological advances and digital channels have completely reinvented the contact center—both in appearance and cost. In 2022, all that's needed to run your own call center or contact center is a good internet connection and a service provider's software package. No pricey phones or office space needed! With the right technology, the call center dream can become a reality for any small business.
We'll look at:
First off, what is call center software, exactly?
If you're already familiar with what this is, feel free to skip ahead to the next section.
A call center software is basically a dedicated platform that lets you manage your customer interactions, all in one place (ideally).
Compared to older "legacy" or advanced call center companies and solutions, many of today's platforms are in the cloud. That means you don't need a big office with rows and rows of analog phone systems and actual telephones anymore. But don't worry, the newer software still lets you do things like queue people needing assistance and transfer calls between departments.
We're not saying traditional hardware was bad (okay, maybe a little bit), but it certainly had its limits. It was expensive for IT teams to maintain, prone to outages, and of course, required all your call center agents to work in the same location. Want to hire more people and get them onboarded quickly (or downsize the team)? Good luck.
The introduction of VoIP (that's voice over internet protocol) has changed everything—it uses the internet instead of a telephone exchange for your phone connection, and it's opened up a whole new (cheaper) world of calling.
Fenway Health discovered how cost-effective and flexible Dialpad is when they switched to a cloud-based contact center platform from their legacy phone system. Now, they've lowered operational costs thanks to Dialpad's all-inclusive pricing (not to mention it's incredibly easy to use—with plenty of hands-on support).
👉 Dialpad tip: Because VoIP call centers use software instead of traditional solutions, you can expand (and downsize) your teams more easily, anywhere in the world. No more phone lines and expensive hardware. VoIP also integrates more easily with other tools and apps, like CRMs, and you can add pretty much whatever features you want to your call center.
Why should small businesses care about having the right call center software?
Basically, call center software is the key to providing a winning customer experience every time. Need to make sure your customers always get sent to the correct department or person? Look for a call routing feature.
Running a contact center on your own and need to have a birds-eye view of how all your agents are doing? You'll need call monitoring and analytics.
There's a huge selection of call center software available, whether you work in ecommerce, banking, or healthcare. For small(er) businesses, time and money are paramount, so look for versatile solutions that let you streamline the number of tools you're using.
This way, you're paying less in monthly or yearly software fees and your team isn't collectively wasting as much time switching back and forth between windows and tools.
👉 Dialpad tip: You've probably seen "UCaaS + CCaaS" software out there that say they're "all in one, with messaging, video, and phone—and a contact center." But did you know that very few contact center software systems are built right into the same platform as their UCaaS (unified communications as a service) product? Next time you check out a free trial, ask to see their contact center product. Nine times out of ten, the UCaaS and CCaaS parts look completely different from each other. That's a sign that this company is using an acquired or third-party product that they just rebranded.
Small businesses need different solutions compared to large enterprises
You don't need us to tell you how important it is to wow your customers when you're a small business. You're not a faceless corporation, and people tend to expect even more personal and warm service—even though you're probably more strapped for time and resources than a big company!
And the biggest trap that small businesses and start-ups tend to fall into?
Trying to play like the big enterprises in their space, but trying to use the same tools. For small business call center software, you need something that matches your current needs and offers expansion as your business grows. Otherwise, you're going to be spending a whole lot of money unnecessarily.
The right software will help you deliver the best service levels possible, which gives you the best chance of maintaining and growing your customer base. And, should your business (and incoming call volume) start growing in size, it'll let you easily expand on the features you already have.
👉 Dialpad tip: Dialpad is one of those rare unicorns that can be a good fit for both large enterprises and startups, mainly because of its built-in AI and ease of set-up. You can literally set up a call center in two minutes—and it's designed to grow with your business.
Even a small team can play in the big leagues with the right call center software
Long story short, the right platform empowers your customer service agents to not just do, but also excel at, their jobs. Let's face it. There's little job satisfaction (and not a lot of value) in having your team of agents deal with repetitive customer service calls that could be dealt with more quickly and efficiently by a chatbot on your website or over social media.
With a first-class routing system, your agents are free to have customer conversations that definitely need the human touch. And agent guidance, provided by AI, boosts their success rates and happiness in the job.
(Happier employees are more productive, which boosts your staff retention rate. And if you're a small business, then empowered staff and a stable ship are both very good for longevity.)
8 essential call center software features for small businesses
Rule of thumb: The more your software can do, the better. It's far easier to have one cost-effective tool that does everything, as opposed to outsourcing the various tools you need to multiple suppliers. (It has to be a well-designed, good tool, of course. We're not saying you should just go out and choose any old mediocre software that says it can do 10 different things.)
👉 Dialpad tip: It's far easier to have one tool that does everything, as opposed to splitting out the various features you need into multiple vendors. The more systems you use, the more integration time and effort you'll need to put in to keep things connected and running. Your staff will need more training, making the onboarding process more complex.
So, for most small businesses, it makes more sense to opt for an all-in-one solution that encompasses all the call center services you need, with small business pricing plans to match. Why go for an additional agent coaching or customer callback scheduling tool when you can get one in the same software that has a bunch of other features you need?
Here are the major features every small business should look for when you're choosing the best call center software for your needs.
1. Seamless scalability and flexibility
Even if your contact center team is small at the moment, you should keep your business' future growth in mind. We're talking about a two or three-year-long (at least) view. Does your call center platform make it easy for you to add (and remove) agents as you'll need to?
Just like with getting your team to adopt any new software, it's important to make sure everyone, no matter how tech-savvy or not, is well-versed in using it. Coach your support team, and choose something that offers great after-purchase support—you'll never know when you might need it.
For example, in Dialpad Ai Contact Center, you can add and remove someone from your call center team with literally a few clicks—no IT help needed: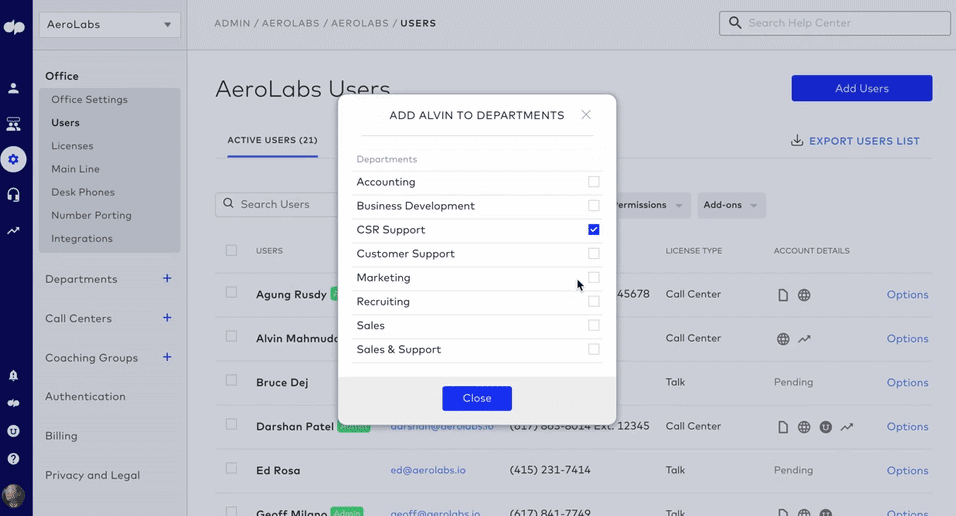 This is one of the biggest advantages of going into the cloud for your call center software: it gives you unimaginable levels of scalability and flexibility. With no physical restrictions on activity limits, you can expand your platform—and team—however you like.
🔌 Shameless plug: In the unlikely event that Dialpad doesn't offer a built-in solution for your needs, the software even comes with a developers' hub. This enables your own devs to build unique applications through the application programming interface (API), with a sandbox provided for testing.
But don't take our word for it...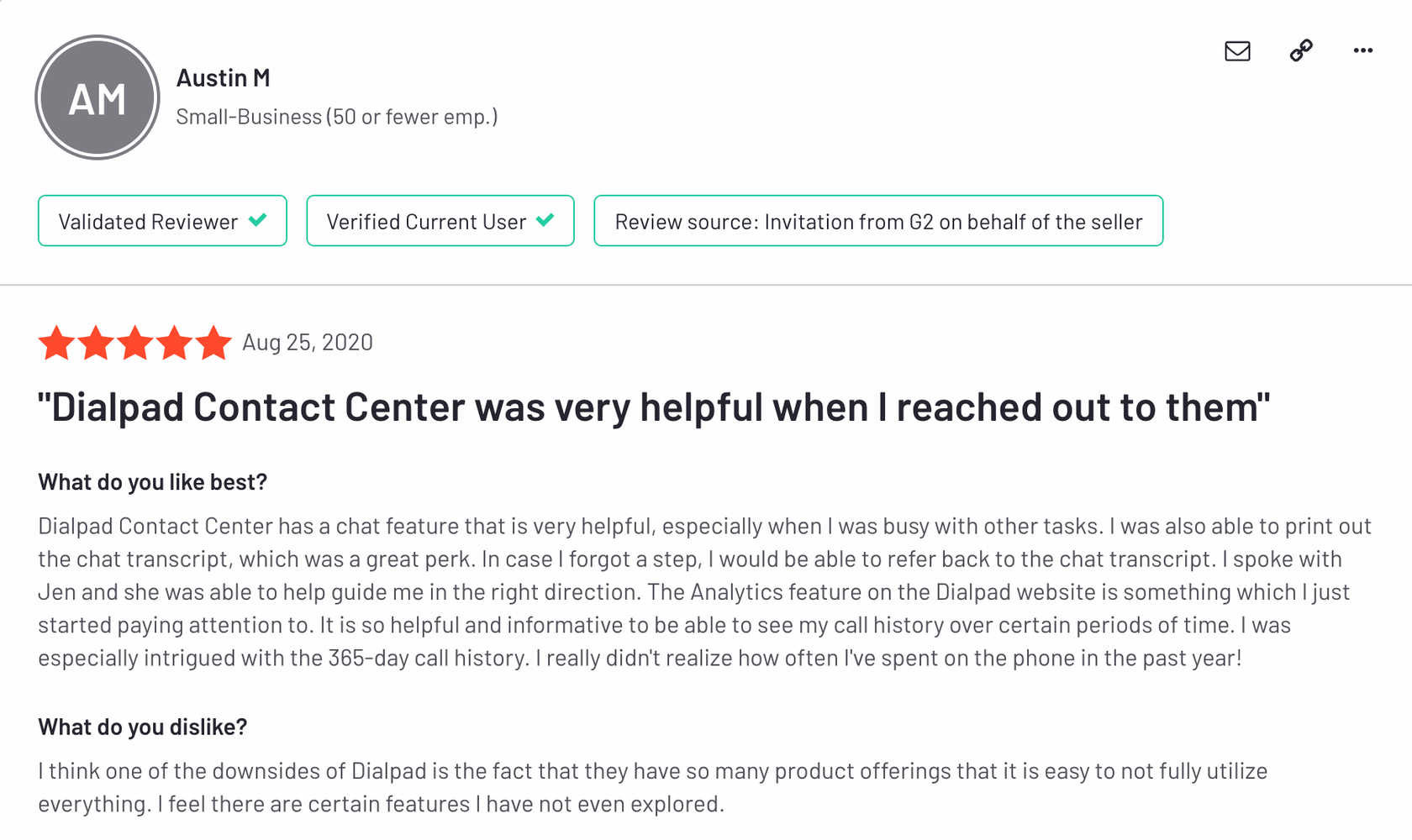 2. Robust analytics and KPIs
Having good analytics is key, especially for a small business. If you're one person and you need to manage a team of 10 agents, you need to be able to see, at a glance, who is busiest, who is taking longer with customers, and who needs help on a call. You can't listen to every single call all day, right?
Dialpad offers an in-depth analytics dashboard that tells you everything you need to know about your call center activity and your agents' performance. At all times.
There's the "call volume over time" view, which lets you arrange data by call center, groups or individuals. And if you have key performance indicators (KPIs) that you need to hit, like average speed to answer, Dialpad shows you that too: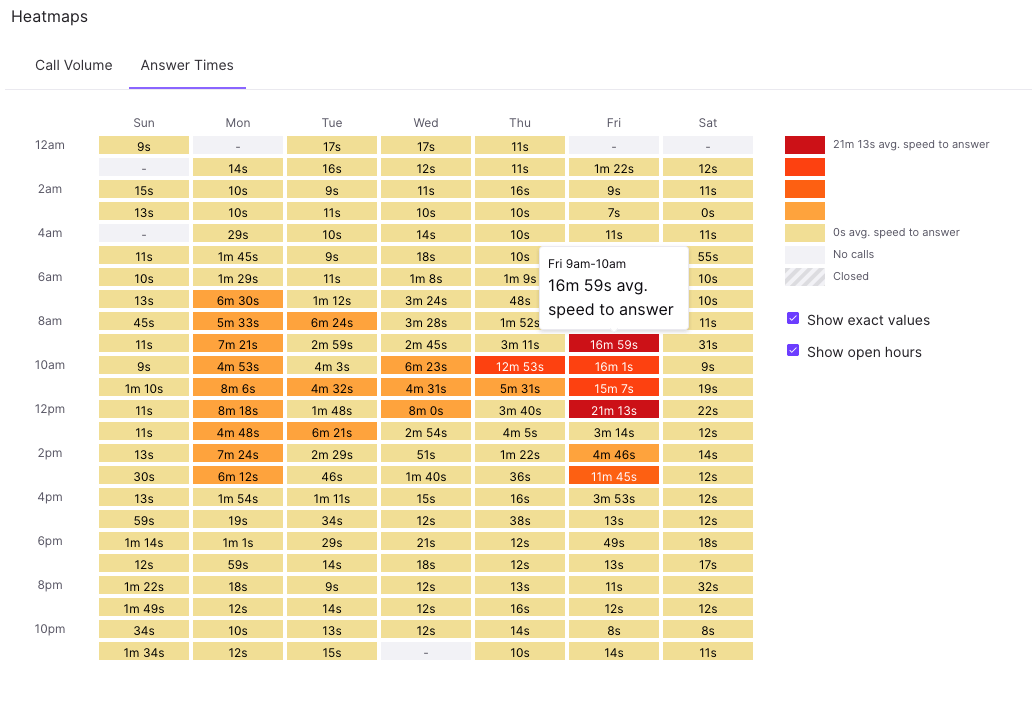 From peak calling times to your most-used communication channels, everything you need to keep an eye on in your call center is at your fingertips in real time.
In fact, you can check out how fast-growing Firefly Health enabled its reps to answer calls much faster (40 seconds or less!)—and was able to prove it to outside stakeholders using analytics and show that they're meeting stringent industry requirements.
3. Accurate call transcriptions
Monitoring agent performance the old-school way involved supervisors listening to call after call—and manually identifying areas for improvement. It was time-consuming (and boring), and very difficult for supervisors to catch everything after one listen, especially when trying to analyze longer calls.
Now imagine there's a real-time call transcription feature in your call center platform that creates transcripts for every call. Well, you don't have to imagine, because Dialpad does exactly that (and more accurately than Google too) thanks to its Dialpad Ai technology: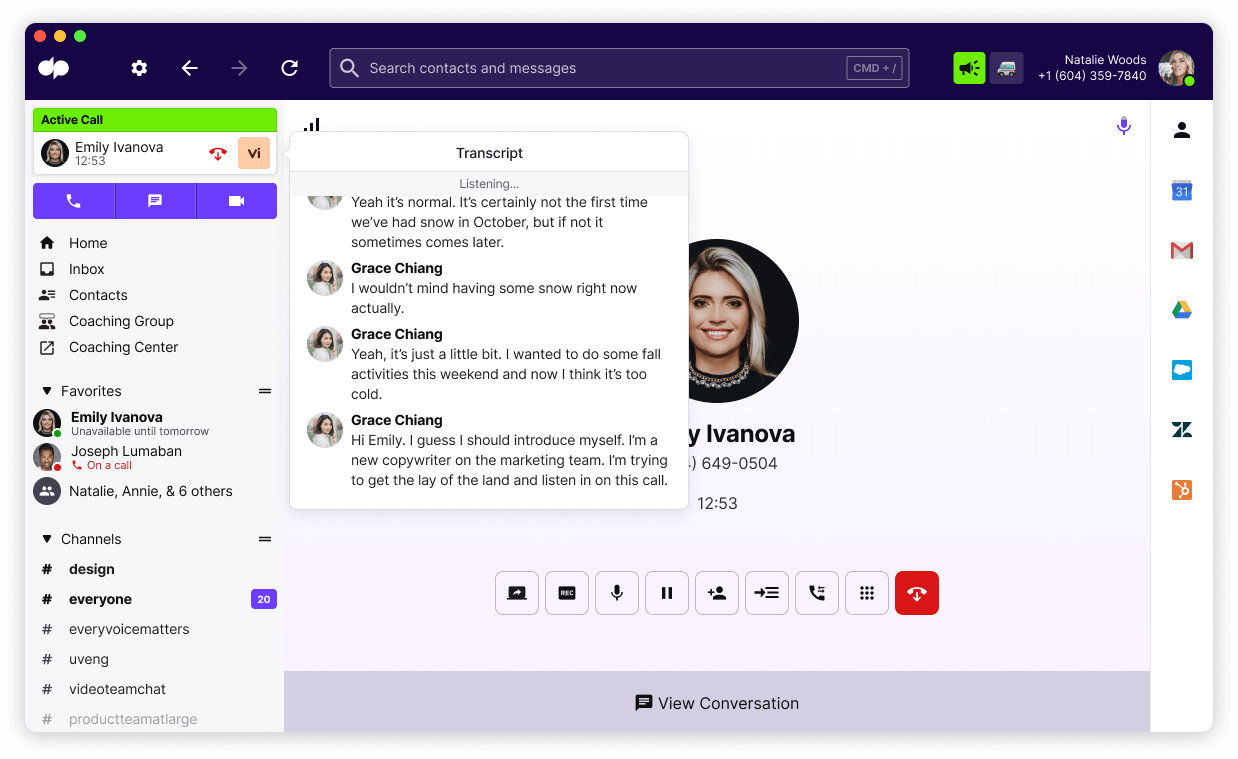 You can scan more calls with less effort—no more needing to listen to every word.
Call transcriptions are essential for reviewing and doing quality assurance checks, and if your agents have to use scripts for legal purposes, you can check whether these have been followed correctly just by reading the transcription. Dialpad Ai also automatically isolates key moments in calls—like a competitor being frequently mentioned, or a product problem that multiple customers are reporting.
Another neat thing that Dialpad Ai can do is pick up on positive or negative words (which you can customize) on a call. It can then mark the sentiment of the call on the manager's or supervisor's dashboard so that you can see how all your calls are going in real time: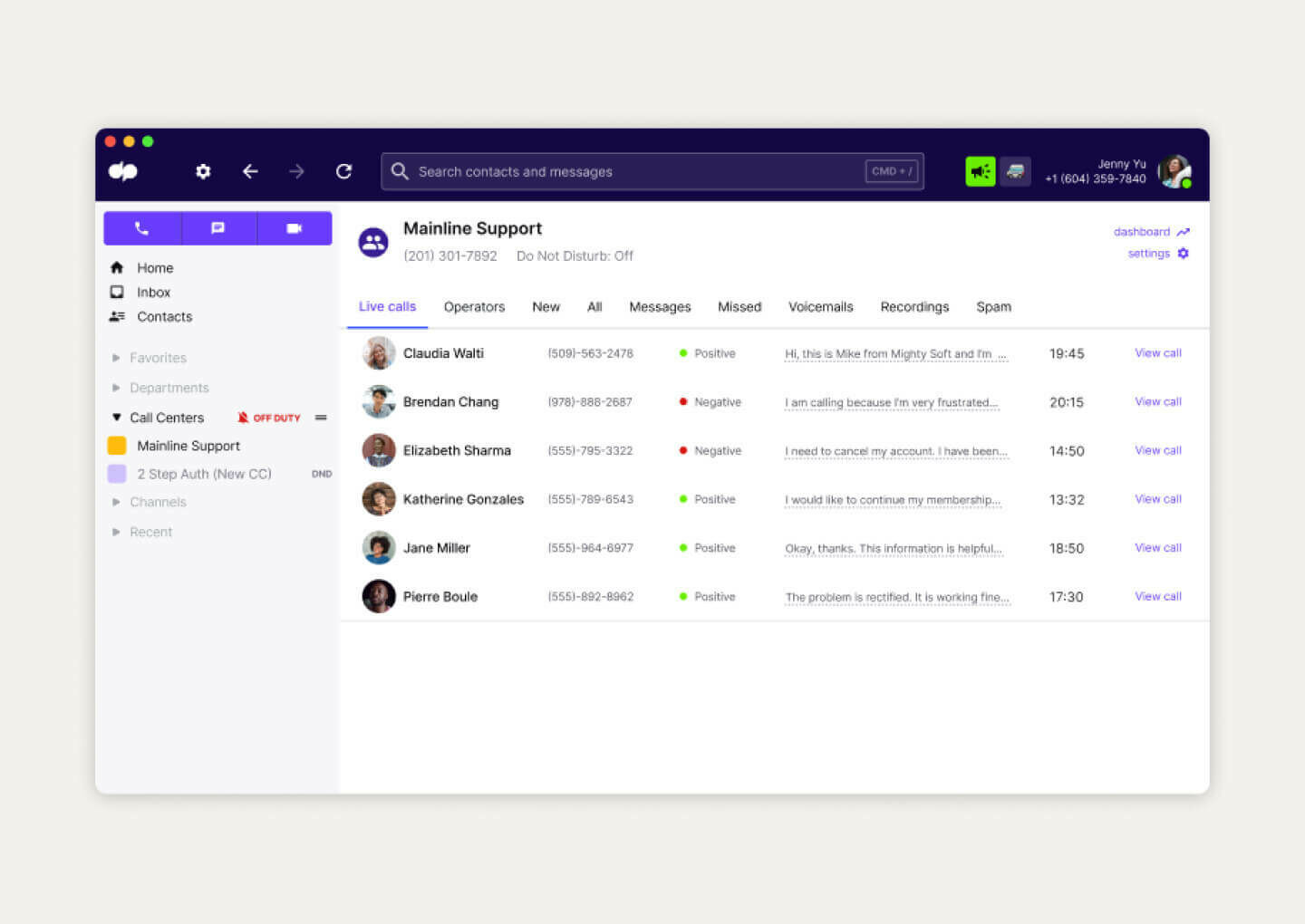 Call transcriptions aren't just for the call center's benefit either—you can put them to good use in other departments too. For example, the sales team can use transcriptions to identify cross- and upsell opportunities, make sure that you're consistently meeting prospects' expectations, and other lead generation tasks.
4. Agent helpers
When you have agents who are taking tens or hundreds of calls a day, tricky questions from difficult customers are bound to come up. How can you help them help your customers more effectively?
A good call center solution should be able to help you here. Again, Dialpad Ai is designed to help with coaching and training. Not only can it transcribe your calls, it can also pick up on common questions and keywords that come up in the conversation, which you can turn into "Custom Moments" that get tracked and may indicate training needs, over time: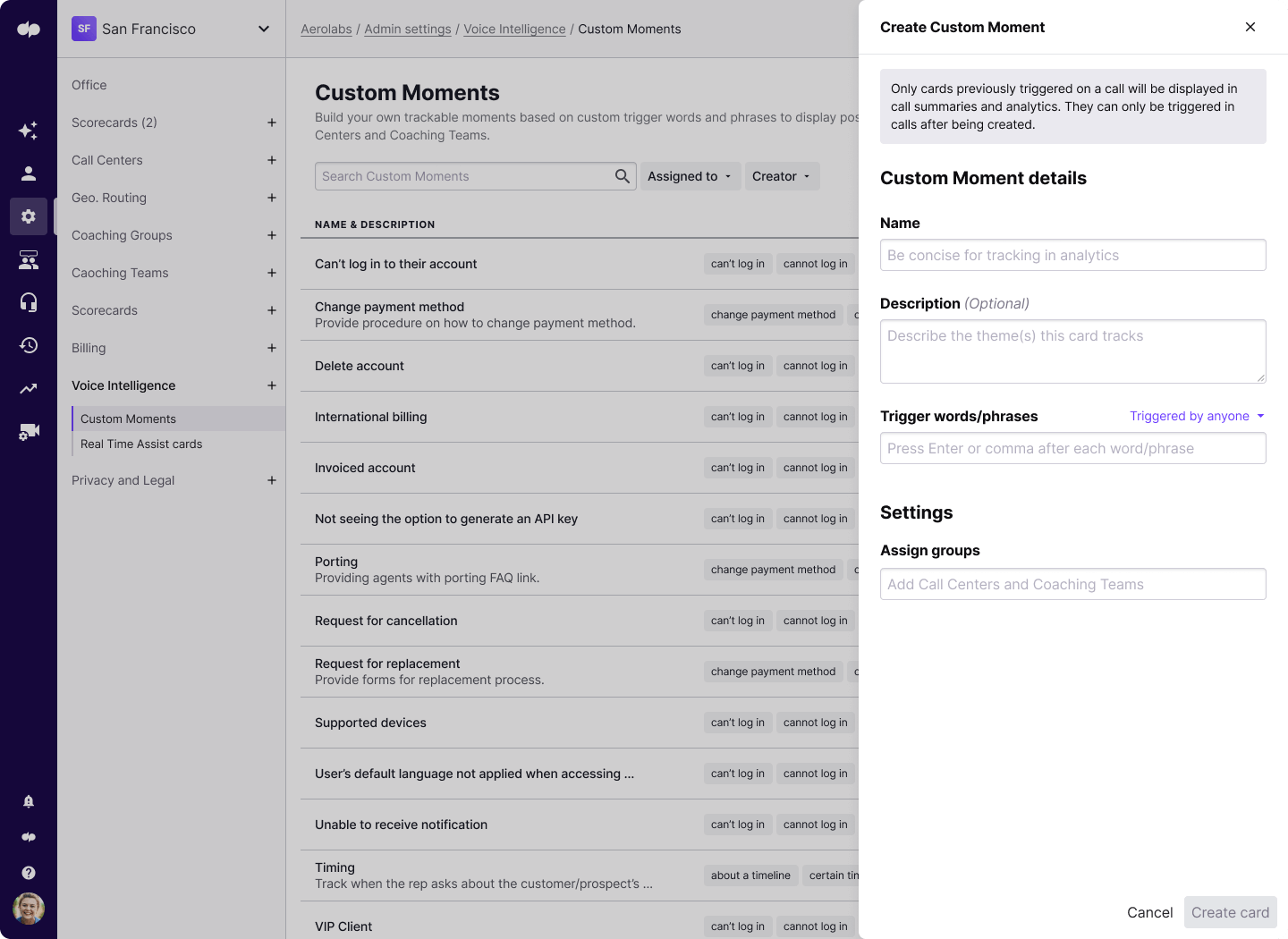 From here, you can help your team too, by creating Real-time Assist (RTA) cards, which are essentially cheat sheets that pop up when someone says a certain word on a call. For instance, if a customer uses the words "cost" or "pricing," then you can create an RTA card with notes about pricing to help your agent talk about pricing: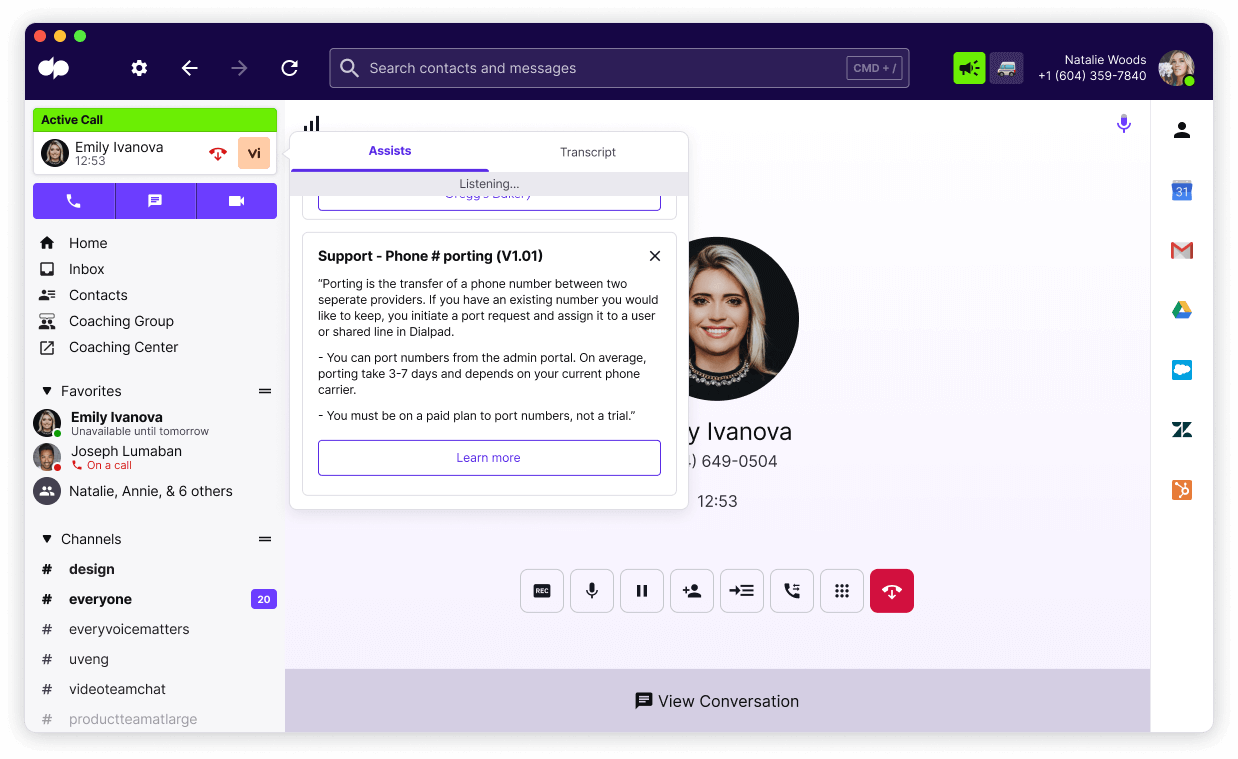 If they don't need it, they can just close the card.
5. The ability to take calls anywhere, anytime
As more and more people are working from anywhere, call center teams are going remote too. The tricky thing with call centers especially is that agents are usually on the phones all day—which means they'll need a good internet connection and contact center tool.
For a manager, though, working from anywhere also requires you to be able to monitor agents and do admin stuff remotely. Can you set up new agents, give them phone numbers, and adjust all these details for a remote contact center team? Think about it: employees could be able to service customers from around the world with an integrated answering service.
If you can pull it off, your small business can save a ton by not paying expensive office-rental fees or leasing an office space. (It's good for your team too—no more commuting back and forth and more flexibility.)
Whatever you need to know, it'll likely be covered here.

6. Easy phone call routing setup
There's nothing worse for busy callers to have to wait in a queue, only to find they've ended up in the wrong department.
Your call center software should have an automatic call distribution system to make sure every customer call gets routed to the right agent. This may be done by analyzing information from previous calls, or through a series of short questions (that you usually answer using your phone's keypad).
In Dialpad, you have different routing options, from round-robin to skills-based routing. You can change these settings anytime from your dashboard, without calling IT: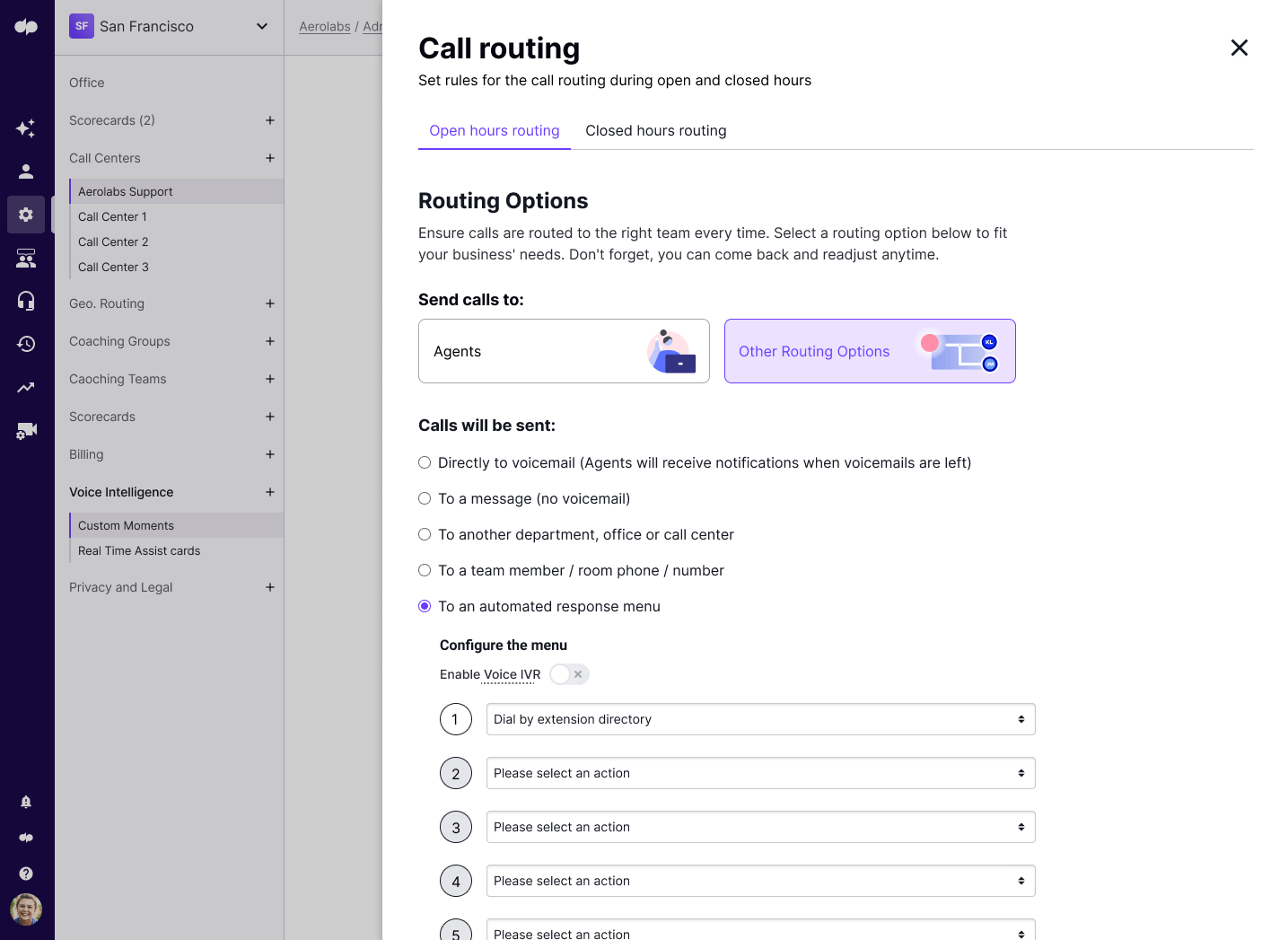 7. Dedicated customer support
Your call center is how customers reach you, which means it just has to work. But of course, technology inevitably does go down once in a while, so make sure that your call center platform has good support depending on your business needs.
For example, Dialpad offers 24/7 live chat tech support, which means you can get answers to almost every question at any time of day or night. And there's the online Help Center, which is an in-depth source of FAQs that cover everything from admin level down to agent level. Whatever you need to know, it'll likely be covered here.

👉 Dialpad tip: Depending on which pricing tier you're on, you could have access to 24/7 live-chat support and phone support—worldwide. In the unlikely event of anything going wrong, our team is on hand to fix it in real time, meaning there'll be minimum disruption to your customer service.
8. An integration with your CRM
Chances are, if you're not already using a CRM (customer relationship management software), you will be very soon.
Salesforce and HubSpot are two popular ones, and then there's Zendesk if you're using ticketing software.
Dialpad integrates with all of these—its HubSpot integration lets you create contacts in HubSpot from your Dialpad dashboard. Just got off a call with a new (or potential) customer? You can hang up in Dialpad, and create a HubSpot Contact for them, right in the same window: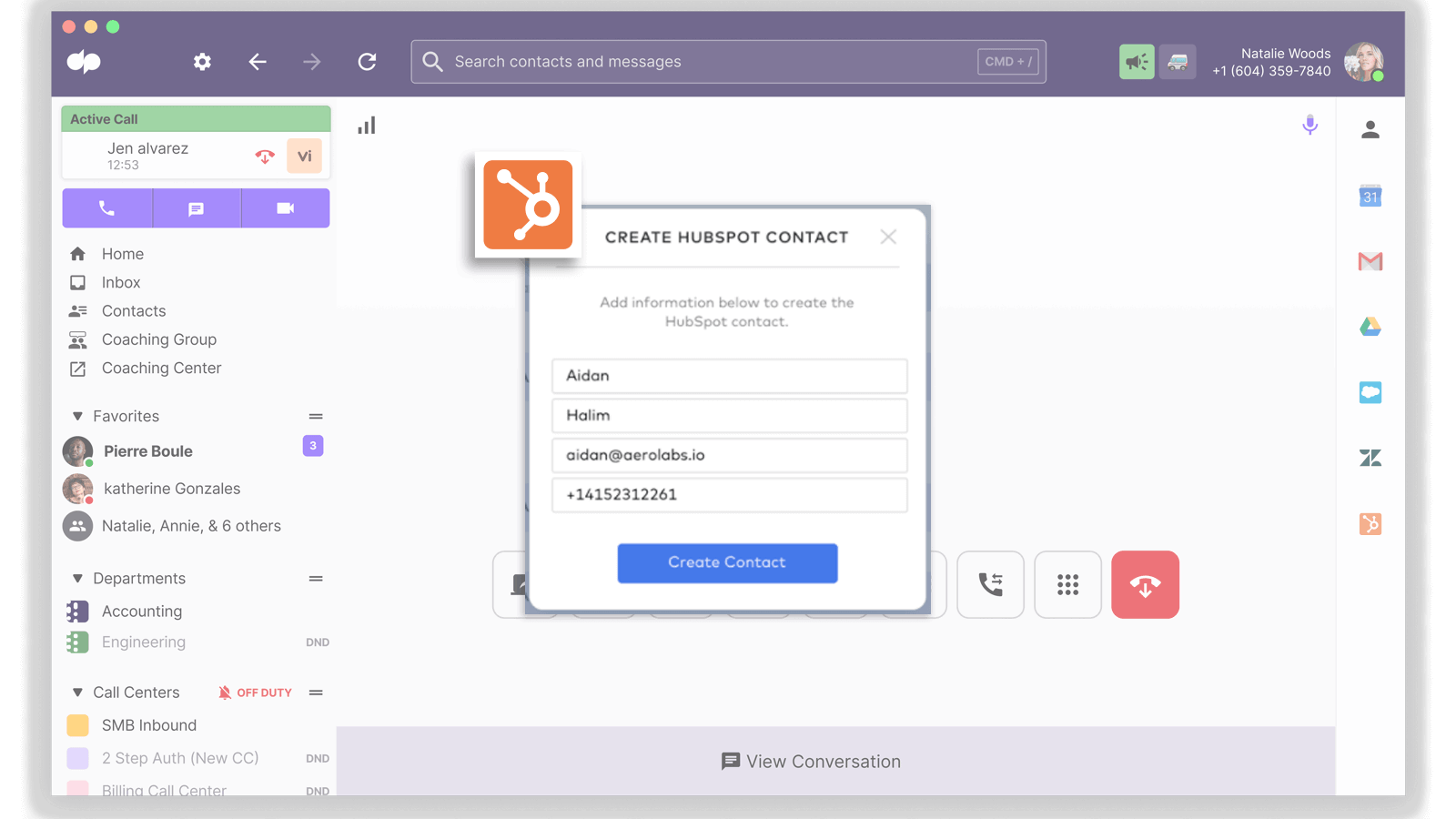 (And vice versa—the integration will automatically log calls made in Dialpad to HubSpot too. Once you've matched a HubSpot contact with that person's info in Dialpad, HubSpot will automatically log calls with this contact!)
Having a CRM integration with your call center platform is particularly useful for growing your small business because it'll get harder and harder to keep track of all your prospects and customers.
This way, any agent or rep on your team (even new hires), can access the same information about your customers' histories and past calls easily, all in the same place. Every touch point, every record. No more scattered folders and files.
The 14 best small business call center software in 2022
So you've got a growing contact center team (with around five people and you know you're hiring more). You want to see the best call center software providers out there in 2022. We've compiled some of the best and broken down each one. Let's get into it.
1. Dialpad Ai Contact Center
Okay, we know we're biased. But we're biased for a reason. Dialpad is just the best option for small businesses. The contact center is built into the same platform as our UCaaS platform, meaning you can take your customer calls and message your teammates or have video meetings—all in one place.
And Dialpad Ai comes built in. This is what transcribes your calls in real time, tracks keywords that come up in conversations (like your competitors' names or product issues), and lets you create Real-time Assist (RTA) cards that pop up automatically for agents during phone conversations. It's our secret sauce.
And remember when we mentioned how easy it is to track your call center's performance without needing extra analytics software…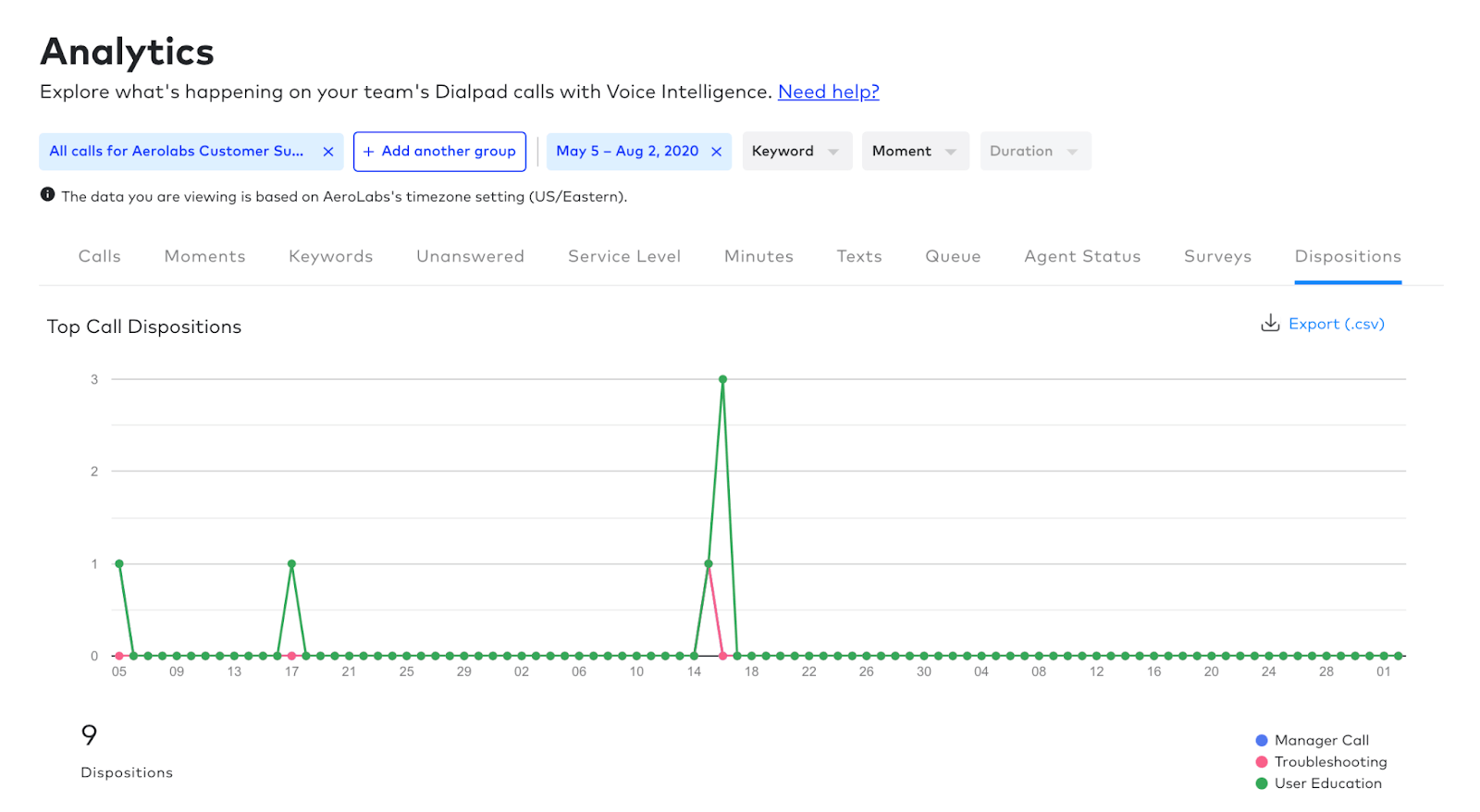 Long story short, Dialpad lets you create a fully virtual call center with agents working from anywhere (well, anywhere with good internet).
Dialpad's also perfect for sales, since you can get both local and international numbers for sales reps in different territories, and the automatic data back-up ensures the highest levels of security for your system as a whole.
You can set up CSAT surveys to track how your team is doing over time, and get deep call center metrics in real time:
TL; DR - Do you have a small contact center team that needs to punch above its weight? Dialpad Ai Contact Center is your best option.
Features that small businesses love:
Dialpad Ai, which provides accurate, real-time transcriptions of calls and voicemail

Easy IVR and call routing setup and customization

Simplified quality management for supervisors

Satisfaction / CSAT survey options

Call center recording and live screen capture

Real-time automations to streamline workflows like RTA cards
Pricing: Get in touch or book a product tour!

Best for: Small to medium businesses that want an easy-to-set-up and customizable call center platform
What customers think of Dialpad
Don't just take our word for it, either—take a look at what some of our customers have to say:
"We're seeing productivity and cost savings skyrocket, since we're now relying on a communications network that's entirely cloud-based" - Lee Arthur, managing director of NY Institute of Finance
""Since we switched to Dialpad we know that the quality of the calls that we place or that we receive is guaranteed." - Olaf Doemer, Global Director of Support at Acquia
"Dialpad gives us the ability to change our call center ourselves — without interruption and within minutes." - Mike Monteiro, Communications System Manager at EF Education First

2. Genesys Cloud
Genesys Cloud is another hefty player in the contact center space, specifically serving mid-size and large enterprises.
They count PayPal and Ticketmaster among their customers, and yep, those are huge organizations.
That being said, they're an established customer service platform and if you have the budget and resources to manage a system with ticketing features and complex workforce management tools, Genesys Cloud could be an option.
Due to the huge range of features, Genesys Cloud may be too complex for some users, and some people have reported difficulties with basic everyday use.
Features:
Pricing: $49 to $99 per month (Suite Team to Suite Professional)1
3. Five9
Five9 is another well known name in the contact center software space. You've probably heard of it, and for good reason—they've been around for a while.
The thing is, their user interface reflects it. Plus you don't have a single dashboard that your agents, supervisors, and admins can all look at (like with Dialpad).
And if you have a work-from-home team of call center agents, you'll probably want a mobile-first (or at least a strong mobile app experience) for folks who are working remotely. That's not a strength of Five9's, but if your team doesn't use their cell phones for work, this might not be an issue for you.
Features:
Predictive dialing

Upselling screen-pops on demand

Dedicated management tools
Pricing: Available on request2
4. CloudTalk
CloudTalk is a scrappy player from Slovakia, with an interface that's relatively easy to use for beginners, and its on-screen appearance is clear and uncluttered.
If customer support is important for you though, they seem to be still getting that ramped up, so you may not be able to get answers or help as quickly as you need. Some users also found the app a little buggy, which might be because they're relatively new and still working on improving functionality.
Features:
Custom queue feature

Skill-based routing

Voicemail

Customer display cards
Pricing: $20 to $40 per month (Starter to Expert)3
A phone service that also offers customer service tools, Aircall features include the likes of caller ID, call recording, customer interaction history and conference call ability.
Their phone system makes it possible for companies of different sizes to deal with customer questions from around the world. Some problems have been reported around call quality and a long wait for customer support.
Features:
Access to local phone numbers

A recording feature

Real-time tracking and analytics
Pricing: $15 to $69 per month (Blossom to Forest)4

6. Talkdesk
User-friendly and easy to add to your existing processes, Talkdesk is specially designed to manage the workflows of big organizations and enterprises.
You can use it to manage queues, view other agents' statuses, and collaborate on notes to monitor customer touch-points. It's worth noting that there have been issues reporting with slow-running screens and poor call quality at times.
Get a detailed breakdown of Talkdesk vs Dialpad here.
Features:
Customizable call queues

Automatic call distribution (ACD)

Interactive voice response

Single-click integration with CRMs

Performance and workplace management
Pricing: Available on request5
7. Avaya Contact Center
One of the big old-timers in the contact center space, Avaya is designed to include a wide variety of features that an advanced contact center may need.
Avaya lets you handle call routing, recording, and transferring. Given its vast potential and the fact that it's been around for so long though, setting up Avaya Contact Center can take longer than many of its less complex and more modern competitors.
Features:
All customer touch-points + self-service option

AI-enabled analytics and reporting

Public and private cloud options
Pricing: Available on request6
8. Nextiva
Nextiva is another popular name in the contact center space—like Dialpad and 8x8, they market both a UCaaS and CCaaS product for small businesses all the way up to enterprises. However, one important thing to note is that Nextiva is reselling another company's software and calling that package a "unified solution."
This may not be a dealbreaker for everyone, but typically, when software companies Frankenstein different products together, it can result in different user interfaces, different login processes and account management workflows, and so on.
Features:
Monitoring and reporting

Agent availability

Supervisor dashboards

Live call status
Pricing: $50 to $100 per month (Pro to Enterprise)7

9. 8x8
8x8 has been a long-time name in the call center space, with huge, well-known enterprise customers (as of the writing of this post) like McDonald's and Remax. As of April 2022, though, 8x8 has essentially given up on building its own contact center product and is reselling Genesys' solution instead. This means it'll likely be bolting together software with different user interfaces, login experiences, and so on.
They're probably great for large organizations, especially if you have your own IT team and the resources to put into managing a call center platform. But if you're a small business that wants an easily customizable software that automatically updates and evolves with new features, and that's built for the cloud, 8x8 might not be for you.
Ideal for routing calls when your business is large enough to offer multiple departments, 8x8 boasts a simple interface, exceptional security and the capacity to grow in line with larger business expansion. Users should note that there is no 24/7 live chat for product queries and occasional noise interference has been reported.
Features:
Call routing

Web and queued callback

Real-time analytics for the whole of the customer journey

Easy integration with leading CRMs
Pricing: $87 to $146 per month8

10. LiveAgent
LiveAgent's call center software comes with its own help desk solution, which integrates all communication channels into a single inbox. The interface is easy to install and straightforward to use, offering a variety of management tools.
LiveAgent has a huge array of options and features, which may be overwhelming (and inefficient, cost-wise) for smaller operations.
Features:
Automated routing

Assignment management

Screen sharing

Ticket management

Collaboration tools
Pricing: $15 to $39 per month9
RingCentral offers a platform for both inbound and outbound call centers, so it's equipped to deal with customer service and sales staff (though unlike Dialpad, they're not both on the same platform).
Like Nextiva, they're reselling another company's contact center platform, not their own—which means if you ever have issues or problems that you need to get fixed quickly, it could take some time because they might have to get in touch with that third party's customer support team.
That being said, it does integrate with some popular CRM tools and enables contact through all communication channels.
Features:
API-based platform for easy integration with third-party apps

One-touch phone calling

Predictive dialer for outbound calls

Enhanced analytics
Pricing: Available on request10
12. Bitrix24
Bitrix24 is a bit of an interesting one, because while it does have a contact center feature, it's also a mish-mash of very different tools in one platform. There's a project management tool, CRM, and even a website builder feature in addition to the few communication channels you may need. This might be an option for some small businesses that would rather have all of these tools in one place, but to be honest, there's a reason why you don't typically see this. How well everything works together is another question.
The other red flag is that if you want customer support, there's no phone support.
Features:
Email

Live chat

Voice call

On-premises data storage hosting
Pricing: From $19 to $159 per month (Basic to Professional)11

13. Channels (formerly known as CrazyCall)
The call center software formerly known as CrazyCall has been rebranded as Channels—and is now also no longer strictly a call center platform. It now positions itself as a platform for connecting all of a company's channels to improve customer service. (It might also have to do with the fact that there's a prank-calling app that's also named CrazyCall.)
That being said, Channels still leans more toward inbound and outbound calls rather than including other, well, channels. There's no video capability, for example. One of the major features is a web call widget, which lets customers call you free of charge directly from your website. There's also a "customer card" to let reps view customer details before a call.
Oddly, there's no auto-attendant, which should be a standard feature in contact center and call center software—and you only get unlimited calling to the US and Canada in the most expensive pricing tier (this is something you get even in Dialpad's least expensive plan).
Features:
Integrations with Shopify, PipeDrive, LiveChat, Zapier

Mobile app

IVR

Live listening

Call recording

International phone numbers

Two-way SMS
Pricing: From $0 to $62 per month (Free to Advanced)12
14. Freshcaller (Freshdesk)
Another newly rebranded call center software, Freshcaller also has a new name: Freshdesk. It's still part of the Freshworks stable and links up with their other products.
Freshcaller is a contact center solution with most of the features you expect, such as advanced inbound routing and speech-enabled IVR. There are also live dashboards to monitor agent performance, plus call recordings and post-call transcripts.
Some features, such as power dialer, call monitoring, barging, and even conference calling, are only available in the top two tiers. And you should be wary of extra charges for things like voicemail transcription, number porting, and call recording.
Features:
Mobile app

Call queues

Voicemail

Pre-built reports

Caller ID

Custom greetings
Pricing: $0 to $55 per month (Free to Enterprise)13
What's the best small business call center for you?
For small businesses, adding a call center to your business portfolio may seem like a big investment.
At a time when you're watching the coming and going of every penny, splashing out can make a business leader understandably wary.
But having a virtual contact center that lets you hire from anywhere is a win-win situation for businesses of all shapes and sizes. There's no need for massive amounts of new hardware (and you can even avoid expensive office space rentals).
Inbound call centers enable you to grow relationships with your customer base, and outbound calling can help you win new fans. In terms of the potential advantages, we'd say that having a call center is a necessity for any growing small business that needs a way to communicate with customers and prospects at scale.
---
👀 Looking for a small business call or contact center? Book a product tour to see how easy it is to set up and make changes to!
Get a demo
1genesys.com/pricing
2five9.com/connect/call-center-pricing
3cloudtalk.io/pricing
4aircall.io/pricing/
5talkdesk.com/pricing/
6avaya.com/en/ca/products/ccaas-pricing/
7nextiva.com/nextiva-pricing.html
88x8.com/products/contact-center
9liveagent.com/pricing/
10ringcentral.com/office/plansandpricing.html#cc
11bitrix24.com/prices/
12channels.app/pricing
13freshworks.com/freshcaller-cloud-pbx/pricing/