Back to Blog
The 14 best Zoom Phone alternatives for businesses in 2023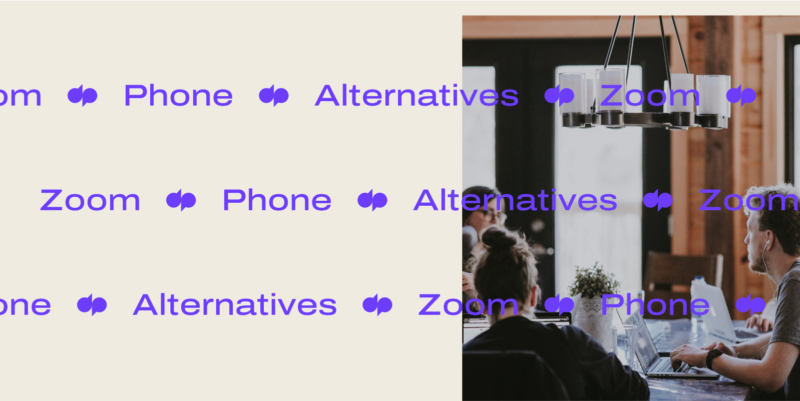 If you're looking at VoIP (Voice over Internet Protocol) or UCaaS (unified communications as a service) solutions for your business, you might have come across Zoom Phone.

And if you want to look at business phone systems other than Zoom Phone, the good news is there are many agile, scalable, and flexible phone systems out there—all of which allow you to make voice calls over the Internet instead of a regular phone line.
While Zoom Phone is a big player in the VoIP market, other competitors provide similar benefits at a variety of price points. In this resource, you'll find everything you need to know about the best Zoom Phone alternatives on the market today.
But before we compare the alternatives to Zoom Phone, let's first look at some features to pay attention to if you're shopping for a phone system.
8 essential(-ish) cloud-based phone system features to look for in a Zoom Phone alternative
With so many cloud-based phone systems out there, how can you tell what the best Zoom alternatives are!
Here are a few essential features to consider as a starting point. You may not need all of them, but you should at the very least be aware of them.
1. The ability to keep your existing phone number(s)
If your business already has phone numbers, then your phone system should be able to let you keep those numbers by porting them over.
Dialpad, for example, will help you with the process and make sure that even if you do experience downtime, it's minimal and causes the least disruption possible to your business and customers.
2. Call forwarding to mobile
You'll need to be able to divert calls from landline to mobile. You'll also want to be able to forward and divert calls from mobile devices.
Traditionally, making changes to things like your call forwarding took quite a bit of work, but it should be easy with any decent Zoom Phone alternative.
For example, to add a forwarding number to Dialpad, all you have to do is navigate to Your Settings. Then, under Your Devices, simply select Add New > Add a Forwarding Number. Then enter your chosen number and select Verify.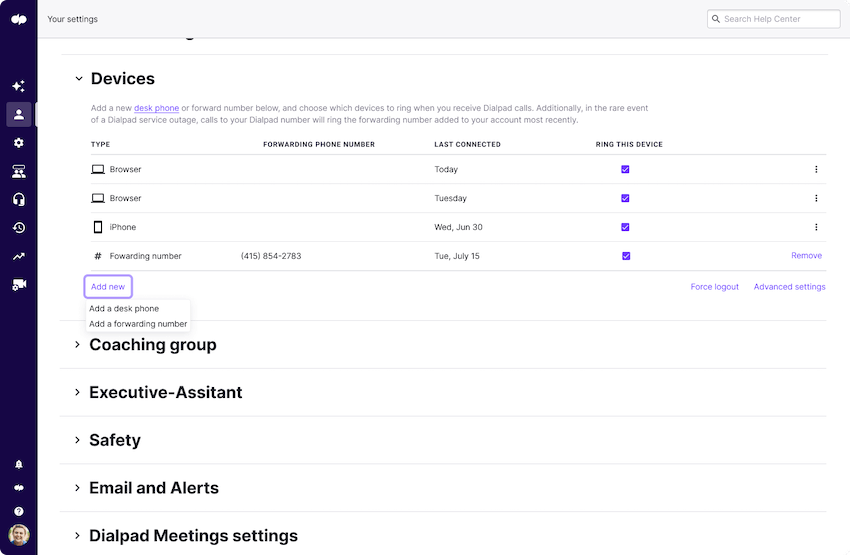 3. Call transferring and call routing
Call transfer is a way to direct inbound calls to another phone or communications system. On traditional desk phones, this would have been done using a physical call transfer button. With Dialpad, you can transfer your calls directly to another person or department right from your active call screen:
With the right call distribution system, you'll also be able to route calls to agents based on some of the following criteria:
4. Online meetings
This isn't a "must-have," but for many businesses, it's very important. If you have video meetings with clients or teammates on a regular basis, then you're probably using a video conferencing tool.
Ideally, your phone system should include a high-quality or HD video meeting feature. That way, you don't have to download as many apps (or pay as many subscription fees every month).
For example, Dialpad has built in video conferencing software and messaging, all in one app:
And if you need video conferencing, then you may as well look into a screen sharing feature as well. For teams that need to review designs or mockups regularly in video conferences, being able to share your screen is essential for collaboration.
In Dialpad, you have the option of sharing a tab or window, or your whole screen:
5. Real-time transcriptions
Again, this isn't a crucial feature to have in a business phone, but if you have lots of customer calls or interviews over the phone, it might be helpful to have real-time meeting transcriptions so that your team can review these calls later on.
Usually, the phone system will have some kind of artificial intelligence or Ai engine that powers a transcription feature like this.
For instance, Dialpad Ai can transcribe not only your calls in real time, but also your voicemails. Also known as visual voicemail, this feature lets you read your voicemails, forward them to teammates, and more—without having to listen to them:

6. A desktop and mobile app
Not everyone on your team will use an Apple or PC. Maybe some of your clients don't use iPhone and prefer Android. But whether they use iOS or Windows, your phone system should work with it!
What's even better is a browser-based platform, which means you can make and join calls from a web browser like Chrome. This way, a client won't have to download an app just to join a conference call—which comes in handy when urgent meetings come up and you need to meet now:
7. Customizable caller ID
This is an important functionality for businesses: call screening and caller ID functionalities.
The best cloud phone service providers will offer customizable caller ID options that allow you to choose what your caller ID shows up as: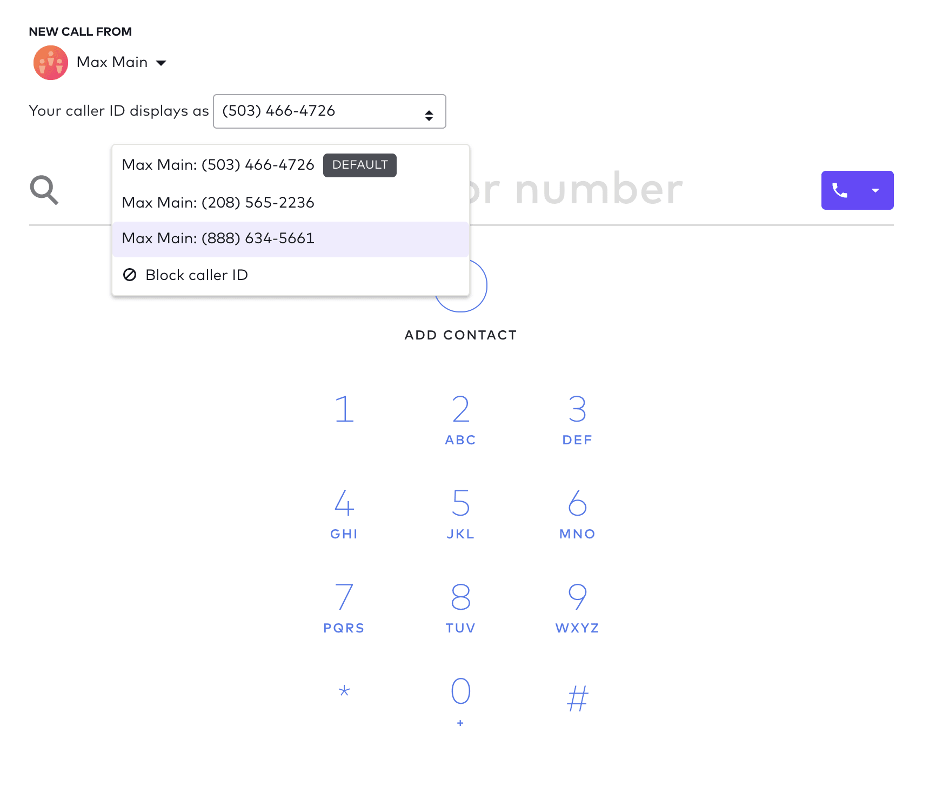 With Dialpad, you can choose what phone number or name your call shows on the screen when you call someone.
8. Useful integrations and APIs
Most cloud phone providers offer a range of integrations or the option to go open-source if you need to build something custom.
Just be aware that not all service providers are going to offer the same level of integration coverage. Before choosing your provider, make sure that they have the integrations you need (especially if you're already using a specific tool that you absolutely need an integration for).
Generally, you should at the very least consider integrations with your collaboration tools (like Microsoft Teams), sales engagement software, and customer service software or your CRM—like Salesforce: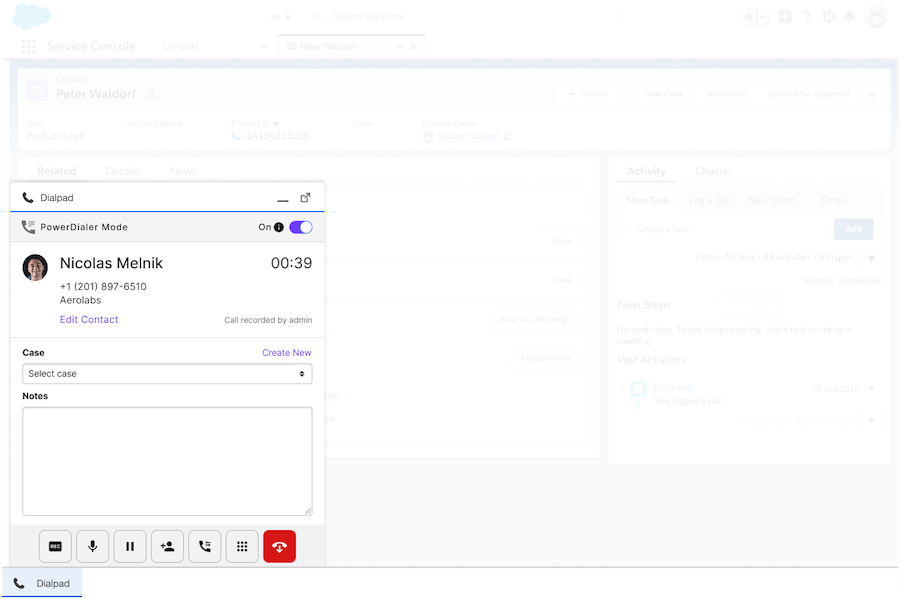 The 14 best Zoom Phone alternatives
Okay. Time to look at your options. If you don't want to use Zoom Phone, here are the best VoIP and UCaaS alternatives you can choose from—many of which are just as good, or better, than Zoom Phone.
As a side note, we also tried to choose more budget-friendly options on this list, since Zoom Phone is not an expensive option and we're looking at, well, alternatives for it. That's why more enterprise-focused options like RingCentral aren't on the list.
Top overall Zoom Phone alternatives
1. Dialpad Ai Voice
Dialpad stands out from other competitors on this list because of its far-reaching international presence.
With a cloud-first approach and a unique dual-cloud architecture that makes scaling and setup incredibly easy, Dialpad is designed to be super flexible and versatile. Though we may be a bit biased, it's one of, if not the best business phone systems for businesses with an eye for international growth.
You can add a new phone number and also manage phone numbers in your account easily in a few clicks without IT help: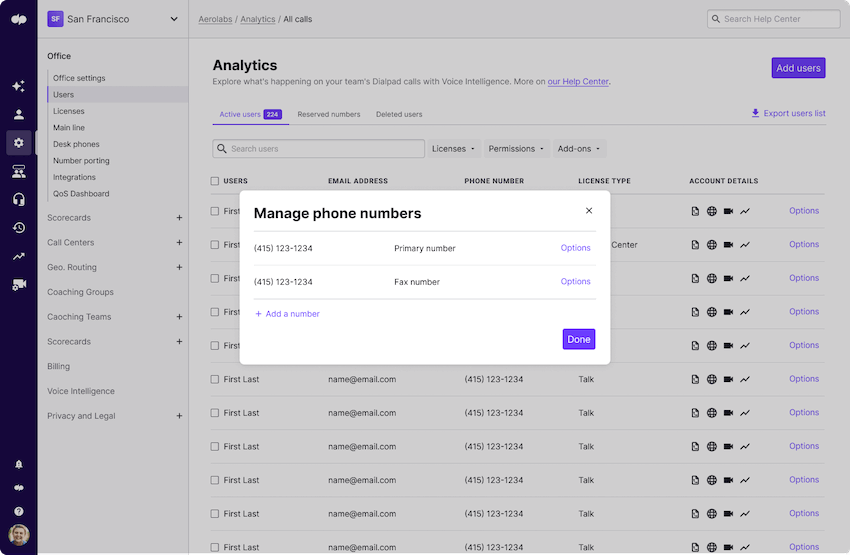 And if you need to add toll-free numbers, you can do that yourself too, with really clear information about pricing before you make anything official.
Dialpad's plans start at $15 per month per user if you sign up for an annual plan.
That gives you SMS/MMS, unlimited calling, along with all the basic phone features you need like off-hours routing, call recordings, and more.
👉 Dialpad tip:
If you need to be able to fax, you can add that feature to your Dialpad subscription, which will let you send and receive up to 1,000 fax pages per month before getting charged $0.10 per page for any overages.
If you're looking for a Zoom Phone alternative, you can try out Dialpad's free trial and play around with the different functionalities for yourself. Here are just a few of them:
Unlimited calling within your country and the United States and Canada

Voicemail transcription

Google Workspace (formerly known as G Suite) and Microsoft 365 integrations

Transfer, hold, and mute call controls

Customized voicemail greetings‌

Custom routing and IVR menu

Toll-free number support
Pricing:
Standard paid plans start at $15 USD/mo/user
‌SOC2® Type II and GDPR-compliant

Member of the Cloud Security Alliance (CSA) Security, Trust and Assurance Registry (STAR)

HIPAA-compliant

Customizable retention policy

Admins can control access to data

Data ownership and reporting

Enterprise-level encryption on calls and data stored in the cloud
But don't take our word for it...

Try one of the best Zoom Phone alternatives
Sign up for a 14-day free trial to test drive Dialpad! Signup takes just a few minutes and you'll be set up with a virtual number too. Or, take a self-guided interactive tour of the app!
2. Google Voice
Google Voice is a cloud-based phone service that lets you create a new number (or use an existing number) then transfer it to Google.
It's one of the first options that many small businesses consider because it's generally perceived as being startup-friendly, but one big drawback to Google Voice is that the service is only available in the U.S.
If your business is already a big Google Workspace or Google Meet user or only has customers and teammates in the U.S., then Google Voice could be a good option.
Features include:
Sending voicemail and message transcripts to your email inbox

Protection from spam calls and messages

Screening of calls before answering

Personalized voicemail greetings

Free directory services
Pricing: Rates start at $10 per user per month.1
3. Ooma Office
Ooma's focus is on delivering VoIP phone service to smaller businesses (and even residential homes). ‌Like with Dialpad, you could configure analog phones that your business is already using to work with Ooma.
And also like with Dialpad, you can send faxes with Ooma, a feature that Zoom Phone doesn't support at the moment.
Switching from a phone call to a video conference requires a subscription to a higher-tier plan. The same applies if you want to make calls from Ooma's desktop app. Support for international calling requires companies to sign up for a plan that bills by the minute.
Features include:
On-hold music

Extension-by-extension dialing

Call reports

Fax reports

Call transfer

Call routing rules
Pricing: Plans start at $19.95 per month per user2

Other Zoom Phone alternatives for businesses on a budget
4. Evolve IP Cloud Phone System

Evolve is a unified communications phone system targeted primarily at enterprise-level teams, workspaces, and contact centers.
With Evolve, you can video, chat, conference, and integrate with third-party apps that your team is already using.
Features include:
Direct chat

SSO security

Business SMS

Video conferencing app

HD audio

File sharing

AI speech analytics
Pricing: Business plans start at $2 per user per month3
5. Acefone
Acefone is a hosted PBX provider that offers a business phone system, though it seems like they're targeted at either UK-based or US-based customers.
With Acefone, you get a hosted phone system, free phone number, and a range of contact center solutions.
Features include:
Detailed reports

Easy deployment

CRM integrations

Call analytics

Automatic updates
Pricing: Basic plans start at $19.99 per user per month4
6. VND PBX
VND PBX is a virtual business phone system, and one thing to note for VND PBX is that they have plans for Australian & New Zealand and/or United States & Canada.
If your business is outside of those, you might need to look elsewhere.
It's also a PBX business phone system, which will be a bit limiting in terms of regular upgrades and installation and setup. (You can learn more about that here.)
Features:
Toll-free numbers

Vanity numbers

Call control

Automated receptionist

Call queues
Pricing: Prices start at $29 per user per month5
7. CloudTalk
CloudTalk is a cloud-based phone system targeted especially at sales and support teams.
CloudTalk offers calling features and integrations with popular tools. Even though inbound calls are free as part of your monthly subscription plan, they do charge you by the minute for outbound calls (which are free even with Dialpad's least expensive plan).
You also don't get SMS messages with their Starter plan...
Features include:
Call queuing

Call recording

Voicemail

Number porting

Toll-free numbers

International numbers
Pricing: Pricing starts at $25 per user per month billed annually6
8. ClarityTel
ClarityTel offers cloud-based voice, fax, and advanced IP solutions for business. It lists different VoIP solutions as well as features like SIP trunking and live answering services on the website, but it's presented in a bit of a confusing way and it's not exactly clear what you get at each pricing tier unless you get in touch with them directly.
Features include:
Unclear—get in touch with their sales team for more information
Pricing: Pricing plans start at $19.99 each per month for up to nine lines. (If you add more lines, it can go down to $14.99.)7
9. OnSIP
Hosted VoIPOnSIP's cloud-based VoIP phone system is another option to look at, though the caveat is it's quite expensive compared to the other alternatives on this list.
It does have a video chat or video calling option (which you'd also get with Dialpad on the least expensive plan), and integrates with business favorites like HubSpot and Zendesk.
The disadvantage with OnSIP is that your account isn't automatically configured for international calls. You have to make a special request to the company to enable extended international dialing. OnSIP also doesn't have an online fax option, so you'd need to sign up with a third-party company if you're in an industry that still uses fax.
The pricing is also quite complex—from call recordings to inbound calls to even just porting phone numbers, you'll get dinged with fees for many small things (that you'd get for free with Dialpad, for instance).
Features include:
Three auto attendants
Three ring groups
One dial-by-name directory
One call recording user
Pricing: Pay-as-you-go plan starts at $49.95 per month, or $18.95 per month for their "Unlimited" phone system plan8

10. Vonage Unified Communications
Vonage is one of the most well known business phone providers out there, and it has an all-in-one cloud communications platform for companies that includes phone services, team messaging, and meetings.
However! Vonage does charge extra for things like call recording and visual voicemail, which—you guessed it—comes free with some of the other options on this list, like Dialpad.
Features include:
Paperless fax service

Ability to port over your existing number

99.999% uptime
Pricing: Prices start at $19.99 per month per user for a mobile-only plan.9

11. Telzio
Telzio is a business phone system that has one big difference compared to most of the other VoIP and UCaaS options on this list: it doesn't charge you by user.
Instead, you pay according to your usage. Yep, they charge you by the minute (and by the number of SMS texts you send.)
For some businesses—we'd argue very few—this might actually work out in your favor, but for most businesses that are on the phone every day, this would probably end up costing you more.
Features include:
Call routing

Live call data
Pricing: Pay per usage pricing on top of $50 base price per month10
‌12. VirtualPBX
Virtual PBX is a business phone system offering unlimited minutes, text messaging, and video conferencing. Virtual PBX allows users to use softphone apps to turn internet-enabled devices like mobiles and laptops into a virtual phone system. Again though, even though this is an evolved form of PBX technology, it's still not on the same level in terms of flexibility and not as advanced as a true born-in-the-cloud VoIP solution.
Features include:
Automated attendant

Custom greetings

Call reporting

3,000+ integrations

24/7 support
Pricing: Pricing starts at $9.99 per user per month, but the lowest plan doesn't include video conferencing or call recording11
13. Vonix Flex
Vonix Flex combines your team communications and customer communications on one platform. Flex allows users to send and receive multimedia communications from any internet enabled device. That includes calls, texts, pictures, videos, and social media messages.
Features include:
Team chat

Business phone

Business SMS

Business MMS

Group text

Message transfer

Analytics
Pricing: Standard pricing starts at $19.99 per user per month plus taxes and fees12
14. Spoke Phone
Spoke Phone helps small business users turn their mobile devices into business phones. Spoke offers business phone solutions for small business and custom plans for larger, enterprise-scale organizations. For small teams, the Small Business Bundle offers unlimited free calling for up to four users.
Features include:
Auto attendant

Audio library

Call queues

Conference calls

Call transfer

Voicemail transfer
Pricing: Pricing starts at $15 per user per month—but you need to be with Twilio already13

Looking for a Zoom Phone alternative?
If you're considering Zoom, then you're probably already looking for something that's cloud-based and not tethered to a server room in an office or clunky hardware.
Out of all the business phone options on the list, Dialpad is your best bet in terms of scalability, advanced features, reliability, and constant innovation. But like we said—the best way to know for sure is to take all the free trials for these different VoIP (and non-VoIP) options for a spin.
Try Dialpad for free!
Looking for a Zoom Phone alternative that's a true cloud-based phone system and designed for distributed teams? Try Dialpad for free or, take a self-guided interactive tour to play around with the app on your own first!
FAQs about Zoom Phone alternatives
What is a cloud phone system?
Lob your phone into the skies and you've got a cloud phone system, right? Not exactly.

A cloud phone system is basically a telephone system that allows you to make calls over the internet. Voice signals are broken down into bite-sized digital packets, then sent to the recipient and decoded in real-time.
All you'll need to use a cloud phone is a Wi-Fi connection and any internet-enabled device like your personal cell phone, laptop (Apple Mac, Linux, Windows), softphone, tablet, or VoIP-enabled desk phone.
In fact, chances are you've encountered VoIP before. Popular mobile apps like WhatsApp, Skype, Google Hangouts, and Zoho are all powered by VoIP technology.
What are the differences between Zoom Phone and Zoom Meetings?
Why should businesses consider Dialpad as their phone system?
1workspace.google.com/products/voice/
2support.ooma.com/office/ooma-office-pricing-chart/
3evolveip.net/unified-communications/phone-options
4acefone.com/plans-and-pricing/?number
5vndpbx.com/us/price/
6cloudtalk.io/pricing/
7claritytel.com/voice-solutions-overview/pricing/
8onsip.com/pricing
9vonage.com/unified-communications/pricing/
10mitel.com/en-us/voip/pricing
11telzio.com/prices
12virtualpbx.com/products/plan-comparison/
13vonix.io/pricing-plans/
14spokephone.com/cloud-phone-system-pricing/