Three Way Call
Easily add a third party to your two-way business calls with Dialpad's Three Way Call feature. You'll also have easy access to handy call controls that let you put callers on hold and transfer them without losing your other caller.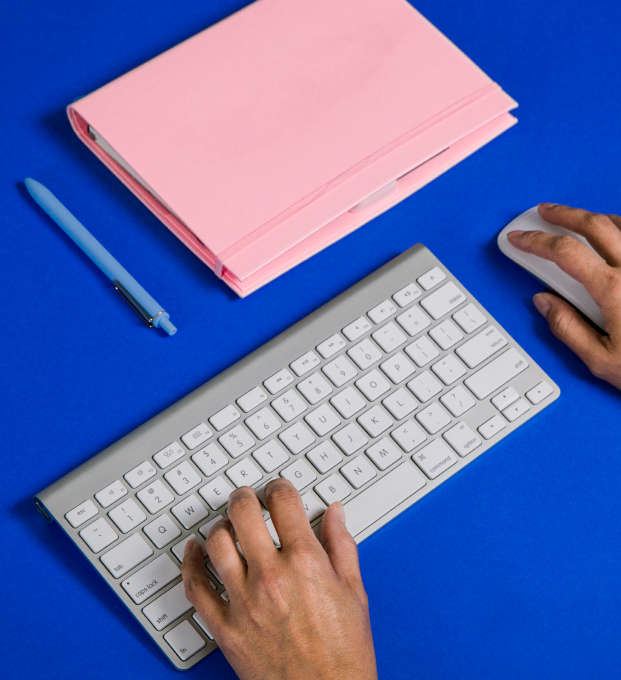 Make It a Three Way Call
It's easier to make a decision when everyone involved is there to offer their insights. Dialpad's Three Way Call feature takes a two person conversation and makes it a cinch to add a third party so you can obtain all the input you need to make important decisions swiftly. Using this feature, all three parties on the call can discuss the issue at hand and make sure consensus is reached and projects are moved forward.

How to Set Up a Three-Way Call
Three Way Call with Dialpad is simple. To add a third party during a live call, click 'Add a Caller' from the Dialpad call screen. Enter the telephone number of the person you wish to add, or use the company directory to look the person up. Then click 'Confirm' to call that contact. When the person answers, simply click 'Done' to add them to your call. If they don't answer, click 'Hang Up' to return to your existing call.

Similarly, if you receive a Call Waiting notification from an incoming call while on a live call, it can be answered and merged with your original call to create a Three Way Call if needed.

Once the third party has been added to the call, you'll see both callers listed in your sidebar and be presented with a number of different features including 'Hold', 'Mute', and 'Transfer'. Please note that if the party that created the Three Way Call connection hangs up, the other two parties will also automatically disconnect.

Finally, if you need to share something with your callers, you can very easily launch an Dialpad UberConference meeting within your call without losing any of your callers.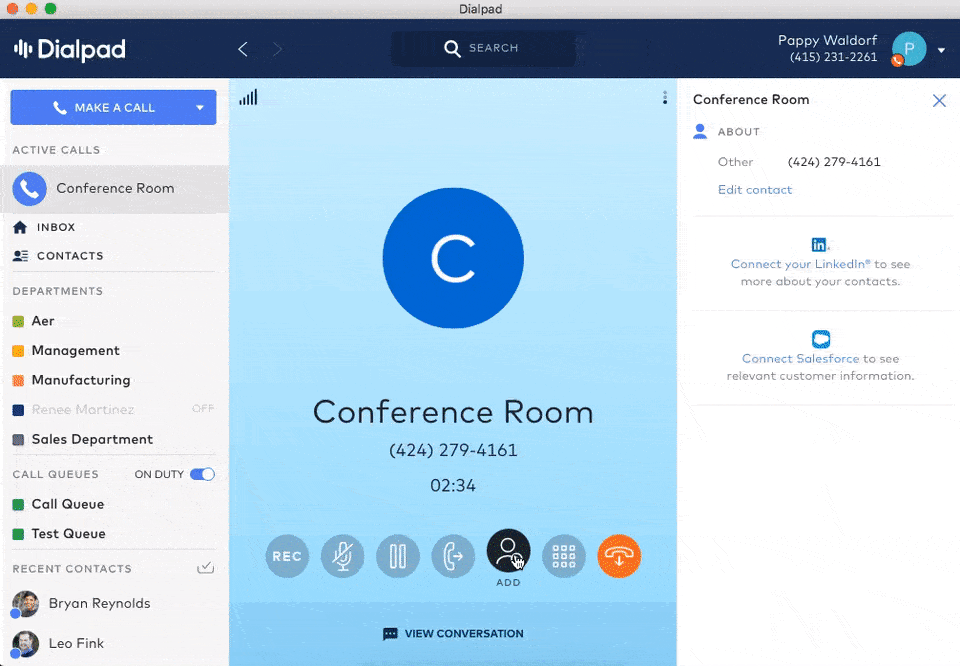 Part of Your Modern Business Phone System
Three Way Call is just one of many features that make Dialpad the ideal choice for businesses of all sizes looking to modernize their business communications platform. With a robust ecosystem of enterprise-grade features, lightning-fast deployability, ability to scale, and low maintenance, Dialpad is equipped to handle the communication needs of the modern workforces today, and well into tomorrow.
Frequently Asked Questions
How many people can be added to a live call?
Only one additional person can be added to an existing two-way call. To add more, we recommend launching an Dialpad UberConference web conference call from within Dialpad.
Does Three Way Call cost more?
No. Three Way Call is a standard business feature that's available on all Dialpad plans.
How do I know if the third person is on the line?
All call participants will be listed under 'Active Calls'.
Does Three Way Call work across all devices?
Yes, you can join or create Three Way Calls from all of your Dialpad-connected devices.
What is the difference between a Three Way Call and a Conference Call?
In Dialpad, a Three Way Call uses phone numbers and are limited to three participants. Conference Call is web-based, doesn't require a phone number, and allows more than three participants at a time. So while they're very similar and the end result is often the same, the technology used to conduct them is what makes them different.
Can one party leave a Three Way Call without disrupting the connection between the other two parties?
It depends. If the party that created the Three Way Call disconnects, so will the other two. However, if either of the other parties leave, the call will continue as a standard two-way call.
What other call controls do I have access to on a Three Way Call?
When all parties are live on the call, you can put them on hold, you can mute yourself, or you can transfer a caller to another number without hanging up on the other person on the call.
Where can I go to learn more details about Three Way Call?
You can check out this help center page for more information.