Three-way call
Easily add a third party to your two-way business calls with Dialpad's three-way call feature. Sign up for the 14-day free trial with your Google or Microsoft 365 account to try it out!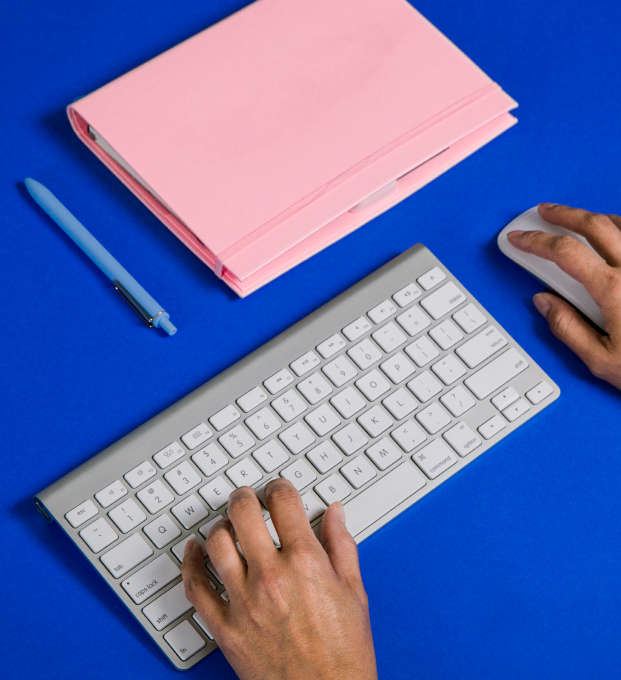 Want to easily add third parties to your business calls? Here's how to make a 3-way call with Dialpad using your deskphone, Android, or iPhone.
Three-way calls are useful in a variety of situations. For example, you can share important information with multiple team members in real time, without having to schedule in advance.
Many providers do offer three-way calling, but they often charge extra for it.
Not if you're a Dialpad customer though. Three-way calls are free as part of the standard package. 😉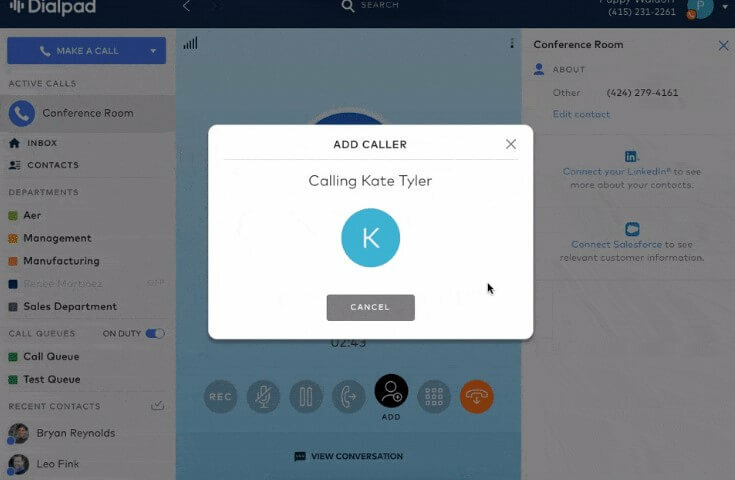 And once everyone's on the line, you can use other calling features, like putting people on hold, muting yourself, or transferring someone to another number—without hanging up on the other person on the call.

What exactly is a three-way call?
Basically, three-way calls allow you to talk to two people at the same time on either your landline or cellphone. It's probably the go-to way to involve relevant people in important conversations so decisions can be made more quickly.
While some people call three-way calls "conference calls," these types of calls don't require you to set up a conference bridge. This makes them easier to have than conference calls, and you can be chatting in your group of three in just seconds.
Three-way calls allow you to manage when a third participant enters and leaves the call. You can add a person if you need any additional input, and continue your initial conversation with the first person after they've left the call.
(Depending on your service provider, you may be able to swap between a conference call and the second call before merging both calls.)
Regardless, it's still possible to have a party of three on the phone in real time. Nearly all phones can make three-way calls, and it's not difficult to set up.
How to do a three-way call with Dialpad
Usually, the specific method of setting up a three-way call will vary depending on your service provider and the device you're using.
You can make three-way calls from most devices like SIP desk phones, VoIP phones, smartphones, and even your computer.
Let's use Dialpad as an example of how to make a three-way call—the overall process should be similarly easy across different platforms.
To add someone to a call, just follow these steps:
Click "add a caller" from the Dialpad call screen to add someone else to an existing call:



Enter the number of the person you want to add, or start typing their name:





Hit "Confirm" to call that contact.

When the person answers, hit "Done" to add them to the call (if it goes to voicemail or there's a busy signal, click "Hang up" to return to your initial call):




If you receive a "call waiting" notification from an inbound call while you're on a live call, you can answer this and merge it with your initial call to create a three-way call.
Once a third person has been added to the call, both callers will be listed on your sidebar, and you'll have a number of different options including "mute," "hold," and "transfer."
Remember that if the person who created the three-way call connection ends the call, both other people will be automatically disconnected.
How to set up a three-way call in other ways
1. On an iPhone
Call the first person, and once you've connected, tap "Add call."

Call the second person, and once the call's been established, tap "Merge calls."

To drop someone from the call, tap "Conference," then tap the red phone icon next to the participant you want to drop and tap "End call."

To talk to one of the participants privately, tap the "Conference" button, then tap "Private" next to that person. To continue the call normally, tap "Merge calls."
2. On an Android phone
To start three-way calling on an Android phone, open your dialer app and call the first person. Once they've picked up, you can call the second person. Like with an iPhone, the first call is a regular one; all you do is dial from your keypad or choose a contact recent caller list.

Now, add the call via the "Add call" button and your phone's keypad will pop up.

Dial the second person and wait for them to pick up the phone.

Once they pick up the phone, you'll see the "Merge call" button. Tap this and your phone will merge the calls into a three-way call.
3. On a landline telephone
Ah, the old-school way. It's relatively simple to set up a three-way call if you have to use an analog phone, but not as easy as using a business phone app or even your regular smartphone dialer.
If you're using a home or office telephone, add the first caller by dialling their number as you usually do, and let them know you're setting up a three-way call.
Then, activate three-way calling by quickly pressing and releasing the hang-up button (flash button). Dial in the second person and wait until you hear the dial tone.
You can then call the second person. When they answer, tell them you're setting up a three-way call. Now press the release or hang-up button, and all three of you should be connected.
4 benefits of three-way calling
1. Clear communication, quickly
Three-way calling is especially useful when you need people to join a conversation quickly. All three participants can have their say without the need to make a series of back-and-forth calls. This way, you can set up an impromptu discussion in just a few clicks or button presses.
Three-way calls can help especially in customer support situations.
For example, customer service agents can convert a regular incoming call with an unhappy customer into a three-way call with their manager to resolve issues quickly and de-escalate the customer complaint.
Alternatively, a technical support team member can escalate a problem with a customer to a supervisor in real-time, while remaining on the call themselves and continuing to provide their technical input.
👉 Dialpad tip: While video conferencing is becoming more and more popular, sometimes it's still preferable to avoid the cognitive overload that being on video requires. With three-way phone calls, it's easier to focus on what's actually being said rather than having to focus your eyes on a busy grid on the screen.
Clear communication in terms of call quality on a three-way call is a must, so it's essential to choose a network provider that puts quality above all else. Dialpad, for example, has teamed up with T-Mobile to deliver the most reliable, highest quality voice system, on the best 5G network.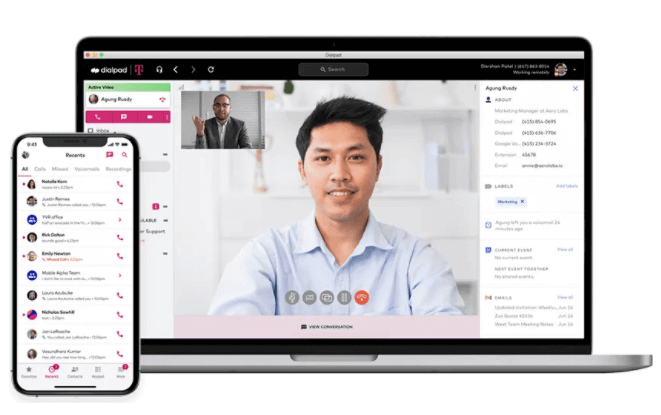 If you're struggling with call quality, there are a couple of things you can do to improve it. For example, when you're in a three-way call—or any call—regularly, one simple way to get better call quality is to use a good pair of headphones when you're making or taking the call.
The right headset can mitigate or eliminate outside noise and they often come with a good microphone, too. Some headsets even offer noise cancellation features that adjust to your environment. So if you're out running an errand (maybe you've just been invited to an impromptu three-way call), you'll still be able to hear the other participants clearly.
2. Easier collaboration for global teams
A three-way call is hands down the quickest way to get people together, no matter where they're geographically located.
There's no travel involved, and calls can be scheduled in minutes. And if you're using a good business phone system like Dialpad, you can generally start three-way calls instantly and solve problems on the spot.
3. It's more budget-friendly
The ability to make three-way phone calls means you don't have to arrange as many face-to-face meetings (or incur the costs that go along with that).
Having these meetings over the phone helps save on travel expenses, and travel expenses aside, being able to have three-way calls over the internet is just a sustainable way to collaborate inexpensively—without any long distance charges.

👉 Dialpad tip: Three-way calling with Dialpad is a standard business feature, available on all Dialpad plans.
Technically, you're not just reducing your expenses—you're pretty much removing them altogether because having three-way calls on a platform like Dialpad comes free with your plan. So, if budget is an issue (when isn't it?!), this method is better than, well, not having a business phone system at all.
4. It makes your team more mobile
With more and more people wanting to work from anywhere, it's important that you can do things like have three-way calls using any mobile device. (Make sure your service provider supports this feature!)
Whether it's your cell phone, desktop computer, laptop, or tablet, some communications platforms let you talk on the phone via a three-way connection across any device.
And some don't even make you download the app—you can just use your internet browser and add people in there, like Dialpad: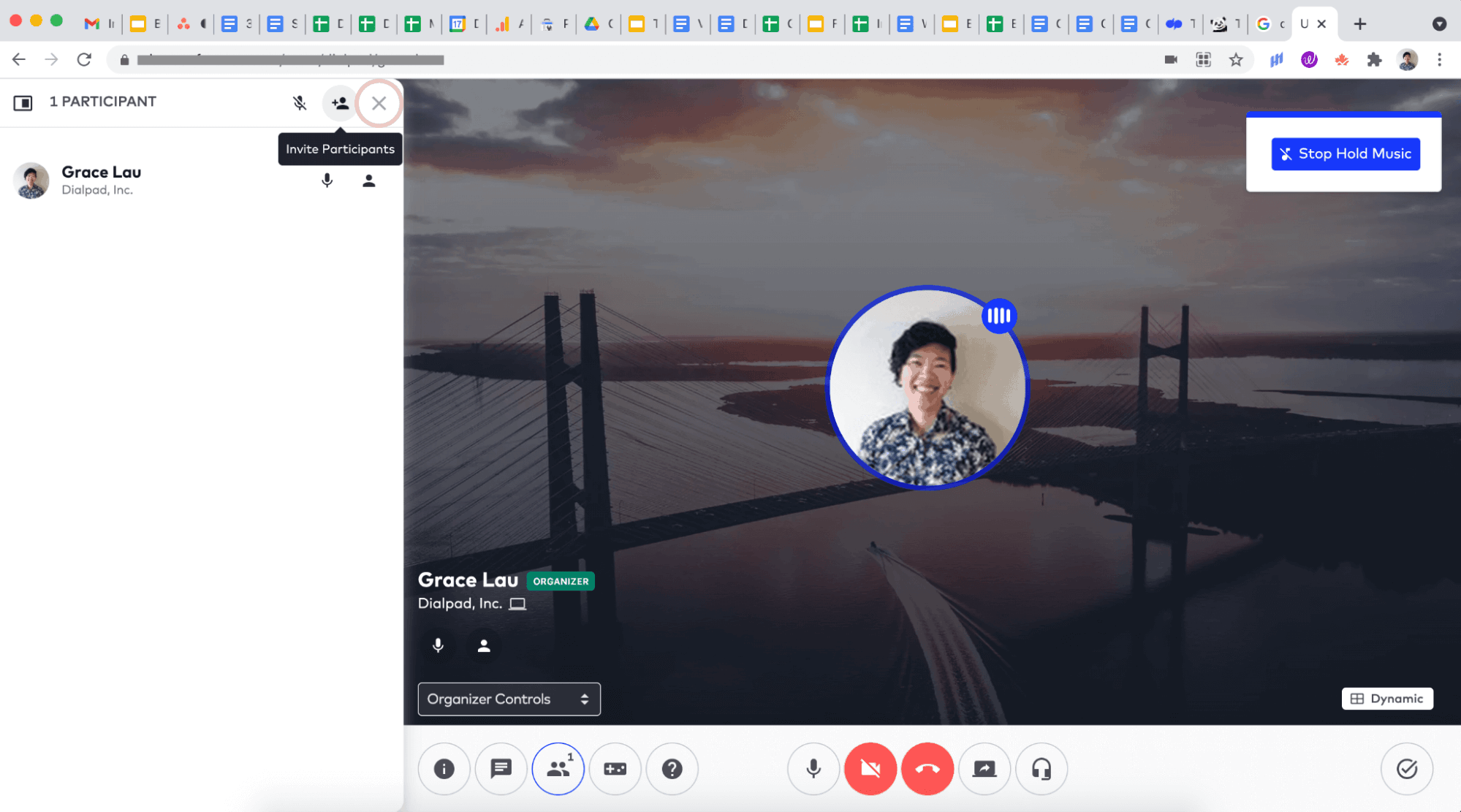 With a three-way call on your mobile phone, you can talk as you walk. (Or as you're doing other things like folding the laundry or walking the dog.)

👉 Dialpad tip: Looking for a telephony solution that lets you work from anywhere? Check out Dialpad. It's a business phone system that isn't just cloud-based—it's born in the cloud and designed for it. No clunky hardware, no expensive IT help needed.
To get three-way calling on your cell phone, just sign up with Dialpad (or any other business phone platform). Download the app onto your smartphone (Dialpad has both iPhone and Android apps) and start making your three-way calls: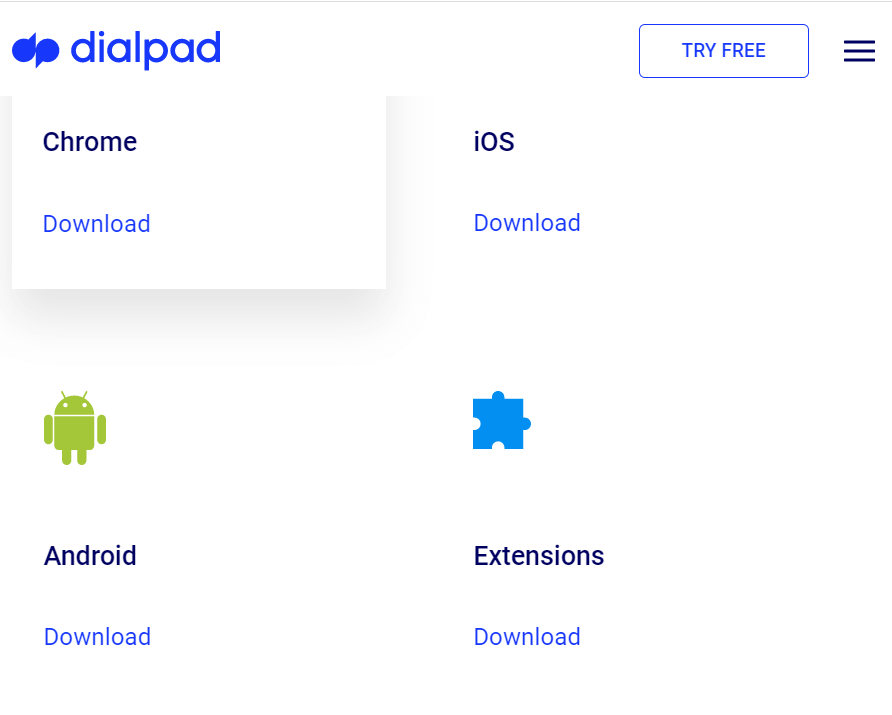 Start making three-way calls today

Three-way calls are a convenient, cost-effective way to get people together quickly so they can make decisions together and drive projects forward. Remember, if you're using a cloud phone system to make your three-way calls, make sure that they have stringent security standards that'll keep your data safe and protected.
While video conferencing has many plus points (especially when it comes to giving presentations or encouraging social interactions), there are still scenarios where three-way calling might work better for you.
Next time you're scheduling a face-to-face or long video conference call with two other people, ask yourself if a three-way call would be a better option first!
FAQs about 3-way calls
Is a three-way call the same as a conference call?
Three-way calls are different from conference calls. In Dialpad, for example, a three-way call uses phone numbers and is limited to three participants. Conference calls are web-based, don't require a phone number, and allow for more than three people to join. Both three-way calls and conference calls are similar, and have a similar end result—it's just that the technology is different.
Are three-way calls secure?
It's essential to keep your work calls private, of course, especially if you're discussing sensitive issues. One of the basic things you can do in three-way calling to maintain a bit of privacy is by placing the first person on hold before you add the second person into the conversation. (When you establish a call with a first person, tell them you're placing them on hold, then press the conference button and dial in the second person. After they answer, just press the conference button again to merge the calls.
How does Dialpad keep my three-way calls secure?
Dialpad keeps data protected in a few ways. For example, by using advanced encryption and redundant storage at several locations. The Dialpad security team also monitors threats and carries out audits 24/7, so you don't have to worry about a data breach.
Can I have three-way calls on my home phone?
Yep, though if you're using three-way calling on a home phone, other people can listen in on your phones if you have multiple handsets.