Back to Blog
How to deal with high volume calls: A guide for businesses and contact centers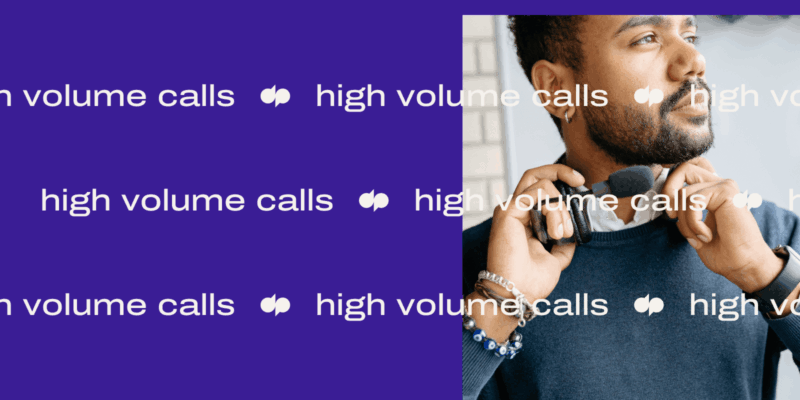 We've all been there. We've got a pressing concern about a product or service and all we want to do is make a "quick" phone call to solve the issue. No luck.
We're stuck on hold, navigating tedious automated menus or listening to awful hold music while resisting every urge to slam the phone down out of sheer frustration.
Sometimes high call volume can hit a company or contact center unexpectedly. Not only will this put unnecessary stress on your agents, long wait times can also impact the overall customer experience—and your bottom line.
In this blog, I'll walk you through how to handle high call volume, some tactics that worked well for me in the past in my contact center experiences—and how to be proactive to keep your call queues short (and your customers satisfied).
What does having a high call volume mean? What is a high volume caller?
High call volume occurs when your company receives more incoming phone calls than your contact center is prepared to accommodate.
Typically, high call volume occurs when you experience a 10% increase from the regular amount of calls received, but it all depends on the size and type of business you run and the resources available to you.
Note that to be considered high call volume, the spike in calls should persist over a period of time—the length of which also depends on the size of your business.
So, a high-volume caller can be defined as someone who calls your business a lot more than the average customer. They're constantly attempting to reach out to your contact center team for assistance—which isn't necessarily a bad thing! However, it does put extra pressure on your team if you don't have the right tools and strategies in place.
When you fail to address high call volume effectively, it can lead to lower customer satisfaction rates, a loss of business, and damage to your brand's reputation. We actually did some research into how hold times impact CSAT rates:
The good news is there are plenty of things you can do to preempt and plan for a high volume of calls—which I'll get into a bit later.
The most common causes of high volume calls
There are many reasons your business might experience high call volume. Here are some of the main reasons:
Holidays and other seasonal activities
A major cause of high call volume can be holidays and other seasonal activities like special promotions or annual events. This occurs at critical times of the year where your company experiences a surge in calls during or after the event.
Service interruptions and maintenance
When the service you operate is interrupted due to a natural disaster, experiences a power outage, or is down for maintenance, you might experience a surge in customer support requests once you get back up and running.
Lapses and flaws in the organizational structure
Sometimes, if your contact center is poorly organized or agents aren't trained well enough, it can result in backlogs leading to high call volume when you're unprepared.
The outcome of marketing campaigns
If you run a particularly successful marketing campaign that drives a lot of traffic to your business, you might see an uptick in call volume. For instance, if you offer a huge discount as part of a new marketing initiative, you'll likely experience a surge of customers calling to find out about it or make purchase inquiries.
8 ways to manage high volume calls in the moment
So, let's say you're experiencing a high volume of calls right now. How do you handle it? Here are a few ways to do it:
1. Have an action plan
When those calls come rolling in at an unprecedented speed, it pays to have procedures and a plan of action in place so your agents know how to tackle it.
If you haven't already, you should set up a pre-recorded message that lets callers know you're experiencing a high call volume at the moment. You might also offer a callback option so they don't have to wait on the line—this is really easy to set up in Dialpad Ai Contact Center:

👉 Dialpad tip:
Callbacks should be a strategic part of your plan—don't just offer a callback option because everyone else is doing it. The reason: You're not reducing work for your agents, you're just delaying it for later. Customers will still expect you to solve their issue, and the ideal scenario will always be to solve their problems more efficiently—not just postponing that work.
2. Use automation in your team's workflow

When it comes to high call volume, there are plenty of tools that can help your team save time so they're better prepared to handle high call volume.
With Dialpad, you can automate ticket routing to ensure each call is received by the best available agent. Additionally, Dialpad offers CRM integrations with tools like Salesforce and HubSpot to ensure all of your customer data is synced up after each call.

Agents can access all the customer information they need from a single platform and pick up from where another agent left off seamlessly. This saves your team from having to undergo tedious tasks like manual data entry, so they can spend more time fielding calls.
Another way to automate workflows is to feature a chatbot on your website. This way, you can intercept customers and answer basic questions before they dial your business phone number in the first place, saving time for both your agents and your clients.
3. Use live customer sentiment analysis
Live customer sentiment analysis analyzes conversations for positive and negative sentiment to provide real-time insights into how calls are going.
When your contact center is experiencing high call volume, this feature is essential for ensuring your customers remain happy with their support experience.
Dialpad's live sentiment analysis is powered by AI through its proprietary artificial intelligence, or Dialpad Ai. With Dialpad, contact center managers and supervisors can monitor customer interactions across channels to pinpoint which calls need more attention immediately. During call surges, we use this feature to make sure callers are still having positive support experiences:
That's not the only way Dialpad Ai can help us during periods of high call volume. It automatically transcribes conversations (more accurately than almost all leading competitors!), so agents don't have to waste time on manual note-taking. From there, we can create Real-Time Assist (RTA) cards with notes about tricky topics and set them to be triggered when specific phrases or keywords come up in conversation:
Dialpad Ai also automatically highlights key action items from all your conversations to make sure agents don't miss a thing when they're under pressure. (Oh, and let's not forget about the built-in voicemail feature that'll come in handy when you're missing more calls than usual.)

4. Prioritize urgent callers with a VIP call queue
According to the Pareto Principle of customer service (also called the law of the vital few), 20% of customers are responsible for 80% of turnover. So it's important to keep those VIP callers in your good books.
Your customer engagement solution or business phone system should allow you to prioritize tickets based on importance. Dialpad's queue prioritization feature allows you to prioritize which call center queues are attended to first:

5. Encourage customers to move to chat or lead them to self-service resources
When the pandemic struck, live chat gained traction as a customer service channel and remains a convenient option for businesses and consumers. With live chat, agents can work on multiple cases simultaneously (unlike phone support) to solve more than one problem at a time.
When you experience high call volume, it's a good idea to encourage callers to move to chat or self service options. As a preventative measure, have your agents promote self-serve options on every call, make it a contest, and apply it to their quality standards. That way customers can be more empowered to use self-serve options rather than calling in.
With Dialpad's AI-powered customer engagement platform, you can customize your interactive voice response (IVR) menu to direct callers to your website for access to live chat or to guide them through simple problems. This way, you'll reduce the number of calls going through to your agents.

Learn more about different customer service techniques.
6. Look at scheduling tweaks
When there's a surge, one of the first things you'll need to do is review your teams' work schedule. Stagger shifts and make sure that meeting and break times are covered so your team can handle the maximum amount of calls.
Ensure there are enough people scheduled to manage the surge in call volume. Be sure to register any vacation requests or team members on sick leave so that it doesn't affect your productivity during high call volume periods. (This will also help lighten the load on your agents and minimize call avoidance.)
7. Consider providing more customer service channels
Whether you're just starting to build your contact center or you already have an established one, offering multiple channels (and staffing them properly) for customers to contact you can be helpful. Today, consumers expect to be able to contact companies across various channels and choose the one they prefer. Chat, email, and even social media are great ways to communicate with your customers.
Some airlines, like American Airlines or Delta, make really good use of social media to mitigate high call volumes. American Airlines sometimes posts things on social media accounts saying things like, "Heads up, we're staggering flights that may impact you."
Your customers should feel comfortable switching between platforms without worrying about agents missing their requests or having to repeat themselves because they're getting transferred back and forth.
8. Use your chat platform
Chat is an extremely valuable tool for communicating both internally and externally. When you're experiencing high call volume, staying connected to the rest of your team via chat is a great way to gauge how things are going and support each other.
The Dialpad app's messaging feature provides your call center team with all the tools they need to collaborate when high call volume occurs (and every other time, too!)
How to prevent and prepare for high volume calls
We've all heard that "prevention is better than cure," so how can you prevent periods of high call volume in the first place, or at least ensure they won't negatively impact you?
Consider outsourcing a call center or an answering service
For small businesses, hiring new customer service representatives to meet customer demand might not always be an option. Outsourcing your call center is a logical option that can help you stay on top of your customer service objectives when managing high call volume.
Be cautious when outsourcing your call center or answering service. They won't be affiliated with your brand, so you'll want to vet them properly to ensure their service doesn't negatively impact your bottom line.
Analyze your call center data and forecast
By analyzing your call center data and forecasting spikes using historical data and trends, you can better plan for high call volume. Using this data, you find out whether high call volume occurred as a result of seasonal promotions, new product releases, or something else.
Create a comprehensive knowledge hub and FAQs page
During high call volume periods, your agents will often find themselves answering the same (or similar) questions again and again. One way to avoid this is to create a knowledge hub and FAQs page that customers can refer to of their own accord.
Customers are generally pretty happy to find answers to their own problems when the information is readily available to them. Make providing self-service options an integral part of your strategy for managing high call volumes.
Here's how to reduce call volume with self-serve options:

Create a detailed and easy-to-navigate FAQs section on your website. This page should be regularly updated with common customer questions. It should also feature useful links to help customers find answers as efficiently as possible.

Publish articles and online tutorials in the form of webinars, documents, or slideshows to empower customers to solve problems without picking up the phone.

Feature all of these resources in a knowledge base on your website. This way, customers can answer their own questions, freeing up your team to focus on more complicated questions.
Make sure your agents are trained well
If you throw your customer service reps in at the deep end during a period of high call volume, you can't expect them to handle it flawlessly.
Ensuring your staff are trained and armed with all the tools they need to solve customer requests as efficiently and effectively as possible is imperative. When your team is better equipped and trained to handle a large call volume, the more satisfied your customers will be.
Have a good IVR strategy ready
During a period of high call volume, you won't always be able to guarantee callers reach a live agent immediately.
Interactive Voice Response (IVR) is an automated menu that greets customers when they call. It provides them with multiple options to help streamline the calling experience by ensuring they're directed to the right place.
A good IVR strategy can help you to manage high call volume by providing callers with various end points so they might not even have to speak with a live agent at all.
Dialpad's IVR feature is like an AI-powered receptionist. You can create a custom menu that's easily adjustable from inside the Dialpad app. Simply go to your account to set up things like call routing rules, call flow, and holiday hours. If you're experiencing high call volume, you can add extra options to your IVR to handle calls promptly or direct high volume callers to self-service options.
For instance, if customers are calling about simple tasks that they can complete themselves, your IVR can provide quick responses or direct callers to other communication channels or self-service options. This reduces inbound call volume, allowing your agents to focus on more complex issues.

3 tactics for handling high volume callers
Well, that's preventing and managing high volume calls covered, but what about those high volume callers?
1. Create a specific, personalized onboarding plan
New customers are more likely to call your customer service team if they don't know how to use your product or service. Consider creating a personalized onboarding plan for customers that get in touch during periods of high call volume.
Tailor an onboarding program that caters specifically to high volume callers. These programs can teach customers how to use a new product or service. Offering a specific support channel for new callers is a great tactic for handling those high volume callers that don't have support requests but simply need advice and guidance.
2. Use screen sharing tools for thorough demonstration and troubleshooting
High volume callers are often experiencing similar issues with a product or service. Often, they simply don't know how to fix it and call up hoping for a quick solution. Apart from directing them to self-service options, you can also use screen sharing tools to give them a quick and easy demonstration.
Screenshare tools make it easy for agents to troubleshoot problems while taking customers step-by-step towards a solution.
Dialpad's built-in video conferencing tool empowers agents to share their entire screen, a window, tab, or a file with a single click. Customers don't even have to have the app downloaded, and both parties can access it from their browser on desktop or mobile! Agents can simply send clients a link via SMS to join the screen share:

3. Always practice phone call etiquette and patience
If callers have been trying to get in touch with you during periods of high call volume and have tried multiple times, then your team must prepare to pull out all the stops when it comes to phone call etiquette and patience.
Great phone call etiquette involves:

Speaking clearly

Being patient and listening carefully

Taking notes (Dialpad Ai automatically transcribes your conversations, so there's no need!)

Remaining cheerful and friendly (no matter how hard it might be)
As we mentioned earlier, Dialpad's sentiment analysis helps your call center team keep tabs on how customers are feeling by picking up on positive and negative sentiment in real-time. If a call is going really badly, a manager or supervisor can quickly jump in and salvage the call.
Stats to consider monitoring when handling high call volume
High call volume will affect other call center metrics and key performance indicators (KPIs), so it's important you pay special attention to those when you're experiencing a large number of incoming calls.
Average speed to answer
Average speed to answer refers to the amount of time a caller spends in the queue before the call is picked up by an agent. When you're experiencing a period of high call volume, the average speed to answer is likely to be affected.
Dialpad makes it easy to track contact center analytics like average speed to answer with its built-in heat maps:

(In fact, it's one of the main things Five Iron Golf values about the platform.)
Average answer SLA
If your average speed to answer does go up, it's vital to assess whether you're close to—or are—missing your SLA. If your SLA is to answer calls within 120 seconds and you go over that consistently for a period of time it impacts your productivity and potentially your relationship with customers. We can also set notifications to triggle for supervisors in Dialpad if SLAs dip below a certain threshold:

Average hold time
When you experience high call volume, this metric is likely to increase as fatigue in agents increases. This leads to wrap time increasing and hold time increasing. You'll notice agents putting people on hold more or leaving them on hold longer because they just need a break.
Average handle time
Average handle time refers to the average duration of a customer call. This is calculated from the moment they dial your number to the moment the call is terminated. Just because you're experiencing a high call volume doesn't mean that this KPI should differ too much from your regular average handle time.
Rate of calls abandoned
If you're experiencing high call volume and you're not prepared to handle it, you'll likely find your call abandonment rate increases.
With powerful contact center software like Dialpad, there should be no reason for having a high call abandonment rate. Dialpad empowers agents with all the calling features they need to effectively handle more calls than usual.
Just take it from the Early Learning Coalition of PBC, who were able to handle 9,000 more minutes worth of calls in the first week of using Dialpad when their team went fully remote—meaning less calls were going unanswered.
Is your business braced for high volume calls?
When poorly managed, high call volume can have dire consequences for your company's bottom line.
But with the right tools and strategies to empower your audience in place, you can prepare for surges in call volume while maintaining high customer service levels. From offering omnichannel support and self-service options, to leveraging existing data to prepare for stressful periods, there's plenty of things you can do to brace your team for high volume calls.
A unified communications platform and cloud contact center solution like Dialpad offers advanced calling features, integrated channels, and AI to enhance your customer support. With integrated voice, video, and messaging, your team can stay connected and access contact history from an easy-to-use, unified platform. Dialpad empowers your agents to effectively handle calls, no matter how busy it gets!
Dealing with a high volume of calls in your contact center or business?
Book a demo of Dialpad Ai Contact Center to see how it can help relieve your agents and supervisors. Or, take a self-guided interactive tour of the app on your own first!