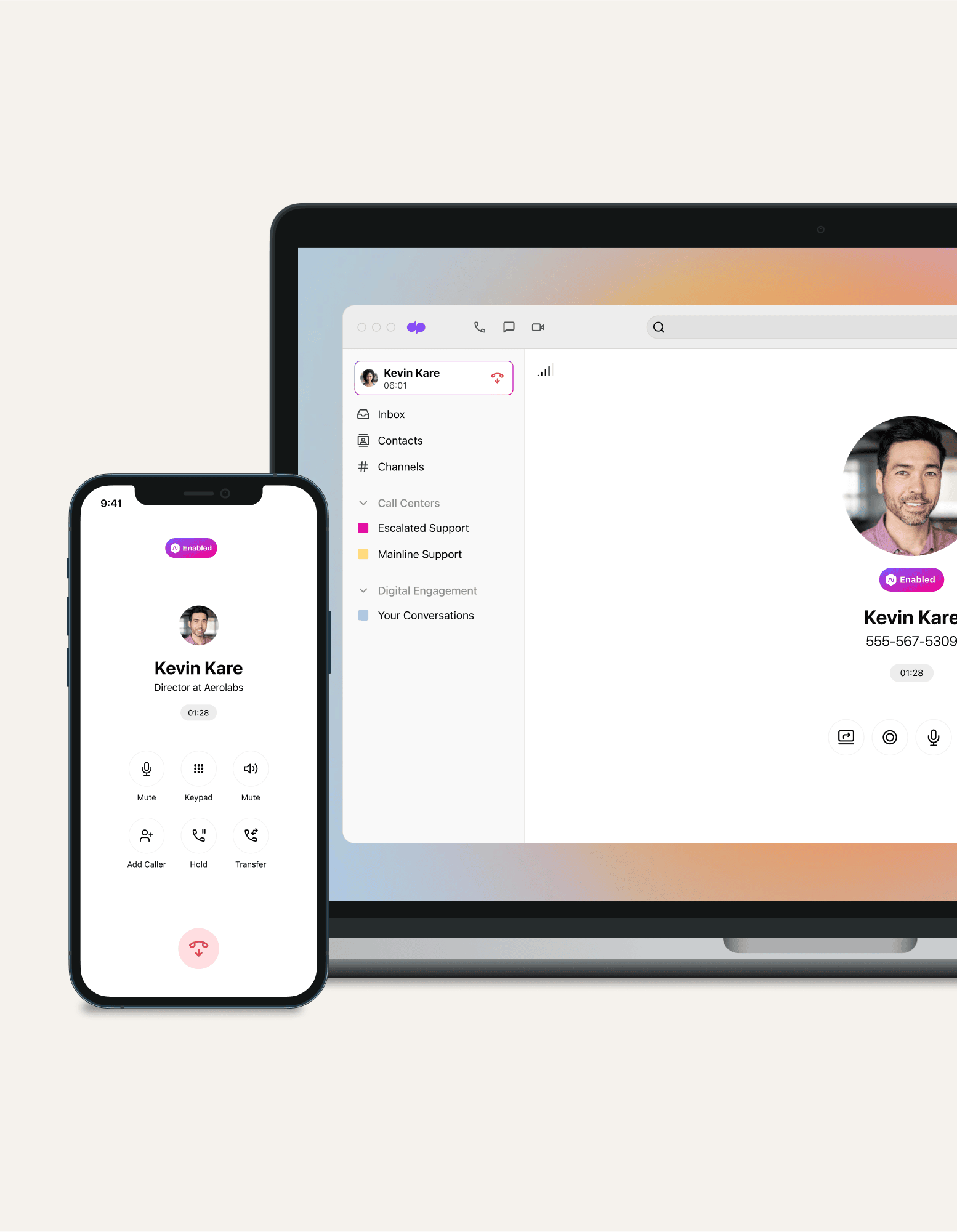 Cheap VoIP
Looking for an affordable—but robust—business VoIP phone service? Dialpad's AI-powered collaboration platform comes with a built-in phone system. Get started in just minutes with a virtual business number by signing up for a 14-day free trial!
If your business is still using a traditional PBX (private branch exchange) phone system and you're looking for something that's more remote-friendly and affordable, then you might be looking into VoIP (or voice over internet protocol) phones.
But VoIP pricing plans can vary as widely as the features they offer. And sure, there are those "free" and "basic" packages that cost you only a few dollars a month. But what do you actually get with these plans, and how much do you really end up paying?
Truth is, beyond the phone system itself, "cheap" VoIP options often nickel-and-dime you for things like basic conferencing options, outbound calls, and call recording.
Let's break down how to choose an affordable VoIP service for your business—that takes into account both short and long-term costs.
What is VoIP?
VoIP is a type of telephony technology, and it stands for Voice over Internet Protocol (sometimes also known as IP telephony). Essentially, a VoIP phone system allows you to make phone calls over an Internet connection.
With a VoIP phone service or provider, you're typically able to keep your existing phone numbers and you don't need any special hardware or expensive IT help to get set up and start making calls (beyond your own cell phone or a computer).

👀 Shopping for a phone system?
Grab this IT checklist of key questions to ask when buying a new business phone system!
What to consider when choosing the best cheap VoIP provider
When it comes to finding the best bang-for-your-buck VoIP provider, there are several things to consider:
The price tag
If you're looking for a cheap enterprise VoIP option, then price may be the most important component of any package. But focusing on just the initial phone bill can be misleading because with VoIP, you really do get what you pay for.
For example, a free app like Skype is "free" (and this goes for options that cost a few bucks a month too) but it may not come with features you need for work, like long-distance calling or visual voicemail.
For businesses on a budget, the key is to find the best balance between costs and required features. In other words, where is the pricing range sweet spot where you can find the best value? If you look at the standard range of freemium products to the standard enterprise package of about $30 per user, this value can often be found in the $15 to $25 range (in our estimation).
Hidden costs
After install and setup are completed, what's next? Will staff training be required? If so, how long is the onboarding process, and how expensive? If admins require weeks or months of training, then this is costing your company money, too.
Customer reviews
One of the best ways to gauge if a VoIP service is worth its price is to glean insights from customer reviews, case studies, or testimonials. If a product fits your budget, but has tons of customers complaining online about the service being down frequently, then you know why it was so cheap in the first place.
For example, G2 is one of the biggest sources of customer reviews for VoIP options. (Trustpilot is another.)

If a "cheap" VoIP service sounds too good to be true, this is where you'll find out if it really is.
Payment/subscription plans
Most VoIP providers offer different payment and subscription plans which can be billed monthly or annually. The subscription cost is normally charged per user as per "seat."
Be aware of additional costs for things like setup and implementation, adding more users or call recordings. Often, pricing will escalate greatly for add-ons, so read the terms carefully before signing up with a provider. And many times, these are basic features that should have come bundled with the software, anyway.
For example, Dialpad starts at $15 per seat if you just need VoIP business phone system features, which includes things like unlimited calling, custom voicemail greetings, and custom call routing.
💰 Shopping tip:
Always try to look for platforms that offer a free trial or money-back guarantee. If a cheap VoIP provider doesn't at least give you that flexibility before you buy, the experience probably won't be much better post-purchase.
The actual features
VoIP providers all have so many features. Some, like unlimited calling, caller ID, free calls, auto-attendant, CRM integrations, and softphone desktop or mobile apps, are just necessities. Others might be more nice-to-haves.
Looking for a cheap VoIP provider?
Dialpad's AI-powered collaboration platform has a built-in business phone system. Try it out with a 14-day free trial. It takes just a few minutes to sign up and get started with a virtual business number! Or, take a self-guided interactive tour of the app!
Essential features to consider in cheap VoIP services

With so many calling features, it helps to know which ones you should expect to be included in the basic plan.
Ability to keep your number
With Dialpad, you can port over your existing business numbers without any interruption in your service so your customers and clients don't have to worry about updating your contact info.
Easy setup and management
Pricing plans don't always tell the big picture of implementation costs. Can your existing resources complete the setup and activation on their own? (For bigger jobs and larger enterprises, you might need a professional services team—and some providers will charge you a hefty sum for it.) What about adding phone numbers for new hires? You can do all of that in your Dialpad account in just a few clicks:

Call recording
When you're looking at business VoIP providers, call recording is an often-overlooked—but valuable—feature. Use it for call quality assurance, to help with coaching on customer calls, and to help sales reps and customer service agents take ownership of their performance (just to name a few).
Real-time transcriptions
This is a nice-to-have rather than a must-have, but if you do frequent customer calls or training sessions on calls, then having transcripts might be helpful. Dialpad Ai can transcribe all your calls—in real time, more accurately than almost all leading competitors—and also extracts interesting questions, phrases, and keywords for actionable items.
International calling
Generally, it's better to choose a business VoIP service that doesn't charge you by the minute for local outbound and incoming calls (because there will be such a high volume of calls). If you have an international presence, though, then you'll want affordable international calls too. (Dialpad offers unlimited calls within the US and Canada—on even the most basic plan.)
Voicemail
Not everyone can be reached every moment of the day. Voicemail and custom voicemail greetings come free with Dialpad, but not all VoIP services—what if you're in meetings all day and can't listen to every voicemail? Dialpad also has a visual voicemail feature, which transcribes your voicemails so that you can read them when you're on the go (or stuck in a meeting):

Virtual fax
Again, this is a nice-to-have, but if you're in an industry that still uses fax (like law, insurance, or healthcare), it becomes a must-have. With Dialpad, you can send a fax online right from the same app that you use to make calls and have video meetings. (You can also use Dialpad to receive faxes on any device via your main company number.)
Instant messaging and SMS
Other than phone calls, text messaging is another important channel that customers and prospects tend to be responsive to. Your VoIP provider should have an SMS and instant messaging feature so that you can have that internal and external communication with not only coworkers but also clients, patients, and other people outside of your company.

Conference calling
Many VoIP options offer the ability to make conference calls—but how much they'll charge you will vary. You should be able to have three-way calls and conference calls on your softphone app, in a reasonably low-cost VoIP package. Created by the team behind Google Voice, Dialpad lets you have voice-only conferencing and also video calls.
Unified communications
If you use other communication channels like video conferencing and messaging, then you'll probably want a VoIP provider that has a UCaaS (unified communications platform) product. This means you'll be able to not only make phone calls, but also have HD video calls and send SMS messages—all in the same place, even without needing to download the app:

A softphone app
With Dialpad, you get a desktop and mobile app that works across iOS, Android, PC, and Mac. Work from anywhere, on any device.

Why go with Dialpad for your business VoIP needs?
Dialpad has all of the essential features you need to communicate with customers, clients, prospects, teammates, and stakeholders both inside and outside of your business. Here are just a few of the features you get:
Desktop and mobile apps

A wide range of integrations

And much more
With a range of prices and clearly laid out plans, it's designed for businesses at every size—and budget. Pricing starts at just $15 per month, per seat.
Don't just get a VoIP phone system
Get an AI-powered collaboration platform that gives you phone calls, SMS and instant messaging, and video meetings, all in one place. Book a product tour to see how it works!