Back to Blog
Cloud-based communication solutions: What remote teams should look for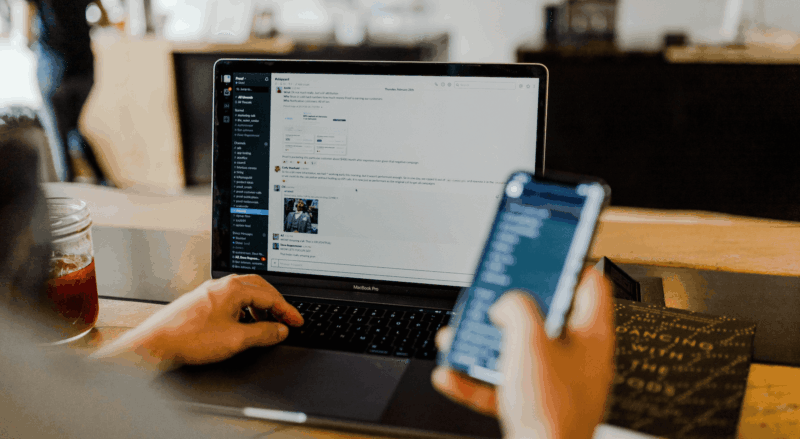 Every business needs to be able to communicate. Whether you're communicating with your teammates or providing customer support, you simply just need a way to have phone calls, host and join video meetings, send texts and instant messages, and more.
Of course, the pandemic sped all this up, but there's no getting around the fact that today, having a good communication solution is vital. A business can't function without it.
But what should you look for? There are literally hundreds of communication systems out there, from well-known but old-school legacy software to more modern, born-in-the-cloud options.
Having worked remotely full-time for the past four or five years, I've used plenty of different communication solutions. Gmail, Slack, Zoom, you name it.
And what I've found is that for most remote workers and businesses, a cloud-based, unified communications platform is the way to go.
I'll show you why in just a bit.
Why should businesses care about cloud communication solutions?
There are a few reasons why cloud-based communication solution­s are essential for businesses that are either getting started now or undergoing a digital transformation.
One is that if you plan to have a distributed or remote team, this is a must-have. Businesses used to go with something pretty basic like a business phone system as their whole communications system, and that was enough.
Today though, most people are talking to prospects on video calls, having conference calls with teammates, and pinging each other on messaging threads—every day. A phone system isn't going to cut it anymore. You need a more robust communications solution, and ideally one that has a desktop and mobile app so that you can work from anywhere.
On a related note, these platforms also tend to give you multiple communication channels in one app. That means you don't have to have one video conferencing app and another team messaging tool. For example, I use Dialpad to do exactly that. I can call a teammate, have a video meeting, and message people (both SMS/MMS and instant messaging) from one place: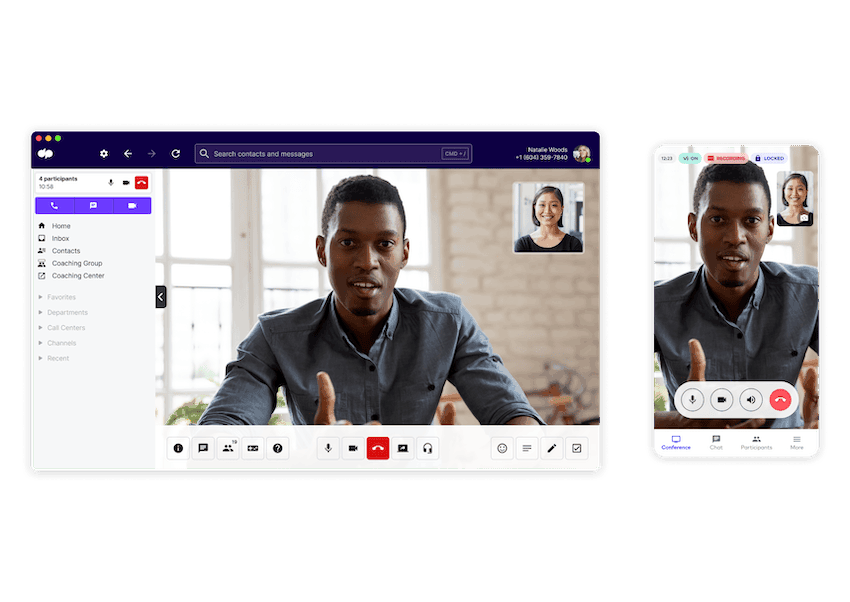 And the nice thing about a cloud solution is that it can also be highly scalable—you can provision new phone lines in literally minutes, without installing physical cables, and remove them just easily. Whether your business needs to scale up or down in the future, you can do that.
What's important to note is that not all communication tools can do this! I've used a ton of different apps in the past, and Dialpad is pretty much the only one that I've seen that lets you do this so easily:
5 key business communication solutions for distributed teams
1. A cloud or VoIP phone system
Need to have phone calls with clients and prospects? You need a phone system. The good news is, you don't need an expensive telecommunications provider, PBX systems, or landlines for that.
There are lots of VoIP (Voice over Internet Protocol) communication solutions that let you make phone calls over the internet.

📖 Further reading:
Learn more about VoIP vs PBX in this guide.
Keep in mind that there are unified communications platforms that are essentially business phone systems with superpowers (messaging, video conferencing, and other communication channels on top of just telephony).
These options tend to be comparable in price (or even cheaper) than some VoIP phone systems, and come with all the advanced call management features you expect, like call forwarding and customizable caller ID.
For example, when you make a call from the Dialpad app on your own mobile device, you can choose which phone number you want to display on the screen of the person you're calling: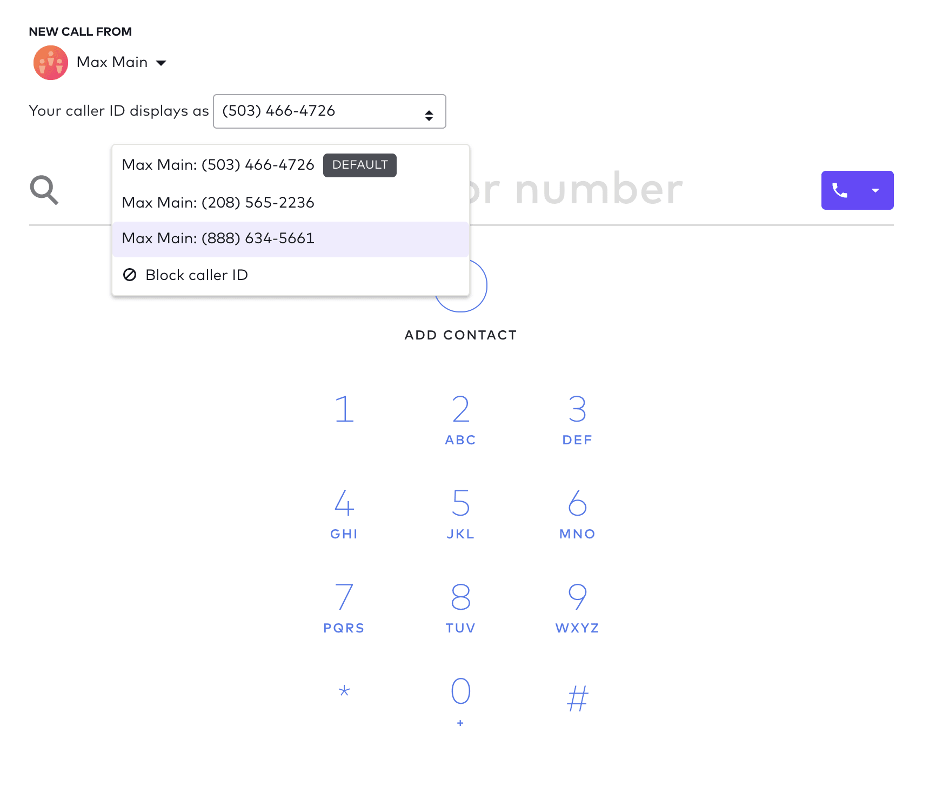 And as I touched on earlier, you can easily add (or remove) phone numbers for team members, right from your online dashboard in Dialpad with just a few clicks. Magic.
2. Video conferencing
Video conferencing is another must-have channel when it comes to communications. Whether you're doing one-on-one check-ins, company-wide meetings, or webinars, most companies today have virtual meetings on a daily basis.
Again, this is something I love about Dialpad—I just open up the same app that I was already using to make phone calls to start a video call. It helps that it comes with screen sharing, in-meeting chat, and robust security controls too:

From talking to our Sales team, they love the fact that it's fully browser-based, which means you can host and join video calls in a web browser. This is great because clients and prospects sometimes don't want to have to download a software package or app to join your meeting:
3. Messaging
I don't know about you, but I probably use messaging the most out of all the communication channels. Whether it's an SMS text message or a group chat, messaging is a key team communication solution.
And yep, I can do that too—in the same app that I mentioned using for video conferencing just now:

What's neat about Dialpad is there's a Discord-like "Sidebar" feature where you can jump into a temporary audio chat with your teammates—perfect for those situations where you don't need a formal meeting, but have a quick question that would be easier to talk through rather than go back and forth on messaging about: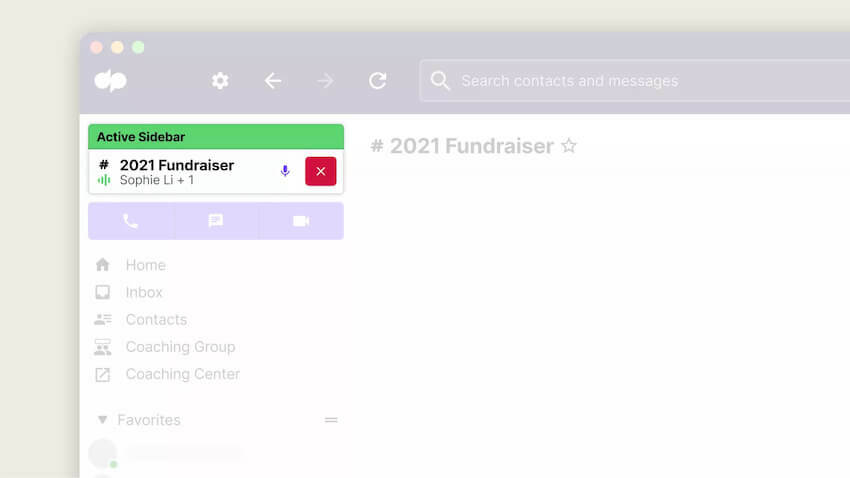 4. Customer service and relationship management
Of course, we can't forget about the customer experience when it comes to communication solutions. Besides letting you communicate internally, a good solution should also let you handle external communications like customer support, social media, and so on.
This is where Dialpad's platform is truly special. The vast majority of UCaaS (Unified Communications as a Service) providers that give you phone calls and messaging in a single app don't have contact center features. They might say that they do, but often, they're partnering with third-party vendors to whitelabel or resell their products while marketing themselves as a "fully integrated UC and CC solution."
Dialpad has its own CCaaS (Contact Center as a Service) solution, meaning your agents and supervisors can manage all your customer communications in the same app where they're talking to their teammates.

5. Project management tools
Project management tools are another important communication solution. For my work specifically, I'd say that they're essential. If you have to collaborate with team members on projects or tasks with multiple rounds of feedback and a variety of stakeholders, I'd argue these tools would be essential for you too.
We use Kanban tools like Asana and Trello to streamline workflows, delegate tasks, track progress of projects, and basically get stuff done more efficiently.
These are especially useful if you have teammates in different time zones—they're a great example of an asynchronous tool that helps everyone stay updated regardless of what time zone they're in.
Features to look for in a communication solution provider
Truly unified communications
As I mentioned earlier, I say "truly" unified communications because there's a lot of confusing information and marketing copy out there.
We've had a ton of customers come to us after realizing that the "unified" solution they were using actually had separate apps for external contact center features and internal communications features!
Here's a quick three-question checklist you can use to test whether a solution you're testing is actually unified:
Does the user interface look the same when you're doing contact center work and when you're sending a message to your team's group chat?

Do you need to log in to a different account to access contact center functionality? If so, it's probably not unified.

When you contact the Support team for help, do you get routed to a third-party Support team for more complicated questions? If so, your provider is probably reselling another company's software.
Visual voicemail
Every phone system and communications solution should come with voicemail.
That's not what you're checking for. What you want to pay attention to here is how easy it is to do things like record or upload a new voicemail greeting, and listen to your messages.
Dialpad is cool because not only can I easily see all my voicemail messages from the app, it also transcribes my voicemails for me—in real time. When I'm in back-to-back meetings or traveling on a noisy train, this visual voicemail feature comes in handy: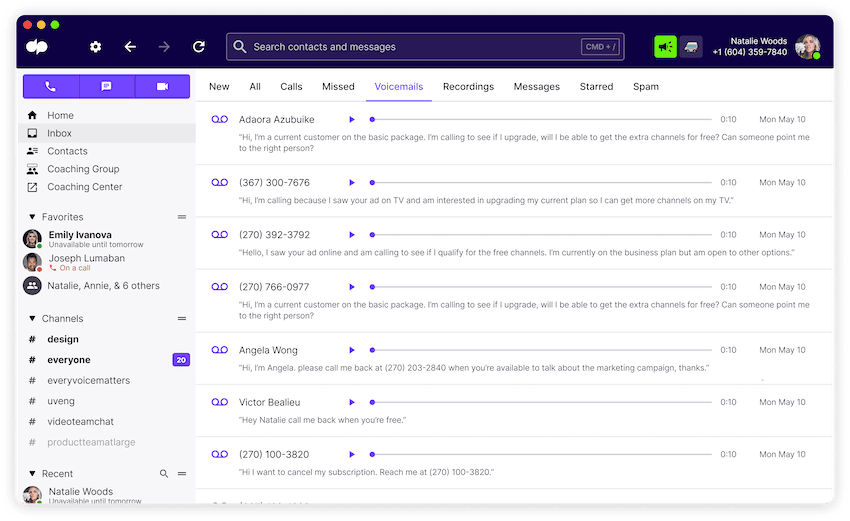 Built-in artificial intelligence
Before I started using Dialpad, I would've told you that I didn't need Ai in my communications platform.
But now, knowing that Dialpad can transcribe my calls and team meetings—in real time—I can't imagine not having it. I sometimes sit in on customer interviews (my team writes the case studies), and it's been such a nice change to be able to actually pay attention and ask the customer better questions... Because I know that everything's being captured with Dialpad Ai and I don't have to take any notes: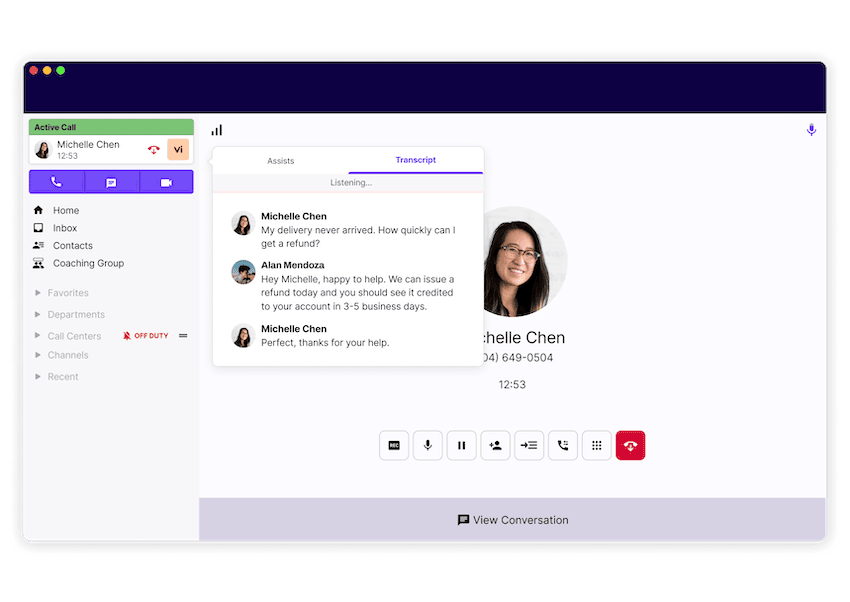 After the call, Dialpad automatically emails the participants a call summary with the transcript and action items too, which is also awesome.
Integrations with other tools you use
This one sometimes gets overlooked, but it's been pretty important for me. If you're using a productivity tool like Google Workspace or Microsoft 365, this will be helpful too.
Dialpad integrates with both to auto-populate your meeting invites with the link, which makes it easy for your attendees. Beyond that, it also integrates with a wide range of popular business software like Salesforce, Zendesk, HubSpot, and more to embed the dialer inside these platforms (less toggling back and forth for your reps and agents) and automatically log call details and contact records:


(And if you want to build your own custom integration, you can do that too with the APIs.)
Bonus: Contact center functionality
If you have to handle a high volume of communications with customers or prospects on a daily basis, you probably need contact center software.
It's mostly customer experience and sales teams that need this, and ideally, these features would come in the same package as whatever solution you're using for your internal team communications. (Tends to be more cost-effective, easier for your IT team to admin, and better for team members in general because they can get everything done in one app as opposed to four or five.)
Again, Dialpad's cloud contact center platform gives you exactly this, along with a host of unique Ai-powered features like the Real-Time Assist (RTA) cards that pop up with helpful notes on specific topics when those keywords are spoken—which can help with improving the customer experience and retention:

Want to have a chatbot on your website or handle social media messages across Twitter, WhatsApp, and more? You can do that too, all in Dialpad's omnichannel contact center platform:
Communicate more effectively with teammates and customers with a unified communications solution
If your workplace is becoming more distributed, it might be time to look into a cloud-based unified communications / UCaaS solution. Not only does it empower your team to work more effectively and stay in touch from anywhere, it can also help you improve your customer experience.
With different pricing plans to choose from and a cloud-native, easy-to-set-up platform, Dialpad is loved by both enterprises and small businesses. See why by trying it for free!

Looking for a remote-friendly communication solution?
Sign up for a 14-day trial to get set up with a virtual phone number and try Dialpad out or, take a self-guided interactive tour of the app first!
FAQs about communication solutions
What is an enterprise communication solution?
An enterprise communication solution is a platform that's designed to enable large global businesses to communicate effectively. It's different from other communications solutions because it typically has to support thousands of users and customers around the world, deliver customizable solutions for specific business needs, and guarantee security and compliance.
Enterprise solutions give you advanced tools to match your status as an established, professional organization. For example, Dialpad's global voice network is built on a unique dual-cloud architecture for always-excellent call quality.
These platforms are flexible enough to support not only your business' future expansion but the latest advancements in communication solutions technology, such as artificial intelligence and machine learning.

What is "unified communications?"
What are enterprise communication requirements?