Spam Call Blocking
Dialpad's call blocking feature keeps your business lines free from robocalls and spammers which isn't just disruptive to your day to day operations but can end up costing your business time and money.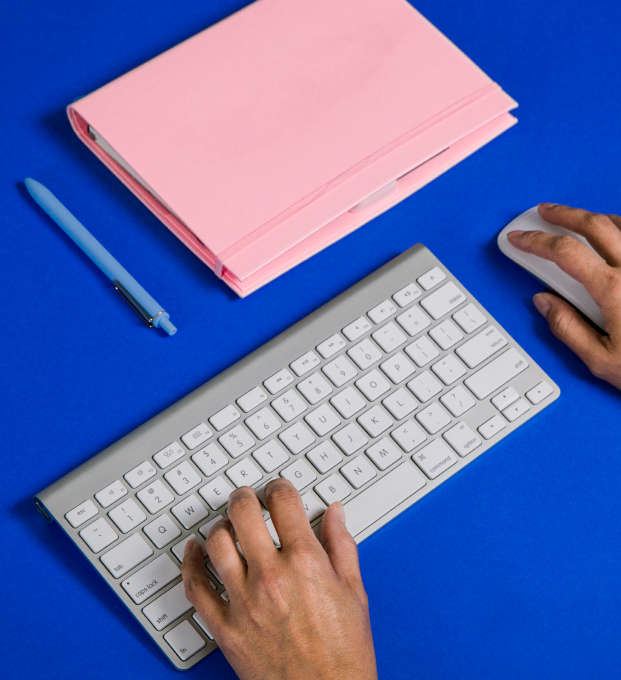 Keep Spam on the Shelf, Not On Your Phone
If spam calls are clogging up your business lines, costing you time, money, and patience, it's time to seek the right solution.

With Dialpad, teams not only benefit from a multi-layered approach to Call Blocking and spam prevention, but a cloud-based communication solution that nixes communication silos and increases team productivity.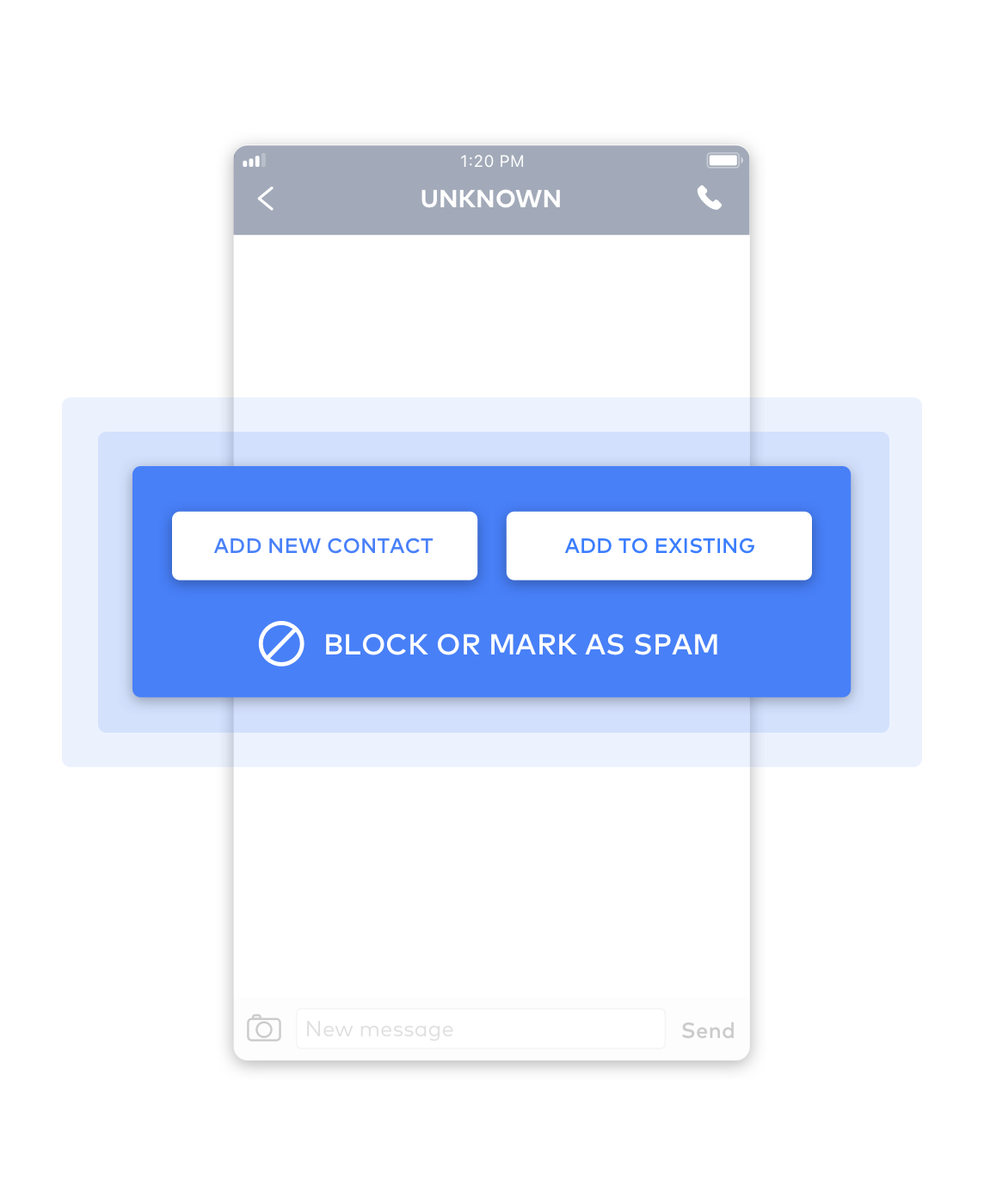 How Does Spam Blocking Work
Automatic Spam Blocking:
Dialpad leverages the spam score tied to inbound calls to determine whether or not to allow them to reach an individual user.
The spam score is maintained by reliable third-party sources that feed that information back to Dialpad on each inbound call. A spam score of 100 (the highest possible) is automatically blocked from entering the Dialpad ecosystem.

Self-Serve Spam Blocking:
In addition to automatically blocking inbound calls with a spam score of 100, Dialpad offers up self-serve options for blocking calls with a "high spam score" (i.e. any score above 90). Additionally, Dialpad offers users the ability to set rules for inbound calls from callers not currently in their contact list as well as any 'anonymous' callers.
These options apply for every inbound call you receive to your direct Dialpad line—we also give you the option to mark new, unsaved numbers as spam for one-off calls that you may receive.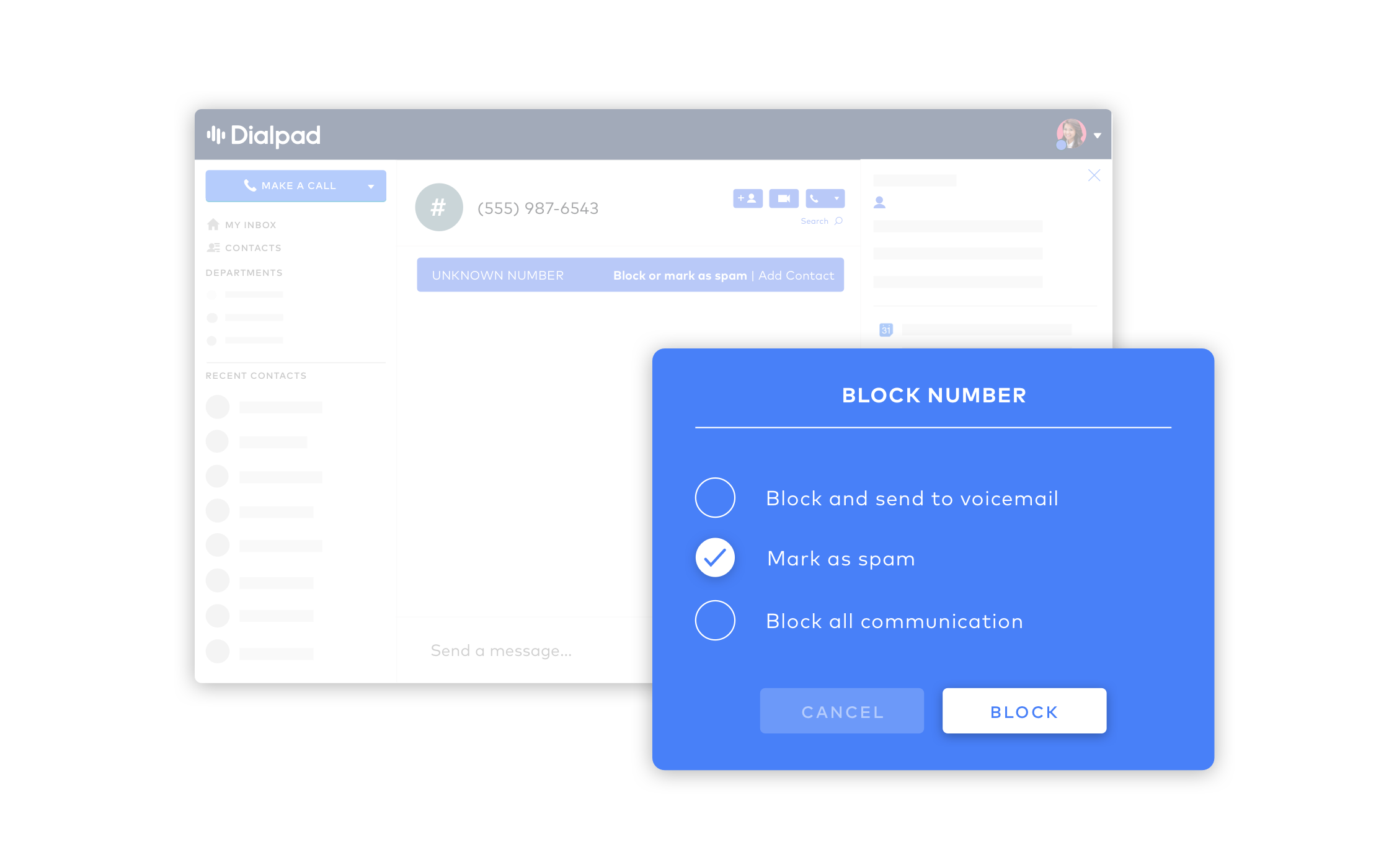 Feature Highlights
Dialpad offers a number of different ways to stop spam calls in their tracks. Here are just a few highlighted options:
Full block (play "Number not in service" message)
Straight to Voicemail (no notification)
Straight to Voicemail (notification plus real-time transcription)
IVR screening ("Please state your name and Dialpad will try to connect you")
Regardless of what you select, all of your spam calls will automatically filter into a Spam tab within your Dialpad inbox for you to review later—whether that's simply checking the caller or reading through a transcription (if one is available)—and even mark as "not spam".
Frequently Asked Questions
Does Dialpad offer any Automatic Call blocking features?
Yes—any inbound call that has been marked with a high spam score (100) will automatically be blocked from reaching any Dialpad line.
What options does Dialpad provide for Call Blocking & spam prevention?
Dialpad lets users set specific settings for their direct user lines that include automatically blocking callers with high spam scores (90 or above), blocking 'anonymous' callers, and blocking any caller that isn't already saved as a contact.
Can a user control where spam calls end up?
Yes—users have the option of sending spam callers directly to voicemail, to screen the call and view the real-time transcription, or even have the caller state their name via an IVR screening which is played when you answer the call (so you know for sure if this is a real contact or just a spammer). Additionally, every spam call will automatically filter to the spam tab in your Dialpad inbox.
Where can I review all the calls I've received that have been marked as spam?
You'll see a tab in your Dialpad inbox (available on web app, desktop, and mobile) for spam. This is automatically populated with all the inbound spam calls you've received and gives you the option to review the transcription (if available) as well as mark the caller 'not spam' in the off-chance a contact wound up their by mistake.
Does the Call Blocking feature work across all my Dialpad devices?
Absolutely. Your spam settings apply across all your connected Dialpad devices including your laptop and mobile phones so you're never at risk for spammers clogging up your line.
Where does Dialpad get the spam score from?
Dialpad leverages a trusted third-party source for every inbound call to generate the spam score and determine whether or not that call ends up making its way to the individual user. Additionally, the spam score can be increased based on feedback from various sources (ex: customers, FCC feedback, etc.)