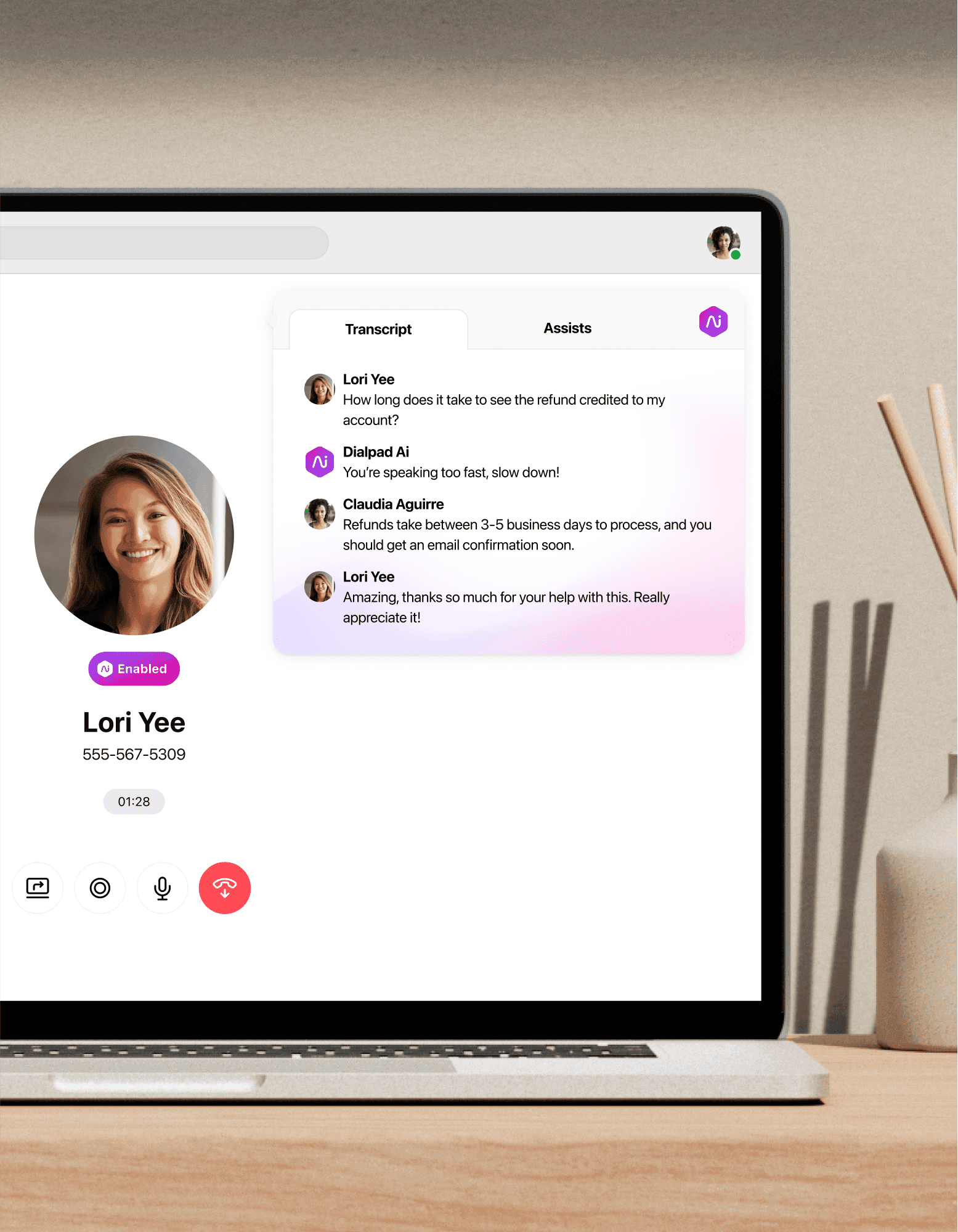 Dialpad Ai Contact Center vs. Talkdesk CX Cloud
A quick snapshot of what you get with Dialpad Ai Contact Center:
A consolidated solution that gives you both CCaaS and UCaaS features
Fully integrated platform with consistent call quality, support, and pricing
Industry-leading AI that has analyzed over five billion minutes of business conversation-specific data
Book a product tour of Dialpad and see for yourself how it stacks up against Talkdesk!

Deciding on a new contact center or unified communications platform for your business is no small feat. ​​Since you're here, we're going to go ahead and assume Dialpad and Talkdesk have both made your shortlist (both solid options, by the way).
Well, you've come to the right place to help make that decision! We've put together this detailed comparison of Dialpad and Talkdesk.

Dialpad Ai Contact Center vs. Talkdesk CX Cloud at a glance
| FEATURES | | |
| --- | --- | --- |
| Free trial | | |
| API | | |
| Interface | Single source of truth for all your conversations across both CCaaS and UCaaS channels | Multiple areas conversations can be stored |
| Artificial intelligence | | |
| Scalability | Easy to scale up or down, even without IT support | Usually requires IT support to scale up or down and may involve charges or fees |


Interface
Single source of truth for all your conversations across both CCaaS and UCaaS channels
Multiple areas conversations can be stored
Scalability
Easy to scale up or down, even without IT support
Usually requires IT support to scale up or down and may involve charges or fees
What's the difference between Dialpad and Talkdesk?
Dialpad Ai Contact Center and Talkdesk CX Cloud are both contact center and business communication providers. Both integrate with several popular apps to further automate the process of adding and de-provisioning users, freeing up IT time. Dialpad and Talkdesk also both support desk phones and BYOD.
But although they have several things in common, these two platforms are also unique in their own ways. Check out some of the unique things you get with Dialpad.
The single pane of glass experience
How much time do your employees spend switching between your different apps? Using multiple systems to handle calls, messaging, video conferences, and so forth can get… confusing.
With Dialpad's single app for calling, chat, contact center, and video conferencing, onboarding and setup are a lot easier. The business messaging platform automatically syncs across all devices, providing a single source of truth for all your business conversations.
Imagine: You had a quick call with a client on the desktop app and sent them a business text on your mobile app. Before that, you had an email thread going with some Google Drive attachments.
All of these interactions will show up in a single pane when you access Dialpad. This makes it easy to find where the conversation left off, regardless of what device you're using.


By combining your contact center with your team messaging, telephony, and sales coaching tool into a single, unified communications platform, Dialpad offers a much lower TCO (total cost of ownership) versus paying for all these programs separately. Not to mention the benefit of having all your conversations in one place.
Get up and running in minutes
Whether you're replacing an existing contact center or implementing a new one, interruptions to business operations are likely. And the longer it takes to be up and running, the more a company risks losing money.
Dialpad makes deployment quick and simple. In fact, both our CCaaS and UCaaS solutions can be implemented and set up in a matter of days for most companies—or even a matter of minutes for some (like LeadSigma and EF). Plus, Dialpad's deployments include several self-service options, empowering customers to speed up the setup process without waiting for support.
Just imagine not having to call an IT person to do little things like add a user or change your voicemail settings. With cloud deployment and self-configuration in minutes, you can (easily) do it all yourself—even on a mobile device.

See how easy it is to set up a contact center with Dialpad
Book a demo, or take a self-guided interactive tour of the app on your own!

A fully integrated platform
At Dialpad, we build our own software and own every bit of its code, letting us create a more integrated customer experience. This allows for new in-app features to be built as needed to consistently provide cutting-edge technology for both our CCaaS and UCaaS products.
If your company is moving towards a cloud-native, consolidated architecture with simplified, controlled costs and continuously updated features, Dialpad's for you.
AI is included in every Dialpad plan
How a phone system is built determines its ability to develop and innovate over time. Dialpad's telephony architecture is the only one that has artificial intelligence built into the product. We call it Dialpad Ai—and it's more accurate than almost all competitors out there. Oh, and we include all of our these features in all of our plans for all users.
Although Talkdesk also has AI features, some are offered through partnerships with other vendors. These partnerships often come at an additional price and might mean a separate contract altogether.
So what exactly can Dialpad Ai do? Loads. Not only does it automatically transcribe your voice conversations—in real-time—it can also detect customer sentiment on calls based on the words they use, and provide live coaching to agents. For example, if a tricky pricing question comes up, it'll pop up a helpful answer on the agent's screen:

Another thing? After every call, Dialpad Ai immediately sends a post call summary that includes meeting notes, action items, and key moments from the call directly to your email inbox, so you can take action and stay organized. Goodbye, manual note-taking.

Analytics you can actually use
To be fair, we'd recommend taking a closer look at Talkdesk's reporting functionality—get a demo or a first-hand view at what types of metrics and KPIs you can actually track, and how easy it is to access that data.
With Dialpad, you can see all your data right from your Analytics tab. Heatmaps show when you're getting the most calls, your average speed to answer, call durations, and resolution rates throughout the day:

You can also quickly and easily export your data into useful reports, like agent status statistics showing how much time individual contact center agents spend on calls and CSAT survey responses.
100% uptime SLA (yep, it's possible)
Whether you're working remotely or need to keep in touch with teams around the world, you need your communications system to remain available at all times. Even when a system has 99.99 or even 99.999% uptime, there is still a portion of time during which you're unable to reach your team or contact center customers are left waiting—we think that's unacceptable.
That's why Dialpad is proud to offer a 100% uptime SLA for Enterprise plan customers. This means that you'll no longer have to dread scheduled maintenance downtimes interrupting your workflow. No matter where you're calling to or from, no matter what time of day it is, you can rest easy knowing that all lines of communication are open.

🧠 FUN FACT:
Unlike some other providers, Dialpad's modern telephony architecture doesn't bind customers to a single server in a data center. Instead, Dialpad customers have a global array of servers to leverage. The result? Better call quality as each call is set up independently to connect to the best-fit server for the situation.
Integrations with all the apps you love
Both Dialpad and Talkdesk integrate with a lot of big-name apps like Salesforce and Zendesk. Dialpad does also integrate with two of the most popular collaboration software: Microsoft 365 and Google Workspace. (The only Microsoft products Talkdesk integrates with are Dynamics 365 and Teams, and the only Google product they integrate with is Contacts).

Award-winning customer support
There's a reason why Dialpad won the Stevie® Award for sales and customer service (ahem, among a few other awards).

First off, we've made Dialpad super easy to use, without IT help. It should just work. And in the rare cases where something does come up (because, well, technology), our team is here at all hours of the day or night to help you out through the following channels:

Live chat (with a real human!)

Phone

A detailed Help Center
See how Dialpad vs Talkdesk stack up!
Connect your team with a platform that powers voice, video, messages, video meetings, and an omnichannel contact center—across all your devices. Book a demo, or take a self-guided interactive tour of the app first!