Call Queue
When your team is busy with incoming calls, a call queue helps to organize and distribute these inbound calls to reduce customer wait time and improve efficiency.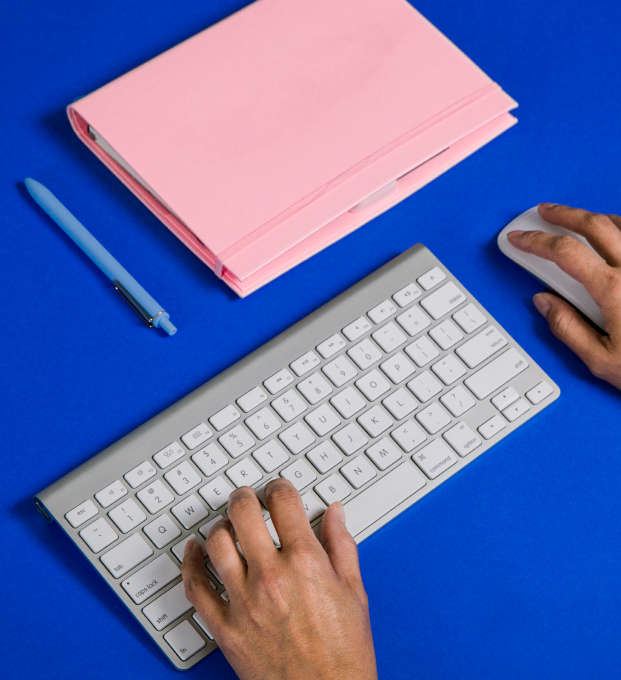 For a contact or call center manager, recruiting and training the best team you can is probably a major focus.
And every call center team is different, with different strengths and weaknesses.
So how can you equip them to do the best job possible?
How can you help your team handle a higher volume of calls—without burning them out?
The answer is surprisingly simple: a call queue.
What is a call queue?
A call queue is a system that organizes and distributes inbound calls in a phone system. The average person has probably never used it, but it's important for contact and call centers that experience a high volume of diverse calls in a short amount of time.
And if your business has just one phone number listed for customers to get in touch through, this is especially important (because you have only one main avenue for people to reach you through the phone).
The aim of call queueing is to cut down wait times and by doing that, increase customer satisfaction. If you have an auto attendant system, it can handle inbound calls and place them in the call queue according to set priorities.
In Dialpad Contact Center, for example, a contact center manager can see all the calls in a queue right from their dashboard: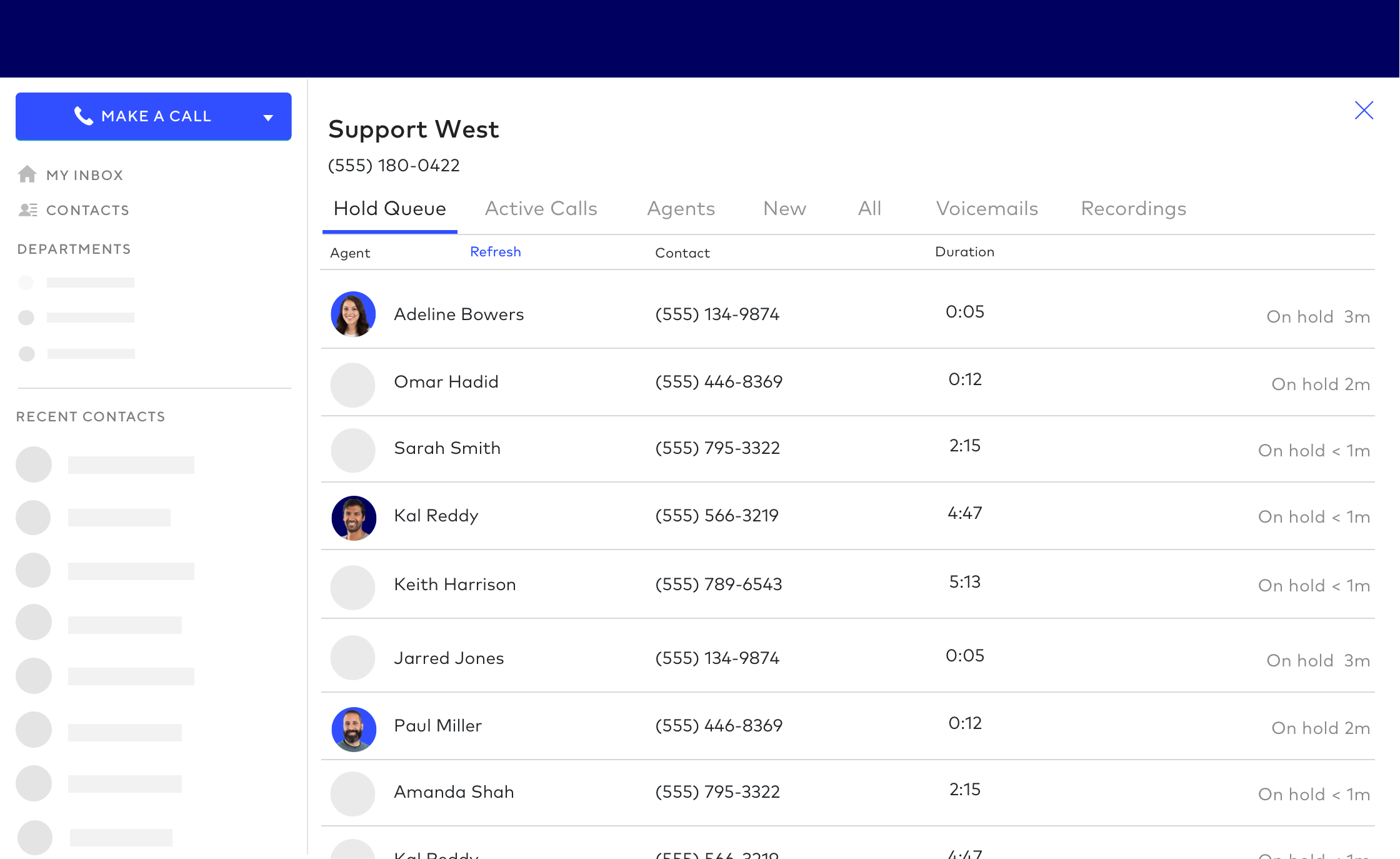 What's in it?
There's more to call queueing than just a basic routing system. There are actually a few moving pieces that together, let you customize call queuing to fit whatever your business needs. For example, here are a few:
Scheduling
Any call queuing system should adhere to your schedule. (Like when does your business receive calls during the week and on weekends, or on holidays?) You should be able to update this whenever you want depending on changes in your staffing levels and business phone hours.
In Dialpad Contact Center, for instance, you can see at a glance how many agents are on or off each day:

Pre-recorded greetings
Typically, you can upload a custom audio file for your greeting message. You also can choose from a library of already-recorded messages if that's easier. In Dialpad, you have the option of either (along with choosing music for on-hold callers):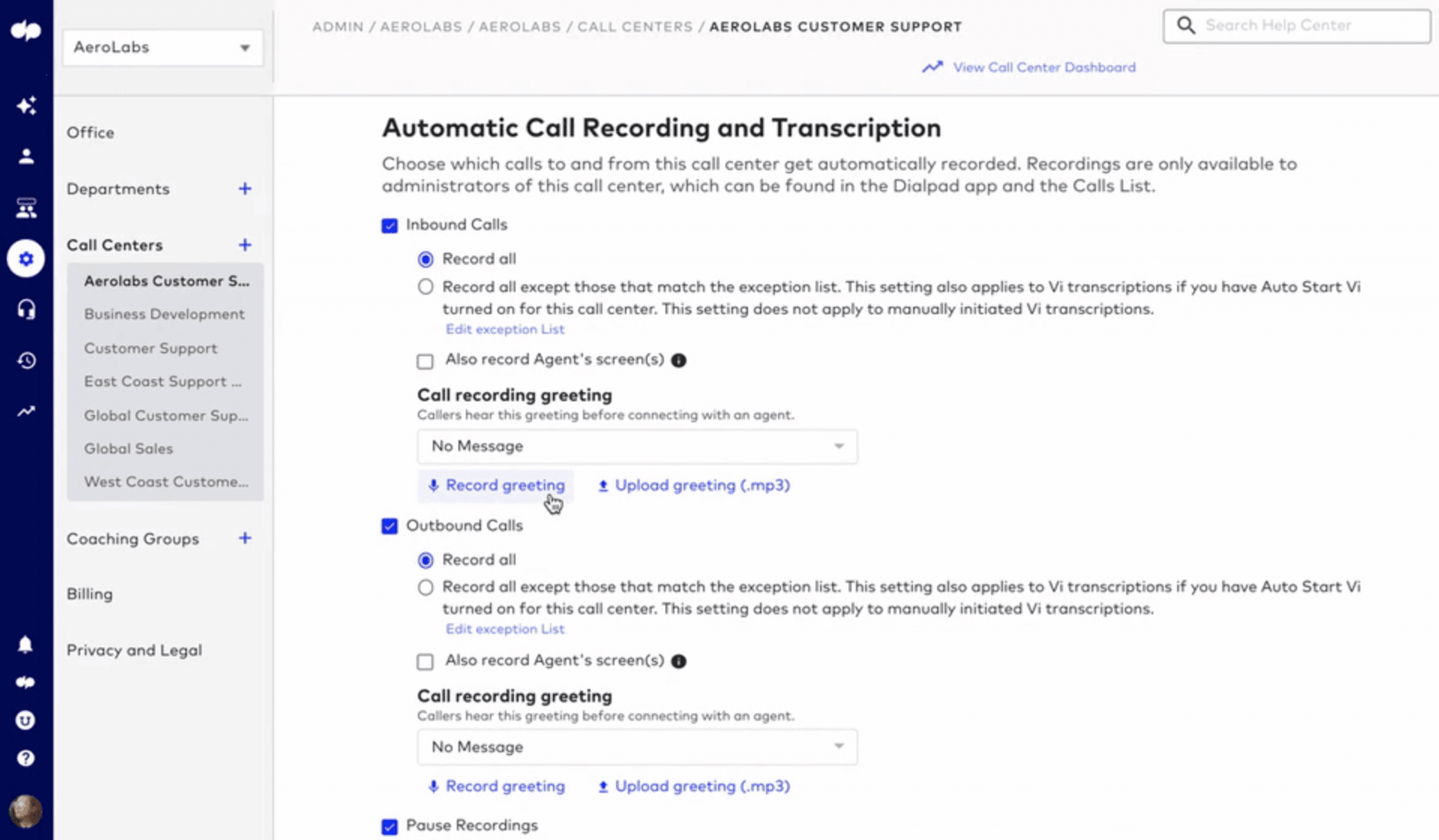 Proper routing methods
An effective call queueing system will provide you with several options for routing calls to the next available agent. For example, some common options include rotating, simultaneous, or sequential call routing.
Here's how your options look in Dialpad: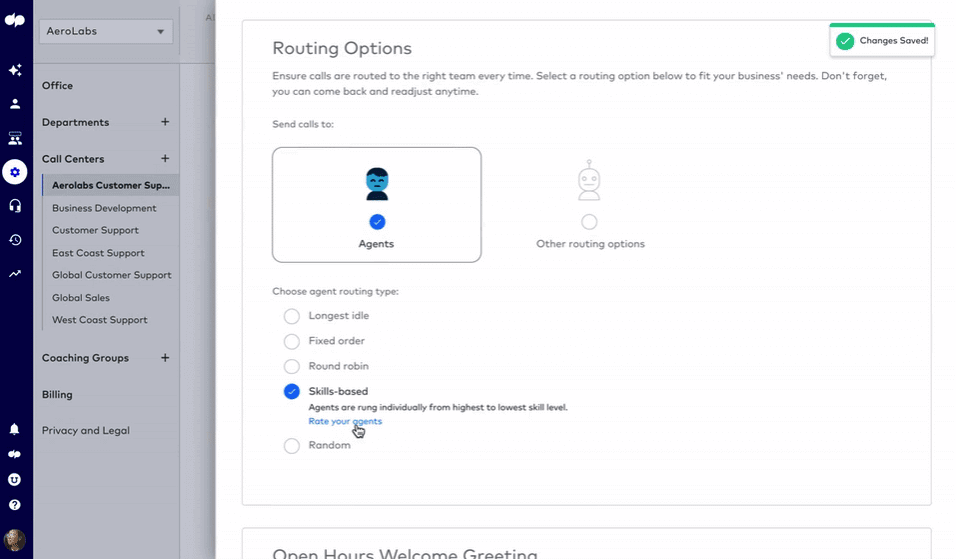 Call distribution or call handling options
By default, when customers call your phone number and everyone's busy, call queuing will distribute calls to agents on a first-in-line basis. This is because the goal is to cut down customer wait times. So whoever has been waiting for the longest is next.
Contact center solutions with call queuing also usually offer some pretty specific call handling and routing options.
These give you multi-tier call handling with features like Interactive Voice Response (IVR) menus, priority call queues, external phone numbers, and directing to specific call center agents.
Call analytics and reports
Your contact center solution should also help you understand how effective your call queueing is by giving you useful analytics on how your team is doing.
For example, in Dialpad Contact Center you can see heatmaps that show you how long it's taking your agents to pick up calls (which can help with staffing more efficiently):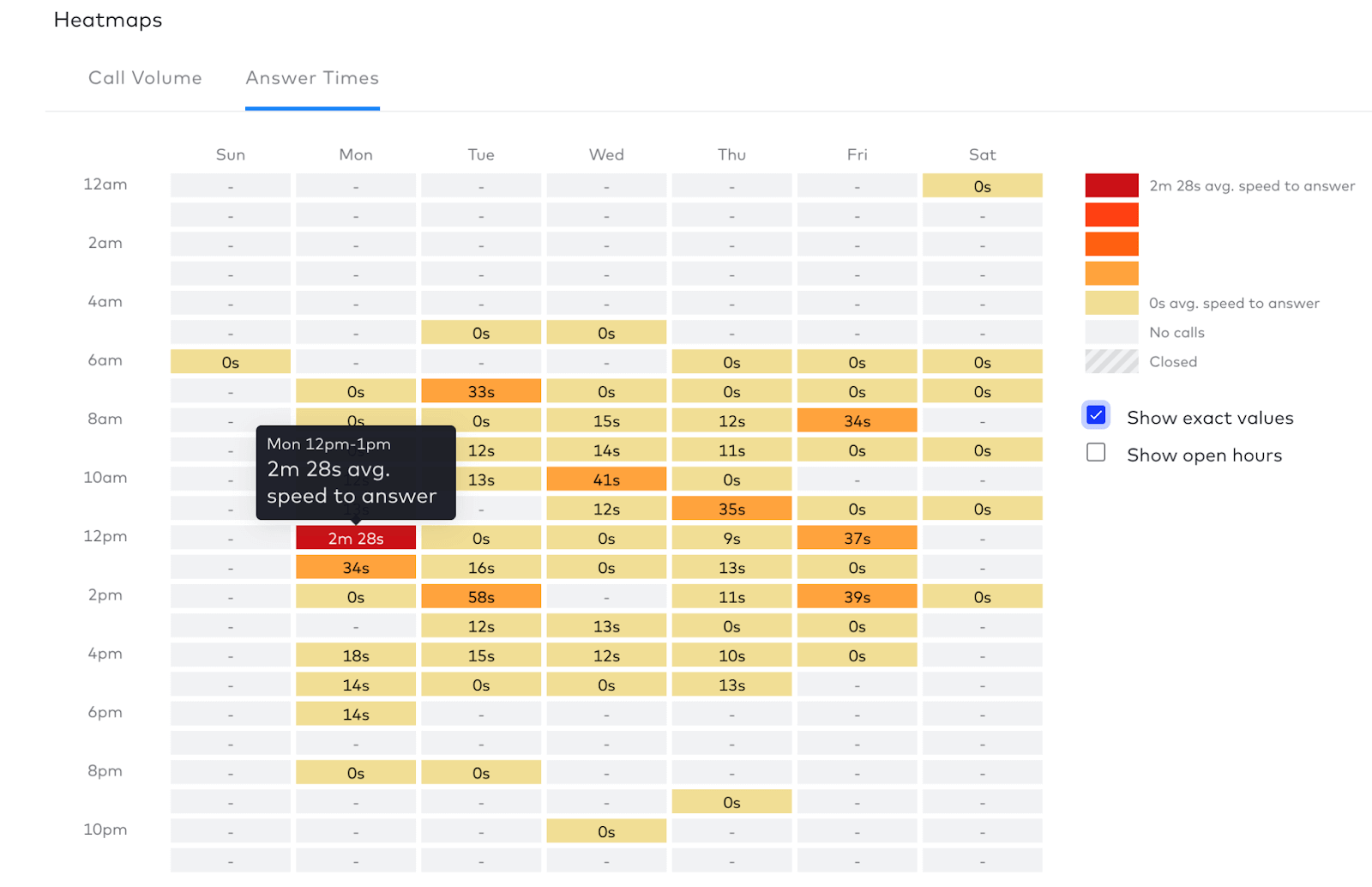 Real-time reporting, call recording, and historical call data can help managers maximize staff performance, optimize schedules, and examine caller experiences. Don't overlook this one, especially if you're managing multiple call queues.
How do call queues work?
Think about the last time you called a contact center. Was there an agent available to take the call right away? No? How long did you have to wait?
This is where call queueing steps in to alleviate customer wait times.
Typically, a caller gets placed on hold while entering the call queue. When they're at the front of the line, they'll be transferred to the next available agent.
While people are on hold, it helps if you can give them an estimated wait time. It's basic, but effective—and makes it less likely for someone to hang up and abandon a call.
👉 Dialpad tip: Many call queueing providers also supply call centers with more advanced features like the option to route calls based on factors such as agent skill, issue priority, or caller history. For busy call centers, call queuing is a must-have.

The importance of call queue management
No one likes to waste time. In fact, Dialpad found that longer hold times are correlated, rather unsurprisingly, with lower customer satisfaction scores (CSAT).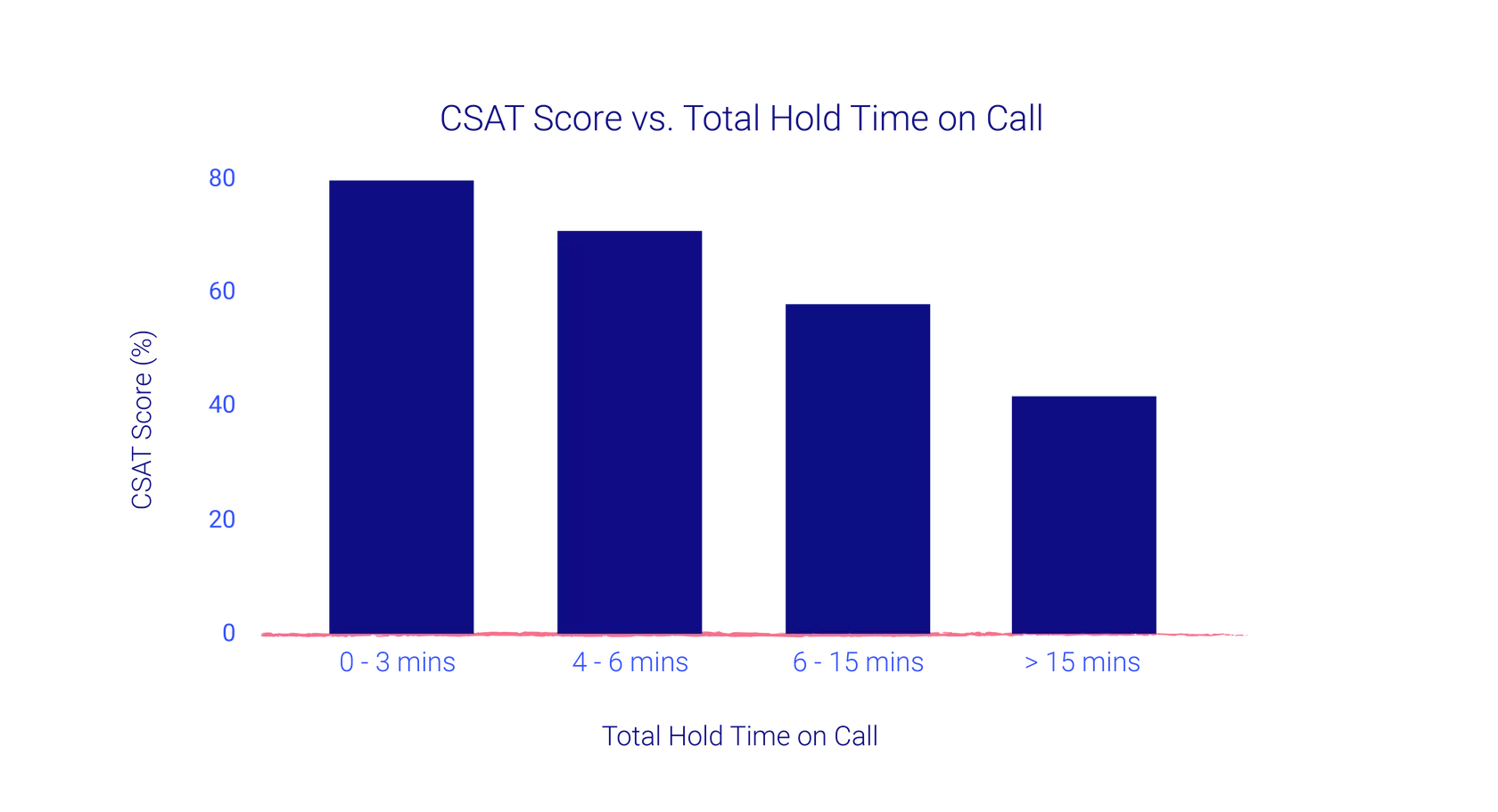 Good call queue management can help with this in several ways:
It lowers your call abandonment rates
Customers hate waiting on hold.
And contact and call centers can lower customer wait times with an effective call queuing system. The shorter the wait time, the less likely a customer will hang up. In addition to a reduced abandonment rate, call centers can handle a higher volume of calls.
It helps you save money
In some contact or call center setups, an inbound call occupies a landline for the entire duration, including during the time on hold. And if you offer toll-free DID or DDI lines, inbound calls can cost even more.
Call queuing options like callbacks let your agents engage customers on cheaper outbound calls. This doesn't always result in huge savings, but it can make a difference for a busy call center.
Plus, call queuing can help you save money on salaries. How? For one, your agents will be able to handle a higher volume of calls during peak times, and historical analytics data (like the heatmaps we mentioned above) can help to prevent overstaffing during not-so-busy business hours.
It improves first call resolution (FCR) rates
Because customers are less likely to hang up, they're also more likely to have their calls resolved on the first try. Good, right?
This one is actually a bit of a hairy one, as there are nuances around FCR to consider. For example, is the quality of the call more important, or is it more important to resolve an issue on the first call?
True, with advanced call handling, a caller can get to not just the next available agent, but the best one to handle their call. But obsessing too much over first calls can be perilous if you don't get more contextual data around it.
👉 Dialpad tip: Platforms like Dialpad can be helpful for quality management for your contact center. Using analytics and live coaching features, your supervisors can help agents get it right on the first call, if FCR is the metric you're interested in.
Factors that contribute to long calling queues
There are many reasons that your contact center may have long calling queues. Here are a few.
There are too many calls—you're just understaffed
It's simple enough.
If you don't have enough agents to handle the number of incoming calls, then you have a problem.
Nothing can drive a customer away faster than being unable to get through on a call because of long wait times. If you don't have enough staff to handle your call volumes, then the first question is why?
Second, what can you do about it?
Dialpad has heatmaps that show not just average speed of answer, but also call volumes, to show you when you might want to adjust staffing: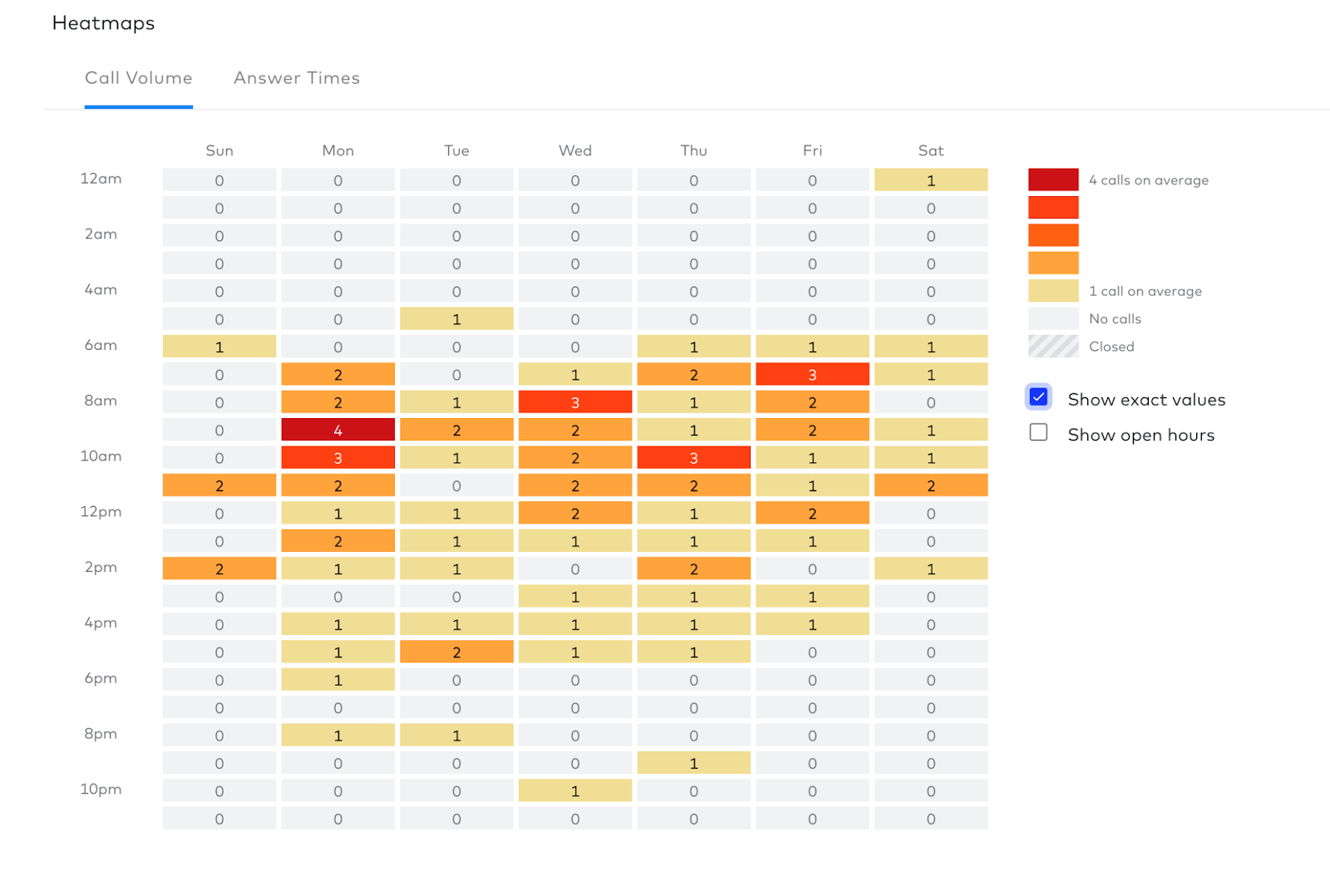 It's the peak season for your industry
For most industries, business isn't constant. It ebbs and flows. And for many businesses, peak season is where the money is made.
Seasonal spikes in customer calls can stretch your call agents thinner than the last scrapings of the peanut butter jar on toast. So staff adequately!
Outdated software holding your agents back
There's no way around this. If you're using old software, then your contact or call center team is probably missing out on features to help them manage call volumes effectively.
Modern call center solutions can help even a small team of agents reduce call times with tools like Automatic Call Distributor (ACD), specific routing options, and AI.
For example, contact center supervisors can "ride along" with agents by reading the transcripts of live calls—in real time—to coach them through calls more quickly and effectively: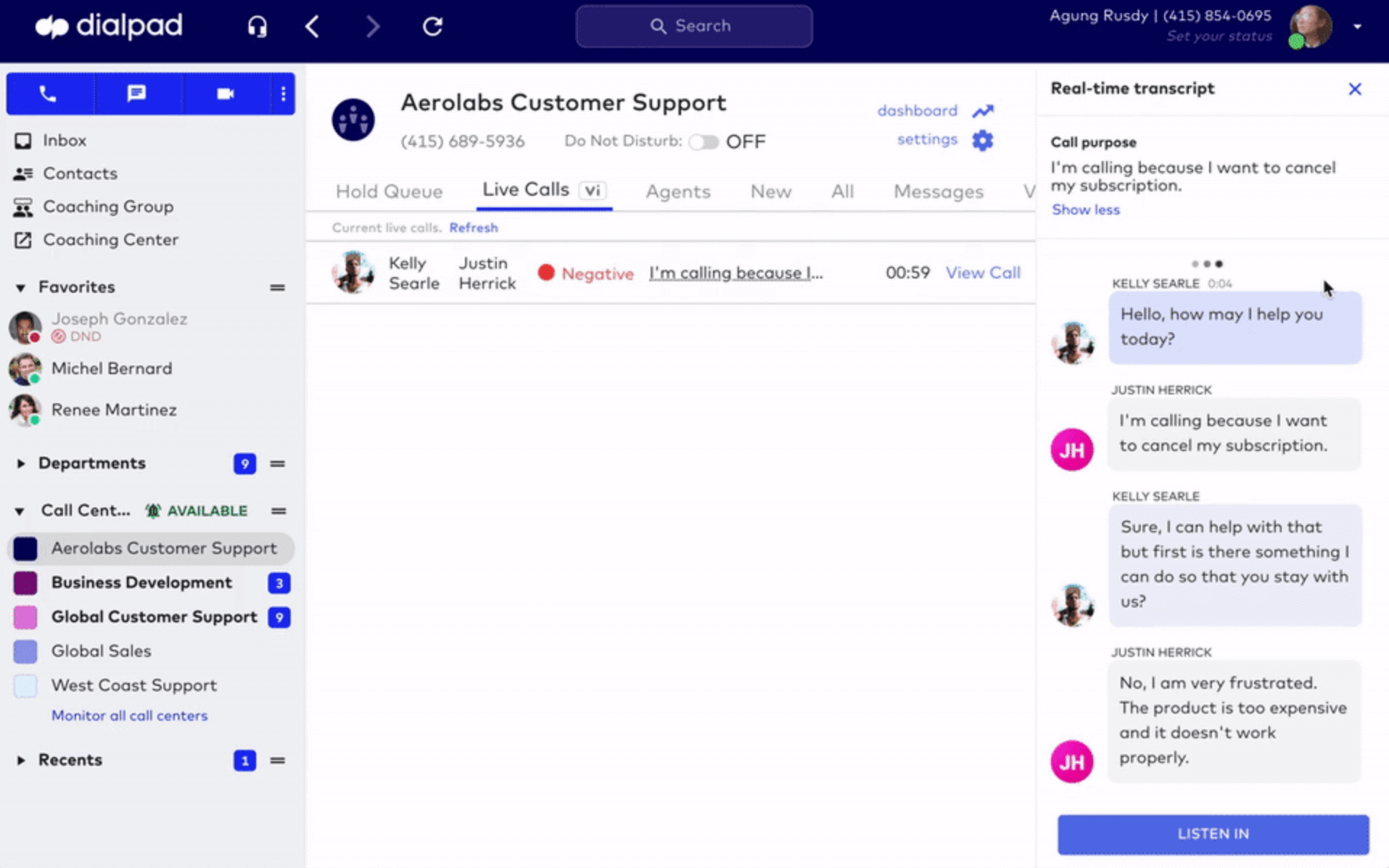 A few features to help you improve call queues
Call queue management is a critical aspect of maintaining a high level of customer service.
And while a call queuing system on its own can, to some degree, handle callers on hold, reduce call wait times, and help agents find quicker resolutions...
To get the best out of a call queue system, you need a little something extra.
Analytics
A good contact center or call center platform should give you and your team valuable analytics data.
(And what's really helpful is if you can hook up your platform to your CRM because your calls through Dialpad Contact Center will be automatically logged in Hubspot or Salesforce.)
Benefits
Listen to your call center heartbeat in real-time. Managers can see what's happening in a call center with metrics on ongoing calls, average speed to answer, agent availability, and much more:




Preventative monitoring. This helps you spot early dips in service levels and take quick action to resolve the issues. Ideally, you're keeping an eye on call center KPIs like customer satisfaction (CSAT) levels and hold time. In Dialpad, you can create CSAT surveys easily from your dashboard:





Live agent coaching. Dialpad's Voice Intelligence (Vi) technology not only gives you a real-time transcription of any call, it also uses this speech recognition ability to pop up Real-time Assist (RTA) cards for your call center team whenever certain keywords (like "pricing" or competitor names) come up on a call. You can customize these real-time assist cards however you like:




Skills-based routing (SBR)
When it comes to a simple solution to make everyone happy, SBR fits the bill. The right customer gets paired with the right agent, everyone's happy.
Benefits
Better customer satisfaction. Customers are assisted by skilled agents with the tools and knowledge to resolve their concerns promptly, right from the first call.

Better performance and productivity. By giving agents calls matched to their skill level, you can onboard new agents more effectively, and train more experienced agents better too.
Now, let's talk about IVR.
Interactive voice response (IVR)
IVR can fast track callers to the right place and cut the fat of simple calls out. They're huge for helping a contact center run more efficiently because you can easily set up a multi-tier IVR system so callers can solve their concerns on their own.
Benefits
More effective call routing. An IVR system helps callers get to the right person—while saving everyone time.

Better use of agents' time. IVR directs inbound calls so your agents don't have to, which lets your team focus on resolving caller concerns. In Dialpad, you can see a how effective your IVR menu's options are:






Better customer experience. Call center features are sometimes more focused on benefiting the contact center than the customers, but IVR is one of the best ways to let your customers find answers on their own, whenever they want.

Out-of-hours cover. IVR is there to handle customer calls even when your team isn't.

Customer personalization. A really sophisticated IVR system knows who is calling based on the caller ID and call history (which lets you do things like have personalized greeting messages).

Better functionality. IVR gives you great flexibility on how to handle inbound calls.
Workforce management (WFM)
You might be surprised to learn that call queue management can help your team organize how your call center works too. Analytics and predictive machine learning can optimize the way your team operates.
Benefits
Optimized agent schedules. WFM helps you to staff your contact center with enough agents to accurately handle predicted call volumes.

Reduced wait times. If you have a good handle on call volumes, you can help callers get through to agents—with the same experience—during peak or slow times.

Improved call flow. Your agents will move from one call to another, with fewer slowdowns from being connected with calls that are too complex.
How to configure and customize call queue management
Okay, let's look at how call queue management works in a contact center.
Beyond just signing up for a call queue management system, the work doesn't end there for call centers.
There's a range of contact center solutions for businesses of any size and industry, but let's look at how you can configure and customize call queue management using Dialpad as an example.
Set business hours
Dialpad lets you set hours for your Main Line, Departments, and Contact Centers. This will let the platform know when and how to handle incoming calls.
To set business hours, you'll need admin permissions. If you're an administrator, then you can do this from Dialpad.com (the app works across iOS, Android, PC, and Mac—also on web browsers too):


Navigate to "Admin Settings"

Select "Business Hours & Call Handling"

Click on "Business Hours" and select "Edit Hours"

Here, you can set opening and closing hours for agents to receive calls. This will be your first period of availability.

If you want to split hours or set another period of availability, select "Add Hours."
Set call routing rules
Call routing is an important bridge between customers and your business. First, you'll need to choose how you want calls routed to agents. Then, add rules for other routing options.
Dialpad Contact Center gives you tons of flexibility in how to customize your call queue management via routing rules.
For routing calls to agents, Dialpad gives you several options: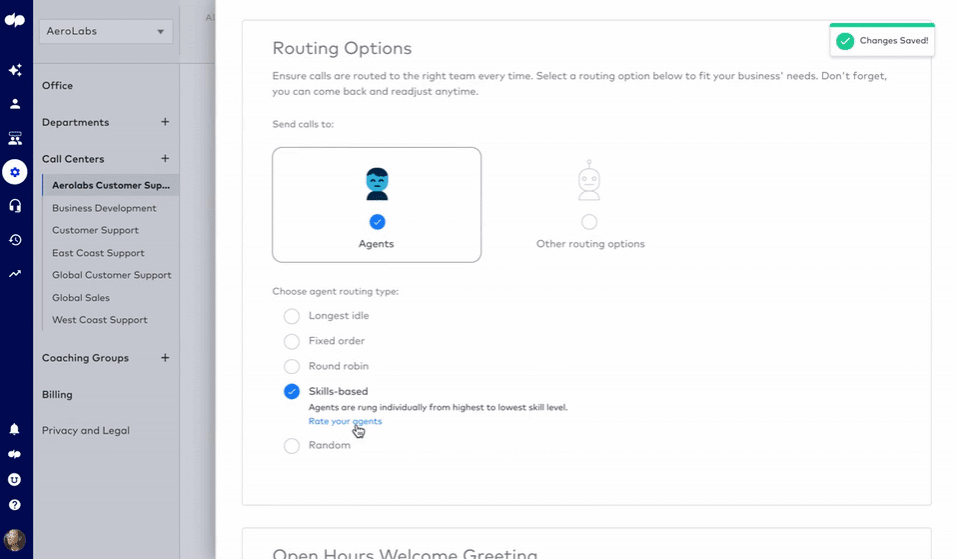 Longest idle - rings whoever has been idle the longest

Fixed order - rings based on the same fixed order

Round robin - rings based on a rotating mixed order

Skills-based - rings based on highest to lowest skill rank

Random - rings sequentially based on the list generated at random
From your web browser or app:
Navigate to Admin Settings > Call Centers > Business Hours & Call Handling > Call Routing and select "Edit Call Routing"

Pick a routing option for routing calls to agents

Pick how long a call will ring before defaulting to a second option such as hold queue
Non-agent routing options include:
Directly to voicemail

To a message

To another Department or Call Center

To a team member/room phone/number

To an automated response menu
👉 Dialpad tip: Only one routing type per team!
Configure your hold queue settings
The hold queue is the first line of defense for your busy call centers.
As we mentioned earlier, keeping customers informed about their wait times and other options is key to preventing call abandonment (and unhappy customers).
Depending on which plan your business is on, Dialpad can allow for up to 1,000 customers in the hold queue.
To create a hold queue, navigate to "Call Routing."

Next, from "Edit Routing," highlight "Hold Queue" and select "Enable the Hold Queue."

You can then further customize the Hold Queue from the same page: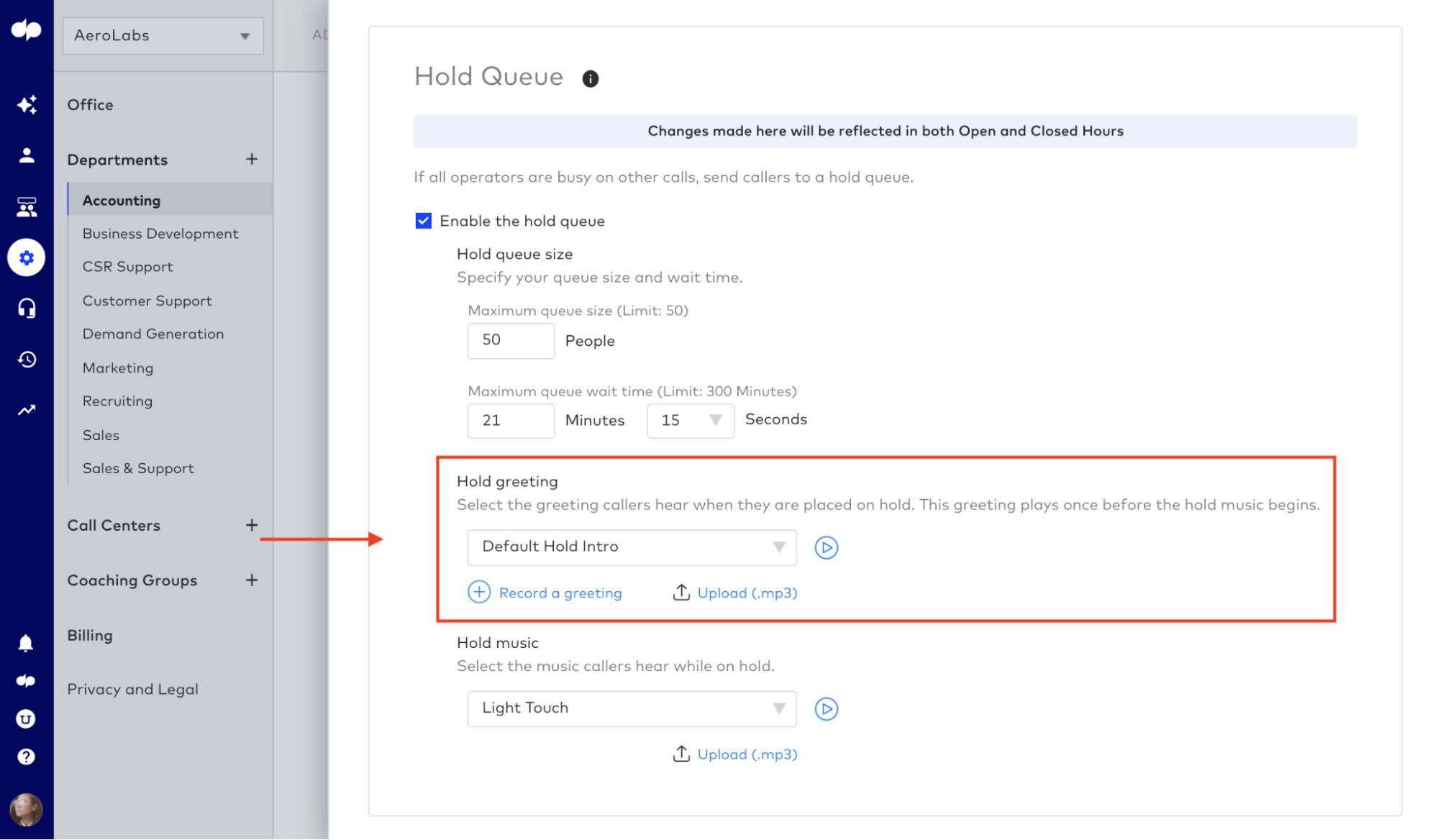 With Dialpad you can:
Set the maximum number of people in the queue

Set the maximum amount of queue wait time

Select the hold greeting and hold music

Let callers know their place in the queue

Allow callers to exit the hold queue to voicemail

Allow callers to request a callback when the queue has more than a defined number of calls
👉 Dialpad tip: One simple way to improve your customer experience is to set up voicemail and callback options. Instead of just hanging up, customers can choose an option that works best for them. (And this gives your team the opportunity to reach out and resolve the concern when they're available.)
Set queue priority
A good call center software will also let you customize the queue priority.
By default, platforms like Dialpad Contact Center will handle calls on a first-in, first-out basis. This means that the customer who has been waiting for the longest will be next in line. However, this egalitarian approach doesn't always work.
Not all calls are equal. (Don't @ us, it's just the truth.)
Some customers are more valuable to your business than others. And some products or services may require urgent attention over others. A queue priority option lets you prioritize VIPs and fast-track important call centers.
From your Dialpad account,
Navigate to Admin Settings > My Company > Queue Prioritization

Select "Add a Call Center to Prioritize"

Choose a call center and add it to the list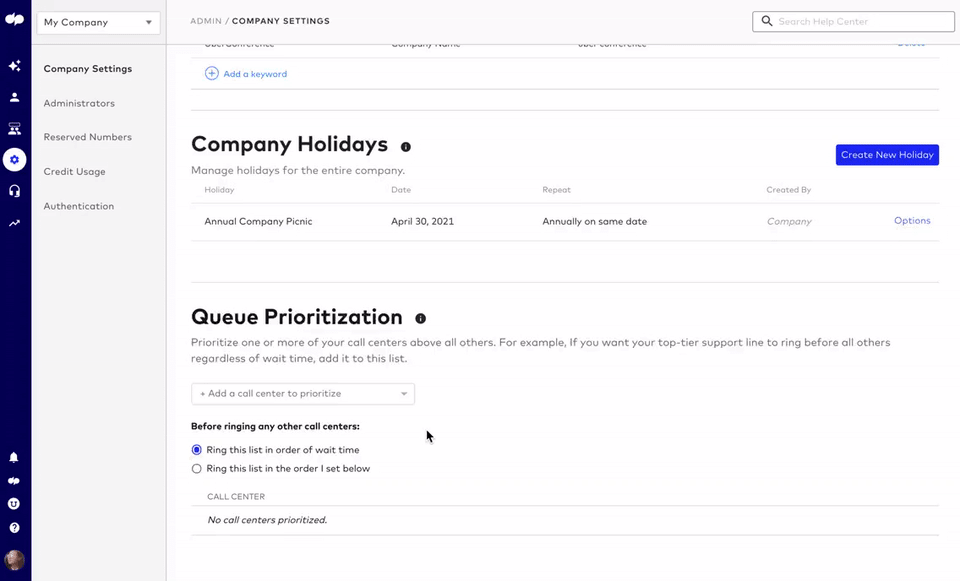 Once you've created a list, you get two options:
Ring this list in order of wait time: Contact and call centers in this list are prioritized above all other unlisted contact centers—calls will then be prioritized to agents based on the longest wait time.

Ring this list in the order I set below: Calls will be prioritized based on the order chosen in this list.
👉 Dialpad tip: You don't need to include all call centers in a list—just those that you'd like to prioritize. The others will default to a first-in, first-out basis.
Set up a queue callback
For many customers, waiting is not an option. Maybe they're on a work break. Or maybe they have other things to attend to. They're busy, but in an environment where they can take a quick phone call.
Instead of having those customers hang up and abandon the call in frustration, give them another option. Let them request a call center agent to call them back: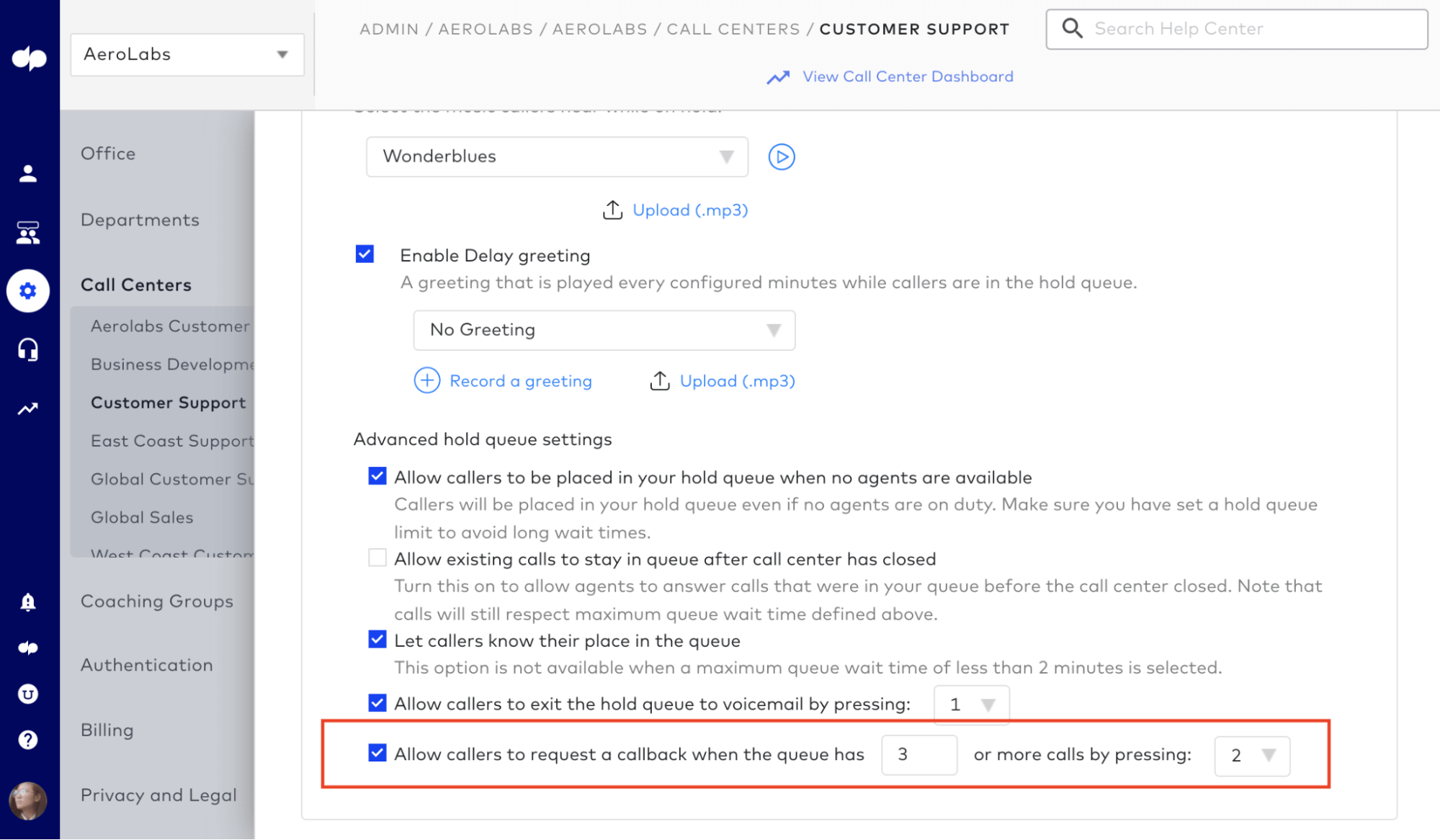 Let's take a look at how to use in-queue callbacks in Dialpad.
From your Dialpad account:
Navigate to Admin Settings > Call Centers > Business Hours & Call Routing > Normal Business Hours > Edit Details.

Scroll to Hold Queue > Advanced hold queue settings and select "Allow callers to request a callback when the queue has [number of calls] or more calls by pressing [button on dialer]"
If you have in-queue callback enabled, your caller will hear a message offering them a callback. The caller then pushes the required button and hears a confirmation message.
The caller's position in the queue is held. When it's their turn, Dialpad will call them back. From there, the caller can either connect to an agent or cancel the request.
👉 Dialpad tip: If you choose to enable callbacks, you might disable the "exit to voicemail" option. Both options require a callback, but the in-queue callback is sometimes better. It's easier to get in touch with the caller if the call center already knows they're available and waiting for the callback.
Still not convinced… Why should I invest in call queue management?
Yes, a call queue management service can scale in cost depending on the size and nature of your business. But with those costs, you gain many benefits. So if you work at a contact center and still aren't sold, here are a few more reasons.
It shortens wait times
Call queue management helps your customers get to the right agent so their concerns can be resolved quickly.
And even better, your IVR can take simple calls and help customers solve problems—without involving an agent. This means a shorter hold time for those callers who do need to speak with an agent.
It helps you calibrate staffing needs
Once you get your contact center platform up and running, it's time to get your call queue system in place.
As you fine-tune your management configuration, you'll discover what works best for your call centers. Next, the service levels and other performance data will start pouring in. And the more data you have, the better you can calibrate the staffing needs of each call center.
👉 Dialpad tip: If you have multiple contact center teams, it's even more important to be able to calibrate your staffing needs for each shift. With real-time coaching and historical data, it'll be easier to always have enough skilled agents for rush hours and peak seasons.
It improves customer satisfaction
No one likes to wait around on the phone. A call queue management will help you trim the waiting down to the minimum and get as much done on the first call as possible.
It smooths out the customer experience
Personalized greeting messages, IVR menus, and suitable hold music all contribute to a more enjoyable experience overall for your customers. Plus, these can help build your brand identity—while getting your customers the information they need. (Win-win.)
It reduces call abandon rates
When people have to wait around less, they're less likely to abandon the call.
That's exactly what a call queue management system is designed to do. Between regular queue updates and callback queues, you can make the on-call experience as pleasant (as it realistically can be) for your callers.
It boosts team morale and productivity
A good contact center gives your team the tools they need to do their job. Agents will have accurate call history and relevant information available right in their call dashboard—and they'' get real-time coaching from you to resolve calls faster.
If you're at the supervisor or leader level, you'll want to have call center data at hand in real-time.
It helps you save money on call center operations
Shorter call times and higher first-call resolution rates mean your team can handle a higher volume of calls. (Remember what we said about being able to predict peak call times?)
This means you can avoid overstaffing, but still reduce call queues and always have enough agents to get the job done.
It improves first call resolution rates
Again, this isn't relevant for every single call center.
But if you can use an IVR system to route inbound calls and customize call queues and routing options to optimize call queuing for your business? Do it.
Engage more—and better—with call queue management
Call queue management is a no-brainer for any business dealing with one or more contact centers.
Not only will you give your customers a better call experience, your call centers will also be able to handle larger call volumes while resolving calls more efficiently.
Can your call center route calls to the best people for the job?
Every little thing you can do to improve the customer experience will build customer loyalty—and the potential for new customers by word of mouth. No one likes waiting.
So what are you waiting for?