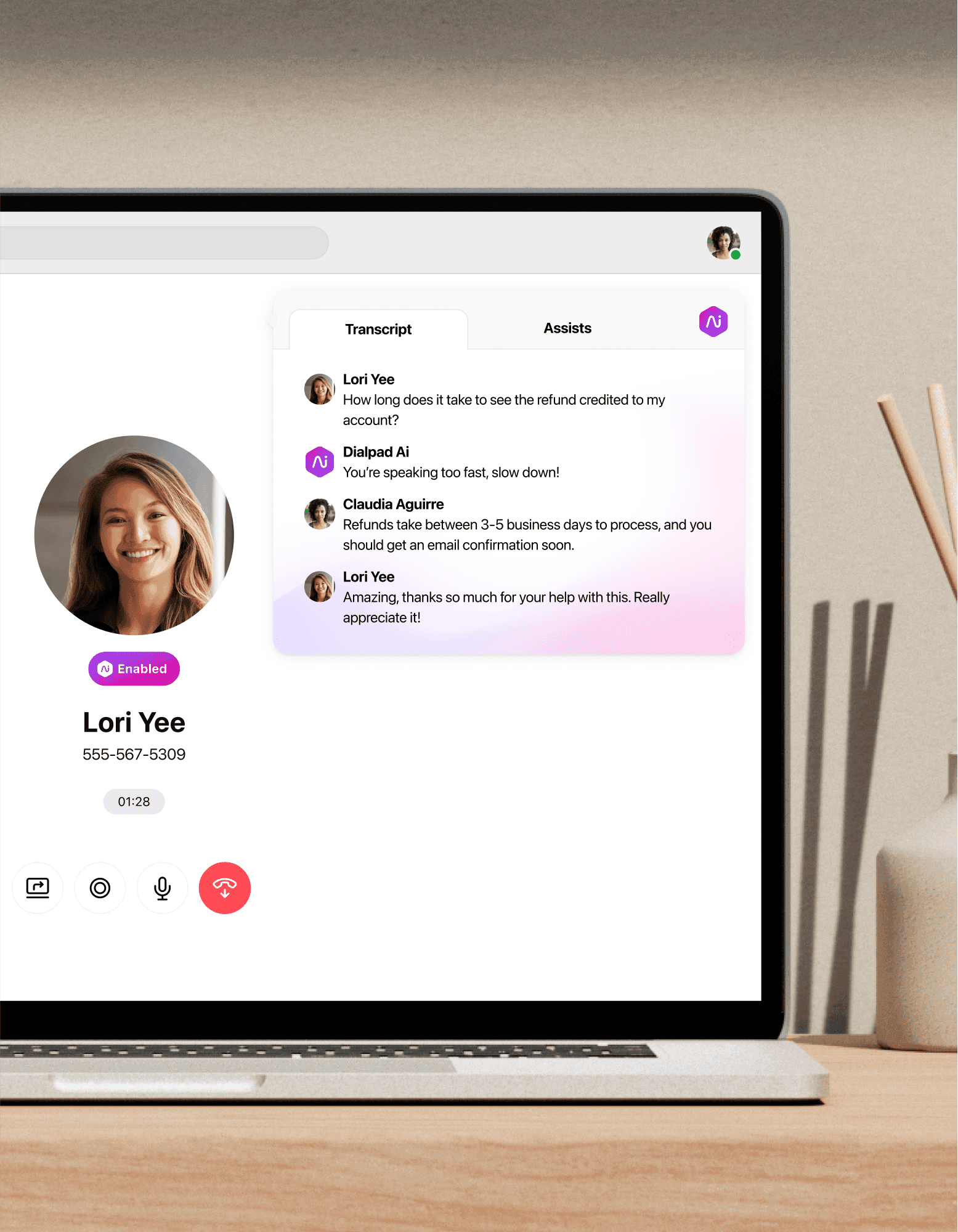 Dialpad vs. Genesys Cloud CX
A quick snapshot of what you get with Dialpad Ai Contact Center:
Built-in AI powered features like live speech transcription, sentiment analysis, conversational guidance, and coaching
Simple, browser-based self-configuration and agent deployment, saving extensive professional services costs
Truly unified communications for both CCaaS and UCaaS applications
Sign up for a demo and see how it stacks up against Genesys Cloud CX!
Deciding on a new business communications platform is no small feat. ​​Since you're here, we're going to go ahead and assume Dialpad (nice) and Genesys (kind of a hybrid between a legacy telephony and and digital communications platform but still a solid option) have both made your shortlist.
Well, you've come to the right place to help make that decision! We've put together this detailed comparison of Dialpad Ai Contact Center and Genesys Cloud CX.

Dialpad Ai Contact Center vs. Genesys Cloud CX at a glance
| FEATURES | | |
| --- | --- | --- |
| Pricing | Reach out for details | Starts from $75/user/month* |
| Built-in AI for conversational intelligence | | |
| Real-time assist cards | | |
| Carrier services | | |
| Contact center capabilities (IVR, routing, etc) | | |
| Professional services | | |
| Virtual customer assistant | | |
| Workforce engagement management | | |
| SFDC integration | | |


Pricing
Reach out for details
Starts from $75/user/month*
Built-in AI for conversational intelligence
Contact center capabilities (IVR, routing, etc)
Virtual customer assistant
Workforce engagement management
How are Dialpad and Genesys Cloud CX different?
Both Dialpad Ai Contact Center and Genesys offer cloud-based contact center platforms that come with a wide range of features that can help businesses improve their contact center operations. That said, while they share many similarities, Dialpad and Genesys differ in several key areas.
In-call agent support
Have you ever come up with the perfect thing to say during a conversation–after the conversation was over? That's something that contact center agents struggle with all the time, except for them there's more at stake than sounding witty.
Dialpad helps agents find the right things to say while the conversation is still happening through RTA (Real-Time Assist) cards and conversational guidance. These are pop-ups that managers can create to provide instant answers to specific tricky questions, set to trigger when certain keywords or phrases are spoken by customers. For example, if you have new agents who aren't familiar with your refund policy, you could create an RTA card with notes on how refunds work, and set it to trigger whenever "refund" or "money back" is spoken on a call. This way, supervisors don't have to personally coach on every call, but agents can still get the information they need to promptly answer questions:
Genesys Cloud CX also has an AI-powered Agent Assist that functions in a similar way, performing live transcription and supplying answers to frequently asked questions**. We were unable to verify which subscription plan unlocks this feature, however.
Agent coaching and monitoring
Call post-mortems are useful, but are often too little too late for the customer whose needs weren't met. They're also too late for the agent who is now bummed because they didn't handle a call properly. A supervisor could shadow the agent and offer feedback live as the call is happening, but can you imagine having to do that for every agent on the team? Unless the supervisor can clone themselves, it isn't going to happen.
That's where Dialpad's live sentiment analysis saves the day. As calls run, Dialpad's advanced AI listens for key words that can give clues as to the customer's emotional state, and passes this data along to a supervisor's dashboard:
Supervisors can now monitor the calls of multiple agents at the same time, and be notified whenever a customer's sentiment drops into the red. They can then open up the real-time transcript on that call to get more detail before deciding if they need to join the call (or privately communicate with the agent and coach them as to the best course of action).
Not only that, Dialpad Ai's conversational guidance notifies agents when they're talking too fast, not listening enough, or using too many "uhmms" or other pauses.
Genesys also provides sentiment analysis, although from our research it seems to only be limited to post-call transcripts+ and requires a Genesys Cloud 3 license++.
Robustness of AI solution
Dialpad goes beyond chatbots and intelligent IVR, and has created a unique AI contact center solution that can help your business improve each call's quality, coach agents more effectively, and generate valuable call insights.
We've already talked about RTA cards and live sentiment analysis, but that's not all that Dialpad's Ai Contact Center solution can do:

Ai detects significant key words and milestones in conversations, such as important questions, competitor mentions, product problems, sentiment changes, and action items, and marks them down on the call recording timeline for easy review

Real-time transcripts help document the calls for quick review and future post-mortem analysis

Intuitive no-code self-service chatbots that are easy to build and easy to use. Build your automation workflow in minutes
Ease of deployment
Dialpad has cloud built into its DNA, which means it's a breeze to get started. It's as simple as downloading the app and logging in with your email.
Your IT department will appreciate it too–you can deploy Dialpad across all your mobile and desktop devices in minutes, which means it saves time and reduces the need for IT to manage the process.
All of this adds up to a less costly deployment experience, as you don't have to waste days or weeks conducting extensive training for employees and IT staff. Nor do you have to assign significant resources to the roll out; employees can do it themselves with minimal instruction.

See how Dialpad vs Genesys Cloud CX stack up
Looking for something that's easy to set up and use? We've got you. Book a demo to get a feel for how Dialpad could work for your business, or download the G2 Report that contains user reviews comparing Dialpad Ai Contact Center against Genesys!
"
With Dialpad, we can set up a new call center in 10 minutes from anywhere. We have the flexibility to manage our call center on our own, and it's easy.
"
Mike Monteiro
Communications System Manager at EF Education First
Depth of unified communications
The term "unified communications" has been a buzzword for so long that it's a surprise to encounter a solution that actually delivers on this premise.
Dialpad is a true unified communications platform that combines call functionality, instant and text messaging, and video meeting capabilities. It's a full-suite cloud-optimized solution that lets contact centers of any size handle all internal and external communications, across both voice and digital channels.
Best of all? All call controls are available from a single app, which works on all the devices your organization is currently using, including Windows desktop, iOS, Android, and even web browsers. This drastically reduces adoption time and costs and increases its scalability across different company departments and locations.

Quality of customer support
We don't want to toot our own horn (actually, we totally do), but Dialpad won a Stevie® award for excellent sales and customer service.
Our team is here to help at any time of the day through multiple channels:

Live chat

Phone support

Detailed Help Center articles

Multiple training options: in-person, webinar, documentation
Don't just take our word for it though:

*genesys.com/pricing
**all.docs.genesys.com/UseCases/Current/GenesysCloud/EE31
+help.mypurecloud.com/articles/understand-sentiment-analysis/
++help.mypurecloud.com/articles/work-with-sentiment-analysis/