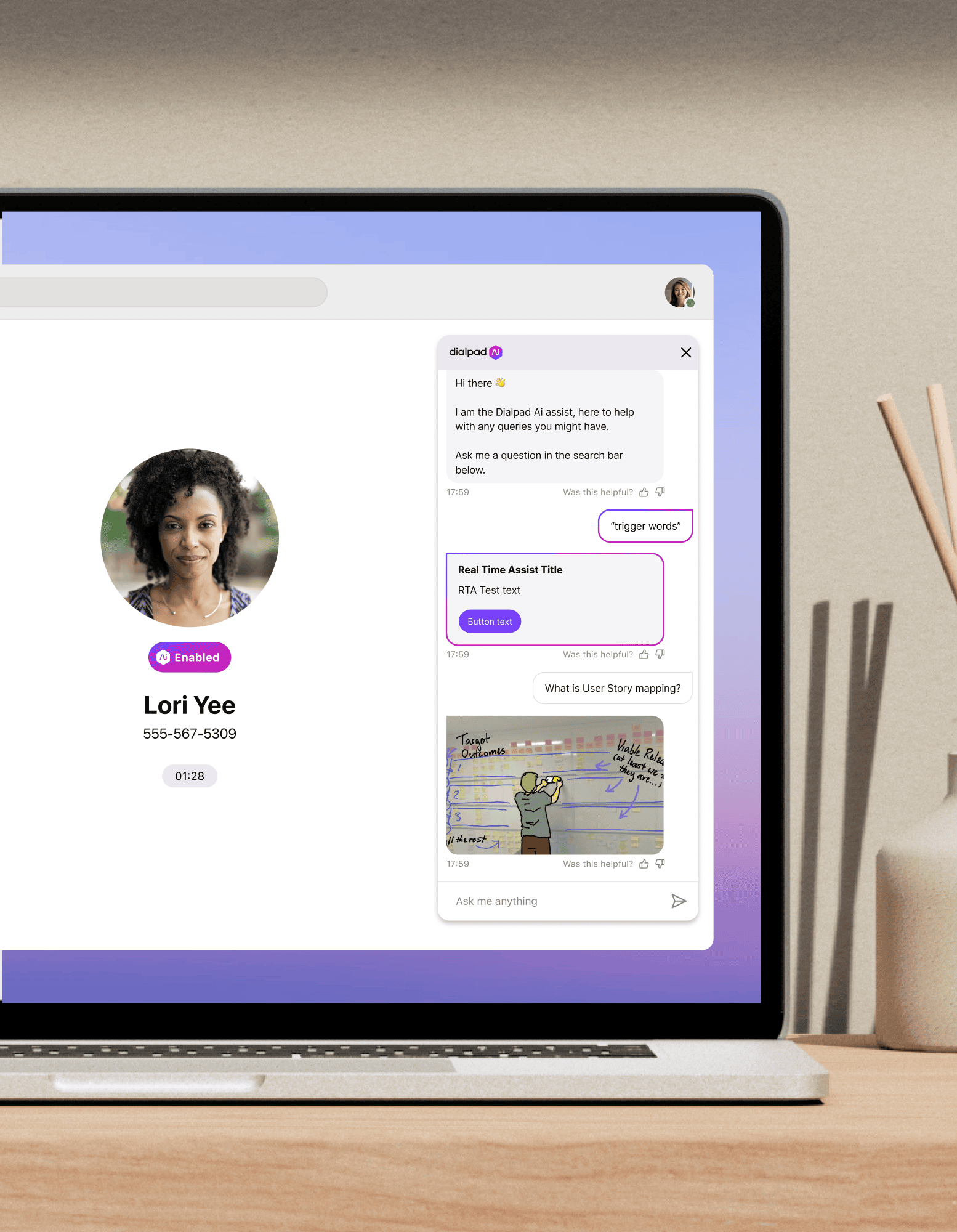 reliable + scalable
Enterprise contact center solutions
Need to spin up new contact center teams or set up hundreds (or thousands) of new agents quickly? With Dialpad's enterprise contact center solution, you can support large-scale, global contact center teams in less time—and with less of a burden on IT—than ever before. Get a demo!
Set-up in minutes
Built-in AI that transcribes calls in real time
Truly unified CCaaS + UCaaS in one platform
Get all the essential features you need in an enterprise contact center solutions
From advanced features that are fully integrated into the platform to an intuitively designed interface, Dialpad Ai Contact Center makes it simple for help desk, sales, and other contact center teams to handle a high volume of outbound and incoming calls or inquiries, and provide an excellent customer experience.

No-code chatbot journeys
With Dialpad's enterprise contact center software, you can take full control of your customer journey just by dragging and dropping. Create chatbots and design dialogue flows with questions and answers—and even images and video instead of just text-based answers.


Real-time transcription
Dialpad Ai can transcribe phone conversations—in real time—more accurately than almost all leading competitors. This way, supervisors can monitor multiple agent calls simultaneously and browse the transcripts, which are updated in real time, to get full context on all customer conversations.

Live sentiment analysis
Dialpad Ai can also perform live sentiment analysis on agent calls and clearly show supervisors if any customer calls are going south. If they see a call with negative sentiment, they can scan the transcript before deciding whether to barge the call or message the agent on the side with advice.

Real-time coaching, at scale
Dialpad Ai Contact Center for enterprises can help agents in real time too. Supervisors can create Real-time Assist (RTA) cards that pop up on agents' screens when preset keywords are spoken. So, they could create an RTA card with notes about the refund policy, and set it to trigger when "refund" or "money back" is mentioned on a call. It's like coaching at scale—without managers having to sit in on every call.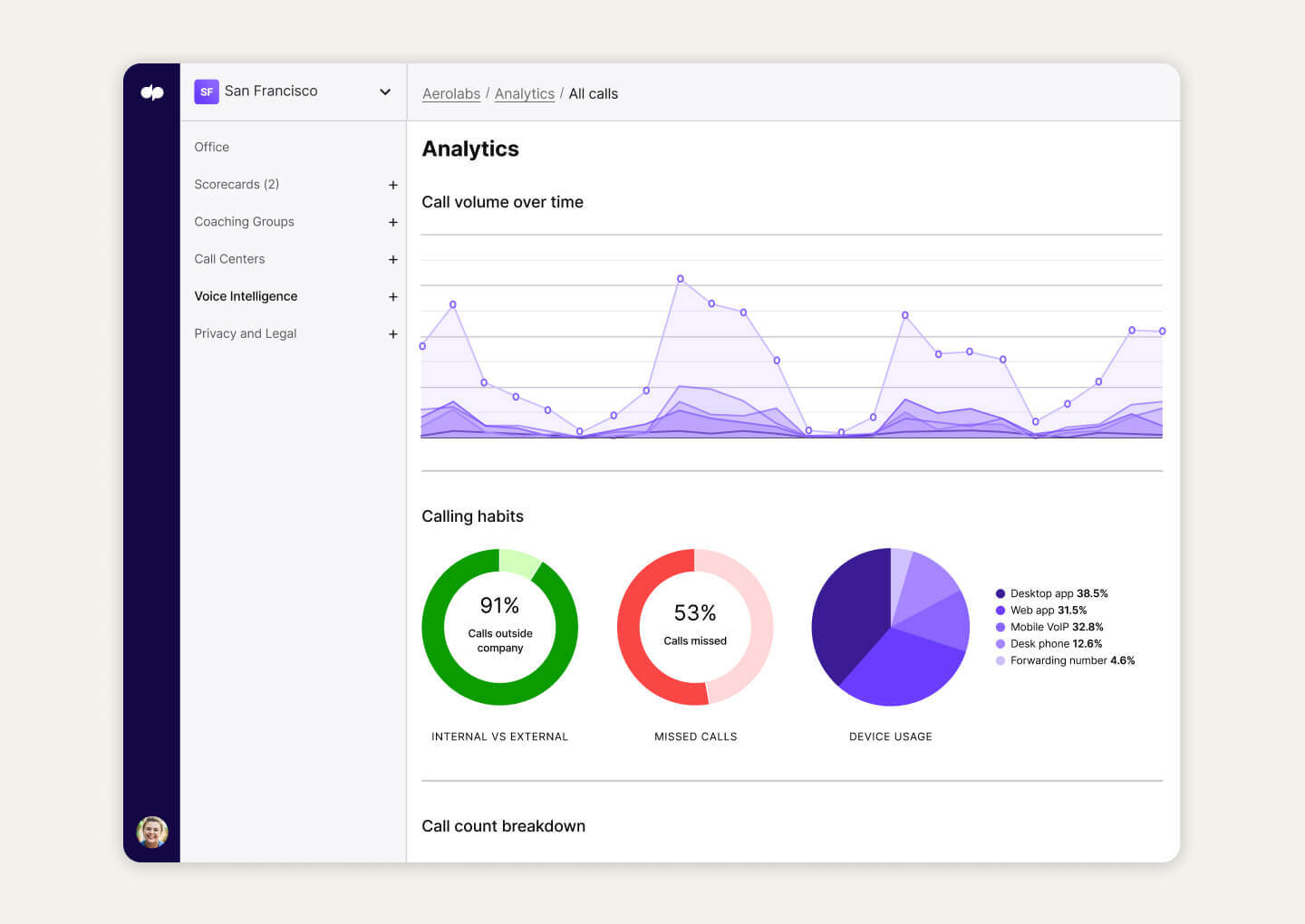 Built-in analytics
With Dialpad, supervisors can keep an eye on customer interactions and metrics without having to message a tech support team and wait for them to pull data. Dialpad's built-in dashboards and heat maps show metrics like call volume patterns, average speed to answer, and more—all in a beautifully designed online dashboard.


Truly unified communications
With Dialpad, agents and supervisors can manage external communications and also make phone calls, send instant + SMS/MMS messages, and have video meetings internally, from both the desktop and mobile app. No need to toggle back and forth between windows, and it streamlines all conversations into one convenient place.

Integrations with tools you're already using
Whether you're using Salesforce, Zendesk, Zoho CRM, Google Workspace, or Microsoft 365, Dialpad Ai Contact Center integrates with a wide range of CRMs and other business apps. These integrations let agents have phone calls from inside the CRM, automatically log activities, and much more.

Looking for an enterprise contact center solution?
From robust CRM integrations to one of the most intuitive user interfaces out of all the platforms out there, Dialpad Ai Contact Center is designed to make it easier for global contact center teams to manage communications. Book a demo to see how it can work for you or take a self-guided interactive tour of the app!
✒️ Grab the Contact Center RFP Checklist
Vetting different contact center solutions? This RFP checklist covers the essentials to be aware of and why they may be important for your contact center.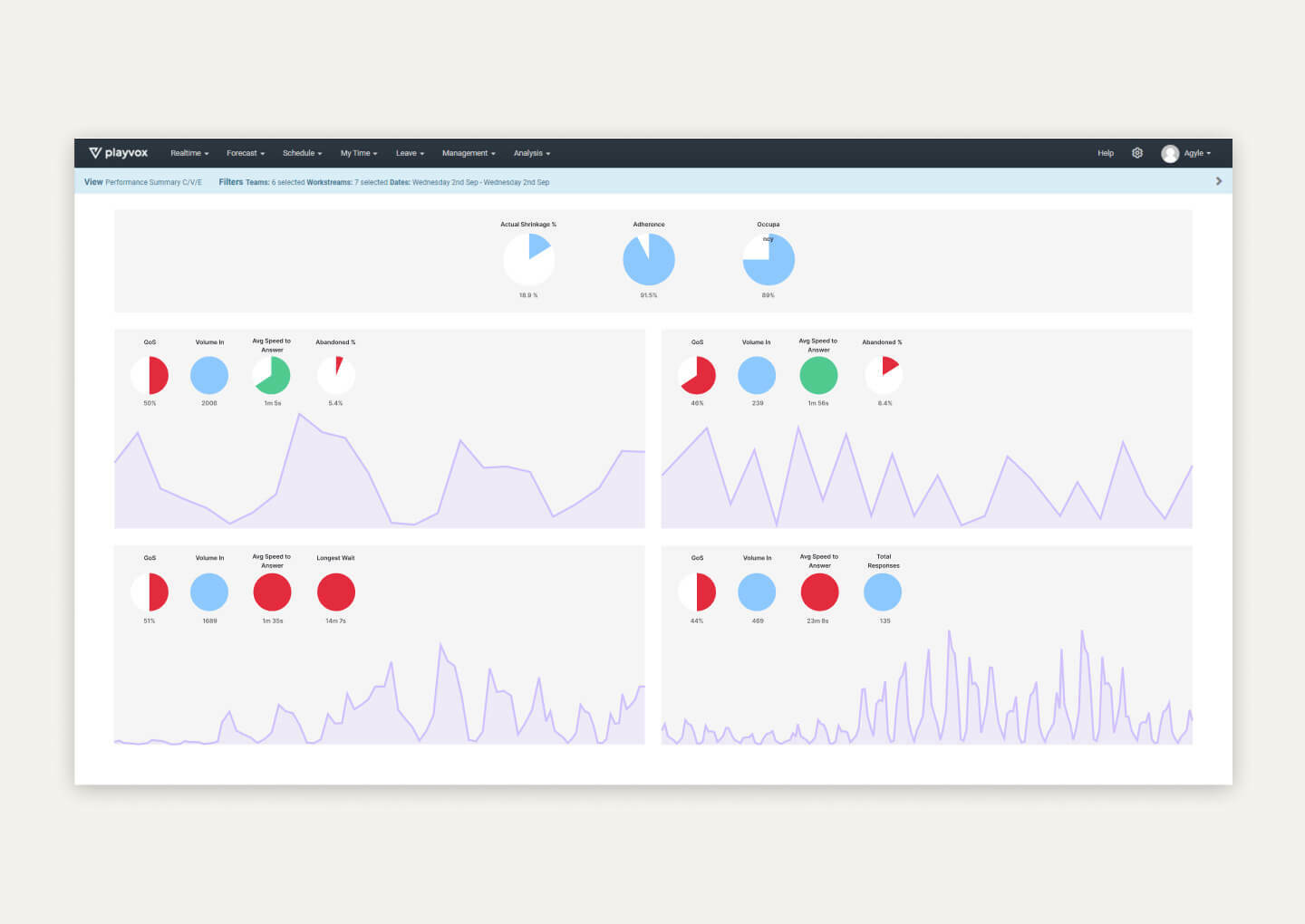 An integrated WFM solution
Need call center workforce management and workforce optimization features? Dialpad's integration with Playvox gives you a robust contact center platform with all of that functionality, from forecasting to quality management, built right in.


Robust security
Not only does Dialpad guarantee 100% uptime for Enterprise plan customers, it also has a range of enterprise-class security features. All data is safeguarded in transit and at rest, and Dialpad can help you meet compliance standards like GDPR and HIPAA. There are also robust in-meeting security controls (like muting participants and removing guests) and APIs that can pause recording automatically when sensitive information is being discussed.


24/7 customer support
And of course, Dialpad's customer support team is available around the clock via the phone and live chat for Enterprise customers worldwide. This support comes included with all Enterprise plans. If you'd like to find answers on your own, there's also a detailed online Help Center, which contains answers to most frequently asked questions.

Intelligent call routing
Dialpad's easy-to-customize IVR (interactive voice response) and ACD (automatic call distribution) features make it easy for callers to route themselves to the right agent or department. There's also a dashboard that shows IVR usage patterns so you can monitor which IVR menu options are being used (and which aren't) to continuously improve your call routing experience.

Unlimited call recording
With Dialpad Ai Contact Center, it's easy to toggle call recording on and off, or to set all calls to record automatically. Supervisors can also create "playlists" of call recordings that agents can listen to and learn from on their own time!


Voicemail
Set up your voicemail greetings and change your settings easily in minutes, right in your online dashboard. Not only that, Dialpad's visual voicemail feature also transcribes your voicemail messages so that you can catch up on missed messages—even if you're stuck in meetings and can't listen to the audio.


Easily scalable
One of the biggest challenges with most enterprise phone systems and contact center platforms is that they're not easily scalable. Want to add—or remove—agents to support seasonality patterns? Typically you'd have to wait a long time for changes to be implemented. With Dialpad, you can easily add and remove users and manage phone numbers, all in minutes from your online dashboard.
Industries that are using enterprise contact center software
"Customer engagement" looks a little different depending on the industry you're in, so let's look at a few examples in which enterprises in these industries can use contact center software.
Healthcare
Today, healthcare organizations rely heavily on call center software to communicate with patients, staff members, insurance providers, and more. One of the biggest requirements of enterprise call center software is, of course, meeting the stringent regulatory requirements (such as HIPAA) that the sector demands.

Tech and SaaS
With any large SaaS organization, one of the most important types of high-volume communications is without a doubt customer support inquiries. That means it's essential to have software that provides analytics to track customer satisfaction, types of inquiries, and overall call volumes, among other metrics.

Higher ed
For universities and colleges, keeping multiple campuses and thousands of students and employees in sync is a significant task. And while remote learning is one big piece of the puzzle, contact center teams in postsecondary institutions have a very specific set of challenges that involve admissions, enrollment, and donations.
See how Education First (EF) set up a new call center with Dialpad Ai Contact Center—in just 10 minutes!
Real estate
For small brokerages with five or 10 agents, having a contact center platform may be overkill. But for any decent-sized brokerage or property management company, it's much harder to handle a large quantity of calls (about things like site visits and viewings) on a daily basis—if they don't have a good contact center platform.

"
Dialpad has a very low learning curve. Very easy to pick up without any formal training to figure out how to use it. The usability was great from the get-go.

"
Jude Tungul
Business Operations and Intelligence Manager at Westward360
Enterprise contact center solutions designed to help you scale
From workforce management to excellent call quality around the world, a good enterprise contact center solution should be well-rounded and help you provide not only an excellent customer experience, but also an excellent agent experience.
With so many communication channels like phone calls, social media messaging, SMS messages, live chat, and conferencing, omnichannel routing is a must. Good call center and contact center solutions have to make the customer journey as seamless as possible, no matter which touchpoint(s) your customers want to interact with.
Whether you have a customer service team, sales team, or any other type of contact center team, Dialpad Ai Contact Center can help make your agents' and supervisors' lives easier.

Want to see how Dialpad Ai Contact Center can help your agents and supervisors work more efficiently?
Get a personal walkthrough from our team or, take a self-guided interactive tour to play around with the app on your own!
FAQs about enterprise contact center solutions
What's the difference between contact centers and call centers?
If your contact center teams handle communications that include not only phone calls, but also live chats, SMS messaging, self-service options, and so on, then make sure that whichever provider you choose has robust contact center functionality.
Call center platforms typically provide only phone call support when it comes to communication channels, whereas contact center solutions are more advanced and have more integrations. (Dialpad, for instance, is a full-fledged unified communications platform, and lets agents and supervisors manage VoIP calls, send instant and SMS/MMS messages, and even have video meetings—all in one app.
What actually is an "enterprise contact center" software?
When should organizations consider switching contact center solutions?
What are some key terms to be aware of as you're shopping for enterprise call center software?
What should you keep in mind as you modernize your enterprise call center software setup?
What does "choose something that'll scale easily" really entail?
What are some best practices for adopting and integrating enterprise contact center solutions into business workflows?