Back to Blog
AI for small business: 3 Not-so-small opportunities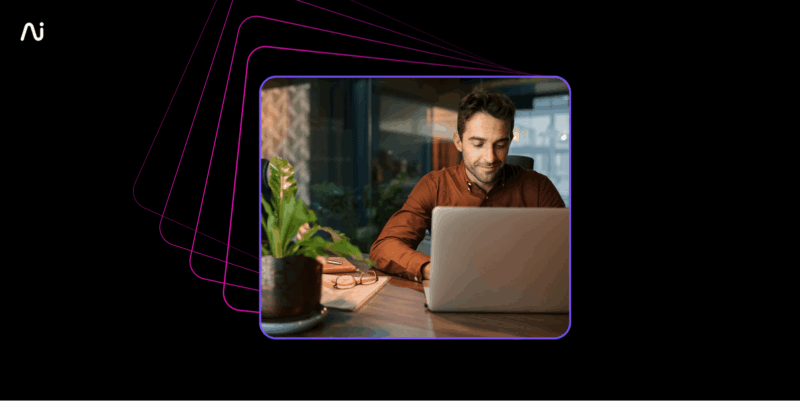 Hello, small business owner, I hear you. From cash flow concerns during low-revenue stretches, to unexpected expenses and market hiccups, to the endless quest to do more and more with less and less as you're racing against deadlines… It's tough out here.
As a content marketer here at Dialpad, I talk to small business owners regularly to get a first-hand account of the challenges they're facing (y'know, for content). And there's a few things they have all in common—that you can probably relate to. I'm going to address those challenges here, and how artificial intelligence (AI) can help.
Here are three of the biggest opportunities for AI for small businesses that your team needs to start capitalizing on today.
"Wait, but isn't AI super expensive?"
Nope! Once a luxury that only larger companies could afford, AI tools are suddenly accessible (and affordable) for all. For example, Dialpad plans start at just $15 per month, and give you real-time AI transcription and call summaries!
3 Big opportunities for AI in small business
1. AI can empower agents to get things done faster and easier
Challenges addressed: Limited staff, time management, scaling & growth
Efficiency is the secret sauce of success in the small business world, and this is precisely where AI shines. With the right tools and processes in place, AI can be that trusty sidekick that makes short work of repetitive tasks and provides fast insights into complex data.
For example, Dialpad Ai provides real-time transcription that eliminates the need for your agents to take notes during calls, so they can focus on the call itself:
If you have a customer support or sales team, Dialpad has contact center AI features that give agents helpful tips during the call, like letting them know they're saying "umm" a lot and telling them to slow down if they're speaking too fast:

The full searchable will be made immediately after each call. But while it's nice to know the transcript is available, usually just a summary is fine. Dialpad's Ai Recap feature has you covered:

Dialpad Ai also offers Ai Agent Assist, which provides answers to tricky questions by automatically popping up for agents in real time. This means agents can stay focused on the conversation, be active listeners, and deliver the right answer at the right time—every time:

Ideally, your AI tools will work seamlessly with the rest of your business software as well. For example, Dialpad integrates with Salesforce, saving your team from the headache of switching between multiple platforms:

Case study:
Learn how Camino Financial cut their resolution time from 48 hours to just 6 with Dialpad Ai.

2. AI can help lower staffing costs
Challenges addressed: Limited financial resources, cash flow management, economic uncertainty
One of the perpetual challenges small businesses face is cost management, especially in terms of personnel. Put simply, small businesses don't always have the resources to staff large customer service teams.
Here again, AI offers a solution.
With conversational AI, for example, you can automate customer touchpoints and offer round-the-clock service without the need for 24/7 staffing. Conversational AI can deliver instant answers, eliminate wait times, and help customers do tasks like paying a bill online:
Setting up these flows is light work in Dialpad Ai Contact Center, and can be done in as little as a few minutes. In fact, here's how conversational AI looks. It's just a drag-and-drop builder (no coding needed), and anyone could do it:


Think of it as your tireless, ever-ready virtual agent who's on call 24/7, answering queries with conversational AI, and providing instant support to customers. This kind of automation significantly reduces costs while providing a high level of customer service by providing immediate, accurate responses.
3. AI can give your customer service a competitive edge
Challenges addressed: Differentiating from competitors, increased customer demand, customer retention & satisfaction
For a small business, every customer interaction is a golden opportunity. Delivering exceptional customer service is the key to retention and loyalty, and that typically boils down to providing the right answers, tailored to the specific needs of a specific customer, in a timely manner. Customer service AI tools excel at this.

Take Dialpad's live sentiment analysis as an example. This feature provides real-time insights into customer calls, allowing supervisors and managers to intervene if a call isn't going well:

This capability to instantly turn around negative experiences—in real time—can be a major differentiator in a highly competitive market. It's also a great training tool, and not just for onboarding new members of the team either. Even experienced agents can use the insights from live sentiment tracking to identify areas for improvement.
Dialpad's Ai CSAT feature is another great one for training and development. It lets businesses measure customer satisfaction scores on all of their calls without relying on traditional customer surveys. By analyzing call transcripts and identifying sentiment cues, Dialpad Ai can provide actionable insights to continually improve customer interactions:

Case study:
Learn how WizeHire, an award-winning online hiring platform, improved their callback time by 50% with Dialpad.

The future of AI for small businesses
It's a fast-paced world out there, and small businesses need to adapt to survive. AI can give your small business a major boost by improving efficiency, lowering costs, and taking customer service to a whole new level.
Ready to get started?

Dialpad Ai works for your small business
See what the world's most advanced Ai communications platform can do for you. Book a demo to see how, or take a self-guided interactive tour of the app on your own!
FAQ about AI for small business
How can AI be used in small business?
AI tools are a great way to increase efficiency in a small business. From automating mundane tasks to providing data-driven insights and personalized customer experiences, AI can be a game-changer for forward-thinking small businesses.
For example, AI tools can supplement or even fully manage your customer service operations, providing round-the-clock assistance and instant responses to customer inquiries. These tools can also crunch the numbers on customer data to deliver more personalized recommendations.
Whether it's improving efficiency, reducing costs, or taking your customer service to the next level, AI is a versatile sidekick that can help your small business increase efficiency, lower costs, and improve sales.

What is the average cost of an AI system?
Is there a free AI I can use?