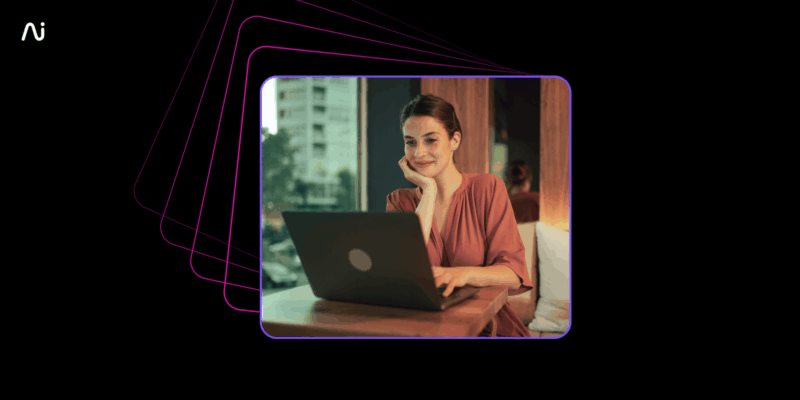 Are you looking for the best Avaya alternative for your business?
Whether you're looking at a more futureproof option or want to go with a cloud-native communications solution, there are many Avaya competitors that can give you a cloud phone system, contact center software—or both in one platform.
In this blog, we'll look at the top Avaya alternatives that'll give you a range of unified communications and AI contact center functionality, with a focus on cloud and AI solutions. We'll also discuss the disadvantages of Avaya's on-premises solutions and how much an Avaya phone system costs. But first, let's answer a key question.
What is Avaya?
Avaya is an enterprise communication solution that has a pretty sprawling umbrella of unified communications and contact center technology. Having been around for about two decades at this point, Avaya has tried to make strides to move from on-prem to the cloud as a communications provider through partnerships with third-party vendors and discontinuing some of their legacy products (more on this below).
Why you might want to consider Avaya alternatives
It is notoriously difficult for legacy software vendors (in any industry, not just enterprise phone systems or business communications) to upgrade their products and incorporate new technology like conversation intelligence, sales AI, and so on.
Compared to cloud-native solutions (some of which we'll see below), which are generally more flexible and easier to add new features to, legacy communications tools like Avaya tend to have a much harder time innovating and rolling out new features quickly to customers. Now, let's dig into the most common reasons why businesses are looking into Avaya alternatives.
You'd prefer a provider without the bankruptcy baggage
If you've been keeping up with the news, the most significant company update from Avaya recently was its bankruptcy announcement in 2023. It's not their first foray into bankruptcy either—this was their second filing since 2017.
Avaya has also attempted to update its offerings and move to the cloud—though this is by partnering with other third-party communications providers, as opposed to improving its own technology and products. Most recently, Avaya re-announced a partnership with RingCentral after much speculation about whether it would have to be acquired—the result of this partnership was that Avaya would now be able to offer a UCaaS (Unified Communications as a Service) product to its customers, through RingCentral.
This came after other past announcements over the years from Avaya about eliminating in-house and on-prem solutions, so for businesses that are considering using Avaya as their communications solution, the long-term impacts and possible complications resulting from this will be a key consideration.
For Avaya, the problem with eliminating their on-prem solutions is two-fold:
First, their cloud solutions are quite behind in reliability, feature set, and ease of use compared to cloud-native alternatives in the market

Secondly, any on-prem customer that might move to Avaya's cloud service will undoubtedly consider other cloud-native solutions as well, because the effort of moving off Avaya on-prem will be the same
You want a truly unified UCaaS and CCaaS solution
As we touched on earlier, RingCentral is actually Avaya's UCaaS provider. If you're looking for a truly integrated communications solution that your customer service, sales, marketing, and other teams can use to have both internal and external conversations, then you'll find better options among some of the Avaya alternatives below.
One thing to look out for here: vendors who market "unified communications" offerings, but are in reality reselling another software provider's product under their own name. A few examples:
Even though these products are marketed under the same brand, you'll often find little issues like a disjointed or clunky user experience that doesn't look consistent when toggling between internal messaging vs. customer calling features, and having to log into different accounts or different windows, just to name a few.
Ideally, your team members—even those on customer-facing teams, like Support and Sales—should be able to do everything from messaging teammates to taking customer calls and coaching agents, in the same window or app. This is how it looks in Dialpad, for example, which would be an example of a truly unified platform:


You want a most cost-effective solution
One of the biggest advantages of switching away from Avaya is the potential cost savings. Compared to on-prem solutions, cloud-based communications platforms usually come with lower upfront costs, as well as more predictable monthly expenses.
This can significantly reduce your total cost of ownership over time, providing much needed budget flexibility for businesses that need to remain focused on their bottom line.
Avaya Cloud Office, for instance, is their UCaaS product and starts at $25 (regular price) per user per month3, whereas Dialpad's UCaaS offering starts at just $15 per user per month—and gives you comparable features.
You want a future-proof solution
It's not clear what ultimately will happen with all the customers who are currently using Avaya's on-premises communications solution, but with any on-prem technology, scalability and flexibility will be more limited when compared to cloud alternatives.
On-prem solutions also typically require more significant upfront costs because of the need for dedicated hardware components like servers and routers. On top of that, it can be difficult to maintain these systems over time due to their complex nature, which requires extensive (and expensive) IT support.
Beyond the higher costs, this also means that if your business plans to do things like expand globally or hire at a rapid pace, you'll have a harder time doing this with an on-prem solution. It's probably going to be more expensive to ship out multiple pieces of hardware and desk phones for a large number of new employees globally. With a tech stack made up of cloud tools, you'd only need to make sure your new hires have a computer that can access the internet.
In fact, with a cloud-based Avaya alternative like Dialpad, your admins or IT team can easily add new employees and phone numbers in just a few clicks from your online dashboard:


The top 7 Avaya alternatives and competitors
Now, let's look at some of the most popular alternatives to Avaya that would give your business comparable or better UCaaS and/or CCaaS functionality. For each of the competitors below, we'll start off by highlighting whether they'll cover call center software functionality, business phone system functionality, or both.
1. Dialpad: AI-powered communications and insights
Dialpad is an AI-powered business communications and customer intelligence platform that lets you handle all of your conversations—with both teammates and customers—in a single platform. And yes, it gives you cloud contact center functionality and unified communications in one truly integrated package.
Unlike other Avaya alternatives like Nextiva and RingCentral, Dialpad isn't reselling its UCaaS (Ai Voice) or CCaaS (Ai Contact Center) product—both are built and maintained in-house. That means you can make international conference calls, host video meetings, send SMS/MMS and team messages, and more—all from a single app:

What makes Dialpad an excellent alternative to Avaya?
Whether you're using Avaya's call center functionality or business phone functionality, you'll find all the same features in Dialpad's omnichannel contact center solution. CRM integrations, easy IVR setup, robust contact center analytics… Dialpad comes with a host of intuitively designed features.
Unlike Avaya, though, Dialpad is cloud-native—the company was born during the iPhone era, and because of its modern architecture, it can (and does) roll out innovative new features extremely quickly.
From its ambitious "12 Months of AI" to unprecedented 100% uptime for Enterprise plan customers, Dialpad's uniquely powerful platform is designed for both reliable global call quality and rapid innovation.
What you get with Dialpad that you don't get with Avaya
Even though Avaya does advertise some AI call center features, Dialpad is a leader when it comes to AI.
Not only has Dialpad's state-of-the-art AI analyzed over five billion minutes (or over 80 million hours) of business conversation-specific data, but it also has an in-house team of artificial intelligence experts, speech recognition engineers, linguists, and PhDs who are behind the cutting-edge research in AI and improving Dialpad's AI-powered solution every day.
The result: Never-before-seen features like…
Ai CSAT
If your business has a customer support team, then you might know that one of the biggest challenges with CSAT (customer satisfaction) surveys is that not a lot of people actually fill them out.
In fact (depending on the industry and specific business of course), we've found that on average only about 5% of customers actually fill out CSAT surveys. On a related note, usually only the angriest—and happiest—customers actually bother responding, which means your CSAT answers are likely to be very skewed and not representative of how your customers feel overall.
Dialpad's industry-first Ai CSAT feature is designed to solve exactly that, by inferring CSAT scores for 100% of your customer calls. This gives businesses a much more representative sample size for CSAT scores—and a more accurate understanding of how satisfied your customers really are:


Ai Agent Assist
Most decent contact center platforms should have some kind of real-time assist functionality to help agents talk through tricky questions during customer calls, but what's unique about Dialpad's Ai Agent Assist is that it can search all connected knowledge sources (even unstructured ones like PDFs and past customer conversations) to find a wide variety of information instantly:
AI-powered CRM integrations
Do your customer-facing teams use CRMs like Salesforce? Dialpad's integrations are unique in how robust they are—every Avaya competitor likely has a Salesforce integration, but how many of them include AI-powered call pops inside those CRMs?
Fun fact: Dialpad integrates with a wide range of productivity tools and business apps including HubSpot, Microsoft 365, and even industry-specific tools like Clio for law.
And there will be more exciting features like Ai Scorecards and Ai Playbooks coming soon… If you want a sneak peek, just reach out to our team for a walkthrough.

Check out one of the top Avaya alternatives
Book a demo of Dialpad with our team, or take a self-guided interactive tour of the app first!
2. Genesys Cloud CX1
Genesys is a contact center solution that comes with your typical features like call routing, IVR, and call recording.
Depending on which of Genesys' pricing tiers you choose, you'll also find additional features such as workforce optimization, omnichannel customer service functionality, and so on.
What makes Genesys a good alternative to Avaya?
Genesys is a virtual call center solution, so it gives you the benefits of the cloud if you want a not-on-prem contact center provider. It also has a decent range of pricing plans depending on if you just need to provide voice call support or need digital channels as well.
Pricing
Genesys' prices are broken down according to these tiers: Genesys Cloud CX1 ($75 per user/mo), Genesys Cloud CX2 ($110 per user/mo), Genesys Cloud CX3 ($150 per user/mo), and Genesys DX, which requires a talk with Sales.4
3. (and 4.) RingCentral Contact Center / NICE CXone
Like Avaya, RingCentral is a legacy communications platform that markets both UCaaS and CCaaS products.
Technically, it does offer unified communications including video conferencing and instant messaging capabilities, but an important thing to note about RingCentral's contact center platform is that while they market themselves as a "UC + CC" product, that's not really the case.
RingCentral is currently reselling NICE's contact center product, which is why their contact center app is totally different from the rest of their communications platform and requires separate logins.
(So why can they say they have "UC + CC"? Basically, because NICE operates on their telephony network.)
What makes RingCentral a good alternative to Avaya?
All that being said, RingCentral is the company that Avaya is now using for its cloud unified communications product, so it makes sense to look at it as an option if you're moving away from Avaya's on-prem offerings. Besides that, though, you'll find more truly unified products with other Avaya alternatives on this list.
Pricing
RingCentral Contact Center is available in four tiers: Essentials, Standard, Premium, and Ultimate. Prices aren't listed on the website—you'll have to contact sales for an actual quote.5

5. Talkdesk CX Cloud Essentials
Talkdesk CX Cloud is a cloud-based contact center solution that offers features like call routing, automatic call distribution, and call monitoring. Talkdesk provides an API that lets businesses integrate the software with existing systems, including CRMs and other communication platforms like Microsoft Teams.
Like Genesys, though, Talkdesk CX Cloud is primarily a CCaaS platform, not UCaaS. If your team needs an integrated communication solution that lets you handle both internal calling and messaging and customer communications, then Talkdesk may not be a good alternative.
What makes Talkdesk a good alternative to Avaya?
Because it's a modern cloud solution like Dialpad Ai Contact Center, you'll generally have an easier time setting up remote employees and agents compared to Avaya's call center software. Talkdesk is also a pretty robust contact center solution in its own right, and can give you almost all of what Avaya gives you.
Pricing
Talkdesk's pricing has four tiers and starts with the CX Cloud Essentials at $75 per user per month.6
6. Aircall
Aircall might not be quite as big of a brand as the other Avaya competitors on this list, but it is one of the few providers that has both a virtual phone system and call center product—without needing to resell a third party's software.
If you only need something that gives your team members calling and texting (for both internal and external communications), then Aircall is a decent alternative.
However, it does not provide true UCaaS features—you won't get video conferencing or team messaging functionality with Aircall.
What makes Aircall a good alternative to Avaya?
If you're looking for a relatively lightweight solution that'll give your team the basics when it comes to calling and SMS functionality, Aircall is an intuitive and easy-to-set-up option.
Pricing
Aircall has a three-tiered pricing plan that includes the following plans: Essentials, Professional, and Custom. The Essentials plan is $30 per user per month, the Professional plan is $50 per user per month, and the Custom plan bills itself as a customized package for your business needs and to call for details.7
7. Nextiva
Even though Nextiva's name does come up from time to time in the contact center space (like Dialpad and RingCentral, Nextiva markets both a UCaaS and CCaaS product).
However, as we mentioned above, the most important thing to note is that Nextiva is reselling another company's software and calling that package a "unified solution."8,9
This may not be a dealbreaker for everyone, but typically, when software companies Frankenstein different products together, it can result in different user interfaces, different login processes and account management workflows, and so on. This is a big reason why Nextiva is so far down this list.
What makes Nextiva a good alternative to Avaya?
All that being said, Nextiva can help you get away from an on-prem communications platform if that's what is motivating you to switch from Avaya. It does have pretty accessible 24/7 customer support, which is another positive.
Pricing
When it comes to contact center pricing, Nextiva has four different tiers and you'll have to contact their Sales team for a custom quote.10
What's the best Avaya competitor for your business?
If you're looking for a business phone system or contact center solution, there are Avaya alternatives that can not only help you move from on-prem to the cloud, but also consolidate all your external and internal communications into one app.
This can give your business significant cost savings because you won't have to spend as much upfront on hardware and equipment, and it also reduces the number of different apps and software you'll have to pay for (and pay your IT team to admin).
If you're interested in one of the most innovative, AI-powered communications solutions on the market, why not check out Dialpad Ai Contact Center?

Get a hands-on look at Dialpad
Industry-leading AI, easy setup (in minutes), and all the conversational intelligence you need. Check it out with a demo or an interactive tour of the app!
Frequently asked questions about Avaya alternatives
What is Avaya known for?
Avaya is best known as being a provider of enterprise unified communications and contact center solutions. Avaya really came up during an era where on-premises technology reigned supreme, with desk phones, server closets, and other hardware. In recent years, Avaya has struggled to evolve its offerings in comparison to cloud-native solutions (like Dialpad), having filed for bankruptcy twice in the past 10 years. Today, Avaya has entered into partnerships with other providers, such as RingCentral, to try to add cloud offerings quickly for customers (as opposed to building out these products in-house).
How much is an Avaya phone system?
1, 8 talkingpointz.com/nextiva-competing-around-the-customer-experience/
2, 9 businesswire.com/news/home/20210609005705/en/Nextiva-and-Five9-Team-Up-to-Help-Businesses-Deliver-Seamless-Customer-Communications
3,11 avaya.com/en/products/ucaas/cloud-office-pricing/
4 genesys.com/pricing/
5 ringcentral.com/office/plansandpricing.html#cc
6 talkdesk.com/pricing/
7 aircall.io/pricing/
10 nextiva.com/nextiva-pricing.html