Back to Blog
Providing an omnichannel customer experience is simpler than you think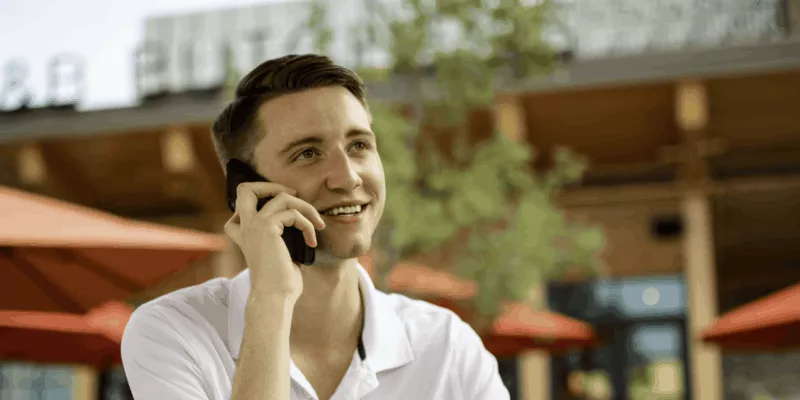 Being able to provide an omnichannel customer experience today is essential for many businesses. Today's customers routinely reach out through various channels, and if this applies to your customer base, then you should be able to meet them where they are (if you want to keep them happy.)
There are "online channels" like live chat and social media, and "offline channels" like phone calls and in-store visits that all could potentially make up your customer journey.
So, how can you meet customer expectations across all these channels and stay organized? How can you make sure that every touchpoint is synced up, so that even an agent who's never spoken to a customer before can still see their history with you?
I'll show you how in this guide.
What makes a true omnichannel customer experience?
An omnichannel customer experience is one where a customer can contact a business through different channels and still receive a consistently excellent experience.
For example, say a customer bought a shirt from a clothing store's website, found out it had a rip in it, and wants to return it for a refund. They sent an email to ask about this, but didn't receive a reply.
They tried to live chat on the website next—and the agent was able to see that customer's purchase history and past email that got missed by the email agents. The agent processed the refund, and the customer got an SMS and email confirmation. All's well that ends well.
With an omnichannel approach, everything flows naturally.
Quick note on omnichannel vs. multichannel customer experiences:
Often, the terms omnichannel and multichannel are used interchangeably, but they're different things. An omnichannel customer experience is the better option because it centralizes customer conversations across different channels, meaning an agent who's handling a company's social media messages can see a customer's past conversations on the phone or live chat as well.
Multichannel experiences still allow customers to have conversations with a company over various channels, but they don't have that seamless connectivity. That customer data is in silos, and an agent who's on social media won't be able to see a customer's past interactions through other communication channels.
What that typically means is that a customer would have to repeat themselves every time to they talk to a different agent or use a different channel to reach out to a company. As you can imagine, this is hardly a seamless experience and can annoy people (and more importantly, negatively affect customer retention).

✨ Want to provide a better CX?
It breaks down everything you need to know, from setup to staffing to optimizing—with examples from real contact center teams across different industries.
3 key omnichannel customer experience benefits
A good omnichannel strategy can benefit both businesses and consumers. Here are just a few of those advantages.
Customers don't have to repeat themselves over and over
No one likes repeating themselves. According to HubSpot's research, the number one frustration for most customers is "repeating yourself or information to different support representatives." This complaint was tied for number one (along with having to wait on hold at 33% each).
And yes, this is one of the biggest obstacles that an omnichannel strategy can help you address.
More proof supporting this: Zendesk's Customer Experience Trends Report found that more than 70% of consumers want companies to keep track of their information to avoid having to repeat themselves to different representatives.
It empowers your agents to provide better customer assistance
Your customer service and support teams want to do their best when helping customers. They probably don't want to have to ask them to repeat basic information or explain the same story multiple times either.
But they can't really do anything about it if the company is using a bunch of different communication tools and doesn't have a centralized way of tracking customer data from their physical stores, digital channels, voice channels, and so on.
To empower your agents with an omnichannel customer experience strategy, you have to give them the right tools and a central hub where all information across the customer journey can be easily accessed. This will give your agents the context and knowledge they need to tackle a wide range of customer queries.
It gives your business a competitive advantage
If you're in a commoditized industry or lots of competitors with similar products, one of the best ways to stand out from the crowd is by providing a personalized experience for customers. This touches many stages of your customer journey too—you could have an omnichannel marketing strategy, an omnichannel customer service strategy, and so on.
Don't get me wrong, it takes a lot of work and planning to provide a good omnichannel customer experience—if it were easy, everyone would be doing it.
You need to have the right software, a good contact center platform, and clean customer data... Just to name a few. Done right, though, this can be a huge differentiator and competitive advantage for your business.
Creating an omnichannel customer experience in 4 steps
1. Identify customer touchpoints
Remember, omnichannel doesn't mean you have to be on every channel.
You have to be on the communication channels that your customers are on. Every demographic is different—know your personas, where they like to hang out online (or offline), and have a plan for how you'll manage those customer interactions.
For example: Will you just sign up for all the different social media platforms and manually check each one for messages? Or will you have a contact center platform or social media software that helps you handle all those messages in one place?
Dialpad Ai Contact Center, for example, is an omnichannel platform that lets you manage not only digital channels like social media, but also live chat and even voice channels like phone calls—all from a single interface:

2. Build a customer journey map
Next, create a customer journey map that shows all of those customer touchpoints. This will help you visualize just how complicated your omnichannel journey might be and provide a more consistent experience across channels.
For example: When a customer reaches out through live chat on your website about a complicated technical support issue, can that flow into a screen share directly from that window so that an agent can co-browse on their screen to walk them through the troubleshooting steps?
(This seems like a straightforward step, but it can easily become a big project depending on how many touchpoints you have.)
3. Have the right contact center platform
To provide an omnichannel customer experience, you need an omnichannel contact center platform. (Or at least, having one will make your agents' and supervisors' lives a lot easier.)
Things to look for: Can the platform sync contextual or conversational data between the communication channels you need? For example, Dialpad Ai Contact Center lets agents manage phone calls, video calls, live chat messages, social media messages, and more, all from a single window.
Plus, they can also build custom chatbot flows:


Fun fact: Dialpad's chatbot doesn't just pull basic, preset answers for simple questions. It can also do deep semantic searches through your Help Center database, PDF documents, and even past customer conversations to find answers to a huge variety of questions!
Dialpad Ai can transcribe calls in real-time for us, which means that if managers notice that a certain customer call is showing a negative sentiment alert, they can open up the transcript to get more context before deciding whether they need to jump in to help the agent:


4. Balance the use of automation and human support
Self-service is a channel too, and different audience segments will have different preferences. Some will prefer self-service and automations like chatbots. Others want to hear a human voice on the end of the phone.
One of the biggest mistakes that companies make is to expect that automations can solve every type of customer problem or question.
No matter how good your AI or chatbot is, there will always be those edge cases that are unique and unexpected. That's not to say that you shouldn't use chatbots, especially since the role of artificial intelligence in customer experience is ever increasing—even deflecting 60 or 70% of customer inquiries can give you huge cost savings.
But you still need to have a small call center team to help those customers who have especially tricky questions that need a person. Otherwise, you'll have frustrated customers who feel like your customer experience is full of dead ends.
How to improve your omnichannel customer experience
Creating a good omnichannel customer service experience is one thing, but how can you ensure continuous improvement? Here are a few things to bake into your ongoing strategy to make sure you get ahead—and stay ahead—of the curve.
Monitor your metrics on a regular basis
Even if your omnichannel strategy seems like it's working great today, you'll still need to keep an eye on your metrics to ensure this success is sustainable. Whether you're measuring your CSAT (customer satisfaction) score, NPS (net promoter score), or average handle time, you should have an easy way to keep track of these numbers.
Dialpad Ai Contact Center, for example, lets us measure most of our important call metrics, right from the analytics screen:



Update training for agents at least once a year
Even an excellent omnichannel strategy needs one more key ingredient: your agents. If one cog or gear isn't turning efficiently, you risk the entire engine failing.
Ideally, you'll be able to update your agent training at least once a year. This will keep everyone up to date on the latest changes in your industry and your business, all the way down to your team's processes and tools.
For example, with most software, updates happen every quarter sometimes and Dialpad Ai Contact Center is constantly rolling out new features that are designed to help my agents—we have regular training sessions and use features like the RTA (Real-time Assist) cards to give agents information in real time as they're talking to customers as a failsafe:


How RTA cards work: We can create an RTA card for any number of tricky topics or questions that we anticipate our agents getting. For example, say your business gets lots of questions about refunds and exchanges. You can create an RTA card with detailed notes on your refund policy and set that card to trigger automatically on agents' screens whenever "refund" or "money back" is spoken on a customer call!
This way, managers don't have to personally help every agent on every call, but agents can still get the information they need to answer customer questions!
Regularly gather customer feedback
There's no better source for finding out your customers' needs than your customers themselves. CSAT surveys are a great way to gauge customer satisfaction. Which communication channels do your customers tend to have the most satisfying experiences on? Which channels are they the most responsive on in terms of giving you that feedback?
In Dialpad Ai Contact Center, we can create a CSAT survey to run automatically after a customer conversation with just a few clicks:


Of course, one of the biggest challenges with trying to collect customer feedback is that not a lot of people actually fill out those surveys.
In fact (depending on the industry and specific business of course), we've found that on average only about 5% of customers actually fill out CSAT surveys. On a related note, usually only the angriest—and happiest—customers actually bother to respond to these surveys, which means your CSAT answers are likely to be very skewed and not representative of how your customers feel overall.
Dialpad's industry-first Ai CSAT feature is designed to solve exactly that. Not only can our Ai transcribe calls and analyze sentiment in real time, it can also infer CSAT scores for 100% of your customer calls thanks to its hyper-accurate transcription feature. The result? A much more representative sample size for CSAT scores, and a more accurate understanding of how satisfied your customers really are:


6 omnichannel customer experience examples from different industries
Now, let's look at how businesses and organizations across a diverse range of industries can provide more seamless omnichannel experiences—and win more loyal customers.
Logistics
A typical logistics company can expect especially demanding customers. With shipments going potentially all over the world, their customers need to have accurate information at all time. Urgency is a recurring theme and often, customers will want help with shipments, delays, and other questions in real time.
Traditionally, these customers would clog up the phone lines by calling in about their deliveries.
But with an omnichannel contact center platform, logistics companies can deflect many of these questions by giving their customers a self-service channel.
For example, many lower-level queries for these companies tend to be about routine things like tracking and billing information, delivery status, and so on—all of which is pretty straightforward and don't really need a human agent to be involved. All that's needed is a self-service option with a chatbot on the company's website or mobile app.
Airlines
Flight delays and cancellations are a perpetual source of disruption for airlines and customers. Traveling can be stressful at the best of times, and everyone's had that feeling in the pit of their stomach as they race to the terminal gate to just make it onto their plane.
A regional airline operates on the slimmest of margins, but that doesn't mean they can skimp on customer experience. Any itinerary alterations or cancellations must be communicated to customers on their preferred channel as soon as possible.
A contact center platform like Dialpad connects your social media and other communication channels in one space. This means teams can seamlessly handle concerns from weary travelers.
Platform integrations for channels like WhatsApp also offer a fast and effective way for support teams to correspond with would-be flyers.
Banking
Today, many banks have a mobile app for basic banking functionality, thanks to the demand from consumers for more digital channels and self-service capabilities.
With banking in particular, many inquiries tend to be very routine and easily handled without needing a phone call. From checking your account balance to applying for a loan or credit card, most of these can be done through an IVR, live chat message, or even a portal in the banking mobile app.
Understandably, banking also has much higher security requirements, but even so, banks like Chase and Wells Fargo have online portals and special social care teams that handle requests through social media.
Fun fact: Dialpad Ai Contact Center lets contact center teams handle digital channels, voice channels, and even chat channels like WhatsApp, all from a single place so that agents can pick up past conversations with customers across different channels, with full context of past chats.
Retail
For many ecommerce businesses, providing an omnichannel experience is a great way to play offense instead of defense. Let's say you're a direct-to-consumer acoustic guitar manufacturer and that due to recent trends, there's been a surge in demand for musical instruments.
That's good news, right? Unfortunately, though, you've found a quality defect caused by a bad batch of wood. Also unfortunately, you don't have a customer support team quite on the scale of Amazon's.
No problem—you've got a robust omnichannel customer experience set up, and you've prepared your support team for an influx of unhappy customers asking about the wood defect.
You've proactively put up a note on your website about that batch of guitars and offering a discount for customers who bought that guitar and also updated your chatbot scripts and phone and social media agents with more details.
By doing this, you deflected a huge portion of potential calls asking about this, and provided good, proactive customer service, turning what would've been a negative brand experience into a great customer experience that turned into long-term customer loyalty!
Education
Schools, universities, and colleges can have a lot of customers to manage. "Customers" being, of course, current and prospective students, and, often, the parents of these students. Because of this, the priorities and preferences of each "customer" segment can actually vary widely.
A centralized contact center solution allows schools and universities to meet the diverse needs of these very tech-savvy customers. Students, for example, often want self-service options for finding out things like class schedules and registration procedures. They may also prefer channels like SMS or social media for announcements and event reminders and a chat option for connecting with teachers.
Other students and many parents will opt for voice as their preferred channel for handling transactions or reaching faculty. Instead of offering a basic multichannel experience, schools might consider providing a streamlined omnichannel experience that lets them manage all channels from one place and quickly pull student account information, leading to faster resolution times.
Utilities
Most of the time, a gas or hydro company can expect customer queries to be straightforward. Most of these calls and messages are likely to be about payments and canceling or switching services.
But disruptions due to maintenance or weather can also result in huge peaks in calls. in addition to sudden world events, like a pandemic, which can flood your contact center with upset customers.
Once again, an omnichannel approach can be very helpful for deflecting calls and reducing on-hold times. With a platform like Dialpad, for example, you can set up SMS auto-reminders for payments and announcements of any service disruptions, and use chatbots, knowledge bases, and IVR to handle repetitive customer queries about price changes and the like.
This way, you can keep escalations to live agents for only the questions that require their help, while letting your customers self-service more routine tasks.
Provide a better customer experience with an omnichannel approach
The single-channel experience is nearly extinct, and for the vast majority of industries today, consumers are demanding a seamless omnichannel experience.
Does your contact center or business have the tools it needs to handle phone calls, video calls, SMS text messages, and social media channels? And more importantly, can you manage all those customer interactions in one place, or do your agents have to toggle constantly between different apps and software?
If not, why not check out Dialpad Ai Contact Center?

Provide a better omnichannel customer experience
See how Dialpad is helping agents and supervisors across a range of industries (like healthcare, utilities, and education) provide an omnichannel experience. Book a demo with our team, or take a self-guided interactive tour of the app first!
Omnichannel customer experience FAQs
What is an omnichannel approach?
An omnichannel approach in customer experience is when you allow your customers or prospects to communicate with your business through a variety of channels while getting a seamless experience. These channels can include anything from websites, brick-and-mortar stores, social media platforms, email, SMS messaging, contact centers, and any other way you can think of that a customer has to engage with your business.
Many customer support teams today are omnichannel teams that handle social media, phone calls, live chat messages, and more. Not only does it make things easier for agents, who can get contextual information no matter which channels they're handling for the day, it also increases customer engagement and gives customers a more convenient experience.
Are omnichannel capabilities available in Dialpad Ai Contact Center?