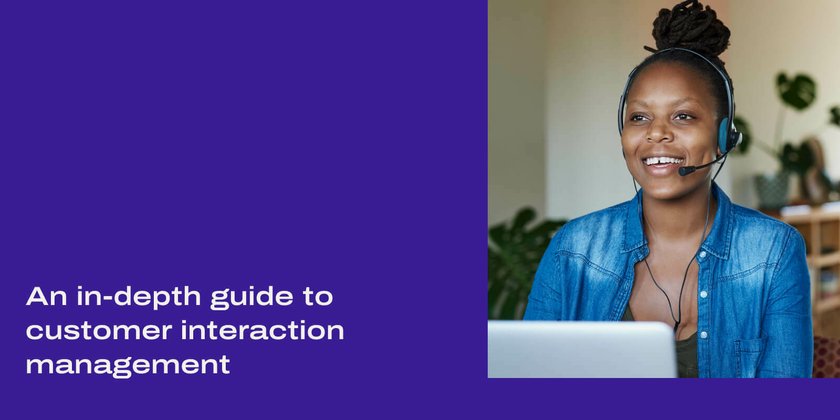 August 26, 2021
What turns new customers (and existing customers) into brand loyalists? The quality of your products and services, and the degree to which they meet a customer's needs are important factors, sure, but they're not enough.
Even if they're great and your customer satisfaction scores are pretty good, that's not always enough to keep people coming back.
You need a great customer experience.
And customer interaction management (CIM) is one key building block of providing that great experience.
But what if your company is interacting with customers on a whole range of channels? How can you make that easier for your agents (or yourself) to manage?
What is customer interaction management?
Essentially, customer interaction management (also sometimes called CIM), is about how a business or organization handles its conversations with customers—usually, on a range of different channels.
The easiest way to do this is often to use customer interaction management software, which is especially effective in places like contact centers, where most interactions happen.
These customer interaction management solutions should cover communication channels like phone calls, emails, live chat, and more (which I'll get into later). Regardless, though, the key is to offer consistently great service to your customer base no matter which platform they're contacting you on.
Next, let's look at where these interactions happen most commonly.
Where do customer interactions happen? (The channels to watch)
Over the phone
Fun fact: Nearly half of the time when millennials get in touch with businesses, they use their phones to call them.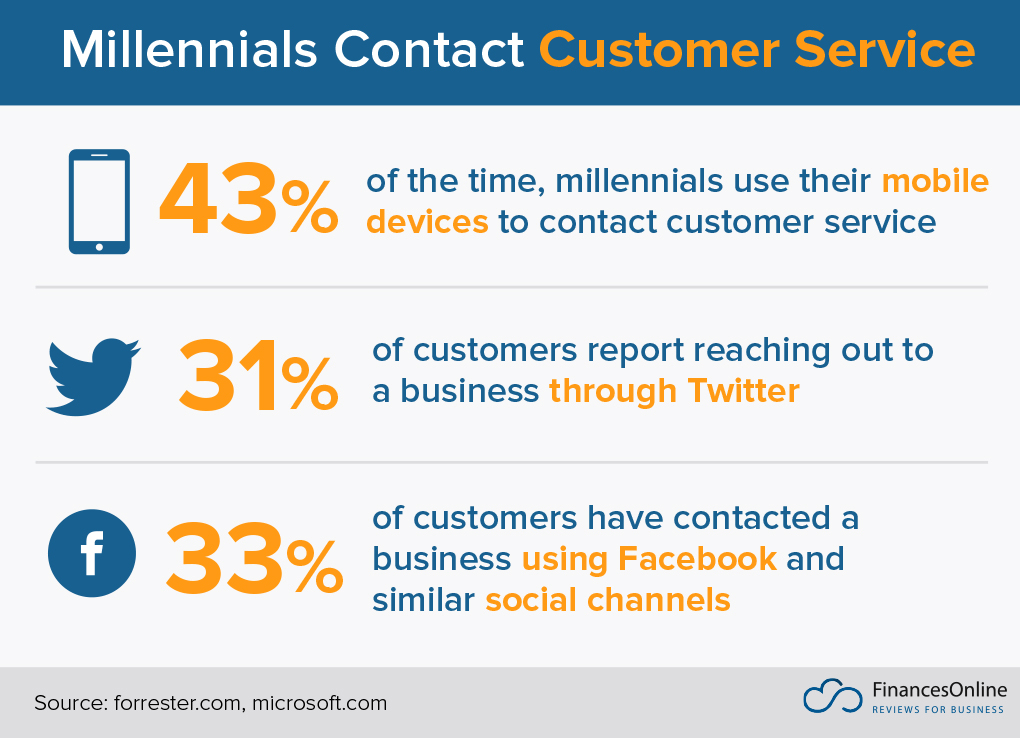 No matter how much people love to say that phone calls are dead, there are still some special situations where calling a company is going to be the preferred way to get in touch with them. (For example, when an issue is urgent and someone doesn't want to wait days, or even more than a few minutes, for an answer.)
You may have noticed that some companies have removed their phone numbers altogether from their websites to try to drive customers to other channels, but this isn't always wise. Of course, you may decide that the financial advantages are worth it and it may be a good idea in the end. (Your customers will let you know.)
Social media
Twitter, TikTok, Facebook, LinkedIn—the list of social media platforms businesses need to get involved on is getting longer. But you can't ignore these touchpoints, because everyone's online. (You may as well use that to your advantage and encourage customer engagement on your social media channels.)
Live chat
Live chat (and to a lesser degree, chatbots) is one of the most popular digital channels for customers to contact businesses.
The nice thing about live chat is it happens in real-time and pretty much comes with all the benefits of phoning a business—and none of the associated phone anxiety. For businesses that are undergoing a digital transformation, this is a key customer channel to have.
Text or SMS
For less immediate concerns or questions, messaging or sending an SMS is a great way to reach businesses. Like live chat, customers won't have to talk to someone on the phone if they don't feel like it.
This is also a good touchpoint for accessibility because it can be useful for folks who struggle with auditory processing, understanding accents, and/or pronunciation.
Email
Email is one of the most popular customer service channels, and you'll likely get quite a few emails from customers on a daily basis. The nice thing about email is that customers don't tend to expect as much—if someone calls you, they don't want to wait on hold at all.
But with email, customers are usually more lenient and you can respond within a day or two. Emails are also great paper trails and give you proof of what was discussed.
If you have multiple teammates managing incoming emails, a shared inbox platform like Front might be a good tool to have. One unique thing about Front is it integrates with Dialpad, which allows agents to message and call each other directly from the Front dashboard if they need to work together to resolve more complicated issues: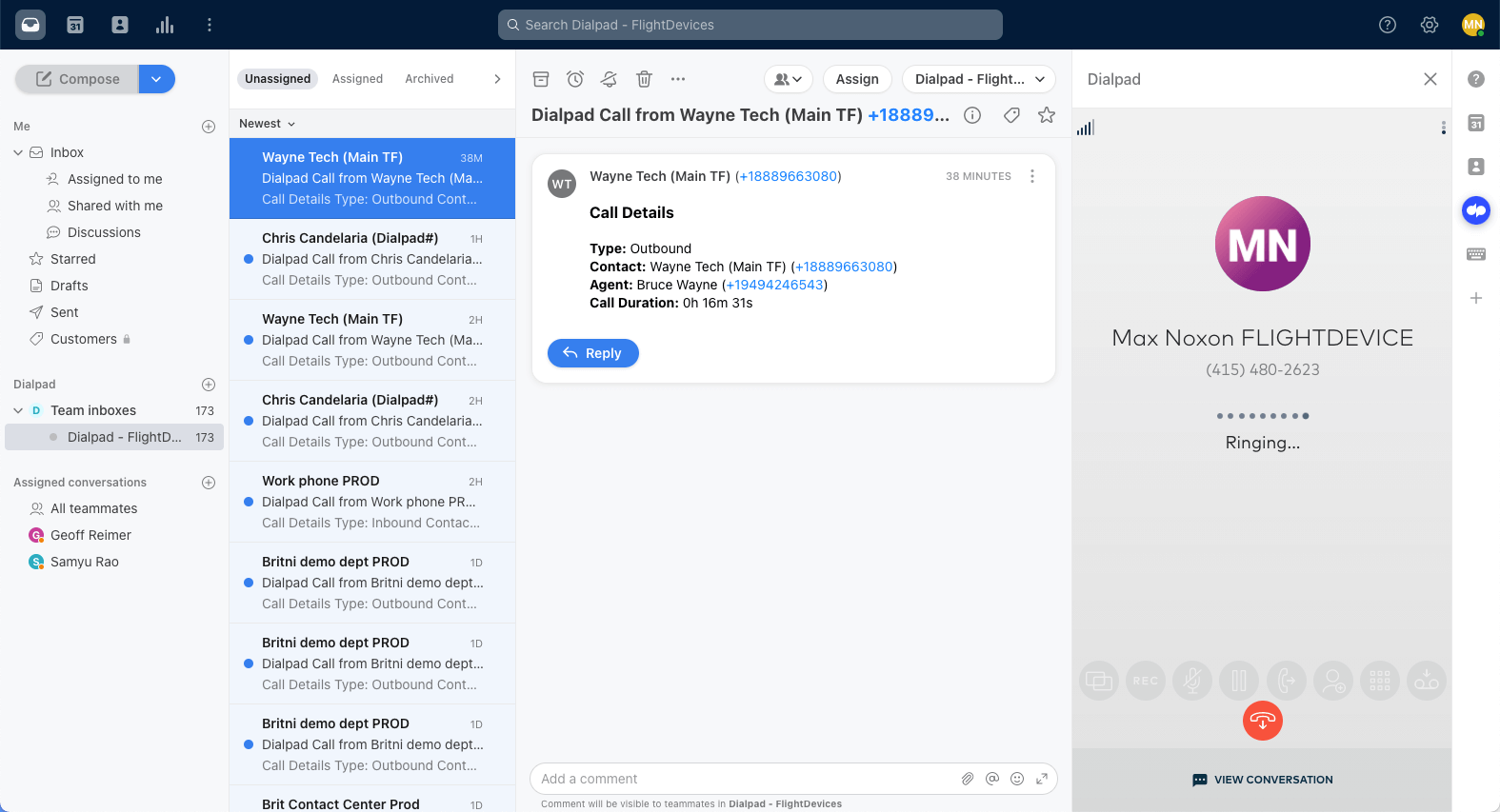 Video call
This is more for very specific types of businesses and industries, but some customers or clients do prefer to video call you. (For example, if you provide financial services to high-net-worth clients, they'd probably want to have face-to-face conversations with you.)
👉 Dialpad tip: Want to give your clients a smooth video calling experience that doesn't require them to download something to meet virtually with you? Dialpad lets you host—and join—video meetings from a web browser!
What prompts customer interactions?
Now, let's look at a few common types of customer interactions you should be prepared for.
Questions and general concerns
If you haven't been the person who ends a presentation with "any questions or concerns?", chances are you've heard someone else say it.
Questions and concerns are one of the most common reasons why customers contact brands.
So, how can you turn these questions and customer feedback into useful information that can help you improve the customer experience?
I mentioned software earlier and as an example, Dialpad's Contact Center platform is powered by Voice Intelligence (Vi) technology, which can transcribe customer calls in real time.
But not only that, it can also track keywords and phrases that come up in these calls. For example, if you want to know how frequently customers are asking about a new special or asking for refunds, you can set Dialpad to track these as Custom Moments: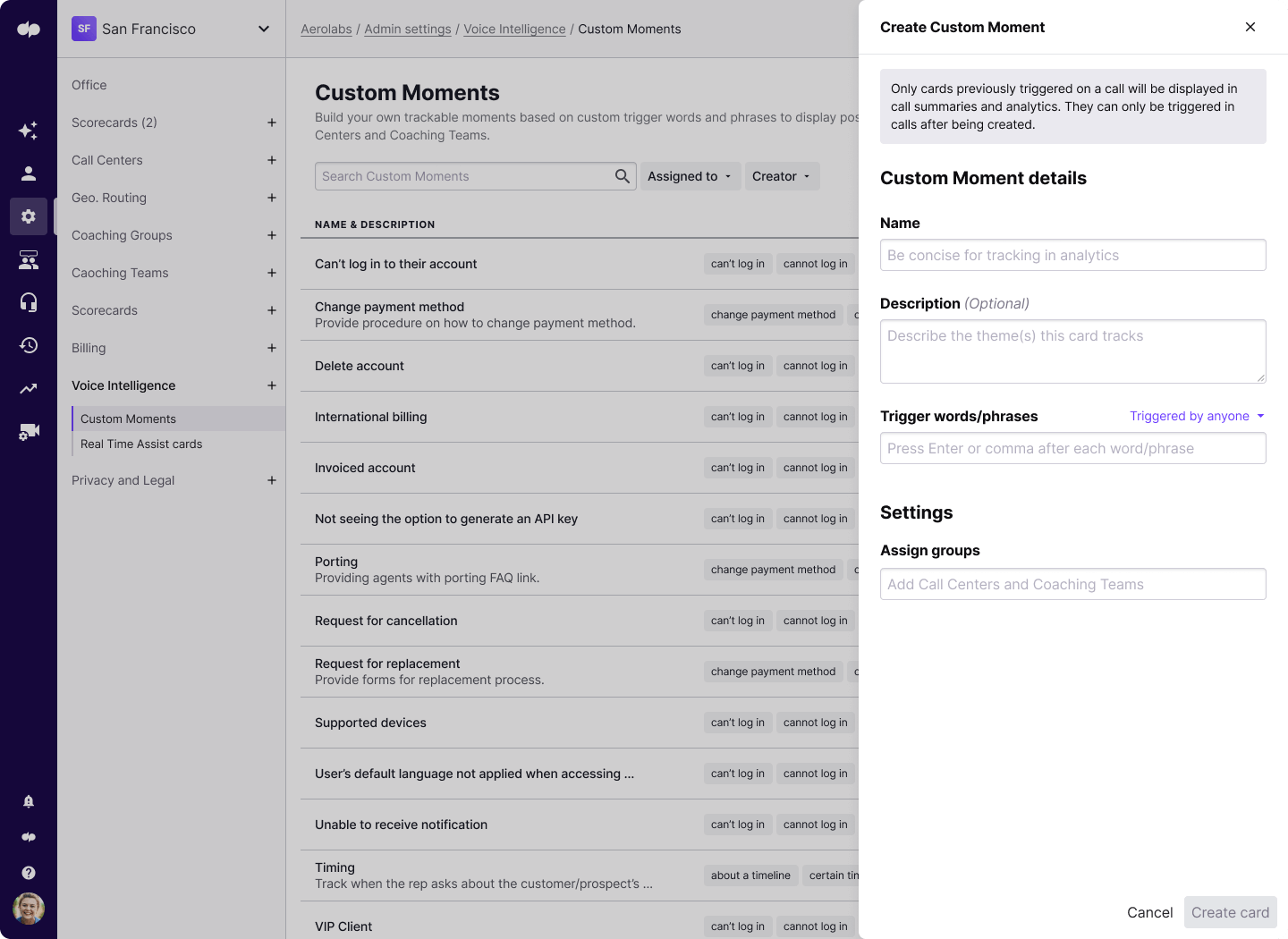 For example, you can set it track every time "refund" or "money back" comes up in a conversation—which you'll then be able to see in Dialpad's analytics dashboard over time: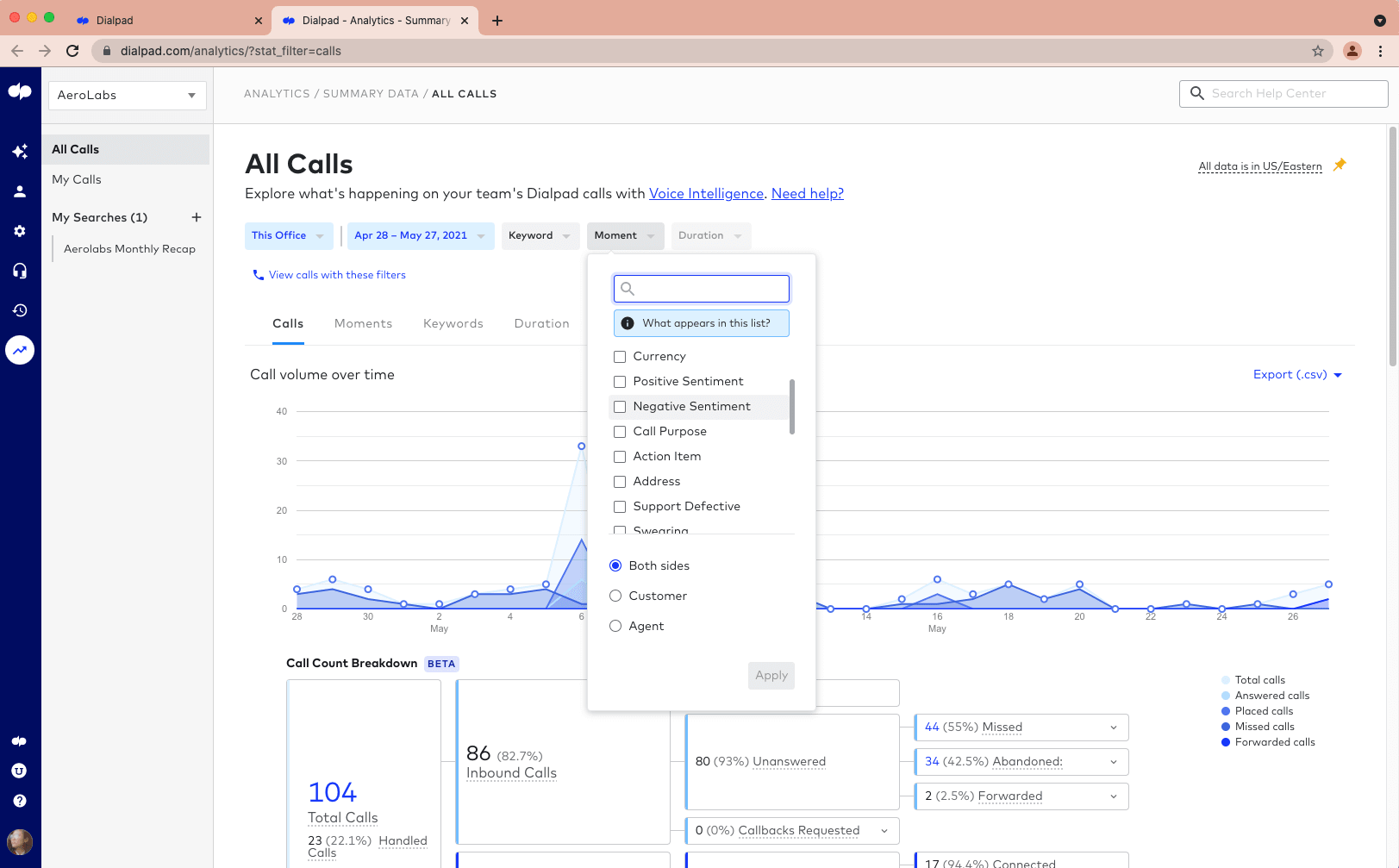 Complaints
Nobody likes hearing how badly they did or where they messed up. Still, customers are going to have complaints about even the best of businesses, and a good support team should be ready to take these on.
The thing about customers is they're going to share their user experience with their network—whether that experience was good or bad.
You can either let them give you bad word-of-mouth publicity or you can open your business to receiving (and resolving) complaints at your contact center or call center. This way, you can improve your customer interactions and manage your reputation.
Praise
Here's one thing that every customer support agent will love: praise.
Criticism can be a great tool to help you improve—but so can glowing feedback. Knowing where you are meeting or exceeding customer needs is important, and these are the areas where you want to keep doing exactly what you're doing.
And to continually optimize your on-the-phone and digital customer experience, you need a way to get more feedback from your customers (hopefully it's praise, but no guarantees). One common way is to use customer satisfaction (CSAT) surveys. You can send these to your customers over different channels after an interaction with them, and yes, you can do CSAT surveys over the phone too.
With Dialpad, you can quickly create a CSAT survey in a few seconds and set it to automatically play after a call: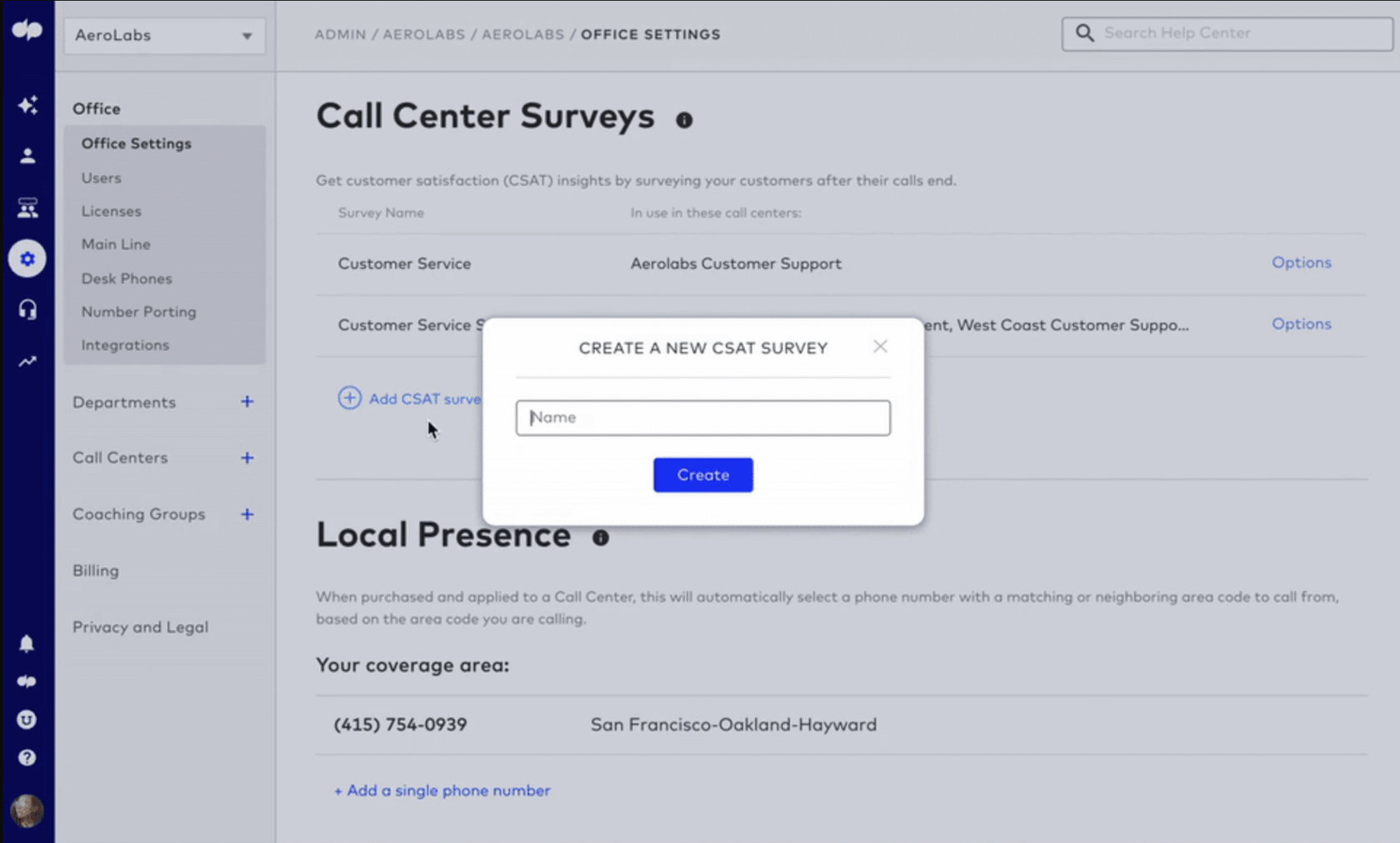 You can even add an option for your customer to elaborate on why they gave you the score they did: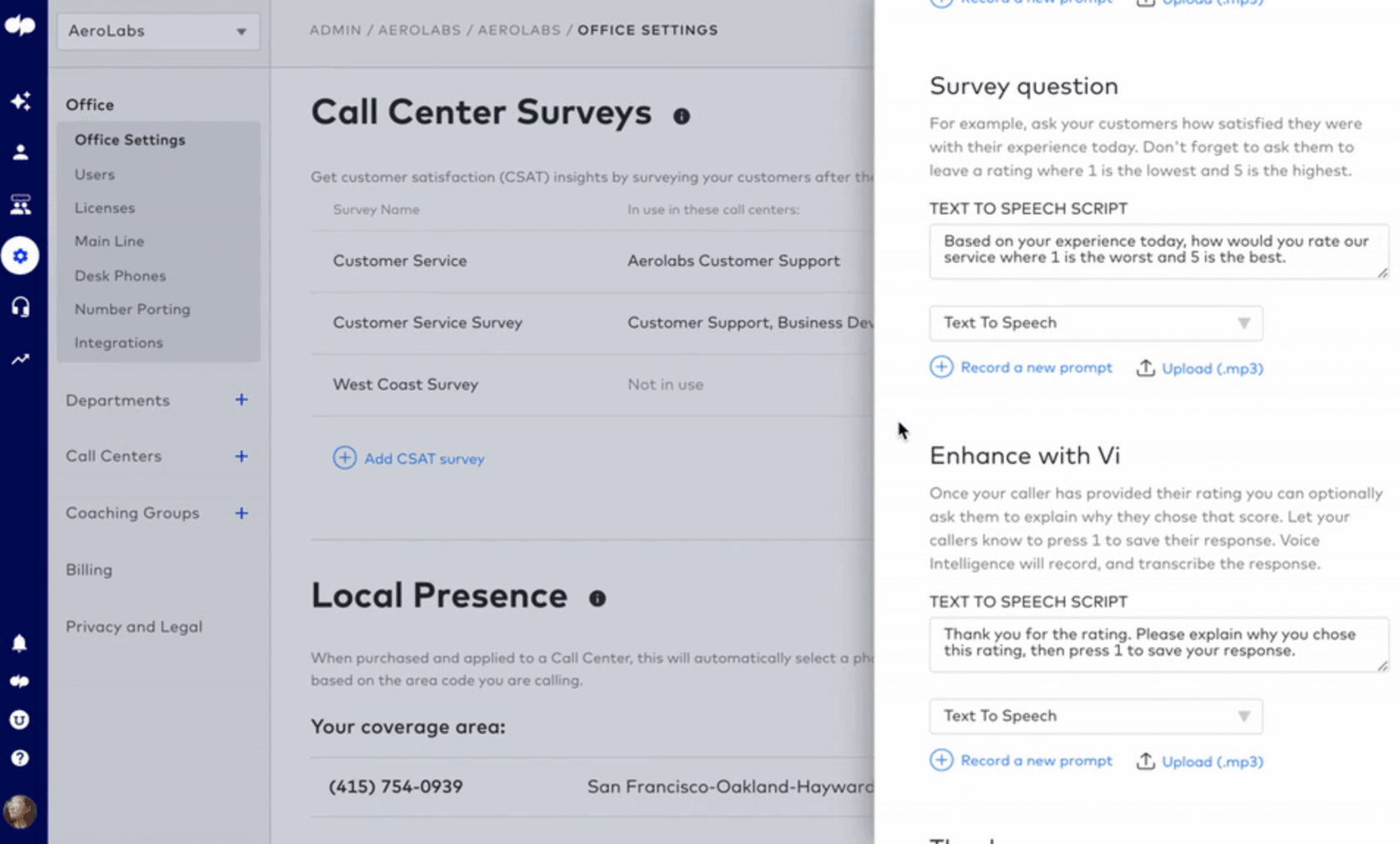 Customer support
If your business sells software or a more complicated kind of product, many of your customer interactions may end up being requests for customer support.
How are you making sure that your agents are empowered to provide good support in real time?
I mentioned Custom Moments earlier, which are great for tracking keywords, but did you know that you can take these one step further? Once you know which keywords or phrases are coming up frequently, you can create Real-time Assist (RTA) cards that'll pop up automatically on your agents' screens—when these keywords are spoken on the call!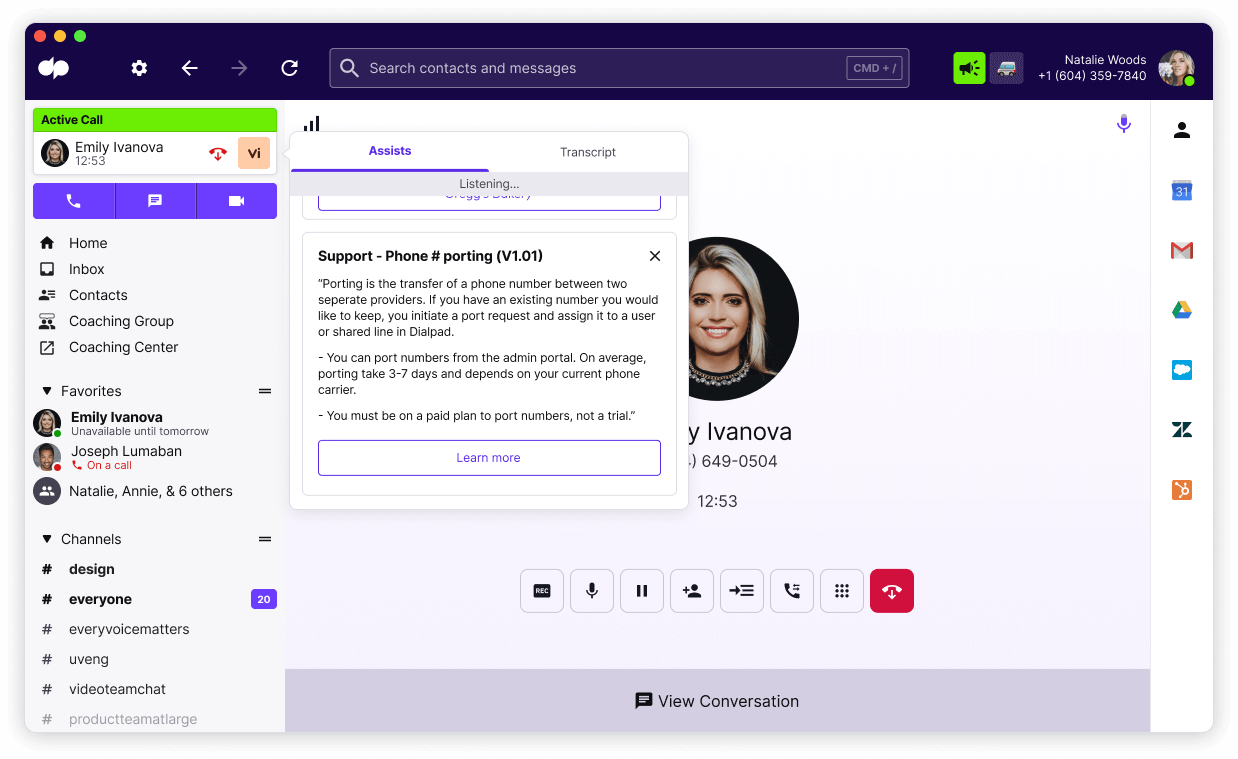 This way, even newer hires can start handling customer interactions and get the information they need without feeling like they just got thrown into the deep end.
Why is CIM so important for businesses?
It improves the customer experience
Being able to handle customer interactions and resolve their questions or problems quickly is a great way to improve your customer satisfaction metrics.
The thing is, customers don't always reach out on just one channel either. If someone has a great phone experience with your company, but never gets a response on live chat or email, that could undo all the great work your phone agents are doing.
Always consider your customer journey holistically.
It builds stronger customer relationships (which helps with loyalty and retention)
A better customer experience results in customers who stick around longer—and spend more money with your business. And you don't always need to have an extravagant loyalty or referral program.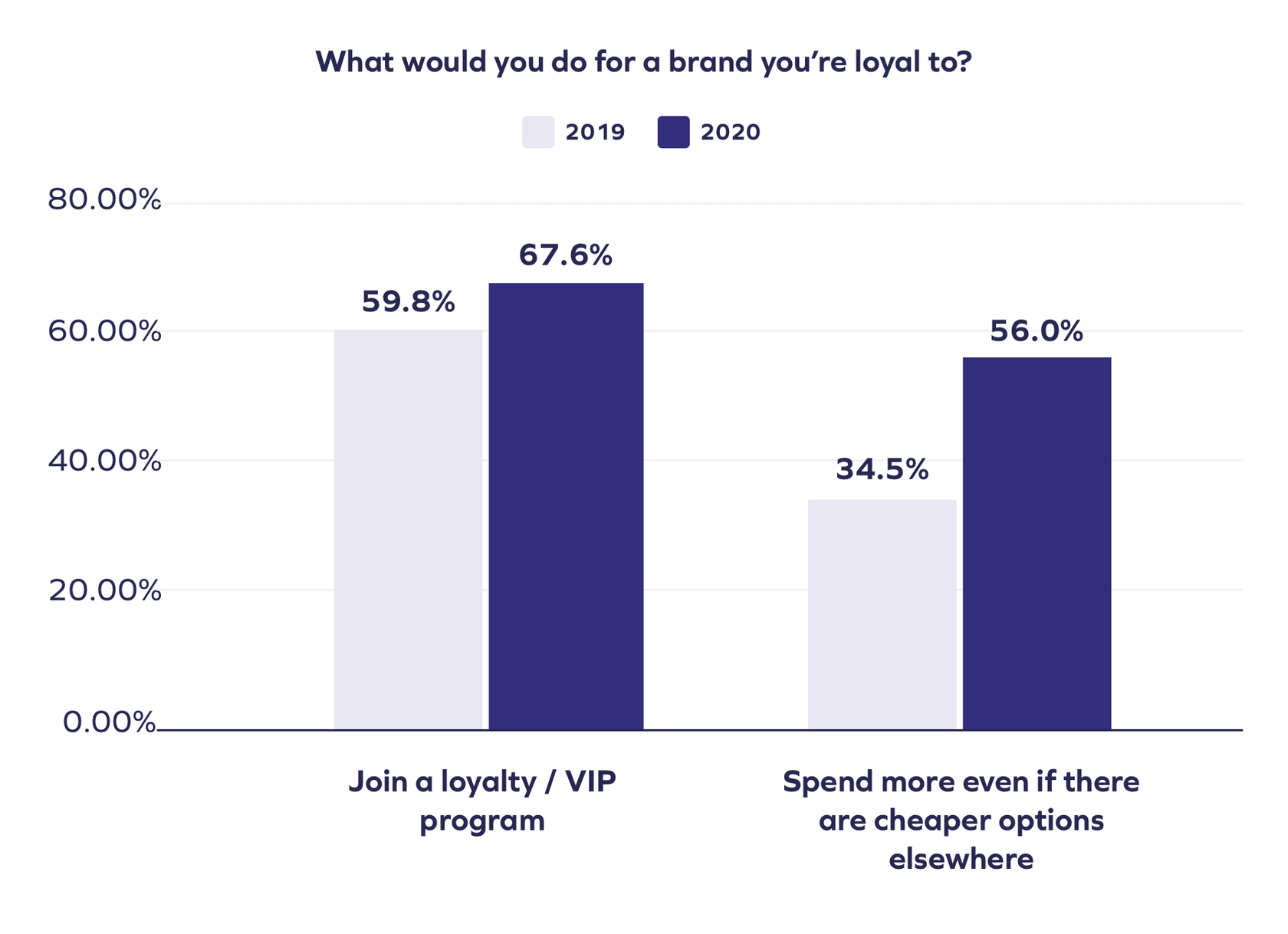 Source: yotpo.com/blog/the-state-of-brand-loyalty-2021-global-consumer-survey/
How can you make the interactions that you're already having with your customers the best they can be? How can you make that customer interaction cycle as efficient as possible?
All of these optimizations for different channels will take a lot of work, yes. But how much are happy customers (who keep spending money on your business) worth?
For many businesses, they're priceless.
It reduces churn
On a related note, if you can keep more customers for a longer time, you can also reduce churn.
For subscription-based businesses, this is an especially challenging problem. Customers leave for many reasons (a change in pricing is probably a big one) and often, even one bad service interaction can topple all the hard work you did to build that relationship. Unavoidable mishaps happen, of course, and you can't always prevent slip-ups. But you can minimize the chances of those happening.
4 customer interaction management tips
1. Provide consistent, ongoing training for your customer support team
Customer behaviors change, products and services get updated… There are many reasons why ongoing training is important, not only for customer satisfaction but also for your own agents' experience.
We use our RTA cards, which I mentioned earlier, to provide agents with continuous training—at scale. They can learn about features and how to answer tricky questions live on every call, and our supervisors don't have to personally coach each call. It's a win-win.
2. Offer multichannel or omnichannel support
If your business is on multiple platforms, it should offer the same quality of support across those channels to create one seamless experience.
Dialpad integrates with platforms like Intercom, for example, to create an omnichannel experience. If an agent is live chatting with a customer on Intercom but the issue becomes more complicated and better suited to a phone call, this integration lets them start a call from that chat: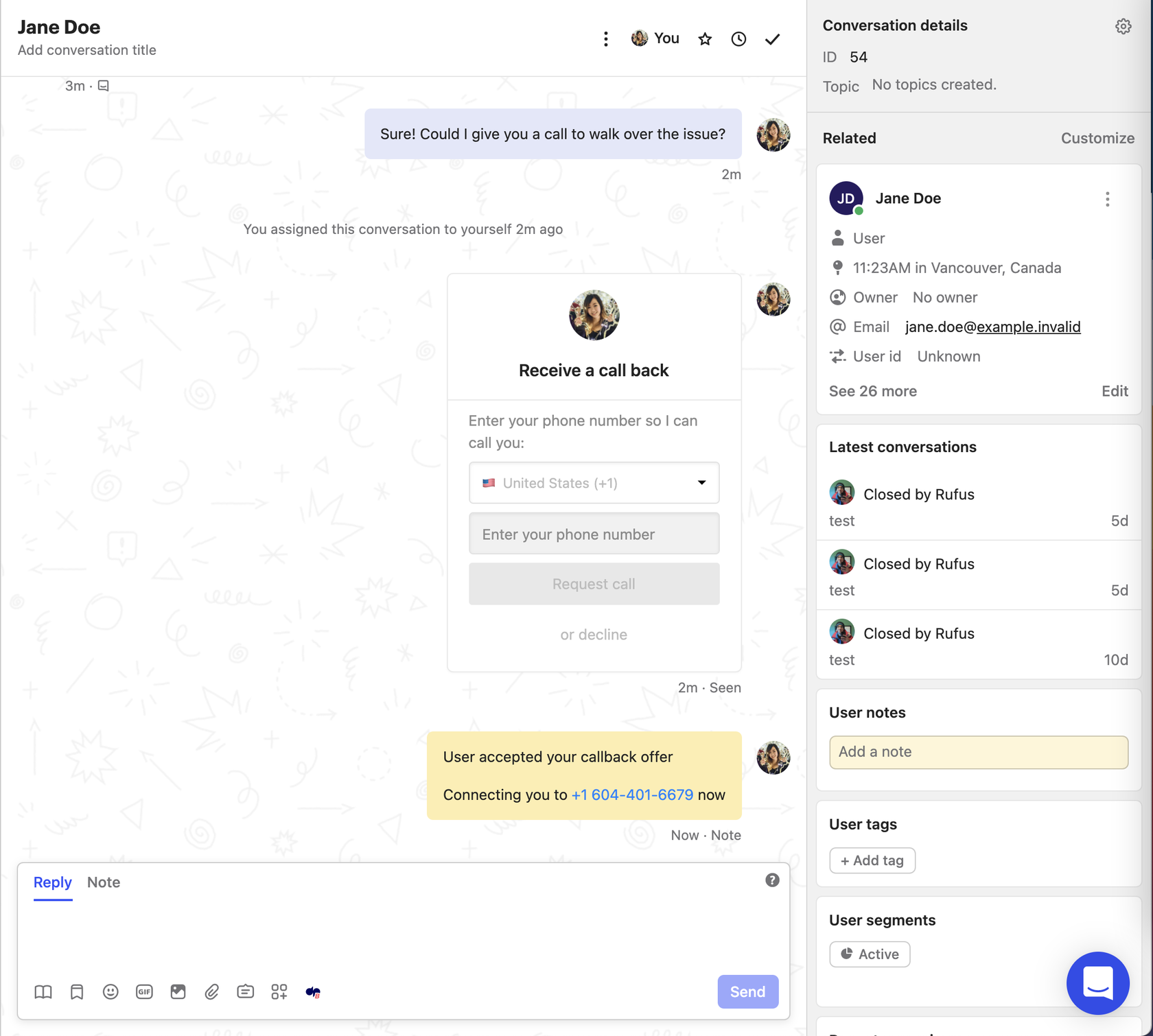 3. Have a self-service option
One of the best ways to reduce the volume of queries and messages your agents get? Create an online knowledge base or Help Center! Make sure you have detailed articles answering your most frequently asked questions, and have it linked prominently on your website and social media channels.
This way, customers can find answers to most questions on their own without straining your support team, and they can focus on more valuable questions than "what's your refund policy?"
4. Use software and automation to streamline processes
For customer experience teams and contact center agents, having the right tools can go a long way in helping them handle customer interactions across a range of channels.
For starters, you should have a CRM (many large organizations use Salesforce of course, but there are many options out there).
I touched on automation earlier as well with Custom Moments and RTA cards. If you're interested in how AI can play a very valuable role in customer service, I wrote about it more extensively here.
Customer interaction management is the key to customer loyalty
Managing customer interactions is more challenging than ever, thanks to the many digital channels that exist today.
How can you empower your agents to have productive and successful conversations across all these channels consistently?
That's the big question for Support and CX leaders. CIM just might be the answer.

Want to provide a better customer experience and help your agents manage different channels more effectively? Get a product tour of Dialpad to see how it can work for your organization.
Get a demo