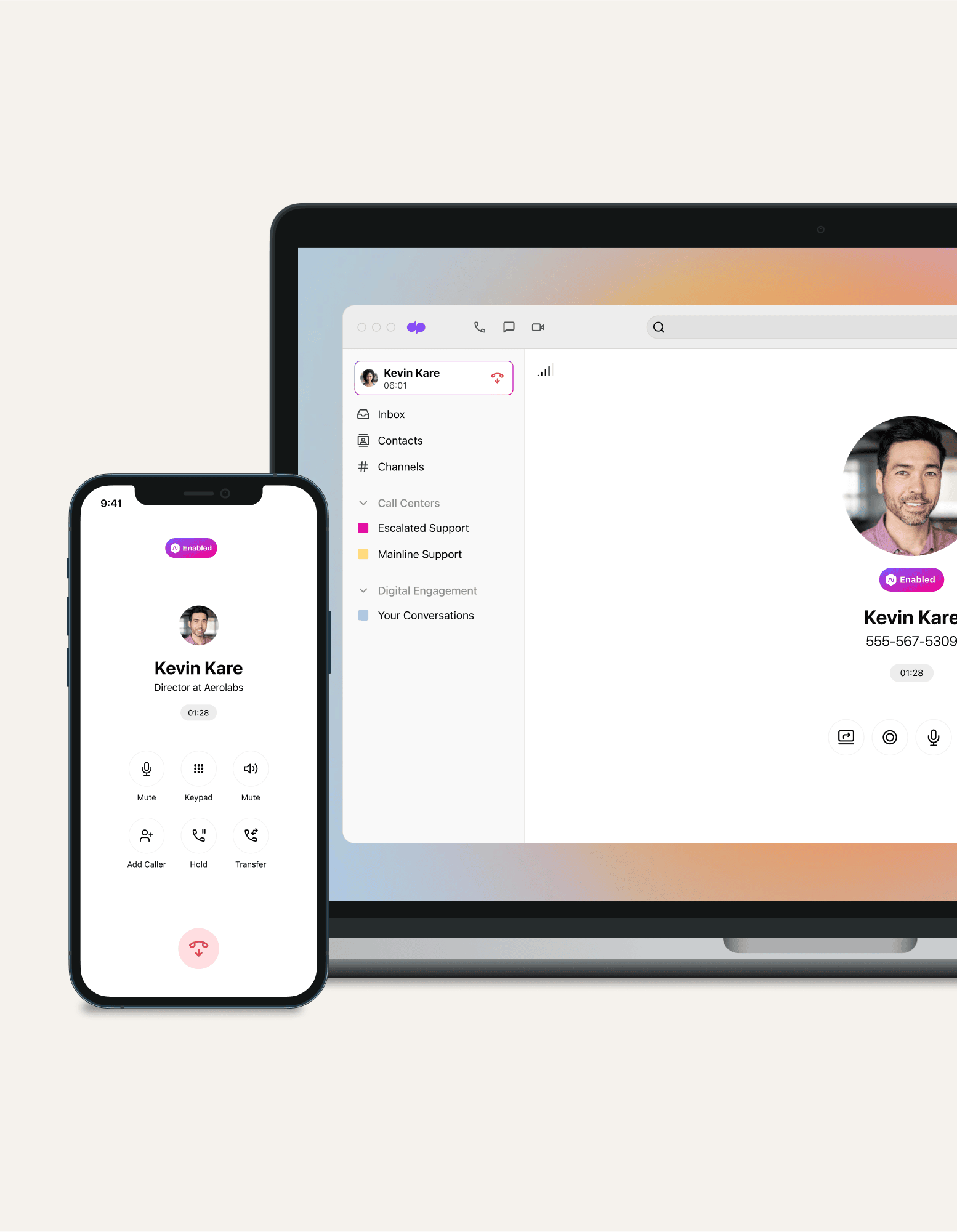 Dialpad Ai Voice vs. OpenPhone
A quick snapshot of what you get with Dialpad:
Video conferencing + messaging included with every plan
AI-powered call recording and transcription
Integrates with all your favorite apps like Salesforce, Microsoft 365, and Google Workspace
Sign up for a free trial to get set up with a virtual number and see for yourself how it stacks up against OpenPhone!
Sign up for a free 14-day trial!
Deciding on a new business communications platform is no small feat. ​​Since you're here, we're going to go ahead and assume Dialpad (nice) and OpenPhone (technically more of a business phone system than a true communications platform but still a solid option) have both made your shortlist.
Well, you've come to the right place to help make that decision! We've put together this detailed comparison of Dialpad Ai Voice and OpenPhone.

Dialpad Ai Voice vs. OpenPhone at a glance
| FEATURES | | |
| --- | --- | --- |
| Pricing | Starts at $15/user per month | Starts at $13/user per month [1] |
| Integrations | Vast library of integrations, including Salesforce, Microsoft 365, and Google Workspace | |
| API | | |
| Video conferencing included | | |
| Real-time call transcription | | |
| Automated call or meeting summary email | | |
| Automated action item logging | | |
| Contact center functionality | | |

Pricing
Starts at $15/user per month
Starts at $13/user per month [1]
Integrations
Vast library of integrations, including Salesforce, Microsoft 365, and Google Workspace
check
Video conferencing included
Real-time call transcription
Automated call or meeting summary email
Automated action item logging
Contact center functionality
What's the difference between Dialpad and OpenPhone?
Dialpad Ai Voice and OpenPhone are both modern telephony solutions. Dialpad's been around for over a decade and was the first "post-iPhone-era" unified communications platform. OpenPhone is much newer as a business, established just a few years back. And while they have several things in common, they're also unique in their own ways.
Check out some of the main differences between Dialpad and OpenPhone below.
Truly unified communications
For starters, OpenPhone is more strictly a business phone and Dialpad is a truly unified communications platform. That means, with OpenPhone, you only get phone calls and text messaging—no video conferencing or instant messaging.
With Dialpad, on the other hand, you can make phone calls, do video conferencing, and send instant messages + SMS/MMS messages—all from a beautiful desktop and mobile app that works across iPhone, iOS, Android, PC, Mac… you name it.
In other words, Dialpad gives you a single source of truth for all your business conversations.


Plus, with Dialpad you could just join conference calls or video calls from a web browser, no downloads needed. (Clients and prospects tend to love this because they don't have to download anything to join your meeting.)

🙌 Fun fact:
Even the least expensive Dialpad Ai Voice plan comes with unlimited video meetings, and Dialpad works on desktop app, mobile app, and web browsers. This means you can start a conference call in literally a second—no PIN or downloads required.
Let us show you around
Looking for something that's easy to set up and use? We've got you. Book a demo to get a feel for how Dialpad could work for your business! Or, take a self-guided product tour of the app first.
Scales with your business
If you only need voice and video calling, both Dialpad and OpenPhone have your team covered. But as any organization grows, its needs do as well. So when you're looking for a new business comms provider, it's important to think not only about what you need now but also what you'll need one, five, and even 10 years from now.
OpenPhone was specifically designed for small businesses. And it's a good platform. But if you're planning on growing in the near future, you should go with something that can grow with you, so you won't need to deal with switching your phone system again later on.
Dialpad makes it incredibly easy to scale up (or down) as needed to match demand—you can add and remove virtual phone numbers, adjust call queues, and even add on hundreds of users all on your own!
Oh, and With Dialpad, you don't need to worry about downtime either. That means there'll be zero interruption in your service when you do scale, you can literally add agents in minutes, and enjoy continuous improvements with our automatic updates. You can also expand and integrate with other legacy systems using APIs, Webhooks, and native connections.
Integrations with your favorite tools
When it comes to integrations, Dialpad's the clear winner. Not only does it integrate with a lot more apps, but the apps it integrates with are also the ones you're likely already using.
Dialpad integrates with Google Workspace and CRMs (like Salesforce and HubSpot), collaboration software (like Microsoft 365), customer service tools (like Zendesk), and more.

So if your organization uses (or is planning on using) these tools, Dialpad can easily integrate with them to improve productivity across your team.
For many of the CRM integrations, one of the big benefits is they embed Dialpad's dialer inside those platforms so that you can take phone calls from right inside them without toggling back and forth between windows or tabs.
OpenPhone, on the other hand, only integrates with three tools: Slack, HubSpot, and Zapier. Going back to our previous point on scalability: you want something that can grow with your business. That includes being able to integrate with more heavy-duty tools (for when you're ready to switch your CRM out from HubSpot to Salesforce, for example).
Industry-leading AI
Dialpad's communications platform is the only one that has artificial intelligence built right into the product, helping businesses like yours drive sales, gain competitive insights, improve customer service, and get more out of the conversations they're having every day.
We call it Dialpad Ai—and it's more accurate than almost all competitors out there.
Here's just some of what it can do:
Searchable post call summaries
When you can't remember what a customer said and want to refer back, you shouldn't have to listen to a 30-minute call or waste time trying to find the exact part of the call. With Dialpad, you can pull up the call transcript and search for keywords to locate the moment you're looking for.


Ai Recaps, for every meeting
Having analyzed over four billion minutes of proprietary voice and messaging data, Dialpad Ai is purpose-built for business conversations. And not only can it transcribe your voice and video calls in real time, Dialpad Ai also integrates with ChatGPT to automatically generate a call summary with a short recap in friendly, natural language after every meeting:


A fully integrated contact center platform
When it's time to create dedicated call centers or outbound sales departments, you need a communication platform built with that capability so you can future-proof your company. Dialpad offers fully integrated inbound and outbound contact center software.
With Dialpad's support providing voice, video, SMS, MMS, and group messaging through the Zendesk integration, your contact center agents will be able to reach your customers however they prefer. With OpenPhone, this won't be an option.
Oh, and this is where Dialpad Ai really shines.
Beyond just transcribing conversations in real time, it can also pick up on keywords (like how often is a certain competitor coming up on calls, or how often customers are complaining about a particular feature)—just create a Custom Moment, and Dialpad can track that for you:


You can see how often those keywords come up in Dialpad's built-in analytics, and if you notice any anomalies, you can dig into the voice transcriptions to get more context.
On top of that, managers can also create Real-Time Assist (RTA) cards with tailored notes that automatically pop up on agents' screens when those keywords are spoken.
For example, we get a lot of questions on how porting a phone number works, so we've created an RTA card with notes on that, like a cheat sheet, that's automatically triggered when a customer says "port" or "porting" on a call:

Savings that go beyond the price
Let's address the elephant in the room, shall we? Dialpad has plans starting from $15/user per month while OpenPhone starts at $10/user per month—that's a pretty big difference, we get it.
But here's the thing companies don't talk about much. The advertised cost of software isn't always the best indicator of how much you'll actually need to pay.
For example, if you want call analytics and reporting with OpenPhone—which you probably will—you'll need to sign up for their Premium plan which starts at $20/user per month.2 Advanced analytics come included with all Dialpad plans. That… and call transfer, group calling, multi-level auto attendant, real-time call transcription, and more—all for just $15/user per month with Dialpad.

Plus, you receive a free Dialpad Ai Meetings license with any Dialpad Ai Voice account. This means you can start a video conference call whenever you need to—no PIN or download required!
And—if you decide to go this route—by combining your cloud contact center solution with your team messaging, telephony, and sales coaching tool into a unified communications platform, Dialpad offers a much lower TCO (total cost of ownership) versus paying for all these programs separately. Not to mention the benefit of having all your conversations in one place.
So which of these options is really going to cost you more? We'll let you be the judge.
Best-in-class support
There's a reason why Dialpad won the Stevie® Award for sales and customer service (ahem, among a few other awards).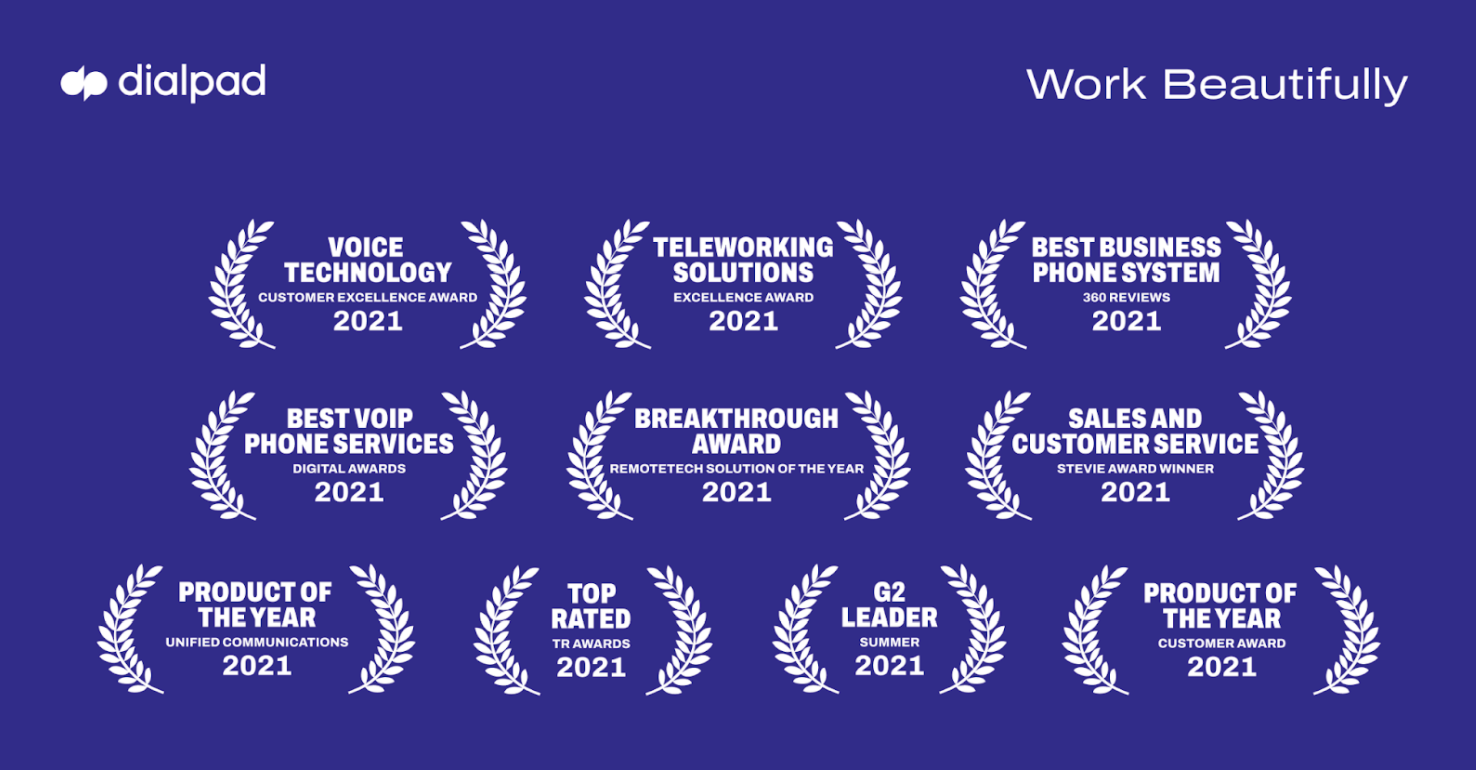 First off, we've made Dialpad super easy to use, without IT help. It should just work. And in the rare cases where something does come up (because, well, technology), our team is here at all hours of the day or night to help you out through the following channels:

Live chat (with a real human!)

Phone

A detailed Help Center
Dialpad offers 24/5 support on our Standard plan, and 24/7 support on our Pro and Enterprise plans.
So if you do decide to go with OpenPhone, be sure to get clarity on the type of support you can expect to receive, especially if you're going with one of their lower-tier plans.
See how Dialpad vs. OpenPhone stack up
Try it out with a free 14-day trial. Connect your team with a platform that powers voice, video, messages, and meetings across all your devices! Signup takes just a few minutes, and you'll be set up with a virtual phone number too. Or, take a self-guided interactive tour of the app first!
1, 2openphone.com/pricing