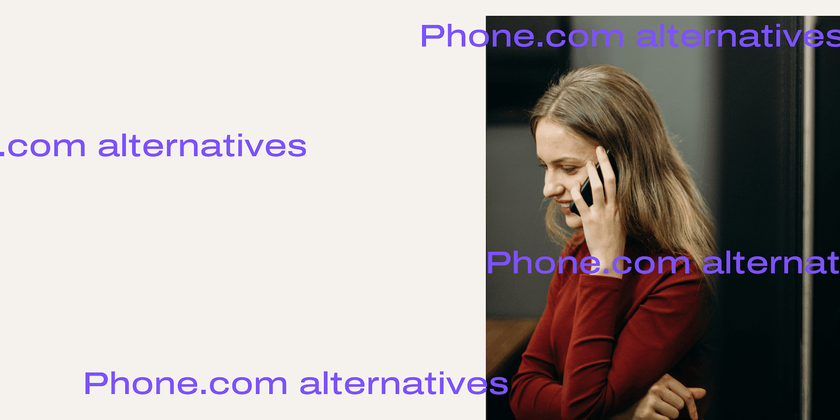 January 25, 2022
If you're looking for an alternative to Phone.com, you're in the right place.
In this guide, I'll walk you through some of the best business phone systems (if you just need to make phone calls) and unified communications platforms (if you want video meetings and SMS/MMS + team messaging too). And they'll all be comparable in price to Phone.com, with either comparable —or better—functionality.
We'll also look at other key considerations when you're shopping for a new hosted phone system, like customer support, integrations with other tools, ease of use, and more.
Let's look at some Phone.com alternatives, but first, let's learn a little bit more about the platform, how it works, and why a business may want to look at other VoIP providers or UCaaS (Unified Communications as a Service) solutions.
What is Phone.com?
Phone.com is a VoIP-based business communications solution. Like many VoIP and phone system providers, Phone.com comes with the basics like voice calling, video conferencing, toll-free number support, and text messaging.
The fact that it comes with video conferencing and SMS messaging is nice, since that's a step up from more basic phone system providers that only give you phone calls.
The plans range from from $10.39 per user per month (the Basic plan) to $23.99 per user per month (the Pro plan).1 At first glance, that's pretty competitive with most business phone systems and UCaaS solutions.
However.
Inbound and outbound calling minutes, text messages, and more are all capped on the Basic Plan. There are also overage charges applied if any Basic users go over the designated limits. Many of the top Phone.com alternatives below come with unlimited calling and SMS/MMS messaging in the US and Canada at least.
Another important thing to note is that Phone.com treats call recording and voicemail transcription as add-on features that you have to pay extra for. (You actually don't get call recordings until you get on their most expensive $23.99/month plan.)
Again, these both come included in the most basic plans for alternatives like Dialpad—$15 per user per month, which includes unlimited call recordings and voicemail transcription.
Other than that, Phone.com does look like it covers the basics, like call forwarding and call transfer, a mobile and desktop app, and screen sharing.
Now, let's look at a few deal breakers that would require a business to look for an alternative to Phone.com.
Key reasons why businesses would need a Phone.com alternative
You want a scalable solution or have plans to grow the business in the near future
Phone.com is a great option for small businesses—they even mention on their homepage that they're a solution for "entrepreneurs and growing businesses." But since they call this out specifically, it would be a good idea to check out whether they can actually support large-scale growth. For example, if you need to onboard 10 or 20 new hires remotely, how easy is that to do?
This is one of those things that you can't check off a box for by looking at the pricing page—you need to either try it out yourself with a free trial, or get a demo to see what that workflow actually looks like.
For example, with Dialpad, one of the alternatives below, you can add phone numbers and manager user accounts with a few clicks, right from your online dashboard: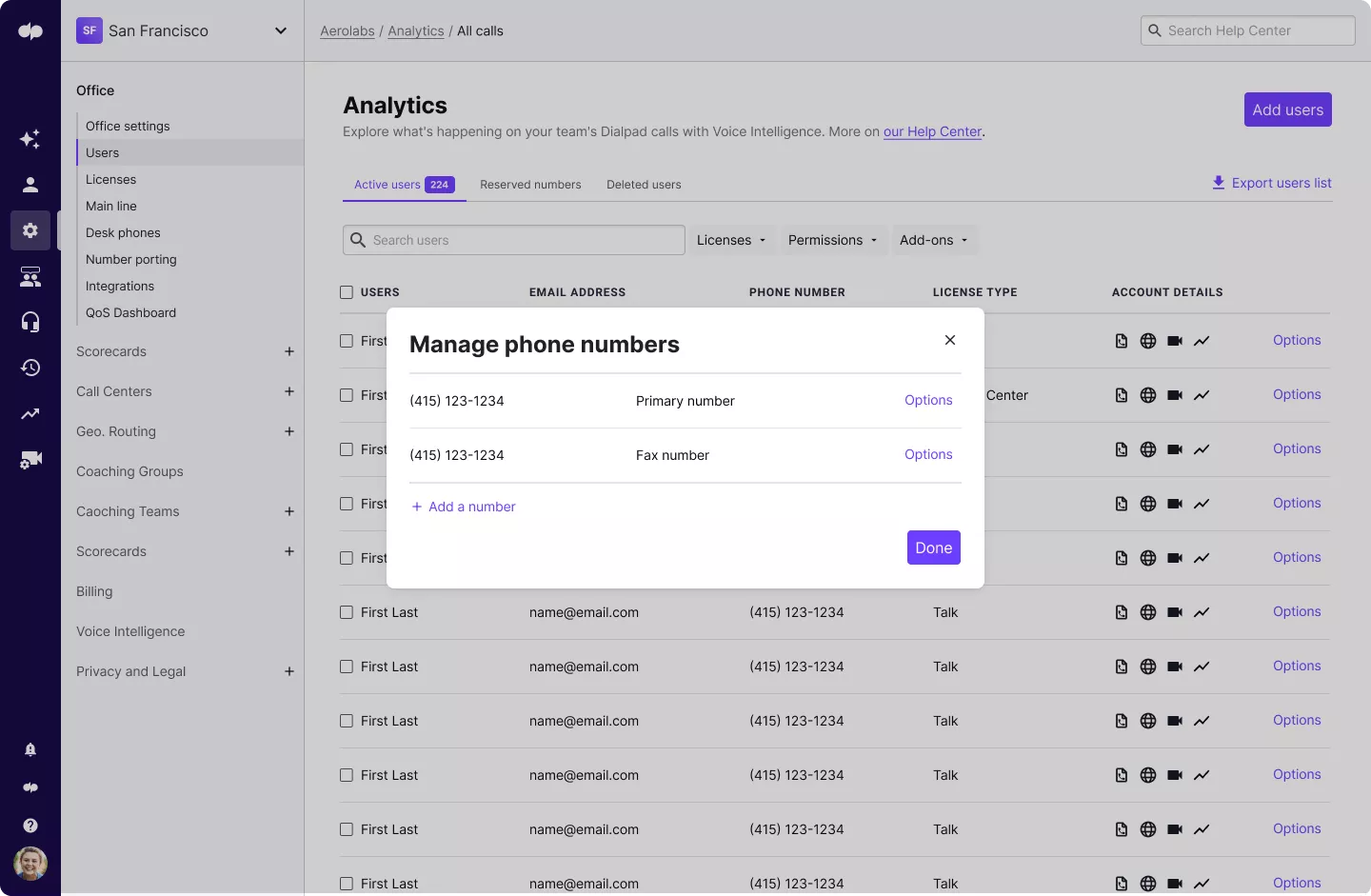 (And businesses like ClassPass have onboarded lots of new hires in literally minutes.)
And speaking of growing, if your business has (or will have) a customer support and/or sales team, you'll likely need contact center software too. Generally, it's much more beneficial for your wallet (and your IT team) if you have a streamlined tech stack. Some alternatives below, like Dialpad, come with a cloud contact center platform that's fully integrated.
That means your agents can message their teammates, have video meetings, and also handle customer calls and messages—all in one place without having to toggle back and forth between different tools.
It also means that you're paying only one invoice every month and managing one tool, instead of managing a bunch of disparate apps and bills—much simpler.
You want more bang for your buck
Even though Phone.com comes with a lot of the basics, it does have some glaring gaps.
Specifically, the calling minutes caps on the most basic plan and the lack of call recording.
Beyond that, it's also missing some advanced features like built-in AI. For example, Dialpad's AI can transcribe meetings in real time, log action items for you, and automatically send attendees a recap email. Most importantly, it's included in every plan—not just as an add-on.
Lastly, Phone.com is very, very limited in its integrations. If you're using tools like Google Workspace or Microsoft 365, Salesforce, HubSpot, and so on, you won't find any native integrations with Phone.com. It does integrate with Zapier, so you can hack together some custom integrations with these tools, but it's not as easy as just having the pre-built integrations.
The top 7 Phone.com alternatives, ranked by robustness of functionality
There are many alternative VoIP services and UCaaS platforms out there. To simplify things a bit, I broke down the best Phone.com alternatives into two categories:
Category A, which are the best unified communications solutions (that include video conferencing, messaging, and even a cloud contact center platform if you need it)

Category B, which are phone-only VoIP providers with very basic business phone functionality like auto attendants and call forwarding
One important thing to note: The "Category A" Phone.com alternatives are actually very similar in price to the more basic options in Category B and all include free calling locally—meaning you could get a lot more bang for your buck. And as you'll see, some of the best alternatives in Category B actually may not be better than Phone.com.
Let's start with Category A.
Category A: The best overall Phone.com alternatives
These options are much more than just "VoIP services." They give you phone calls, video conferencing, messaging, and more, in one package.
1. Dialpad: A truly unified communications platform with the most advanced built-in AI features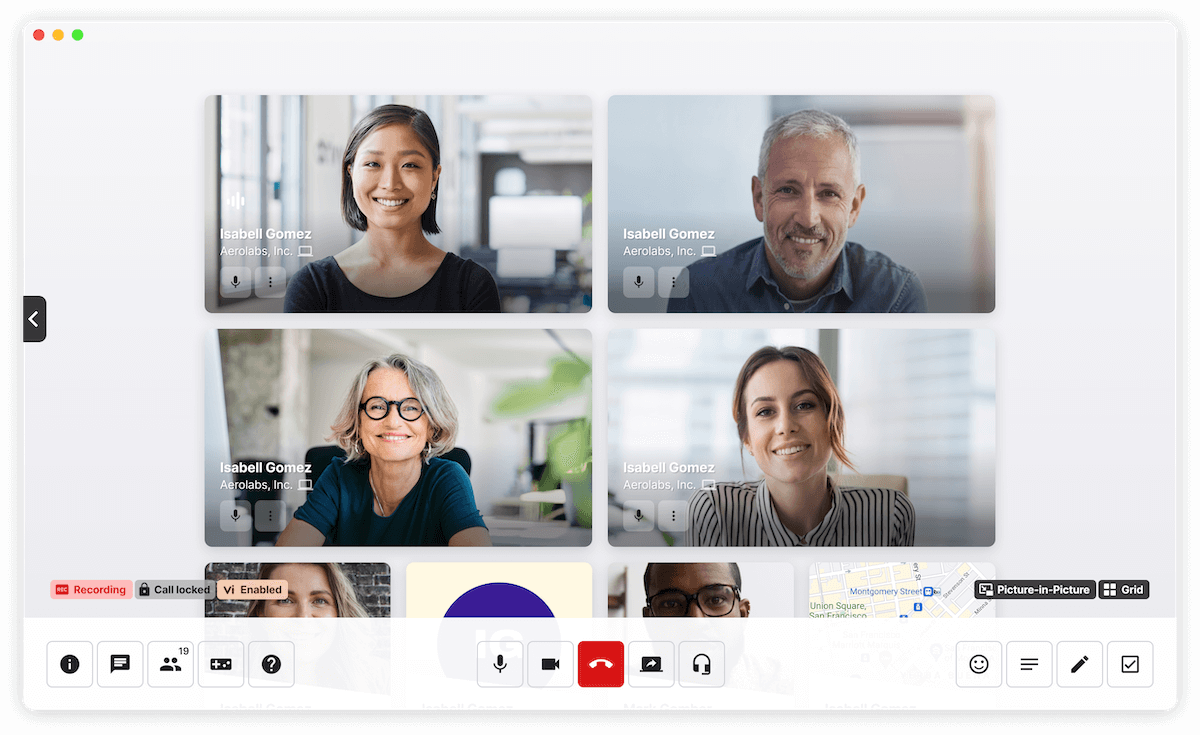 Most people think of Dialpad as a cloud-based business phone system, but it's actually much more than that. Built by the team behind Google Voice, Dialpad is a full-fledged UCaaS platform that gives you all the communication channels you need in one place.
It's also affordable, mobile, and scalable, meaning that whether you're an SMB or global enterprise, Dialpad can help you communicate with prospects, customers, and teammates the way you need to.
Is Dialpad a good alternative to Phone.com?
Yes. (And yes, I'm a bit biased, but you can always try it for free before paying for anything.) Dialpad gives you access to a whole host of features that are designed to let you work from anywhere. As well as voice calls, you get video conferencing, SMS/MMS + team messaging, and much more, from a user-friendly softphone app that works across iOS, Mac, Android, and PC devices.
One of the big differences between Dialpad and Phone.com is you get unlimited calling in the US, Canada, and your home country, if it's not one of those two. (It also has very affordable international calling rates.)
Now, let's look at the key differences when directly comparing Dialpad vs Phone.com.
What you get with Dialpad that you don't get with Phone.com:
Dialpad offers a few things that you won't get with Phone.com (or other providers, actually):
An integrated contact center platform if you need it
If you have to handle a high volume of customer calls or messages, then you'll need something like Dialpad Ai Contact Center. It's designed to help agents and supervisors provide excellent customer service—while managing the contact center or call center from anywhere.
It works on both computers and cell phones—and maybe what's most remarkable about it is that it's highly scalable. You can easily add and remove agents, manage service level notifications, and add phone numbers, all with just a few clicks: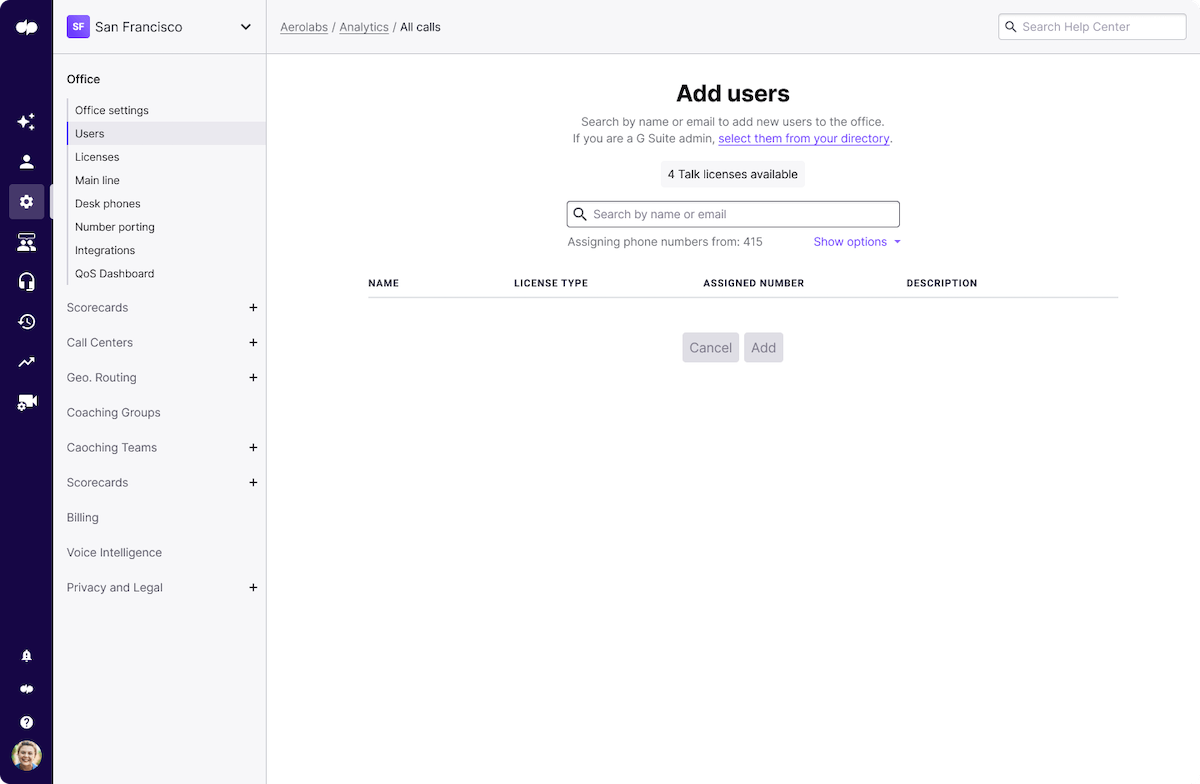 No expensive equipment or hardware needed (which is especially helpful for startups with limited budgets).
Unlimited call recordings
With Dialpad, you get the call recording feature in every plan—no limits.
Call recordings can be very useful, not only for training and development, but also for uncovering insights from your conversations with customers. What are people calling about? What are they complaining about? What do they like? Having call recordings can help you learn from those chats and continuously improve your customer experience.
Real-time transcription
Not only that, Dialpad's AI, Voice Intelligence, can also transcribe calls (more accurately than Google), which means you don't have to listen to recordings one by one if you're short on time. And at the end of every call, that transcript and recording gets automatically emailed to the attendees as part of a call summary: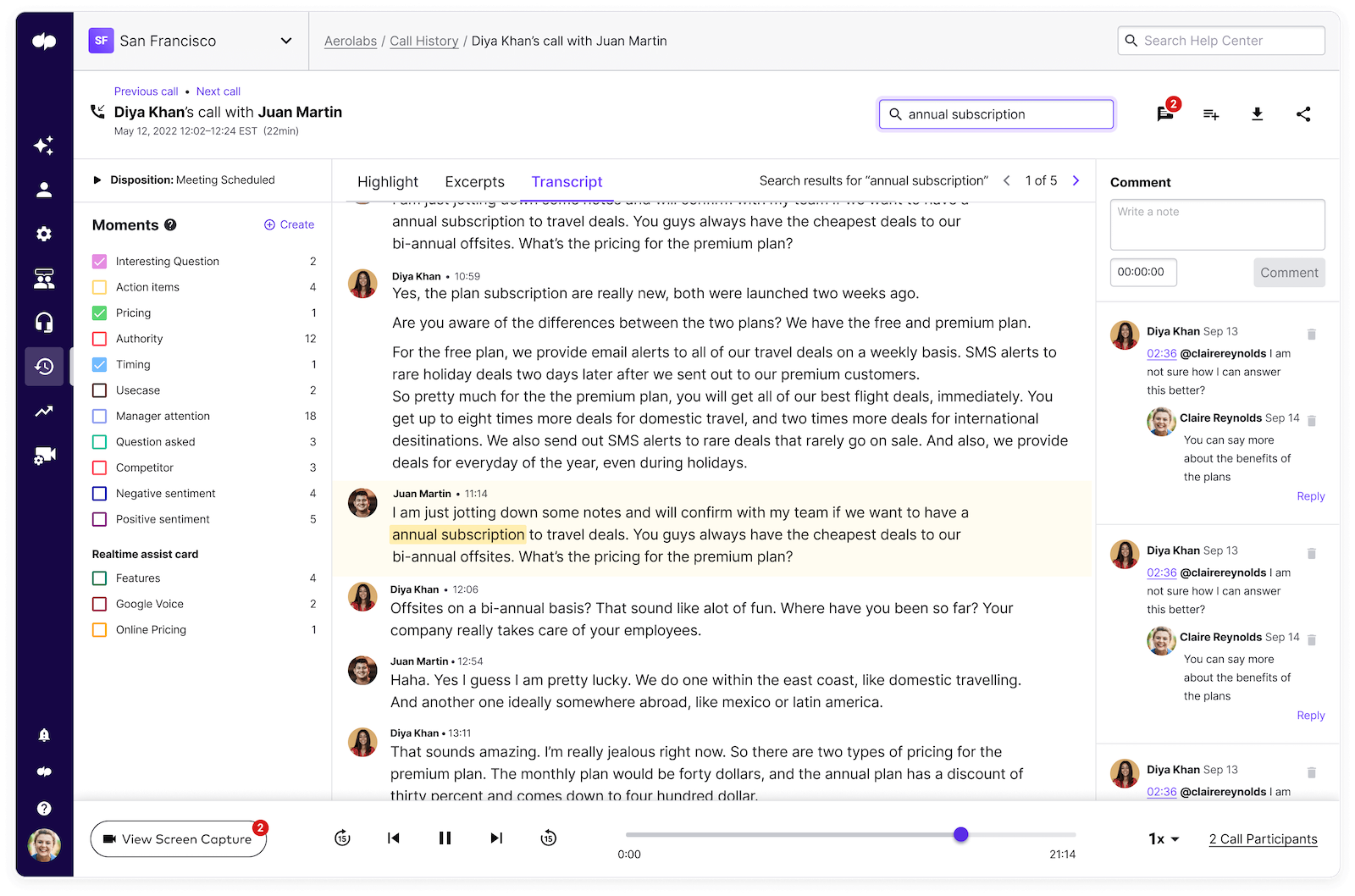 And yes, it can do voicemail transcription too.
Call analytics
Phone.com does say they have call analytics, but it's only available in the most expensive Pro plan. There also aren't any screenshots or images on the website showing what their analytics actually look like, which makes it hard to visualize whether the dashboards are actually clear or well-designed.
Dialpad includes call analytics in even its most basic plan, and the analytics show you everything from call volumes to missed and abandoned calls and more:
Massive scalability
Whether you need to hire a few folks globally or bring on a huge group of new hires, Dialpad can support that! From managing local numbers or toll-free phone numbers, to adding agents to different teams, you can do all your everyday admin tasks right from your online dashboard without bugging IT.
A wide range of integrations
One of Dialpad's biggest advantages over Phone.com is it has integrations with lots of commonly used business apps and software providers. Some of these apps include:
So, what do these integrations do? For example, the CRM integrations will embed Dialpad's dialer inside the CRM so that your team can make calls from right inside Salesforce or HubSpot: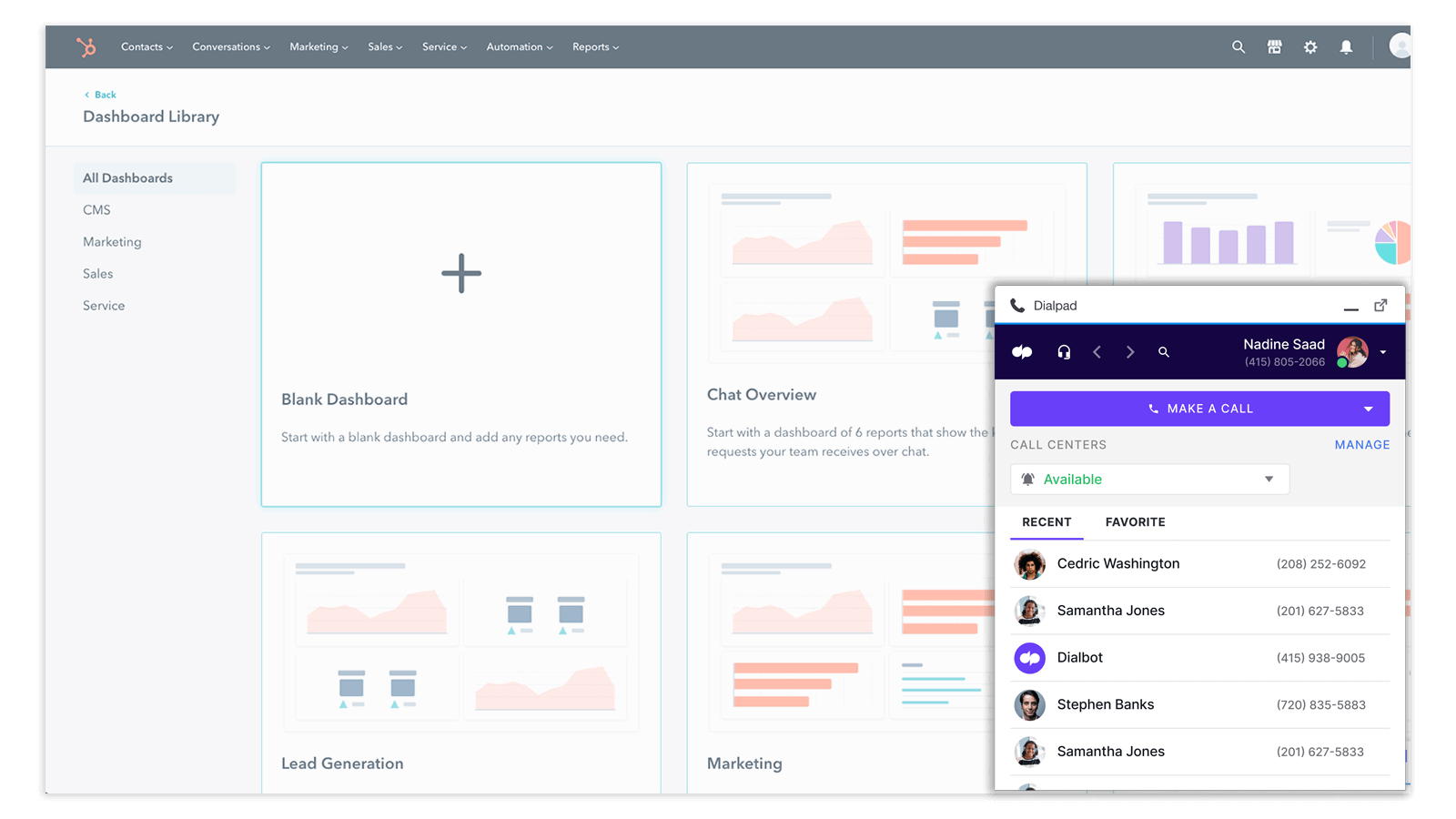 (What's unique about Dialpad's Salesforce integration is that it works on mobile app too—not just desktop like most other phone service providers' Salesforce integrations.)
And the Google Workspace and Microsoft 365 integrations will automatically create meeting links as you create invites, and even pull contact information right into your Dialpad app: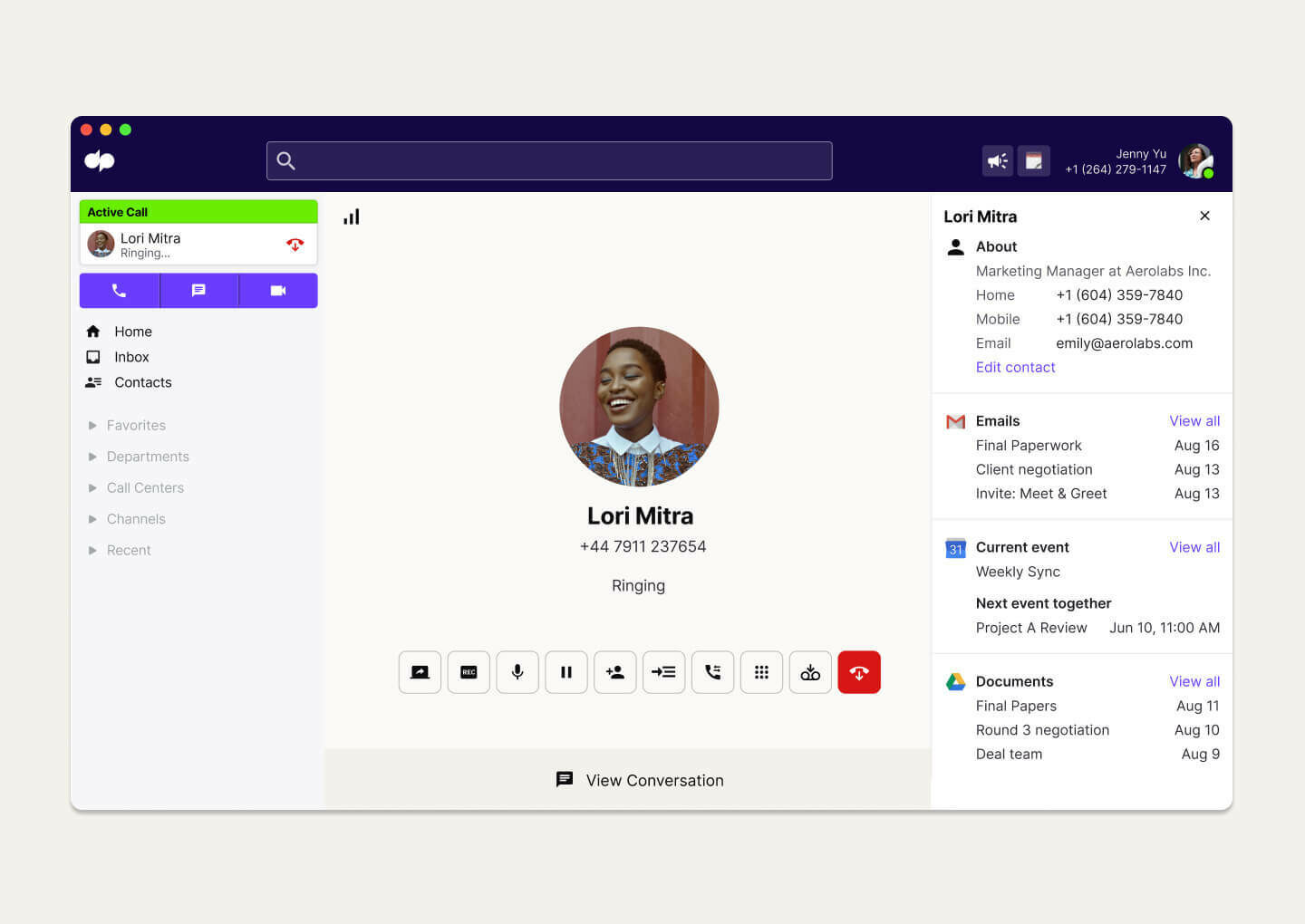 That's not all. If you can't find the integration you're looking for, Dialpad's open API and Zapier integration mean that you can easily build custom integrations with even niche tools
Enterprise-grade security
When it comes to security, Dialpad helps keep your data and communications safe and secure. Everything is encrypted to the highest privacy and security standards, and it'll also help you stay GDPA and HIPAA compliant.
There's also role-based access options, which let you set permissions at a company, office, department or user level. That means that secure information can only be accessed by those who need it. And finally, enterprise customers can have custom data retention policies to make sure that sensitive data will be deleted at regular intervals. Learn more about security here.
Other key features:
Number porting support (free to port over local US numbers)

Customizable caller ID so you can make business calls from your personal phone while shielding your personal phone number (and not be bothered by work calls after business hours)

Vanity and toll-free number support
Pricing
Dialpad offers a range of plans; Standard, Pro, and Enterprise. Prices start from just $15 per user, per month. What's unique about Dialpad is that even the lowest priced plans come with all the must-have communication features needed. Sign up for a free trial to take it for a test drive and get set up with a business phone number!
2. Nextiva
Nextiva is another well-known VoIP provider that's comparable in pricing to Phone.com and Dialpad, and has video conferencing along with phone call functionality.
Is Nextiva a good alternative to Phone.com?
Yes, with a few considerations in mind. Like Dialpad, Nextiva is a more robust communications platform. Yes, it has voicemail, call queues, and toll-free number support, but it has more communication channels than Phone.com (Though its video conferencing feature isn't built in-house—it's going through Amazon Chime as a third-party provider. Same thing with its call center product, which also isn't built in-house by Nextiva's team, but a whitelabeled version of another company's software.2)
Pricing
Similar to most SaaS providers, Nextiva has different pricing plans, with more unlocked call management and other functionality as you go up in price. Nextiva's plans start at $18.95 or $14.95 a month depending on if they're having a promotion.3
3. RingCentral
Founded in 1999, RingCentral has been around for a few decades now, since the days of landlines and PBX telephony.
Is RingCentral a good alternative to Phone.com?
Yes, but there are caveats to keep in mind. Even though it started out as an old-school PBX phone system, RingCentral has tacked on more functionality over the years so that its tool now includes things like conference calling, video calls, call routing, and auto attendants.
That being said, that doesn't change the fact that RingCentral is built on legacy infrastructure, that makes it less flexible and scalable than true born-in-the-cloud solutions like Dialpad. What this means is that it tends to be harder to scale up (and down) easily and harder to admin with RingCentral. (This is what both TownCenter Partners and PlanGrid have mentioned.) Dialpad excels at making messaging simple, making all messages available across devices, whereas RingCentral has several different places to find messages, making it harder to find what you need, when you need it.
Pricing
RingCentral starts at $19.99 a month for its most basic plan.4
4. GoTo Connect
GoTo Connect is a cloud phone system that was previously known as "Jive" before its acquisition in 2018. It's now part of LogMeIn's GoTo family of apps.
Is GoTo Connect a good alternative to Phone.com?
Yes, it has more functionality than Phone.com, but it'll cost you. GoTo Connect has pretty robust features including a mobile app that works across iPhone and Android, and you can handle all your usual inbound and outbound calls fine.
At the end of the day, the biggest knock on GoTo Connect is that its pricing is much more expensive than any of the other tools in Category A.
Pricing
Goto Connect starts at a whopping $24 per user per month, which gives you one call flow routing menu, one call queue, and one auto attendant greeting.5 You do get video calling, but with a maximum of only four participants. International calling is charged by the minute, though you do get some free minutes if you go up a pricing level to $29 per user per month. No call recordings, voicemail-to-email, or call analytics either until you get to the higher tiers.
Category B: More basic business phone systems
5. Vonage
Vonage is a virtual phone system that has been around for many years and is pretty well known, in part because it has a big residential side of the business (like Ooma below).
If you're running a very small business or have very basic needs, Vonage is a decent business phone system that lets you make local and international calls.
Is Vonage a good Phone.com alternative?
Kind of. I'd say yes, but by a hair. The pricing is comparable, and Vonage does offer some of the unified communications functionalities that Phone.com doesn't give you, like team messaging (which you get on the basic plan) and CRM integrations (which you have to go up to the more expensive plans for).
Like Dialpad, Vonage says you get free calling included in the basic plan—but unlike Dialpad, it says that "reasonable and acceptable usage applies for unlimited calls and unlimited SMS." What does "reasonable and acceptable usage" actually mean? Anyone's guess.
Pricing
Vonage's least expensive plan starts at $19.99 monthly per user, and really only gives you calling, SMS, and team messaging. That's more expensive than Dialpad, and many features that come standard with Dialpad are add-ons that you have to pay extra for, like call recordings and voicemail transcriptions.6
6. Ooma
Ooma started life as a residential phone provider, but has also started marketing itself as a cloud phone system for small businesses. Like Vonage, this means its functionality leans toward the basic side and if you want more advanced features, it's best to look at one of the options in Category A. That being said, it does give you conference calls and voicemail.
Is Ooma a good alternative to Phone.com?
I'd say no. Yes, it's small business-friendly, but if you're looking at price, you'd get more bang for your buck with either Phone.com or better yet, one of the Category A options (not GoTo Connect).
Ooma does give you unlimited calling to Mexico and Puerto Rico too, which you don't get with any other options on this list, but unless that one point is extremely important to you, it doesn't outweigh the other features Ooma lacks.
Pricing
The most basic pricing plan, Ooma Office, starts at $19.95 per user per month. That's quite a bit more than both Phone.com and Dialpad, which starts at only $15 per user per month, and comes with a much wider set of features.7
7. Grasshopper
Grasshopper is another VoIP phone service that's geared towards small businesses and comes with the basics like local phone numbers and calling features like call forwarding, IVR, and Wi-Fi calling—important note: it doesn't have video calling.
Is Grasshopper a good alternative to Phone.com?
Like Ooma, this one is a no for me. Grasshopper is an option if cost is your main concern. It doesn't offer nearly as many advanced features as some of the other Grasshopper alternatives, such as Dialpad, but if you're a very small business looking for a phone number service at an affordable price, it's an option worth considering.
Pricing
Grasshopper starts at $26 a month per user for one local phone number and three phone line extensions, and goes all the way up to $80 per month for the "Small Business" package. That's a big reason why they're here on the list. (You can get a lot more for a lower price with almost every other Phone.com alternative.)8
What's the best alternative to Phone.com for your business? Go with something that's versatile
If Phone.com isn't the best fit for your business, the good news is you've got options. Lots of them.
And not only that, they're also affordable and many come with even more functionality than Phone.com with any add-on price tags.
For example, Dialpad gives you phone calls, video conferencing, SMS/MMS + team messaging, and even an AI-powered contact center—in one intuitively designed package.

Sign up for a 14-day trial to take Dialpad for a test drive! It takes just a few minutes, and you'll be set up with virtual business phone number too.
Get started
1phone.com/pricing
2talkingpointz.com/nextiva-competing-around-the-customer-experience/
3nextiva.com/nextiva-pricing.html
4ringcentral.com/office/plansandpricing.html#office
5goto.com/pricing/connect
6vonage.com/unified-communications/pricing/
7support.ooma.com/office/ooma-office-pricing-chart/
8signup.grasshopper.com/plans