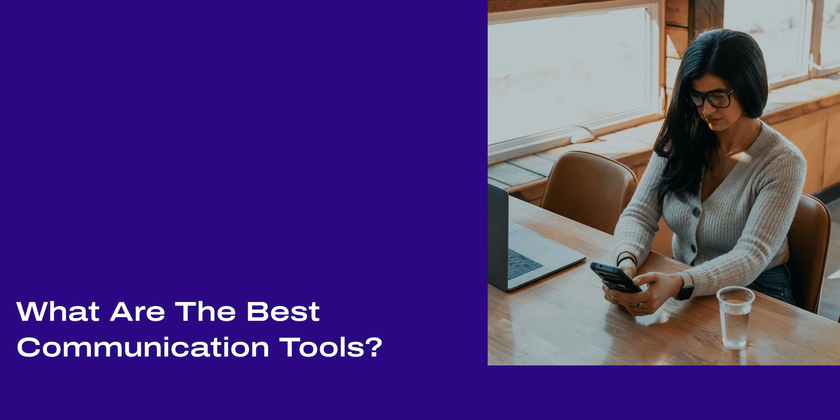 July 27, 2021
Communication tools are important for work, but they're crucial for distributed teams and folks working remotely.

Having worked from home full-time for the last four-ish years and with no plans to go back to the office life, I've not only gotten a pretty good grasp of what a remote worker needs in a communication tool. But beyond that, I've also gotten to know some other types of tools that my coworkers in different departments tend to use (that I don't really need).
For example, I work with remote customer support folks and sales managers on different projects, and even though our main communication tools are usually the same, there are some other interesting ones too.
In this guide, I'll take you through some of these communication tools by category—the caveat is that these are tools I've either personally used or have heard good things about and would try myself. (Spoiler alert: I know of some folks—especially in freelance—who may consider a time tracking feature as an important part of their tools, but we don't really use it, so there will be none here.)
Here's a high level overview—skip ahead if you like:
But first...
What are communication tools? (The category may not be as narrow as you think)
In the workplace, typically we refer to communication tools as software and apps that somehow facilitate the internal and external transmission of information. In simple terms: these are tools that let you talk to other people at work through different channels like messaging, email, video conferencing, SMS, phone calls, and more.
Generally, the more streamlined your business communication tools are, the better. If you have, as we in the tech world call it, a "huge stack," then you're probably spending the bulk of your day switching back and forth between different windows and tabs, copying and pasting information between tools, and generally spending way more time than you should… on managing all these different tools.
Meaning: If you have one chat tool, another business phone app, another video conferencing software, and so on—you might want to downsize and use something more versatile. I'll explain why in a moment.
Why is it so important to choose the right communication tools for work?
Business collaboration tools have come a long way. If you work at a company that has a flexible work policy or gives you the option to work from home (or anywhere), then your communication tools are essentially your entire online workspace.
If you're a remote worker, a good (or bad) internal communication tool has a direct impact on your everyday work. And if you're a manager or a business leader who's invested in employee engagement and the customer experience overall, then equipping your team with high-quality tools is essential.
Bottom line: Whether you run a small business or a well-established corporation, having the best business communications software (or at least, the best business communications software for your team) can have a huge influence on your productivity—and, honestly, just make work a more pleasant experience.
Thinking about a communication tool? 2 main use cases to consider
Internal communication use cases
When it comes to communication, most of us are probably talking most to our teammates on a daily basis, which means we'd need good internal collaboration tools.
For example, in marketing, we typically want—nay, need!—an app or software that lets us have video calls and do screen sharing. For my team specifically, we mainly use instant messaging, video conferencing, and phone calls to work together every day. (And we share files. Lots of them.)
Especially with folks being in different time zones, any real-time communication we can get is super valuable. We use Dialpad for all of that. Instead of having one video conferencing app and another chat tool—the Dialpad app lets us do all of this in one place:
👉Dialpad tip: Having worked in companies ranging from a few employees to a few thousand employees, the biggest business communications stack I've ever seen probably had about five or six different internal collaboration tools. We knew it wasn't ideal from an employee communication perspective, but it was essential for cross-team collaboration because the marketing team prefers certain tools, the sales team prefers certain tools… you know how it goes. Streamlining the number of communication tools I use has done wonders for my sanity.
By the way, if your team has lots of meetings like mine does, it also helps to have a communication tool that can record and/or transcribe your meetings. For example, Dialpad has an amazing real-time transcription feature (thanks to its Voice Intelligence technology) that logs every meeting for us: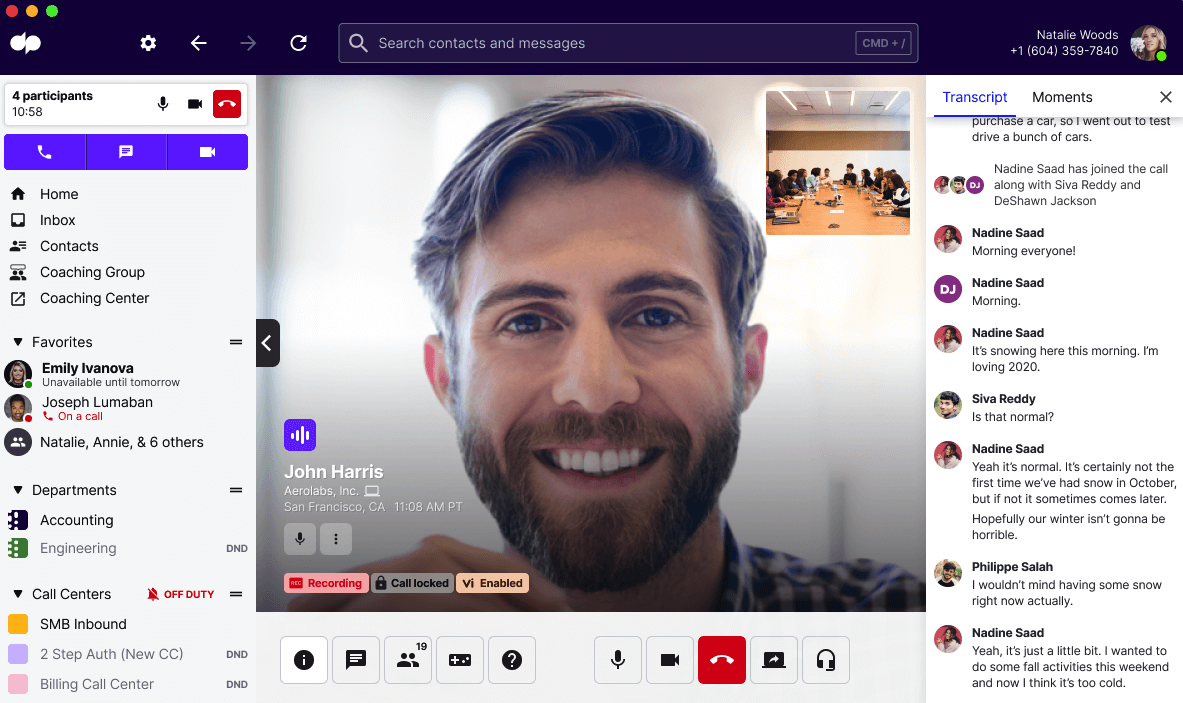 Not only does this allow everyone to focus on the task at hand during video meetings without having to take notes rapidly, it's also very helpful for folks who couldn't make it to the meeting since they can either review the transcript or recording.
External communication use cases
If you're in a client- or customer-facing role, then your communication software is equally important!
For salespeople, it's literally how you reach out to prospects and pitch them—and from what I hear, some of the most popular channels are texting/SMS, phone calls, and video chats.
Working in customer service or support? You probably need communication tools with call transfer and call routing capabilities so that callers can route themselves to the right team member. (A contact center platform, perhaps…)
For example, with Dialpad Contact Center, you can set business hours for specific departments and choose to route calls to agents based on criteria like skill-based routing or to whoever's been idle the longest: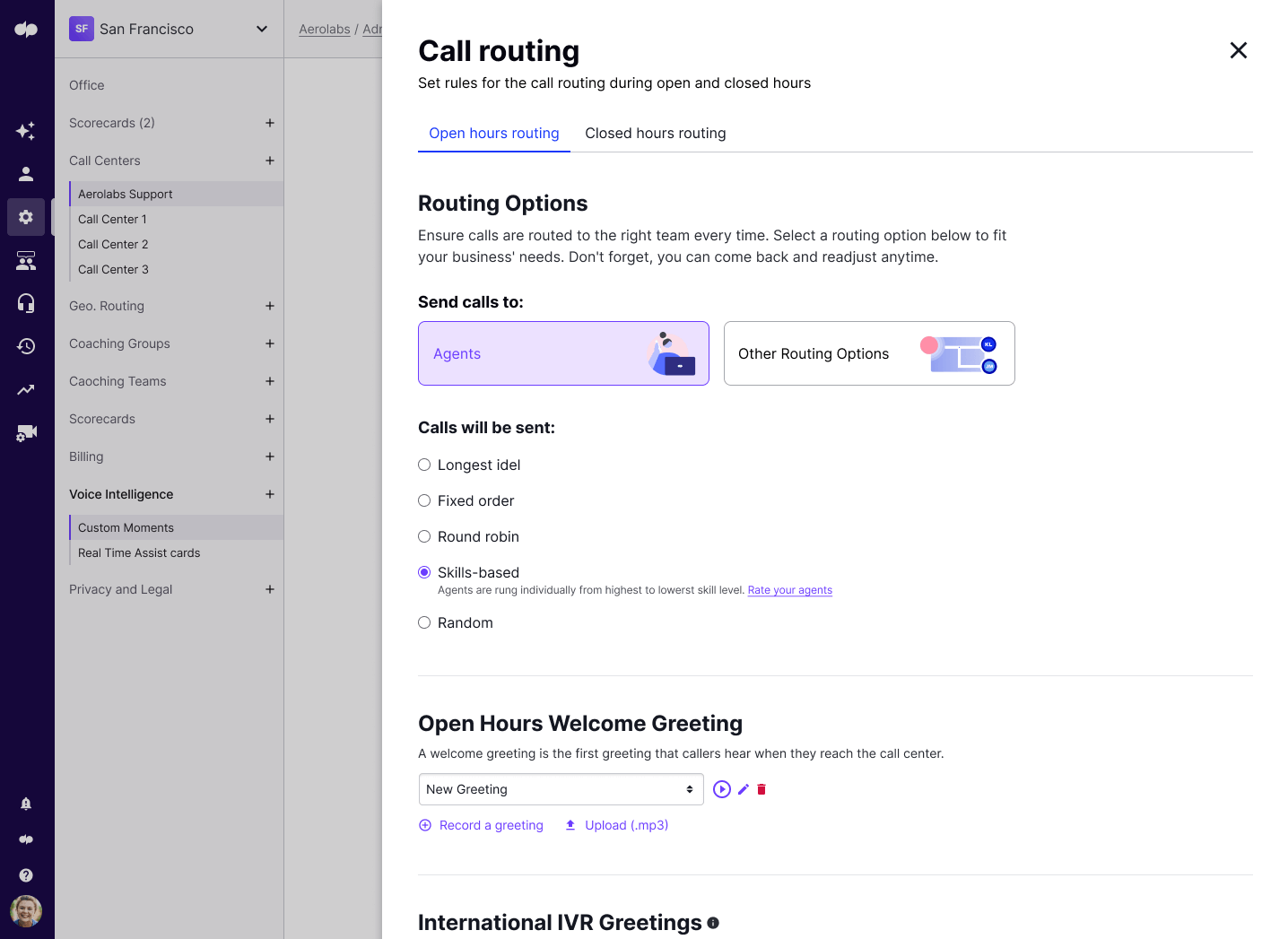 (And agents can use their mobile devices too, if they want, since Dialpad has a mobile app.)
Fun fact: Even though I'm in Marketing, I still sit in on quite a few customer-facing calls (mainly interviews for customer stories). And again, the Vi-powered real-time transcriptions are clutch for helping me review important details that come up on these calls.
Before, I'd have to type away furiously to make sure I captured every amazing thing a customer said. Now, I can give my full attention to the conversation and ask much better questions because I'm not worried about typing up the notes. It's all in the call summary—which conveniently gets emailed to my inbox after every call: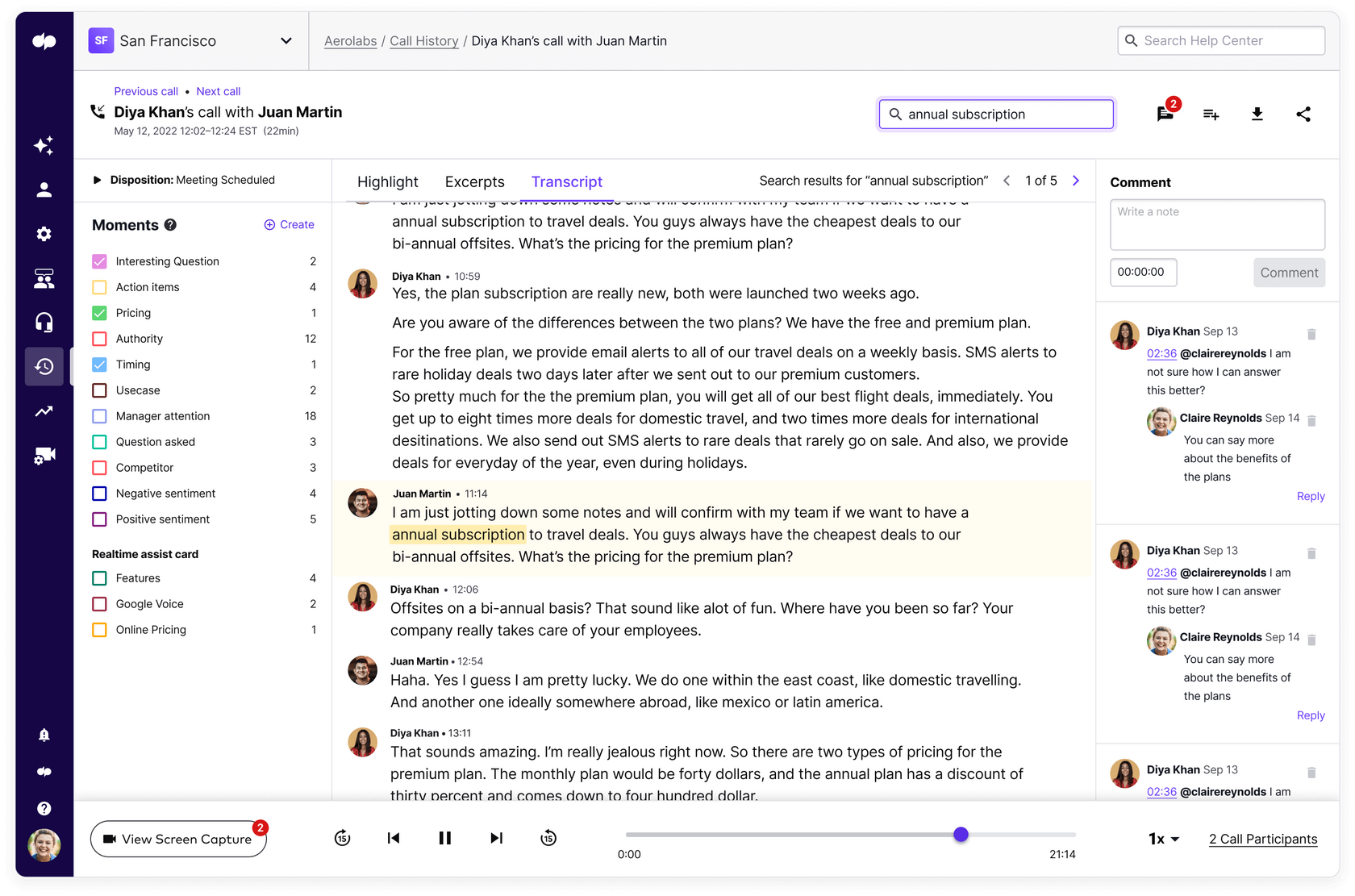 Communication channels (not including social networks) to consider when you're shopping for a tool
Voice / phone
Voice calls are the most traditional method of business communication—and yet, no matter how much we complain about it, we still use it. And it's not surprising, because many customers still tend to prefer immediate person-to-person interactions like phone calls as opposed to, oh I don't know, chatbots and social media.
Dialpad's high call quality is its calling card (pun fully intended), thanks to its network of data centers across the globe and unique split cloud architecture, which ensures a consistently high level of call quality, no matter where your offices are based. (Seriously, it's very cool. Ask us about it.)
👉Dialpad tip: Thinking about making the switch from your old phone provider? Porting numbers is easy with Dialpad—just submit a port request from your online admin portal, and Dialpad's team will take it from there.
Email
Email is still one of the most popular business communication channels. No doubt about it.
No matter how cluttered our inboxes get, it's still an essential channel—I still use it every day, and I highly doubt we'll ever be fully rid of it.
I've used both Gmail and Outlook for work, and honestly, it's pretty much your IT team's call. They're both functional and do what they're supposed to do, mostly.
One thing I will say is that whatever other communication tools you're using should integrate with your email provider, because that'll make your everyday work a little easier.
(For example, Dialpad integrates with both Outlook and Gmail to automatically insert online meeting links into your calendar invites.)
More info on how I've managed email overload in the past here.
Video
I mean, what can I say about video conferencing that hasn't already been said? It's important for many businesses, and even though video fatigue is a real thing (I do have my camera off sometimes because being in back-to-backs for six straight hours is exhausting), it's probably going to be a must-have in companies for a long time.
Whether you're just collaborating with teammates or pitching a prospect, video conferencing is the default (for my team at least) when you're not all in the same city. Again, best to have your video meetings as part of a unified platform—I'm also probably biased because I hate having a billion windows open (it really slows my computer down), but hey...
👉Dialpad tip: Video meetings are great until the image starts lagging and the audio starts cutting in and out. Having a good Internet connection is key if you plan to have lots of video conferences (it's just a little more resource-intensive than regular ol' phone calls), and if you're looking to upgrade, Dialpad actually has a great partnership with T-Mobile for work-from-anywhere folks—check it out.
Instant messaging / SMS
Instant messaging is probably my most-used communication channel when I'm talking to my team. (We use both group chats and 1-on-1 threads pretty evenly.) You get answers faster than via email, and it requires less face-time commitment, if you know what I mean.
Plus it keeps my inbox less cluttered, which is nice. As I mentioned earlier, we can just use Dialpad for messaging each other—oh, and we can send SMS messages too. You can select either a contact or a phone number when you're sending a message, and it'll automatically know to send your message as an SMS if that phone number isn't associated with a contact in Dialpad: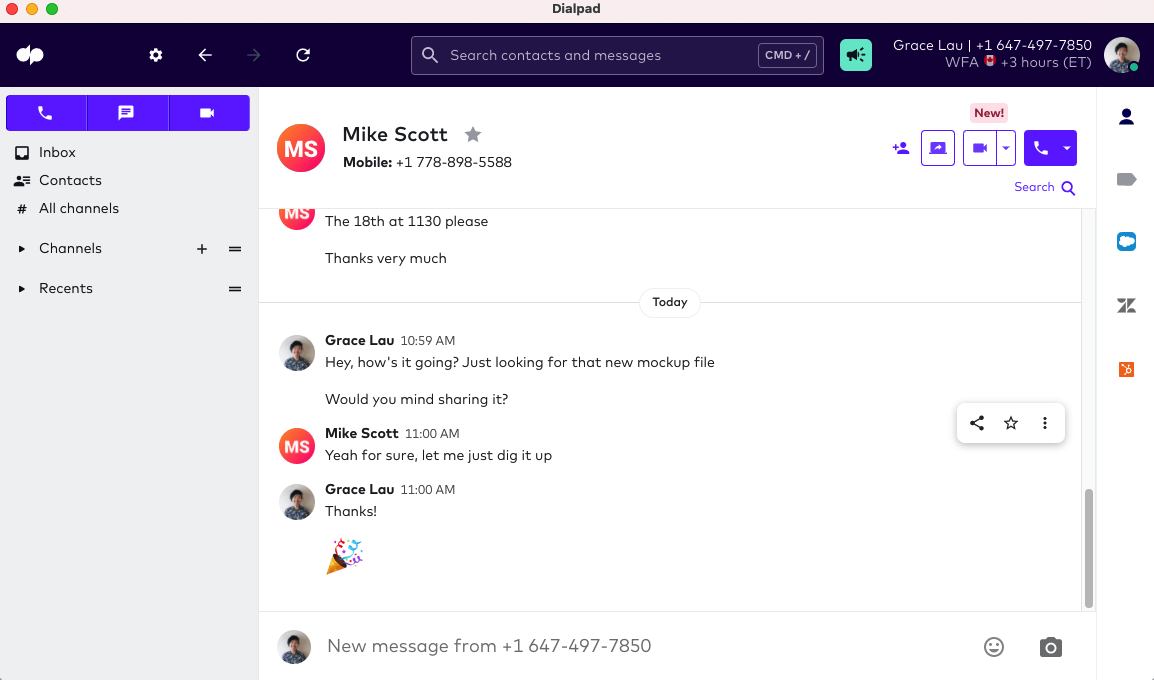 How to pick the best online communication tools for your team: 6 things I look for
1. All-in-one (or very well integrated)
Don't want to beat a dead horse—pretty self-explanatory.
2. Works for both internal and external communications
This follows along the same lines as that whole "streamlining your communication tools" thing—why have separate tools for internal and external communications when you don't… have to?
3. Scalable
I don't want to have to go through IT or support every time I want to do a small thing like change my voicemail settings or change profile info for new hires. I can't imagine how much more work this would be for, oh let's say a contact center supervisor who has to manage tens or hundreds of agents.
With Dialpad, you can scale up—and down—users and manage everyone's phone numbers yourself. It's so easy, even I can do it...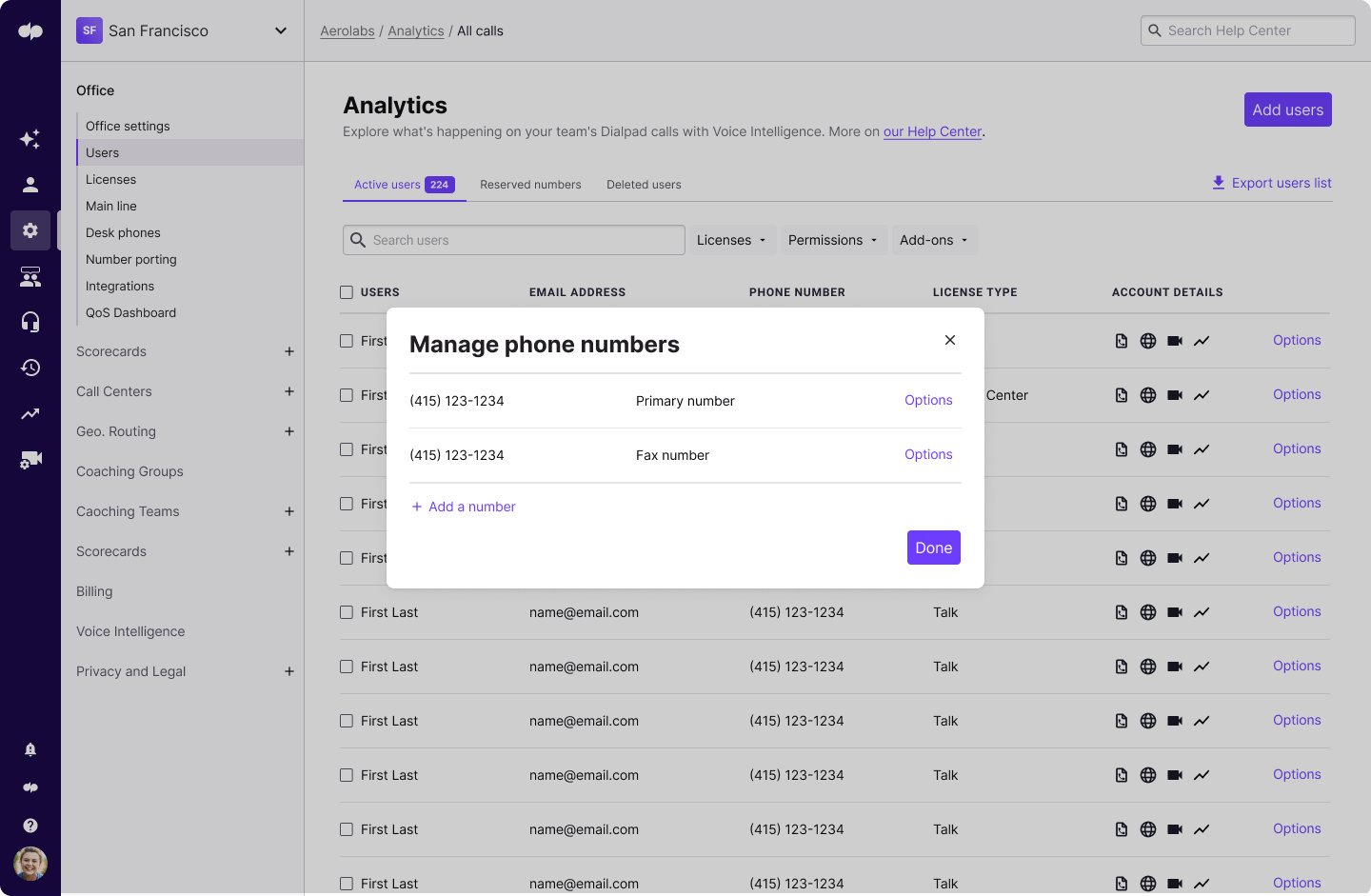 4. Good customer support
Don't think I need to explain this one too much. Any software we use should have good customer support. Historically, when we get let down by support, we don't stick with that tool for very long.
(Dialpad offers 24/7 support—worldwide, not just in the US—for Pro and Enterprise customers, and 24/5 support on the Standard plan, so an expert is pretty much always on hand to deal with questions. And we also have a pretty awesome Help Center that covers most questions that customers have.)
5. Cost-effective
Want to avoid multiple expensive subscriptions to different services and apps? You should go with a—you guessed it—unified platform. What's pretty special about Dialpad is that even its least expensive plan has unlimited inbound and outbound phone calls, unlimited SMS/MMS (within the US and Canada), video meetings, an auto attendant, custom voicemail greetings, cloud storage for your meeting recordings, and a lot more.
6. Accessibility across different devices
Some people on my team are on iOS, others are on Android, and most of us use both the desktop and mobile app.
We're definitely spoiled by how Dialpad's apps work across all those devices.
(Plus it works on web browsers too—with full functionality.)
11 best business communication tools, by category
Okay. Now let's look at a roundup of some of the best communication tools I (and my teammates) have used, including pricing and features.
A true all-around communication tool
Platforms: Pretty much all of 'em—web browsers, iOS, Android, PC, and Mac
Features: Dialpad is a leading cloud-based business communications platform with a built-in phone system. Need to make phone calls? Do it in the app. What about video conferencing and small webinars? You can start a virtual meeting there too. Want to take a closer look at a design mockup? Zoom in on a screen share: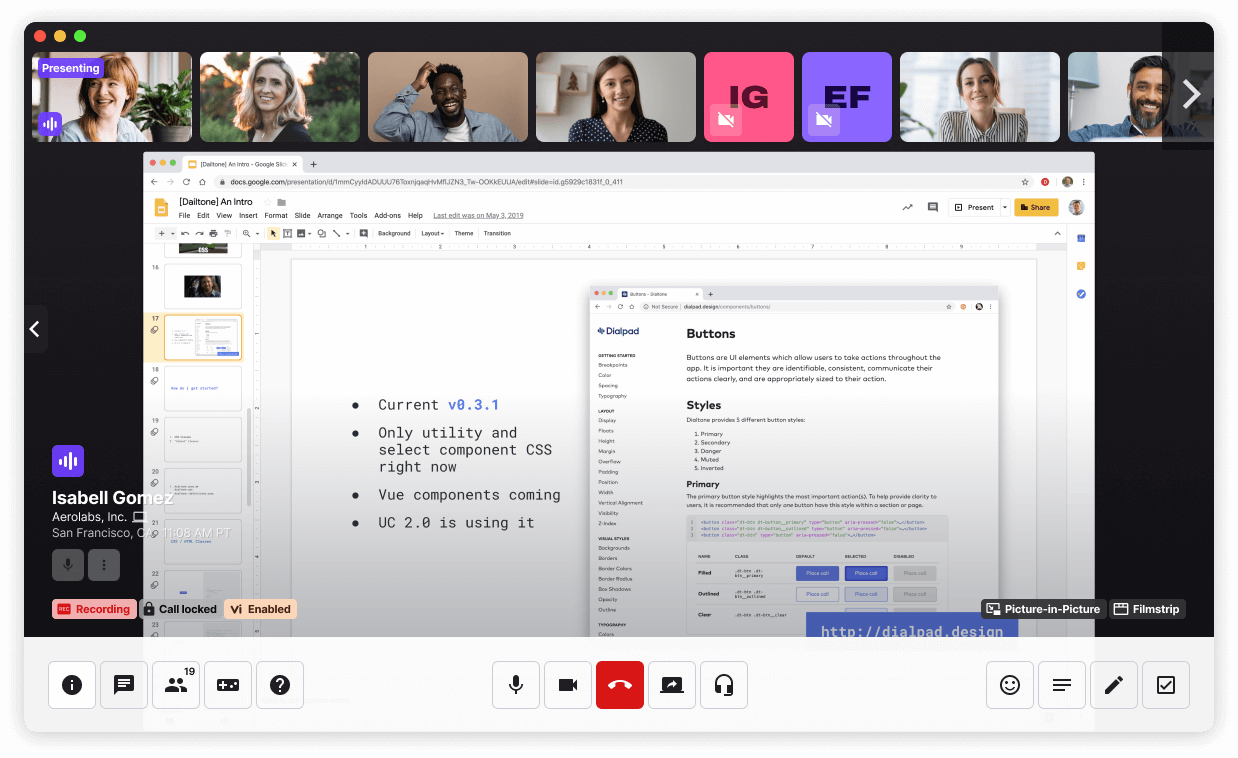 And there's SMS, call routing, and more—in one user-friendly platform.
It consolidates almost all your communications workflows in one place, and the Vi is probably the most special thing about it. You really don't need anything else for internal and external communication.
Integrations: Salesforce, Microsoft Teams, Google Workspace, Zendesk, HubSpot, and more.
Pricing: Plans begin at just $15 per user per month on the Standard plan, which includes unlimited calling within your local country, the US, and Canada, and a whole lot more. You can compare the plans here.
Free trial: Yep! You can try it out with a 14-day free trial—sign up with your Google or Microsoft 365 account, if you want. It takes just a few minutes to get started with a business phone number.
Oh, and…
If your team is customer-facing and you need a contact center tool that can handle external communications, Dialpad's Contact Center platform is designed for that!
Our own Contact Center Supervisors wrote about how they use it to manage agents (and many of our agents work from home). You can learn more about that here and here as a starting point.
Project management / team collaboration
2. Asana
Platforms: Compatible with desktop and mobile
Features: A personal favorite of mine, Asana offers lists, Kanban-style boards, and even project templates to help you track pretty much any type of project. Granted, I mainly use it to keep track of content marketing projects, but unless you have a very specific type of super-complicated project that you need to track, Asana is a great overall project or task management tool.
Integrations: Adobe, Outlook, Salesforce, and more
Pricing: Free for the basic model, upgrades available
Free trial: Yep
3. Trello
Platforms: Available on desktop and mobile for Mac and Windows, iOS and Android
Features: Trello is very similar to Asana—it's a project management tool with collaboration features like Kanban boards and the ability to make lists and cards. I find that most teams use either Asana or Trello… I have used Trello before, years ago, but aesthetically, I prefer Asana.
Integrations: Adobe XD, Slack, Jira, and more
Pricing: Free for individuals
Free trial: N/A
4. ProofHub
Platforms: Web, iOS, Android
Features: Yet another tool designed for project management, ProofHub has file sharing, Kanban boards, Gantt charts, document storage, and activity logging, and other features. I haven't personally used this one, but it's come up in conversations with other remote teams more recently, and they seem to like it fine.
Integrations: Dropbox, Microsoft Outlook, Google Drive, Google Calendar, Box, and Freshbooks
Pricing: Begins at $50, or $45 a month for the Essential plan
Free trial: Yep
5. Airtable
Platforms: Supports desktop and mobile devices
Features: I used Airtable for the first time last year, and it's a very nice-looking tool. Granted, it's a spreadsheet and database hybrid—which means I'm comparing it aesthetically to Excel and Google Sheets, but hey, it's aesthetically pleasing. Airtable has tools for project tracking and management, and works really well as a marketing campaign or workflow tracker. It's technically less of a communication tool and more of a resource for task creation and assignment, but so much of project management hinges on effective communication that I'll bend the rules this time.
Integrations: Dropbox, LinkedIn, Mailchimp, and more
Pricing: Has a free basic plan
Free trial: N/A
6. Google Workspace (formerly known as G Suite)
Platforms: Available for web and compatible with most desktops and mobile devices
Features: Can't forget about this one if we're talking about collaboration tools. You may already know this group of cloud-based productivity tools collectively as G Suite, but Google has rebranded it as Google Workspace. It incorporates all of Google's apps like Gmail, Hangouts/Meet, Google Calendar, Google Docs, and more.
Google Workspace doesn't offer any phone-based system itself (Google Voice comes close, but lacks a lot of basic phone features...), but does integrate with Dialpad and can sync contacts from Dialpad automatically. Any contacts made or edited in one system will be synced with the other.
Integrations: N/A—Who doesn't integrate with Google is probably the better question
Pricing: Basic plans begin at $5 per user per month
Free trial: Yep
CRM / Customer support
7. Salesforce
Platforms: Available on iOS and Android
Features: Who doesn't know Salesforce? Most sales teams I've worked with use Salesforce—and conveniently, gotta plug this, Dialpad integrates with Salesforce to automatically log activities like messages and calls (and there's a power dialer too):
Integrations: Over 230 integrations including Gmail and Outlook—and Dialpad
Pricing: Lite plan begins at $56 per month
Free trial: Yep, there's a 14-day free trial
8. HubSpot
Platforms: Compatible with desktop and mobile
Features: HubSpot's another well-known CRM tool (that also has other marketing and customer support tools in its suite of products)—other than Salesforce, this is probably the CRM that I see mentioned most among past coworkers.
Integrations: Integrates with tons of popular apps for lead generation, marketing, and more. Fun fact: Dialpad also integrates with HubSpot.
Pricing: Starts at $12.50 per user per month
Free trial: Yep
9. Zendesk
Platforms: Compatible with desktop and mobile
Features: For customer support teams, Zendesk is the name that I hear most often.
Integrations: They have a huge app directory. Really. It's big. Chances are, whatever you're using will integrate with Zendesk. And so does Dialpad—it embeds a phone system into your Zendesk screen, which makes for a pretty convenient communication tool.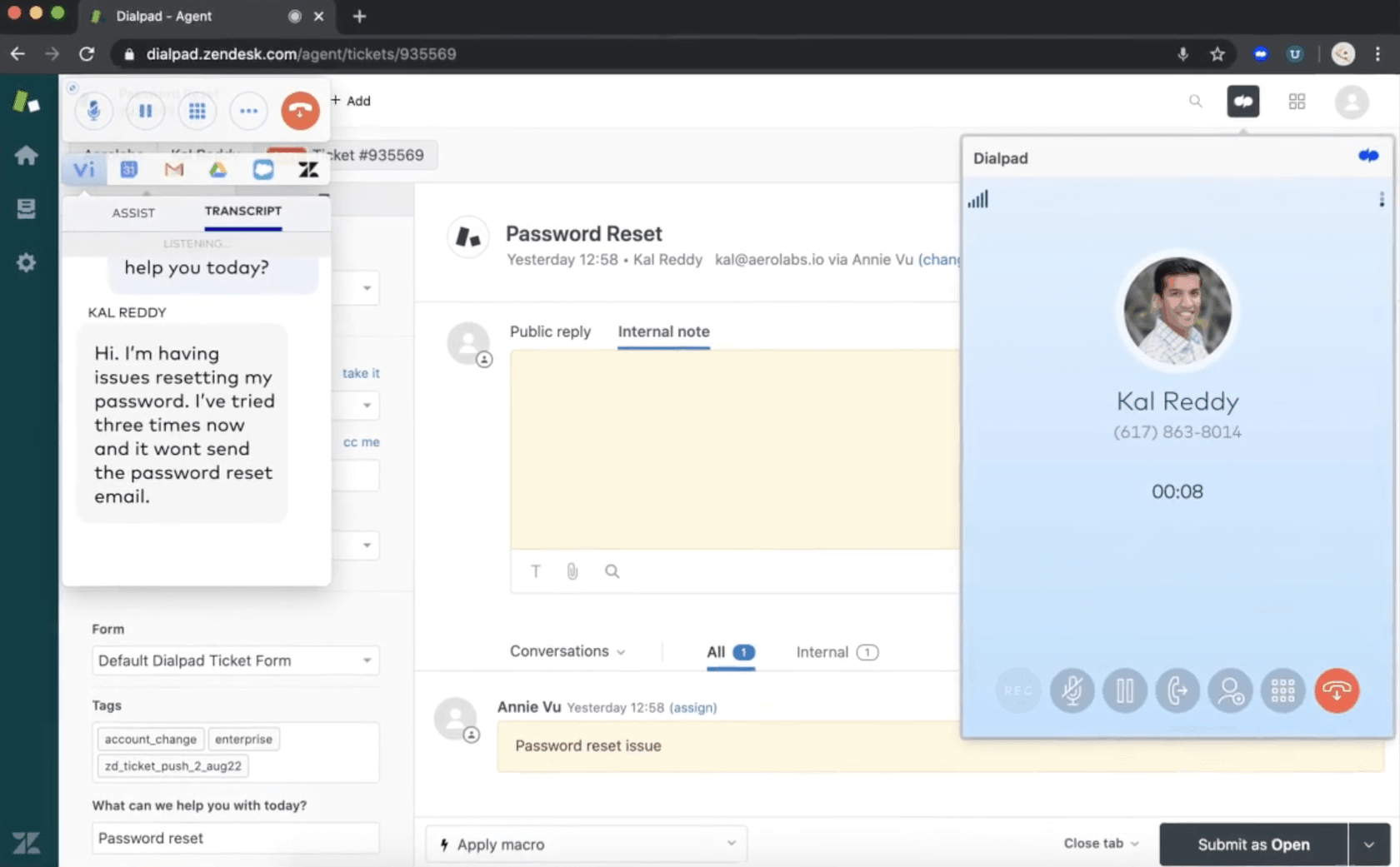 Pricing: Starts at $12.50 per user per month
Free trial: Yep
File sharing
10. Dropbox
Platforms: Web-based, with a desktop and mobile app for Android and iOS users
Features: Does "file sharing" count as "communication?" It's a pretty key part (in my opinion) of communication if you're working in an office nowadays, so I'm gonna say yes here. Almost every single company I've ever worked at has used Dropbox, which is pretty incredible. Hats off to their team. If somehow you haven't heard of Dropbox, it offers file sharing and storage for teams. Is there anything discernibly or spectacularly better about Dropbox than other file storage software? Not that I've noticed, but I've also never been the decision maker in bringing Dropbox onboard a company.
Integrations: Tons, probably
Pricing: Free for the basic plan, upgrades available
Free trial: Yep
11. OneDrive / Google Drive
Platforms: Web-based and compatible with iOS and Android
Features: I mean, depending on whether your company uses Microsoft Outlook or Gmail, your file sharing solution will likely be one of either OneDrive or Google Drive. Again, I personally don't really have a preference and usually it's not up to me anyway.
Integrations: Smartsheet, Wrike, Vimeo, and more.
Pricing: Honestly, it varies—but price doesn't appear to be a make-or-break factor in the decision to go with either of these file sharing solutions.
Free trial: Yep
How many team communication tools are you using?
When deciding on the right communication tools for your business, you need to first consider which channels you'll need. Will you just need to communicate with teammates, or will you be talking to prospects and customers too?
At the very least, a unified communications platform that contains a business phone system, video conferencing feature, and messaging will be a good starting point. This will cover your bases and at the very least make teamwork easier—and as your business grows, you can keep adding to it with things like contact center software.
(And of course, if you can reduce the number of monthly subscription plans you're paying for, do it.)

Need a communication tool? (Or want to upgrade?) Try Dialpad for free with a 14-day trial—talk, message, and meet, all in one place.
Sign up for free