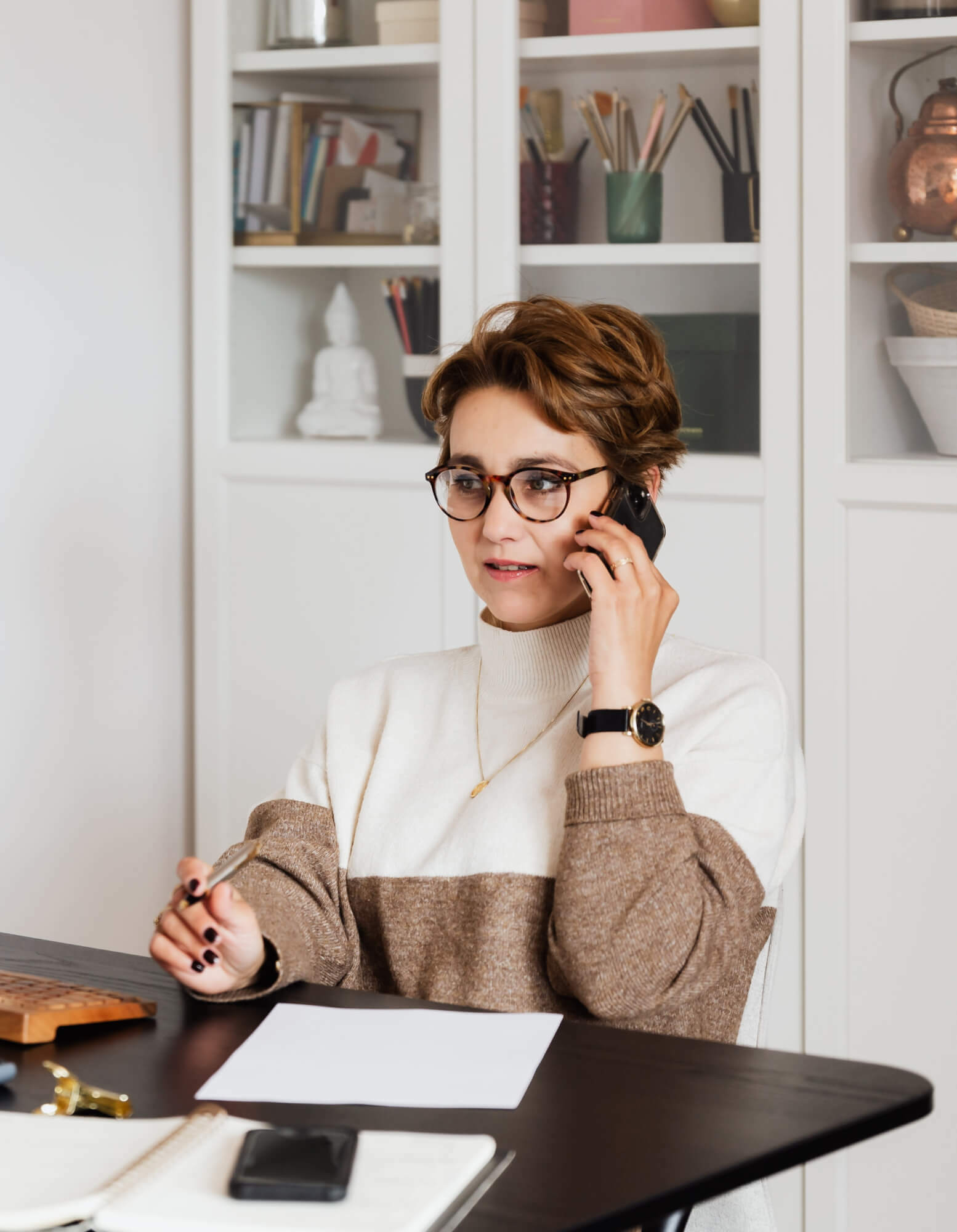 a guide
Virtual waiting rooms
Learn how to use virtual waiting rooms to provide a better patient experience and support remote patients. If you need a virtual meeting solution, book a product tour of Dialpad's AI-powered collaboration platform to see how it can work for your healthcare organization.
If you've ever been to a medical clinic or hospital, you've likely experienced the frustration that arises from waiting in a crowded waiting room surrounded by other sick people.
As industries around the world transitioned to remote work in the midst of the COVID-19 pandemic and social distancing requirements, so did the healthcare industry.
Telehealth enables patients to attend appointments from the comfort and safety of their home using video conferencing tools, and allows for an interaction that doesn't compromise the safety and security of either party.
And beyond the pandemic, there are some benefits to virtual telehealth that will likely keep it around as a viable option for patients who'd rather not do in-person appointments. Now, health systems are turning to communications platforms that offer waiting room technologies that enable patients to book, check in, and queue for their telehealth visits remotely.
Want to transform your patient experience by eliminating traditional waiting rooms? Keep reading to learn how.

🩺 Is your clinic or practice in need of a communications checkup?
If you're curious about how and why other healthcare organizations are switching to cloud-based communications, this guide can be a blueprint for your own digital transformation. Download it for free here!
What is a virtual waiting room?
A virtual waiting room is a service that allows patients to check-in for their appointments virtually.
Virtual waiting rooms are managed by the healthcare service provider and enable medical practices to create a safe patient intake process and schedule patient appointments without requiring them to come into the office.
There are two main contexts in which virtual waiting rooms can be used for healthcare:
In-office medical appointments: Patients can check-in to their appointments from a mobile device and remain outside or in their vehicle until they're called into the doctor's office or examination room.

Telehealth visits: Patients can join a virtual meeting when they're ready for their online appointment and stay in a virtual waiting room until clinical staff or the doctor "lets them in."
With this type of virtual waiting room technology, there's zero contact physically between patients and staff in healthcare settings.
👉 Did you know?
A survey conducted by YouGov on behalf of LifeLink Systems, which polled more than 2,400 U.S. adults, found that 76% rated the traditional waiting room experience as fair or poor, making it a detriment to patient satisfaction. The survey also revealed that 81% of respondents agreed that virtual solutions implemented due to the COVID-19 pandemic should be permanent, and 80% said they'd rather complete paperwork on their mobile device before arriving at the doctor's office.
Dialpad's healthcare communications platform allows clinics and other healthcare organizations to migrate their offices to the cloud and provide virtual care on a platform that's fully compliant with the Healthcare Insurance Portability and Accountability Act (HIPAA).
With Dialpad, healthcare providers can call, meet, and message patients with a single app while reducing costs associated with in-office hardware systems and IT overhead.
Patients don't have to download any apps to join virtual appointments, and can just click a meeting link to join the appointment from a web browser:


3 reasons to use a virtual waiting room
1. Simple, zero-contact patient check-in
Virtual waiting rooms enable patients to bypass the face-to-face patient check-in process required in traditional waiting rooms.
For example, with Dialpad's healthcare communications platform, when a patient is ready for their telehealth visit, they just have to click the URL or link for their appointment. They'll then be taken to a real-time virtual waiting room until a medical professional is ready to see them: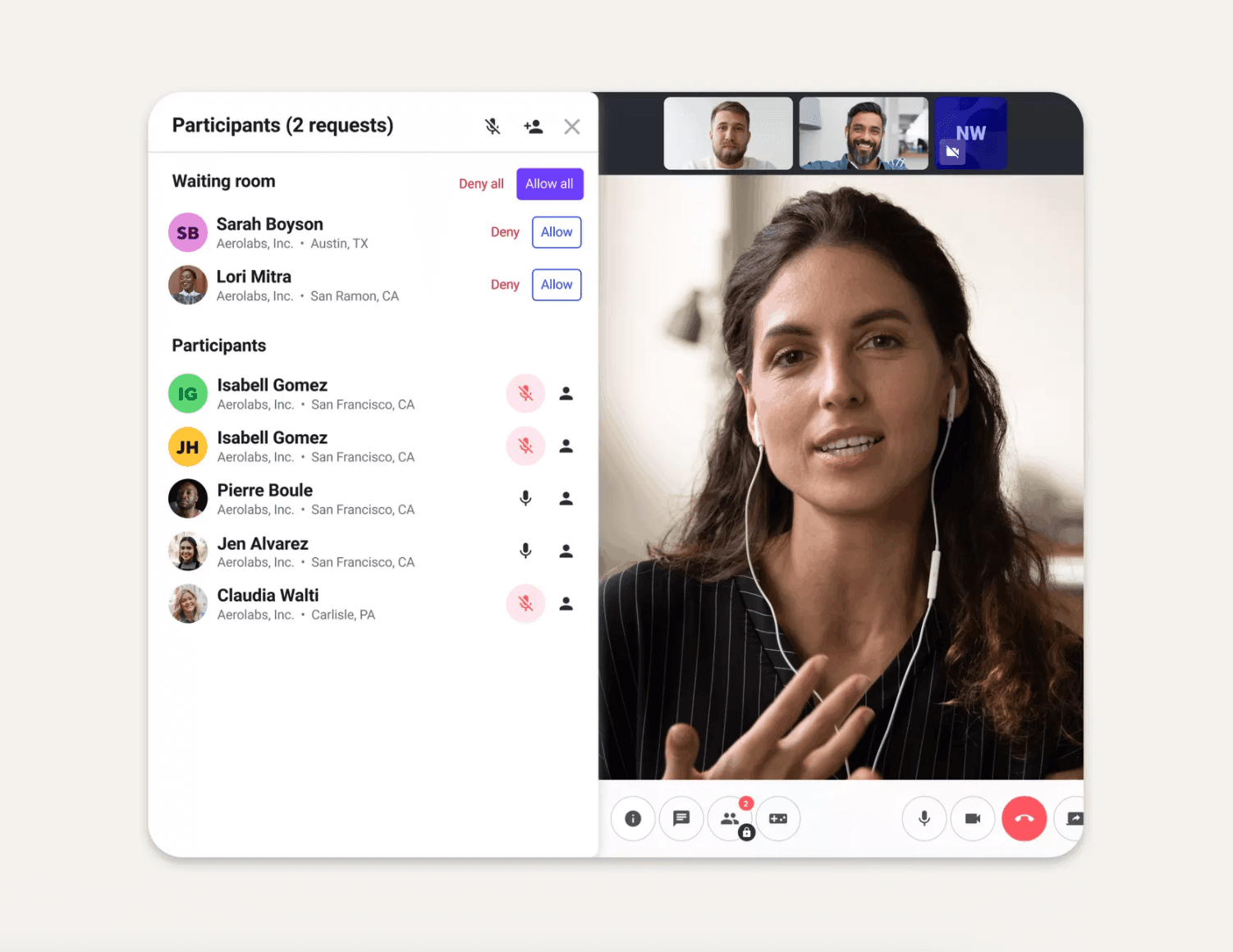 2. A better patient experience
Compared to traditional waiting rooms, where patients who are ill would often have to share a physical space while they wait for appointments (which also tend to fall behind schedule), a virtual waiting room can remove that part of the patient experience altogether.
Patients can either wait in their cars in the parking lot (if they need an in-person visit) or the comfort of their own home (for video visits), which creates a smooth registration process and can help improve patient satisfaction.
3. Other related features that are useful for telehealth
Often, virtual waiting room technology can do more than just help with remote check-ins. It often comes as a part of a communications platform, which allows your practice to do other things like send appointment reminders via text message: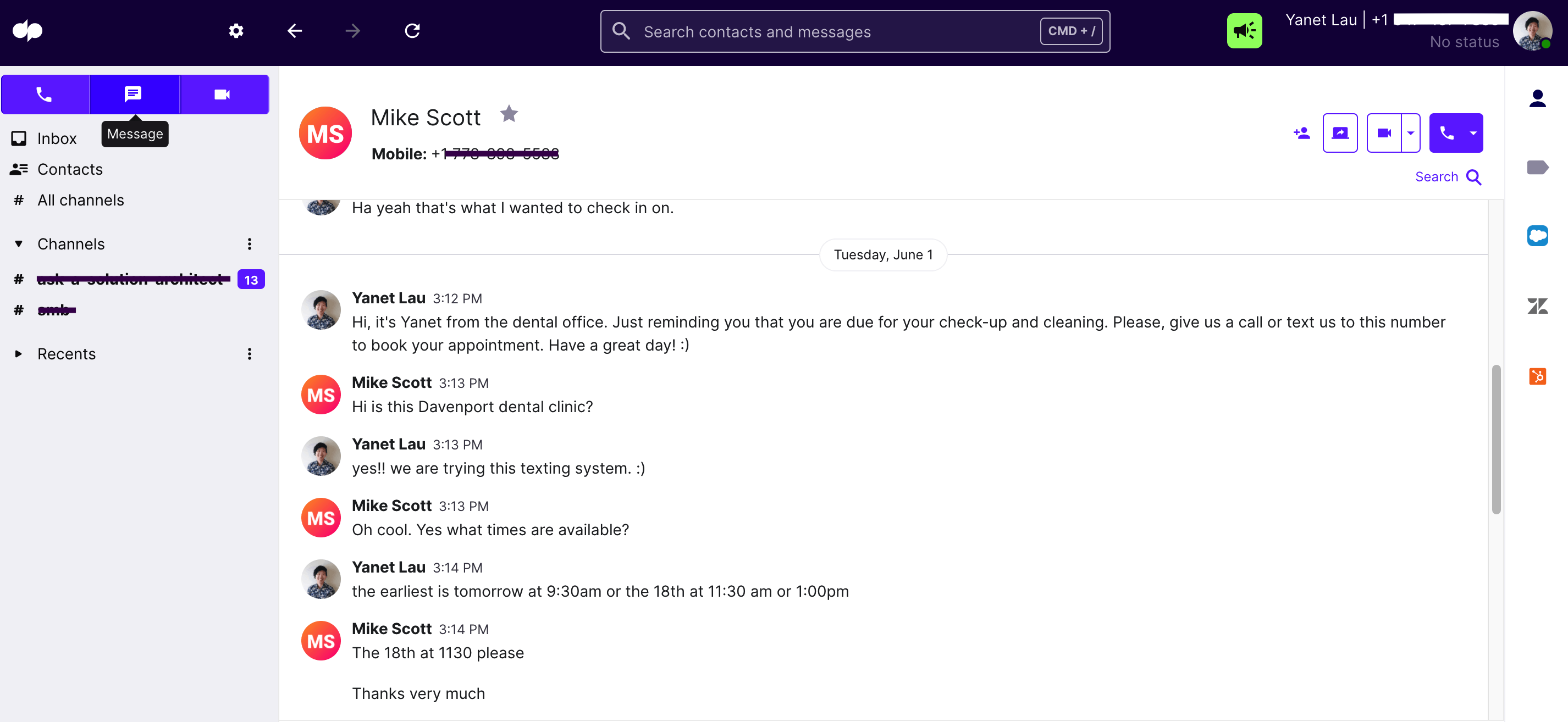 How to start using virtual waiting rooms
1. Send appointment reminders to callers with a link to the virtual waiting room
Initiate your virtual waiting room by sending an appointment reminder or invite. With Dialpad, which integrates with both Google Workspace and Microsoft 365, you can send virtual meeting invites to patients through both Gmail and Outlook:
👉 Dialpad tip:
See how Fenway Health moved their contact center and operations to a remote and hybrid environment while providing an excellent patient experience.
2. Ask patients to fill in a pre-registration form
Initiate digital patient registration with your first appointment reminder.
With Dialpad, you can share registration form files with patients during a call (if you're calling to remind them of their appointment) or attach a file to a text message. You can, of course, also share files via a patient portal if you have one.
3. Verify the information from the pre-registration form
Once the pre-registration form has been completed and submitted, your front desk team can verify the information submitted and communicate with the patient if anything else is required.
4. Check-in the caller into the virtual waiting room queue
Once you've verified the patient's registration forms, it's time to check them into the virtual waiting room queue. Because Dialpad has video meetings, phone calls, and SMS text messaging all in one platform, you can do two-way patient messaging from right inside the app to notify them when they're about to be admitted to their telehealth appointment, and then start the virtual appointment right from the same window.
Best practices for virtual waiting room implementation
Leverage software with features designed to optimize your appointment process
Choose the best software solution to power your virtual waiting room. There's a variety of video conferencing tools that offer some form of virtual waiting room functionality, but not all of them are HIPAA-compliant.
In a healthcare context, you need a HIPAA-compliant platform (which Dialpad is) that's easy to use on both computers and mobile devices, and browser-based to accommodate patients who may not be comfortable with technology or able to download apps.
With Dialpad, the host can lock the video meeting for added security during the telehealth appointment: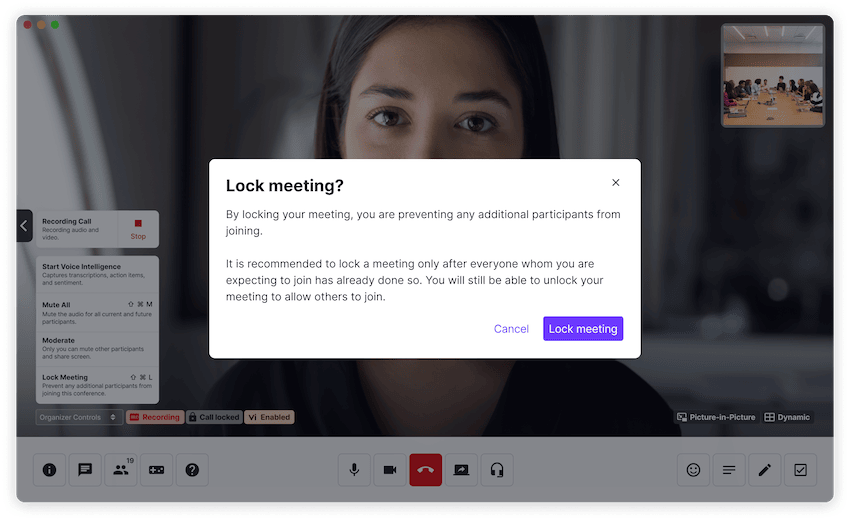 And if you're the admin for your practice, you can also easily add new users, phone numbers, and departments in just a few clicks:

With a cloud communications platform, healthcare organizations get much more flexibility and scalability, which can be helpful for remote and hybrid work.
Include language options in your appointment reminders
Another best practice is to include language options in your appointment reminders. This lets your patients know how to check in digitally, complete online registration forms, and understand the waiting room process once they're admitted.
(Dialpad's platform has a built-in phone system as well, which has multilingual IVR options.)
Check in with patients after the visit to get immediate feedback
To improve your patient experience, having an open line of communications with patients not only before, but also after their visit, can be helpful.
With Dialpad, you can make a call or send a text message after a telehealth appointment to assess patient satisfaction. And because Dialpad also comes with a call recording feature (which can be toggled on and off, and also managed with custom data retention rules to maintain compliance), it's possible for healthcare organizations to monitor patient satisfaction over time.
Are virtual waiting rooms here to stay?
For some healthcare providers and organizations, virtual waiting rooms are here to stay. Just like other businesses and organizations, the healthcare industry is recognizing the benefits of interacting remotely for both employees and patients.
If you're considering expanding your telehealth services with technologies that offer flexibility, scalability, and security, communications solutions like Dialpad can help improve patient engagement and provide a better patient experience.
See if Dialpad is the right choice for your healthcare organization with a 14-day free trial.

Looking for a virtual waiting room solution?
Book a product tour of Dialpad's AI-powered customer engagement platform to see how it can work for your healthcare practice!