Back to Blog
Why you shouldn't buy a remote office phone system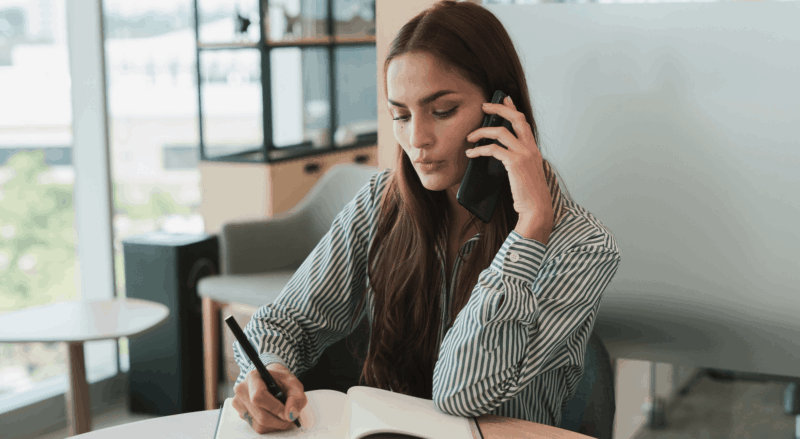 As a business owner, remote office phone systems are probably something you're thinking about, especially if you have remote workers and call center employees.
Traditional landline communications systems just aren't great for remote teams.
But here's the thing. I want to make the argument that you shouldn't go with a phone system at all.
Am I crazy? I mean, I don't think so. But I have been working remotely full-time for the past four or five years, and I'm never going back to using an "office phone system" again.
I'll tell you why. But first, let's get some definitions straight.
What is a remote phone system?
A remote phone system is essentially a phone system that lets you make phone calls when you're away from the office, or "remote."
These phone systems are often virtual phone system or VoIP (Voice over Internet Protocol) phone systems (also sometimes called cloud phone systems), which means they are cloud-based and let you make phone calls over an Internet connection.
Often, these remote phone systems will come with a softphone (a desktop app and mobile app)—and many are also compatible with desk phones and IP phones.
Dialpad, for example, does exactly this. It works across PCs, Macs, iOS, and Android mobile devices.
Oh, and it works on web browsers too. Yes, I can make a phone call or send someone an SMS message from my web browser. (See why I can't go back to "office phone systems" anymore?)

2 main types of business phone systems you're probably familiar with
Landline / PBX systems
Traditionally known as an "analog phone system," landline-based phone systems originated in 1876. That's literally over a hundred years ago.
With these on-premises PBX systems, you'll need physical phone lines and other hardware. Landlines connect to a phone service provider and hardware like phone sets, hubs, switches, adaptors, and more. Laying down networks of wires to facilitate landline calls is also time-consuming, and there's a host of installation, support, and update considerations associated with this type of phone system.
VoIP
On the other hand, you've got VoIP phone service providers that let you have phone calls using your Wi-Fi or data network.
Generally, VoIP phone systems are popular with small businesses because they're much more affordable. You can pay on a monthly basis instead of having to invest a large chunk of money up front.
It's also much easier to implement a VoIP phone system than a landline-based phone system because there are no hardware expenses. Usually, you can get started on your own without technical assistance.
Why a "phone system" isn't the answer
Okay. Now let's go back to that crazy statement I made earlier. Yes, a VoIP phone system is more cost-effective and more remote-friendly than a PBX phone system.
But I'd argue that neither type of office phone system is a good solution—unless business calls are the only mode of communication that your company uses. If you only use phone calls to communicate with your clients, prospects, vendors, freelancers, and so on, then sure. Go with a VoIP provider or PBX phone service.
What is the answer, then?
A UCaaS, or Unified Communications as a Service, solution.
What is it? Well, a UCaaS solution is basically an office phone system on steroids. It lets you make phone calls from a business phone number, sure, but it also lets you send SMS/MMS messages, do video conferencing, and more.
Take Dialpad, for example. The app works on computers and mobile phones, and from that one app, you can talk to people through all those communication channels.
Not only that, it comes with all your must-have business phone system features like customizable caller ID, auto attendant, call forwarding, and call routing:

Are you budget-conscious? A UCaaS platform is much more cost-effective than a small business phone system for a few reasons.
Sure, it's flexible and you can pay by the month or year like with VoIP providers—but an added benefit of UCaaS is that you consolidate multiple tools into one. Instead of having one app for video conferencing and screen sharing, another for business text messaging, and another for your contact center—you could have a single platform that handles all of that.
That's one business communications tool for your IT team to admin, one invoice for your Finance team to look at... You get the idea.
💡 Fun fact:
Dialpad's most basic plan comes with unlimited calling in your country, the US, and Canada, SMS/MMS text messaging in the US and Canada, unlimited call recordings, and a lot more.
A few signs that your current phone system can't keep up with your business
So, how do you know when it's time to look at a more robust or modern communications solution for your business?
Your distributed team is experiencing poor call quality
Call quality is especially important for remote work because when you work from home, your Internet connection may not be as good as it was in the office.
While uptime could be simply be an issue with your Internet service provider, your phone system also plays a part. Surprise!
Dialpad's unified communications platform, for instance, is designed to automatically adjust the call quality depending on all the attendees' connections so that instead of dropping calls or letting the audio cut out, you might instead experience a slightly lower audio quality. (Which we've found that most people prefer since you don't lose parts of the conversation this way.)
💡 Did you know?
Dialpad has a 100% uptime guarantee for Enterprise customers.
Your business phone system is hard to scale—and hard to use

So what does "hard to scale" mean?
It means your phone system makes it hard to grow your business. It means you can't add phone lines a new employee or a new office easily.
It means you need to hire an IT technician to do simple things like update your call routing or add and remove team members.
With a UCaaS platform like Dialpad, you can make all these changes in real-time with just a few clicks:

You can also make changes to call queues or upload new auto attendant greetings right from your online dashboard, also in a few clicks. (Not all phone systems let you do this, so make sure to test these features out in the free trials or sales demos!)
You need more communication channels
For most teams today, phone calls aren't the only channel they use. Most people are also having video meetings, texting, and sending team messages to a group thread on a daily basis.
If your current phone system (yes, even if it's a more "modern" cloud phone system) can't give you that functionality, it's probably time for an upgrade.
You're realizing your current system isn't very cost-effective
One of the biggest disadvantages of on-premises phone systems and desk phones is that once you've put the money in, you can't really scale back down.
Which means if you have a seasonal business that experiences high call volumes at certain points of the year (like a retail shop), you can't always scale back down.
Sure, most PBX and even VoIP providers let you add new users (and pay more) easily, but what happens when the busy season is over, and you want to remove your contractors from the communications system?
👀 Thinking of moving to hybrid work?
Grab the Hybrid Work Playbook, which includes real-life case studies and breaks down all things hybrid + remote, from building and sustaining a hybrid workforce to equipping your team for success.
Why a good communications platform is important if you have remote employees
They can stay in touch with team members and customers from anywhere
Well, anywhere they have a good Internet connection. Whether your employees work from home or their local coffee shop or anywhere else, they can do that easily without any hardware beyond a computer and/or their mobile device.
They can even keep their virtual water cooler chats with co-workers!
They can use their cell phones while still protecting their privacy
Not everyone has a desk phone in a remote work environment. No problem.
With a UCaaS platform, you can have your business phone number separate from your personal number—on your cell phone.
That means that remote workers who have to take calls with customers or prospects regularly (like your team members in sales) can do that from their cell phones without exposing their phone numbers.
For example, with Dialpad's mobile app, you can choose which caller ID to display when you make a business call from your phone: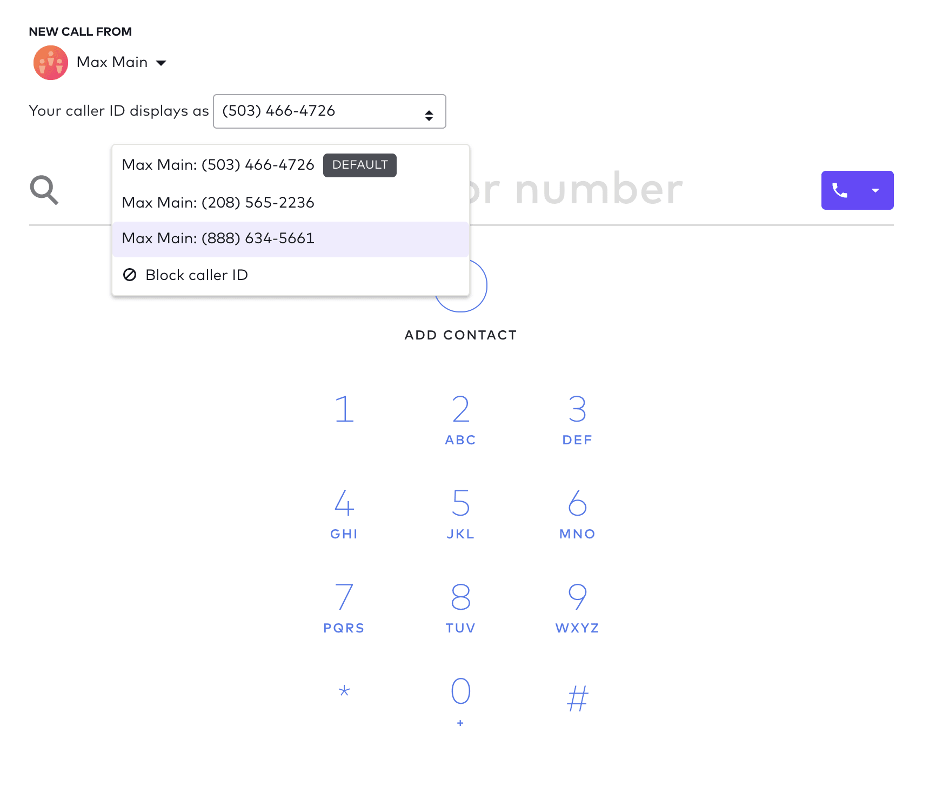 It makes life easier for your IT team to manage and admin
What do you think is easier for an IT team in a company of, oh, let's say 100 employees, to manage: one communications platform for everyone—or four different apps for everyone that, together, cover those same communications channels?
And speaking of IT, security and compliance will be important too. A good platform will have robust security and help your organization or business stay compliant. For example, if you're in healthcare, your phone system needs to help you stay HIPAA-compliant.
A few examples of why Dialpad's unified communications platform is a better alternative to an "office phone system"
Easy setup
Setup literally takes a few minutes. You can try the free trial to test it out—which takes a few clicks—and you'll be set up with a virtual phone number.
That's it. After that, you can set up all your call management settings like call routing, contact center departments, voicemail greetings, and more from the online dashboard
Need help porting phone numbers? Our team can help with that too.
Integrations with other software you're using
If you're already using other software, it's essential that they seamlessly integrate with your phone system. For example, your CRM could have an integration with your phone system to let you make phone calls directly from your CRM (instead of having to switch windows or tabs).
Dialpad integrates with Salesforce, HubSpot, Zoho CRM, and more to do exactly that:

It also integrates with your everyday business communications tools like Google Workspace and Microsoft 365 to automatically populate your calendar invites with online meeting links. Running a contact center team that uses ticketing software like Zendesk? Dialpad has an integration with that too.

And if you have a homegrown CRM or a niche tool, Dialpad's got an open API that lets you built custom integrations.

Real-time call analytics and reporting
Not all VoIP phone systems come with this, though it's important for many businesses.
If you want to easily monitor metrics like incoming calls, missed calls, and average speed to answer, make sure your communications platform has that built in!
Often, phone systems and call center platforms don't have call analytics built in, or make you submit a ticket for their customer support teams to pull this data for you. If you don't want to have to wait hours or days every time to get that data, pay attention to this functionality during your free trials.
Dialpad, for example, has a lot of these dashboards built in. You can even see IVR menu analytics that show you which call routing options your callers are using (or not using), so you can continuously optimize that experience:

Unlimited call recording
Whether it's for training and development, or just to have a record of past conversations or team meetings, call recordings are very useful.
With Dialpad, you can turn on automatic or manual call recording.
Managers can even create coaching playlists of the best (or worst) phone calls so that their agents and new hires can listen to the recordings and learn on their own time:
This is one of those features that you'd almost never find with old-school phone systems.
Built-in AI
Okay. This is something that is unique to Dialpad, meaning even other VoIP or cloud phone systems don't have this.
So Dialpad's artificial intelligence (Dialpad Ai, built in-house) can do a ton of useful things for businesses.
It can transcribe calls in real time and automatically email a recap with action items and the transcript(!) to all the attendees in your meeting:

It can even transcribe your voicemail in real time. I don't know about you, but I miss phone calls almost every day. Usually, it's because I'm in meetings. (Sometimes, it's because I need to make lunch.)
If I'm at my computer and just on an another call, I can see Dialpad transcribing that voicemail—live as my caller is leaving that message!

It's very cool. It lets me know what people are calling me about even when I can't listen to the audio of the voicemail message. Ultimately, it helps me prioritize my responses and get back to people more quickly. I can also easily forward voicemails to co-workers (delegation at its finest) from the app.
But Dialpad Ai can do even more—and it's especially useful for contact center teams.
Managers can track how often keywords or phrases come up in customer calls (like "Competitor X" or "refunds" for instance). And to go one step further, they can also create RTA (Real-time Assist) cards with tailored notes on these tricky topics and set them to trigger automatically on agents' screens when those keywords come up:
This way, contact center supervisors don't have to personally coach every call, but they can still make sure agents have the information they need to answer difficult questions about a range of topics!
(And yes, it even does live sentiment analysis so that supervisors can easily monitor multiple calls simultaneously.)
If your contact center has remote employees, this is massively useful because a supervisor doesn't have to physically shadow their team to help them.
Think beyond a remote office phone system for your remote team
Working in silos is a problem for even in-office teams. And in my experience, it's even more of a challenge when you have remote workers.
But it's not an insurmountable challenge—if you have the right communication tools.
And today, it's time to think beyond a "remote office phone system." If your team needs a messaging app, a video conferencing app, and another XYZ app in addition to your phone system, then the issue might be your phone system.
Want to see what a UCaaS platform can do for your business? Sign up for a free 14-day trial to take Dialpad for a test drive! It takes just a few minutes to get started, and you'll be set up with a virtual phone number too.

Think bigger than a phone system
Try Dialpad for free with a 14-day trial and see how you can make phone calls, have video meetings, and send SMS/MMS + team messages, all from a single app. It takes just a few minutes, and you'll be set up with a virtual phone number too.
Remote office phone system FAQs
What kinds of businesses benefit most from a good remote office phone system—or better still, a UCaaS platform?
The flexibility of the best communications platforms means that these cloud-based systems can benefit a wide range of businesses and industries. As long as your business needs a communication tool to handle internal and external channels like phone calls and messaging, a UCaaS solution just might be a good fit for you.
If your business has remote workers or operates on multiple sites (like a hotel chain or healthcare practice), these types of cloud communication systems can give you more flexibility.
What is "unified communications?"
What is the best remote office phone system?
How much does a remote office phone system cost for small businesses?
How do you set up a remote phone system?
What features should I look for in a UCaaS or VoIP service provider?
Who benefits most from VoIP office systems or UCaaS solutions?
Can you use a VoIP phone as a regular phone?