Back to Blog
How to set up a virtual water cooler: A step-by-step guide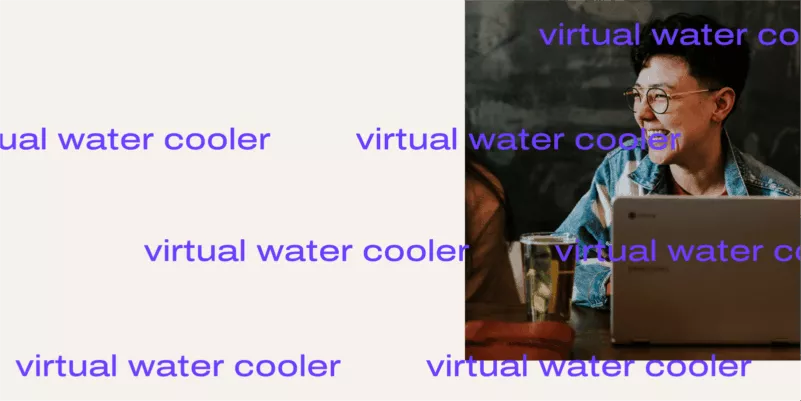 Remote work offers excellent lifestyle benefits and increased flexibility—but the shift toward this hasn't been without its challenges.
While 71% of employees in a PwC survey consider remote work a success, 87% also agree that the office plays a critical role in building team relationships.
Without the shared space of an office, virtual teams often miss out on the spontaneous water cooler chats about life (and that hilarious new Netflix show that allows us to get to know each other on a more personal level.)
But who says remote employees can't have those face-to-face office water cooler bonding moments too?
If you're managing a remote workforce, you and your team will benefit from implementing a virtual water cooler.
In this post, I'll walk you through what the virtual water cooler looks like today, how to set one up, the tools you'll need, and some inspiration for virtual water cooler activities that everyone will enjoy.
What is a virtual water cooler?
If you've ever worked in an office environment, you probably remember the water cooler as the place you go to rest, rehydrate, or just shoot the breeze.
Although we still refer to it as a "water cooler," this place doesn't necessarily have to be an actual water cooler. It might be a kitchen, a snack table, or a coffee machine. Essentially, it's a physical location where employees can connect and have a chat to disconnect from work, even for just a few minutes.
But what happens to the water cooler space when your teams are working remotely?
Employees might be working from home, from a co-working space, or a coffee shop. So, how can they access a workspace that lets them talk about non-work things or have after-work meetups?
It might seem trivial, but without the water cooler, it can be difficult for remote employees to feel connected and part of a real team.
That's where the virtual water cooler comes in.
A virtual water cooler is like a virtual break room. It's an online space where remote workers can relax, share memes, or chat about the latest TV shows they're watching.
Typically, all you really need is a UCaaS or unified communications solution. Even though most businesses use these to facilitate all their business communications needs, the fact that these platforms have integrated voice, video, and messaging in a single cloud platform also makes for a great virtual water cooler tool!

If you're already using Dialpad as your cloud communications and remote team management platform, you'll find that many of its features can easily work as your virtual office's water cooler and many team bonding and culture-building activities.
This is especially important for teams with people in different time zones, since a virtual water cooler lets you drop in and out of the messaging thread or conversation as you need to, just like in a physical office where people might take coffee breaks at different times.
The importance of a virtual water cooler for remote workers
Helps bond teams
Remote workers are, by nature, independent individuals. After all, they're in charge of meeting their own deadlines, using their problem-solving skills to get tasks done, and communicating with teammates—all without close supervision.
But when it comes to team bonding, that's where things become slightly more complicated for remote workers. After all, they miss out on all that water cooler talk in the office!
Providing teams with opportunities for virtual water cooler conversations allows them to reconnect with that kind of space. It's not going to show up in your bottom line necessarily, but being able to maintain team bonding for your workers is important because it helps nurture that sense of camaraderie and belonging that they lose by nature of being remote.
Encourages innovation
Although many people think of the water cooler as a place to catch up and share funny stories about their Saturday nights (and other slacking-off activities), they're also a surprising hub for innovation and teamwork!
Virtual water coolers provide remote employees with a space to communicate creatively without the formality of mandatory meetings.
They might even encourage impromptu brainstorming sessions where employees can develop ideas about new projects or how to improve remote working policies.
Improves employee engagement
Remote teams are often spread out all over the globe. This is a huge advantage for businesses, as they're able to serve a global audience and provide round-the-clock customer service.
However, when you add cultural differences and misaligned time zones into the mix, it can be difficult for remote teams to connect beyond daily emails or group meetings.
A virtual water cooler not only improves relationships between teams but also reinforces a company culture with a secure space where employees can drop in to feel a part of something larger.
Different types of virtual water coolers
Team water coolers
This type of water cooler is generally a virtual space like a channel or chat room where employees within a specific team can head when they just need a few-minute break to have casual conversations without stressing about impending deadlines or specific work-related tasks.

👀 Interested in remote or hybrid work tips?
Grab the Hybrid Work Playbook, which includes real-life case studies and breaks down all things hybrid + remote, from building and sustaining a hybrid workforce to equipping your team for success.
Virtual club water coolers
Virtual clubs are a great way to open up new avenues for socialization and friendship outside of work. Ask your teammates which kind of clubs they'd be interested in forming based on common interests. It can be anything like a book club, film club, or cooking class!
Dialpad's HD video conferencing with screen sharing feature comes in handy for hosting club nights. Anyone in the call can share their screen, which is great if you need to zoom in on a chapter in a book or watch a movie together. Just click the button in the meeting screen and decide if you want to share your entire screen, a single window, or a file or document.
Not only that, Dialpad also has some built-in features that are designed to drive engagement and make things more fun (maybe you need an icebreaker or conversation starters), like emoji reactions, an in-meeting chat, and Buzzword Bingo!
Office water coolers
Breakroom chat might be one of the things people miss the most about the office environment.
Remote work offers lots of flexibility, but the truth is that sometimes those little chats by the coffee machine can break up your day at work and make a huge difference. Some people think that it's bad for employees to slack off, but we're all human, and if you want to avoid burnout, you need these little moments of "intentional slacking."
There are a few ways you can create a virtual breakroom. You could organize a daily or weekly video conference during a scheduled coffee or lunch break that employees can join, or create a group chat where people can share news, discuss upcoming events, or just share memes and videos.
Another great idea is to set up virtual coffee 1:1s (we do this!) between remote team members. This way, they can get to know each other in a casual video call while they sip their mid-morning cup of Joe.
With Dialpad's Clubhouse-inspired Sidebar feature, you can drop into a channel or group for a short ad hoc voice chat:

Happy hour water coolers
After-work drinks on a Friday night is prime bonding time for workmates. Heading out to catch the happy hour is the perfect end to a long week at work. But what happens when your team isn't in the office?
Virtual happy hour water coolers are a great way to facilitate those post-work bonding sessions for your remote or hybrid workforce—with or without the alcohol! These can take place any night of the week and could be a trivia game, wine tasting, movie night, or workplace celebrations like birthdays.
Here at Dialpad, we use Dialpad's conferencing feature (of course) as our go-to app for virtual celebrations. Dialpad's reliable HD audio and video means that we don't have to deal with video cameras freezing or calls dropping—and Dialpad even automatically adjusts video quality based on available bandwidth!
2 main virtual water cooler options for remote and hybrid teams
Video conferencing software
Video conferencing software has become an essential part of every remote team tech stack.
Virtual meetings are the most straightforward method for connecting remote teams, as it allows teams to put a face to their colleagues' names.
For remote teams, video conferencing is an invaluable tool that can also facilitate a virtual water cooler environment.
With a solution like Dialpad, you can set up a video meeting "break room" where remote workers can go to have a coffee and a chat with colleagues during the morning or lunchtime. Team members can join a meeting with a single click on any browser, desktop, laptop, or mobile device!

You can even set up recurring meetings to take place every day or once a week. If your Google or Microsoft 365 calendar is synced up with Dialpad already, simply check the "recurring" box and choose whether you want the meeting to occur once a week, every other week, or once a month.
With this feature, you can set up an office break room that remote workers can join every day to chat and get to know each other or organize monthly happy hour events or virtual clubs.
With Dialpad's business communications solution, you can host meetings for up to 150 participants that last up to five hours. With this in mind, you might even consider creating a virtual co-working space where people can recreate an office work environment.
Group chats
Group chats are another great way to connect remote teams in a virtual water cooler. With a platform like Dialpad, you can create and name group chats based on interests, virtual clubs, or just a channel for non-work-related chat.
Using Dialpad for all your business communications means you have access to virtual water cooler chats without introducing new software. In Dialpad, any team member can create topic-based channels which anyone in the company can join.

And when you're creating a channel in Dialpad, you can choose to make it public or private. This way, if you don't want the channel to get out of hand, you can choose who to add. This is handy for scheduling department social events or virtual clubs that meet every week or daily breakrooms.
👉 Dialpad tip:
This is a bit of a different use case, but you might want to create a virtual water cooler for your customers as well. Many businesses have created this on social media platforms like Facebook or LinkedIn—typically you'd create a closed group for your customers or users. Of course, these aren't really for chatting about personal lives and hobbies. They're meant for your customers to ask each other (or your team) questions and a way to build a community on social media.
How to set up your virtual water cooler
1. Choose the right platform for your team
There are plenty of software solutions out there that can facilitate your virtual water cooler environment. Make sure the platform you choose is user-friendly and convenient to use. If you're already using Dialpad for your business, then it's super easy to use it for your virtual water cooler too.
And since we use it ourselves, we'll show Dialpad as an example here.
Like I mentioned earlier, Dialpad isn't just a great platform for a virtual water cooler—and it's much more than a business phone system. Dialpad takes care of all your business communication needs with a robust, feature-rich, AI-powered platform that lets you make phone calls, have video meetings, and even send instant and SMS messages from one app. Oh, and the app also works across iOS, Android, PC, and Mac for even more flexibility.
You've got all your advanced calling features, and of course, as a platform for your virtual water cooler, Dialpad has all the features you need to set up everything from relaxed spaces that remote employees can chat in to interactive events and team-building activities.
Use Dialpad to set up virtual water cooler environments with chats and virtual meeting breakrooms. When it comes to hosting virtual office events like after-work drinks or film nights, using Dialpad's easy-to-use, yet powerful video conferencing platform means no one will miss a thing.
And if you want to be able to do some team-building or creative brainstorming, the screen sharing and integrations with whiteboard tools like Miro will come in handy:

Another unique thing about Dialpad is that you can seamlessly flip a call between different devices, so if you need to step away from your desk but don't want to miss out on the virtual coffee break chats, you can just flip the call to your mobile device without interrupting the conversation and take it with you on the go!

2. Create invites for teammates and participants
Once you've chosen your platform, it's time to send out the invites. Virtual water coolers should be open for staff members to pop in and out of when they want to.
More organized events like virtual clubs or celebrations might need a bit more preparation when it comes to inviting people. For video meetings, Dialpad lets you send out invitations within the app, and participants can join just by clicking a link on any Internet-connected device.
Set messaging channels as public so that anyone can join them if they're interested in the subject. But make sure to send out invites to everyone as this can make shy people feel more confident in joining.
It's also essential that employees have the option to leave or mute the channel if they wish—which you can do with Dialpad:

3. Build separate rooms and channels for different teams
Next, it's time to start building separate rooms and channels for teams across your organization.
Make sure that those who would work in an office together are able to meet at their virtual water cooler, but also consider creating a virtual space where remote workers from different departments can connect to build a stronger company culture.
Create channels and rooms for sharing funny stories, discussing hobbies, planning events, or just general chat during the day. Once you get started with virtual water coolers, you'll find that people will quickly follow suit and begin posting regularly.
Fun virtual water cooler ideas and activities to try:
Meme wars
Everyone loves a good meme. Set up a channel dedicated to memes where remote workers can see who can share the most hilarious meme.
Show and tell
Remember this one from primary school? Encourage employees to bring an interesting or funny object to work to show and tell everyone at the water cooler about. This activity is a great conversation starter!
Pet channel
Who doesn't think their pet is the cutest? Create a channel where team members can share adorable and funny photos and videos of their pets being silly. This is a great way to bring a few smiles to your virtual office. Besides, we're pretty sure looking at photos of cute animals reduces stress...
You might even start a poll where people can vote on whose animal is the cutest, but be careful; people can be very protective of their pets!

Trivia
Who doesn't love a bit of trivia? Turn your virtual water cooler happy hour into a quiz night where everyone is placed in a small team and has the chance to work together to answer a series of questions. You might theme the quiz around sports, films, general knowledge, or any number of topics.
Scavenger hunts
This is a fun one—you can create a scavenger hunt list of things that employees have to find from their homes in a certain amount of time (like a roll of toilet paper, a video game controller, a toothpick, the more random and challenging, the better).
Boost the remote employee experience with a virtual water cooler!
Virtual water coolers are spaces where distributed team members can come together to experience those in-office meetups that aren't possible in the world of remote work. But it's also important for business leaders to make an appearance every now and then to reinforce a sense of company culture beyond organizational boundaries.
Water cooler chats can help create a better digital employee experience and more importantly, boost employee morale. And we all know that when employees are more satisfied and confident at work, they're more likely to perform well.
With the right tools under your virtual belt (like Dialpad), fostering those virtual water cooler spaces doesn't have to be difficult. Remember to keep topics light and events fun to give remote team members the opportunity to get to know their colleagues outside of their laptops.
Want to set up a virtual water cooler for your distributed team?
Sign up for a free trial of Dialpad's unified communications platform to start making VoIP calls, sending messages, and hosting / joining video meetings! It takes just a few minutes, and you'll be set up with a virtual phone number too.