Back to Blog
The best video conferencing equipment options for businesses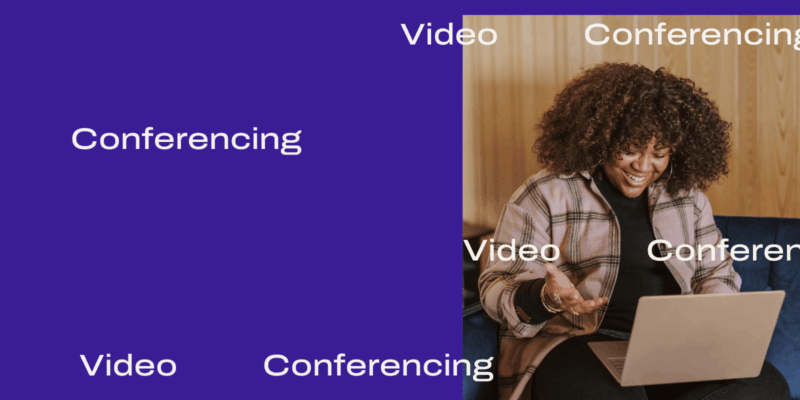 Over the past year, more and more businesses have been functioning with remote and hybrid teams.
And one development that's happening alongside this is the growth of software that makes seamless communication and video collaboration possible.
Whether you're a small business or an enterprise, video conferencing has likely become a big part of how you communicate with your teammates, clients, prospects, and more.
So, what equipment do you need in order to have these real-time conversations over video conference calls?
And how do you decide what's a "must-have" for video conferencing versus what's just a nice-to-have?
We'll break it all down for you in this post. Want to have a great video and audio experience? Keep reading.

4 common challenges faced in a virtual meeting room (that you can solve with the right equipment!)
Online meeting spaces and technology are connecting teams more effectively than they ever have before. But as with all good things, video conferencing does have challenges if you don't have the right setup.
1. Bad connectivity
Video conferencing software makes it easy for your team members, remote or office-based, to collaborate—but only if you have a good internet connection. No one wants to suffer through a laggy conference call, so before you get going, check your internet!
Employees joining a video meeting in the office might have no connection problems, since they'll be connected directly through the company network. But, remote workers are at the mercy of their own devices and setups.
If you're working from home and need to upgrade your Internet, Dialpad's collaborated with T-Mobile to bring you a unified communications platform—on lightning-fast 5G connectivity. If you need reliable and stable HD call quality, and a tool that gives you video meetings, phone calls, messaging, and more, check it out: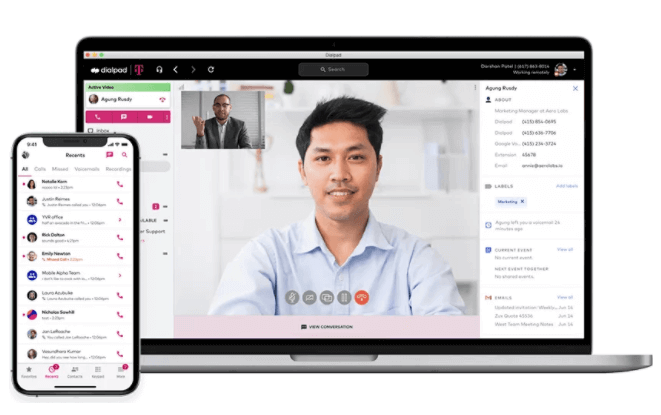 2. Incompatible software
It's no secret that video conferencing solutions are great for connecting a remote and dispersed workforce. But with remote workers and bring-your-own-device (BYOD) flexibility come more challenges. The more devices that everyone uses, the harder it is to get a seamless experience.
This is one big reason why "all-in-one" platforms are becoming so popular. It's just better to have one software that lets you make a phone call, have a video conference, and text your team, all in one place.
No more toggling between different apps and logging into five different tools.
Most video conferencing tools let you join an online meeting from a web browser, which is great because you don't have to download anything.
But did you know there are video conferencing apps that even let you host a meeting from a web browser (with all the functionality you would've had in the desktop or mobile app)?
Yep, you can do that in Dialpad. No matter what desktop or mobile devices you and your team use, it's browser-based, meaning all you need to have the meeting is just your browser: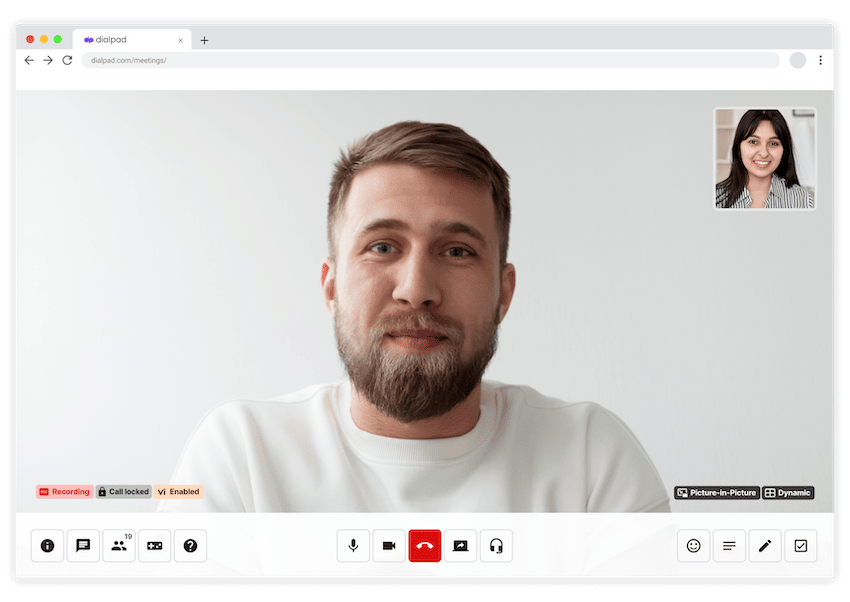 3. Time zones
One of the biggest challenges with a remote team that's dispersed across different time zones? Your video conferencing calls have to be scheduled at a time that fits everyone (or as many attendees as you can).
👉 Dialpad tip:
If you use tools like Google Calendar to schedule your video meetings, the nice thing is you'll be able to see other people's calendars and time zones while you're creating the invite.
4. Security
Your business needs to protect its company and customer data. And any time you do business online, your data is at risk. You've probably heard of all the stories where people have hacked into Zoom meetings and harassed attendees or posted obscene messages on the screen share.
There are a few rules of thumb to prevent this from happening (or minimizes the chances of it happening, at least).
One is to make sure your video conferencing software comes with security features like password-protected meetings.
Another is to look for features that allow the host of the meeting to mute attendees, boot out unwanted attendees, and lock the meeting after the attendees have arrived. For example, these controls are all easily accessible in Dialpad on your meeting screen: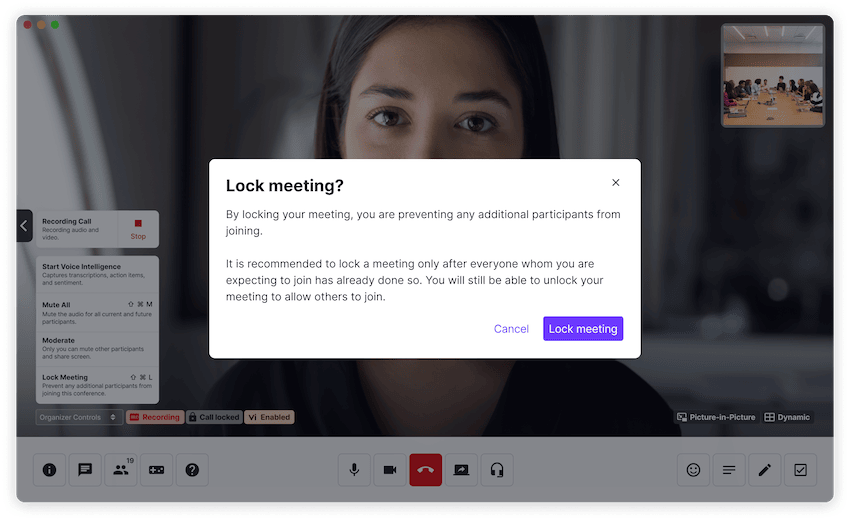 These basic features will allow you to keep uninvited people out of your meetings and maintain a good baseline level of security.
Okay, now that we've gotten that out of the way, let's look at the equipment and hardware you'll need.

👀 Interested in remote or hybrid work tips?
Grab the Hybrid Work Playbook, which includes real-life case studies and breaks down all things hybrid + remote, from building and sustaining a hybrid workforce to equipping your team for success.
Must-have equipment (and a few nice-to-haves) for video conferencing
If you're doing video conferencing for work—especially if you'll need to meet with clients and prospects—you'll need good audio and video. This isn't your average family Skype call, after all. Here are a few things to look for.
A good camera
You've probably used a webcam before. And you've probably also experienced choppy or pixelated video before, which didn't make for a great experience.
But when you're video conferencing with a client, it's probably best not to leave your video quality up to those built-in laptop webcams.
Depending on your preferences and your clients' or prospects' expectations, you'll want HD video at the very least, and maybe even 4K fidelity.
For those of us in hybrid environments, cameras for video conference rooms should have pretty good flexibility in how and where they can be mounted. If you're shopping for conference cameras, look for things like adjustable viewpoints, wide angles, and remote controls. (Oh, and make sure you have the right cables and dongles for the conference room. You don't want to have everything mounted and set up, only to realize you're missing an HDMI cable.)
Headphones and speakers
When it comes to headphones, they're not technically a must-have because your laptop or computer probably has speakers built in.
But if you're going to be in and out of huddle rooms or taking video conference calls on the go, you'll need these. (Plus they're a great way to eliminate mic echo during video and audio conferencing.) On a related note, here are some of the best headsets for video conferences.
Microphones
In a meeting, it's critical that the other person in the meeting can hear you clearly.
Typically, you'll need different microphones for different spaces. For example, conference room mics should have a 360-degree range of pickup so that they can pick up anyone's voice, no matter where they're sitting in the room.
Some headsets come with great mics that automatically suppress background noise, so look for that feature if you know you won't always be able to take your meetings somewhere relatively quiet.
Speaking of backgrounds (on the visual side), if you don't get a chance to clean up your office space before a meeting, Dialpad's virtual backgrounds and blur feature can help with that: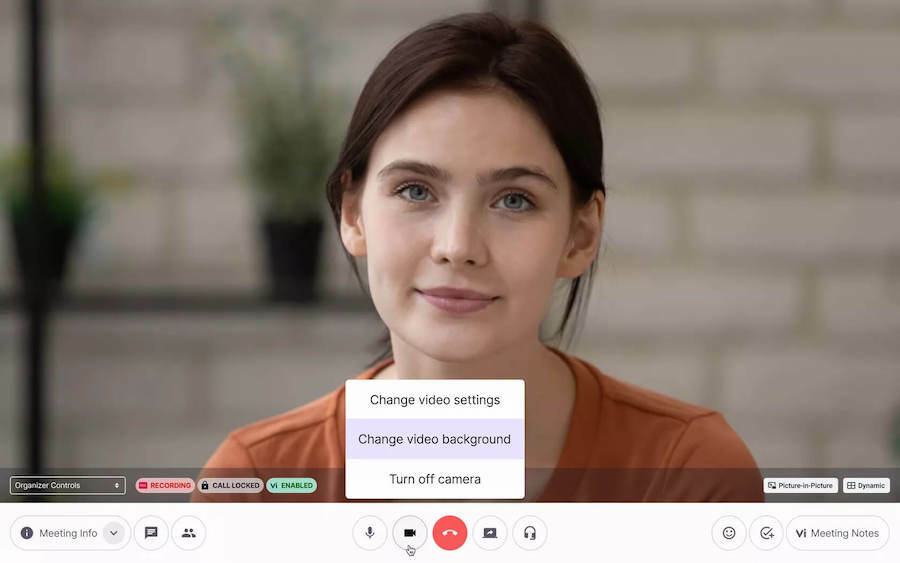 Remote controls (nice-to-have)
For better control of conference room systems, you'll probably want a remote control. These can let you toggle things like who's screen sharing, skip to the next slide of a presentation, adjust the speakers, and more.
Smartboards (nice-to-have)
A smartboard is basically an electronic whiteboard and is a great addition to any video conferencing room that'll be used for things like brainstorm sessions.
These come in many sizes and dimensions to fit small and medium conference rooms.
If you can't fit a physical board into your meeting room, there are other collaboration tools and whiteboarding apps too. For example, Miro basically gives you and your team a virtual whiteboard that you can all draw on together—on your computer screens. And it integrates with tools like Dialpad to allow distributed teams to have virtual whiteboarding sessions online: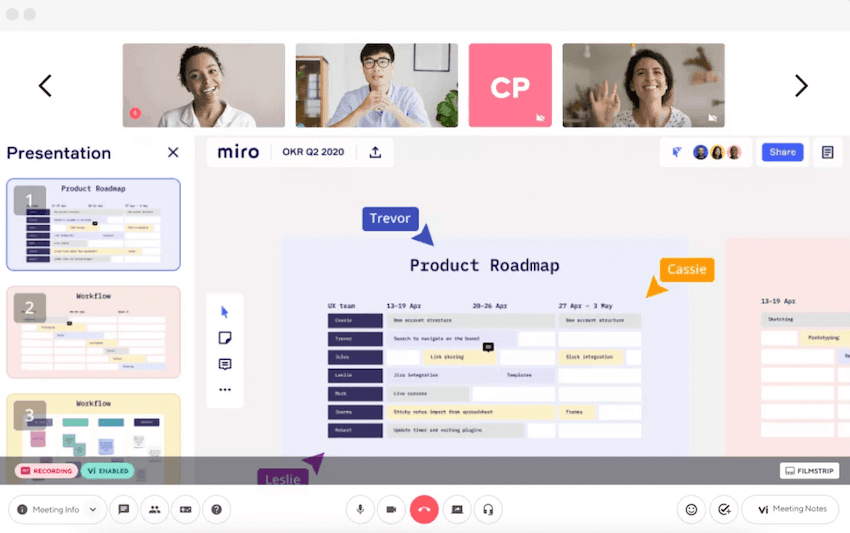 Oh, and if your team has stand-up meetings? Check out this stand-up meeting template.
Alright, now that we have a basic shopping list, let's look at some actual video conferencing equipment.
Some of the best video conferencing equipment on the market: 5 options for different budgets
When it comes to video conferencing equipment, it's definitely not "one size fits all." Each business will have to weigh the pros and cons of different makes and models... Here are some of our favorites.
And by the way, Dialpad lets you move video meetings from your cell phone to your conference room TV with just a tap:
Poly (formerly Polycom) Studio X30 and X50
Poly (which used to be called Polycom) is one of the world's leaders in video conferencing equipment. And the Studio X30 and X50 webcams are designed for both smaller huddle room spaces and larger conference rooms.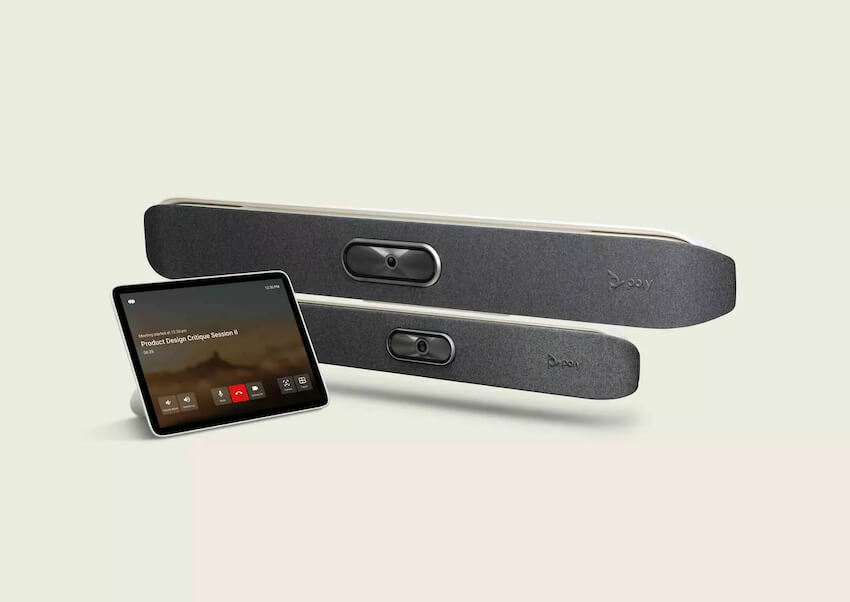 Some of the key features:
Incredible 120-degree field of view to capture the whole meeting room

The X30 is ideal for rooms with up to about six people, while the X50 can accommodate larger groups up to 10

4x and 5x zoom, respectively

15-feet and 25-feet microphone pickup, respectively

NoiseBlock AI eliminates and reduces background noise

Whiteboarding and annotating with Poly Pano for four users to share wirelessly
The high-performance and flexible design are optimal for larger meeting rooms and businesses that rely heavily on video conferencing and webinars. The price starts at $16,999 and probably isn't going to be a good fit for many small and medium-sized companies (but the investment may be worth it in the long run due to its highly flexible capabilities).
Pros:
Enterprise-grade video conferencing at a more affordable price

Next-gen automatic tracking and framing to always keep the speaker in focus

Future-proof (ish)

Easy to share (wired or wireless) screens from any device

Fully integrated with Dialpad Meetings' video conferencing platform
Cons:
Not the best option if you have a huge conference room
Poly RealPresence Group 700
One of Poly's premium offerings is the Group 700 series. The purpose of the RealPresence Group 700 is to provide ultimate flexibility with enterprise-grade video, audio, and content collaboration. This includes simultaneous 1080p video with the EagleEye video camera and content sharing.
Some of the key features:
Video camera provides high-quality life-size visuals with an incredible 12x zoom and an optional wide-angle lens adapter for a perfect conference room solution

The Poly EagleEye Producer uses facial-tracking algorithms to frame all participants or whoever is speaking in the room accurately

The EagleEye Director II gives you high-performance speaker tracking that provides detailed facial expressions and body language for clarity of context and more productive collaboration

One-touch dial from an integrated calendar

Also has NoiseBlock AI, which eliminates and reduces background noise

Whiteboarding and annotating with Poly Pano for four users to share wirelessly
The high-performance and flexible design are optimal for larger meeting rooms and businesses that rely heavily on video conferencing and webinars. The price starts at $16,999 and probably isn't going to be a good fit for many small and medium-sized companies (but the investment may be worth it in the long run due to its highly flexible capabilities).
Pros:
Enterprise-grade video conferencing

Excellent flexibility and collaboration tools

Future-proof (ish)

Great for large conference rooms
Cons:
Eye-wateringly expensive

Only four to eight video participants depending on options
Logitech MeetUp Camera
Logitech Meetup is an intuitive, beautifully designed conference cam that's designed for smaller spaces like huddle rooms:

Don't judge it by its size! Packed into a tiny form is a powerful system that gives you a high-quality audio and video experience.
Features:
4K Ultra HD Camera with 5x zoom compatible with 1080p and 720p to best support your application and monitor

The camera has a 120-degree field of view from a super wide-angle lens to keep everyone in a small room in the frame

Logitech RightSound technology includes a beamforming mic array that captures speech, auto-levels voice volumes, and suppresses noise

Bluetooth headset for audio calls
The compact design of the Logitech Meetup is perfect for companies that need to connect small teams. The price of $899 is way more manageable than the Polycom 700 Series, and it's good value for the video and audio quality you get. If you're just looking for a basic video collaboration tool that does the job, this is the one.
Pros:
Doesn't take up much workspace

Super high-quality video

Compatible with different software
Cons:
May need to purchase a TV mount

Not for medium and large spaces
Panasonic KX-VC300
The KX-VC300 video conference system offers high-quality point-to-point communication. This means meetings can be arranged easily from one Panasonic device to another.
With the KX0-VC300, you get smooth two-way stereo conversation and an MCU that's expandable up to four connections. The system has a pretty user-friendly interface and customizable options.
Features:
Video conference in 1080i or 720p

Full duplex audio with echo canceller as well as optional noise reduction installation

Integrates well with Panasonic cameras, microphones, and other devices

One remote control for all devices

Has interoperability with other video conferencing systems

Lots of screen layout options, fully controllable via remote
The Panasonic KX-VC300 conference system is great for businesses that are looking for secure point-to-point video conferencing. It's easy to set up and use, but doesn't come with many bells and whistles. The cost of the system will depend on what existing equipment you already have, since it's best for companies that are already using Panasonic, and you'll have to contact Panasonic for pricing information.
Pros:
Point to point video conferencing

Flexible screen layout

Interoperability
Cons:
Can get expensive

Works best if you're already a Panasonic shop

Designed for enterprises, not so much for remote workers

No 1080p video option
Logitech BCC950
The BCC950 is one of Logitech's more affordable video conferencing equipment offerings. This all-in-one conferencing system features a plug-and-play webcam and speakerphone, and the setup is ideal for small rooms or teams of one to four people:


The compact size makes it easy to use on any office desk or conference table (and at home).
At first glance, the BCCC950 might look a bit strange, but the motorized camera is positioned perfectly at eye level for HD video and an omnidirectional speaker makes sure everyone in the room can hear clearly.
This would be good as part of a conference room system, and is designed to work with most of the popular video conferencing applications.
Features:
Full HD 1080p 30fps with a 78° field of view and 1.2x zoom in HD or 4x in SD

Rightlight 2 Technology for perfect clarity, even in low light environments

Noise-canceling microphone with a range of 2.4m

No setup required, just plug-and-play with any Mac or PC

Bluetooth connectivity for headphones

Handheld remote control for the camera, speakerphone audio, and microphone muting

Compatible with most video conferencing apps
The Logitech BCC950 comes with a price tag of $419.95, which isn't bad at all given how well designed it is for video conferencing in huddle rooms with small groups of people. It's a nifty all-in-one system that can be moved around the office for any small meetings.
Pros:
Plug-and-play

Very portable

Comes with a remote control
Cons:
Not suitable for bigger spaces

Only meant for one to four users
AVer VC520 Pro2
AVer is a big name when it comes to video conferencing equipment. From USB cameras to full-on conference cameras and smart whiteboards, they have a ton of bundles that are designed for enterprises and larger companies:


Features:
18X total zoom (12X optical + 6X digital)

AVer SmartFrame, which automatically shifts the camera's focus and follows the presenter throughout each "saved" zone

Sony True WDR

IP video streaming
The Pro2 package is an enterprise-grade conferencing system that's designed for medium-size to large conference rooms. It comes with a high-quality camera and a full-duplex speakerphone that you can take, well, pretty much anywhere.
Pros:
Plugs into a USB port

Easy to set up and portable

Comes with a remote control
Cons:
Not for smaller spaces

On the pricey side
Still not sold? Here are 5 benefits of video conferencing
If you work as part of a remote or hybrid team, then you already know how important video conferencing can be for helping team members stay connected.
Here are some other benefits of video conferencing to consider.
1. It makes it easier for everyone to stay engaged
Getting everyone in the same room isn't always easy. And plus, there are always audio-only conference phone calls.
And while that may be true, there are certain types of conversations that just need to happen over video conferencing. From one-on-ones to more serious HR or manager-employee performance meetings, there are just sensitive topics that are better communicated face-to-face.
2. It can be a more efficient way to communicate
Text messaging, group chats, emails, phone calls. These are things we use every day. And today, many cannot fathom a world without them.
But research has shown that roughly two-thirds of communication is non-verbal! Non-verbal cues, eye contact, hand gestures, and facial expressions give much more context and information in conversations—and if you've ever had a long back-and-forth conversation over email with someone that could've just been a two-minute video conference, you know what we're talking about.
3. It is essential for companies that have customer and employees around the world
There's no way around it—if your business has a global team or customer base (or plans to get to that point), you need to video conferencing.
Even if you're not global yet, have you ever asked clients whether they want to come meet you at your office? Some folks have long commutes, and whether you're thinking about convenience for your customers or your own staff, the expectation of having the option to meet on a video conference call is going to continue to grow.
And being ready with video conferencing equipment is going to be crucial for meeting those expectations.
4. It helps you retain employees
On that note, today, more employees are prioritizing work flexibility above all else.
A recent survey found that nearly one in four remote workers in the US want their flexible work capabilities to become permanent. (Trust us, there's no shortage of these surveys that have all found similar results.)
Video conferencing gives you and your employees this flexibility—and will keep them happy.
5. It allows you to remain competitive (or even ahead of the curve)
If you want your business to succeed, then you need the best people for the job.
As attitudes towards the workplace are shifting, and companies are gaining access to talent that isn't just in their immediate vicinity, video conferencing is becoming one of the keys that'll allow you to provide a company culture that prioritizes work-life balance.
Not only that, hiring remote team members will let your organization recruit from a larger talent pool and offering some form of hybrid working will appeal to your up-and-coming Generation Z workforce.
Last note... You need something else other than video conferencing equipment
Beyond just the equipment and hardware, video conferencing has another important component: the software.
And if your business needs video conferencing (along with the ability to make phone calls, send SMS, and more), then Dialpad's unified communications platform has all of that and more: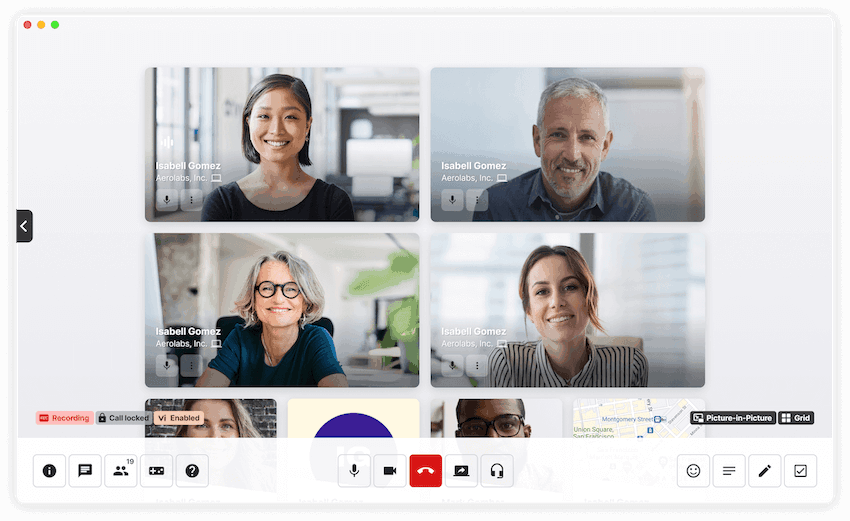 Not only do you get a browser-based video conferencing solution, you also have the option of a contact center platform (for if your business takes or makes lots of calls every day)—all super easy to set up, and accessible from anywhere.
With a video conferencing plan from Dialpad, you get:
Unlimited audio and video conferencing

No downloads needed—anyone can join your meeting online

Integrations with Google Calendar and Outlook

Desktop and mobile app for Android and iOS
And if you do need a phone system, there's a plan for that too, which includes:
Unlimited calling

Call forwarding service and transfers

Portability—keep your existing business numbers

Mobile and softphone app support

Analytics and reporting

And more
If your business needs to get set up with video conferencing (or wants an upgrade), try Dialpad for free! 👇
Need video conferencing equipment and software?
Dialpad's video conferencing platform works across devices and operating systems! Try the free plan now!