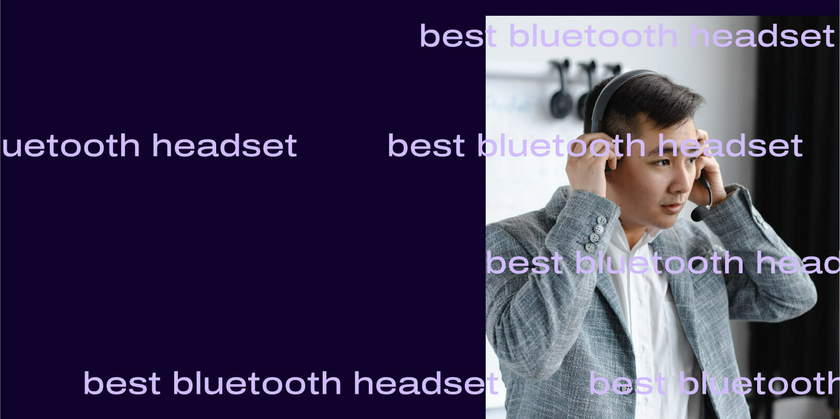 October 06, 2021
Having the right Bluetooth headset is essential for anyone who has to talk (a lot) on their phone for work.
The thing is, it isn't always easy to identify the best Bluetooth headset for work. There are just so many options out there (including many cheap knockoffs and imitations).

If you're looking for your perfect Bluetooth headset, there's much more to consider than just audio quality. There are noise cancellation functionalities, recording quality, wireless range, and many other things to look at.
In this post we'll take a look at some of the best headsets for use whether you're at home, at the office, or taking customer calls on the move.
We've also broken them down into price categories: Premium, Middle-tier, and Budget to compare the headsets more fairly on budget so you can see exactly what you're getting for your money.
👉Dialpad tip: If you're using a communications platform, it'll likely have certain Bluetooth headsets that work best with it. Dialpad, for example, generally recommends high-quality noise-cancelling wireless or wired HD headsets. Here are a few of them.
Skip ahead if you like:
How does a Bluetooth headset work?
A Bluetooth headset works by using radio waves, rather than wires or cables, to connect to your desktop, smartphone, or other mobile device.
Bluetooth is a wireless, short-range communications technology which has a tiny computer chip that contains the Bluetooth radio, as well as software that enables connectivity between devices.
When Bluetooth-enabled products—cell phones and headphones, for example—are in close proximity to one another, they can connect or "pair." Some Bluetooth headsets can connect to multiple devices simultaneously, which is really convenient because it allows you to talk on the phone wirelessly and then switch to your computer, without the hassle of cords.
This makes Bluetooth headsets especially ideal for contact center or customer service agents, because they're on customer calls all day and it lets them work more efficiently while drowning out ambient noise.
Top features to look for in the best Bluetooth headsets for agents
It's essential that contact center agents have a robust headset with strong connectivity. Old-fashioned, malfunctioning headsets won't cut it if you want agents to close more deals or handle your customers' queries or problems effectively.
You don't want your customers getting frustrated because they can't hear your agents clearly or the call keeps breaking up.
Your phone system or contact center platform should have an option for troubleshooting or reporting bad quality so they can fix things quickly. Here's an example of how that looks in Dialpad, a unified communications platform with a built-in phone system and video conferencing solution. This window automatically pops up if you rated a call quality poorly: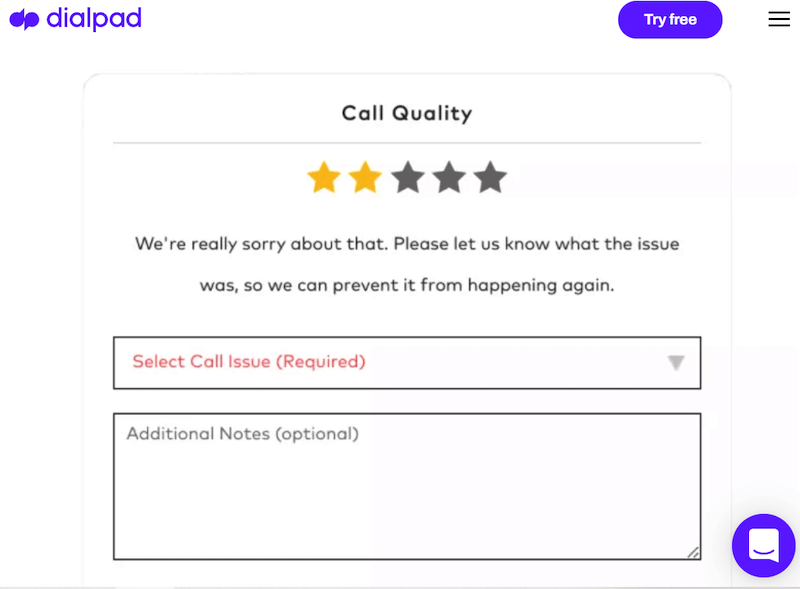 Background noise, low volume, crackling, and conversational time lags are all factors you want to avoid at all costs. The headset you choose could make or break the quality of service you provide (and yes, by extension, your customer experience).
👉 Dialpad tip: If choppiness is an issue, try plugging your USB directly into your computer rather than into a docking station.
Now, let's look at a few key features to look out for in a Bluetooth headset for work:
Long battery life
This one's a given. If you want your employees to be able to work from anywhere, a wireless headset is usually the preferred choice.
But, since they are wireless they need a battery to run. So a long battery life is important—because hey, most people don't want to have to charge their headset every hour. Of course, if you have a wired headset, this won't be an issue (but the tradeoff is you'll be stuck at your desk).
Good sound quality
While wireless technology has improved greatly over the years, the quality of sound still varies pretty widely depending on the brand.
It's not necessarily true that taking calls on Bluetooth headsets will automatically equal bad sound quality, and it's important to remember that the quality and design of the headset also plays a large role. There have also been many updates to Bluetooth's technology (an older Bluetooth headset will definitely not sound the same as newer Bluetooth headphones), so make sure to try different wireless headsets or speakers to hear the difference in sound quality.

Noise cancellation
Noise-cancelling headphones are ideal for use when working in a noisy workday environment. They create a much-needed silence for concentration—especially helpful for employees when they're working in a busy contact center, using headsets in public spaces, or just needing to escape the distractions of the home environment.

Active noise cancelling headsets (ANC) are at their best when paired with wireless technology, especially when they have a long battery life.
Some headsets allow users to switch ANC off and on, while other models give you the ability to adjust the strength of the noise cancelling feature depending on where you're using them.

User-friendly controls
Bluetooth doesn't require a complex set-up or a ton of different buttons. When two devices enter a specified range, they can pretty much automatically sync with each other.
Wireless headsets that are designed especially for customer service agents will usually have features like an integrated mic, will allow them to answer calls without needing a separate handset. This is much more convenient for agents, who can keep their hands free to take down notes or do other work, even if they're not at their desk.
Quick note: Touch controls aren't always the best! Some people find them too sensitive and prefer physical buttons—it's worth trying some out before buying to see what suits you or your agents best.
Fit and comfort level
Smaller headsets offer the advantage of staff being able to move around the office and desk space easily (even when there's not much room available). It's also important to consider the weight of the headset, lightweight being the best option so agents don't experience fatigue if they're wearing them during long calls.
Comfortable earbuds are another feature to look for—never skimp on buying a headset without the best earbuds.
For staff on the go, a robust carrying case is another useful and often overlooked feature.
The benefits of having a good Bluetooth headset
From in-ear buds to gigantic studio cans and wraparounds, and Apple AirPods to over-ears and anything in between, there is a huge variety of headphones on the market.
Here are a few benefits of having a set of good Bluetooth headphones for work.
Reliable connectivity
Since Bluetooth is a standardized wireless spec, it guarantees a high degree of compatibility between devices. It used to be that wireless headphones weren't very popular for work because the connectivity was so bad. But that's no longer the case.
With modern Bluetooth headsets, this risk of connections dropping out is greatly reduced. These days, pairing can be as simple as tapping an NFC tag, and now that there's Bluetooth 5.0 coverage, the wireless range and call quality are even better.

It consumes less energy
Today's Bluetooth technology is a high-speed, low-powered wireless link technology that isn't just more environmentally friendly than its predecessors, it's also less expensive. And since it's lower in cost, it's generally easier for companies to fit into their budget and implement.
Bluetooth is more universal than wired
As technology advances more and more, smartphones (both Android and iOS) and even computers like MacBooks are ditching the traditional 3.5 mm jack. Bluetooth is now quickly becoming the standard in terms of audio transmission.
And they're wireless, of course
Wireless headphones offer users a wide range of movement. Whether you're working in an office or chatting with customers as you travel around, you're free to move without the risk of yanking out a cord and cutting customers off abruptly. Some headphones can work at pretty large distances from the source, too, which is great for agents who like to walk and talk.

13 of the best Bluetooth headsets for contact centers, ranked from premium to budget
The right headphones are essential to ensure your team operates at peak performance. At Dialpad, we want our customers to get the most out of their conversations, which is why we take an interest in headsets and desk phones.
Here are some of our top picks for headsets that deliver the best experiences for your agents (and they're compatible with Dialpad).
Premium
1. Poly Voyager Focus UC headset (used to be known as the Plantronics Voyager)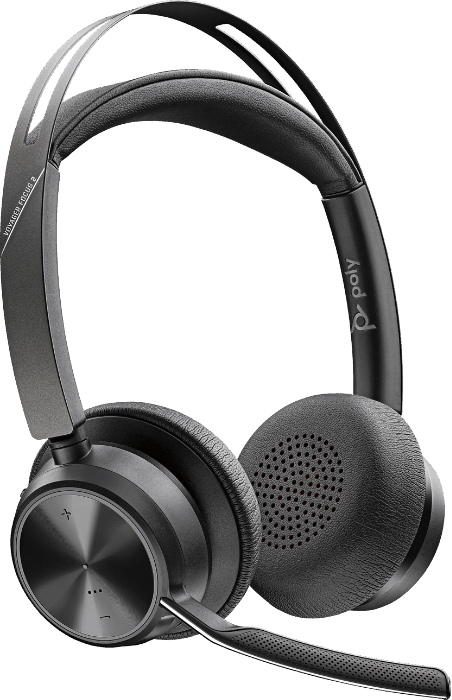 Because Plantronics has rebranded to Poly, this is the Poly version of the popular Plantronics Voyager Focus UC ear headphones. It's equipped with high-quality noise reduction and exceptional stereo sound so you can have critical conversations, even in loud environments. The pricetag is hefty, but Poly is known for its audio technology, and this headset is as good as it gets, if you can splash out.
Price:
$329.95
Specifications:
Three levels of hybrid active noise cancellation (ANC)

Pro-grade microphones using Poly Acoustic Fence technology

All-day wear comfort earphones with super cushioned sling neckband and ear cushions

Up to 19 hours of talk time

Voyager Focus can also be plugged in and used as a corded headset

Connects to computers and mobile phones, including iPhones, via Bluetooth v 5.1

Poly Lens software gives teams insights and control over voice, video, and headset

Poly Lens app provides a place to manage settings and use personal health reminders

Compatible with most popular voice platforms as well as with Dialpad

Winner of UC Best Work From Home Products 2021
Cons:
2. Jabra Evolve 75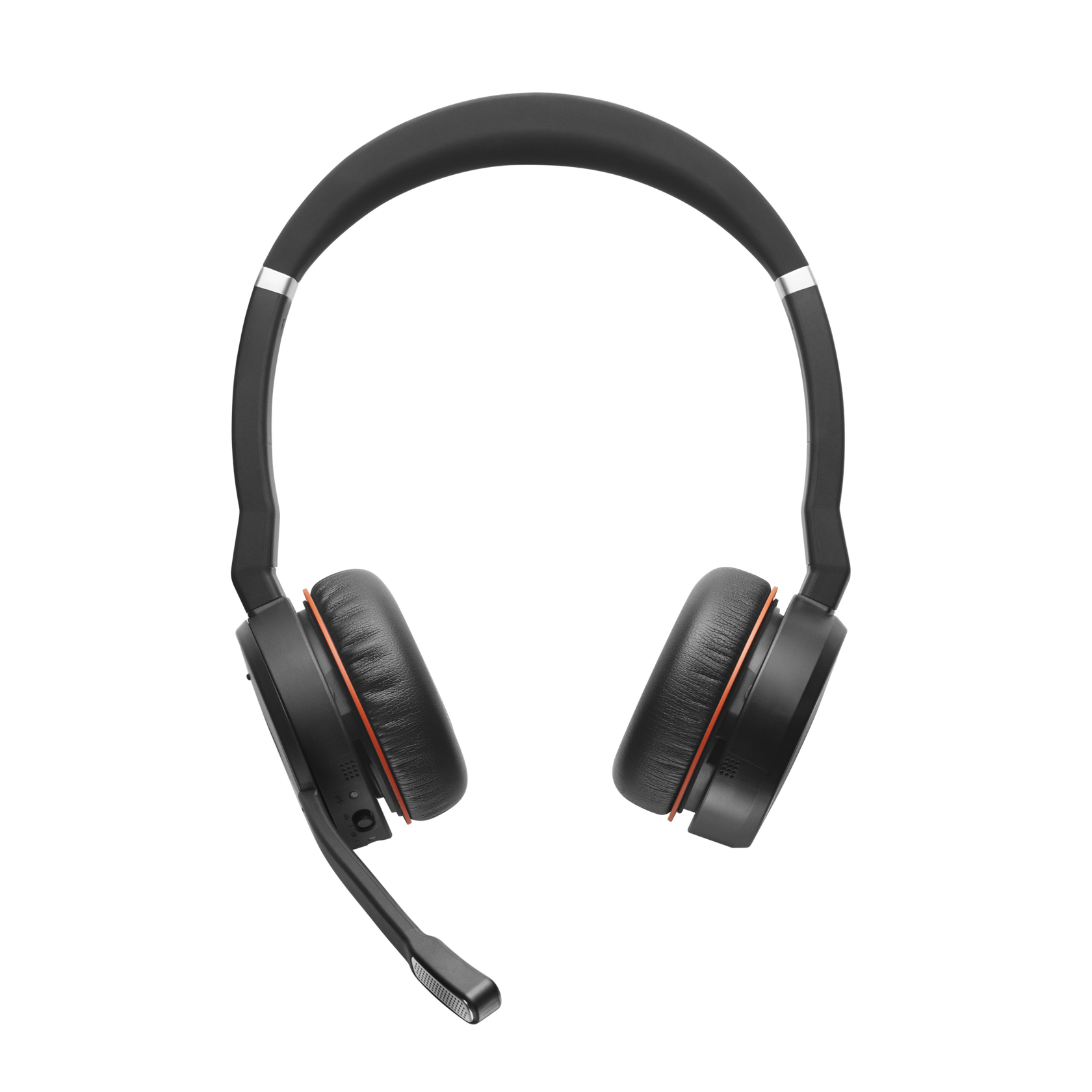 The Jabra Evolve 75 was designed to give remote workers the ability to have clear conversations in an open-office environment. According to Techradar Pro, these headsets can help boost productivity and enable better concentration. It's a shade less expensive than the Poly headset, but Jabra is also a well-known and reliable name in Bluetooth headsets.
Price:
$293
Specifications:
World-class speakers with outstanding audio and clarity for calls

Ability to switch on active-noise cancellation to eliminate even low frequency sounds, like air conditioning

Dual Bluetooth connectivity to allow two devices at a time on calls

Range of up to 30 meters from connected device

Boom microphone

Leatherette ear cushions for all-day comfort

Integrates with Amazon Connect

Listen-in feature

Compatible with deskphone, softphone, and other mobile and tablet devices

Charger
Cons:
Headphones can get a little sweaty

May be overpriced compared to other options on the market.
3. Jabra Evolve2 65
The Jabra Evolve2 65 hits all the important things with a comfortable fit, good mic clarity, and top-rated stereo audio performance. There's also the added perk that they're recommended by Dialpad because of their top-rated quality, which means that they'd definitely work with Dialpad's communications platform.
And as the Jabra Evolve 75's cousin, it's a bit cheaper, while still retaining Jabra's best features (like an impressive 37-hour battery life, which is quite a bit higher than the #1 headset, Poly Voyager):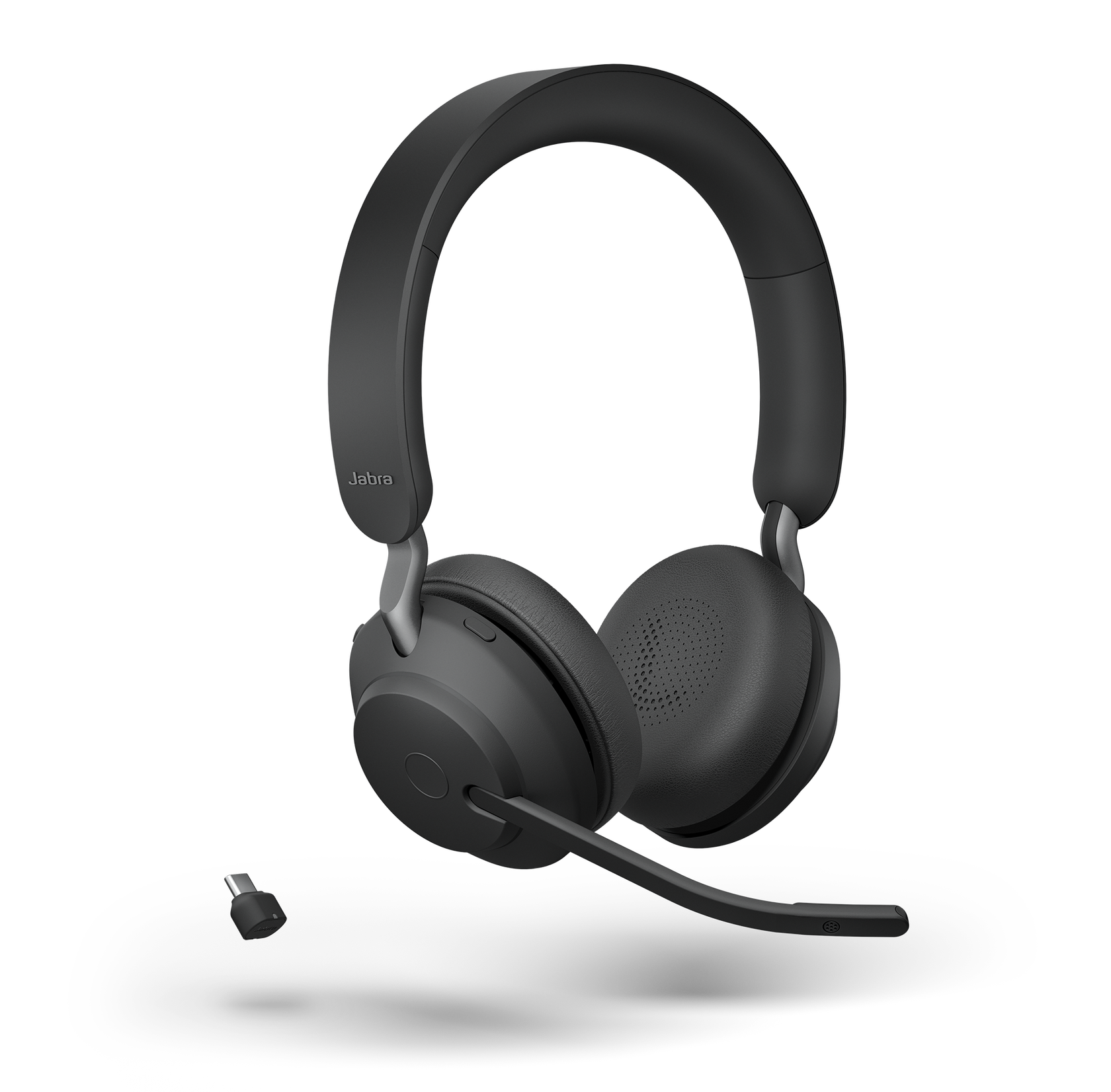 Price:
$249
Specifications:
Headphones come with superior noise cancellation abilities

The memory foam padding adds an extra layer of comfort

Angled design cancels over 48% of surrounding noise

3-microphone technology means 23% less background noise on calls

Up to 37 hours of battery life

Busylight: A red light is automatically activated when agents are on a call or in a meeting

UC-certified (a Dialpad requirement): They work well with most video conferencing platforms—via a phone or platform, and compatible with Dialpad's softphone app
Cons:
Some users complain the headset doesn't offer the best noise reduction around
4. BlueParrott B550-XT
The BlueParrott B550-XT is a 100% voice-controlled ear headset featuring technology that's designed to make working on the road or in a busy environment easy. It doesn't quite measure up to the other premium headphones in this category, but if you're concerned about price but still want a premium headset, it's an option: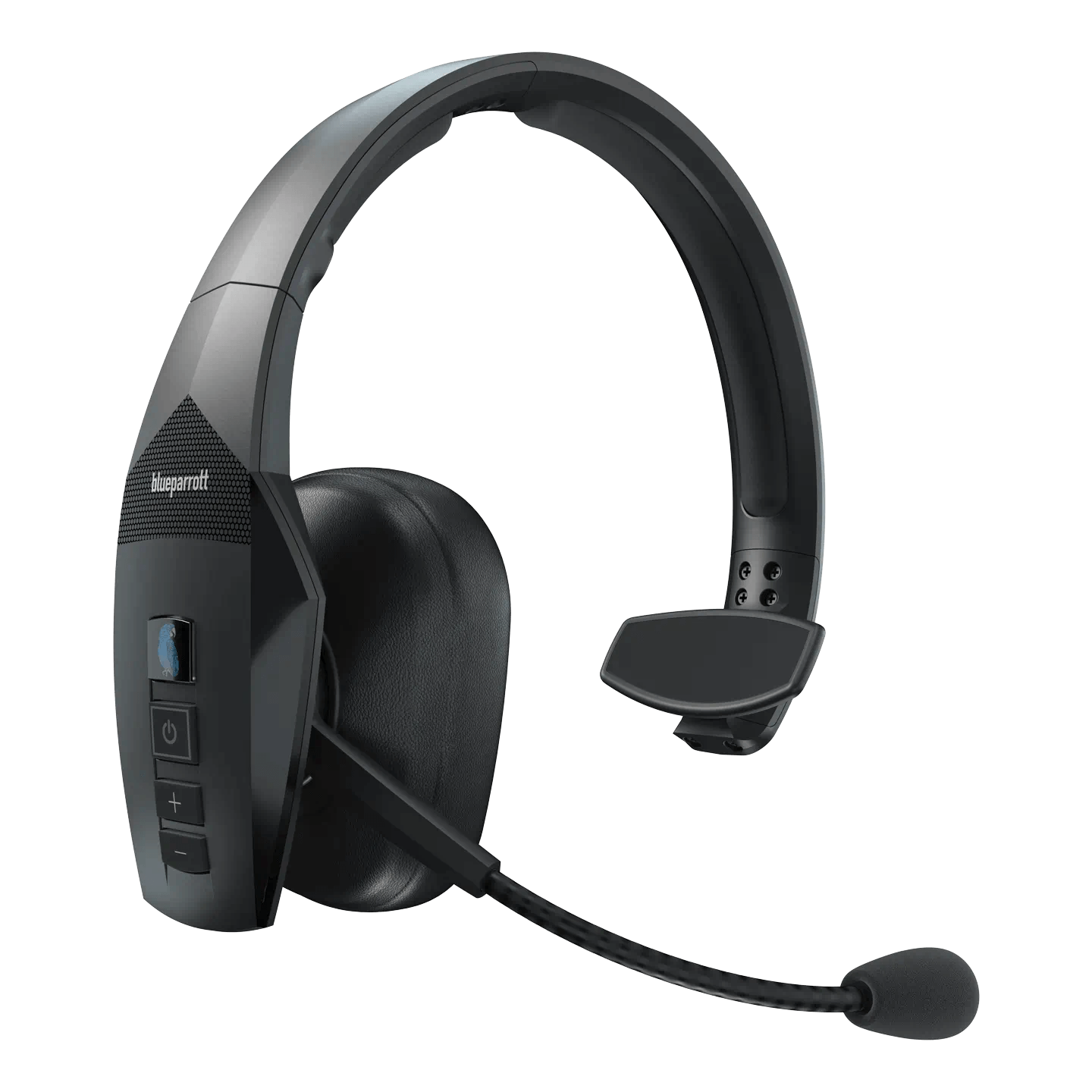 Price:
$181.11
Specifications:
VoiceControl™ allows you to control the headset via voice commands

Industry leading noise-cancelling technology blocks out up to 96% of background noise

Control GPS directions, voice assistants, and more, hands-free

Hard-wearing design with IP54-rated protection

24 hours of talk time

400 hours standby time

300 meters wireless range on paired devices

Extra padded headband and large cushioned ear cup for all day comfort

BlueParrott Button™ enables fast access to mute, speed dial, and Push-to-talk chats

Works with most Bluetooth-enabled devices
Cons:
Middle tier
1. Poly Voyager 5200
The Poly Voyager 5200 allows you to control calls without lifting a finger and provides clear sound, even outdoors: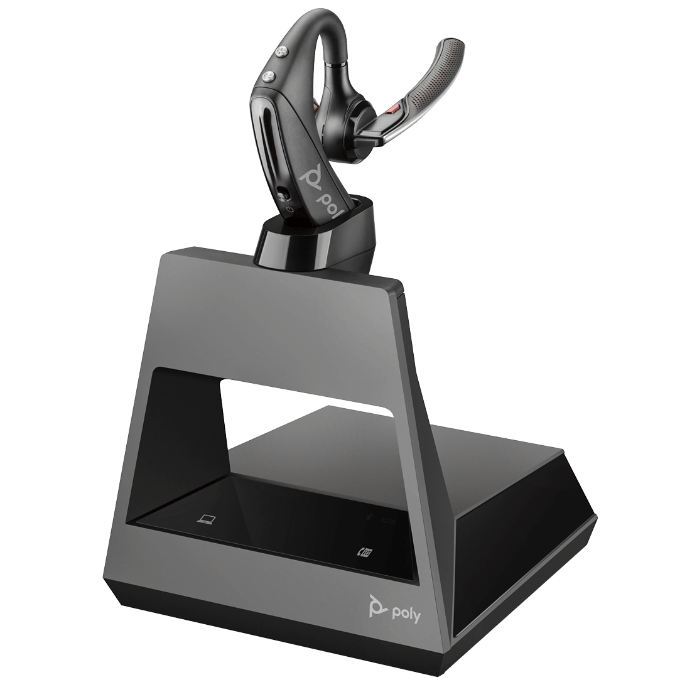 Price:
$119
Specifications:
WindSmart technology to eliminate background noise

Adaptive noise cancelling microphone

Announces incoming calls—simply say "answer" or "ignore," and the headset will take that action

It's easy to connect your headsets to Dialpad so you can answer and end Dialpad calls right from the headset control buttons!

Dynamic mute alert

Talk time updates

Compatible with the most popular voice platforms

Ergonomic design for all day comfort

14 extra hours of power with optional charging case and docking stand

Hub Mobile and Desktop Poly Lens software to enable softphone call control
Cons:
Some users report pairing issues, especially to MacBooks
2. Jabra Talk 35
Jabra Talk 35 headsets offer clear calls with HD voice and noise cancellation, ideal for long lasting calls. If you don't mind the very "Bluetooth shape" of the headset, it has a pretty impressive battery life and can pair with up to eight devices at once: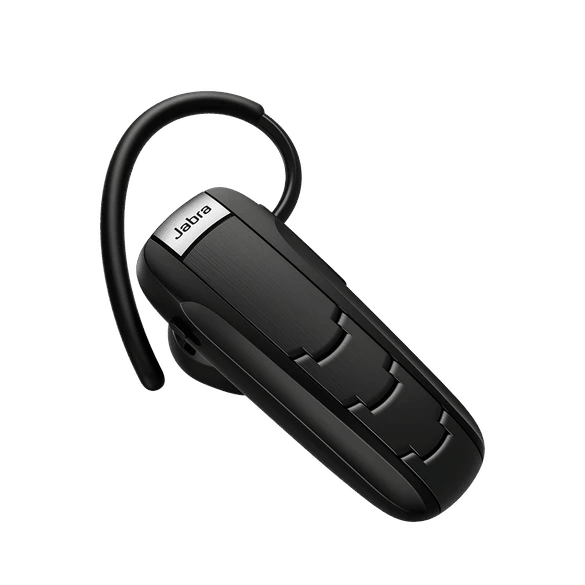 Price:
$125.99
Specifications:
Features 2-microphone technology so the person on the other end of the call also experiences high call quality

Ultimate Comfort EarGels™ for custom all day comfort

6 hours of calls and up to nine days of standby time for Bluetooth wireless calls on a single charge

Up to a whopping eight paired devices

Can wirelessly stream GPS and media

HD Voice enables wideband speech
Cons:
3. Sennheiser Presence
Sennheiser Presence UC is another one-ear device that's ideal for remote workers (and even in-office workers) who need to be on a call at any time during the day.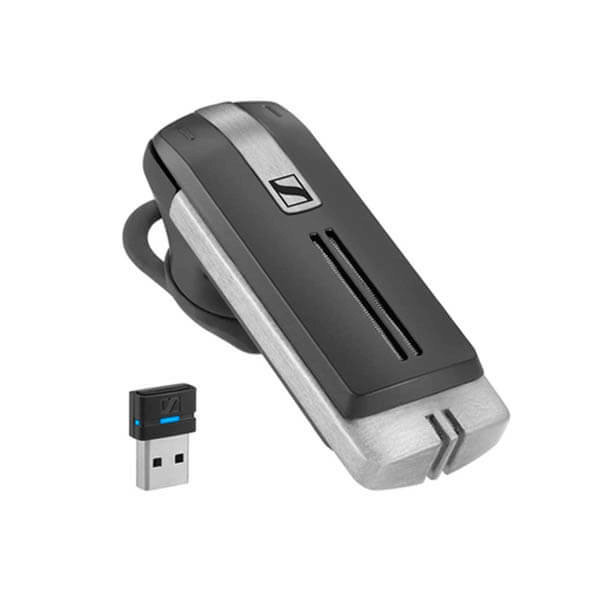 Price:
$139.29
Specifications:
Compatible with major unified communications platforms—like Dialpad

Optimized speech clarity using Unique SpeakFocus technology

Three digital microphones

Advanced Own-Voice Detection technology detects voice and optimizes speech intelligibility

Background noise reduction

ActiveGard® (nope, not a typo) technology defends against acoustic shock from sudden sound bursts

Comes equipped with USB cable and dongle, ear hook, and carry case

Extended talk time delivering up to 10 hours call time

Choice of three wearing styles

Wind noise reduction for use in outdoor situations
Cons:
4. BlueParrott M300-XT
The BlueParrott M300-XT is an ultra-light Bluetooth headset that cancels up to 80% of background noise from your end of the call, which makes it pretty useful for working on the go.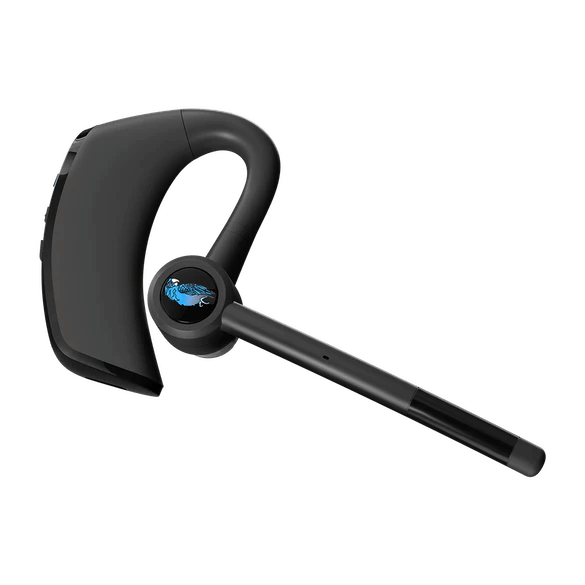 Price:
$99.99
Specifications:
Delivers up to 14 hours of talk time from a single charge

The lightest and smallest of the BlueParrott series of headsets at just 20g

Can choose which ear to wear it on since it has a reversible design

Wireless range of up to 100 meters

IP54 rated protection against dust and water

BlueParrott Button™ allows for hands free programming

Instantly mute calls, speed dial preferred contacts, or push-to-talk options

Uses Bluetooth v5.1
Cons:
Budget
1. Jabra Talk 55
A Bluetooth mono headset that won't break the bank, the Jabra Talk 55 is engineered with powerful noise cancellation and crystal-clear audio quality. It's the top budget option on the list by virtue of Jabra's brand. You do give up on some of the fancier features, but the battery life and wireless range are both serviceable.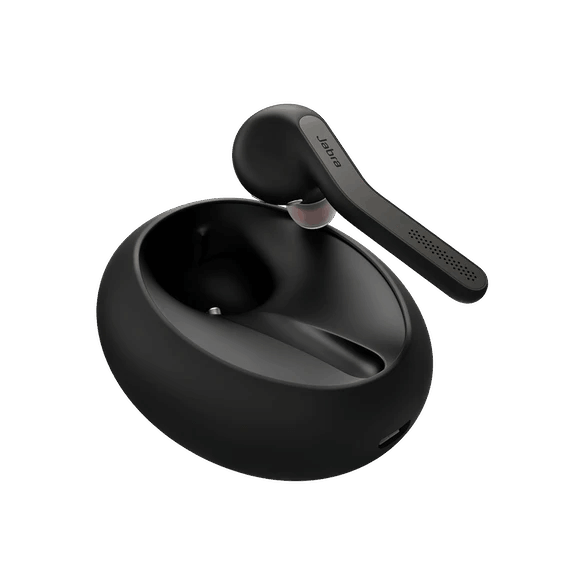 Price:
$99.99
Specifications:
Two omnidirectional MEMS microphones

MultiUse™ technology means it can pair to eight devices, and two at once

Comfortable, in-ear wearing style

Battery life of up to 10 hours talk time and up to 72 hours standby time (seven days if left in charging case)

Wireless range of up to 30 meters

Lightweight, coming in at just 5.4g
Cons:
Some users report that the battery life isn't great, and the headset requires more charging than is ideal
2. Aminy UFO
This Aminy Bluetooth wireless headset has a funky name, and is compatible with most Bluetooth-enabled devices and platforms, including Dialpad. What's unique about this headset out of all the budget headset options is that it has a noise cancelling mic. (Only the New Bee headphones below also have noise cancelling.)
Price:
$25.99
Specifications:
Comfortable and secure fit with ergonomic design based on three-point-supported principle

Lightweight materials for all day comfort

Super clear voice for talking using advanced acoustic technology

Bluetooth v5.2 chipset for clear sound

Built-in omnidirectional microphones

Single ear design

Supports 14 hours' talk time with 1 to 2 hours for a full recharge

Sweatproof earbuds with inner nano-coating material

Can activate Siri and Google assistant via push button or voice command
Cons:
3. Willful M98
Described as a low-priced alternative to Poly / Plantronics, the Willful M98 headset is a good option for call center teams on a budget: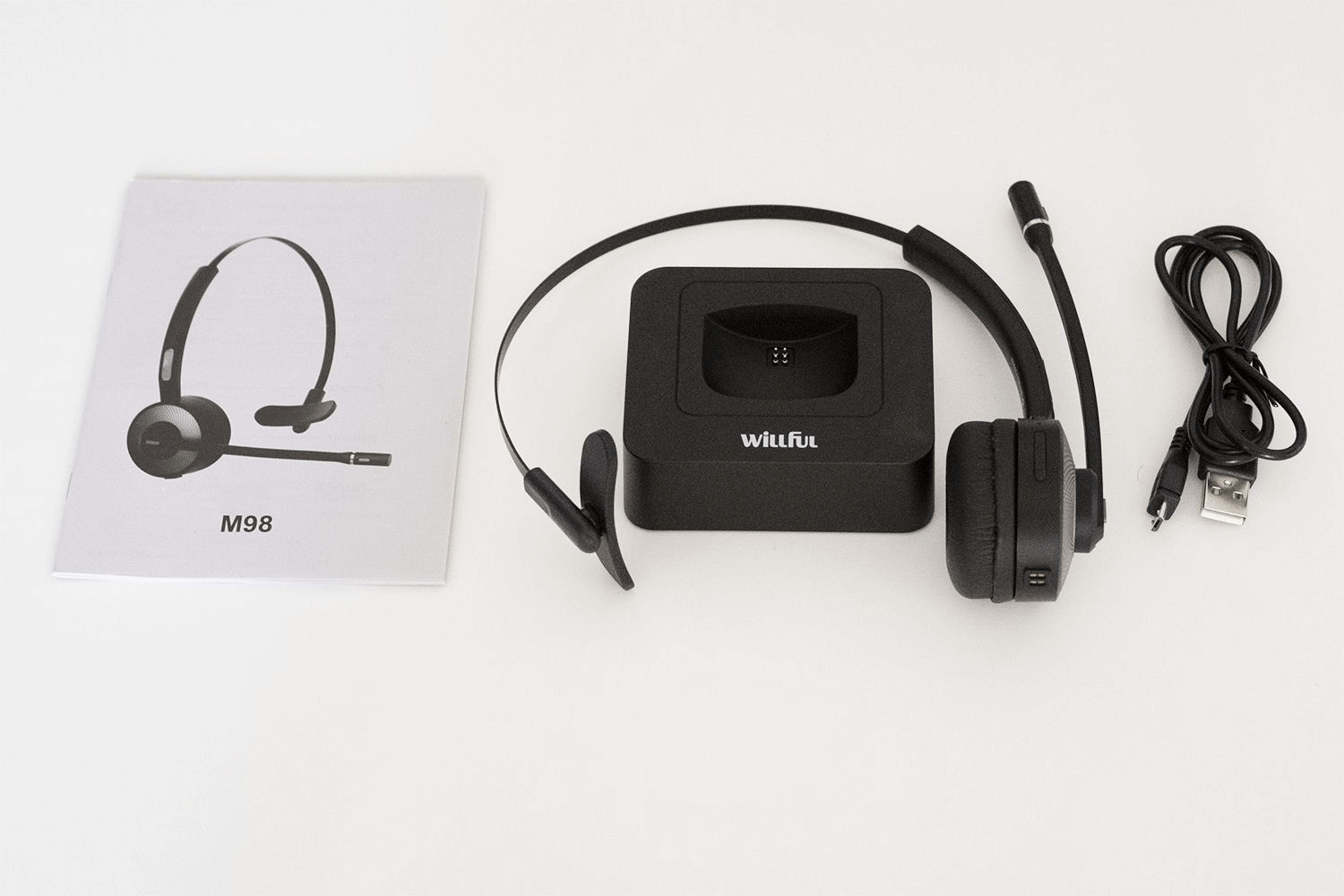 Price:
$37
Specifications:
Single speaker headset with an ear cup on one side and headband on the other

Microphone extends in two directions for the most comfortable fit

Decently lightweight at 50g

Connects to two devices, but can only be used with one device at a time

Magnetic charging base to hold the headset in place

Battery life of around 17 hours of talk time and 200 hours standby time

Microphone features mute button for putting callers on hold

Wireless range of 10 meters
Cons:
4. Angteela Truker BH-M91
The Angteela Truker headset features v5.0 Bluetooth technology, with reasonably fast and stable pairing to any two Bluetooth devices simultaneously.

Price:

$38.99
Specifications:
24 hours of max battery life

Version 5.0 Bluetooth technology

Free to talk and mute hands-free by clicking MFB button

Microphone can be adjusted to ensure best talk quality

Convenient and safe while driving so a good trucker Bluetooth

Voice assistance by giving a verbal command

Lightweight and comfortable ear tips with skin-friendly ear pads and flexible headband

Pairs with any Bluetooth device and can connect two devices at once
Cons:
5. New Bee LC-B41
The New Bee is a widely compatible Bluetooth headset with true wireless earbuds and a relatively long battery life at the lowest price of any of the budget headset options on this list.
Price:
$22.99 (at Walmart)
Specifications:
24 hour talk time and 30 days standby

Hands-free phone calls and CVC 6.0 noise-canceling technology

Comfortable design with 360-degree adjustable Bluetooth earbuds

Fast and stable Bluetooth talk connection at up to 15 meters

Listening range of over 20 meters

Uses HFP hands-free specification technology to allow user control over streaming media, pause, stop, start, replay, control volume, and more
Cons:
You can only be a short distance from your phone or audio device
Find the best Bluetooth headset for your contact center
As headphone jacks disappear, more and more companies are looking for the best wireless headsets for their remote and hybrid teams.
A Bluetooth headset allows employees to be hands-free when they're talking to customers, whether it's on the phone or via video, and Bluetooth headsets mean there are no wires to get tangled in when too.
If you're looking for the best Bluetooth headsets for your contact center agents, make sure they're compatible with your telephony or contact center service provider.

Looking for a remote-friendly contact center platform for your supervisors and agents? Book a product tour of Dialpad Contact Center to see how easy it is to spin up new contact center teams and provide excellent customer service—from anywhere.
Get a demo